Porsche 911 (G-Series)
The Porsche 911 G model was a true perennial and was built for a full 17 years. During this time, engines were built with 2.7, 3.0 and 3.2 liters. The narrow G-model (from 1974 to 1977) over the 911 SC, the Carrera 3.0 to the Carrera 3.2 gave it a large variety of variants, colors and equipment. The G-Body saw the introduction of impact bumpers to conform with low speed protection requirements of U.S. law, these bumpers being so successfully integrated into the design that they remained unchanged for 15 years. In 1974 the engine size was increased to 2,687 cc, giving an increase in torque. The use of K-Jetronic CIS Bosch fuel injection in two of the three models in the line up – the 911 and 911S models, retaining the narrow rear wings of the old 2.4, now had a detuned version of the RS engine producing 150 and 175 bhp (110 and 129 kW) respectively. See all of our G-Body (2nd Gen 911) Research.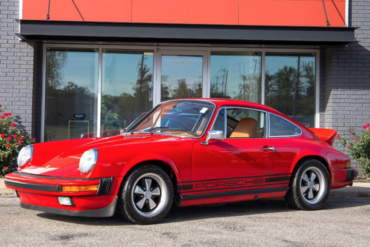 Porsche Option Codes – Porsche 911 (1977 Model Year) Looking to decode your 1977 Porsche 911 option codes? Want to...
Read More