Collecting Cars is offering two very interesting Porsche 911s, a beautifully presented Porsche 911 Carrera 3.0 and a Porsche 911 Junior.
1976 Porsche 911 Carrera 3.0
This Porsche 911 Carrera is beautifully presented and has been sensitively restored. It is believed that before the M491 package was officially in the options catalogue, the example was lucky enough to be fitted with the Turbo body from the factory. The example is powered by a 3.0-liter air-cooled flat-six engine that delivers roughly 197bhp to the rear wheels matched with a five-speed manual gearbox.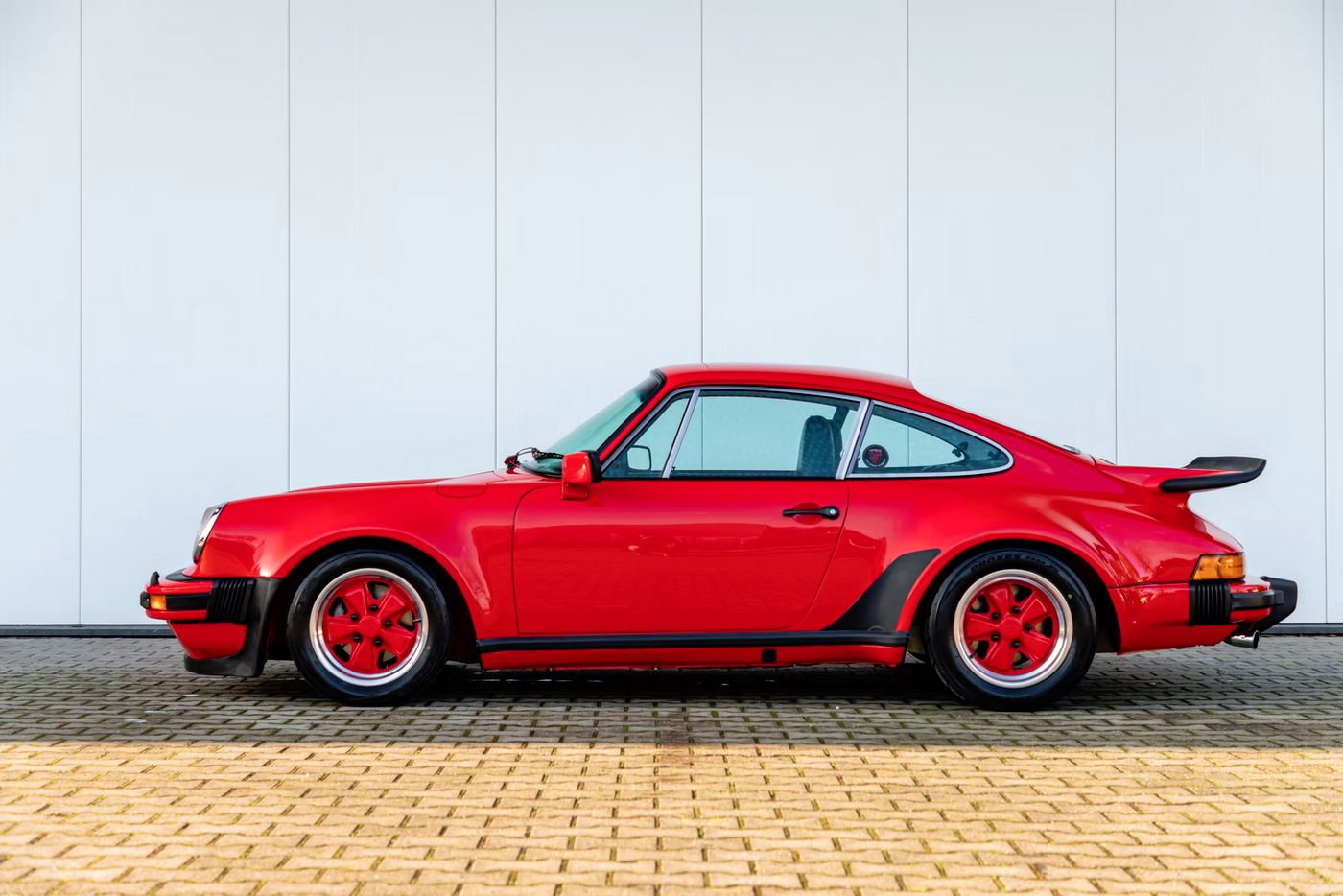 It is believed that the Carrera was a special order wide-body example from the factory. The example has kept its original Guards Red (Indischrot) finish matched with black leatherette-trimmed interior with blue carpet. Since at the time, there was no official option code for the 'Turbo look' body yet, Porsche HQ have no records of this specification for the example.
The example is equipped with 15-inch Fuchs alloy wheels with color-coded Guards Red 'petal' spokes and polished rims, wrapped in Toyo tires. It also has a Dansk exhaust and Bilstein suspension dampers. Interior features include electric front windows and period-correct Philips radio-cassette player.
After the restoration, there are no known bodywork damage, nor any electrical or mechanical faults. The black leatherette-trimmed interior looks great with only some light age-related patina on the front seats and on a few of the controls.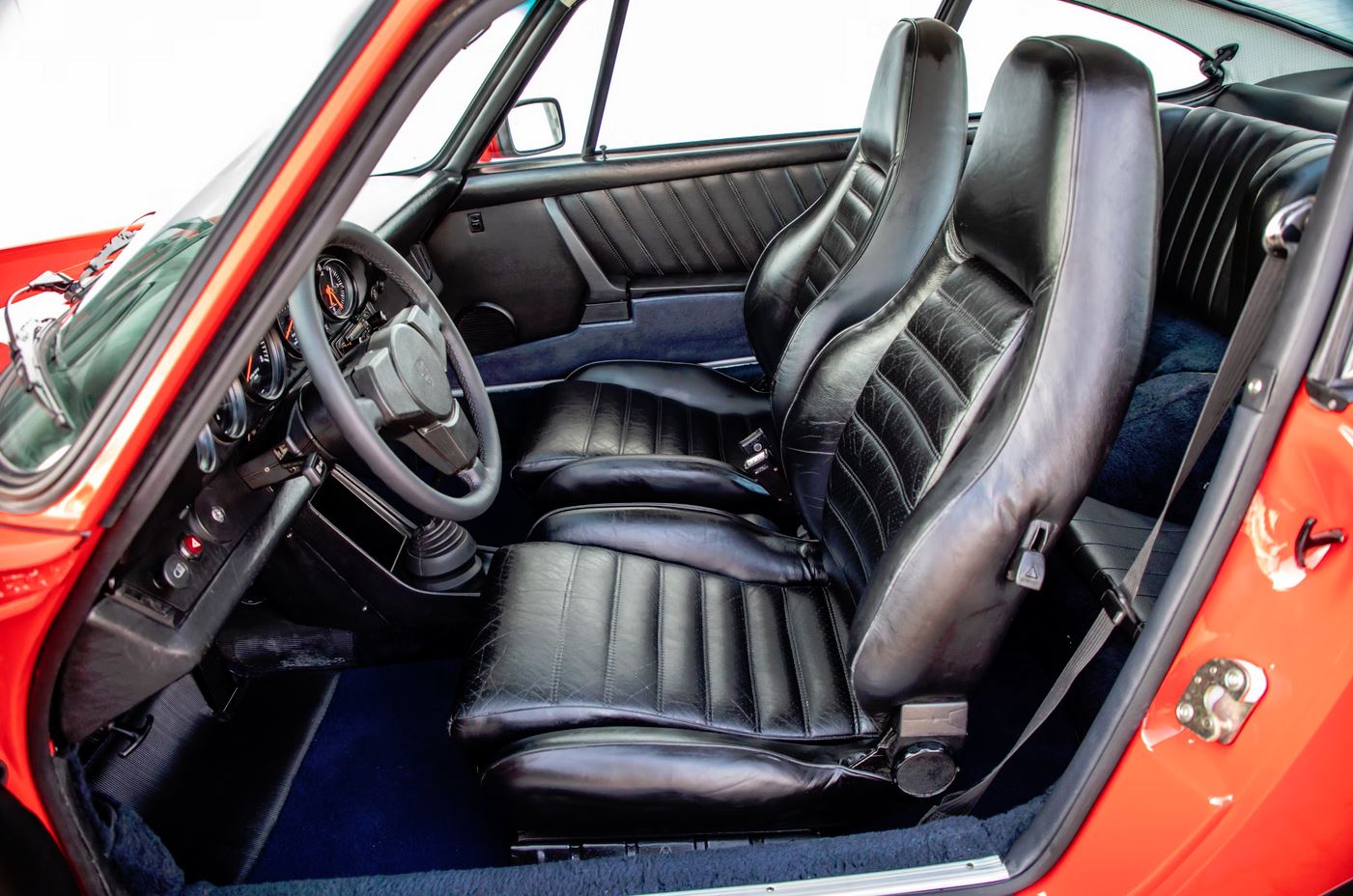 In 2021, the example underwent a roadworthiness test and it was given a clean, first-time pass.
The sale will come with a significant history file from its original sale in Munich in April 1976. Vehicle Inspection Reports while it was in the USA, German Porsche Certificate of Authority, and other documents related to the restoration will also accompany the sale.
As of writing, the 1976 Porsche 911 Carrera 3.0 has a bid of €30,000 with the auction ending on Wednesday, March 2.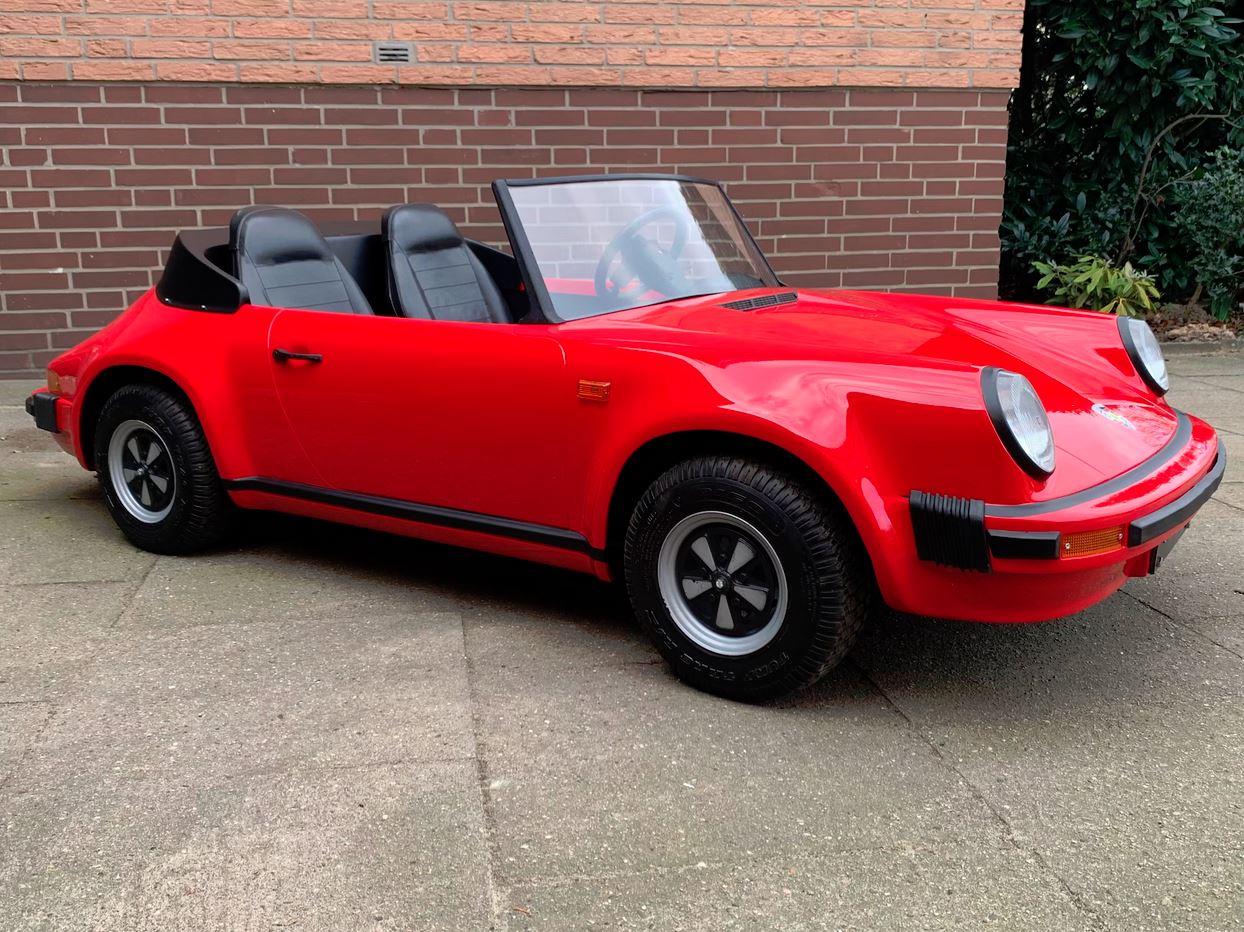 Porsche 911 Junior Children's Car
This Porsche 911 Junior is a professionally restored half-scale model of the iconic 1980s sports car. It is equipped with a pull-start 83cc four-stroke Honda G100 engine that produces 2.5hp, with a chain drive to the rear axle through a manual gearbox with two forward speeds and a reverse. It is roughly around 190cm in length and can go for up to 30kph.
The Junior car was launched in 1986 and was featured in the 'Christophorus' magazine. These Junior Porsches were sold originally through Porsche dealers and only 224 units were built.
Exterior features of the Junior include Fuchs-style wheel caps, mock 'tonneau cover' similar to the real Cabriolet, and replica bumper bellows. It also has a coil spring suspension, indicators, brake lights, working headlights, and a horn.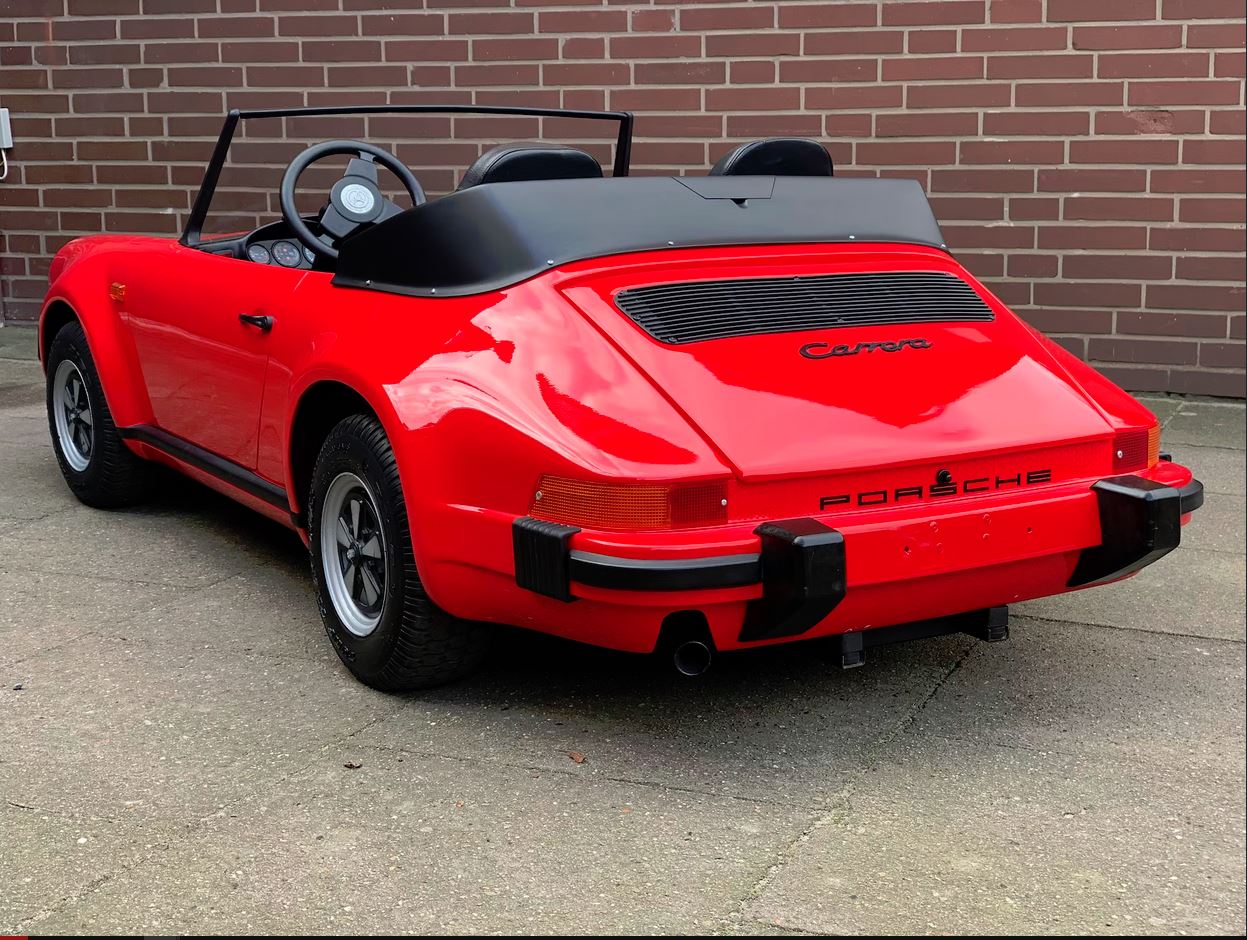 Much like a beloved 1980s Porsche classic car, this Junior had been given a professional restoration to bring it back to its former glory. They used original new-old-stock parts as needed, to refurbish the Junior. The example was disassembled completely, then it was cleaned and repaired as required, It was then reassembled, ensuring that the example was in perfect mechanical order. Even the engine and transmission were serviced and re-filled with oil.
The fiberglass body shell and the Guards Red paint finish of the Junior are both in good condition, though there's a crack in the paint on the tailgate. Although it is common for Junior cars to have microblistering, the example has been spared.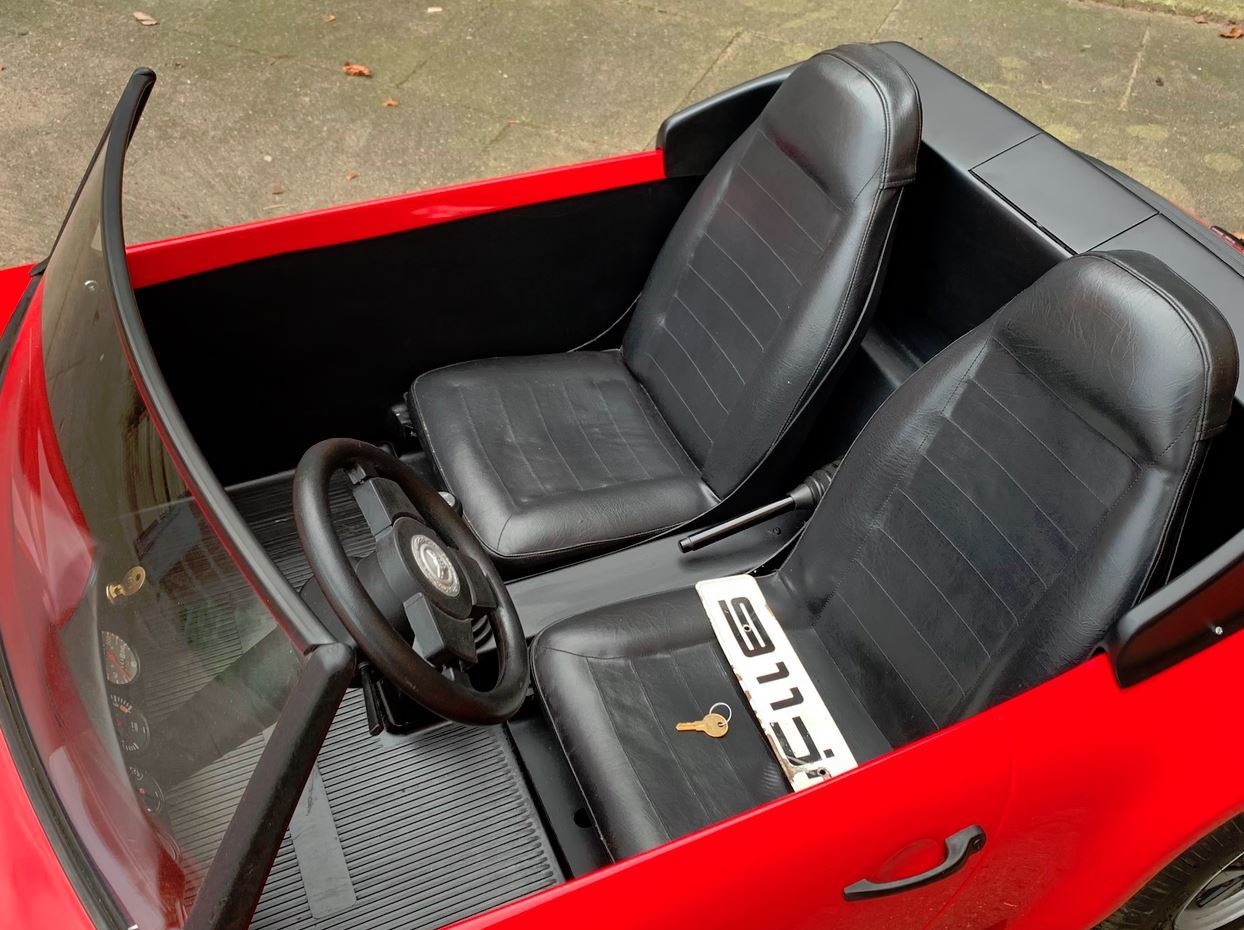 For the interior, the two seats were given black vinyl upholstery and rubber floor matting.
No known mechanical faults have been reported and it is in a very good condition. The indicators, brake lights, low beam, and horn are all functional.
The example is an official licensed product in the period, and it is a perfect gift for a budding car enthusiast or a great addition to any Porsche car collection or automobilia.
As of writing, the Porsche 911 Junior Children's Car has a bid of €4,000 with the auction ending on March 2, Wednesday.