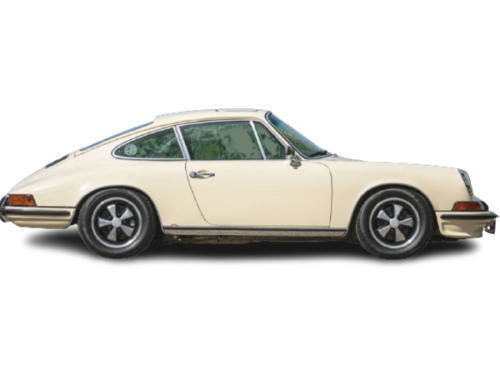 1972 – 1973.5 Porsche 911 T 2.4 (LWB) – Ultimate Guide
The Porsche 911T continued as the entry level 911 model for 1972 and 1973. It sat below the two other models in the 911 lineup, the mid-level 2.4L 911E and the 2.4L 911S. Just like the E and S variants, Porsche upgraded the 911T to a new, larger 2,341 cc (2.3 L) engine, commonly known as the "2.4 L" engine.
With the power and torque increase, the 2.4-liter cars also got the newer and stronger transmission, identified as the 915 gearbox. Non-US versions (ROW), were carbureted and featured the Type 911/57 engine, rated at 130 hp. US-spec 911T's had engine Type 911/51 and featured mechanical fuel injection (MFI), and were rated at 140 hp.
In early 1973, US-spec 911T's, often referred to with the 1973.5 model year or with a 911 T/E designation, were equipped with Bosch CIS fuel injection on the Type 911/91 engine (Type 911/96 with Sportomatic). This powertrain combination preserved the power output of the US-spec version at 140 hp, but with lower emissions. The 911T was produced as both a 2.4L 911T Coupe and a 2.4L 911T Targa.
2.4 E-Series (1972)
In September 1971, Porsche unveiled their latest iteration: the 2.4-litre E-series. These 2.4-litre derivatives were manufactured for the 1972 and 1973 model years. With their powerful, torquey engines and new Type 915 gearboxes, they widely came to be regarded as the best F-body 911s prior to the advent of the heavier impact bumper G-body introduced for the 1974 model year.
2.4-litre 911s were offered in three states of tune and two alternative body styles (Coupe and Targa). There was the entry level 911 T, the mid-range 911 E and the flagship 911 S. Each variant came with progressively more power than the last.
For this latest application, the 911's unitary steel bodyshell was little unchanged. Suspension was fully independent with torsion bars and telescopic shocks. The front end used a compact MacPherson strut arrangement with a single lower wishbone while at the rear, semi-trailing arms were installed. The wheelbase was extended by 3mm thanks to altered rear suspension mounting points (an attempt to eliminate compound movement of the strut). The change had the happy side effect of facilitating extra suspension travel which further improved ride quality. The rear semi-trailing arms were revised to allow their removal without having to drop the engine out of the car.
Boge's hydro-pneumatic shocks previously used on the 911 E were made optional as this variant reverted to the same suspension set up as the 911 T. The 15-inch Fuchs alloys that were standard on all 2.2-litre 911s were now optional on the 911 T and 911 E. Standard equipment for the 911 T was pressed steel 5.5-inch rims.
These 2.4 liter engines were a big upgrade. Not only did they have more power and torque, but they also helped Porsche comply with increasingly stringent emissions legislation. Furthermore, the 2.4 lump enabled the use of lower compression ratios as fuel quality was dropping in lots of markets. Thanks to a 4.4mm lengthening of the stroke (from 66mm to 70.4mm), displacement rose from 2195cc to 2341cc. Bore dimensions were unchanged at 84mm.
These engines featured new camshafts, shorter and lighter con rods, reduced height piston crowns cooled by individual oil jet sprays, improved porting, larger big ends, full crankshaft counter-balancing, a crankcase stiffened around the main bearings and a new forged crankshaft.
While the 911 E and 911 S did not require any compliance modifications, 911 Ts destined for the USA, Australia, Japan and Canada used Bosch mechanical fuel-injection instead of Zenith carburetors. These Type 911/51 engines produced 140 bhp at 5600 rpm. The "regular" ROW 911 T had engine Type 911/57 and was good for 130 bhp @ 5600 rpm. Torque was 145 ft lbs @ 4000 rpm. 0 – 60 mph till 8.8 seconds and top speed was 127 mph. 
All 2.4-litre 911s came with a new Type 915 gearbox that afforded greater torque capacity than the outgoing 901 unit albeit at the expense of an additional 9kg. The 915 gearbox had a conventional gate pattern instead of the old dogleg first. It was offered with four-speeds on the 911 T. The four-speed semi-automatic Sportomatic option was still available and given a new type number (925). If a 911 T had the Sportomatic, then the engine type was 911/67 (911 T), while the fuel-injected 911 T with Sportomatic was engine type 911/61.
Cosmetically, E-series 911s came with a distinctive oil filler cap positioned behind the right-hand door which was opened by a button on the adjacent door pillar. Other universal changes included a black instead of aluminium engine grille and gunmetal model script rather than anodized gold. A bigger driver's side wing mirror was also fitted (a passenger mirror was still an optional extra).
Production began in August 1971 and continued for twelve months. In all, 4894 11 T Coupes and 3344 911 T Targas were produced for the 1972 model year.
2.4 F-Series (1973)
Porsche's 1973 model F-series 911s were produced from August 1972 and ushered in another round of upgrades. The oil filler located behind the right-hand door was dropped after owners and petrol station attendants repeatedly mistook it for the fuel filler. The horn grilles and supplementary light surrounds at either end were now finished in black instead of chrome. A rear wiper was fitted across the range. Airflow to the oil cooler was improved by modifying the baffles.
US-bound machinery came with black rubber overrider pads as dictated by ever-tightening American safety legislation. In January 1973, the fuel-injected US-spec. 911 T switched to a Bosch K-Jetronic Continuous Injection System and new camshafts were fitted with reduced valve opening timing.
Production of the F-series 911 continued until July 1973 and in that time, there were 5071 coupes and 3594 targas produced (as 1973 model year cars).
Pictures