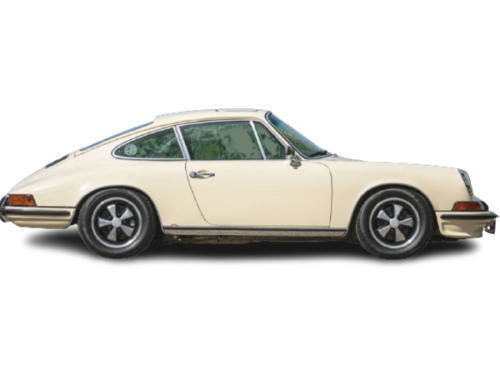 1972 – 1973.5 Porsche 911 T 2.4 (LWB) – Ultimate Guide
The Porsche 911T continued as the entry level 911 model for 1972 and 1973. It sat below the two other models in the 911 lineup, the mid-level 2.4L 911E and the 2.4L 911S. Just like the E and S variants, Porsche upgraded the 911T to a new, larger 2,341 cc (2.3 L) engine, commonly known as the "2.4 L" engine.
With the power and torque increase, the 2.4-liter cars also got the newer and stronger transmission, identified as the 915 gearbox. Non-US versions (ROW), were carbureted and featured the Type 911/57 engine, rated at 130 hp. US-spec 911T's had engine Type 911/51 and featured mechanical fuel injection (MFI), and were rated at 140 hp.
In early 1973, US-spec 911T's, often referred to with the 1973.5 model year or with a 911 T/E designation, were equipped with Bosch CIS fuel injection on the Type 911/91 engine (Type 911/96 with Sportomatic). This powertrain combination preserved the power output of the US-spec version at 140 hp, but with lower emissions. The 911T was produced as both a 2.4L 911T Coupe and a 2.4L 911T Targa.
2.4 E-Series (1972)
For 1972 and 1973 model years Porsche gave us the 2.4-litre E-series variants. 2.4-litre 911s were offered as both Coupes and Targas and had three main variants. There was the 911 T, the 911 E and the 911 S. Each variant came with progressively more power than the last.
Body and suspension were basically the same except for a 3mm longer wheelbase thanks to the rear suspension mounting points being moved. The result was extra suspension travel which improved ride quality. Boge's hydro-pneumatic shocks were optional as were 15-inch Fuchs alloys.
The 2.4 liter engines were a big upgrade in terms of power and torque as well as being more efficient and less polluting. These engines featured new camshafts, shorter and lighter con rods, reduced height piston crowns, improved porting, full crankshaft counter-balancing, a crankcase stiffened around the main bearings and a new forged crankshaft.
All 2.4-litre 911s came with a new Type 915 gearbox. The 915 gearbox had a conventional gate pattern instead of the old dogleg first. It was offered with four-speeds on the 911 T. The four-speed semi-automatic Sportomatic option was still available. If a 911 T had the Sportomatic, then the engine type was 911/67 (911 T), while the fuel-injected 911 T with Sportomatic was engine type 911/61.
Cosmetically, E-series 911s came with a distinctive oil filler cap positioned behind the right-hand door which was opened by a button on the adjacent door pillar. Other universal changes included a black instead of aluminium engine grille and gunmetal model script rather than anodized gold. A bigger driver's side wing mirror was also fitted (a passenger mirror was still an optional extra).
Production began in August 1971 and continued for twelve months. In all, 4894 11 T Coupes and 3344 911 T Targas were produced for the 1972 model year.
2.4 F-Series (1973)
The oil filler was moved thanks to lots of confused owners while the the horn grilles and supplementary light surrounds got a new black color instead of the traditional chrome finish. US models got black rubber overrider pads (sexy) thanks to new legislation. In January 1973, the fuel-injected US-spec 911 T switched to a Bosch K-Jetronic Continuous Injection System and new camshafts. Production of the F-series 911 continued until July 1973 and in that time, there were 5071 coupes and 3594 targas produced (as 1973 model year cars).
Pictures