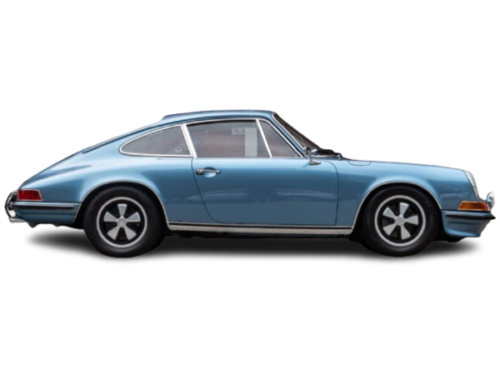 1972 – 1973 Porsche 911 E 2.4 (LWB) – Ultimate Guide
The Porsche 911E was the mid-range option in the E-series and F-series 911s. It benefited from the larger 2.4 engine which used a longer stroke for a total displacement of 2341 cc. Porsche 911Es had steel wheels for 1972 that were upgraded in 1973 to a 6Jx15 alloy wheel by ATS.
2.4 E-Series (1972)
Competition in the 2+2 market was starting to heat up when Porsche unveiled the 2.4-litre E-series 911 in September 1971. The 2.4-litre cars were built as 1972 and 1973 model year vehicles. Like the 2.2 L cars, the 2.4 L 911s were offered in three levels and two alternative body styles (Coupe and Targa). There was the entry level 911 T, the mid-range 911 E and the sportiest 911 S.
Under the skin, little changed. The 911 was still built on a unitary steel bodyshell, with suspension that was fully independent with torsion bars and telescopic shocks. The wheelbase was extended by 3mm and the front end suspension used a MacPherson struts with a single lower wishbone while at the rear, semi-trailing arms were installed. The main benefit was slightly better ride quality versus the prior year models.
The 15-inch Fuchs alloys that were standard on all 2.2-litre 911s were now optional on the 911 T and 911 E. Standard equipment for the 911 E was was new 6-inch wide ATS cookie cutter alloys. The bigger 2.4-litre engines increased power and torque but were also more efficient and clean so they helped with passing emissions rules. These engines featured new camshafts, shorter and lighter con rods, reduced height piston crowns cooled by individual oil jet sprays, improved porting, larger big ends, full crankshaft counter-balancing, a crankcase stiffened around the main bearings and a new forged crankshaft.
The 911 E had a 8.0:1 compression and came with Bosch mechanical fuel-injection. Peak power was 165 bhp @ 6200 rpm and torque was 151 ft lbs @ 4500 rpm, up 10 hp and 10 ft lbs over the previous year's 2.2L E. All 2.4-litre 911s came with a newly developed Type 915 gearbox. 0 – 60 mph took 7.5 seconds and the quarter mile was about 15 seconds. Top speed was 137 mph. 
The 911 E was the least popular of the three variants, with 1124 coupes produced and 861 targas produced for the 1972 model year.
2.4 F-Series (1973)
Porsche's 1973 models got small improvements across the board. Oil filler was moved, the horn grilles and light surrounds were black instead of chrome. A rear wiper was fitted across the range. Production of the F-series 911 continued until July 1973 and in that time 1366 coupe 911 E 2.4 and 1055 targa 911 E 2.4 cars were produced.
Pictures