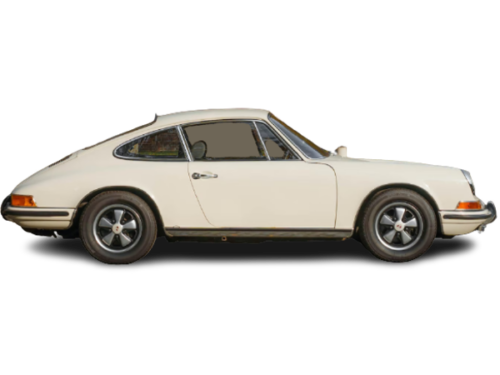 1970 – 1971 Porsche 911 E 2.2 (LWB) – Ultimate Guide
The Porsche 911E was the mid-range option in the 911 lineup. It produced 155 bhp and featured all the upgrades that came with C-Series production including longer wheelbase, Fuchs alloy wheels. Both the E and S model 911 had an aluminium engine-lid and aluminium bumpers. The 911 E 2.2 was once again available as either a Coupe or Targa body.
2.2 C-Series (1970)
The biggest change across the 911 variant range for the C-Series was the move to a larger, 2.2-litre flat 6 engine. The 911 E was the midrange in terms of engine and performance. There was the entry level 125 bhp 911 T, the more luxurious 155 bhp 911 E or the sporty 180 bhp 911 S.
The all-alloy air-cooled Flat 6 with its single overhead camshafts and dry-sump lubrication was bored from 80 mm to 84 mm. Stroke stayed at 66mm for a displacement of 2195cc (a gain of 204cc over the outgoing unit). Porsche's engineers fitted bigger valves, new head gaskets and more cooling fins on the cylinder barrels which had modified ends to clear the longer bolts required by stronger con rods.
Engine type numbers were given a 911 instead of 901 prefix. The 911 E engine had 9.1:1 compression and came with Bosch mechanical fuel-injection. The 911 E came with softer cams to make it more appealing to the general public and output was 15 bhp higher and this was developed at 300 rpm less than before. The torque rating was up by 16 ft lbs at an identical engine speed to its predecessor. Overall, power was 155 bhp @ 6200 rpm and torque was 141 ft lbs @ 4500 rpm. Acceleration was decent, with 0 – 60 mph taking 7.6 seconds and the quarter mile taking 15.5 seconds. Top speed for the 911 E 2.2 was 137 mph. 
All variants came with a thicker diameter clutch and redesigned diaphragm to make pedal operation easier. Like the engines, gearbox type numbers were changed from 901 to 911. Porsche's four-speed Sportomatic semi-automatic gearbox was available on the 911 T and 911 E but not the 911 S. Cars equipped as such had different engine type numbers: 911/06 for the 911 T (911/08 if US-bound) and 911/04 for the 911 E.
The unitary steel bodyshell shared by all varieties of 911 was now coated with a Tectyl oil-based anti-corrosion fluid. Suspension was fully independent with torsion bars and telescopic shocks fitted all round. The front end used a compact MacPherson strut arrangement with a single lower wishbone while at the rear, semi-trailing arms were installed. For these 1970 model year C-series derivatives, the front suspension mounting points were moved 14mm forward to reduce front wheel castor and lighten the steering at low speeds. The 911 E kept its hydro-pneumatic struts, which made it more comfortable over rough roads.
From the outside you wouldn't be able to tell the difference with the 911 E 2.0. Cosmetically, no major changes were made. Upgrades included new door handles with an opening trigger behind the catch and improved Bosch H1 headlights. A 2.2 decal was applied to the base of the rear screen. To save weight, aluminium was used instead of steel for the engine cover and the central part of the front bumper on 911 E and 911 S variants. The E and S also had anodized gold badging at the back compared to bare aluminium for the 911 T.
A total of 1971 911 E 2.2 Coupes were produced, while the 911 E Targa ended with 933 units made for the 1969 model year.
2.2 D-Series (1971)
The subsequent 1971 model year D-series 911 came with another series of updates. In the fight against corrosion, bodyshells were now galvanized with a zinc coating applied to exposed underbody areas. Crankcase squirters were introduced to improve piston cooling. There was also a new type of sealed chain tensioner while minor detail alterations were made to the fuel-injection system.
US-spec. derivatives now came with a fuel evaporative control system to prevent the release of vapour into the atmosphere. A heated front windscreen was added to the options list. D-series production ended in August 1971 to make way for the new 2.4-litre E-series variant.
For 1970, there were 1088 911 E 2.2 Coupes and 935 911 E 2.2 Targas produced.
Pictures