Just for you
Like a little kid pointing through the display case at a donut shop, it's a primal urge to want something "just for you."  Porsche has long been quite savvy with their personalization options. For those with can afford the best, Porsche's Sonderwunsch program was set up in the 1970s to bring such dreams to life. Translating literally from German as 'special requests', the name first appeared in 1978 with the founding of the Porsche 'Sonderwunschabteilung', which handled special modifications and conversions of series vehicles – even custom one-off Porsche models.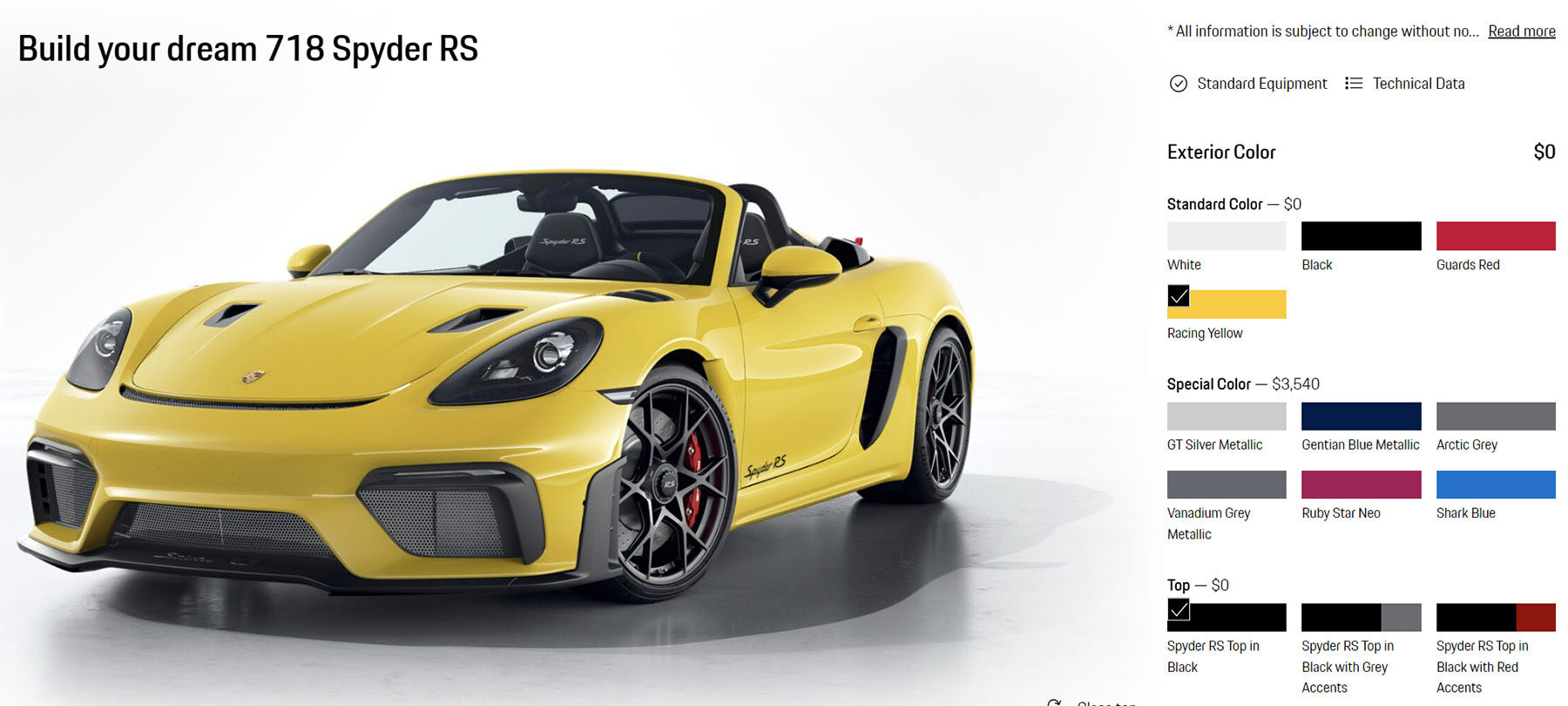 But for the rest of us, Porsche still makes us feel special with various customization options. For fun, I took 10 minutes out of my day and pretended to be very wealthy, which quickly led to the configuring a new 2024 Porsche 718 Sypder RS on Porsche's website. Honestly, I would be happy with picking the color and a few simple items so how much in options could this possibly cost?
Red Stitching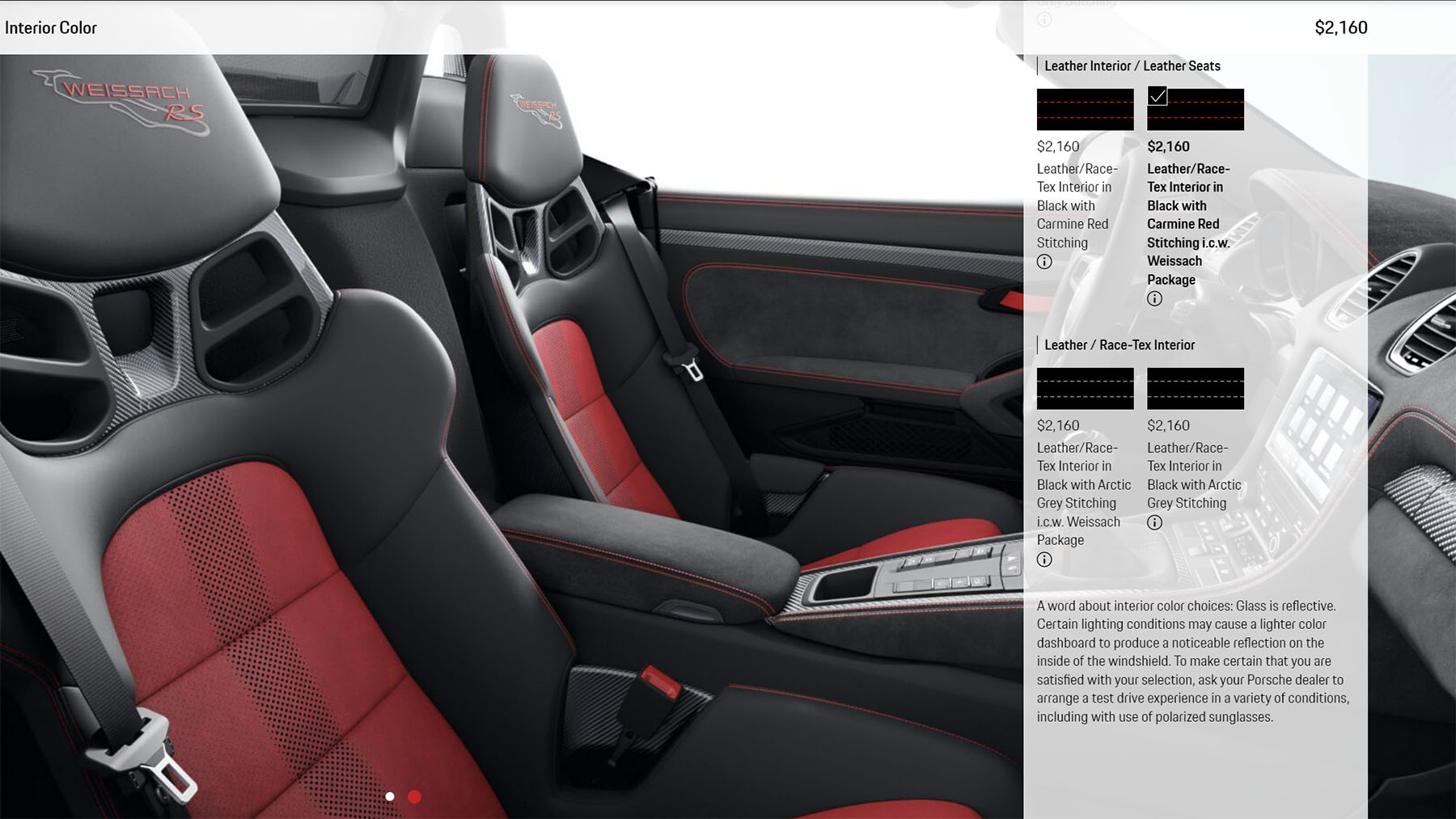 For starters, it's a Porsche, so I couldn't help my "nostalgic senses" and choose metallic silver for the exterior color ($3450). On the practical side, I don't want to scrape the front spoiler when entering the local gas station so I'd better select the front axle-lift system ($3040), right? Upon doing so, the website informed me the front axle-lift is only available when the Weissach Package is also selected. What exactly is the Weissach Package? Let's just say it's like the difference between a Carrera and a Carrera S. In other words, YOU NEED IT. Add another $12,570.
Forged magnesium wheels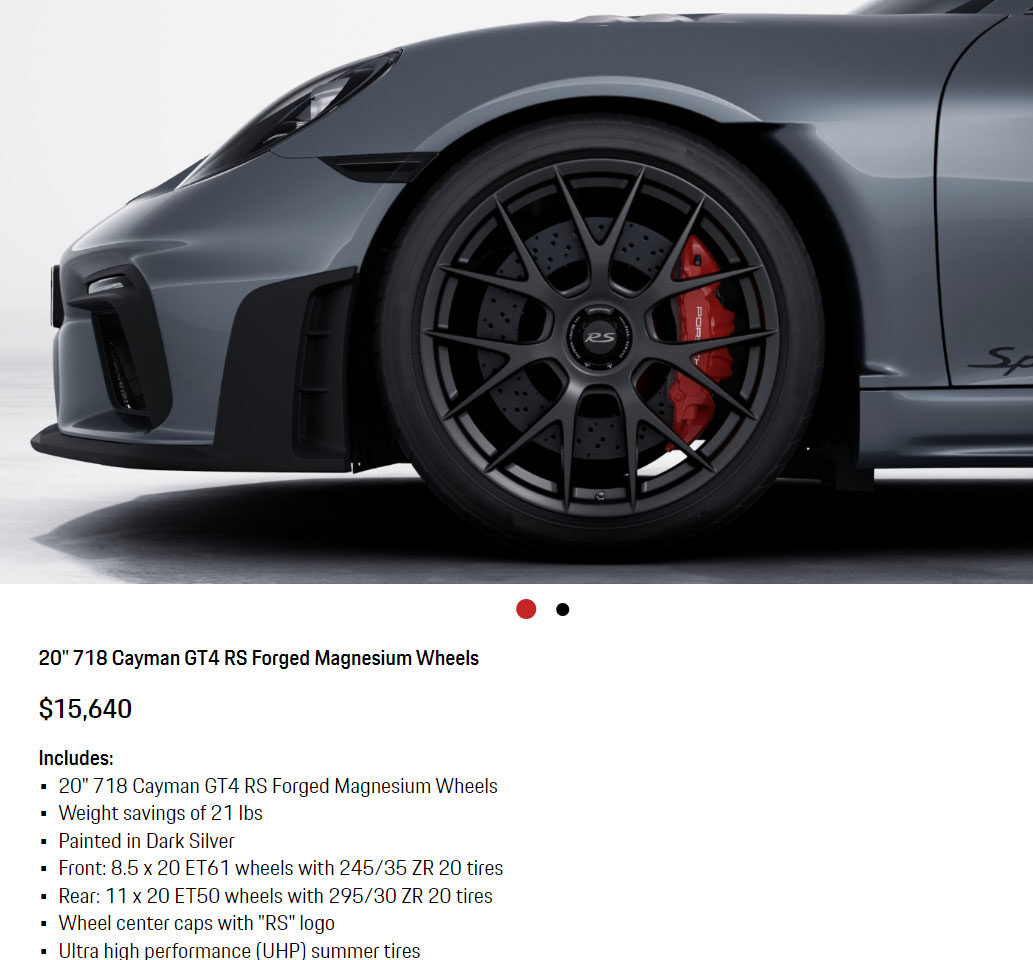 Safety first
Thinking strictly about safety (yeah right), I also opted for the ceramic composite disc brake upgrade ($8000). If you can't be a Formula 1 driver, at least you can use some of their technology, right? But here's the dilemma with these brakes; you can't show up at Cars & Coffee with ceramic brakes and stock wheels. Believe me; you will be black-listed in no time. To solve this issue, tick the box on the forged magnesium 20" wheels and now you can sleep at night (add $15,640).
Weissach Package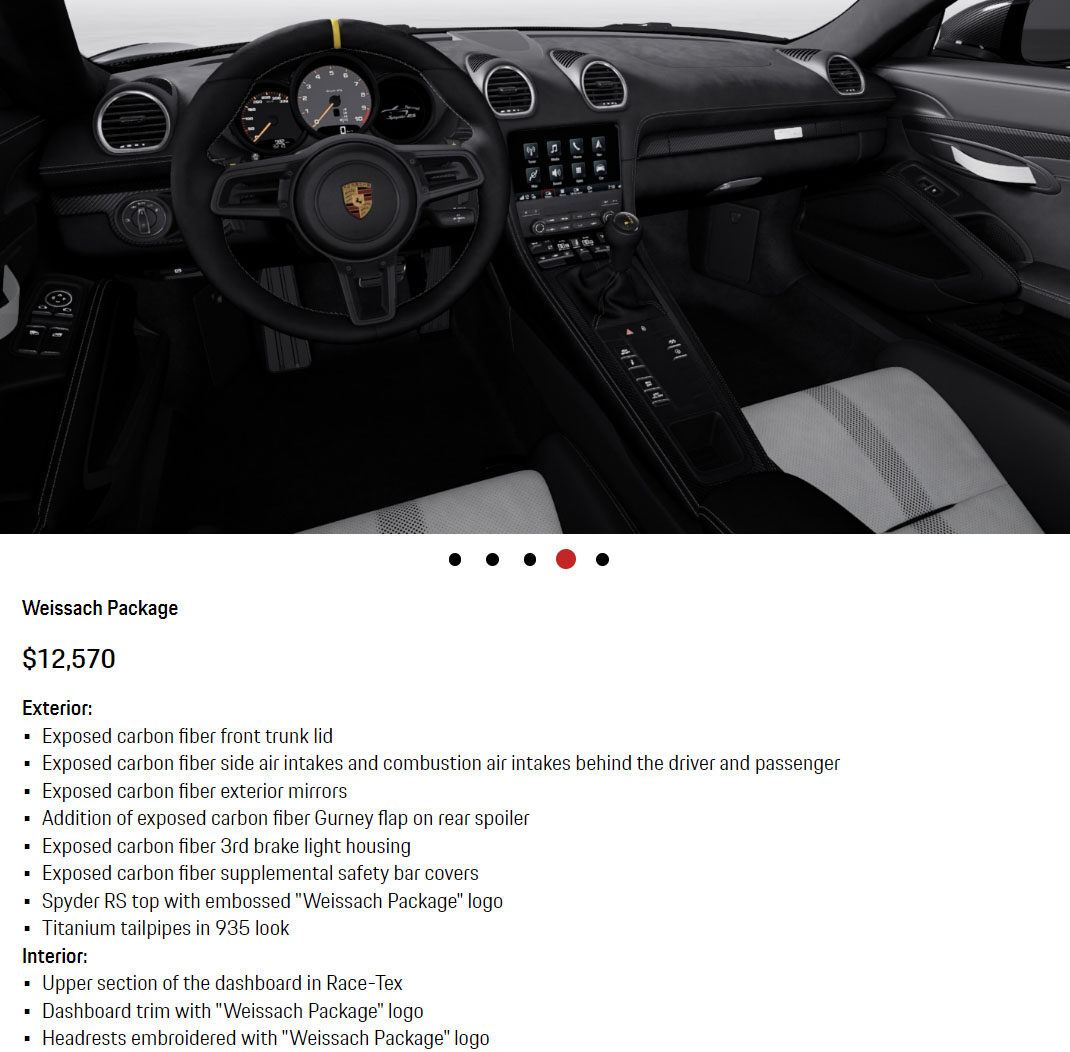 Drum roll please
Wanting this process to be as "Porsche Perfect" as possible, the last step in the configurator produces a summary build sheet and a code you can conveniently provide your local dealer with ordering this 9,000 RPM rolling symphony. So how much in options did my little daydreaming result in? $42,400 to be exact. Added to the base price with handling and delivery, and the suggested retail price came to $204,750. While this may first seem a bit out of reach, repeatedly tell yourself that it's all in the name of the resale value (FYI: I'm not a licensed counselor or financial planner, so in the end, you're on your own!).
Operators standing by…
Now it's time for YOU to dream large:  P0rsche 718 Spyder RS