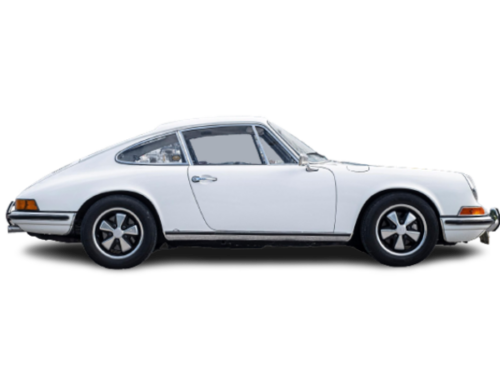 1970 – 1971 Porsche 911 S 2.2 (LWB) – Ultimate Guide
Along with all the C-series improvements to the 911 line, the 1970 Porsche 911 S was upgraded to include a 180 bhp version flat-6. This further improved the performance credentials of the model which already had Fuchs light alloy wheels and bigger brakes.
2.2 C-Series (1970)
Available as either a Coupe or Targa, you could order your 911 either as the entry level 125 bhp 911 T, the more luxurious 155 bhp 911 E or the flagship 180 bhp 911 S. Specific to the S model's engine was a re-profiled camshaft, larger valves, better porting, higher compression and larger jets for the Weber carburetors. This resulted in 30 more horsepower for a total 180 horsepower and torque slightly improved. Redline was raised to 7300 rpm. Porsche fitted an ignition cutout that interrupted spark to the plugs near maximum rpm. One peculiarity of the 911 S was its lack of choke which required accelerator pumping for cold starts was usually enough for starting.
Chassis upgrades included a rear anti-roll bar, Koni shocks and ventilated discs which replaced the standard solid rotors. For the S, special gear ratios were installed in the five-speed transmission including an overdrive in 5th gear. Like the engines, gearbox type numbers were changed from 901 to 911. The higher ratios allowed for 0-60 in 7.8 seconds.
The unitary steel bodyshell shared by all varieties of 911 was now coated with a Tectyl oil-based anti-corrosion fluid. Suspension was fully independent. Notably for 1970 the front suspension mounting points were moved 14mm forward to reduce front wheel castor and lighten the steering at low speeds. Ventilated brakes were standard as were 6 x 15-inch Fuchs forged alloys. Aluminium was used instead of steel for the engine cover and the central part of the front bumper on 911 E and 911 S variants. The E and S variants also got cool anodized gold badging at the back.
By the end of the 1970 model year, a total of 1,744 911 S Coupe 2.2s were produced, while there were 729 911 S Targa 2.2s made.
2.2 D-Series (1971)
The D-series 911 for 1971 got a galvanized coating to help with rust prevention. Pistons were now cooled using an innovative crankcase squirter system and Porsche introduced upgrades to the chain tensioner and fuel-injection system. North America destined cars also got a fuel evaporative control system. A heated front windscreen was added to the options list. For 1971, Porsche sold 1430 coupes and 788 targa, S 2.2s.
Pictures