Porsche 904 – The Full Story & History
Following the 550, 645 and the 718, the next Porsche model created for racing was the 904. The homologation rules stipulated a minimum of 100 units and as there weren't that many potential racing customers, the solution was a street legal car. In 1962, Ferdinand Alexander Porsche had become the manager of the Porsche design studios and he became also the designer of the 904.
In August 1963, the first prototype was tested. Following the unveil of the 901 on September 12 at the IAA Frankfurt Motor Show, around 10 weeks later, on November 26, the 904 was presented at the Solitude race track near Stuttgart. The 4-cylinder cars were shown – chassis 904-002, 003 and 004 (002 and 003 being the prototypes).
The first 904s were delivered on January 16-17, 1964 – chassis no. 012 and 013. They were also the first 904s to be signed up for a race – the SCCA Divisional Riverside race on February 2, 1964 (result unknown, so actual presence not confirmed – please inform if you know).
Porsche Going Racing
After having retired from F1 & F2 competition at the end of the 1962 season, Porsche focused it's efforts on Sports car racing once more. The Porsche 904 debuted late in 1963, for the 1964 racing season. Expertise gained while racing and developing the 550 and RSK Porsches laid the foundation for the 904. It was the familiar mid-engine layout which gave these early Porsches a distinct advantage.
After abandoning Grand Prix Racing in 1962, development was focused on sports car racing. Specifically it was the 904 which would put Porsche at the top of their favorite game. As the FIA demanded one hundred examples had to be produced to meet homologation, the 904 was designed as a customer car with a full interior including a heater. This offering marked the first time a closed-top, mid-engined Porsche was sold to the public.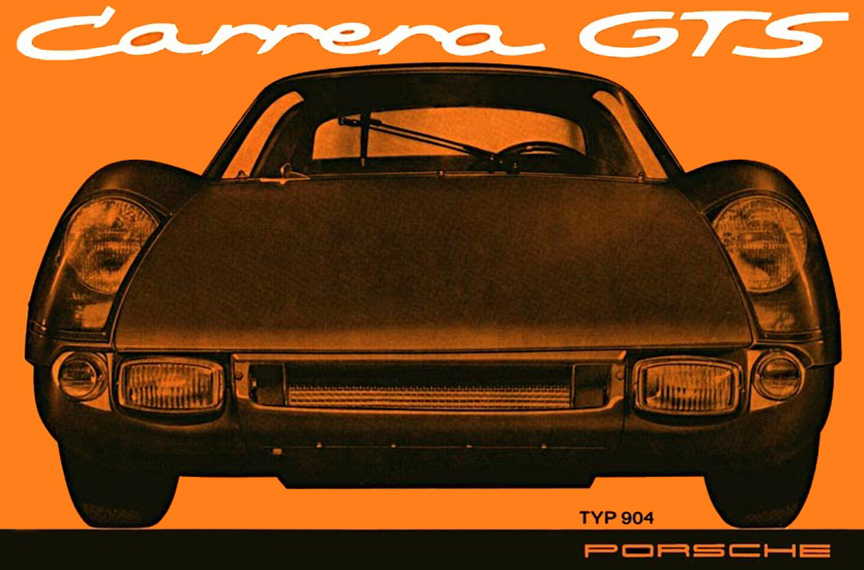 Porsche had designed the 1965 Porsche 904 Carrera GTS variant to compete in the FIA-GT class at various international racing events and the street-legal version debuted in 1964 to comply with those FIA Group 3 homologation regulations. Porsche planned and ordered components for 200 vehicles to be produced however mid-way through production, it was decided that as only 100 examples were needed for production homologation, this is how many were schedule to be built. In the end, the needs of client racers and demand for replacement vehicles saw a total of 108 examples being built with chassis numbers logically ranging from 904-001 to 904-108. There were several that were "recycled" in period and some rebuilt and issued same/old chassis numbers but today Porsche officially still sites a total of just 108 examples.
The Porsche Type 904, was officially called the Carrera GTS because Porsche and Peugeot were in dispute over numeric designations with "0" in them. The 904 (as it soon became popularly known) was also the last full-competition Porsche that could be readily driven on the street. For the US market the 1965 Porsche 904 Carrera GTS had an initial list price of $7245 (FOB Stuttgart). Orders just exceeded the one hundred car requirement to satisfy homologation rules and more cars could readily have been sold, however Porsche had other plans and improvements in mind for the replacement 906 which was already on the drawing boards.
The 904's designer was 28-year-old Ferdinand Alexander "Butzi" Porsche III, the son of company chairman "Ferry" Porsche. "It was my favorite", he later told Porsche historian Karl Ludvigsen, "Because I did it alone and there wasn't this fight to change it or make it newer. It was designed and finished".
Ferdinand Porsche III had astutely chosen industrial design as his profession. As the new head of Porsche's design department, he shouldered an immense responsibility to continue the Stuttgart firm's fine traditions. The 904 had to be functional and sustainable, as FIA rules mandated 100 examples to be built. Porsche's 1961 Model 718 competition coupé was the 904's inspiration, but the new race car, with its strong, full-length character line, rakish lift-up tail, and ultra-low 41.9-inch height, was much better looking.
A chassis of steel pressings embraced the well-proven, four-cam flat-four Carrera engine, which was now mid-mounted. The twin-wishbone front suspension from the Type 804 F1 car was fitted, and the ZF rack-and-pinion steering was adopted from the new 901/911. Zero to 60 mph could be accomplished in as little as 5.5 seconds, and the 904 could be geared for 160 mph, with four-wheel ATE disc brakes quickly bringing the car to a stop.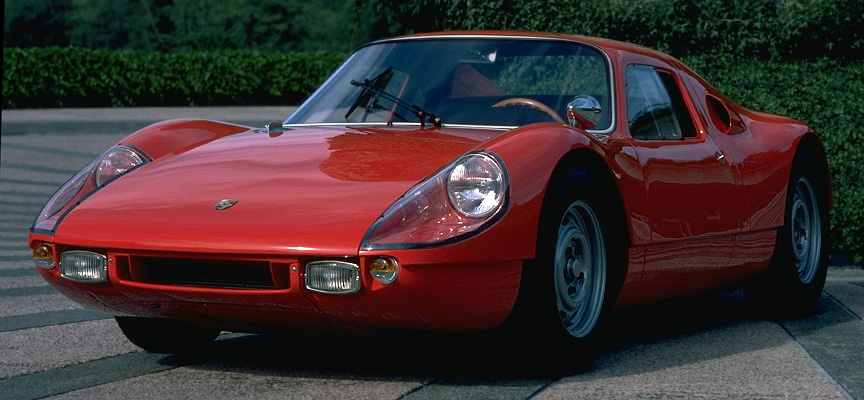 To save weight, the sleek body shell was made of fiberglass, which was formed from spraying chopped fiberglass onto a mould, and then bonded to the steel chassis for added rigidity. The twin bucket seats were fixed in place, but the beautiful cast alloy pedals were adjustable, and Porsche made several seat sizes available to suit varied driver heights. A new 904 was initially priced at $7,425, directly from Stuttgart-Zuffenhausen.
The Engines
2L Flat 4
The Porsche 904 Carrera GTS mid-engine layout was inherited from the 718. Originally, the chassis of the 904 was designed to accept a number of engines and specifically the flat-6 from the upcoming 901 or 911 as we know it. Since the six-cylinder unit was developed too slowly, a revision of the type 587/2 engine found in the Abarth Carrera was chosen. This was Porsche's most famous engine at the time, featuring all-alloy construction, two spark plugs per cylinder and over-head cam shafts.
The original engine design began as the Type 547, its development first taking shape in 1953, when the previous VW-based 1,100cc, flat-four, used in the contemporary 356 hit the limit of its potential.  Porsche realized it needed something all-new and it came in the form of the brainchild of Dr. Ernst Fuhrmann, later Technical Director of Porsche Racing.  He initially hoped to achieve an unheard of 70bhp out of a 1500cc engine. Relying on hemispherical combustion chambers and two 46 mm, 46IDA3 dual-choke Weber carburetors, the engine was actually able to produced 100 to 115bhp depending on application and choice of cam, engine timing and allowable rpm applications.  The new 1.5-liter engine weighed in at only 310lbs (140kgs) and eventually was producing nearly 180bhp in its final 1500cc form.  Then engine featured a complex design that proved very expensive and time consuming to build but very durable. It was such a success that over a very short period of time, it was used in 34 different models, including the well-known 550 Spyders, 356 Carreras, and even Porsches short lived F1 and F2 programs.
Hans Mezger and his team of engineers, massaged the 587/2 turned into the 587/3. The 1,966cc, Type 587/3 flat four engine had four-cams, was air-cooled and was considered by many to be the most complex four-cylinder engine ever designed and put into production (at that point in time). Another modification included larger cylinder fining as cooling to the engine was primarily executed with these fins and the large oil cooler. Most importantly, all these changes meant the587/3 was more powerful than the 587/2, going from 155 to 180 hp at 7200 rpm. The 2.0-liter engine drove a five-speed transmission with a standard 4.428:1 final drive ratio, with optional available ratios of 4.605, 4.260, 3.636, and 3.362.
2L Flat 6
During the 904's second and final production year, some examples received a version of the 911's 2.0-liter flat-six. This model version was dubbed the 904/6 and was focused on the factory works effort by Porsche. Six of these cars were so equipped. Learn more here. 
2L Boxer 8
Three factory race cars were fitted with a flat eight-cylinder power plant derived from the 1962 804 F1 car, the 225 hp (168 kW) 1,962 cc (119.7 cu in) Type 771, which used 42 mm (1.7 in)-throat downdraft Weber carburetors.  The Type 771s, however, suffered a "disturbing habit" of making their flywheels explode. In the interests of reliability, in race trim, this engine was detuned to give a more conservative 225 hp. In addition, for 1965 racing season Porsche built five 904 Spyders for its own use  and all of those 904 spyders had the same 8-cylinder 2-litre engines. The model was known as the Porsche 904 Bergspyder.
Chassis & Body
Since the 904 was going to be a production car, the traditional space frame chassis and corresponding aluminum body would be too costly to manufacture. Such restrictions lead Porsche, with chassis designer Ing. Schroder into an entirely new approach. Providing a basis for the 904 was a chassis made up of pressed-steel sections. On top of this chassis sat a unique fiber glass body shell which was bonded and bolted to the chassis. These construction techniques kept both costs and weight down which was essential for a production run of over 100 race cars.
The chassis of the 904 was built of pressed steel sections. At the basis of this structure were two long box-beams which ran the side of the car, tapering to bulkheads at both ends. Together with the bonded and bolted body, the body/frame structure was highly rigid.
The 904 was the first Porsche to use this ladder chassis and fiberglass inner and outer body. The fibreglass body was bonded to its steel chassis for extra rigidity.  While many German race cars had used unpainted aluminium bodies since the famous "Silver Arrows" of the 1930s, most 904s were painted silver, the German National racing colors. Ferdinand Alexander Porsche, Ferry Porsche's son was responsible for the styling of the 904. After completing the Formula 1 and RS61 projects, Ferdinand had the confidence to use a new styling language with the 904. His work produced a body which had a drag coefficient of .33 Cd.
Over 50 fiber glass pieces made up to the body of the 904. They were built and assembled by the Heinkel Aircraft Company. Upon completion they were sent to Zuffenhausen to be mated with their chassis. The 904's fiberglass body was made by spraying chopped fiberglass into a mold, the amount sprayed often varied in thickness over the shape of the car and as a result the weight of the various cars was somewhat inconsistent; some were heavier than others. Race-prepared four-cylinder 904s weighed in at approximately 1,443 lbs and the low weight gave the 904 the ability to accelerate to 62 mph from a standstill in less than six seconds!  They were also easily able to reach a top speed of 160 mph.
Suspension & Brakes
Suspension elements were borrowed Grand Prix cars which raced in early sixties. Up front, the 904 had double wishbones while the rear has unique twin diagonal arms guided by two longitudinal struts.
The coil springs were a first for Porsche, with the 904 being the first Porsche not to use trailing arm front and swingaxle rear suspension.  The wheelbase was 2,300mm and handling and with it's mid-engine design unlike anything before and regarded for some time thereafter as an industry benchmark.
Outboard Porsche-ATE brakes were used all around. They were similar to the brakes on the 356-C which were manufactured in Germany under license from Girling. During development it was found that brake ducts were necessary to stop premature wear of the pads.
Racing History
The car competed in numerous hillclimbs, endurance races, sprints and rallies.
While the 4-cylinder 904s were racing already, the 8-cylinder fuel-injected prototype (904-009) was tested on the Le Mans test day on April 19, 1964. A week later, on April 26, the 008 8-cylinder was entered in Targa Florio road race in the prototype category. Driven by Edgar Barth/Umberto Maglioli it was victorious in the prototype class, but because of an accident scored only 6th overall. Antonio Pucci/Colin Davis in a 4-cylinder 904-005 took the overall victory and were followed by Gianni Balzarini/Herbert Linge in a 4-cylinder 904-006.
May 31, 1964 Nürburgring 1000 km race saw a record number of 904s signed up – 19 cars! Not all arrived, but there were eight 904s among the first twelve places. Gerhard Koch/Ben Pon won the 2-litre GT class with chassis 904-055 and were 3rd overall after larger-engined Ferraris. The next important race was the Le Mans 24H in June. Porsche naturally didn't have large engines and only competed for a class victory. Despite the very small engines, Porsche had scored 4th overall in 1955 with the 1.5-litre 550 and 3rd in 1958 with the 1.6-litre 718. The best Porsche result in the 1964 Le Mans 24 hour race was 7th overall and a class victory for the 2-litre 904 driven by Robert Buchet/Guy Ligier of Team Auguste Veuillet (A.Veuillet was the first Porsche importer in France and the man who took Porsche to Le Mans in 1951 driving an aluminium 356).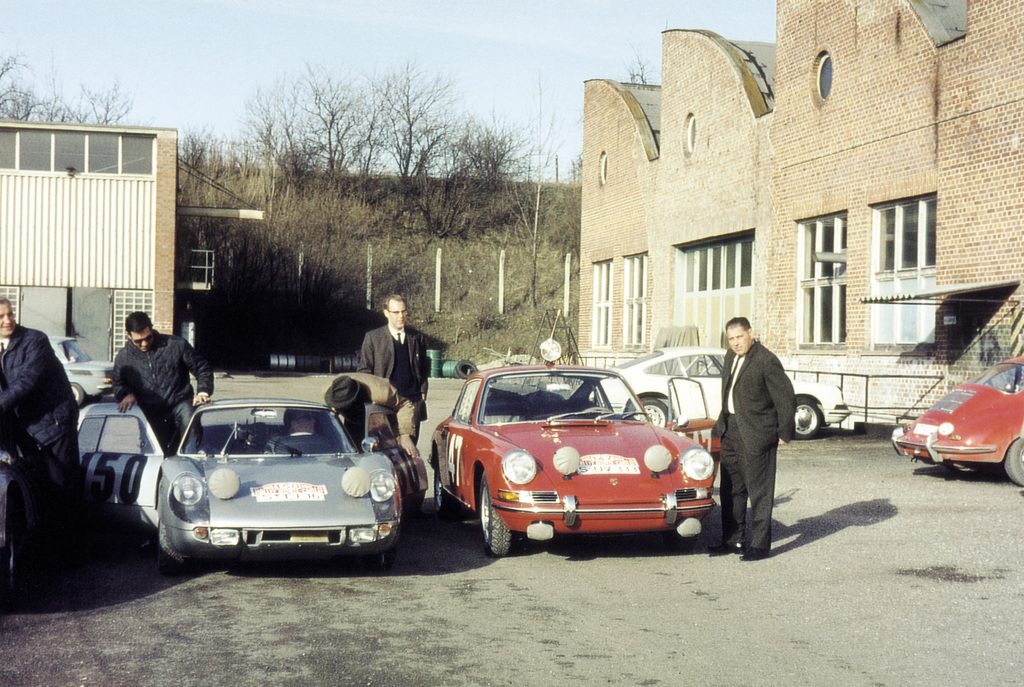 The last cars with chassis number starting with '904-…' were delivered before the Tour de France road race in September 1964. In total 108 cars were made with chassis number '904-' including one 6-cylinder prototype and two 8-cylinder coupés. The first 'series production' 6-cylinder 904, chassis 906-001, was entered in Paris 1000 km on October 11, 1964, but it had to retire due to an accident. The 8-cylinder 904-009 scored 3rd driven by Edgar Barth/Colin Davis.
Although 904 was designed as a racing car with low 4.7″/12 cm ride height, two 904s were entered into the rallye to Monte Carlo in January 1965. Although called the Rallye Automobile Monte-Carlo, it really was a rallye 'to' Monte Carlo as the start was given from different locations around Europe (until 1972 the event was held on public roads and was more about durability than speed). Start for the 1965 rallye was given in the following cities: January 15, 16:32 Stockholm, January 16, 03:26 London (GMT), 04:38 Warzaw, 06:21 Athens, 06:34 Minsk (Moscow time), 07:35 Lisbon, 11:12 Paris, 12:36 Frankfurt and 13:19 Monte-Carlo. Every starting point had different rallye-route. All Porsche drivers signed up to start from Frankfurt.
The route for the participants starting from Frankfurt took them to Nürburgring, Holland, Belgium, all the way to Rennes in north-west France and with zig-zag down to Monaco covering more than 4000 km. After six days the 904 driven by Eugen Bohringer and co-piloted by Rolf Wütherich scored second (Wütherich is known as James Dean's mechanic who survived the horrific 550 Spyder crash in 1955). The very same car, chassis 904-006, also had scored 2nd on the 1964 Targa Florio.
A few six-cylinder 906 cars were built for the 1965 racing season and they had many differences compared to the predecessors: centered fuel filler, side windows that moved vertically (like on regular cars), a bit smaller doors (third door size), "elephant ear" large air intakes, different engine cover etc. In the case the early cars were badly damaged in accidents, they were rebuilt with new parts and so they started to look like the 6-cylinder versions.
On the May 23, 1965 Nürburgring 1000 km race the 904/8 (chassis 904-009) driven by Jo Bonnier/Jochen Rindt scored 3rd overall and was victorious in the 2-litre prototype class.
On June 20, 1965, the best Le Mans result for the 904 is achieved: a 6-cylinder version becomes 2-litre prototype class winner and 4th overall driven by Herbert Linge/Peter Nöcker. They are followed by a 4-cylinder 904 driven by Gerhard Koch/Anton Fischhaber (5th overall and 2-litre GT-class winner).
All 904s came with 2-litre engines from the factory – either 4-, 8- or finally 6-cylinder. Generally the 4-cylinder cars had "904-" chassis numbers and the 6-cylinder cars had "906-" chassis numbers. It was no rule though as the first prototype chassis 904-001 had a 6-cylinder engine and the 8-cylinder coupés also had "904-" chassis numbers, while the 8 cylinder spyders had "906-" chassis numbers. The last factory chassis for 4-cylinder car was 904-108.
As the 4-cylinder engines were high tech units which were not so easy to maintain, later many were replaced with 6-cylinder engines. Although such a request could be carried out by Porsche, these conversions were mainly done by independent garages and so the new engines were not only the 2-litre units, but later even up to 2.8-litre units that were originally made for the racing 911s.
At the 1966 Nürburgring 1000 km race, German TV channel ZDF had borrowed a 904 from Porsche to install a TV camera in the cockpit for live broadcast. The car was driven by Paul Frère/Rainer Günzler. Because of the mountainous landscape, a helicopter followed the car and transmitted the received signal to the station in Nürburg from where it was sent to ZDF headquarters in Wiesbaden and then immediately broadcasted.
Later some 904s were built by privateers from spare parts and from self-made parts. The following made-up chassis numbers are known to exist: 904-109, -113, -115, -119, -126. Another fact worth to mention is that some of the cars around the globe have same chassis numbers. For example if after a crash a new chassis was ordered from the factory and the chassls number plate was transferred, the old chassis was shed aside with no further plans. But then came the times when 904 prices skyrocketed and the old crashed chassis were also woken alive and new number plates were fabricated with the same numbers. Because of the risen value of 904s even the totally crashed and burned-down cars have been restored.

Conclusion
The 904 was a car built during the end of an era having affordable race cars. Every day Porsche produced one 904 and a corresponding customer was more than willing to buy it for DM 29,700 or $7425 USD. Future plastic-bodied cars, beyond the 904, would soon become to advanced and expensive to sell as a production vehicles. Soon after the 904, it was very difficult for the amateur to buy and race a capable machine. The 904 started a trend which would motivate Porsche to manufacture sports prototype cars.
The Story In Pictures