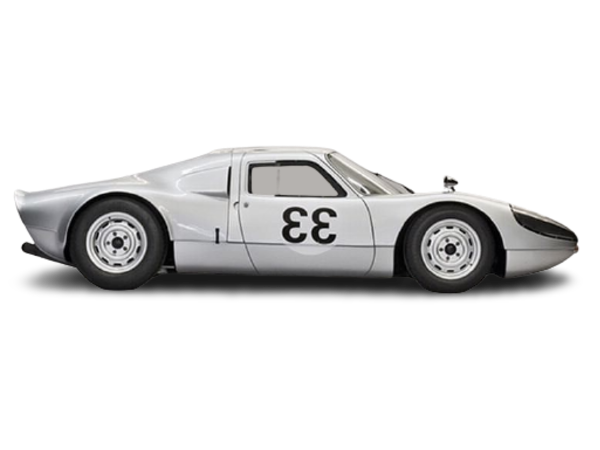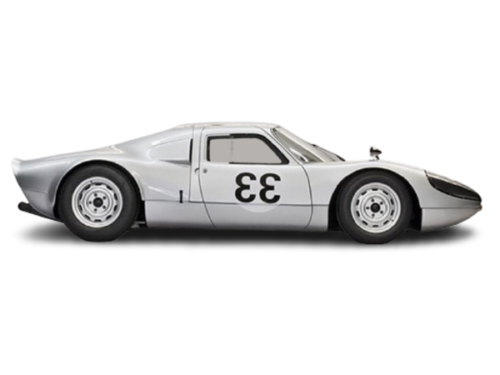 Porsche 904/8 Carrera GTS (1964 – 1965)
The Porsche 904 chassis could be fitted with 4, 6 and 8-cylinder engines. In fact, three factory race cars were fitted with a flat eight-cylinder power plant derived from the 1962 804 F1 car, the 225 hp (168 kW) 1,962 cc (119.7 cu in) Type 771, which used 42 mm (1.7 in)-throat downdraft Weber carburetors.  The Type 771s, however, suffered a "disturbing habit" of making their flywheels explode. In the interests of reliability, in race trim, this engine was detuned to give a more conservative 225 hp.
We do not know the whereabouts of two of the 904/8 cars built, but we know that one of the three units is in the Porsche museum in Stuttgart.
First tested at Le Mans in April 1964, a  904/8 was driven to a (prototype) class victory in the Targa Florio and competed in the Nurburgring 1000km in the hands of Jo Bonnier and Richie Ginther. It also took part in the Le Mans 24 Hours in 1965, the 12 Hours of Reims and 1000km of Paris as well as two more Nurburgring 1000km races.
At the 1964 Targa Florio, two 904s occupied the two top steps of the podium, but these were both 4-cylinder 1966 cc 4-cam engined 904s. A Porsche 904/8 (chassis #008), driven by Edgar Barth and Umberto Maglioli. Initially Barth showed the field what lay in store for them by leading in the 904/8 after the first lap, but a loose shock absorber mount resulted in a worrying spin. With repairs completed, the car went out again but it had too much ground to make up, and the promising pair of Barth/Maglioli would come home in sixth place overall.