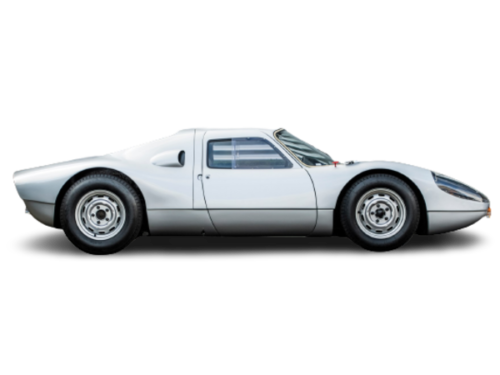 Porsche 904 Carrera GTS (1963 – 1964)
After having retired from F1 & F2 competition at the end of the 1962 season, Porsche focused again on SportsCar racing.  The Porsche 904 debuted late in 1963, for the 1964 racing season. Porsche designed the 1965 Porsche 904 Carrera GTS variant to compete in the FIA-GT class at various international racing events.  The street-legal version debuted in 1964 in order to comply with FIA's Group 3 homologation regulations requiring a certain number of road-going variants be sold by the factory.  Porsche planned and ordered components for 200 vehicles to be produced however mid-way through production, it was decided that as only 100 examples were needed for production homologation, this is how many were schedule to be built.  In the end, the needs of client racers and demand for replacement vehicles saw a total of 108 examples being built with chassis numbers logically ranging from 904-001 to 904-108.  There were several that were "recycled" in period and some rebuilt and issued same/old chassis numbers but today Porsche officially still sites a total of just 108 examples.
Porsche's Type 904 was officially called the Carrera GTS because Porsche and Peugeot were still in their bitter disagreement over numeric designations with "0" in them. The Porsche 904 succeeded the RSK Type 718 as the last sports-racing iteration of the 356 series. It was also the last full-competition Porsche that could be readily driven on the street.
The 904's designer was 28-year-old Ferdinand Alexander "Butzi" Porsche III, the son of company chairman "Ferry" Porsche. The 904 had to be functional and sellable, as FIA rules mandated 100 examples to be built. Porsche's 1961 Model 718 competition coupé was the 904's inspiration, but the new race car, with its strong, full-length character line, rakish lift-up tail, and ultra-low 41.9-inch height, was much better looking.
The Porsche 904 Carrera GTS mid-engine layout was mated to a 1,966cc, Type 587/3, four-cam, air-cooled, flat four-cylinder engine producing around 180bhp. At the time it was considered the most advanced four-cylinder engine ever designed and put into production. The 2.0-liter engine drove a five-speed transmission with a standard 4.428:1 final drive ratio, with optional available ratios of 4.605, 4.260, 3.636, and 3.362.  The original engine design began as the Type 547, its development first taking shape in 1953, when the previous VW-based 1,100cc, flat-four, used in the contemporary 356 hit the limit of its potential.
Porsche realized it needed something all-new and it came in the form of the brainchild of Dr. Ernst Fuhrmann, later Technical Director of Porsche Racing.  He initially hoped to achieve an unheard of 70bhp out of a 1500cc engine. Relying on hemispherical combustion chambers and two 46 mm, 46IDA3 dual-choke Weber carburetors, the engine was actually able to produced 100 to 115bhp depending on application and choice of cam, engine timing and allowable rpm applications.  The new 1.5-liter engine weighed in at only 310lbs (140kgs) and eventually was producing nearly 180bhp in its final 1500cc form.  Then engine featured a complex design that proved very expensive and time consuming to build but very durable.  It was such a success that over a very short period of time, it was used in 34 different models, including the well-known 550 Spyders, 356 Carreras, and even Porsches short lived F1 and F2 programs.
A chassis of steel pressings embraced the well-proven, four-cam flat-four Carrera engine, which was mid-mounted for better balance. Suspension up front was twin-wishbones from the Type 804 F1 car, and the ZF rack-and-pinion steering was adopted from the new 901/911. Zero to 60 mph could be accomplished in as little as 5.5 seconds, and the 904 could be geared for 160 mph, with four-wheel ATE disc brakes quickly bringing the car to a stop.
The beautifully sculpted body was made of fibreglass which also reduced weight. It was formed from spraying chopped fiberglass onto a mould, and then bonded to the steel chassis for added rigidity. The twin bucket seats were fixed in place, but the cast alloy pedals were adjustable, and Porsche made several seat sizes available to suit varied driver heights. For the US market the 1965 Porsche 904 Carrera GTS had an initial list price of $7245 (FOB Stuttgart).
Competing in Sicily's twisty 1964 Targa Florio, a pair of 904s finished ahead of the bigger-engine Ferraris and Shelby Cobras; it would not be the first time Porsche's "giant killers" accomplished that feat. Fifty cars were required for official homologation in FIA-GT Group 3; although, it is believed that more than 100 examples of the 904, in various configurations, were actually built. All but 21 were sold in the first two weeks following the cars launch.
The 904 was a car built during the end of an era having affordable race cars. Every day Porsche produced one 904 and a corresponding customer was more than willing to buy it for DM 29,700 or $7425 USD. Future plastic-bodied cars, beyond the 904, would soon become to advanced and expensive to sell as a production vehicles. Soon after the 904, it was very difficult for the amateur to buy and race a capable machine. The 904 started a trend which would motivate Porsche to manufacture sports prototype cars.
To read more about the Porsche 904 and it's story, see our full history of the Porsche 904 as well as our Porsche 904 research center for all model variants and lots more data.