Porsche 804 F1 (1962)
Premiere: 1962 May 20, Dutch GP at Zandvoort / Engine: Porsche Type 753 1,494 cc 4-cam Flat eight / Gearbox: 6-speed / Empty weight: 461 kg/1016 lb / Predecessor: Porsche 787 / Constructor: Porsche / Designer(s): Ferdinand Alexander "Butzi" Porsche / Notable drivers: Joakim Bonnier, Dan Gurney, Phil Hill
The Story
Porsche hadn't managed to master Formula 1 – the type 360 Grand Prix car never made it to the starting line and the 787 F1 was a failure. In 1961, a 787 development car with chassis number 718/2-05 was equipped with disc brakes (annular type) and horizontal engine fan – features that the 1962 Porsche 804 F1 would get.
In 1962, young F. A. Porsche became the manager of the Porsche design studios. His first exterior design work publicly shown was the Porsche 804 Formula 1 car. Before the 901/911 would be launched with Porsche's first 6-cylinder engine, Porsche's first 8-cylinder engine debuted in the 804. The Porsche type number for the flat-8 was 753, which is much lower than the type number of the car itself. The reason is that the engineering of the 8-cylinder Porsche engine started already in 1960.
The 1962 F1 championship started with Dutch GP at Zandvoort on May 20, 1962. Two 804 were fielded, Jo Bonnier finished 7th, Dan Gurney had to withdraw because of a transmission linkage issue. Two weeks later at Monaco, Dan Gurney had to withdraw on the first lap after his car was hit from behind by a competitor. Jo Bonnier entered this race with the old 718/2.
Back to the drawing board – Porsche skipped the Spa GP in Belgium and was back after 5 weeks with improved front suspension. Visual differences also included the front area of the windscreen.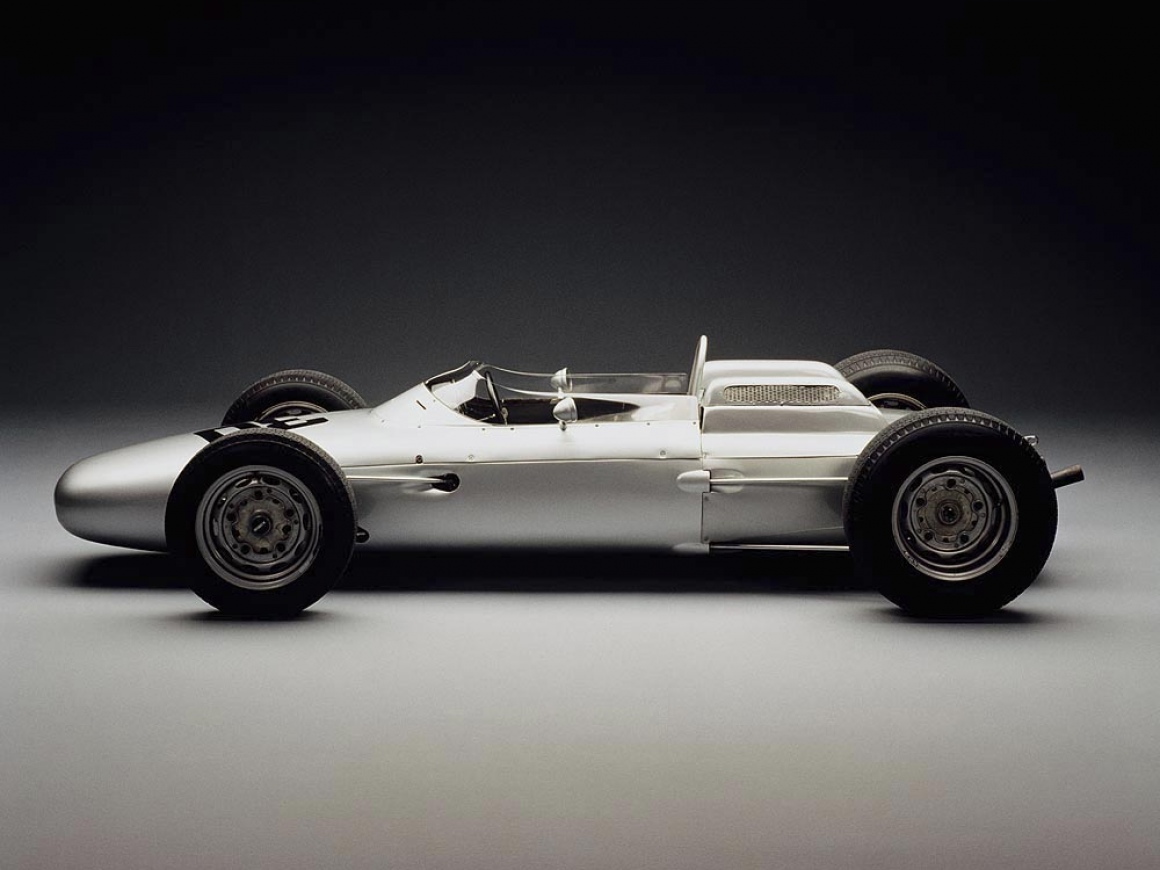 The first victory for Porsche in Formula 1 came on July 8, 1962, at the French GP at Rouen. Dan Gurney won the race on rough asphalt surface thanks to the robust design of the 804 chassis. All of his rivals were out due to suspension failures or drivetrain problems. Bonnier didn't finish either because of technical problems.
At the non-championship Solitude race near Stuttgart, double victory for Porsche 804 was achieved – Gurney won and Bonnier came second.
At the 1962 British GP at Aintree, Gurney finished 2 laps behind the winner because of a clutch issue and Bonnier retired with just 27 laps of 75 completed when the differential failed. After the problems in England, success came again – Gurney finished third at the German GP at Nürburgring, just 4 seconds behind the winner in a race that lasted for 2 hours and 38 minutes. Bonnier finished 7th.
Then there was a 6 week gap in the F1 championship and Bonnier used the vacation to test his 804 at the Kanonloppet race in his home country Sweden where he scored 3rd. Another outing for Bonnier was at the Ollon-Villars hill climb in Switzerland where he was much faster than hill climb cars and he wasn't classified.
The next F1 championship race was the Italian GP at Monza on September 16, 1962. Porsche surprisingly equipped its cars with aerodynamic parts. The wheels and suspension parts had flat covers on them.
At Monza, Bonnier finished 6th and Gurney did not finish – it was the differential again, that let the 804 down. The cool but useless aero parts were removed and the cars were shipped across the Atlantic for the United States GP at Watkins Glen in New York state. At the home soil Gurney finished 5th, one lap behind the winner in the 100 lap race. Team mate Bonnier had to withdraw after 79 laps. He was classified, though, on 13th place. It was the last F1 championship race for the 804 as it was decided not to go to South Africa for the last round and to terminate the Porsche F1 program altogether.
All of the 804 built have luckily survived – two are privately owned and two belong to Porsche Museum collection.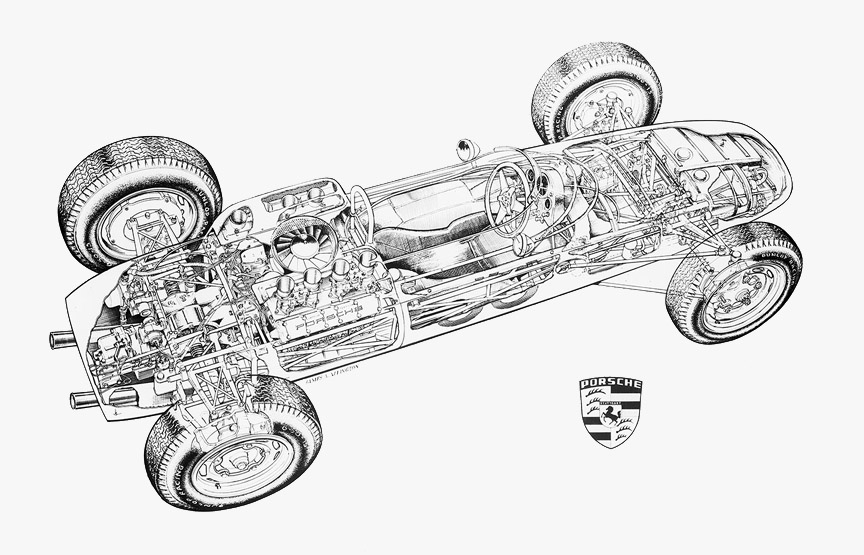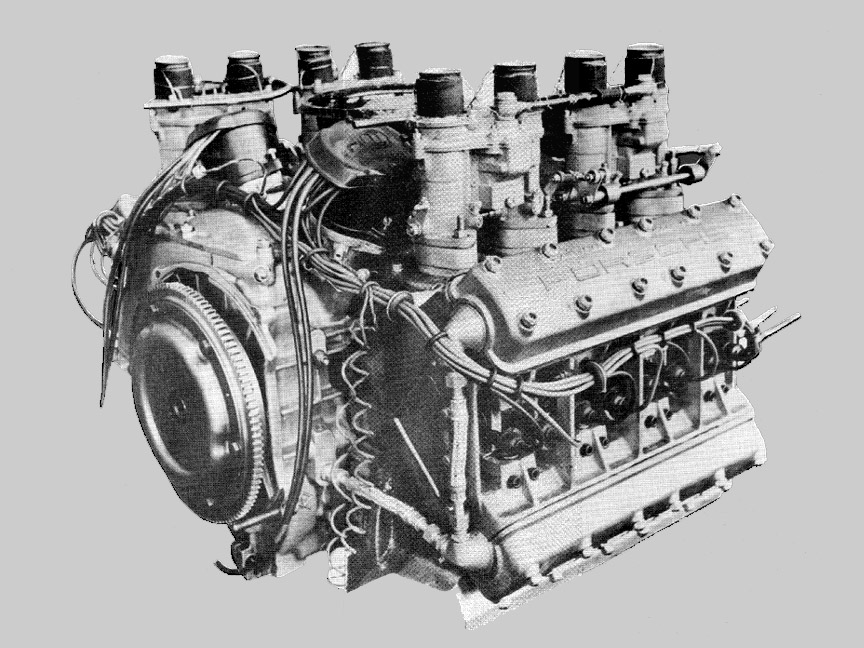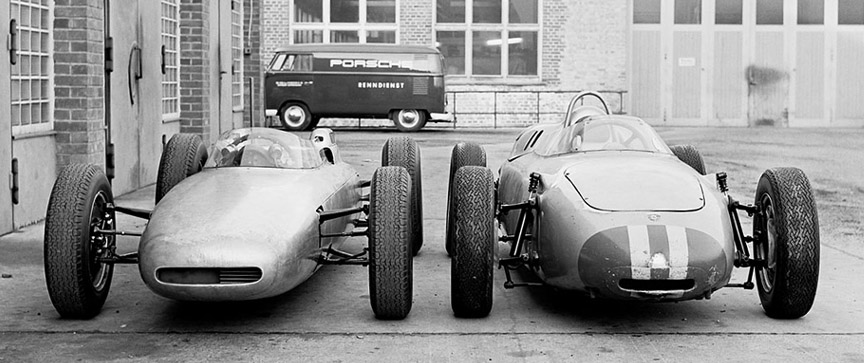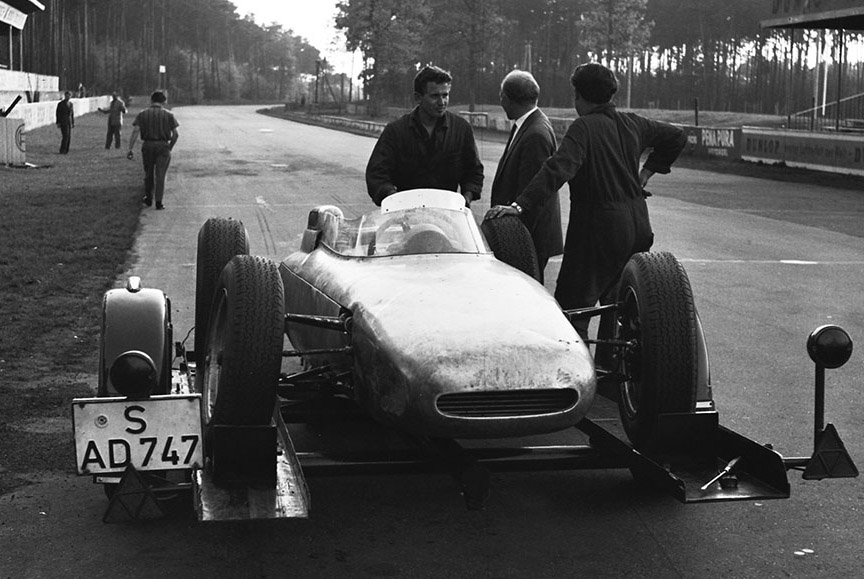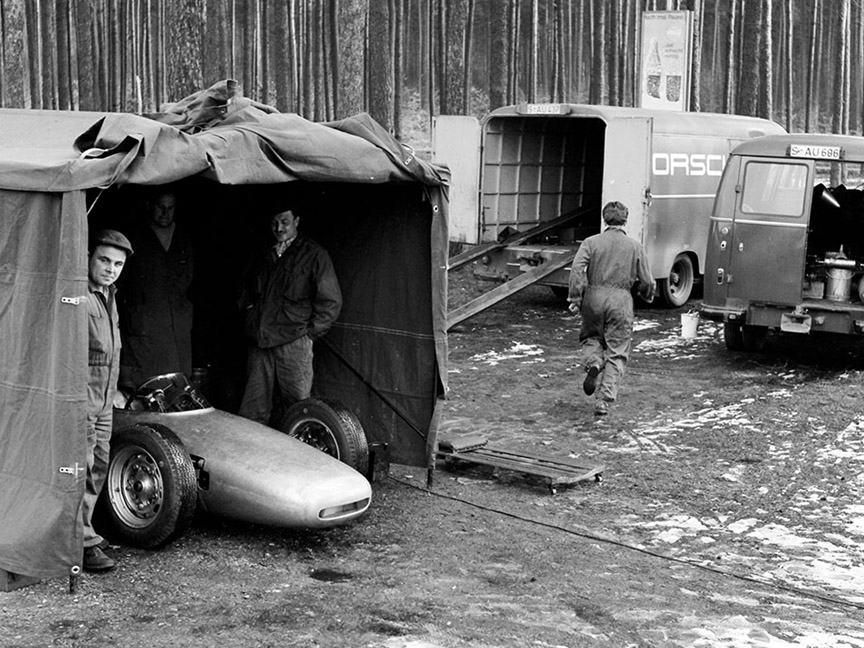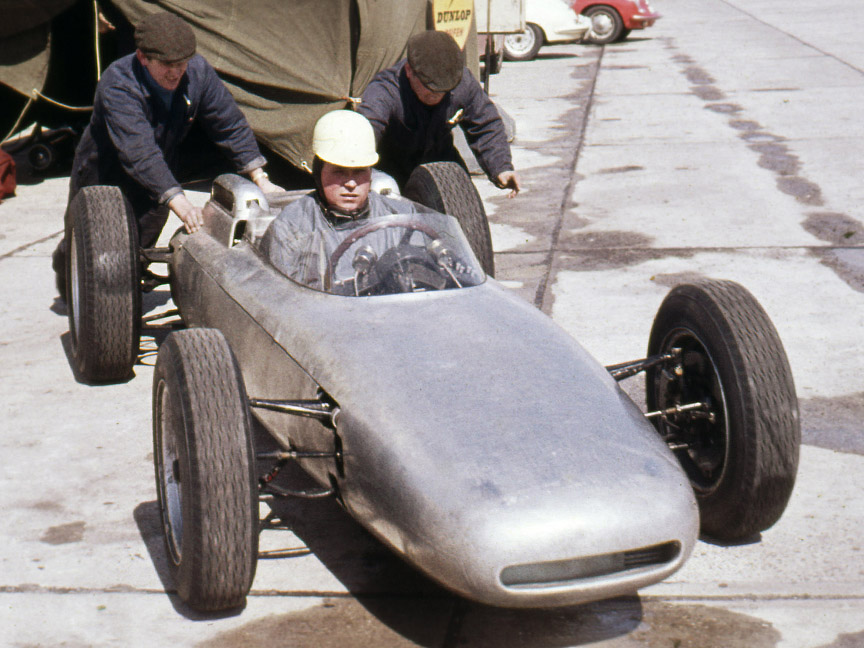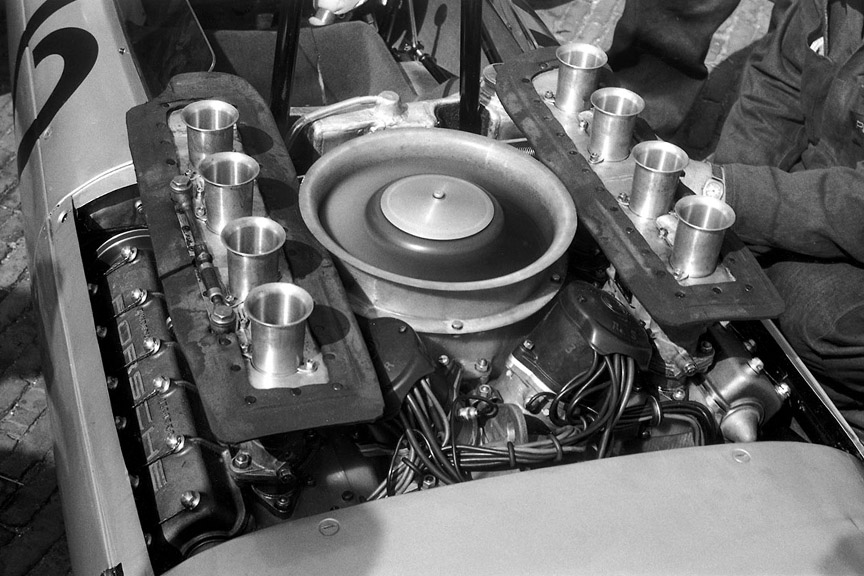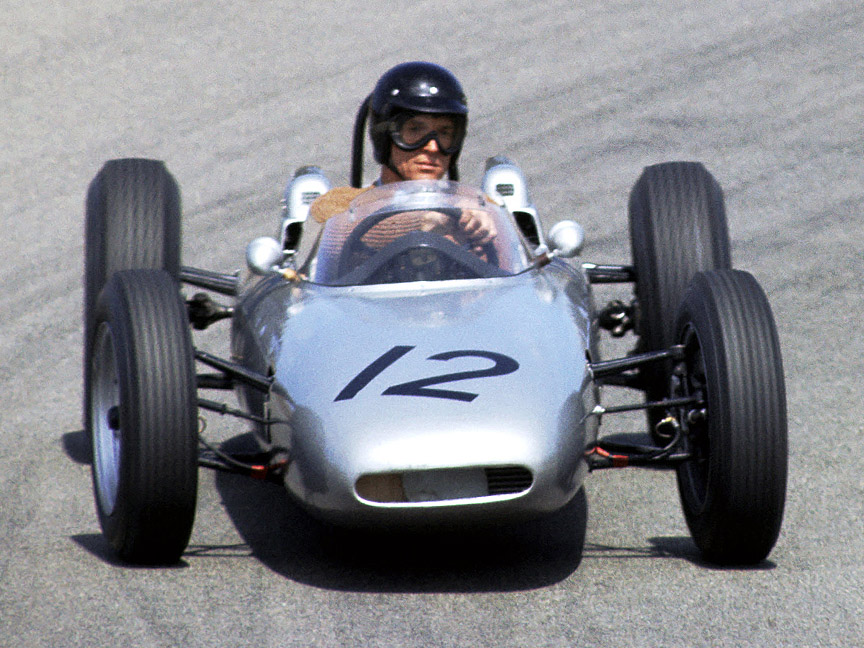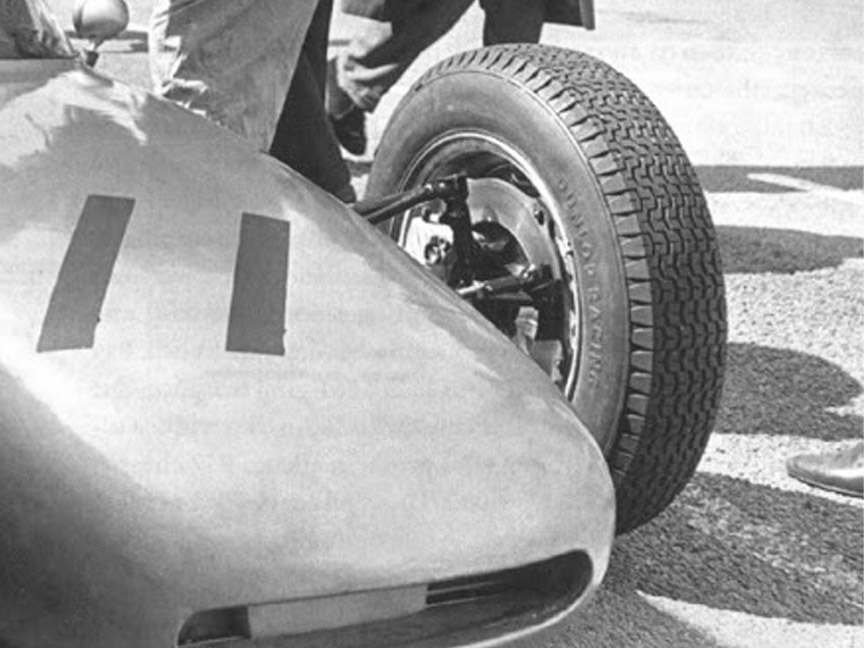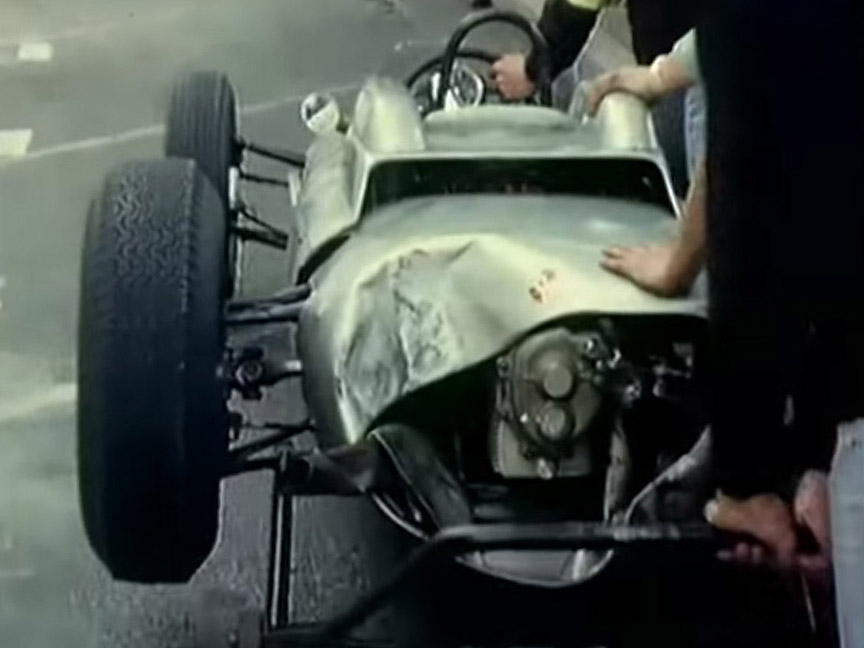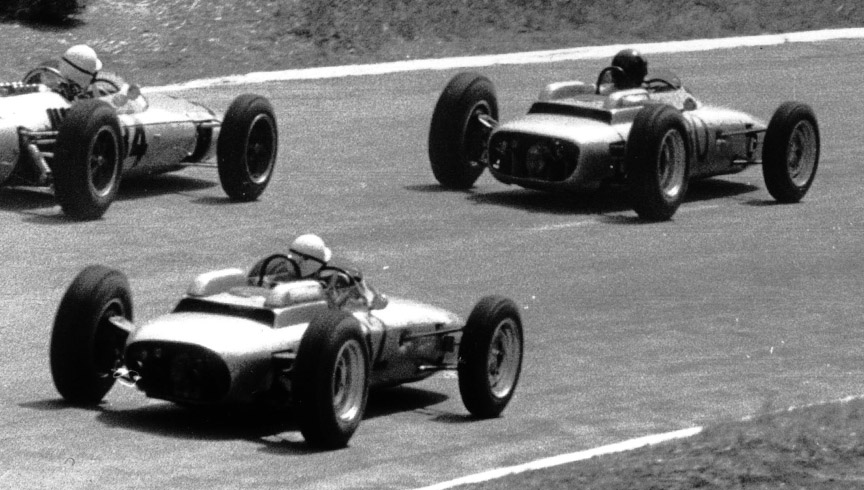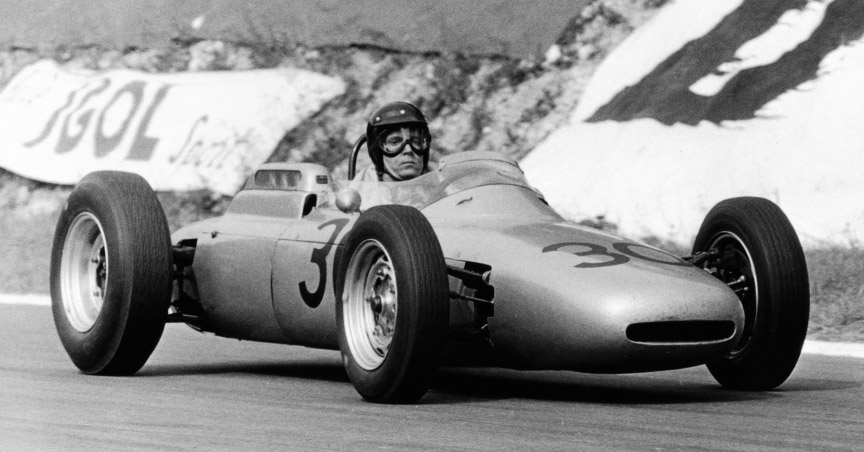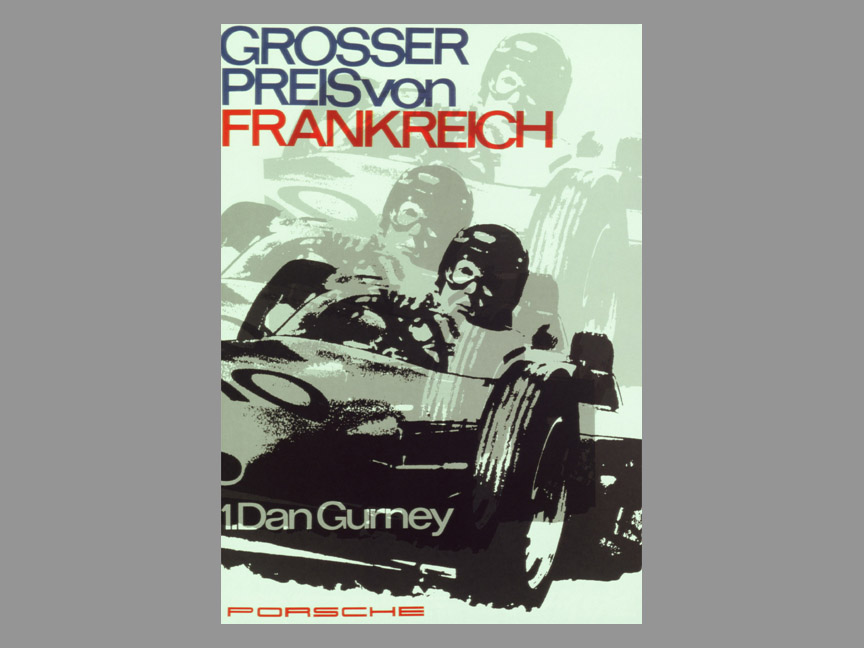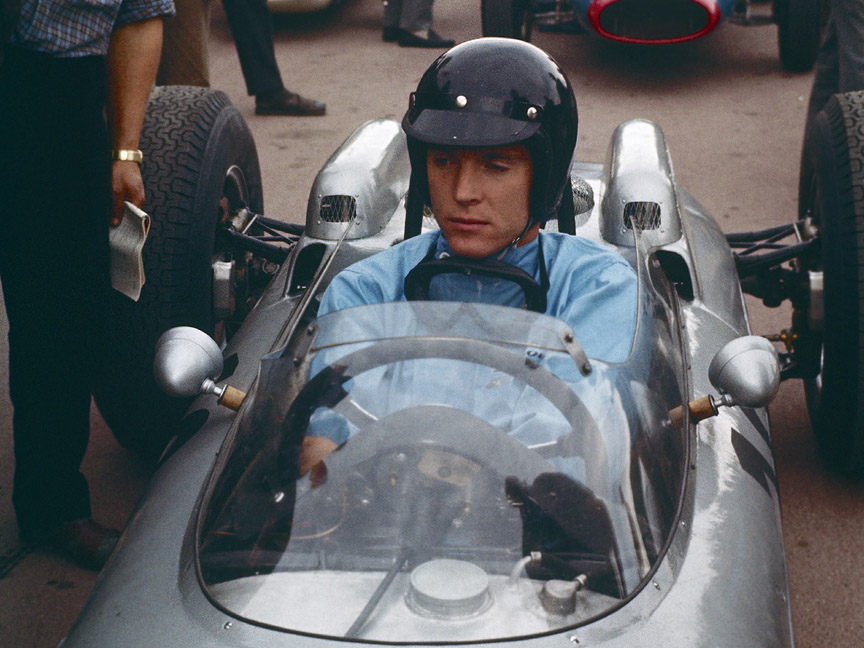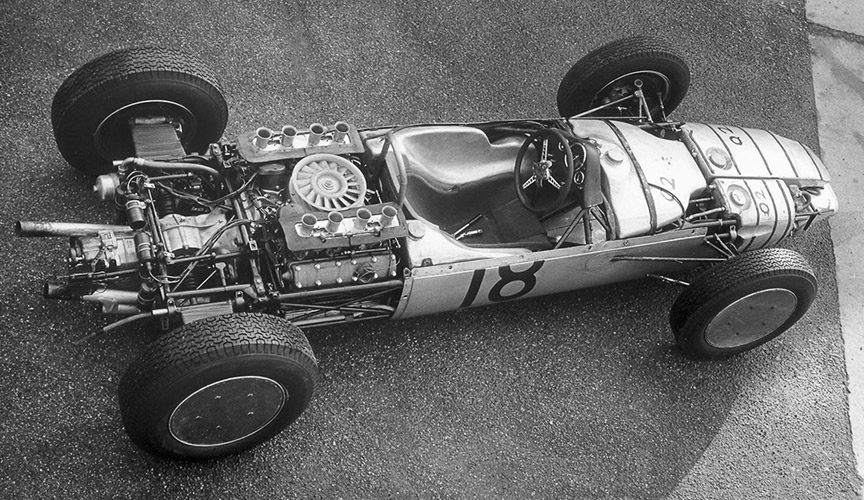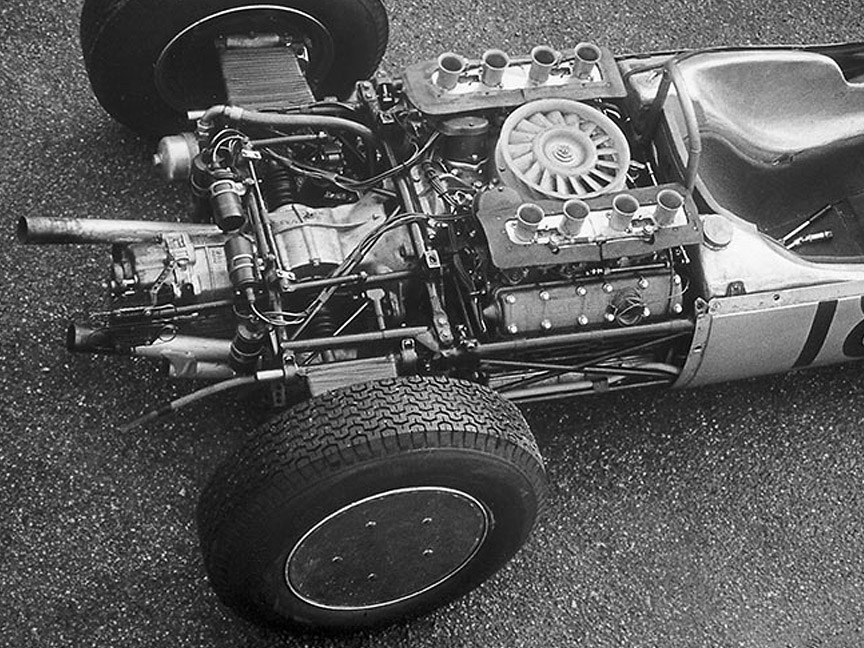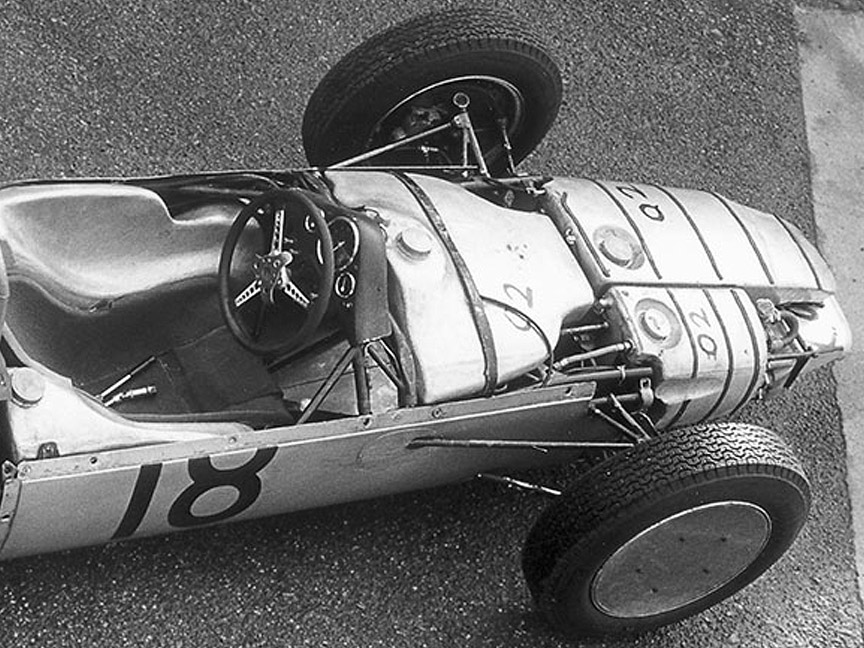 Specifications & Performance
| | |
| --- | --- |
| Engine: | Flat-eight boxer (4-stroke) Type 753 |
| Displacement: | 1,494 cc (91.2 cu in) |
| Bore × Stroke: | 66.0 mm × 54.6 mm (2.6 in × 2.1 in) |
| Maximum power: | 132 kW (179.5 PS; 177.0 hp) at 9200 rpm |
| Maximum torque: | 153 N⋅m (112.8 ft⋅lb) at 7200 rpm |
| Compression ratio: | 10.0:1 |
| Valvetrain: | Lower countershaft and two layshafts driving exhaust camshafts. Upper countershaft and two layshafts driving intake camshafts. Two overhead camshafts per cylinder head. Two valves per cylinder. |
| Cooling: | Air-cooled (fan) |
| Transmission: | 6-speed gearbox with limited-slip differential, rear-wheel drive |
| Brakes: | Porsche annular ring disc brakes |
| Suspension front: | Upper and lower unequal-length A-arms, torsion bars, inboard shock absorbers |
| Suspension rear: | Upper and lower unequal-length A-arms, torsion bars, inboard shock absorbers |
| Body/Chassis: | Space frame of mild steel tube with aluminum bodywork |
| Track f/r: | 1,295 / 1,285 mm (51.0 / 50.6 in) |
| Wheelbase: | 2,300 mm (90.6 in) |
| Wheels and tires: | 5.00-15 R on ?J × 15 front, 6.50-15 R on ?J × 15 rear |
| Length × Width × Height: | 3,600 mm × 1,615 mm × 820 mm (141.7 in × 63.6 in × 32.3 in) |
| Weight: | 455 kg (1,003.1 lb) |
| Maximum speed: | 270 km/h (167.8 mph) |
Grand Prix Results
In July 1962 Dan Gurney fended off the challenge from his brand colleague Joakim Bonnier to win the French Grand Prix in the Type 804 Grand Prix racing car. Gurney also triumphed on Stuttgart's Solitude racetrack. The 461 kilogram eight-cylinder monoposto with disc brakes and double wishbone is the only Formula 1 racing car ever developed and built entirely by Porsche. The 804 influenced many other racing car developments by Porsche.
| | | | | | | | | |
| --- | --- | --- | --- | --- | --- | --- | --- | --- |
| Year | Grand Prix | Team | No. | Driver | Engine | Tire | Grid | |
| 1962 | Netherlands | Porsche System Engineering | 11 | BONNIER Jo | Porsche 753 F8 | Dunlop | 13 | 7 |
| | | Porsche System Engineering | 12 | GURNEY Dan | Porsche 753 F8 | Dunlop | 8 | ab |
| 1962 | Monaco | Porsche System Engineering | 4 | GURNEY Dan | Porsche 753 F8 | Dunlop | 5 | ab |
| 1962 | Belgium | Porsche System Engineering | 24 | BONNIER Jo | Porsche 753 F8 | Dunlop | | f |
| 1962 | France | Porsche System Engineering | 30 | GURNEY Dan | Porsche 753 F8 | Dunlop | 6 | 1 |
| | | Porsche System Engineering | 32 | BONNIER Jo | Porsche 753 F8 | Dunlop | 9 | 10 |
| 1962 | Britain | Porsche System Engineering | 8 | GURNEY Dan | Porsche 753 F8 | Dunlop | 6 | 9 |
| | | Porsche System Engineering | 10 | BONNIER Jo | Porsche 753 F8 | Dunlop | 7 | ab |
| 1962 | Germany | Porsche System Engineering | 7 | GURNEY Dan | Porsche 753 F8 | Dunlop | 1 | 3 |
| | | Porsche System Engineering | 8 | BONNIER Jo | Porsche 753 F8 | Dunlop | 6 | 7 |
| 1962 | Italy | Porsche System Engineering | 16 | GURNEY Dan | Porsche 753 F8 | Dunlop | 7 | 13 |
| | | Porsche System Engineering | 18 | BONNIER Jo | Porsche 753 F8 | Dunlop | 9 | 6 |
| 1962 | USA | Porsche System Engineering | 10 | GURNEY Dan | Porsche 753 F8 | Dunlop | 4 | 5 |
| | | Porsche System Engineering | 11 | BONNIER Jo | Porsche 753 F8 | Dunlop | 9 | 13 |
| | | Porsche System Engineering | 11 | HILL Phil | Porsche 753 F8 | Dunlop | | np |