If you can't own a Porsche of your own (and even if you can), repping Stuttgart and its world-famous automobiles on a high-quality t-shirt is the perfect way to show off your love for the brand. Nobody knows that better than our members—whose love for these incredible cars runs so deep that they bombarded us with requests for clothing that featured them. We listened.
Below, you'll find 10 Porsche t-shirts our members repeatedly requested until we made 'em. Find the perfect way to customize your chassis here, with information on pricing, sizing, and more.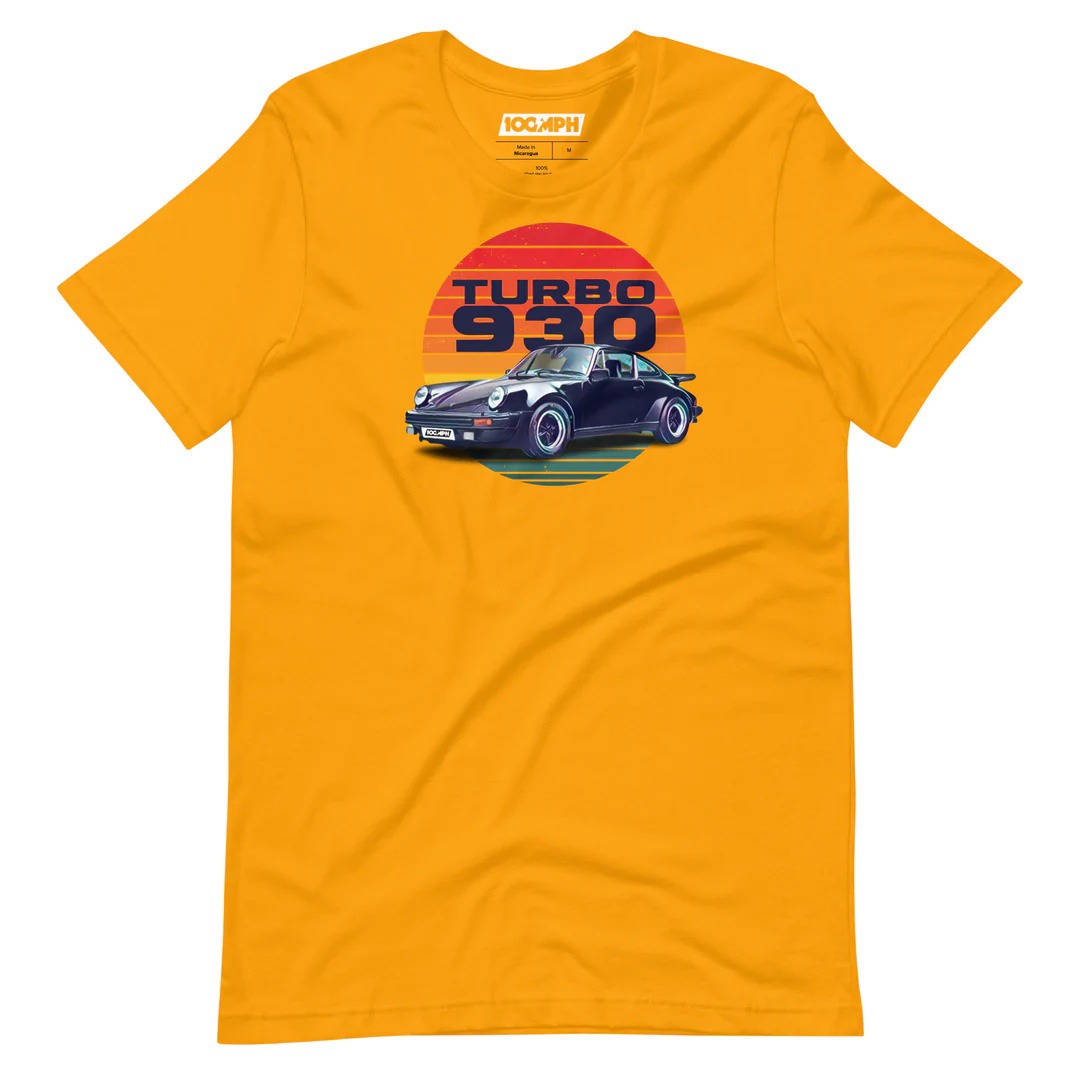 Over 300 horsepower and a top speed of 160mph—okay, this shirt doesn't have specs like that, but the car on the front of it sure does. An iconic street and track machine, the Porsche 911 930 Turbo has a gorgeous design, perfectly visible here in a three-quarter view with the hint of its ducktail spoiler peeking out from behind.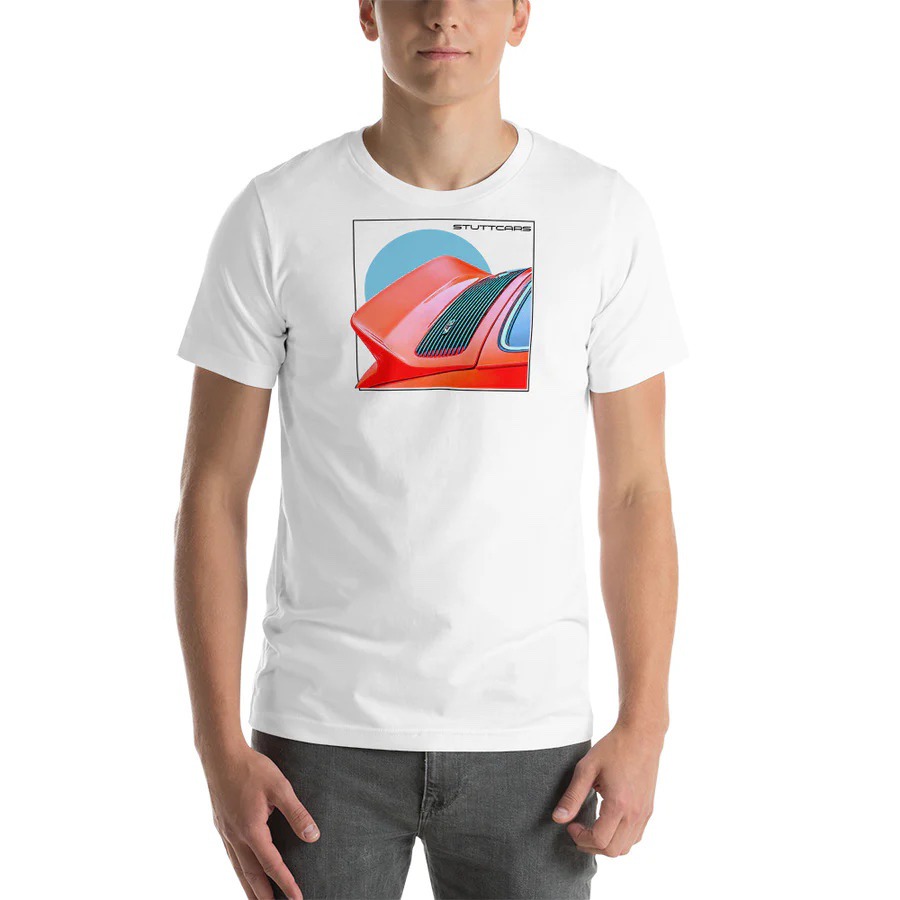 Wing Porsche Carrera 911 RS 2.7
There are a lot of memorable things about the Porsche Carrera 911 RS 2.7, but that rear wing is probably at the top of the list. We certainly thought so, anyway, which is why it's front and center in the design of this high-quality cotton shirt. Will wearing this make you more aerodynamic? Maybe not, but you'll definitely feel at least 10% sleeker.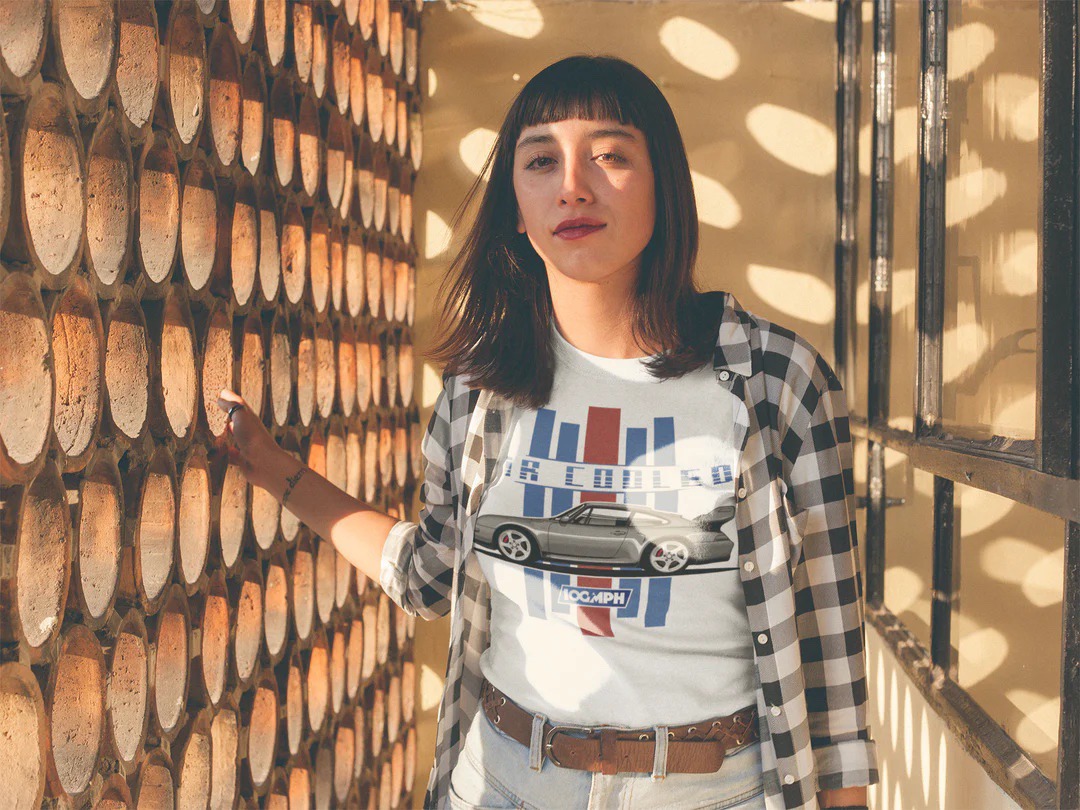 Air Cooled – Porsche 911 Turbo
You won't need to be air-cooled when you wear this shirt—you'll already look very cool in it. This pre-shrunk cotton tee comes with a tasteful but eye-catching graphic on the front, featuring the famous 911 Turbo on a stylized blue-and-red design. Also comes in a womens version.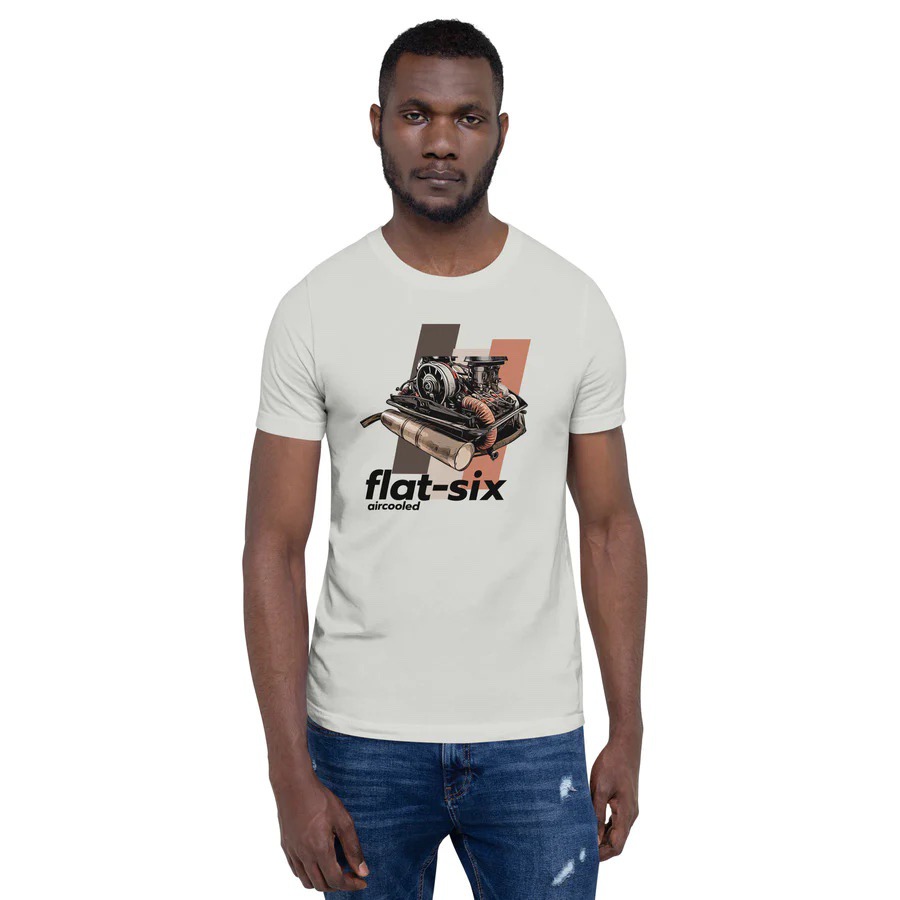 Flat Six – Retro
Soft, lightweight, and with just the right amount of stretch in the fabric—this shirt is almost as well-designed as the legendary engine featured on it. Porsche has famously used the air-cooled flat-six engine in its premium automobiles for decades, due to its ability to lower a car's center of gravity and provide a more exhilarating driving experience. You might not corner faster in this thing, but it will definitely rev up your heart.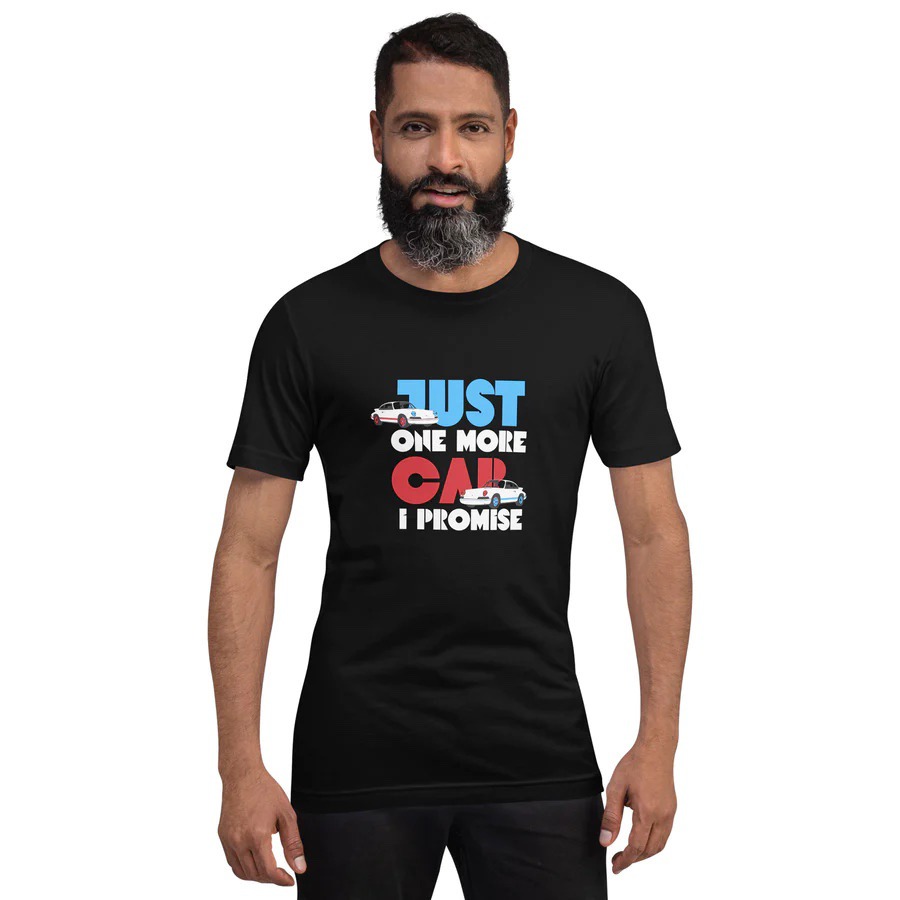 Just One More Car I Promise – Porsche
Who would say no to having one (more) Porsche in their garage? Not you if you're wearing this shirt, which makes it clear that there's no such thing as too many high-performance automobiles from Stuttgart. Perfect for collectors, this shirt is made from 100% combed and ring-spun cotton, with side-seamed construction and shoulder-to-shoulder taping. Note: heather colors include a small amount of polyester.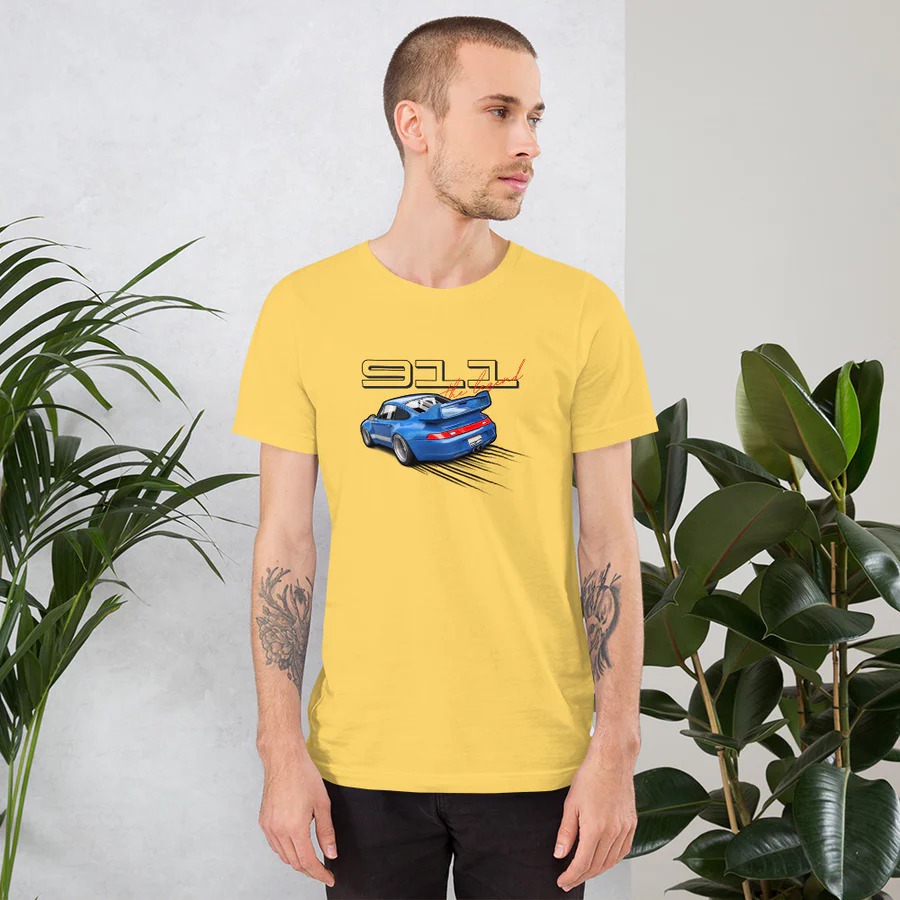 Porsche 911 (933) The Legend
The image of the classic Porsche 911 933 speeding away is one that many drivers of slower and less-exciting vehicles are already familiar with—but it never hurts to remind the world of just how lightning-fast this legendary car is. This shirt comes in a number of colors, including silver, white, and asphalt—but we like the yellow version best, which perfectly complements the blue of the car featured in the graphic.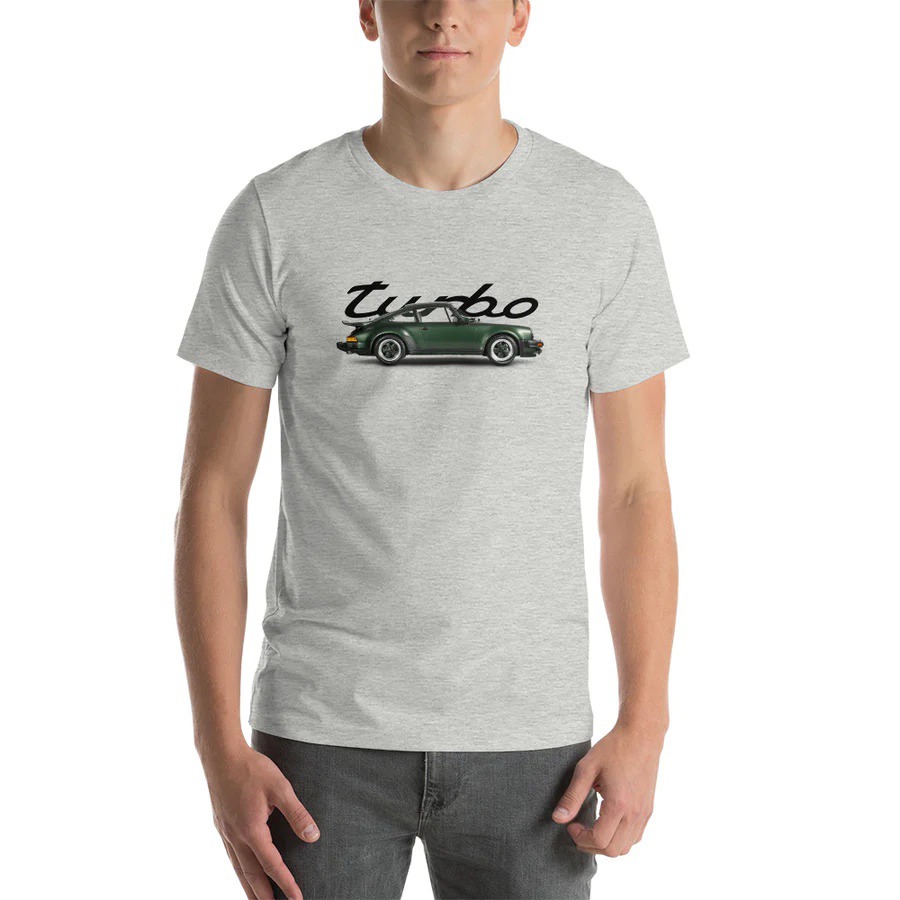 Porsche 911 Turbo Profile
The single word on this ring-spun cotton tee really says it all. I mean, sure—plenty has been written here at Stuttcars and elsewhere about the Porsche 911 Turbo and its impeccable pedigree—but the feelings of excitement and power this car produces really owe a debt to the twin-turbocharged and intercooled DOHC flat-six in-line engine it relies on for its eye-watering speed and performance. And with its iconic profile enshrined on the front of this shirt, you can really show off what this singularly notorious vehicle looks like in its natural element. Vroom.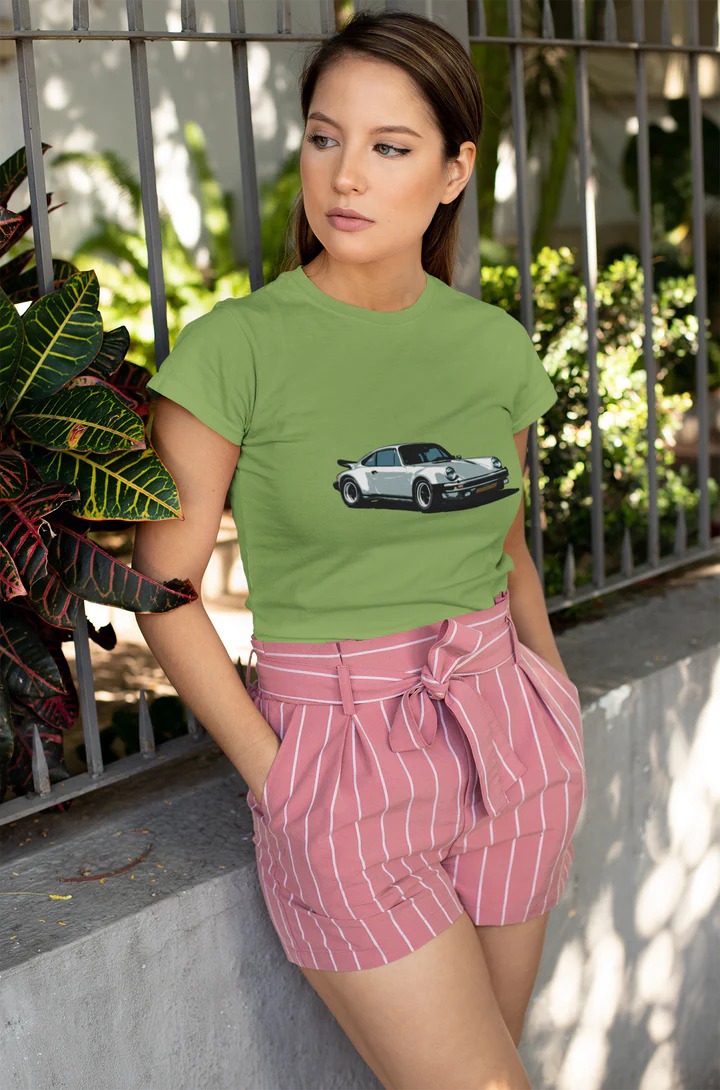 Porsche 930 Turbo
Of course, sometimes a simple profile just doesn't cut it. The 930 Turbo has an absolutely stunning shape when you see it in person—and while that's not always possible, a three-quarter view of the car goes a long way to communicating its dimensions in the form of a graphic.
This shirt also comes in a men's version.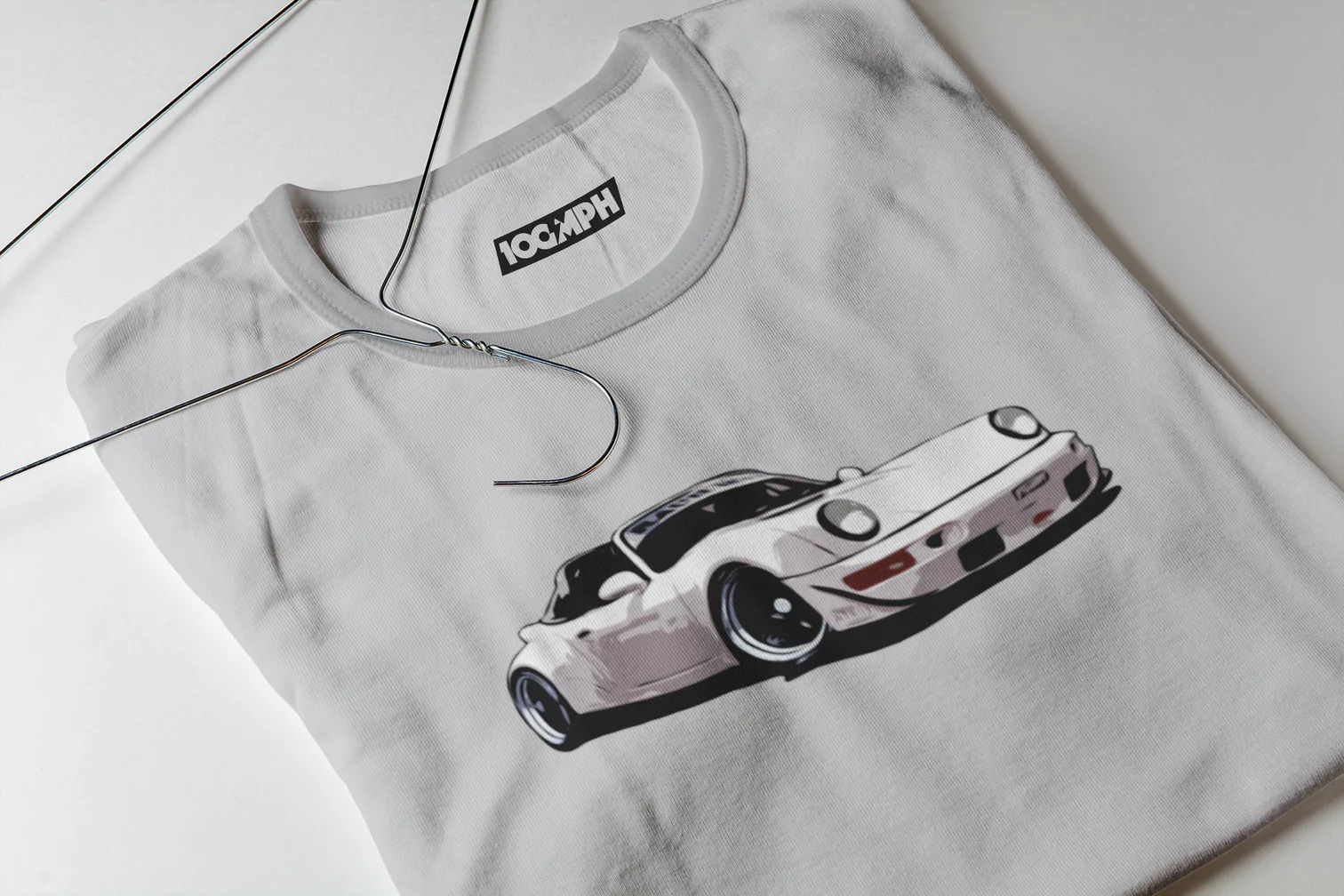 Porsche 964 Wide Body
The third generation of the Porsche 911 came with a number of new visual flourishes—such as brand-new bumpers, side sills, a rear lamp panel, and a new rear spoiler. But the wide body edition of this Porsche had a truly muscular look—one our members were especially adamant to rock on a t-shirt. So we didn't just make one version of this kickass design; it also comes in a blue version, a women's version, and a blue women's version.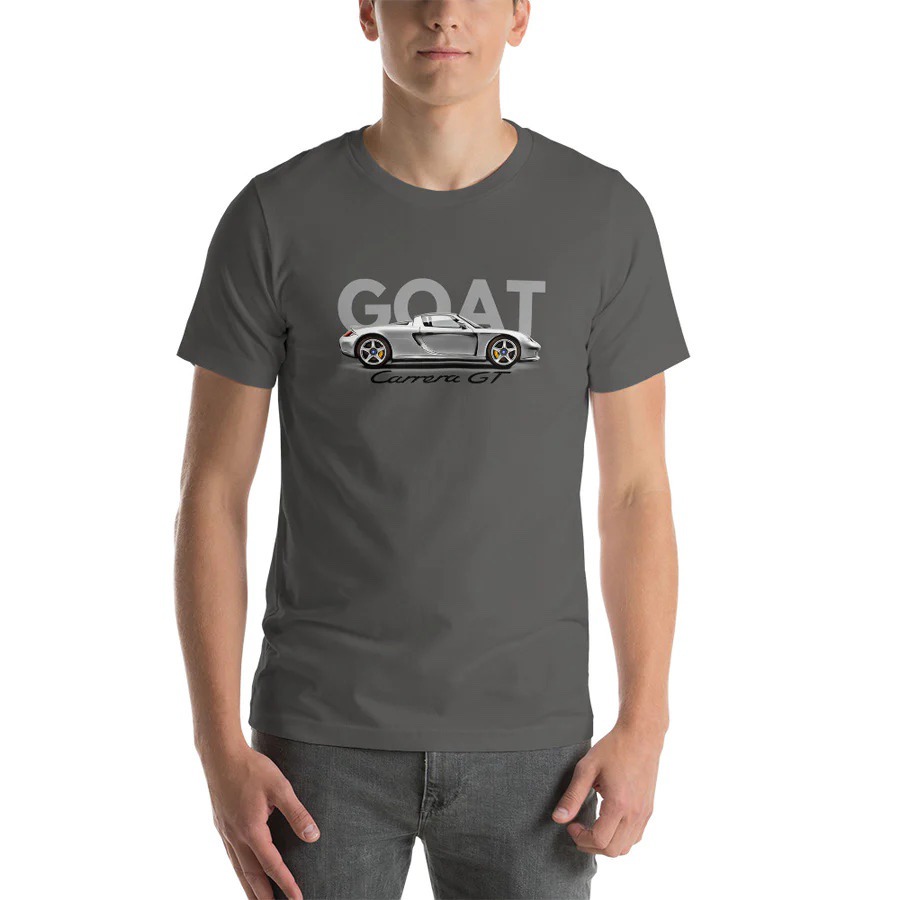 Porsche Carrera GT GOAT
It's extremely hard for any of us here at Stuttcars to name a single model as the greatest Porsche of all time—but if we absolutely had to choose, the Carrera GT would be a contender for certain. This car was absolutely groundbreaking from a technical standpoint when it was first unveiled at the Geneva International Motor Show in 2003. It led the way in using pure carbon fiber for its subframe and unibody, allowing it to be incredibly lightweight and reach speeds of over 100 kmph in just 3.9 seconds.
Yes, Porsche has made faster cars in the years since, but nearly all of them owe a debt to this absolute beast of a machine. It absolutely belongs on a t-shirt.
Show Your Love for Stuttgart with an Iconic Porsche T-Shirt
We're lucky to have so many passionate enthusiasts amongst our readers—there's never any shortage of demand for designs showing off Stuttgart's best offerings, and we're only too happy to oblige. You can find lots of other killer Porsche tees (plus plenty featuring other marques) over at 100mph.cc.
Have a great idea for a Porsche t-shirt you'd like us to make? Leave a comment below.