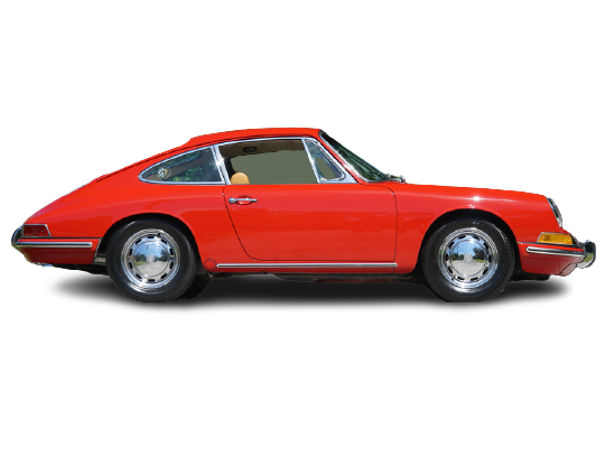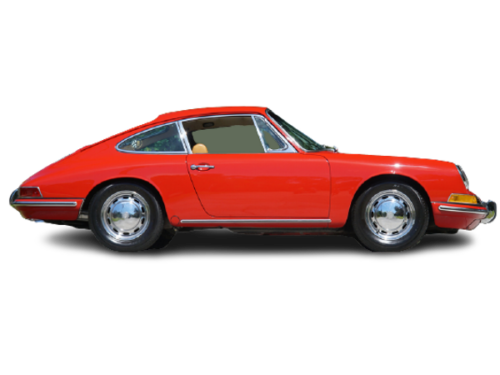 1965 – 1969 Porsche 912 – Ultimate Guide
From 912Registry.org
Put most simply, a 912 is essentially a 911-style body mated with a 356-derived 4-cylinder engine. The 356 was Porsche's first mass-marketed sports car. The Porsche 911 is the most successful sports car of all time.
Porsche's first production car, the 356, featured a distinguished, round, wind-cheating shape, and was powered by an air-cooled, 4-cylinder motor that addressed both performance and practicality. Between 1948 when the first 356s were hammered together in a former saw mill in post-war Austria, and 1965 when the last 356s rolled off the assembly line in Stuttgart, Germany, Porsche went from a design firm with lofty aspirations into a world-class auto manufacturer whose cars commanded a cult-like following. Although the 356 enjoyed four distinct evolutions during its 17-year run, each more successful than the last, Porsche had already begun looking beyond the 356 before the end of the 1950s.
By the late 1950s, there were some at Porsche who feared that the market for high-end, two seater sports cars might suddenly grow saturated, thus the car that would eventually become the 911 actually began life as a design study for Porsche's possible foray into the realm of true 4-passenger cars. The initial prototype combined some traditional Porsche styling cues with a much longer wheel base & taller greenhouse.
The success story of the 911 could be likened to lightning striking in the same place three different times, for how three generations of men each contributed to its creation. It was family patriarch and renowned engineer Ferdinand Porsche, designer of the Volkswagen Beetle amongst many his other accomplishments, who first aspired to build a sports car company bearing his family's name. Following Ferdinand's passing in 1951, his son Ferry Porsche built the fledging company into an international brand, and ultimately it was Ferry's decision to leave passenger car building to those who were already building passenger cars. Finally, it was Ferry's son, Ferdinand "F.A." "Butzi" Porsche who designed the 4-seater concept Porsche, and then following his father's mandate, reimagined it as a 2-seater version, which is what became the 911. When the new Porsche 911 was unveiled at the 1963 Frankfort Auto Show, it was widely heralded for its styling and technological innovations, and for how it evoked the company's iconic 356, despite being an entirely new car.
In order to power what was originally intended to be a bigger, heavier 4-seater car, the 911 came equipped with a bigger, more powerful motor. Whereas the 356 had an air-cooled 4-cylinder pushrod engine, the 911 came with a an air-cooled 6-cylinder cam-driven engine. Since the early 1950s, Porsche had produced a 4-cam version of its 4-cylinder motor that enjoyed great success in Porsche's race cars, and which, for a very substantial premium, could also be had in the special 356 'Carrera'. Initially, Porsche did not intend the 911 as a direct replacement for the 356, but rather as an attempt to expand the high-end niche market previously held by the 356 Carrera. Alas, when the public first saw the 911 in 1963, it instantly rendered the design of 356 dated and obsolete. To contend with the fact that their new elite 911 threatened to eclipse their mainstay 356, Porsche realized they had best somehow find a way to adapt the new 911 design into a successor for the 356. To accomplish this, Porsche experimented with putting the 4-cylinder pushrod motor of a 356 into the body of a 911, and after a few short months of testing, it was readily determined that this combination was a perfectly acceptable Porsche. Thus was born the Porsche 912.
Specifically, the new 912 came equipped with 90HP motor was a slightly detuned version of the 95HP motor that had powered its predecessor, the 356SC. However, despite this reduction of power, and despite the 912 being a heavier car, it was actually faster than the 356SC thanks to more streamlined aerodynamics and a more advanced suspension system.
Because a 911-style body cost more for Porsche to manufacture than a 356-style body, additional cost-cutting measures beyond the 4-cylinder motor pairing were required to bring the cost of the 912 in line with the cost of the bowing 356. Most visibly, early 911 dashboards were painted matte black, had wooden trim, and came equipped with 5 gauges standard, whereas early 912 dashboards were painted the same color as the exterior of the car, had no decorative trim, and came equipped with 3 gauges standard. And while the 911 came with a 5-speed transmission standard, the 912 came with a 4-speed transmission (although a 5-speed could be ordered for an additional $35.00.) Ultimately, the 912 allowed Porsche to offer its new, 9-series body style across its entire product line.
The new Porsche 912 was a success in many ways, some of which Porsche may not have intended. The first generation 911 motor offered only modest displacement and horsepower gains over the 912 motor, but weighed 200 pounds more, and making matters worse was that this additional weight came at the back of the car, past the rear axles. The result, is that the new 911 was an extremely tail-happy car, so much so, that Porsche actually took to fitting weights in the front to try and restore some measure of balance. Compared to the 911, the new 912 was extremely well-balanced, handled extremely well, and was actually a faster car than the 911 in many driving scenarios. While the new 911 motor had a lot of potential for further development, early examples were temperamental and notoriously difficult to keep tuned. In contrast, the 912 motor had already benefited from over decade of development in the 356, and was now at its most evolved and reliable iteration. Where the new 911 motor was complex, the 912 motor was comparatively simple. And in an era before hybrid cars, the 912 was capable of getting over 30mpg.
The first 912s were made in the spring of 1965, alongside the last of the 356s. Originally the 912 was only offered to the European market, thus early examples are particularly rare today. Porsche introduced the 912 to the U.S. market at the New York Auto Show in September of 1965, but the model did not become widely available until early 1966. Through 1967 the 912 outsold the 911 by a margin of 2-to-1.
During its original five year run, the Porsche 912 would enjoy several slight revisions, which were in keeping with the cosmetic development of the 911. Most notably for each year, in 1966 all dash boards were painted black, 1967 saw the introduction of the open-air Targa, in 1968 interior fittings were softened to comply with new DOT safety mandates, and in 1969 the car's wheelbase was slightly lengthened to provide better handling. At the end of 1969, with the cost of a new 912 now almost on par the least expensive 911 variant, Porsche made the decision to annex the 912 into the 911 line.
As the 1960s drew to a close, the Porsche 911 came into its own as a great success, which relegated secondary market 912s to its shadow, where the model would remain for many decades. As values for 912s plummeted, so too did the quality of repairs and maintenance that many owners were will willing to invest in them, which served to hurt the 912's reputation even further. During the 1970s and 1980s, a damaging misnomer attached itself to the model, which postulated that Porsche had originally intended the 912 as something of a compromised "entry level" Porsche. In truth, as many original owners have reported to the 912 Registry, the 912 was actually considered an upgrade to Porsche's aging 356. Not until 1970 with the 914, a model developed in partnership with Volkswagen, would Porsche introduce a true "entry level" sports car, but unfortunately, its timing further reenforced the notion that perhaps then so too must have been the 912 which preceded it.
Additionally complicating perceptions, is that a 912 would supercede the 914 as well. 1976 proved to be the last year for the 914, yet Porsche's new, water-cooled, front-engined 924 was not yet ready for public consumption, and so in order to satisfy dealer demand for car more affordable than a 911, the 912 enjoyed one-year revival with the 912E. True to the original 912 formula, the 912E combined a 911 body with the 4-cylinder motor of a bowing model, the fuel-injected Volkswagen Type IV motor that had been used in the 914 2.0. Although something of an anomaly, the 912E is fiercely appreciated by those who recognize the virtues of a car that combines Porsche's flagship body with VW reliability.
As 356s and early 911s became collectible cars, the overshadowed, poorly-preserved, stigmatized 912 was threatened further for how virtually all of its parts were compatible with one of these two models, which made them more valuable as donors than as cars.
The Porsche 912 might have been all but lost to history, had it not been for an informal group of original owners and other 912 enthusiasts who appreciated the car on the basis of its own merits, and who together founded the 912 Registry. Now in its second decade, the 912 Registry has grown into an international organization that allows owners to connect and to share information and resources. The 912 Registry also sponsors events such as the West Coast 912 Rendezvous and publishes 912 Registry Magazine. As 912 appreciation has increased, so too have 912 values, which has allowed more to be restored and put back on the road. Today the Porsche 912 is widely regarded as a true, pedigreed classic car, held accountable only to the standards of its era — it is a bookmark into the past that is more than capable of keeping up with modern traffic — it is a car celebrated at shows and race tracks the world over. The ongoing success of the Porsche 912 has ensured that the next chapter of its history has yet to be written.
Model Years
1965 Porsche 912
Innovations found on the Porsche 911 that made their way to the new 1965 912 included self-supporting bodywork with front independent suspension on transverse links and damper struts with longitudinal torsion bars, and rear independent suspension on lateral links and transverse torsion bars, and a jointed "Safety Steering" mechanism with three short column links designed to collapse in the event of front end crash. Other styling cues included glass covered headlights, sealed turn signal units, 4 1/2″ x 15″ steel wheels with hubcaps, four-wheel disc brakes, Nadella half-shaft axles, 356-style aluminum bumper and rocker trim, a small round Durant side mirror, silver wiper arms, operable vent windows, and green-on-black faced three gauge instrument cluster.
For power, Porsche utilized a slightly detuned version of the Type 616/36, air-cooled, 4-cylinder, boxer, pushrod,engine from its bowing 356SC, which had a displacement of 1582cc, a compression ratio of 9.3:1, and produced 90 horse power at 5,800rpm. Upon adapting the new 911 into the 912, more than just the motor was carried over from the 356. Most dramatically, as with the 356, the interior dashboards of the first 912s were painted the same color as the exterior of car, thus creating what is now referred to as a "painted dash" 912. (In actuality, the dashboards of all early 9-series Porsches were painted the same color as the exterior, but as a cost cutting measure, the first 912s were then not given the additional layer of anti-glare matte black paint and strip of teak wood trim that came standard on the 911.) Other 356 touches that could be found on early 912s included a fluted shift knob, a small 356-style fuel door pull, and 356-style seats with perforated backs. Other more subtle features unique to the earliest 9-series Porsches include a VIN plate mounted along the edge of the gas tank vs. by the front trunk latch assembly, non-adjustable front shock placement, a side mounted windshield fluid reservoir, and window frames that tapered outward where they meet the doors. In the engine bay, there were large "dueling elephant" style Knetsch canister air filters, (whose primary design purpose may have been to fill the empty space in an engine bay originally intended to house a much larger power plant).
Popular options for 1965 model year 912s included a wood steering wheel, tinted glass, Hella 128 fog lights, a gas powered heater, 2-point and 3-point seat belts, adjustable head rests, talbot mirrors, and chrome plated Leisritz wheels. Various Blaupunkt and Becker radios were offered as well, with U.S. models going up to 108 on the FM band vs. European models that only went to 104.
Another option available for 912s of all model years, including 1965, was a sunroof, however very few 912s came equipped as such. Reportedly, when new the cost of a sunroof 912 was actually within range of a 911. It has been speculated that only the Porsche factory could equip a 9-series body with a sunroof, whereas Porsche's preference was to utilize subcontracted car bodies built by Karmann for 912 production, hence any sunroof 912 meant one less body would be available for a more profitable 911, thus to offset this loss Porsche charged for sunroof 912s accordingly.
Confusingly, there is no cutoff date, serial number nor feature that definitively denotes a cutoff between the 1965 and 1966 Porsche 912 model years.
1966 Porsche 912
Towards the end of the 1965 model-year run going into 1966, the most obvious change Porsche made to the 912 was to paint all dashboards matte black as had always been done on the 911, but instead of 911's teak wood dashboard strip, the 912 received a decorative a band of brushed aluminum.
Other 356 vestiges that disappeared in 1966 included the fluted shift knob, which for 1966 was shaped like a round ball, and the gas tank door release pull, which for 1966 was identical to the trunk and rear deck lid release pulls. Sun visors, which had been entirely white in 1965, were now black on one side and white on the other.
In the engine bay, air filters were changed to a more sensible and practical design. Midway through 1966, both the trunk VIN plate and the windshield fluid reservoir were moved towards the front of the car, and chrome plated brass 4-screw horn grills were replaced with a chrome plated pot metal 2-screw type.
Options for 1966 were the same as they were for 1965, however the wood steering wheel offered in 1966 featured a steal hub and spokes, whereas the year previous they were made of aluminum.
1967 Porsche 912
In 1967 the "912" badging on the deck lid and glove box that had been rendered on 1965 and 1966 cars in an angled cursive script, changed to a linear block style font. Also, instead of an interconnected "PORSCHE" badge on the edge of the deck lid, 1967 cars received individual "P-O-R-S-C-H-E" letters that ran underneath the vent on the deck lid.
Bumper guards, which had been chrome through 1966, now incorporated a rubber strip for added buffering during over zealous parking. Inside the car, a 5 gauge dashboard became standard in 1967, with the additional gauges being a clock and an ambient temperature gauge. Sunvisors, which had been black on one side and white on the other in 1966, were now entirely black in 1967. The round shift knob now featured a shift pattern. Perlon carpets replaced the 356-style square weave, and a carpeted tunnel cover replaced what had been rubber. The handles on ash trays and glove compartment were also revised.
In the engine bay, the engine support now featured 4 bolts in a straight line vs. 4 bolts in a rectangular pattern. Nadella half shaft axles were replaced with Lobro constant velocity joints. Most dramatically, 1967 saw the introduction of the Targa body style, which was Porsche's answer to a 9-series convertible. Because Porsche lacked the resources to develop a dedicated open air 9-series variant, they employed a stainless steel roll bar to provide the structural rigidity inherent in the coupe design, with a removable and stow-able roof section. In addition, the plastic rear window could also be zipped out, thus allowing for 4 different roof combinations.
On rare sunroof optioned cars, drainage vents were moved from just above the upper corners of the rear window, to the internal drainage channel of the rear decklid.
The most significant option to appear in 1967, were Porsche's now iconic Fuchs forged alloy wheel. Flower power indeed!
1968 Porsche 912
In 1968 the United States Department of Transportation (D.O.T.) imposed mandates that would significantly change the Porsche 912 for that year. No longer permitted were glass lenses that had enclosed the headlights, and in their place were large chrome bezels that housed the lenses directly. Windshields were now made of composite glass for increased strength. Instead of silver, windshield wipers were painted matte black to reduce unwanted reflections. And to increase wanted reflections, Durant side mirrors were enlarged considerably. Door buttons were more recessed. For U.S. cars, colored reflectors were also fitted to the sides of the car.
Inside the car, the 1968-only the rear-view mirror was attached to a spring-loaded release attachment located on metal window frame, between the sun visors instead of the chrome plated metal type bolted to the roof of the car. Easier to read white lettering replaced the green Porsche had historically used on all its gauges. All interior fittings, from window cranks to ash tray pull, were now encased in soft rubber plastic, which was deemed to be less damaging to occupants in the unfortunate instance of a collision. In addition to safety concerns, the U.S. D.O.T. also imposed environmental regulations for 1968, which Porsche was able to comply with by introducing a vacuum advance 050 Bosch distributor, split-shaft Solex carburetors, and an air pump that pushed more air through the tail pipe thus lowering emissions but only as assessed expressed in terms of parts per million, and not over all.
For 1968, 912 door panels were a unique 1-year only design, and door frames in were now aluminum in stead of chrome plated brass. For added stability, wheel width was increased from 4.5" to 5'. For more reliable braking, a dual circuit master cylinder was introduced. A larger 420 watt generator charged the battery faster. As of January 1968, the soft-window Targa becomes designated as 'Version I' only available with a rear shelf and compartments, rather than the occasional +2 rear seats. Also sold as an extra-cost option was the hard-window Targa 'Version II' which featured a fixed glass rear window and rear seats.
1969 Porsche 912
Like the 356, and its A, B, and C variations, the factory drew distinctions in the 911 / 912 series, but unlike the 356 series, this time the factory used such designations internally. Based on experience with the 911 / 912, including racing, the factory made enough changes to warrant an internal 911 / 912-B designation for the 1969 model year. This is also known as the long wheel base (LWB) revision. To improve handling without penalizing ride, the rear wheels of the LWB version were moved back by 2.5 inches, with no change in overall vehicle length. Another distinctive body change for 1969, was the addition of wider wheel flares added to the side of the body, which could accommodate wheels as wide as 6 inches.
On the interior, 1969 model year 912s received a revised dashboard with a new heating and ventilation system with three-setting fan, revised arm rests with integrated door pockets, and power windows were added as an available option. 1969 also saw the addition of a flashing warning light system, an illuminated glove compartment and a smaller steering wheel with upholstered horn button. The rear windows on coupes were electrically heated, thus eliminating air ducts, and vent windows were now fixed in place. Seats were now designed for optional adjustable headrest mounting directly into seat backs. Other changes for 1969 included revised turn lights with illuminated side markers and removable lenses. The battery location was moved under the headlight bucket. Safety benefited from larger brakes front and rear.
Vent slots appeared on the stainless steel Targa bars. Popular options for 1969 included Fuchs 6″ x 15″ alloy "windmill" wheels and Hella 169 fog lights. The Porsche factory advertisement "Fact Book" states a slight increase to 103 horsepower (SAE).
VIN Numbers
| | | | | | |
| --- | --- | --- | --- | --- | --- |
| Model Year | Year Constructed | VIN # Range: Coupe (Porsche) | VIN # Range: Coupe (Karmann) | VIN # Range: Targa (Porsche) | Engine Serial Number Range: E = Export, I = Germany & Sweden |
| 1965 | 1965 (April – August) | 350001 – 350699 | 450001 – 451500 (Est.) | N/A | E:740001 – 744210, I: 830001 – 832090 |
| 1966 | 1965 | 350700 – 351970 | 451501 – 454470 | | |
| | 1966 | 351971 – 353592 | 454470 – 458100 | | E: 744211 -750001, I: 832091 – 836000 |
| 1967 | 1966 | 354001 – 354970 | 458101 – 461140 | 550001 – 550019 | E: 750001 -753430, I: 836001 – 836610 |
| | 1967 | 354971 – 355601 | 461141 – 463204 | 550020 – 550544 | E: 753431 – 756195, I: 836611 – 837070 |
| 1968 | 1967 | 12820001 – 12820427 | 12800001 – 12805598 | 12870001 – 12871217 | E: 1085001 > , I: 1080001 > , N. America: 1280001 > |
| | 1968 | | | | |
| 1969 | 1968 | 129000001 – 129000428 | 129020001 – 129023483 | 129010001 – 129010801 | 4090001 >, N. America: 4093001> |
| | 1969 | | | | |
| 1976 | 1975 | 9126000011 – 9126000765 | N/A | N/A | 4060001 > |
| | 1976 | 9126000766 – 9126002099 | | | |