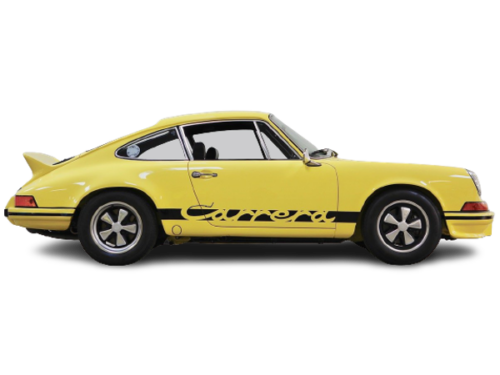 1973 Porsche 911 Carrera RS 2.7 Lightweight – Ultimate Guide
2.7 RS Lightweight (M471)
Of all the 1580 Carrera RS 2.7s, only 200 were made were ordered with this lightweight 'Sports' trim which made the car more responsive and purposeful. In many ways these few cars were the ultimate road-going Porsche of the 1970s. Known as the Sports, Lightweight or even the M471 option code, these cars had improved the power-to-weight ratio. Reports of 75kg were stripped from the standard model by fitting lightweight body panels and lightweight glass. As a result, the Lightweight was a nimble 900kg car compared to its Touring counterpart at 975 kg.
The RS 'Sport' or 'Lightweight' (conversion M471) took an RSH and added bigger wheels, carpet in the luggage compartment and a better passenger seat. What all Lightweights lack, compared to Touring RSs, are items like front bumper trim and decorative chrome strips that run the length of the sill beneath the Carrera script. For the first series of Lightweights, the Porsche crest was a weight-saving sticker instead of a metal badge. On the rear decklid, simple rubber hooks took the place of a metal catch and cable.
The carpet is thin felt overlaid with rubber mats, the glass is thinner too, and you hear every granule of grit flicking into the arches or tinkling along the floor plan. There's no radio. One sun visor. No armrests. Minimal sound deadening. A blank circle of plastic sits in place of a clock. To open the door, tug on a thin length of leather; to close it, pull on a simple plastic handle. The low-back Recaro bucket seats are thinly padded lightweight items too. Gone too are the rear seats and glovebox panel. Under the hood, a plastic 85 liter gas tank was fitted and only one battery was used.
Both the Touring and Lightweight shared some of the same hallmarks such as the ducktail rear spoiler, larger flares for the Fuchs alloy wheels and the larger 2.7 liter engine capable of 210 bhp. The lightweight is easy identified by its fiberglass rear bumper guards. Other than that it is almost outwardly identical to the Touring models.
When you drive a 2.7 RS Lightweight, it's obvious that the car was built to be a race car. It responds to steering inputs immediately and seems to anticipate what you want it to do. However, it is difficult to drive on the street because its responsiveness and lack of sound-deadening tempt you to drive well above the posted speed limit and the constant sound of rocks hitting the underside of the chassis scares owners of these very expensive machines.
Videos & Reviews
Pictures