Is going backward the way forward?
The Porsche 911; I can't think of another sports car that better represents an endless evolution of performance.  Garnering respect since its inception in 1963, 911 enthusiasts, including myself, continue to ask, "Can Porsche keep finding ways to make it better?" But wait; while the newest generations continue to offer higher levels of performance, comfort, and safety, a few of us just can't get enough of the air-cooled 911 era where for lack of better words, "less was more."
But here's the rub with owning rolling nostalgia; air-cooled 911 prices have climbed out of reach for many of us, especially for the coveted long-hoods built before 1974 when safety bumpers were introduced. Add a factory sunroof, leather sport seats, or factory silver paint, and now you're really in second-mortgage territory. Maybe you're craving a 1973 Carrera RS but don't have time to wait to win the Super Lotto. Read on, faithful…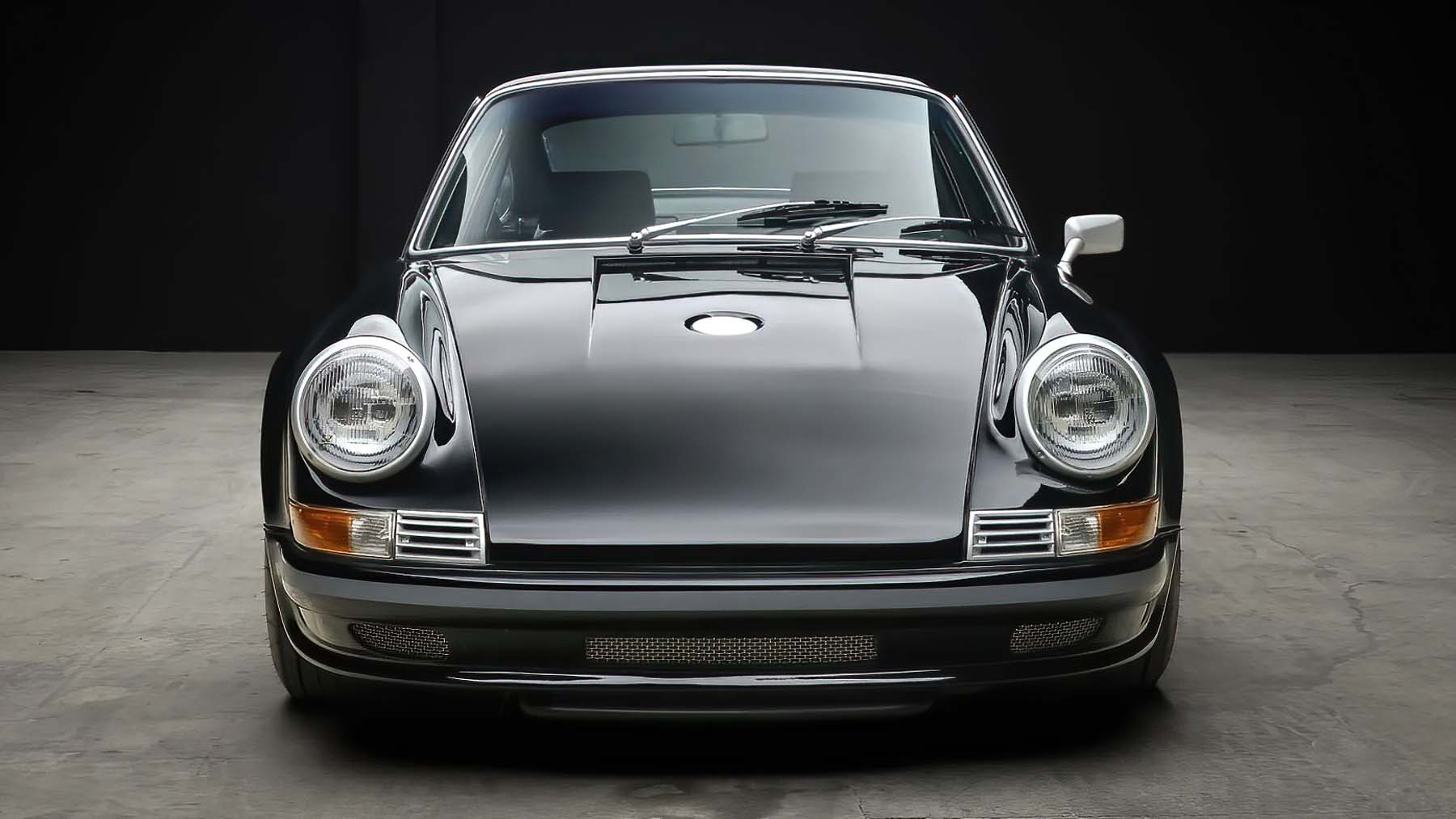 Enter the backdated 911
Continuing to gain momentum in the "Porsche hobby" is a trend that has emerged among air-cooled Porsche enthusiasts, backdating the Porsche 911. This practice involves transforming later cars into representations of their vintage ancestors. For example, modifying a 1980 911 SC to resemble a 1973 911 Carrera RS 2.7. Is it ethical among the "Stuttgart cognoscente?" Having just watched a backdated 911 bring $178,000 on Bring-a-trailer, I say "Who cares!" and invite you to look at a few recent examples with open minds.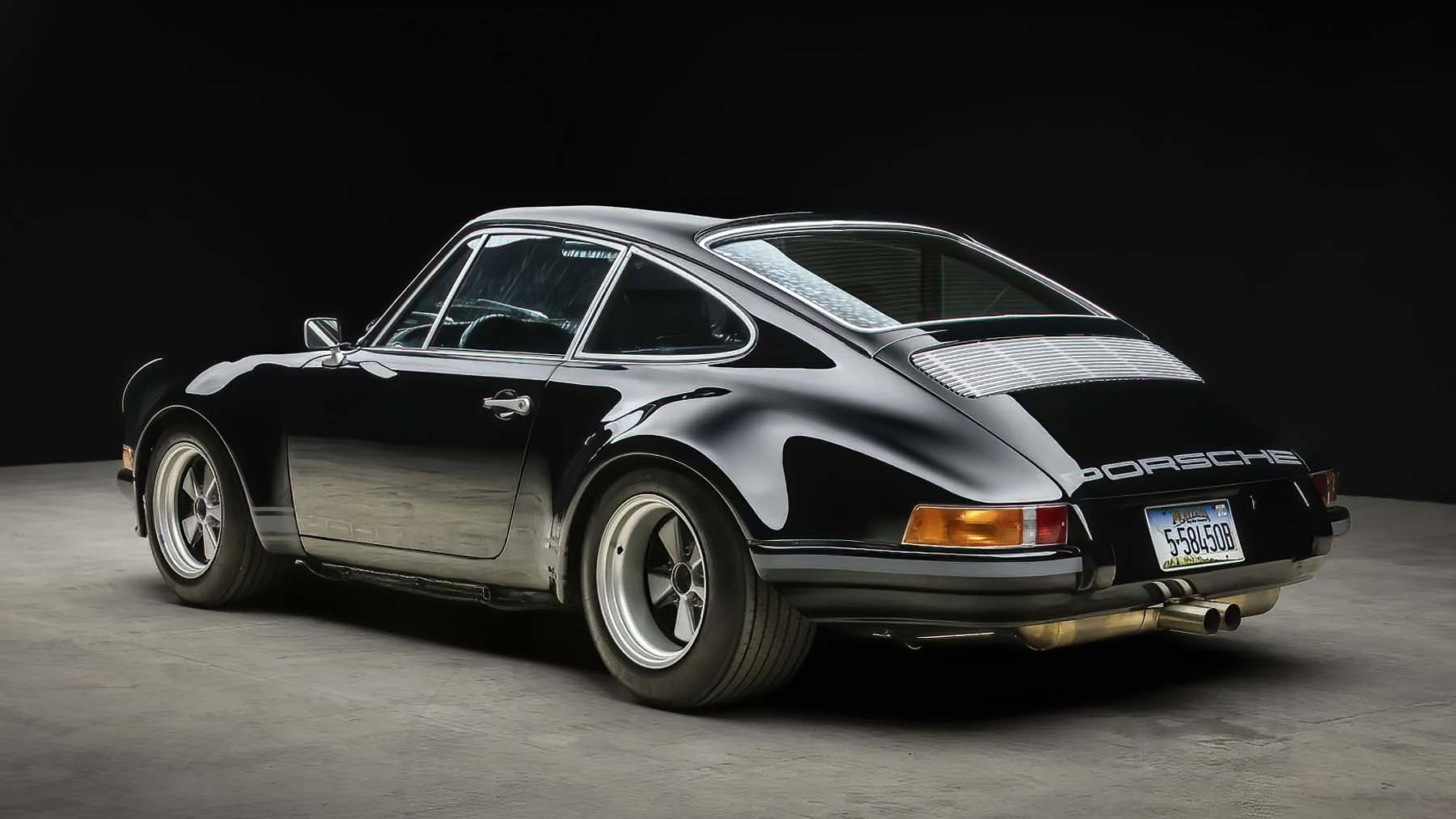 Subject #1: Back in Black
The first example started as a 1985 Porsche 911 Carrera coupe. The build was optioned with the M491 "Turbo Look" package with wider front and rear fenders from the factory, and it was fitted with a lengthened metal hood and front fenders, along with a sunroof delete panel, a modified fiberglass front bumper, and an RS-style rear bumper. The body was refinished in black and fitted with gray Porsche decals, along with Cerakote-coated trim and a central fuel filler on the hood.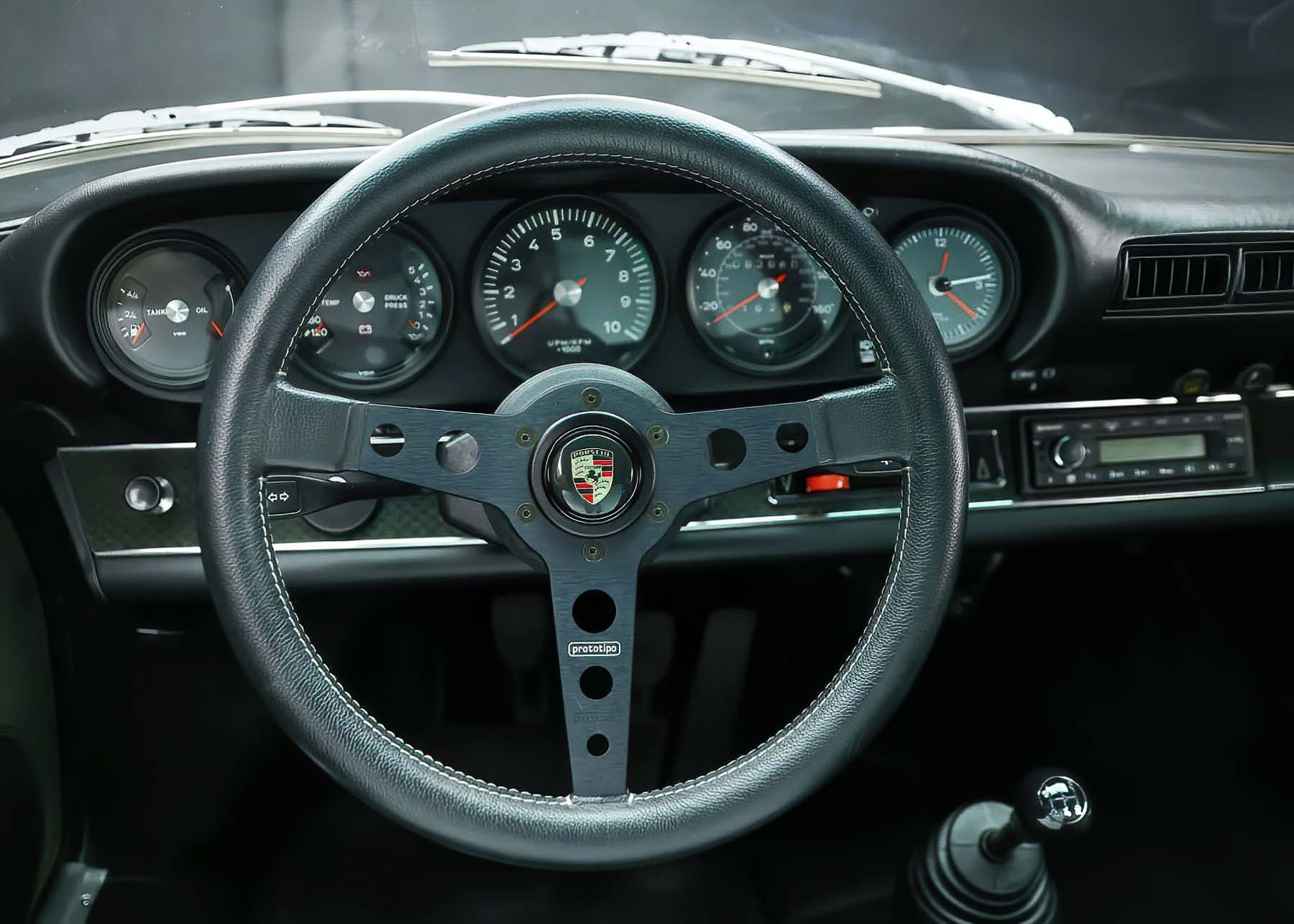 Mechanicals
Power is supplied by a 3.2-liter flat-six paired with a 915 five-speed manual transaxle. Additional equipment includes a front-mounted oil cooler, aftermarket headers, a custom exhaust system, staggered-width 15″ Fuchs-style wheels, cross-drilled brake rotors, H4 headlights, and Euro-spec taillights.
Staggered-width Braid 15″ Fuchs-style alloy wheels are mounted with Michelin TB5 tires measuring 18/60 up front and 26/62 in the back. Braking is handled by cross-drilled rotors with red Porsche-branded calipers at all corners.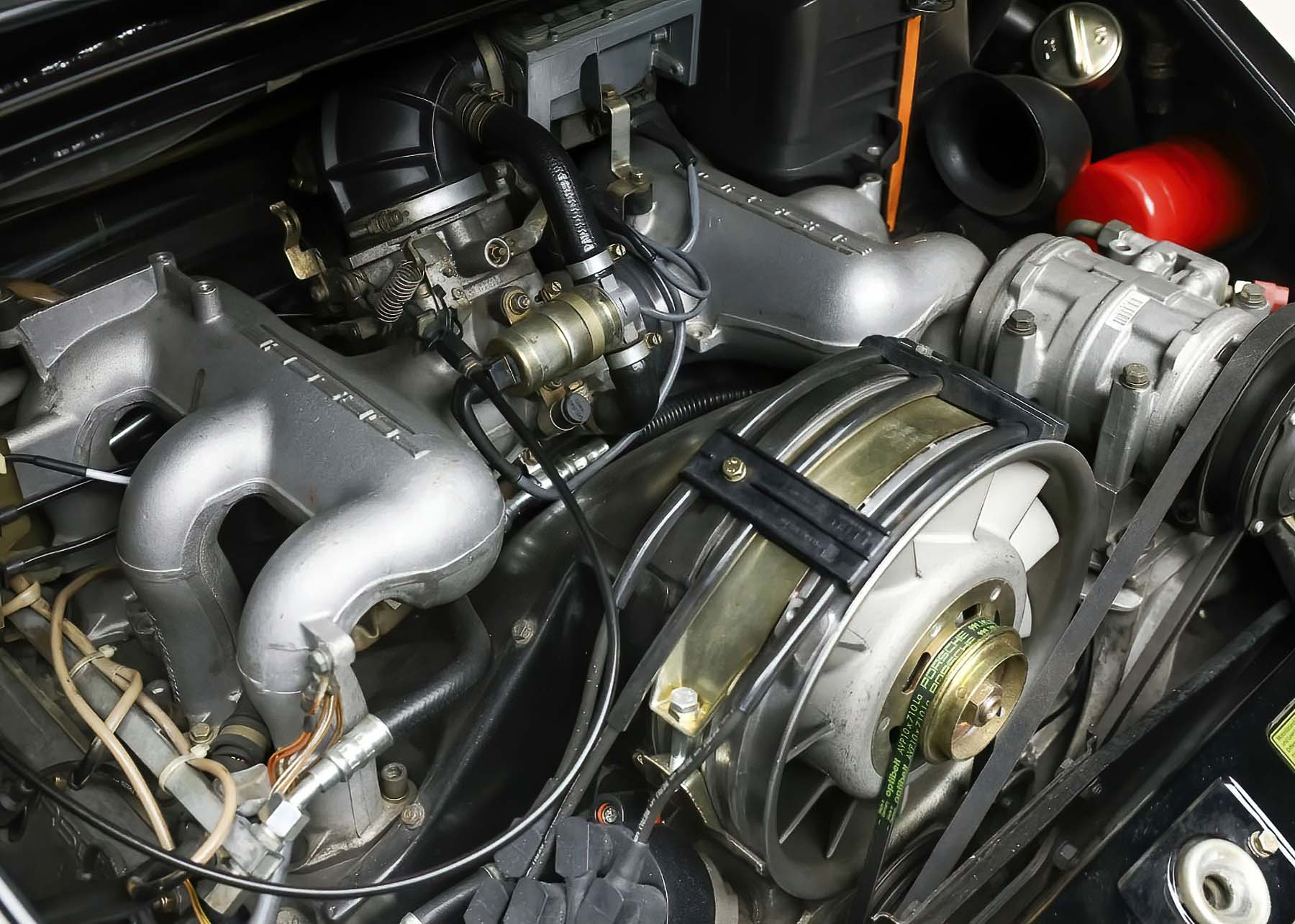 Cockpit
The interior features aftermarket fixed-back bucket seats upholstered in black vinyl with green fabric centers. Matching RS-style door panels have also been installed, along with lightweight carpets and Schroth harnesses affixed to a harness bar behind the front seats. The rear seats have been removed. Additional equipment includes power windows, air conditioning, and a Continental head unit wired to Focal speakers housed in the door panels. The steering column was repaired in 2023.
The leather-wrapped MOMO Prototipo steering wheel frames VDO instrumentation fitted with silver dot centers, including a central 10k-rpm tachometer as well as a 170-mph speedometer, a Quartz clock, and gauges for oil level, oil pressure, oil temperature, and fuel level. The six-digit odometer shows 94k miles, around 2k of which were added under current ownership.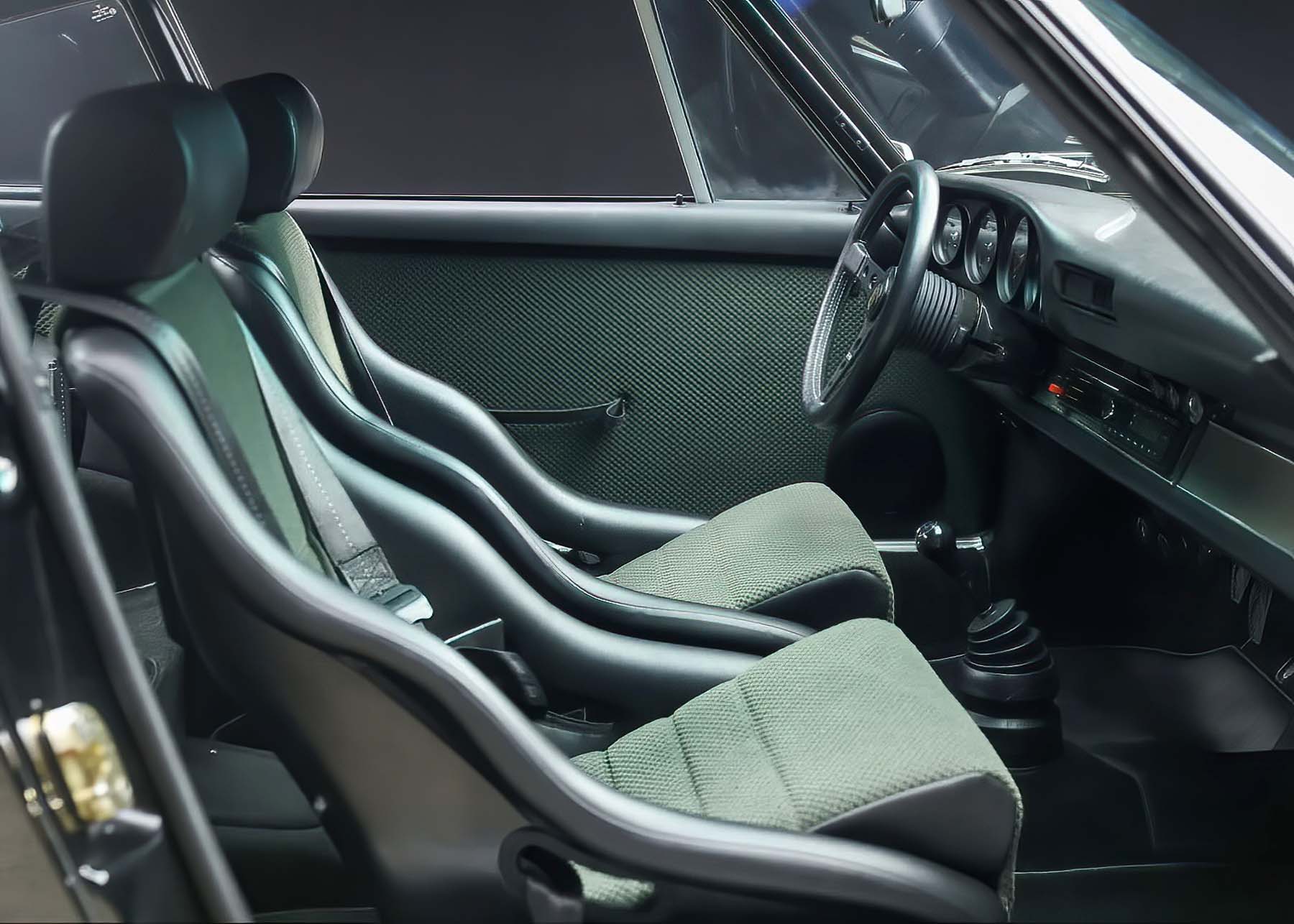 End result
While its sale price of $178,000 may seem high, understand that both parts and labor costs for air-cooled Porsche shops have significantly increased in the last decade. None of these builds are as simple as they may appear, so the amount of time invested adds to price tags that can make the eyes water.
Subject #2: Twin-Turbo Blues
Our second point of discussion is another 73 Carrera-ish Outlaw build that combined both top-shelf power with a bespoke interior. You could say this was a bit inspired by the "Singer movement," where it's not enough to recreate something mechanical but also necessary to add luxury via a highly customized interior and custom-made trim.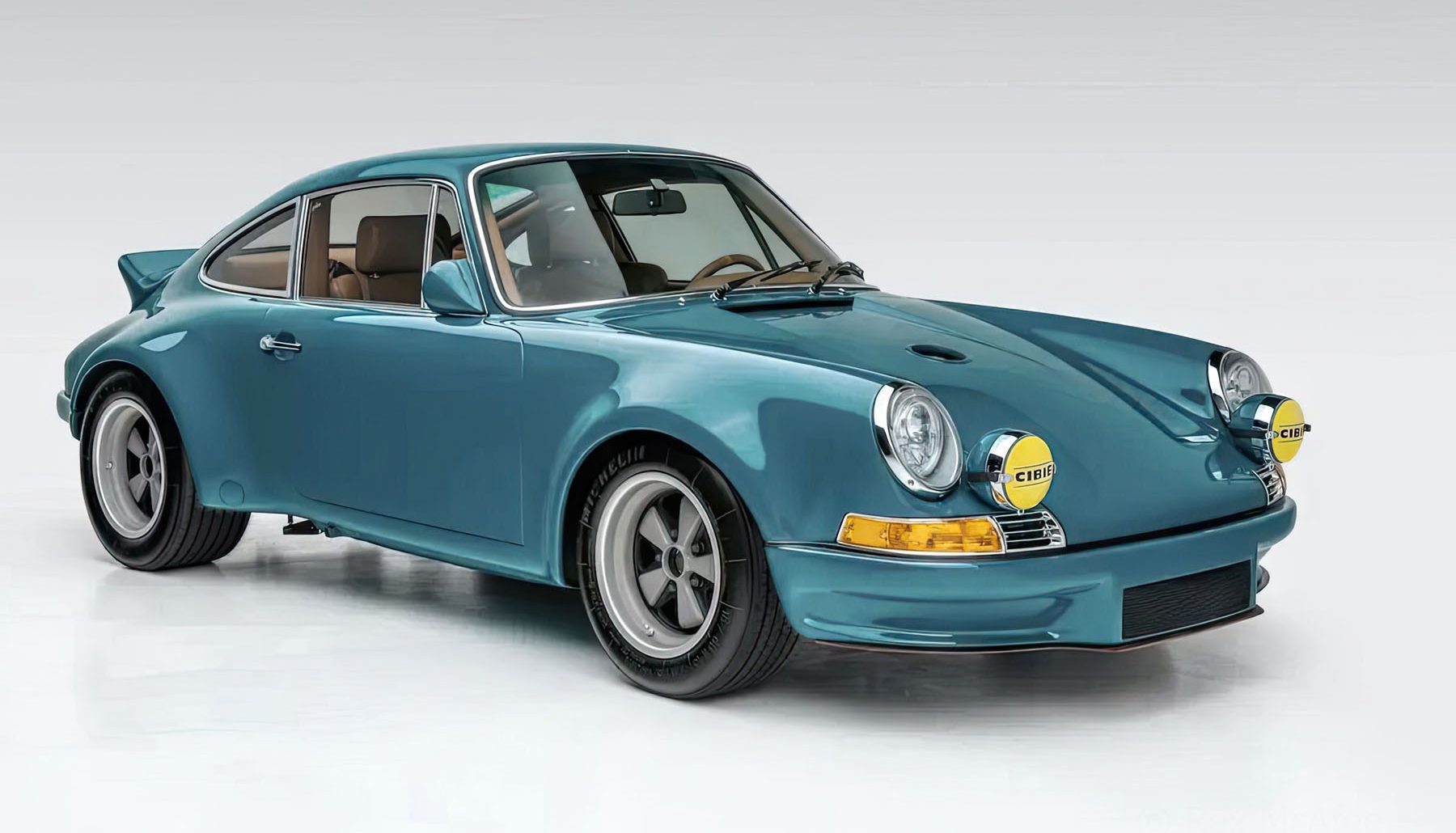 Exterior
The body was stripped and the rain gutters were shaved before backdated bodywork and widened steel fenders were added. The blue paint is a custom color, and features include a custom decklid with an integrated ducktail spoiler, 911R-style taillights, 934/935-style aerodynamic mirrors, a center-fill hood with a flip-up fuel cap, a 911 RSR-style front bumper, and a Jabroc wood laminate front spoiler.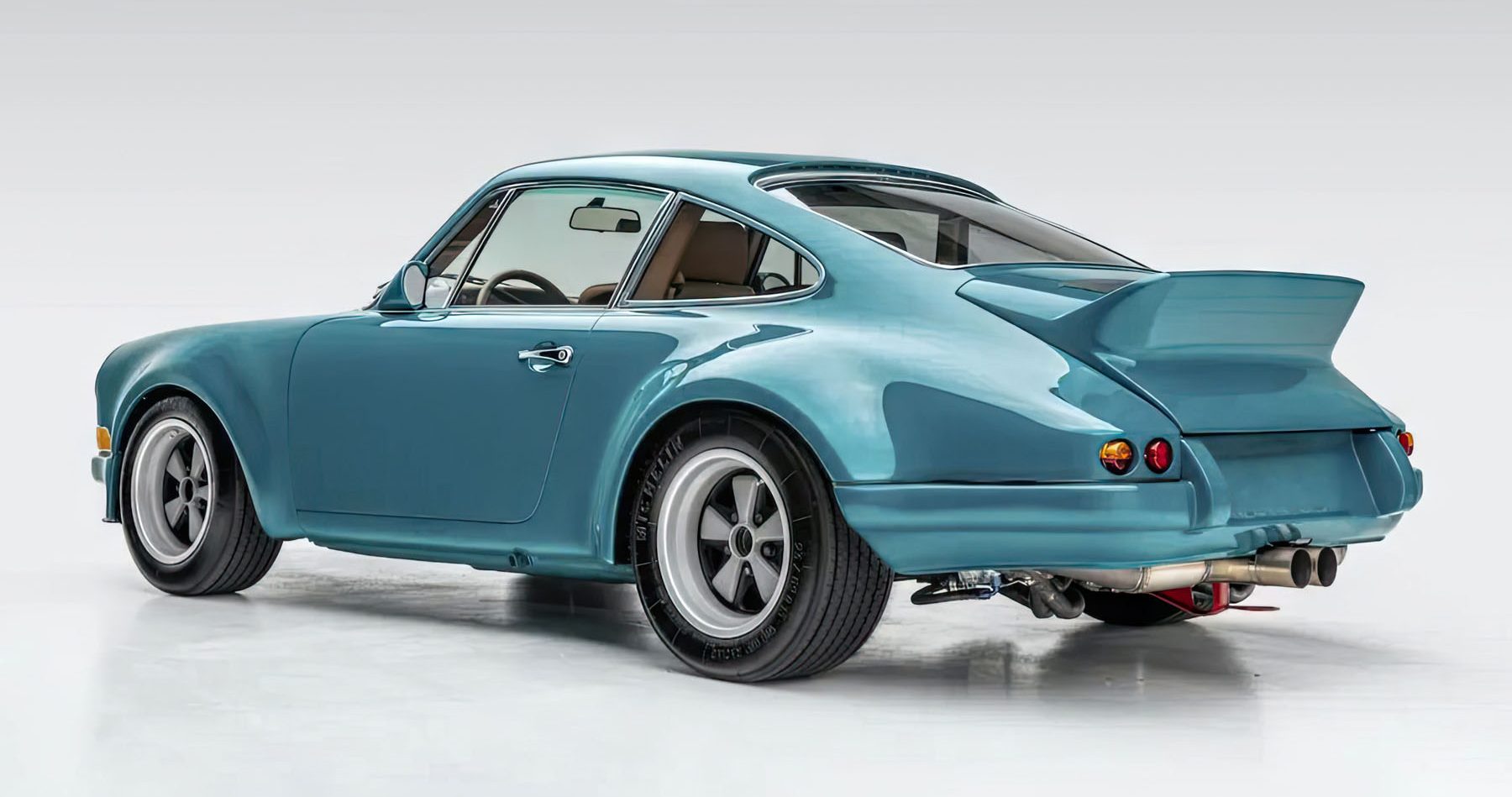 More grip
The 15″ Fuchs wheels feature anodized lips and are mounted with Michelin TB15 Racing 18/60 front and 23/62 rear tires. A Type 935-style suspension was fitted along with Bilstein coil-overs and mono-ball strut mounts. 917-style four-wheel discs with cross-drilled rotors handle braking.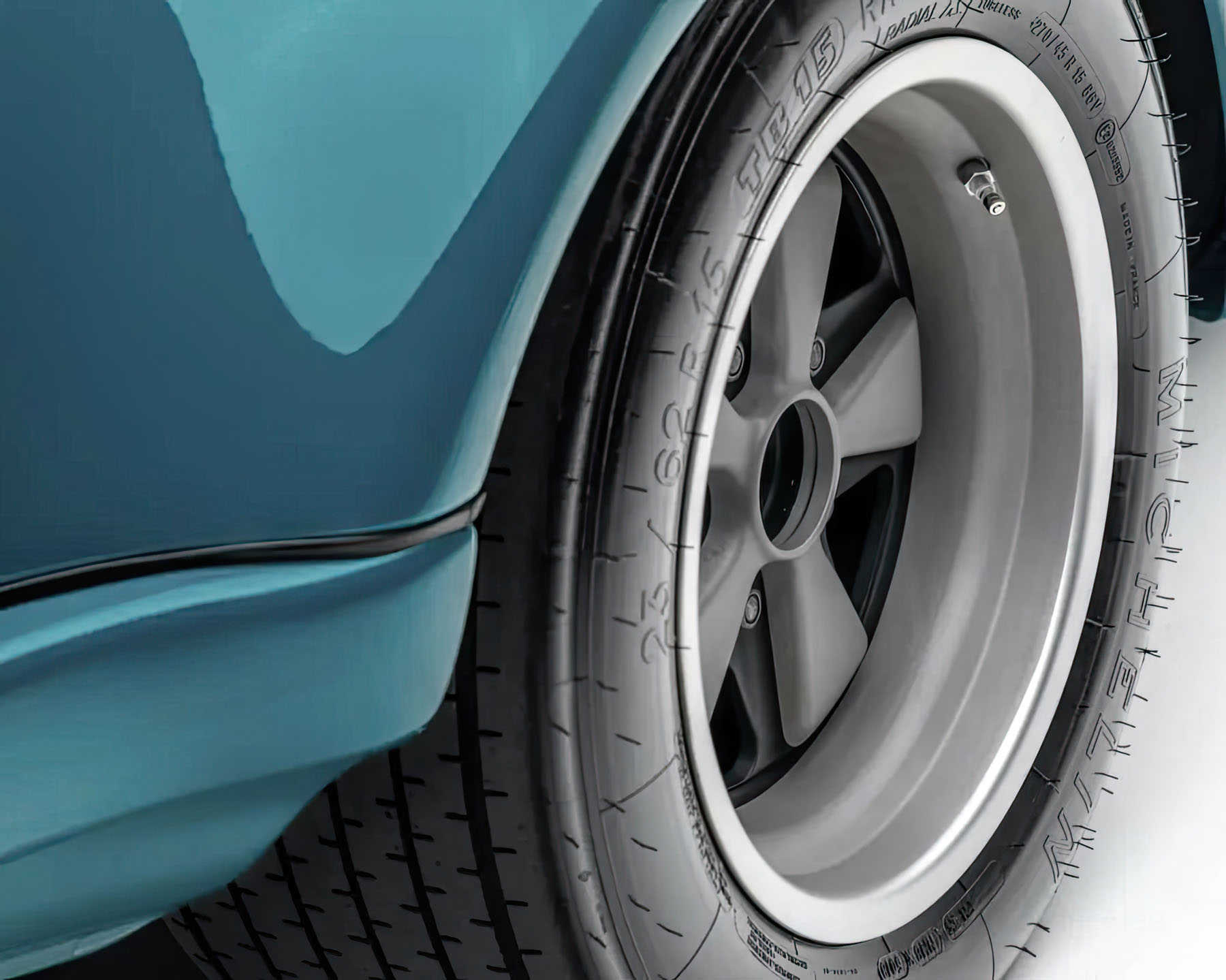 Bespoke interior
The cockpit features body-color hardback sport seats with tan leather upholstery and body-color houndstooth inserts. The motif extends to the door panels and dashboard, and tan wool carpets are fitted in the footwells. The integrated roll cage was built into the chassis and is wrapped in matching leather, while a 917-style balsa wood shift knob is fitted.
The leather-wrapped four-spoke steering wheel frames VDO "green face" gauges, including a centrally mounted tachometer with a 7,200-rpm redline, a 150-mph speedometer, a boost gauge, and combination gauges. Custom leather and metalwork continue in the front trunk, which also features a front upper strut bar, dual brake master cylinders, and a fuel cell.
Twin Turbo thrust
A 964 Type M64/01 twin-plug flat-six was sourced and enlarged to 3.8 liters. A single-plug setup is currently utilized due to the size of the twin TiAL Alpha GT28 high-flow turbochargers. Additional modifications include:
MoTeC ignition and engine management
A 996 GT3 crankshaft
A 993 GT2 EVO-style camshaft set
Solid rocker arms
993 Twin Turbo throttle body configuration
Mahle Motorsports 993 RSR 102/09mm piston and cylinder set
Power is sent to the rear wheels via a Type G50/20 six-speed manual transaxle that was sourced from a 993, paired with a shortened bell housing, a Billet side cover, and a limited-slip differential.
End result
This car obviously underwent more modifications than the first subject; hence it's no surprise it fetched $230,000 in 2020. Singers are currently in the million-dollar range, so is something like this considered pricey?
Closing thoughts
One of the defining aspects of backdating the Porsche 911 is the freedom to make stylistic decisions that honor the spirit of the original model while upgrading performance and comfort. Striking this delicate balance between past and present requires an understanding of Porsche's culture and heritage. While it's inspiring to see a backdated 911 incorporate something novel, it can also be painful to see "one person's vision" stray too far off the path (and yes, I've seen this happen).
With the current pricing of long hood 911s, not to mention original Carreras, backdating the Porsche 911 can be a realistic solution to affording the past, while still honoring this legendary sports car.