Our List of The Most Awesome Production Porsches of All Time (Excluding 911 Models)
Porsche has always made awesome cars but any "best of" Porsche list always has a bunch of 911s on it. We decided to switch things up and focus on creating a list of the best non-911 Porsches. To make it more fun we also decided that race cars and concept cars couldn't make the list (sorry Porsche E-Mission and Porsche 917). Most people focus on all the awesome 911s Porsche has made over the years (given we decided to spend weeks rating every 911 you can buy today clearly we have the same 911 obsession too). What most people don't know is that Porsche has built some cracking non-911 cars over the years and while they are often forgotten these are some tasty machines that we would take any day.
This post is an ode to great Porsche cars that aren't 911s. We picked some current models that we love that anybody can walk into a dealership and buy today. We also went back in time to a few of our favorite supercars and some forgotten regular models that are still relevant and fun driving cars for collectors and newbies to the brand.
There is a real breadth of accomplishment in the cars. We loved driving the Boxster Spyder which is a super focused and lightweight version of Porsche's most affordable model. We were as smitten with a Cayman GTS that you can buy for reasonable money on the used car market as we are with the rare and expensive Cayman GT4. They are based on the same car and yet they are so different and both deserved their place on the list. Going further back and the 944 and 928 remind us of the days when Porsche's future was unclear. These fringe models helped grow the Porsche brand and fan base and fast forward to today, these fringe cars make up the balk of Porsche sales. The Macan Turbo and Panamera Turbo S easily outsell the 911 and both are awesome cars with true Porsche DNA. Let the purists cringe, we say yes to more Porsche models.
Then there are the supercars. Similar and yet so different they were arguably the leading cars of their respective eras. The Porsche 959 was the most technically advanced car of its time by a massive margin. Years later and the Carrera GT wowed supercar fans with its advanced design and race spec engine and yet it is known today as a back to basics supercar devoid of driver aids that is reminiscent of supercars of old. Almost 30 years after the 959 the Porsche 918 Spyder does the same thing as the 959 and tells us about the future.
The non-911 cars that Porsche built are just as important to the history of this storied brand and to the automotive industry as a whole. To Porsche, please keep them coming.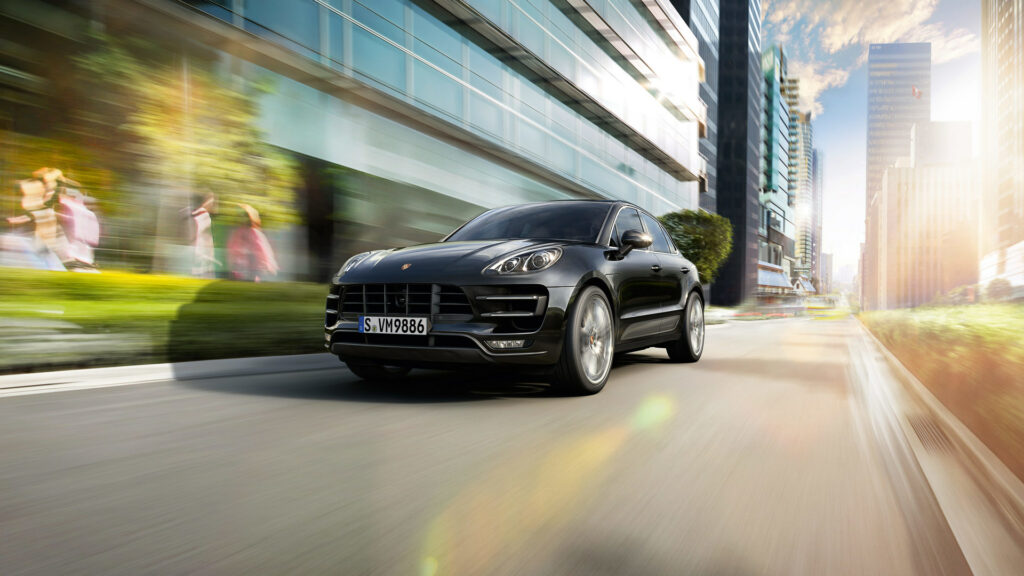 Macan Turbo (with Performance Package)
While the Cayenne Turbo created the super-SUV market segment, we decided to give its little brother, the Macan Turbo (with the Performance Package), the spotlight here. You get five doors, five very comfortable sports seats, enough cargo space without it being too much, all wheel drive for all conditions, and, oh yeah, a 440 HP V6. Now add to that the optional Performance Package for about $10k more, and all of a sudden you have a 480 HP twin turbo V6 with a whole new engine map.
Using all the lessons learned through the years, Porsche has made the Macan Turbo handle like a sports car, despite its ride height. It is one of the most pure sports CUVs in the world, ready to devour both the school run during the week, and the canyon roads on the weekend. It's also a really uncluttered, pleasant place to be, with all the amenities a family funmobile needs, and not to excess. 
That said, when you want to get to the sports part of driving, few CUVs can match the Macan Turbo with the Performance Package. 0 to 60 is dealt with in under 4 seconds, a quarter mile disappears in 12.4 seconds, and all the while, the deceptively low seating position gives it a feeling more akin to driving an executive saloon over a CUV. It also corners like a sedan, as Porsche's engineers and designers have worked magic on the suspension, which is supple enough to be comfortable enough, but aggressive enough to corner hard if needed. 
It isn't the low-slung, apex-slicing, laser-scalpel handling of a Cayman or Boxster, but when you remember that the Macan Turbo weighs over 4,500 lbs and handles the way it does, it does take a few moments to pick your jaw up off the floor. As well, by keeping the Porsche aesthetic in its looks, it is subtle enough that unless you know where to look, it doesn't shout out that it's a performance model, like a fellow German brand that has a propeller as their logo does with a letter of the alphabet. 
Put simply, this is the ultimate Porsche sleeper car. It will cruise the freeway without issue, do the grocery run, and also reward a poke on its accelerator with shoving you back in the seat as the grin creases your face. 
---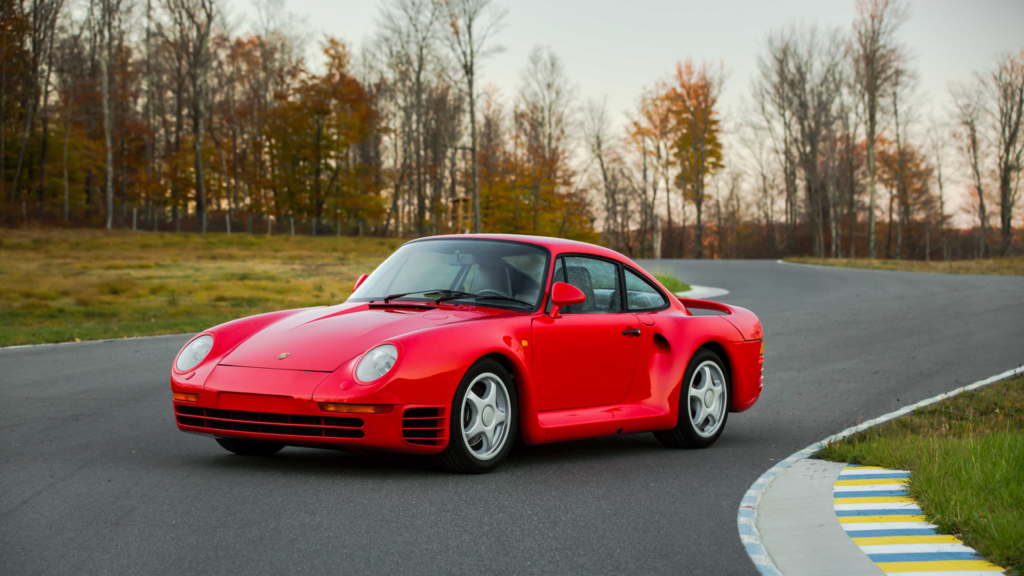 Porsche 959
The Porsche 959 was simply the most advanced supercar made in the 1980s, from any manufacturer. In fact, it was so high tech, so far ahead of its time, there are modern supercars today in 2022 that have less tech and/or equipment. 
It is also exceedingly rare and expensive, as less than 340 total were made across both the road homologation specials and the race cars that bore the 959 tag. Released in 1986, it came equipped with, and keep in mind this is 1986: 
Hollow magnesium-alloy wheels with built in tire pressure monitoring systems

An electronically controlled center differential that adjusted the all wheel drive torque distribution hundreds of times per second

Automatically adjusting suspension that kept the car absolutely flat through any corner

A twin-sequential turbocharged 2.85L engine, with a smaller turbo for low revs that helped spin up a bigger one for the main powerband, that produced 444 HP

And the first implementation of something we take for granted in Porsches today, multiple driving modes
It also had the world's most advanced ABS system at the time of its release, developed side by side with Bosch, who are still a world leader in ABS systems today. Considering that it weighed just about 3,500 but was not any longer, really, than a 911 of the time, it sure as hell eclipsed any performance number that same 911 could throw at it. In fact, it accelerated so hard, a shocking 3.6 seconds 0 to 60 in the 1980s, that even some new Type 992 911s today, in 2022, can't match it.
Two variants of the road car were made. The most popular variant was the Komfort, which had all of the racing technology, materials, and power, but toned it down just enough to make it a daily-driver level of supercar. The less sold, more hardcore variant was the Sport, which was quite literally a Le Mans-level GT race car with headlights and a place to put your license plates.
Production lasted just two years, 1987 and 1988, with 292 road cars. Overall, only 337 cars were made, 37 prototypes of the race versions at various stages of development, and 8 race cars: 7 959 Rally's and one 961 Gruppe B. To buy one today, you are realistically looking at $2 million or more just to show you're interested.
Some other cool 959 videos Porsche 959 driven | evo ICONS, Top Gear 959 vs Ferrari F40
---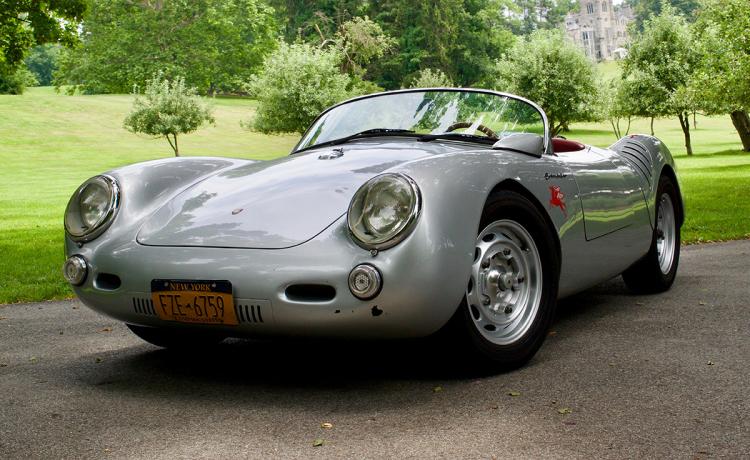 550 Spyder
The Type 550 Spyder had humble beginnings. Originally just "the next model number" after the 356, Ferry Porsche saw that many of those 356's were being used by customers as race cars, and that they were placing well in those races. The 550 then became Porsche's very first purpose built race car, with a maniacal focus on performance and the will to win. It soon became known as the "Giant Killer," as nobody had seen anything like it in the 1950s.
Now, we can hear you saying "But you said race cars don't qualify for this list!" You are 100% correct, which is where the real magic of the 550 Spyder comes to the fore: It was completely road legal. An oft-used turn of phrase for many supercars today is "a race car for the road," but this 550 literally was a race car for the road, as it was meant to be able to drive to the Mille Miglia or the Targa Florio, win, and then drive back home with the winner's trophy in the passenger seat.
It moved the flat-four rear engine of the 356 to the middle of the car, revolutionary at the time, and had a specifically shaped, low body to reduce drag as much as possible. It used a tubular steel frame, over which aluminum body panels were placed. The engine also got a healthy kick in power to 110 HP, which in that weighed about as much as a feather meant that it was ridiculously fast.
An evolution model, the 550A Spyder, was the first of the 550s to win an event outright, the 1956 Targa Florio. Very few original 550 Spyders were made, and even less 550As, and almost all were used for racing. The 550 Spyder, however, is known most famously as the car that James Dean was killed in, just a few days before he was to race it. 
With very few original examples left, the rest having either been destroyed in racing accidents or having to be restored, a proper, numbers matching, original condition 550 Spyder could run you up to $10 million or more at an auction. Even restored models will sell well into the mid-millions, and they are exceedingly rare to find out on the road or at a concours d'elegance event. 
---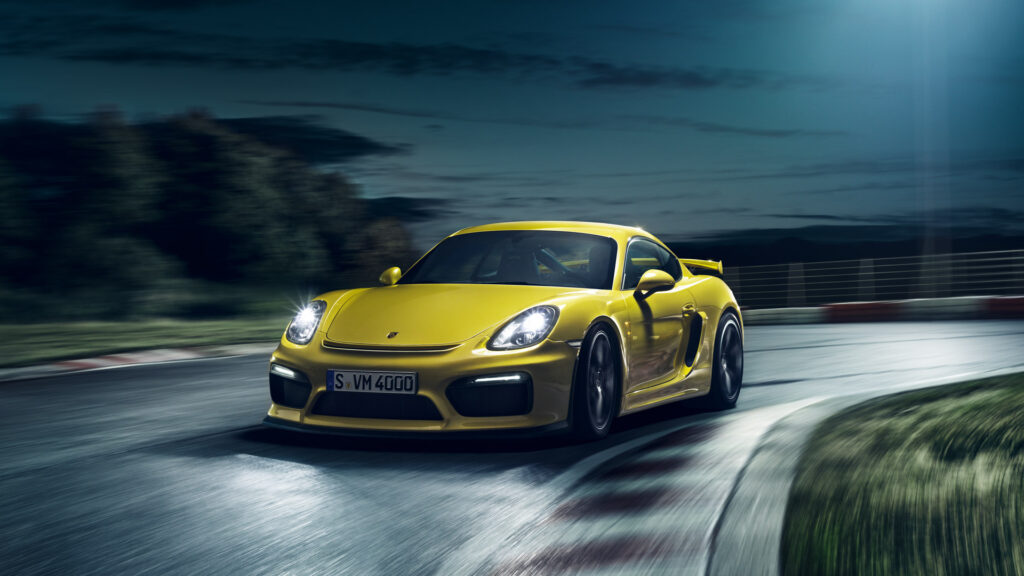 Cayman GT4
When Porsche introduced the Cayman to the world, the hard-topped brother of the Boxster, it was instantly a hit. It was a laser scalpel in a skilled drivers' hands, and for the less surgically oriented, it was still a damned good handling car. However, one thing it seemed to lack, mostly because it would have made it as good as a 911 for half the price, was that last tenth of performance to make it properly fast.
Fast forward to 2015, and out of absolutely nowhere, Porsche announces that the Cayman is getting a high performance, hardcore model, to be called the GT4. It was the first time that Porsche Motorsport out of Weissach was allowed to work some of its performance magic on a Cayman, and to say that they did a spectacular job is not understating the fact at all.
Components from the Type 991 911 GT3 were brought in, the engine from a Type 991.2 Carrera S was sourced, the wizards of Weissach got to the suspension and chassis, and when it was all put together, even Porsche couldn't hide their delight. A snarling, angry Cayman with a 3.8L flat-six that puts down 385 HP through a close-ratio 6-speed transmission. That transmission also sits on dynamic mounts, which are soft to absorb driveline vibration when in road mode, and harden to increase power transfer and responsiveness in track mode.
The GT4 isn't the fastest car in a straight line, nor is it the fastest around a track. What it is, however, is a car that you will never miss an apex in, a car that seems to talk to you telepathically, that seems to respond to your thoughts as you think of them. Its 6-speed manual feels connected and mechanical, the clutch bite is perfect and communicative, and the whole thing feels less like a performance car you sit in, and more like a car that you wear. People will often say that a great car feels like an extension of your body. The Cayman GT4 feels like you were born sitting in it.
Also See: Our Detailed Review of the Cayman GT4
See Full Cayman GT4 Gallery & Images
More Cayman GT4 Videos Porsche Cayman GT4 tested, Cayman GT4 Evo Diaries
---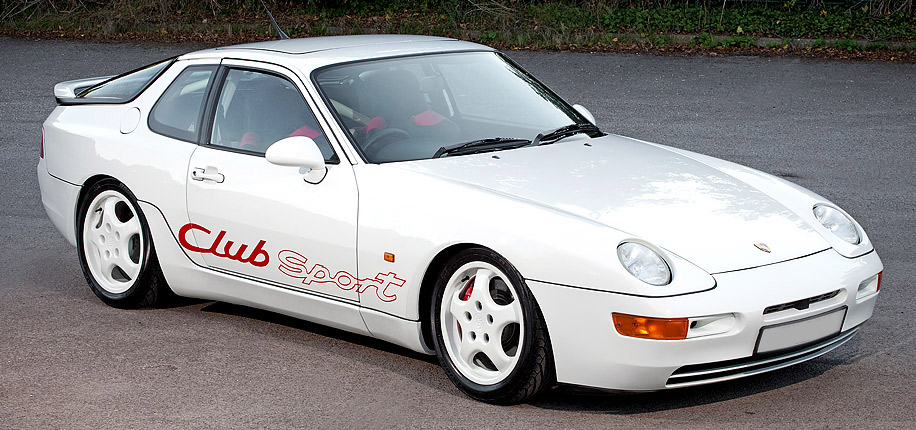 Porsche 968 Clubsport (CS)
For 1993 thru 1995, Porsche offered a light-weight "Club Sport" variant of the Porsche 968, specifically developed for owners looking to run their cars at the racetrack. It was literally a car that had anything not absolutely needed to make the car run removed, including  much of the sound deadening and even the rear seats. Electrical options (like power windows and seats) were replaced by manually operated components, although Recaro racing seats were included, mostly due to both their lightweight design and improved side-bolsters for improved driver restraint during track driving conditions.
It had wider and taller wheels and tires than the base 968, at 17 inches and 225 width front and rear for the rubber. The suspension was dropped by 20 mm and stiffened to enhance cornering. The steering wheel was almost literally lifted from a race car, a three spoke lightweight design without an airbag and a thick, grippy rim.
It was well received on debut, being named Performance Car of the Year by the UK based magazine Peforrmance Cars. It was only officially sold in the UK, Europe, Japan, and Australia, although it has wound its way around the globe to touch almost every corner of Earth. It also proved its original design goal, as a 968 CS was entered into the 1993 Sandown 6 Hours in Australia, which it ended up winning overall. It marked the Australian competition debut of the car, and nothing moves cars through showrooms like winning at its first official appearance.
It was the last Porsche car with a four cylinder transaxle powertrain, and was the perfect way to send off the model and body style.
See Also: Porsche 968 History & Timeline
---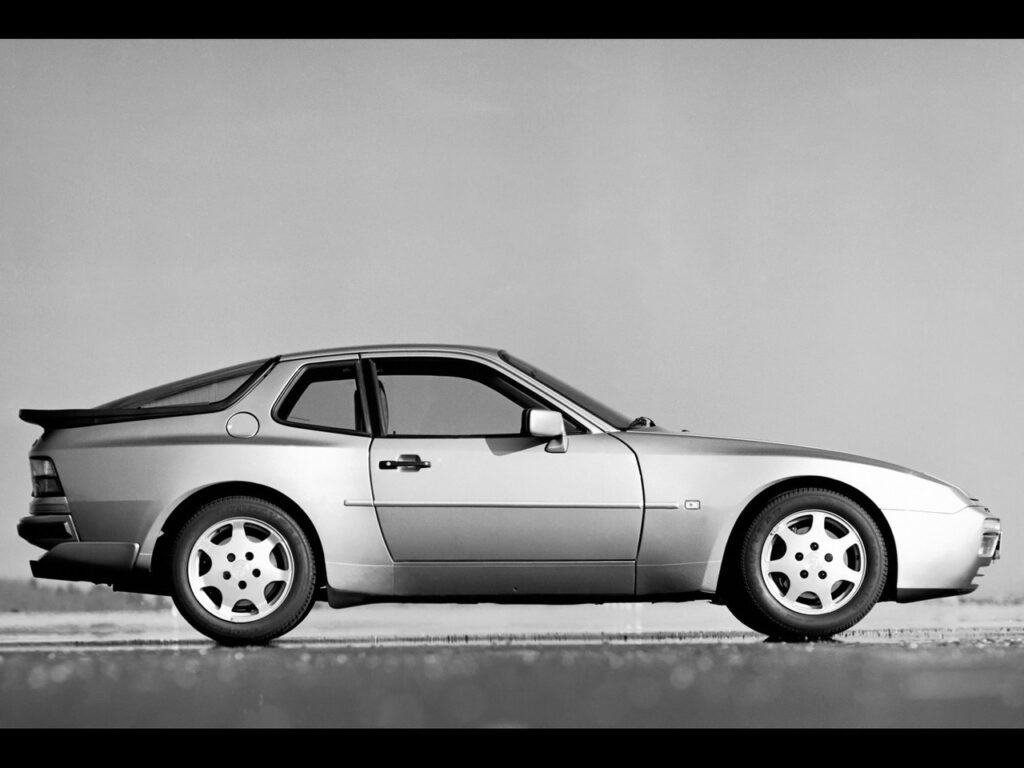 Porsche 944 Turbo S
Unless you knew exactly where to look, and even then what to look for, you could be forgiven for thinking that the 944 Turbo S was a "regular" 944. It's what you can't see that makes it one of the most special four cylinder models ever released by Porsche. 
To start with, it carried a turbocharged version of the 944's base M44/40 inline four engine, using a KKK K26-8 turbine to generate 250 HP and 258 lbs-ft of torque. This engine combination, used on only the Turbo S and the subsequent 944 Turbo, received the new designation of M44/52. That extra power, nearly 100 HP more than a standard 1988 944, made the car an absolute monster off the line, and would keep it accelerating until the speedometer hit 162 MPH.
However, Porsche knows that power and handling go hand in hand, and so the 944 Turbo S, of which only around 1,000 were made, came automatically with suspension option M303. That option put Koni adjustable shocks at all four corners, with ride height adjusting collars on the front struts, progressive rate springs, durometer suspension bushings, and chassis stiffening brackets where the shocks were mounted. For dynamics, the car had hollow front and rear torsion bars, with the ones at the front being a meaty 26.8mm thick.
The only thing that identifies the Turbo S from its Turbo brethren and even the rest of the 944's is there are discrete identification plates, such as the engine code plate inside the engine bay, the engine itself, and very subtle interior differences that you'd need to a be a fully paid up member of Anoraks-r-us to be able to spot from a distance.
More: Porsche 944 History & Timeline
---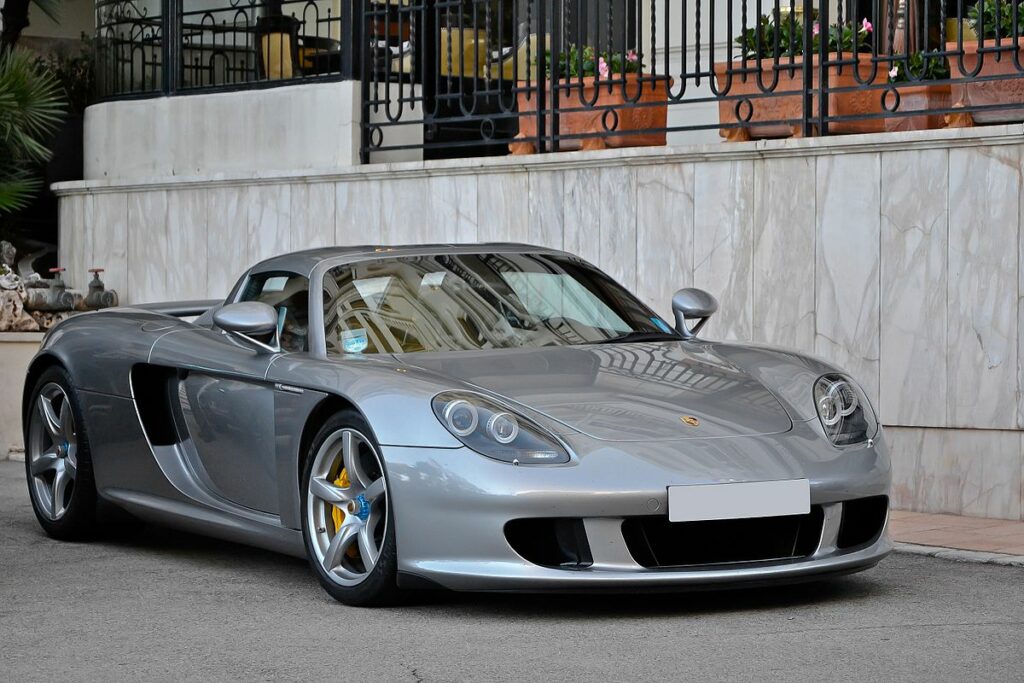 Carrera GT
Porsche has famously kept its focus on making sports cars, and until the past 10 years had avoided calling 98% of their models a supercar. They subscribe to the idea that a performance car must be usable and drivable in the real world, and design and engineer like that was tattooed to the inside of their eyelids. Which is why when Porsche does make a supercar, they do not mess about.
With only the 959 and the 911 GT1 Strassenversion being the only real supercars from Stuttgart until the early 2000s, when Porsche decided to take their decade old Formula One V10 engine and see if it would work in a road car, the result was the Carrera GT. It featured a detuned and larger displacement version of the last F1 engine Porsche had built in the early 1990s, at 5.7 liters and with 603 HP, a six-speed manual transaxle, and exactly zero driver aids.
To the supercar purists, this was a car that seemed made for them. It had a tricky clutch, had a defined limit that it could be driven to, but if you even peered over the edge of that limit, the Carrera GT would bite your head clean off. If you could launch it properly, it would clear 60 MPH from a standstill in under 3.5 seconds, and keep howling its high-pitched scream all the way to 205 MPH.
It featured a chassis made of carbon fiber and aluminum, with carbon fiber body panels, ferocious brakes made of carbon ceramic, and a motorsports-grade clutch pack, the only kind that could be mated to the high-strung V8, made out of silicon carbide, one of the hardest substances known to exist. As mentioned, it also featured absolutely no driver aids. No stability control, no traction control, and it had ABS only because it was required for it to be legally sold on some continents. It originally wasn't supposed to even have an airbag in the steering wheel!
1,270 Porsche Carrera GTs were eventually built between 2004 and 2007, less than the planned 1,500 units. The "official" reason is the changing airbag regulations in the US, but the more realistic reason is that the model, while popular, was also ridiculously expensive and as mentioned, could quite literally kill you if you pushed it a millimeter over the limit. However, if you could get close to that limit and were wide awake and in control of your faculties, there have been very few supercars that can match the sheer, visceral adrenaline rush that the GT can shove through your brain.
And it also featured a front trunk that was big enough for a 2L jug of milk, so it still met Porsche's "usable supercar" mantra… barely.
More Carrera GT Videos: Why the Porsche Carrera GT Is the Greatest Car Ever Made
---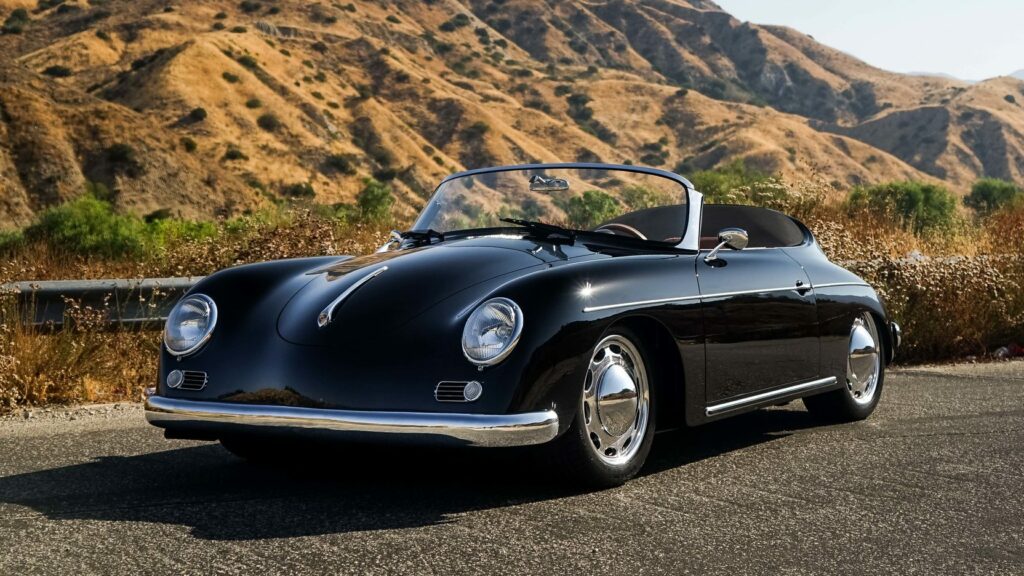 Porsche 356
The 356 is probably one of the few cars on this list that isn't underappreciated, mostly because without the 356, there wouldn't be a Porsche manufacturing company. Created by Ferry Porsche, the 356, or as it was often called in America "the bathtub on wheels," was a revolutionary idea in motoring. Instead of focusing on big power and heavy duty chassis, the 356 was designed to be as light and nimble as possible, while still also being fast enough to be fun. 
It featured a four-cylinder, air cooled, 1.1L engine that chugged out 40 HP. That may not sound like much, but because of the unitized steel body over a steel chassis, it weighed a scant 790 kg (1,750 lbs), and for its day was amazingly fast, with a top speed of 100 MPH. That body shape was also amazingly aerodynamic, and flowed from the pencil of Porsche designed Erwin Komenda, and soon enough, people that had bought a 356 put one and one together, and took their cars racing.
A Porsche 356 1100 was entered into the 1951 24 Hours of Le Mans, more for the sheer fun of taking part in the race over any expectations of placing well. However, after 210 laps of the Circuit de la Sarthe, with that little 1.1L engine still chugging along in fine style, it won its class. "Race on Sunday, buy on Monday" applied here, and sales of the 356 picked up immensely. 
In 1955, an upgraded, updated model was released, dubbed the 356A. Stylistically and aesthetically similar to the original 356, it came with a one piece windshield, modified front end shape, and five different engine options to choose from. Another update, this time with a significant restyling of the body of the car, was released in 1959 and dubbed the 356B.
The 356B, benefitting from the 550 Spyder that Porsche had made as an out and out racer, got a whole slew of engine options, from a 1.6L flat-four with "just" 60 HP, to the 356B 2000 GS-GT Carrera 2, which was a lightweight edition with a 2.0L flat-four making an unprecedented 140 HP. The key aesthetic differences between the A and B versions was that the B was more pronounced in the quarter panels, looking more like a cat ready to pounce than a cat sleeping in the sunlight.
That styling heavily influenced the first of Porsche's new 901 prototypes, but after a legal battle with Peugeot, who had trademarked the X01 style of model numbers, Ferry renamed the prototype 911. In effect, without the 356, which put Porsche on the map and established it as a manufacturer, there would have never been the 911. That is how important this single first model was to the 75 years that Porsche has been around for now.
---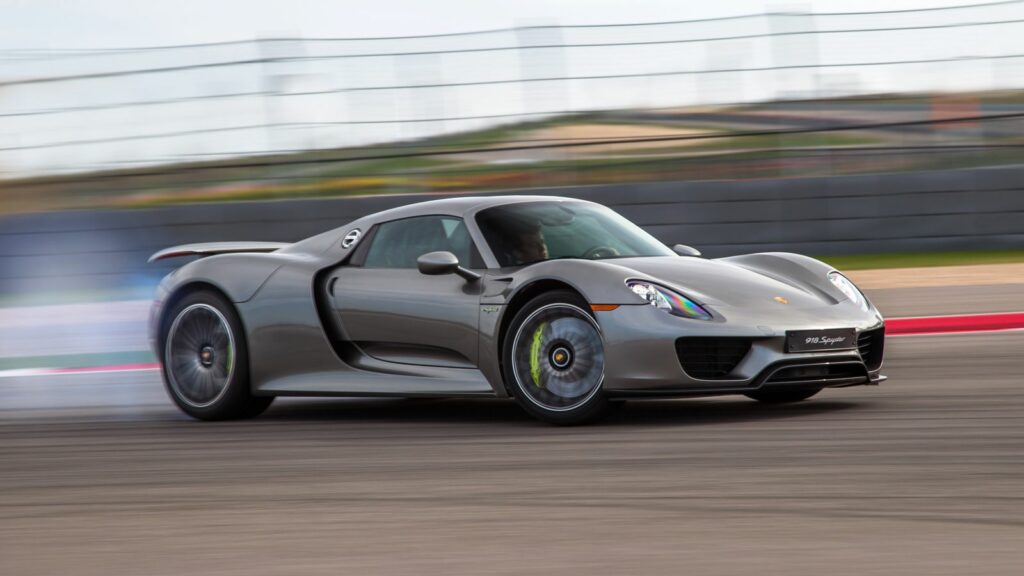 Porsche 918 Spyder
Ferdinand Porsche, almost a century ago, envisioned a car that would run on both electric and combustion power. While the technology of the time was not suited to what we now know as hybrid cars, it is only fitting that Porsche's first hypercar was powered by both combustion and electricity.
As part of what, in recent years, has become known as the Holy Trinity of Hypercars (the other two being the McLaren P1 and the Ferrari LaFerrari), the Porsche 918 Spyder helped open the door for performance hybrid road cars. Until that point, hybrids were often used to save fuel, extend range, and were generally seen as "hippy" cars. After the 918 Spyder, no one thought that about hybrids ever again.
In the middle of the car sat a 4.6L V8, derived from the V8 that sat in the middle of the RS Spyder LMP2 race car, that absolutely monstered out 608 HP. The hybrid system involved two motors, one on the front axle and one in the transaxle, which combined generated another 279 HP, giving the 918 887 HP. The hybrid system was also quite intelligently designed, as it could drive the car all on its own for a short distance,, work with the engine to extend range, or, if it detected a foot going to the floor, would kick both hybrid motors into full power, catapulting the 918 at tremendous speed down whatever road it was on.
Production of the 918 Spyder began in September 2013, with the first deliveries to customers expected to be in December of 2013. To ensure that the best spectrum of customers were able to buy one of the 918 production units, the first half of the allotment was sold to people that Porsche selected and invited to buy, based on their history with the company. The second half, however, was sold as first-come-first-served via the extensive Porsche dealership network around the world. 
At an asking price of $845,000 US Dollars in 2013, it was definitely not cheap, so when the second half of the allotment was announced as ready for orders, it sold out within a week in December 2014. Production proceeded smoothly, and ended on time in June, 2015, with the last customer receiving his car a couple of months later.
Once the 918 Spyder was out in the wild, independent testing showed that it could repeatedly hit 60 from a standstill in 2.6 seconds, 100 MPH in under 5 seconds, and the most incredible stat, 0 to 180 MPH in just 17.5 seconds. It was repeatable, verified by multiple magazines and reviewers, and still stands today as the fastest accelerating road-going Porsche, although the Type 992 Turbo S and GT3 models come close. 
An RSR racing variant was teased at the 2011 North American International Auto Show, demonstrating the technology that had gone into the Type 997 GT3 R Hybrid and Hybrid 2.0 cars, but unfortunately there was no racing series at the time for a GT hybrid car, only prototype cars. However, some of the parts from that RSR demonstrator were reproduced for the Weissach Package, an $84,000 weight saving and aerodynamic upgrade package offered by Porsche for any new or existing 918.
It is cemented in history both for its incredible speed and amazing technology, as well as being one of the three hypercars, and so far Porsche's only road-legal hypercar, that brought performance hybrid technology to the masses.
More: Full Porsche 918 Gallery
More 918 Spyder Videos: Chris Harris Drives the 918 Spyder, Why the 918 Spyder is Worth $1.7M
---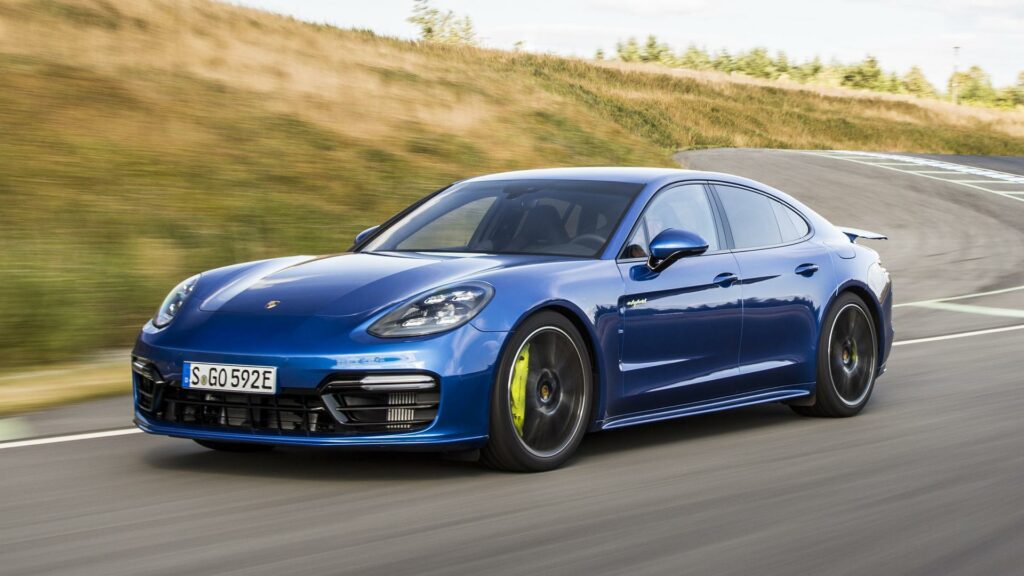 The Panamera Turbo S E-Hybrid benefitted from the door opened by the 918 Spyder we mentioned in the previous entry, as it combined a 4.0L twin-turbo V8, which produced 541 HP, and an electric assist that gives it an extra 134 HP, for a combined total of 675 HP. That hybrid was also not there for just extending the range of the car, it was there to help it haul serious ass off the line and coming out of corners, as the Turbo S E-Hybrid was aimed squarely into a sector that had cars with the letters M and AMG attached to them.
In fact, despite what many think, the E in E-Hybrid does not stand for "Electric." The full name of the car is the Turbo S Executive-Hybrid, which gave the car a full six inches longer cabin for more legroom in the rear. It is a continent crusher, a multi-day performance GT sedan, and to this day, one of the best, yet underappreciated, cars that Porsche makes.
---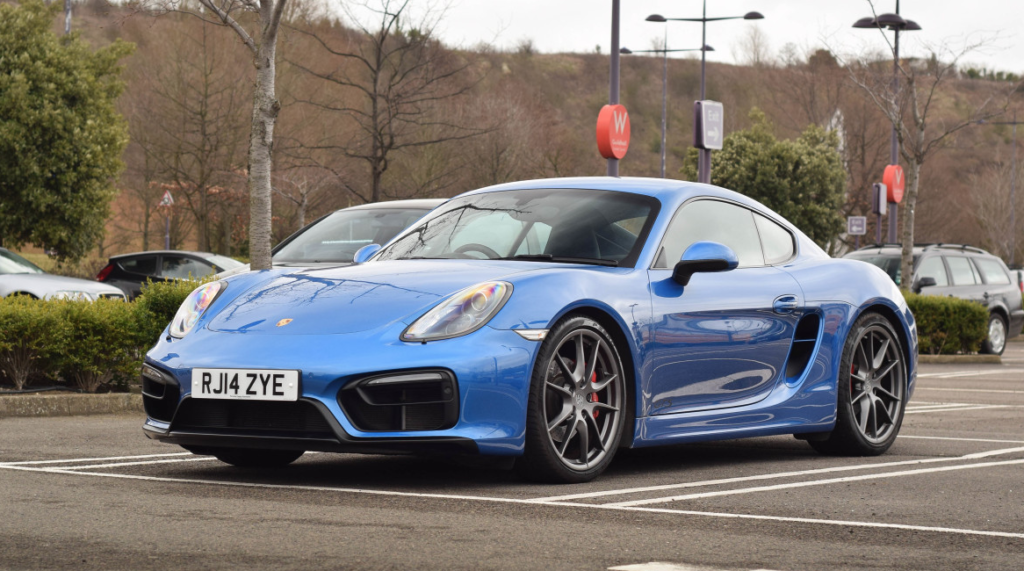 981 Porsche Cayman GTS
We had a lot of options to pick from for this entry, from the great 718 Cayman S of the current generation, to the very first Cayman, a car that revitalized the "less expensive than a 911 but a great car in its own right" segment of Porsche's models. However, for the moment, the epitome of the Cayman was the 981 Cayman GTS. 
But why this specific Cayman?
The 981 Cayman GTS is a combination of all the "right" options, for a lower price than if you were to add all of them to a Cayman S. These options include Porsche Active Suspension Management (PASM), Sports Seats Plus, the Sport Chrono package, which also includes the Sports Plus drivetrain setting and launch control on PDK models), the awesome sounding Sport Exhaust package, full leather and alcantara interior, a SportDesign steering wheel, and a whole bevy of other options. 
If all of that wasn't enough, Porsche also upped the engine by 15 HP, to give it 340 HP, which might not sound like a lot. However, the 981 Cayman GTS has that little sprinkle of magic dust they keep under lock and key in Stuttgart, and as it is an apex-slicing scalpel, those extra 15 HP will push you out of the corner faster, give you more mid-range power, and you definitely will feel it if you launch the car with a PDK transmission.
The real choice here was between the 981 Cayman GTS and the 981 Cayman GT4. We opted for the GTS because it is the more livable, usable model. Don't get us wrong, the GT4 was an epic model, but the suspension was a touch too stiff, and the car was definitely meant to be on the track, not the open road. That little bit of give in the GTS's suspension, without taking away any of its light, dynamic steering feel or superb grip, makes it one of the single best Porsche's of a generation. 
In fact, we think that it is better than the current 718 Cayman GTS, and would recommend searching for a well cared for used 981 instead of buying a new 718. That's how good it was, and still is today. A bonus is if you can find one with the excellent PDK, which gets you the launch control option to make things fun on a Sunday drive!
---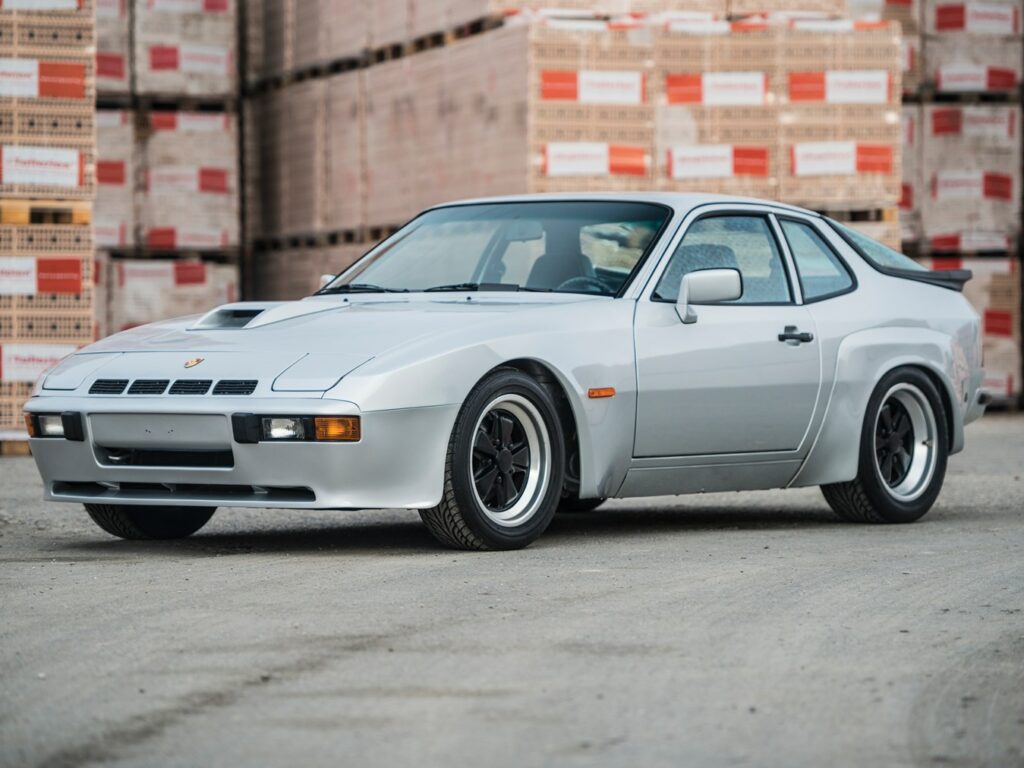 Porsche 924 Carrera GT
The 1980 Porsche Carrera GT was one of those cars that a company makes, puts it on sale without any marketing, and through word of mouth alone sells out of them. Originally unveiled as a concept car at the 1979 Frankfurt Auto Show, it was secretly the development prototype for a 924 race car that needed a homologation special to be eligible for the 1980 season. 
The 924 Carrera GT was about as hardcore of a sports car as you could get from Stuttgart without mentioning the 911. It was a stripped down, stiffened, and more powerful version of the 924 that was designed for track use and little else. It had an intercooler, with the engine tuned to run at 8.5:1 compression to allow for the turbocharged air to boost power way above what a "base" 924 could generate.
There were two versions of the homologation special, the 924 Carrera GT, which produced 210 HP, and the 924 Carrera GTS, which had the wick turned up even higher for 245 HP. Both versions included a factory installed roll cage, race seats, and not much else in terms of interior trim. To add further complexity to the naming of the car, the left hand drive production car was known as the 937 924 Carrera GT, while the right hand drive variant was a 938 924 Carrera GT.
Enough cars were produced and sold that the FIA approved the car for racing, and three 924 Carrera GTR's were entered into the 24 Hours of Le Mans, which had the wick turned all the way up, to 375 HP from a modified and race-prepared version of the 2.0L inline-four. Those three cars placed 6th, 12th, and 13th overall, a very strong showing for a GT car when it was racing against things like 935/79's and 917's.
In 1981, Porsche developed a one-off variant that was known as the 924 Carrera GTP, or GT Prototype. It was fitted with a 2.5L turbo inline-four, which had four valves per cylinder, dual overhead cams, twin balance shafts, and chucked out a monstrous 420 HP. The car raced at the 1981 24 Hours of Le Mans, placing seventh overall. That engine would become the basis for the one that would come in the 944 Turbo and Turbo S later on in the decade. 
It was one of those cars that appeared out of nowhere, a homologation special that truly was special. It was released during an era where you could literally buy a race car that was road legal, something that sadly doesn't happen often, if at all, today in 2022. For that reason, that it was a properly hardcore race car that could carry license places, it sits here on our list.
---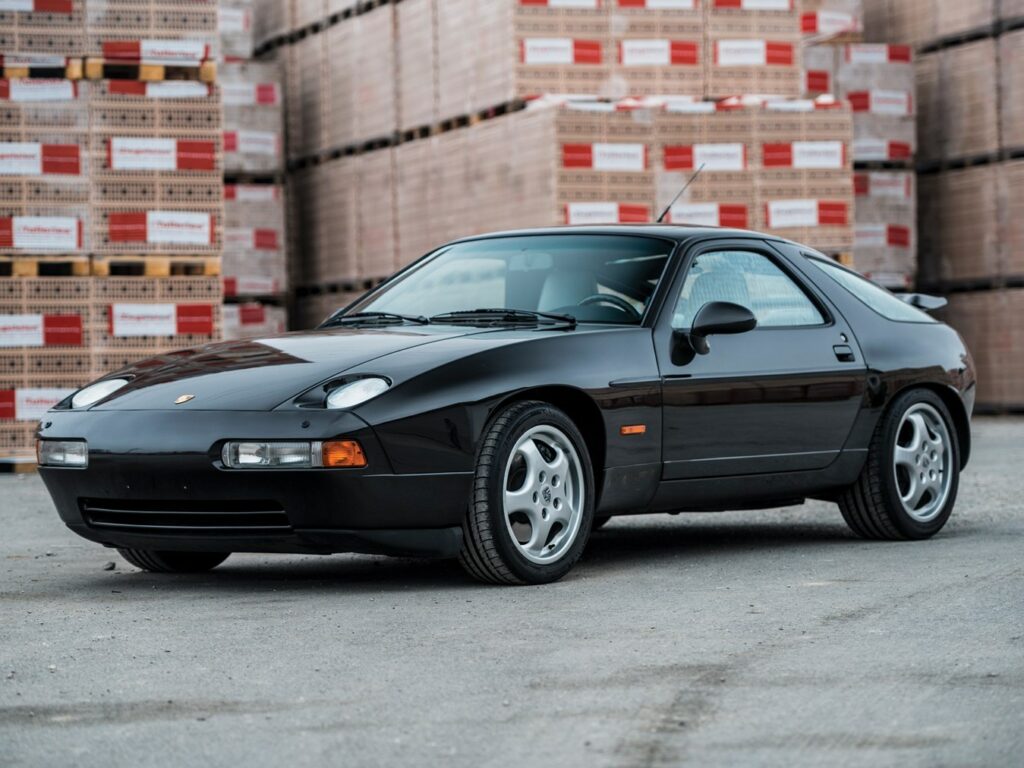 Porsche 928 GTS
The fact that we chose to include a 928 on this list should divide our audience into the readers that appreciated what the 928 was and was meant to be, and those that turn their nose up at what is often called the worst generation of the front engine sports coupe from Stuttgart. We admit, they were unreliable, overpriced, insanely expensive to maintain, and you had a 50/50 chance of the damned thing even running every time you turned the key in the ignition.
However, and hear us out on this, the 928 GTS does deserve to be here. Coming to market in 1991 as a 1992 model in Europe, and an early 1993 model in North America, it came with some incredibly standard equipment. As its original intention was not to accompany the 911 on the model line, but replace it, it had to be epic enough that customers would want to buy it.
The biggest thing about the GTS was its 5.4L, 345 HP V8 that, when it worked, was an absolute peach of an engine. Smooth power from very low down would get the car off the line in fine style, and with a newly reinforced transmission that could actually handle the power of the engine, it worked more often than not. Since the 928 in the 1990s was envisioned as the pinnacle of grand tourers from Porsche, it also came with absolutely massive front brakes, larger even than the ones that came on the 928 S4.
The downside to all of the new standard equipment was that the 928 GTS had an MSRP that was near-as-makes-no-difference $100,000… in 1992. That was $5,000 more than a range topping Type 964 911 Turbo or Speedster. At that price, the model sold very poorly and was quickly discontinued, a prime example being that only 77 928 GTS made it to North America.
The 928, as a whole, never really sold as well as Porsche wanted it to, despite adding more and more features that made it a better GT car over the decade and a half it existed. The simple reason that the 928 GTS has made it to our list, however, is that while there was a dedicated few that bought it, and it has gained appreciation in the decades since it was sold, it really hammered home that the 911 was where Porsche needed to focus its attention, and just a couple of years after the last GTS left the factory, perhaps the greatest generation of 911s in the eyes of many, the Type 993, were released, and the rest, as the saying goes, is history.
---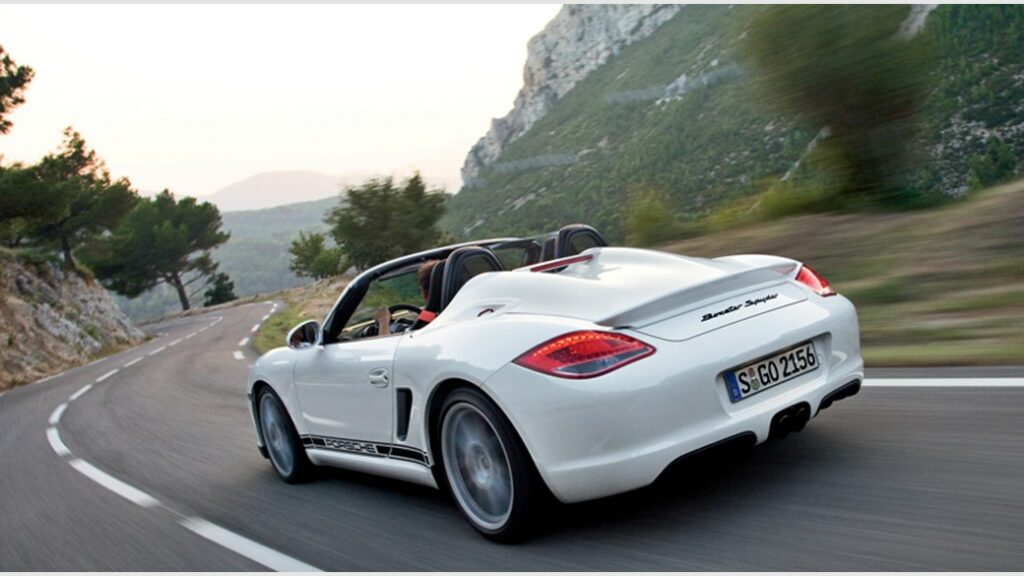 987 Porsche Boxster Spyder
The Boxster, of any generation, deserves to be on this list because every single one of them showed that you didn't have to have a 911 to have a ton of fun in a Porsche. The first generation 986 came out of the gate running, and we could have easily selected that base car, and the Boxster S, as our pick for this list.
However, we do have a soft spot for special editions, especially ones that turn an already great sports car into a nearly telepathic extension of the drivers' body. For that reason, the second generation 987 Boxster Spyder lands here.
Consider that the Boxster can be called the car that saved Porsche, as its sales success at a lower price point than a 911, but with 9.9/10ths of the fun of a 911, meant it sold like hotcakes. A convertible with a mid-mount flat-six, rear wheel drive, and some of the best steering dynamics ever to come from Stuttgart? Sign us up!
But take that already fantastic sports car, rip out anything that was not absolutely needed for it to run, give it stiffer suspension, dropped 20mm down, a more aggressive ECU that gave the engine more immediate responsiveness, a specially designed decklid over the convertible top, an exhaust that barely had any baffles in it, and a permanent rear spoiler and front splitter, and you have a car that went from being a superb sports car to a ferocious, tarmac devouring beast that was about as pure a drivers car as you could find.
Porsche paid attention, in that obsessive German way, to all the things that you touched. The steering was light, but you could tell the denomination of a coin you ran over on the road just from the feel. The clutch bite was perfectly set, the 6-speed gearbox slotted into each gear with a truly positive mechanical feel, and when you put your foot down, the howl of the exhaust note tickled every happy spot in your eardrums.
That 3.4L flat-six engine also received a little work, boosting it to 320 HP and a redline of 7,500 RPM. It pushed the Spyder to 60 MPH in 4.8 seconds, which may seem slow, but the key is that from the driver's seat, it feels plenty rapid. That is why the Spyder is here, as it is quite possibly the purest expression of the original point of a Porsche sports car: light, precise, powerful, and communicative. You won't miss an apex in a Spyder, nor will it want to understeer out of line because it is so light. You simply think of where you want the car to go, and it's there. 
Few cars, even some special 911s, have ever come close to the perfection that was the 987 Boxster Spyder.