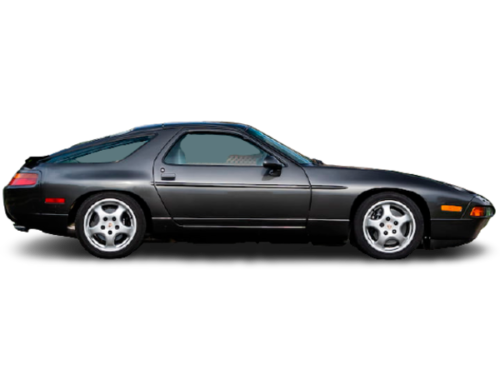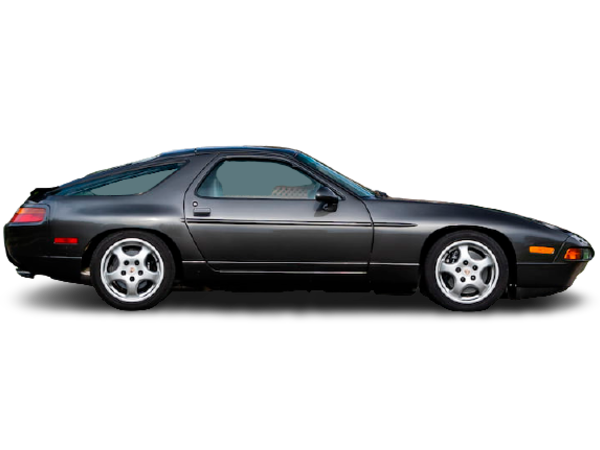 (1992 – 1995) Porsche 928 GTS – Ultimate Guide
The 928 GTS came for sale in late 1991 as a 1992 model in Europe and in spring of 1992 as an early 1993 model in North America. It was the last evolutionary stage of the 928 model and featured flared rear wings, a red light panel at the rear, a rear wing painted in exterior colour, exterior mirrors in the Cup design plus 17″ Cup rims as standard. The 5.4-litre engine of the GTS generated 350 hp.
The Porsche 928 GTS
The S4 and GT variants halted production at the end of the 1991 model year, making way for this final version of the 928.  The 928 GTS was available for sale in late 1991 as a 1992 model in Europe and in spring of 1992 as an early 1993 model in North America.  Changed bodywork, larger front brakes and a new, more powerful 5.4 L, 350 PS (257 kW/345 hp) engine were the big advertised changes when the 928 GTS arrived, but what Porsche wasn't advertising was the price. Loaded GTS models could eclipse $100,000 USD in 1995, making them among the most expensive cars on the road at the time. This severely hampered sales despite the model's high competency and long standard equipment list. Porsche discontinued the GTS model that year after shipping only a handful of them, in all only 2,904 were made.
Design-wise, the 928 GTS separates itself from other 928s with flared rear wheel arches to accommodate larger wheels and a wider track. The largest wheels in all of the 928's history came equipped at 17″ in five-spoke "Cup" design. It's also told apart from other late 928s with body color-matching front and rear spoilers, a twin-pipe exhaust exit, and a signature full wraparound red light bar. Another easily noticeable visual difference between versions is the actual style of the rims. Early 928s had 15″ or 16″ "phone dial"-style rims, while most 1980s 928s had 16″ slotted "flat disc"s, CSs, SEs and 1989 GTs had 16" "Club Sport", later GTs had 16″ "Design 90″ style which were also option on same period S4s, the GTS used two variations of the 17" "Cup" rims.
Part of the decline in Porsche 928 production was due to an abbreviated model year in which both the GT and S4 were virtual reruns. But Porsche jumped the '93 season in the spring of '92 by releasing a pair of more potent replacements called the 928 GTS.
The Porsche 928 GTS, new for 1993, was the most-powerful-ever 928 model. The letter S implied a more-powerful Porsche, and the GTS was. Stretching stroke from 79.9 to 85.9 mm (3.11 to 3.43 inches) upped total capacity to an even 5,400cc (329 cid). Bolstered by even tighter 10.4:1 compression, horsepower swelled to 345 horsepower achieved at a usefully lower 5,700 rpm. Torque rose, too, to 369 pounds/feet, but the peak was now 4,250 rpm for both models — a lofty 1,250 rpm above the previous year's automatic S4. Less noticed but still appreciated were a stronger clutch, a crankshaft with eight main bearings instead of six, lighter con rods and pistons newly forged instead of cast, and slightly softer shock absorbers for reduced ride harshness.
Appearance was modestly updated for the Porsche 928 GTS. The rear wing was reshaped and newly available in either black or body color, smoother 959-type door mirrors appeared, and the tri-color taillights were linked by a half-height red reflector. More subtle changes included a 2.7-inch wider rear track and a two-inch broadening of the rear flanks to accommodate wider 255/40ZR tires on new five-spoke 17-inch wheels like those of the latest 911 Turbo; front rubber also widened, to 225/45ZR17. (Respective rim widths were 7.5 and 9 inches.) The bigger wheels allowed larger front brakes designed to cope with the extra power; Porsche specified the beefy 12.7-inch rotors of the 911 Turbo. Rear-disc diameter remained 11.77 inches, and hefty four-piston calipers continued at each wheel.
For all that, Car and Driver's test of the manual GTS showed little change from previous GT results. The 0-60 dash actually took 0.1-second longer at 5.3 seconds, as did the standing quarter-mile (13.8) — but then, Porsche only claimed 5.5 for the manual model and 5.6 with automatic.
Zuffenhausen quoted a top speed of 171 mph, versus C/D's reported 169 for the previous GT. But none of this really mattered, for C/D seemed about the only U.S. magazine that cared to test a 928GTS on home soil. Perhaps that's because the V-8 Porsche was by now such a negligible part of the American scene. Indeed, calendar '93 sales were just 121 units. The '94 total was even Lower: a paltry 84.
Still, Joe Rusz needed no persuading to try the GTS for a "First Drive" report in Road & Track's July 1992 issue. Though a loyal 911 fan — and longtime 911 owner — he remained impressed with the 928 but bemoaned its evident fate. "This may be your last chance to own one of the world's finest Gran Turismos," he intoned. "Also, one of the most underrated. And unappreciated. . . . That the 928 hasn't caught the public's fancy may be due to the popularity of the 911 Carrera, which continues to be Zuffenhausen's best-selling road car. Also the oldest. The 928 . . . has been with us for a mere 15 years. Perhaps some designs take a bit longer to catch on."
Rusz was being kind. The fact was that by the early Nineties, and for all its splendid abilities, the 928 had lost much of its old sales magic — and, of course, it wasn't a "volume" car to begin with. Higher prices for the GTS iteration only made things worse: nearly $81,000 on its U.S. debut, rising to $82,260 by model-year '95.
With all this, no one was greatly surprised when the 928 departed during 1995. Many found it tough to say goodbye, but the posh V-8 coupe had simply outlived its usefulness. So had the front-four 968. After its recent near-death experience, Porsche knew it could no longer afford to build three totally different cars. Near-term survival demanded slimming down and becoming truly cost-efficient — fast. Dropping the two front-engine models was an expedient start down that road.
New CEO Wendelin Wiedeking had already mapped out the rest of the journey. Step one was to refocus on the breadwinning 911. Step two was a new, lower-priced car, the mid-engine Boxster, that would share many 911 components, thus further trimming Porsche's total manufacturing costs and complexity. It was a good plan, and it worked superbly. By the early 21st century, Porsche was not only enjoying record sales and earnings, it was the most
profitable automaker in the world.
Of course, as we know now, much of that success stemmed from the third step on Wiedeking's recovery route, the controversial decision to enter the truck world with the 2002 Cayenne SUV. Still, it's not unreasonable to suppose that the Cayenne's V-8 powertrains benefitted from lessons learned with the 928. And Porsche was hardly finished with grand luxe flyers. In fact, the company recovered so strongly by 2006 that it could venture a "new 928," announced that year as the 2009 Panamera. Contemporary buyer tastes dictated a four-door design — Porsche's first "sedan." But in every other way, the Panamera shaped up as a worthy successor to the 928: handsome, V-8 powerful, sports-car agile, luxurious, meticulously engineered, beautifully crafted, packed with purposeful state-of-the-art technology — in short, a Porsche through and through.
As, indeed, the 928 always was, despite its many breaks with tradition. Its engineering pedigree was certainly never in doubt. But with the passage of time and the perspective it brings, the car itself is being appreciated anew.
Porsche 928 GTS Evolution
1992 MY Porsche 928 GTS
The big change in 1992 with the introduction of the GTS was that engine displacement increased to 5.4 L due to increased crankshaft stroke. Piston compression height adjusted to matched new stroke. 10.4:1 compression ratio pistons. Milder camshafts for emission purposes. Bodywork updated with flared rear fenders and so-called "cup" style wing mirrors. "Big Black" front brakes, significantly larger than the "S4" version. Stronger manual gearbox with differential driven oil pump and front-mounted oil cooler. GTS became available in North America at January 1992 as early 1993 model with later model year VIN. These cars use same parts as 1992 models and can be differentiated from true 1993 US models with separate VIN sequence and option code M718.
1993 MY Porsche 928 GTS
For 1993 model year, the cylinder block lower half studs were replaced with bolts. Engine piston rings changed to limit oil consumption and pistons changed to strengthen skirt area. Minor updated to gearbox clutch were made. Air conditioner refrigerant changed to R-134a and the driver side airbag became standard in RHD cars, passenger side airbag not available in them.
1994 MY Porsche 928 GTS
For 1994, the GTS got cabin pollen filter added which was nice. There was also a new "dynamic kickdown" mode for automatic transmission models. Wheel design changed to "Cup II", RDK deleted at same time. The first 19 US models were made already in spring of 1993, months before when normal model year change occurs in July/August. These M718 option cars still used previous model year parts like Cup I wheels and do not have 1994 model year updates despite using same 1994 VIN sequence. Connecting rods changed to stronger design part in middle of model year.
1995 MY Porsche 928 GTS
For the final year of the 928s production, a special model was made available in some markets containing 8″ wide front wheels. There were also special colors (only available with automatic gearbox): "Iris blue" metallic and "Amazon green" metallic colour with Classic grey leather interior.
Porsche 928 GTS Production
A total of 2,904 Porsche 928 GTS units was produced from 1992 to 1995 model years. Only 407 928 GTS examples made it to North America between model years 1993 and 1995