The Pinnacle of Porsche Tinkerers, Here is Our List of The Best Restomod & Porsche Restoration Shops
Our interest in writing a post specifically about Porsche restorations began when we got feedback from readers about our greatest Porsches ever and best Porsche 911s lists. Readers told us we should include the Singer Porsche car on our lists since modifying Porsches is part of the culture and that those custom Porsches are much a reflection of the brand as are the over one million production Porsche 911s that the company itself has made. We agree. Rather than include them in those top lists however we decided to dedicate a few posts to Porsche tuners, restomodders and restorers.
Porsches have always been popular cars for tuners and race teams looking to take a solid, top performing sports car and make it faster and more unique. One of the great things about models like the 356 and the 911 is just how easy the platforms are to modify and tune (especially the air-cooled generation where many parts are interchangeable).
More recently the restoration, restomodding and outlaw Porsche scene has absolutely exploded. Want your Porsche with a bit of classic flair but with totally new technology, then companies like Singer and a host of other restomodders can help. Want a Concourse level restoration of your early 911 or 356, then there are shops who have been doing it for decades that are busier than ever. It seems like everyone and their mother is creating, restoring and restomodding Porsche 911s or claims to be an approved Porsche restoration shop.
Whatever your style or desires, the decision to restore a car (or buy a restored car) is a serious commitment of time and capital. It is very important for you to determine what you would like to do with the car in the future and how you intend to use it. That, along with the available budget will determine the level of restoration you will choose and the type. We did some research and found an awesome selection of companies who restore and tune Porsches, each with a different approach, focus and price point. We are confident somebody on our list of the best Porsche restorations shops and restomodders is the right fit for your desires. Check them out, but first a primer about Porsche restoration.
---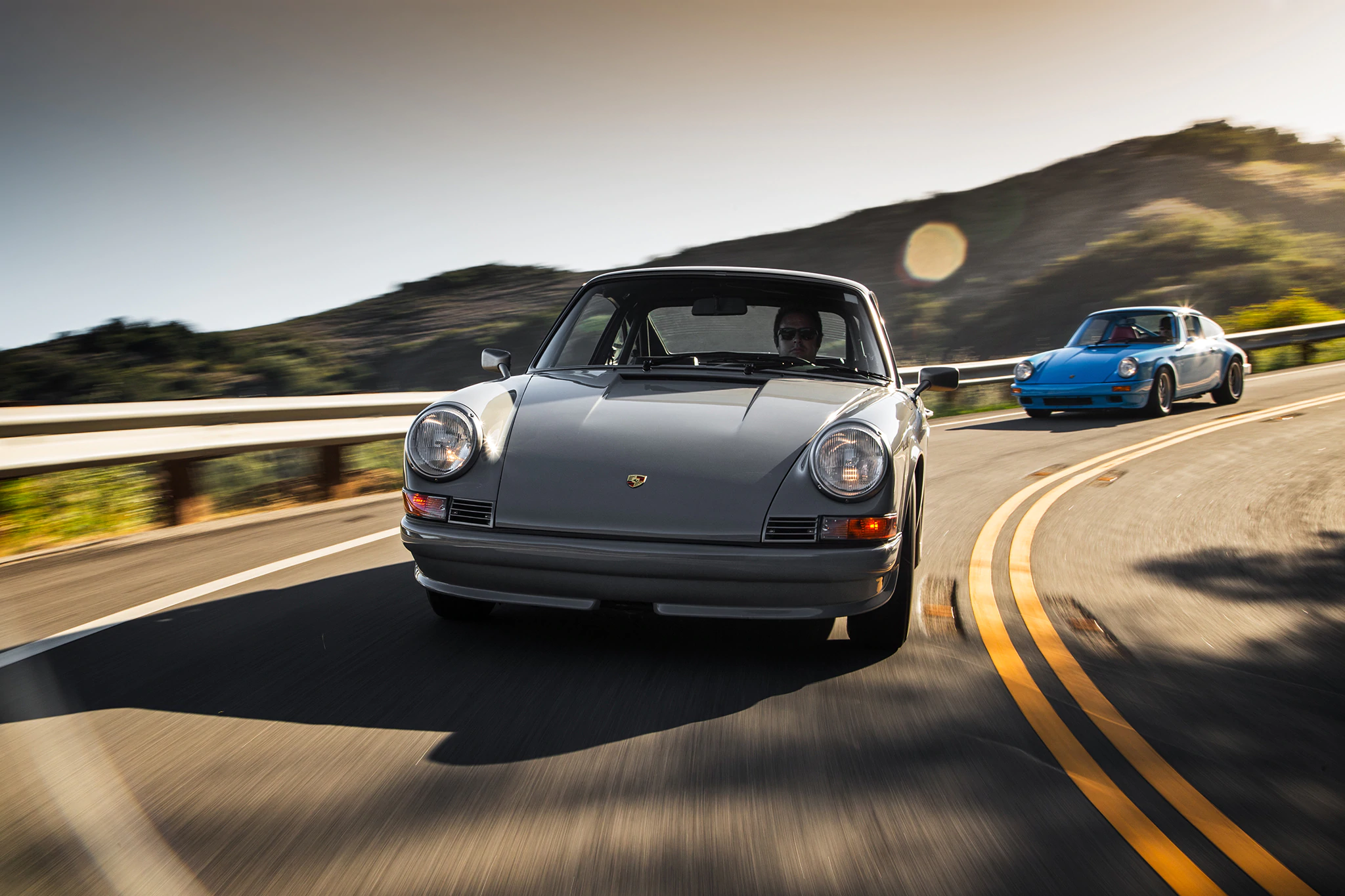 Porsche Restoration Comes in Many Flavors
Porsche restoration essentially refers to taking a great classic Porsche and bringing it back to life with all (or most) of the original factory parts. The process involves repair of the visible parts (e.g., body trim, interior, etc.), as well as the parts not easily seen (e.g., electrical, suspension, brakes, etc.). The result is a beautifully preserved automobile in factory-new condition with authentic parts – just like it came off the showroom floor decades ago. Except things are not that simple, because the restoration industry has changed and now there are different types and levels of restoration. We will quickly tackle the types of Porsche restoration you can undertake for your prized possession.
Classic & Vintage Porsche Restoration
This is basically what we describe above. Taking a Porsche and bringing it back to life with all (or most) of the original factory parts. The main thing to note here is that just like there are different types of restorations there are also different quality restorations even when you are just trying to bring things back to production level. The type of restoration level you want is largely dictated by your budget and what you plan on doing with your car. The broad levels we will describe here are Full Concourse, Show quality and Driver level.
Full Concourse
These cars are perfect. A full concourse car means returning a car to its original factory condition. If you are building a full concourse car for show judging then your aim is to have the vehicle win top honors in its class at a formal concourse show. Candidly if you are building or buying a concourse level car then you are buying a piece of art and you are not driving it anymore. These are cars that are taken to events in closed trailers and are stored in temperature and atmosphere controlled environments. At this level, a restoration is about strict original authenticity.
The type of work done is also different, often using custom metal repair techniques and old school original tools. Every individual part on the car is refurbished. All assemblies are completely dismantled and rebuilt to 'as new' condition. Metal body panels are straightened to where there is no need for any plastic body filler and a minimum of lead filler. Perfect hides are used for the interior in exact colors and styles as original.
A lot of people think that this is the kind of restoration they want until money is mentioned. The level of master artisan and the thousands of hours needed to compete these cars means they are often out of reach for most collectors. We are talking the top 1%. Stories of restorations on very rare cars that have cost multiple million dollars is not uncommon.
Show Quality (Local Concourse)
Show quality restored cars look amazing. In fact, except for close inspection these cars look close to Level 1 Concourse cars. Up close these cars fall short (a little). The finish may show evidence of machine sanding and other defect in the paint or chrome and trim may not be perfect or non-original parts are used. This is a restoration suited for cars that are not collectible or rare and is more than enough for most car collectors.
A show quality car like this could place well in its class at most car shows, but would not do well at the biggest and highest acclaim shows (mainly because it would be competing against Level 1 cars). These cars definitely get driven often and is the perfect balance between wowing observers and still be a usable car.
Driver Level (Street Restorations)
Known as street level restorations this is what we typically see most often. These cars look great but the details are different than level 1 or 2 restorations. Typically, all deteriorated steel is replaced, door and panel gaps would still be nearly perfect and the use of minimal plastic body filler would be appropriate. Components that function would be refinished but not necessarily rebuilt. This kind of job may involve the use reproduction parts and interior seat and panel kits. These cars are mechanically sound and cosmetically attractive and are definitely cars that are used a lot by their owners. Everything works as it is supposed to and the owner can be confident of returning home after an enjoyable day. The car looks good and an appreciative audience will always gather around wherever the car stops.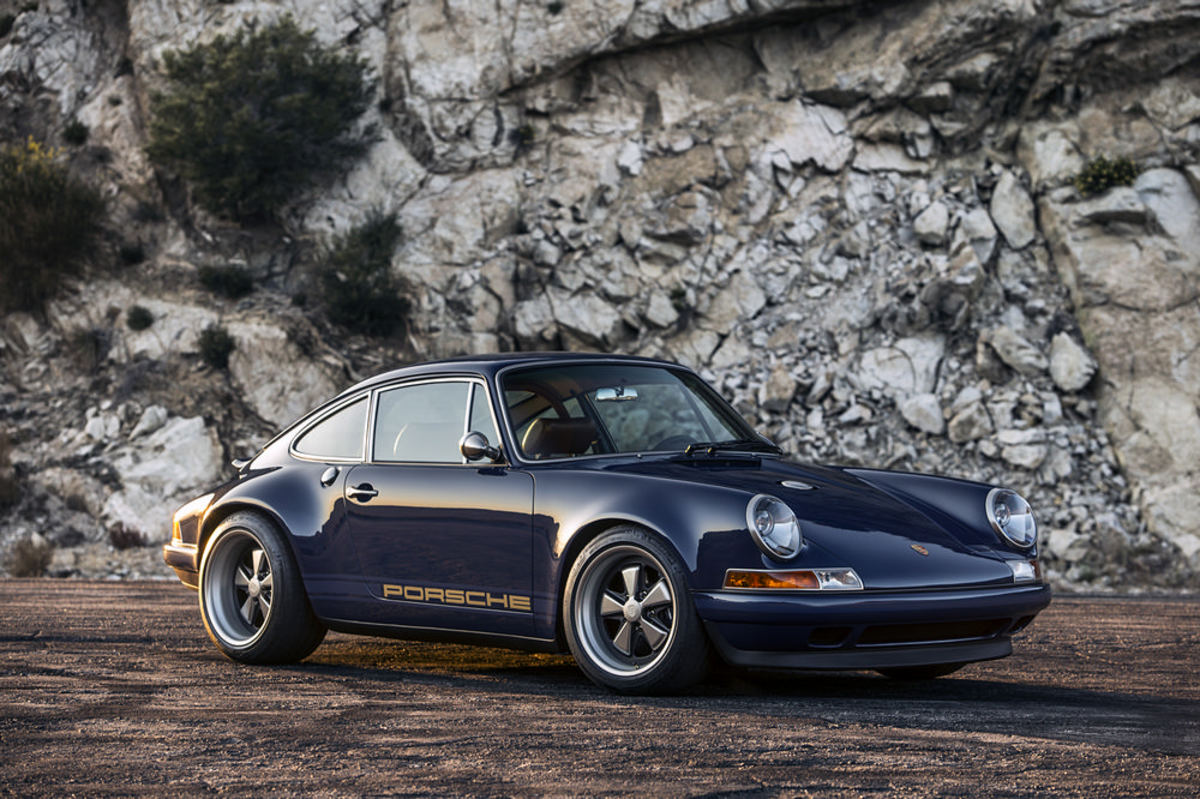 Custom Porsche
Outlaw and restomod Porsches are different than restorations because they mix old and new. The goal is not to return a Porsche back to production spec. The idea is to create a unique Porsche, something custom and perfect for an individual buyer. As popularity for custom Porsches has skyrocketed recently, there is also a new breed of companies that is building "spec" production level customized Porsches and it seems every week a new company pops up that can offer you an off the shelf restomod Porsche to buy.
Restomod Porsches
The restomod is a relatively recent phenomenon (in terms of popular culture). These cars are all about mixing old with new, creating the best of both worlds. Typically it means taking classic styling with modern comfort, performance and reliability. Instead of using production parts, restomods use new parts designed to fit in stock locations. This way, the builder can add modern performance but also return the car to its stock state by refitting the original parts. What started as a few niche pieces like air conditioning kits and digital gauges has transformed into an aftermarket industry that provides parts to make classics truly usable as daily drivers and long-distance cruisers.
Like A restomod car has the timeless appearance of the original, but the outdated guts of the car have been replaced with the more modern, high-performance parts of today. You achieve the same great look, but your vintage car will be revved up with all the latest bells and whistles to create a much better ride for the owner.
Restomodding Porsches has skyrocketed in popularity in the last ten years. You can thank companies like Singer Vehicle Design who re-defined what an old 911 could be. The range of price points is quite wide in the restomodding space and as it matures as a restoration segment we are seeing companies pick niches they focus on. For over $500,000 you can buy a 964 based Singer Vehicle Designs Porsche or a 993 based Gunther Werks 400R. For a few hundred thousands dollars there are many shops that will sell you an off the shelf restomod or shops that will customize a restomod just for you.
Outlaw Porsches
Outlaw Porsches make people nervous. To collectors and old school aficionados they are a blight on the Porsche restoration scene. It all started in the 50s when Dean Jeffries modified his 356 Carrera's body and ever since individuals have been modifying, customizing and making their cars faster. Unlike restomodders, outlaws fuse together vintage Porsche with classic looks with more modern components and body lines. They are not afraid to really alter the sheetmetal and change the look of cars. Like restomodding, outlaw Porsche demand has skyrocketed in recent years and everybody says they do it. Companies like Canepa, Emory Motorsports and Willhoit Auto Restoration are really the pioneers in this space and they continue to drive the segment forward.
While the term outlaw Porsche normally refers to the 356 (the whole industry is often known as "356 outlaws"), it is hard to ignore the 911 outlaws because they do exist. Perhaps the most well known outlaw 911 crew is the R Gruppe in California. They have help the phenomenon explode in popularity. The R Gruppe is the counterculture band of hot-rodders formed by the enigmatic Chris Huergas. They are a quasi-underground, semi-famous car club whose provocative devotion to hot-rodding early 911s that has earned it a reputation as the bad boys of the Porsche world.
---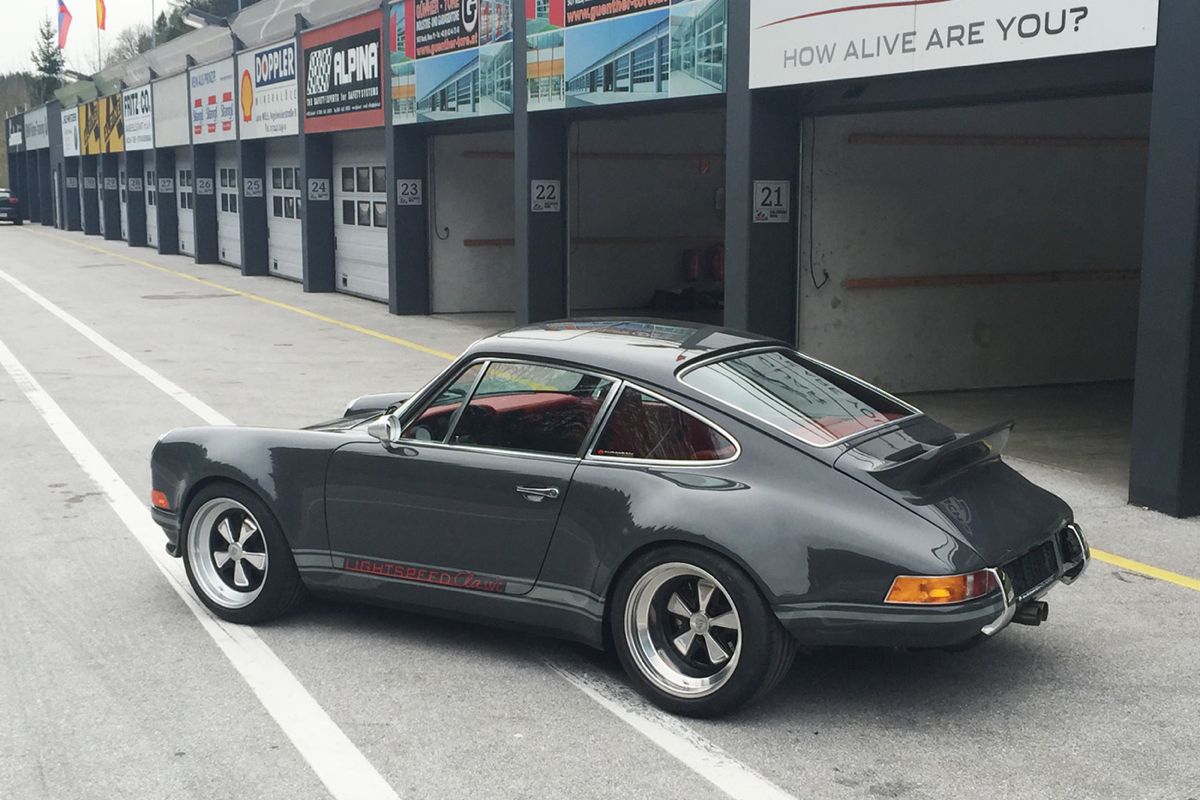 Best Vintage & Classic Porsche Restoration & Restomod Companies
We have included our favorite Porsche restoration and restomod shops below. They are not in any particular order. Note that we also included some notable shops that aren't as well known further down in this post, make sure to check them out too.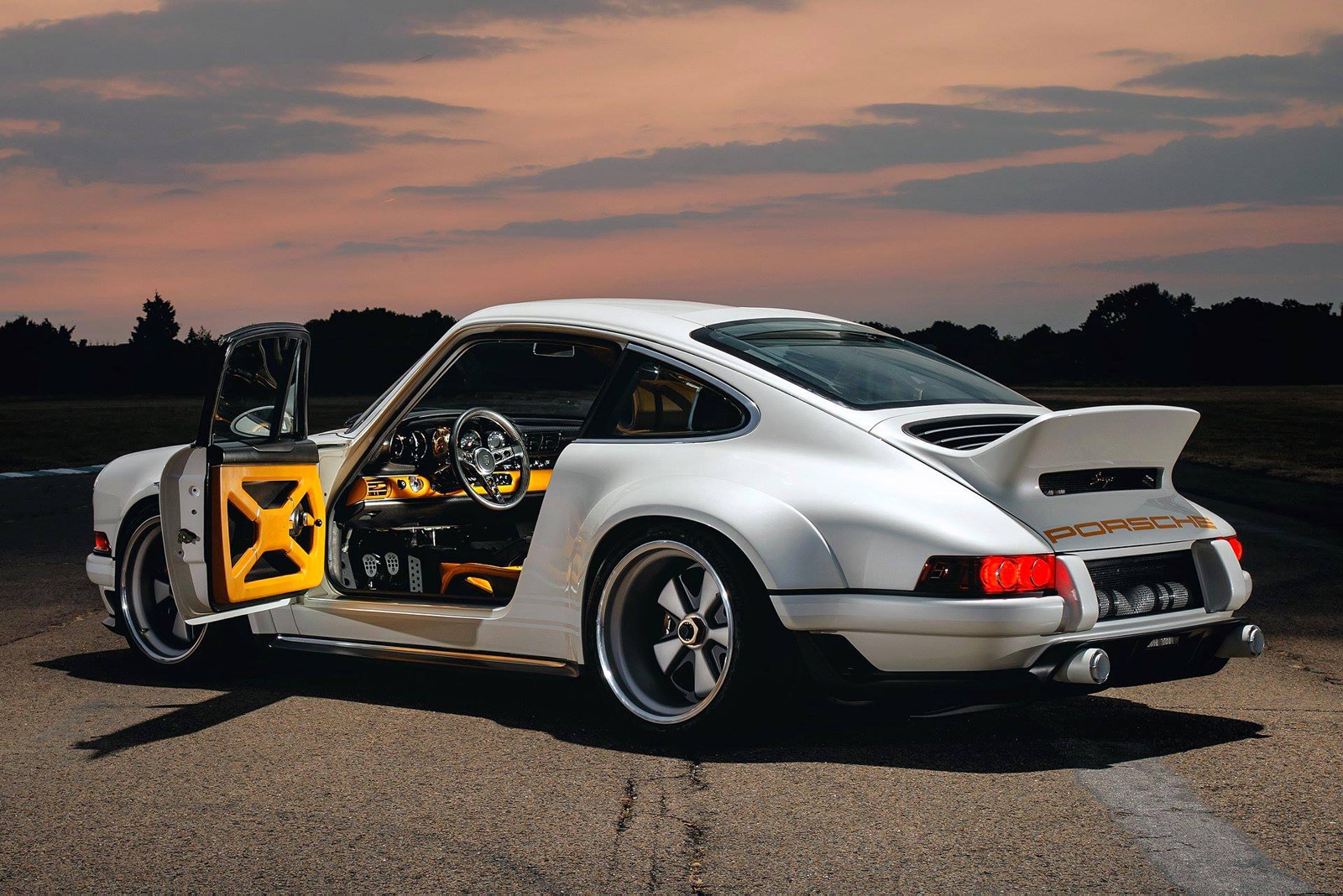 Singer Porsche
Company: Singer Vehicle Design
Located: Los Angeles, CA (United States)
Website: Singer Vehicle Design
Singer Vehicle Design is Los Angeles based company that rebuilds and restores Porsche 911s. They are the very top end of the restomodding world. Founded by Rob Dickinson the company is known for its "re-imagined" 911. A totally custom Coupe or Targa Porsche 964 that takes restoration, customization and attention to detail to an entirely absurd level. The company's gorgeously detailed interiors and painstaking engine work and ability to seemingly transform the 911 into something more, something better than it ever was has driven a lot of the excitement around Porsche restomod phenomenon.
After deciding to work with Singer, customers put down some money and turn over their 964 generation Porsche 911. Singer then goes to work and puts ~4,000 hours into restoring, tuning, and customizing it. That doesn't come cheap. Singer Vehicle Design "basic" restoration services begin at $400,000 but average $600,000. To call it a restoration undersells it. For starters all the bodywork is replaced with custom carbon fiber body panels and the engine is reworked by engine manufacturers such as Cosworth and Ed Pink Racing Engines. The level of detail is astonishing, this is basically a new car, built from the ground up by artisans who would rather get it right than make money.
Singers most recent creation is an absolute masterpiece. Called the Singer Vehicle Design DLS (DLS stands for "Dynamics and Lightweighting Study"), it is a 1990 Porsche 964 whose owner requested Singer and Williams restore and modify his car with an emphasis on—you guessed it—reducing weight. The long hood of the Porsche 911 classic replaces the shorter hood of the Porsche 964. Relocated fuel filler and oil filler caps are a nod to historic Porsche race cars. The tachometer is colored in Singer Orange. Price point? Try $1.8 million.
The engine is a 4.0-liter naturally aspirated flat six worked on by Williams (yes, the F1 guys) and is good for 500 horsepower at 9,000 RPM. The motor boasts lightweight throttle bodies with supposedly F1-inspired upper and lower injectors, a unique oil lubrication system and it has dual overhead cams and four valves per cylinder. The suspension was also optimized by Williams.
The specs sound great, but the beauty of Singer cars is the detail. Just looking at them is an event. The interior is absolutely stunning, the body is perfect, the nuts and bolts and little things are just perfect. 75 examples of this $1.8 million restoration will be made available to customers. Selling my soul as we speak to get one.

Canepa
Company: Canepa
Located: Scotts Valley, CA (United States)
Website: Canepa 959
Longtime readers know we are huge Porsche 959 fans. We grew up in the era where the 959 came along and destroyed the competition. The car was initially developed to function solely as a B rally car. When it was introduced in 1986, the Porsche 959 was immediately identified as the world's fastest street-legal production car. Production ended in 1988 with a total of 292 Porsche 959's rolling off the assembly line. In total, 337 cars were built, including 37 prototypes and pre-production models.
While the 959 was a technical marvel in 1986, in 2018 it is easily beaten by the latest hot hatches. That's where Canepa comes in to bring it up to spec and help it compete with today's hypercars. In the world of Porsche 959s, few names are as recognizable as that of Bruce Canepa nut for those who don't know, Bruce is a former race car driver and resto-mod master who helped get the 959 onto U.S. streets through the Show and Display law and has been restoring and modifying 959s ever since. Called the 959SC, Canepa's latest restomod project thoroughly restores the original 959 and in the process adds boatloads more power. Porsche 959 owners in the U.S. can have Canepa perform all these upgrades for an undisclosed sum (ie if you need to ask how much…).
The highlight is a 763 hp engine upgrade. 15 years ago Canepa's initial Gen I engine upgrade gave you 576 hp. A few years later the Gen II cars developed 640hp. In 2016, the all new Canepa Gen III system put out 763 hp and 635 lb-ft of torque. The 959s 2.8-liter twin-turbo flat six produced 444 horsepower in production trim, so clearly the 763 hp option is a big increase and isn't far off the 878 hp 918 Spyder. The boost in power is thanks to new Borg-Warner turbos (now parallel and not sequential), a new engine management system, bespoke exhaust system, titanium heat shields, new fuel system, more powerful ignition system and a custom clutch pack. The added power results in a 0-60 mph time of just 2.4 seconds and a top speed exceeding 230 mph. That is modern hypercar performance.
Alongside the powertrain upgrades, the 959 restomod is much better to drive. Upgrades include a set of titanium coilovers mimicking the units that came as standard on the 959 Sport. Porsche built twenty-nine 959 S units with the S model extended the performance characteristics of the 959, including with a much more modern suspension system. The Canepa suspension upgrade begins with the factory S specification, and then incorporates modern suspension technology including a newly patented gas strut design and titanium coil-over spring componentry. Canepa even fits its own set of 18-inch alloys that replicate the look of the original but are made lightweight magnesium, thus reducing unsprung mass and aiding further in the handling department. With these suspension upgrades, Canepa says the "959 matches the handling and ride quality of any modern day supercar".
Canepa doesn't just focus on the engine and powertrain. Canepa has also restores the interior, outfitting it with brand new high end brown leather, carpets, floor mats and a hand-stitched steering wheel. A Porsche Classic audio/navigation system is also fitted (remember the 959 came out in an era where cassettes were still the thing to listen to). The bodywork is stripped down to the bare metal and repainted in any color the customer chooses – a nice benefit considering that Porsche only ever offered it in white, silver, or red. Plated components are recoated in zinc, the suspension is powder-coated (see below).
The restoration process entails over 500 hours spend on the bodywork alone (before it even enters the paint booth), and another 300 on the interior. Who knows how long it takes to get that engine upgraded. This is a complete restoration that takes a supercar and turns it into a hypercar.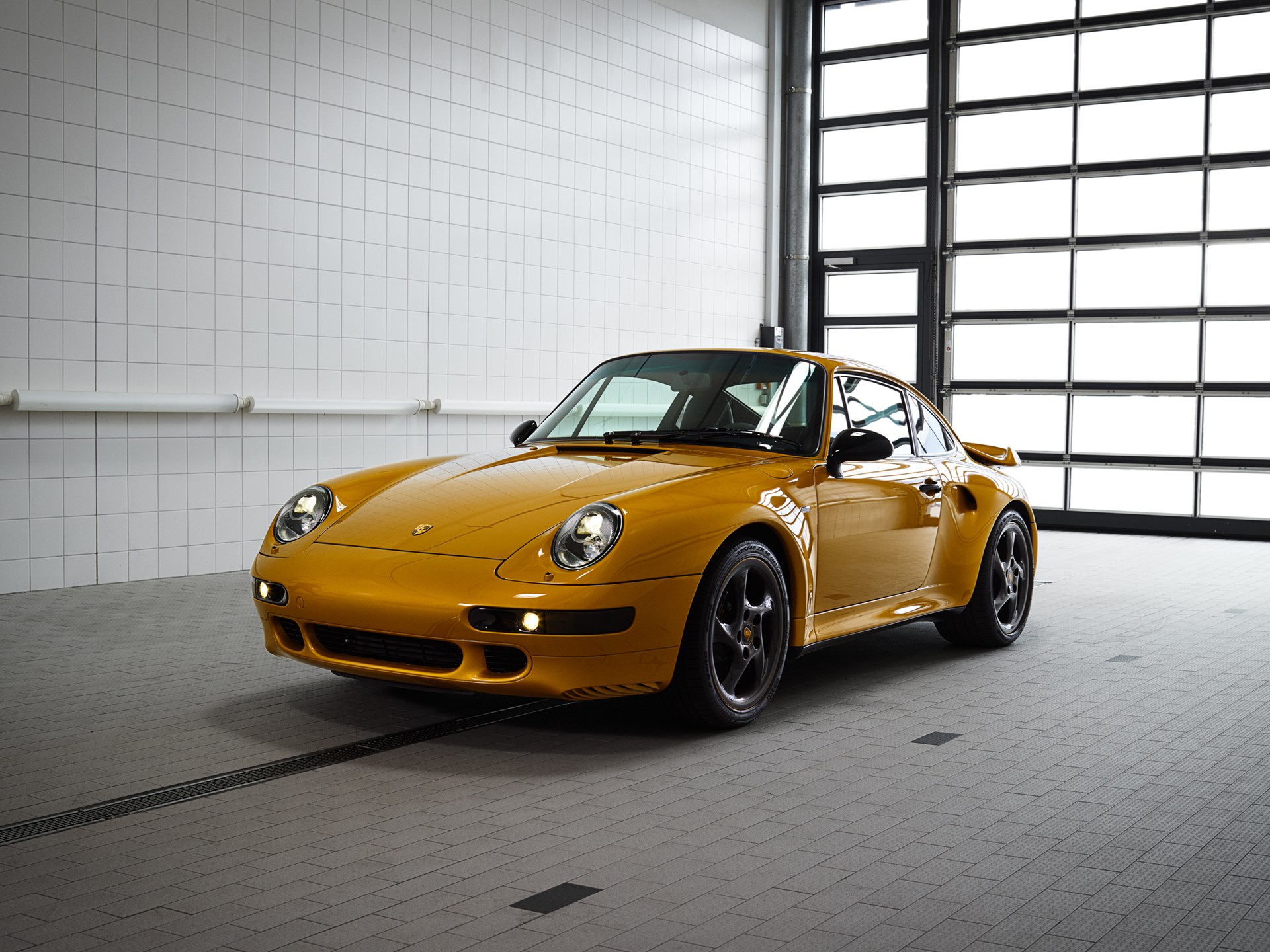 Porsche Classic
Company: Porsche
Located: Germany (with local partners worldwide)
Website: Porsche Classic Project Gold
Porsche announced earlier this year that the marque's 70th anniversary would in part, be celebrated with the release of a special 'restomod' car. Dubbed 'Project Gold', this endeavor was delegated to Porsche Classic, the company's department in charge of restorations. The finer details of this project were kept under wraps, until it was finally unveiled during the 2018 Monterey Car Week taking place in Pebble Beach, California.
Backed by Porsche, this particular 993 Turbo is not your everyday restoration project – it is much, much more than the sleek new paint job and reimagined interior that are evident from a cursory glance. According to Porsche Classic manager, Uwe Makrutzki, Project Gold has been more than 2 years in the making and everyone involved was determined to create something very special with no compromises.
One of the first upgrades this 1998 Porsche 911 Turbo would receive is at the heart of the car – an air-cooled 450-horsepower 3.6L twin-turbocharged engine, from the higher-trim 993 Turbo S. While the replacement engine itself didn't receive any modifications per se, it was taken apart, bored and rebuilt with newer internals. The engine is mated to a 6-speed manual transmission, delivering power to the car's all-wheel-drive system. The suspension components also benefited from the project, with more modern shocks being retrofitted with original-style casings.
Inside, the car is a desirable blend of modernization and restoration. For example, the seats are bespoke and the use of carbon fibre and perforated leather is used throughout – however, to maintain the aura of the 993, Porsche Classic commissioned the same sewing machines used during that era to ensure that the stitching produced was the same length and pattern as the original cars. The attention-to-detail is remarkable.
As seen in promotional media, the color scheme is very much inspired by the new 'Exclusive Series' 991.2 Turbo S. Rear fender intake inlets were also fabricated onto the body by hand – a special team was entrusted with this task in order to enhance the car's period-correctness.
Word has it that this 1 of 1, 1998 Porsche 911 Turbo will be auctioned off at a specially themed '70th Anniversary of Porsche' RM Sotheby's auction. Proceeds from the sale – which are expected to be in abundance – will be donated to the Ferry Porsche Foundation, which funds educational, social and youth development programs around the world.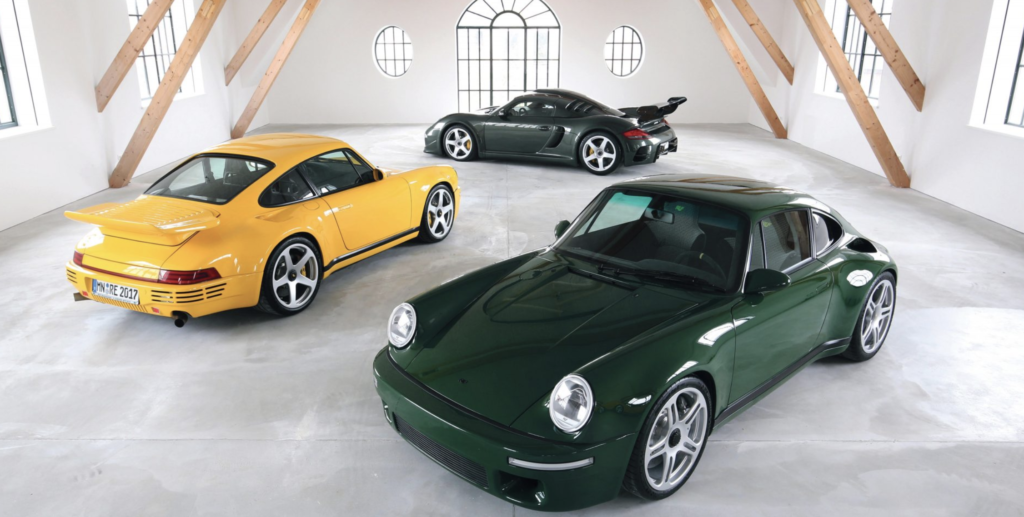 RUF
Company: RUF
Located: Pfaffenhausen, Germany
Website: RUF, RUF Restoration
Most people do not think of the RUF tuner company as Porsche restorers. They are known for building batshit crazy fast Porsches. The reality is the RUF is a soup to nuts Porsche shop that can do it all. They have more than 75 years of expertise in dealing with cars and have been working on Porsches since the 1960s. They define restoration as the faithful restoration of a Porsche to perfection. They have a division that focuses on this type of restoration, taking 356 and 911 models transforming them into perfect condition, both visually and technically.
However, the cooler part of RUF is that they recently jumped into the restomodding bandwagon and developed a car we desperately want. Called the RUF SCR 2018 it is a stunner. More power, less weight, more driving safety and 4 liter naturally aspirated engine that have 510 hp, all wrapped in a classic Porsche 911 shape. Yes please.
Their goal with the SCR 2018 is to create a "unique state-of-the-art sports car for experienced connoisseurs and sports riders who do not want to miss the furioso of a naturally aspirated symphony". The load-bearing structures, its chassis and body are uncompromisingly designed for its intended use. The carbon fiber monocoque is further reinforced by the integrated steel cage (IRC), pushrod suspension on all four wheels corresponds to the chassis of the Formula 1, and in the middle of the works more as a 500 hp six-cylinder engine with full four liters of displacement. Ready to drive, the new SCR weighs less than 1300 kilograms; The timeless and elegant body is made of a fantastically lightweight, solid composite material: carbon fiber.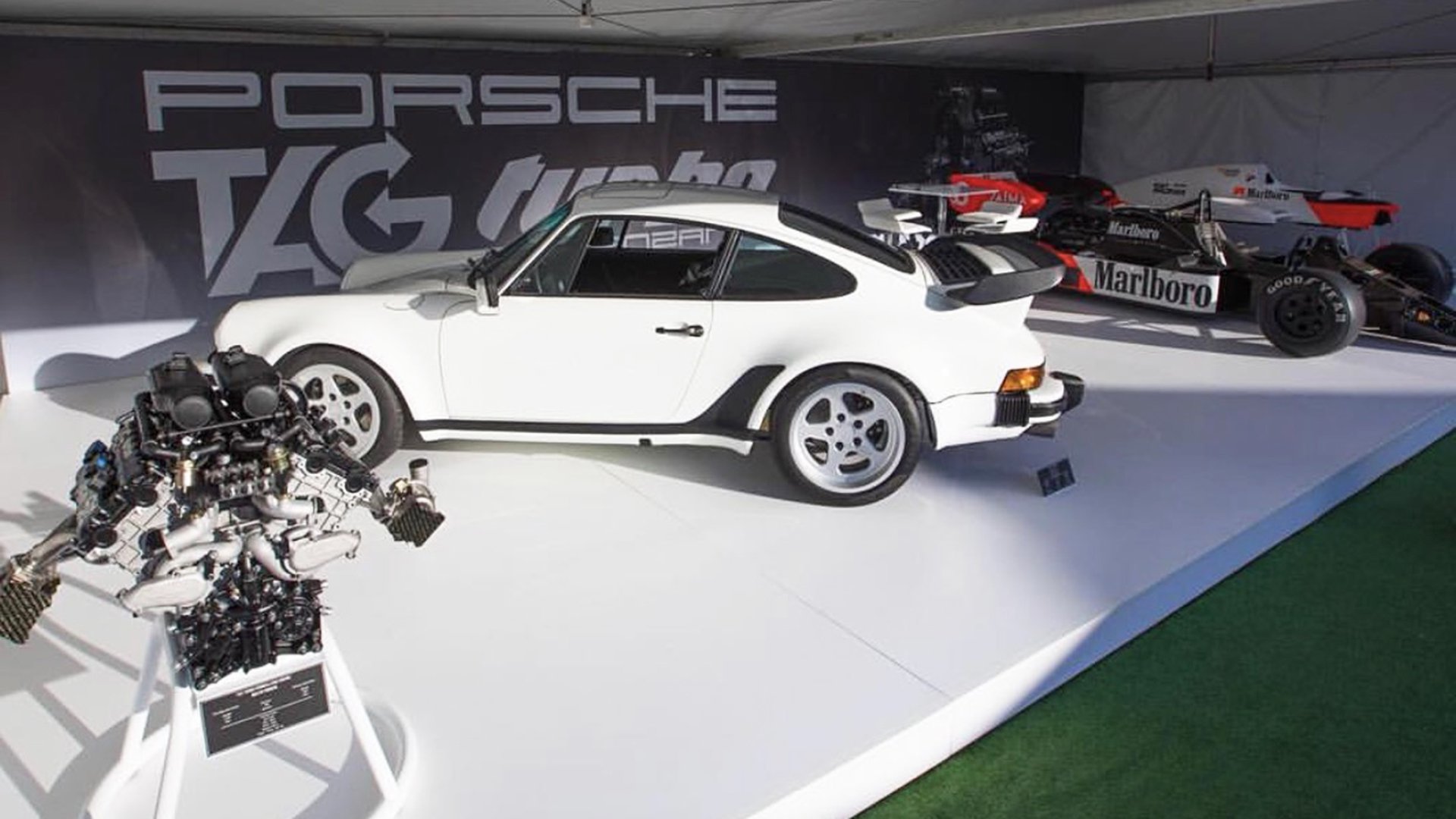 Lanzante
Company: Lanzante
Located: Petersfield (United Kingdom)
Website: Lanzante
The 'Widowmaker' gets 1.5-liter turbo V6 TAG-Porsche engine with 750 hp. This is a name that will surprise knowledgeable car guys. Lanzante, the McLaren specialist is working on some cool restored Porsche ideas that peaked our interest. While it isn't out in the wild yet, we're so excited about it that it made our list anyway. Lanzante is very focused on outright performance. Remember that Lanzante Motorsport are the same people responsible for the McLaren P1 GT and the P1 LM so when they talk performance they know what they're dead serious.
The English engineering firm is building 11 eighties-era Porsche 930s with genuine TAG-branded Porsche engines that the McLaren Formula One team used to win 25 races.
Yes, real V6 TAG F1 Turbo engines. Imagine being able to tell your friends at the pub that your classic Porsche is powered by an engine that has won an F1 race. Baller.
From 1984 to 1987, Porsche built a 1.5-liter twin-turbocharged V6, branded as the TAG-Porsche TTE P01, for the McLaren MP4/2 and MP4/3. The engine produced more than 1,000 horsepower in qualifying trim, and 750 hp in race spec. In its first three years on the grid, the engine powered McLaren to two Constructors Championships and three Driver's Championships.
McLaren sold Lanzante the 11 engines for this run of restomod Porsches. Our friends at Cosworth are restoring the engines for the program and each of the 11 examples gets a plaque in the engine bay listing its engine's race history.
Despite the insanity under the hood, the F1-powered Porsche 930 restomod is rather subdued in terms of looks (the first one was showcased at the Rennsport Reunion recently). Wearing just a set of RUF wheels it is understated. The interior is basic with a set of bucket seats and a bunche of new gauges including a 9,000 RPM taco (did we mention it is powered by a real F1 engine).
Lanzante hasn't given us the headline numbers yet in terms of power, performance or whether these cars will even be road legal. Even if they are detuned a lot (which they will be) this is going to be a performance monster. The only thing we really need to think about is the nickname. If the 1984 930 was called the "Widowmaker" and it only had 330 hp, then what the hell are we going to call this?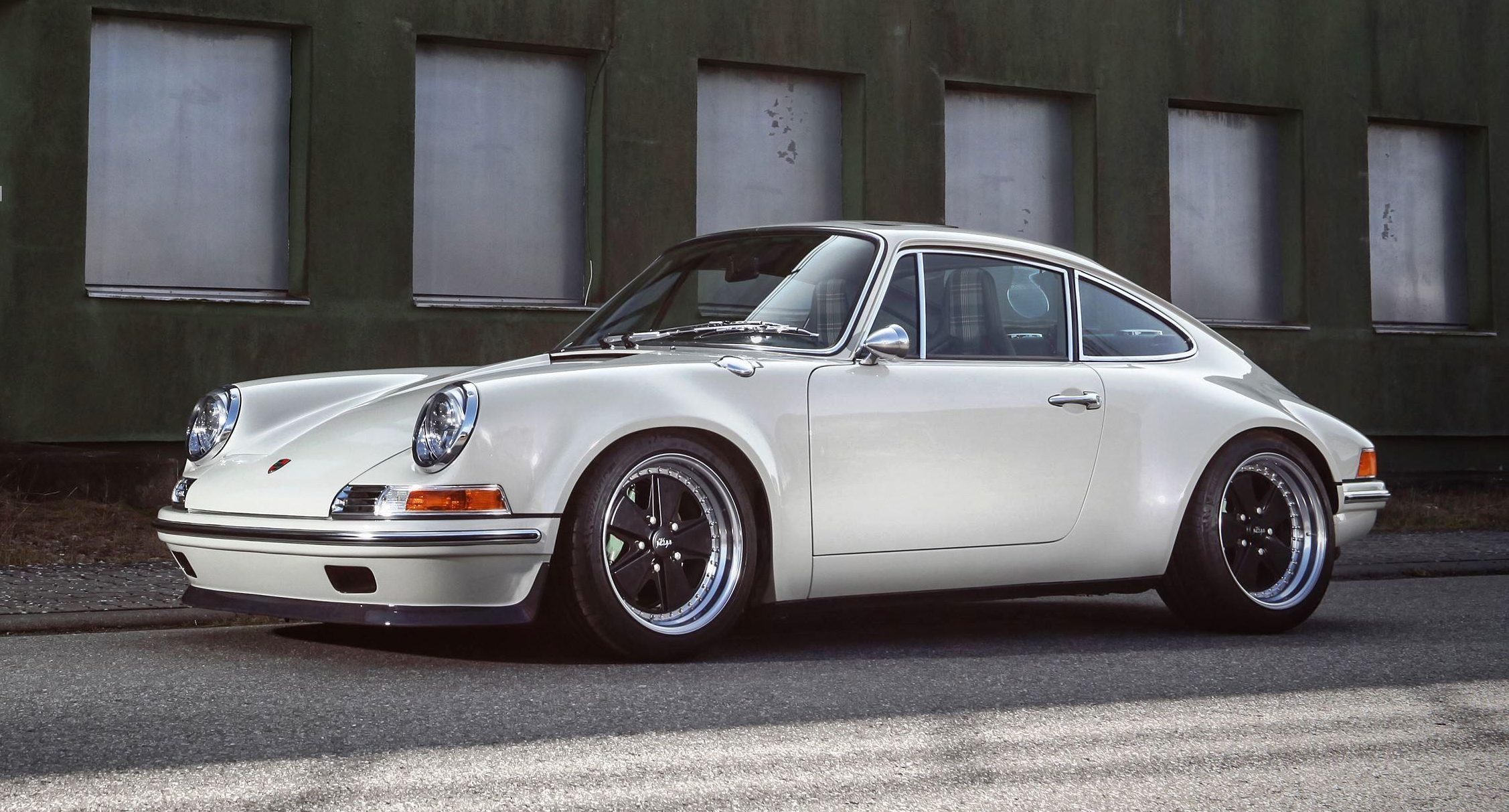 Kaege
Company: Kaege
Located: Stetten, Bavaria (Germany)
Website: Kaege Retro
Roger Kaege is our kind of guy. Roger (like the rest of us) saw a Singer Porsche in a magazine back in 2009 and was fell in love with the way it looked. He (like the rest of us) immediately checked out the price and said "oh shit that's expensive" (I'm paraphrasing). As a vehicle and chassis engineer by training Roger decided (unlike the rest of us) to just build his own restomod Porsche. Like I said, Roger Kaege is our kind of guy. Roger wanted his own modern vintage so he went to work in his little garage. His Kaege Retro took the body of a 1972 911 combined with the platform and mechanicals of a rear wheel drive 993 and added 2,000 man hours building it into his perfect car.
We love the Retro because you get a modern, air-cooled platform with a stock 3.6-liter flat-six with 296 horsepower and a six-speed manual out of the box. Remove 400 pounds in weight compared to a stock 993 and it's a tasty mechanical package. 296 horsepower doesn't sound like a lot, but it provides solid performance in a car that weighs so little. He's achieved the balance between modern performance and retro optics.
Rather than try to copy Singer, Kaege took his own approach and that made a big difference, especially in terms of costs. First of all, Kaege largely used series production parts versus custom parts and that means both lower cost and better reliability and to keep the cost down with the benefit of proven reliability and serviceability.
Kaege started with an F-Series 911 body and goes to work widening the body significantly. Kaege replaced many of the stock body panels like the front bumper, hood and rear end of the car in carbon fiber. Thanks to those carbon parts and the Kaege Retro tips the scales at 2,634 lbs (400 lb lighter than a stock 993). While the look is vintage 911, big three-piece Fuchs wheels, modern Osram LED projector headlights and a carbon-fiber front splitter add some aggressive modern touches to the exterior and really help with the Retro's great stance.
On the inside there is a mix of parts from various generations of 911. The 996 steering wheel is ugly (needed for its airbags), but the two-tone, leather interior materials are a great upgrade. Recaro seats and a modern Becker Mexico radio with navigation round out the interior.
From a pet personal project to a now thriving restomod business, Kaege will now build you your own 911. Every Kaege Retro is built to spec so you can optimize it for your own retro 911 desires. If you're looking for a relatively modern Porsche that you can easily use every day this may be the restored Porsche for you.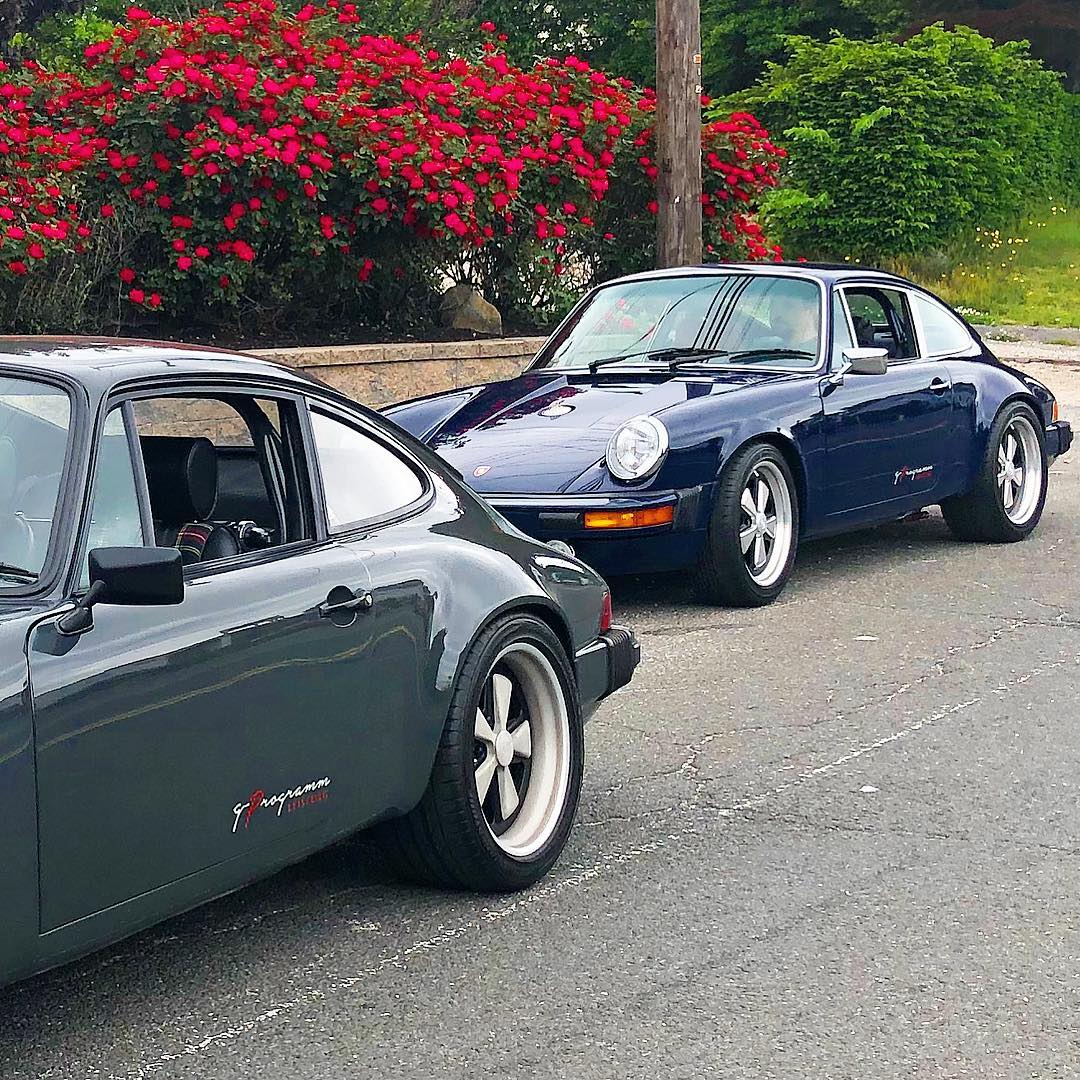 gProgramm
Company: Collector Car Showcase
Located: Oyster Bay, NY (United States)
Website: gProgramm
Collector Car Showcase is a small company most Porsche fans may not have heard of yet, but if you're a local living in Long Island New York like myself and into Porsche they are an outfit that have hit the car scene hard in the last five years and their GProgramm is impressive enough to make our list.
Based in Oyster Bay, New York the gProgramm focuses on really high quality restorations on G-Body 911s (built from 1973 until 1989). The team does full nut and bolt restorations and covers the "fun custom Porsche restomod project" through to "numbers matching correct restoration" range. Expect to pay between $200,000 and $260,000. While it isn't Singer-money, it is still an expensive proposition for a Porsche owner. What GProgramm offers though is a great package for those who can afford it. You get look of the 70s and 80s impact bumper cars, more power than a stock 911 and higher end finishes and materials with quality workmanship and attention to detail at half the cost of a Singer.
While it is hard to locate the cars that gProgramm has created, Matt Farah did drive one a few years ago so let's focus on that one. It is 1979 "G-Body" Porsche 911 that has been thoroughly updated.
The chassis is stripped to bare metal and rebuilt from the ground up. Each chassis undergoes the full reconditioning and repaint, as well as custom strength welding and front strut bracing.
The engine is totally built-to-order, with 3.2- and 3.4-liter options, a choice between carburetors or fuel injection, and a twin-spark option. Matt tested the 350-horsepower 3.4L "Twin Plug" flat-six and said it felt like a good power-to-weight ratio that is enough power to get yourself in all kinds of trouble It's linear enough and it's not overwhelming to the chassis. The gearbox is still a 915 version 5-speed. Remember that this is a 2300 pound car so it seems more than powerful and well balanced.
It isn't just about a bigger engine either as this car handles. Gone is the torsion beam and in comes the full coil-over suspension with Bilstein dampers. Boxster Pistons at all four corners also ensures it stops well too. It gets slightly bigger and we're 255 rear tire, Bridgestone Potenza Very direct steering, not power assisted.
The inside gives you a vintage-inspired interior with improved quality materials, a cool roll bar, and a nice Momo Prototipo steering wheel. It feels like a comfortable place to be.
gProgramm's mission sums up their position in the crowded restomod world: "Increasing every level of performance without disrupting the very soul of an early 911 Carrera RS was the driving experience we strive to achieve". Their goal is to find the very special place where a visceral pure driving experience meets the modern day track capable/road designed sports car.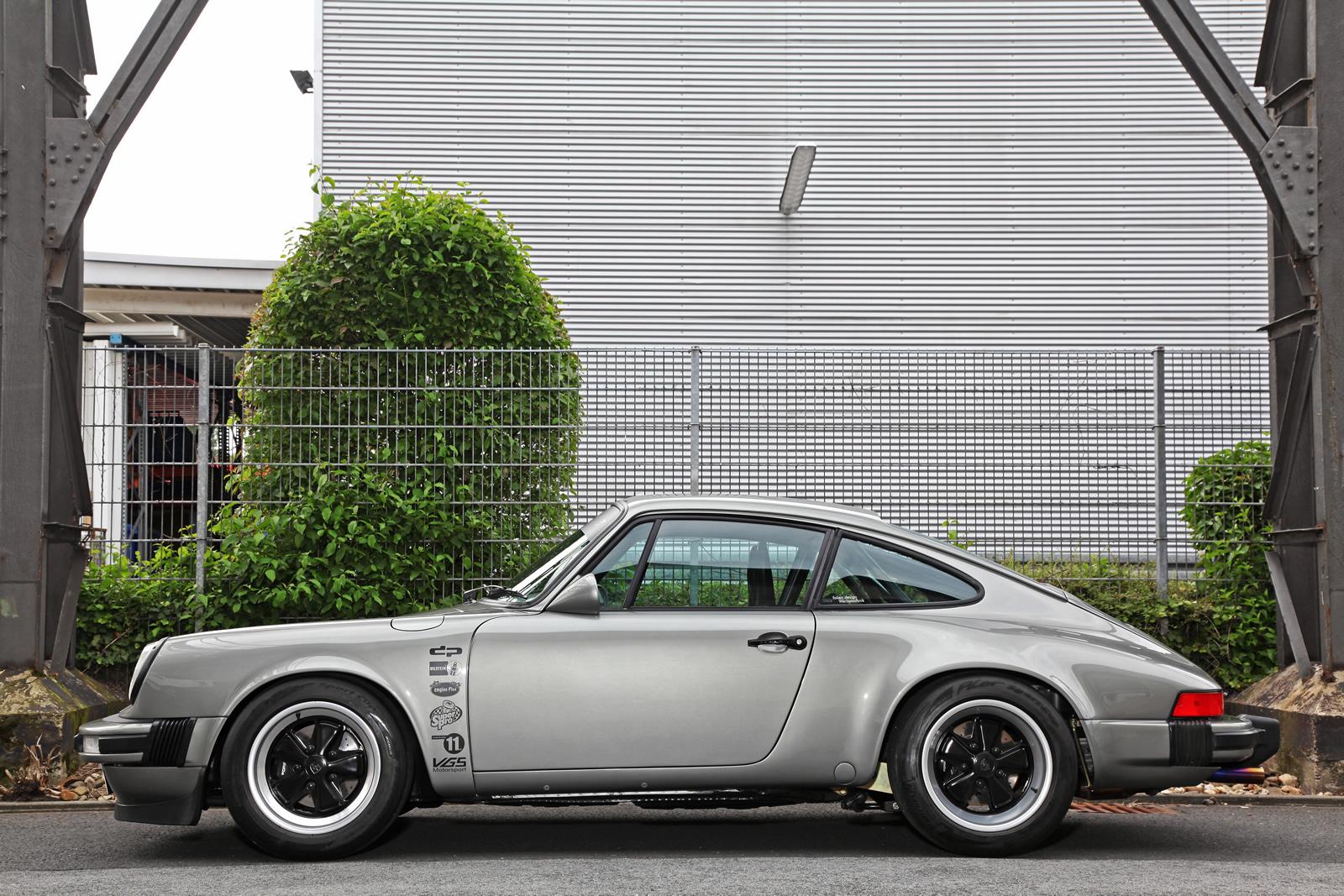 DP Motorsport
Company: DP Motorsport
Located: Overath, Germany
Website: DP Motorsports
Based in Overath (near Cologne) in Germany, DP Motorsport was founded in 1973 by car nut Ekkehard Zimmermann. In the 1970s and 80s DP Motorsport built and modified Porsche 935s that raced the 24 hours of Le Mans and other championships, mainly for the famous Kremer and Joest teams. In 1983 DP Motorsport began producing street-legal Porsche 911 / 930 based Porsche 935 replicas (the cars had the slantnoses, wider bodies and much more power). With Ekkehard's experience and success in racing the company was able to make street legal Porsches with serious racing-pedigree.
Over the past decade, DP has already delivered some epic Porsche 964 based restomods but their latest "Speedy Irishman" product has us most excited.
The latest DP Motorsport creation starts with a '90s-era 964 Carrera 2. The body is widened to give it that aggressive stance we love while making the 964 look more like a first gen 911. The body is made of a carbon/Kevlar reinforced plastic and is painted an Irish-green (color code 213). Other external changes include new forged 17-inch Fuchs alloys that are wider than original as well as chrome trim everywhere.
Inside the DP Motorsport team refitted the interior with brown leather and upholstery. Recaro seats and a black Alcantara Momo steering wheel (matches the dashboard and center tunnel). There is even a cool layered wooden shift knob and a modern Porsche Classic 3.5-inch navigation entertainment system with Bluetooth to modernize the car further.
And as you might expect, the engine has been tickled too. The engine is a 3.8-liter flat six produces 325 horsepower channeled to the Michelin Pilot Sport rubber through a G50 five-speed manual gearbox with RS differential lock. Under the widened track and carbon-Kevlar fenders is an upgraded the suspension with KW Clubsport coilover shocks, Unibal strut bearings as well as the PU sockets on the front axle guides.
Overall the new Speedy Irishman looks like a great achievement by the guys at DP Motorsport. They have other options available too for those who want something different, with a full catalog of "backdated" variants. You can get a simple, narrow F-model replica with 280hp or go the whole hog and get a 2.8 RSR with duck tail and 325hp.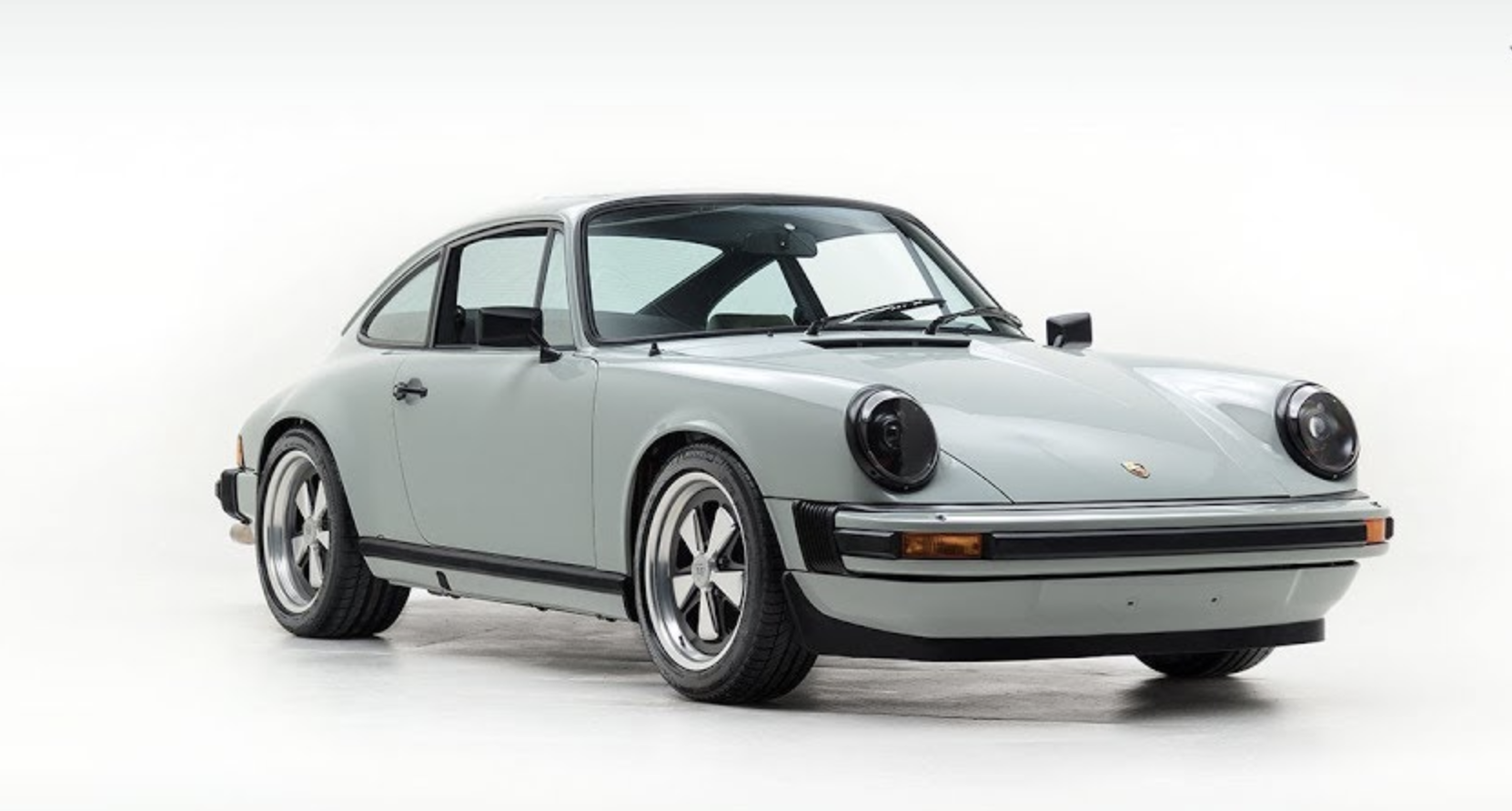 STRAAT
Company: Straat
Located: Miami, FL (United States)
Website: Drive Straat
STRAAT is a premier restorer for Porsche 911s based in Miami. They build custom classic 911 restorations that aims for concours level quality. STRAAT does both full nut and bolt restorations as well as custom built 911s. While they don't have a fixed "model" per se, they do sell restore (they even have the coolest online custom 911 builder tool). Whether you order a classic restoration or a full custom build, every Porsche 911 delivered from STRAAT begins with a full nut-and-bolt restoration. We document every step of the way, from the moment it enters our production facility to the day the new owner takes it home.
The team of mechanics at STRAAT has been restoring and customizing vintage cars for decades so they know their stuff. They are really picky too, staying away from hidden rust, a modified chassis, non-matching engines, serial ownership, and a poor maintenance history.
The restoration process is a tear down affair, completely disassembling the car down to its tub and then going through a thorough refinishing process. The power train, including the engine, transmission and clutch assemblies are overhauled. All sheet metal is powder coated, and all hardware is zinc plated or treated according to correct factory standards. The engine receives a complete cosmetic restoration so that it looks like it did when it was first built. They also fully disassemble, inspect, overhaul, reseal and restore the transmission. New Porsche factory foil decals are installed in the engine compartment, and all wiring and relay boards are removed and reconditioned. There is lots more too.
STRAAT ensures that only the highest quality parts and labor go into their restorations and you can tell from the finished products. One cool touch is that once STRAAT restored 911s are finished, they create an exhaustive photo and video portfolio for each vehicle, which is delivered to the new owner on a USB drive and hardcover coffee-table book. Having already documented the restoration process, one final studio photo session completes the extensive history they collect for each car. Very cool.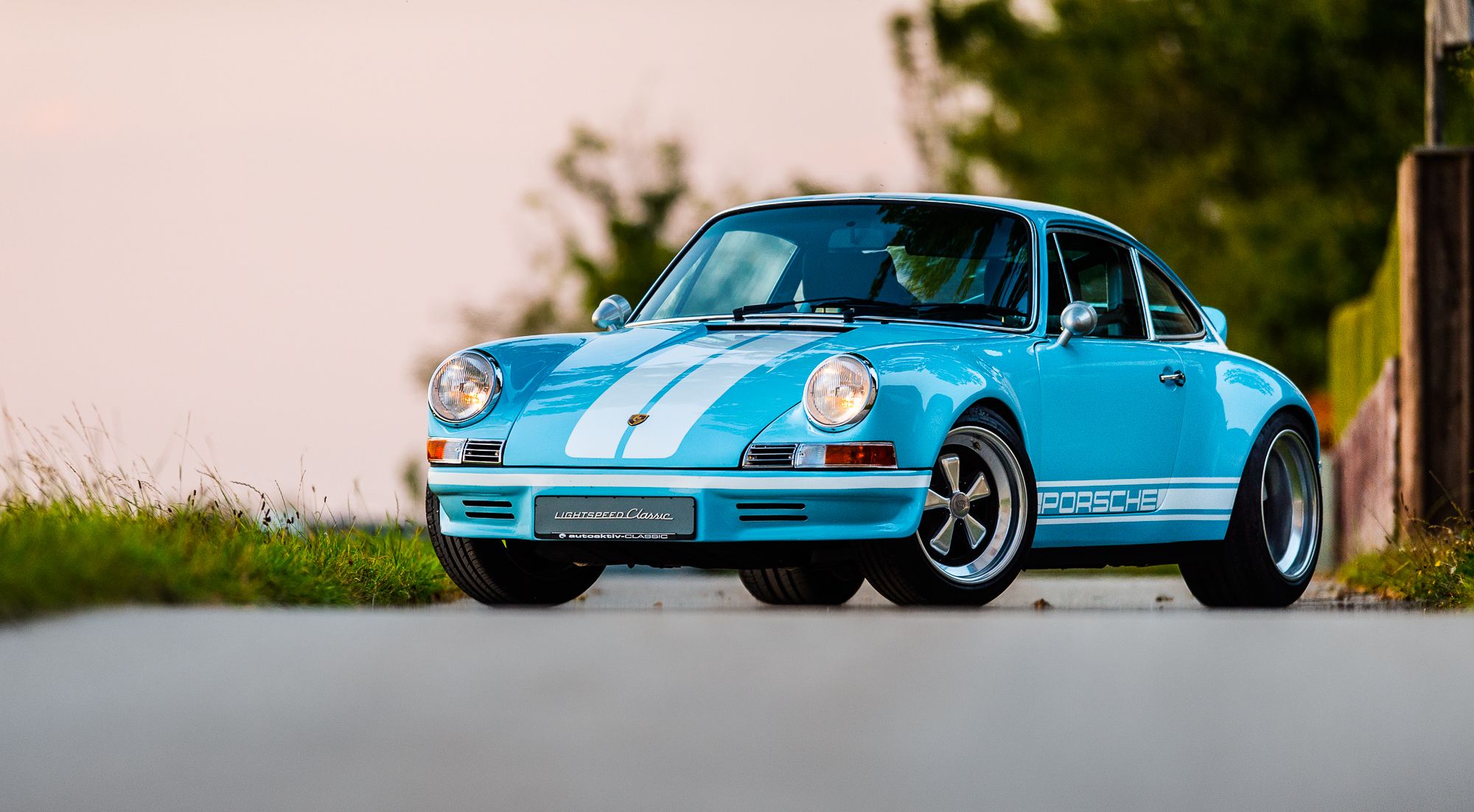 Lightspeed Classic
Company: Autoactive Motorsport
Located: Taufkirchen (Germany)
Website: Lightspeed Classic
Ralf Skatulla who founded and runs Autoaktiv Motorsport just outside of Munich knows Porsche well, having worked at the manufacturer during the mid 80s till late 90s. Ralf's take on restomod Porsches is unique in that he wants his cars to be serviceable by any Porsche certified repair and maintenance shop. He does that by focusing his efforts on using modern parts throughout his builds. They formed Lightspeed Classic to focus on 911s and we can say we're big fans.
The Lightspeed Classic 911 is a meld of '90s and 21st Century tech wrapped in a '70s look. The formula is simple – reduce weight, increase power and give cars that classic stance.
Like a lot of other Porsche restoration shops, the Lightspeed Classic crew likes the 964 as a startpoint. In their words it is the "first production 911 to use coil springs that can easily be swapped out for fully adjustable coilovers and other competition-based components and the 964's G-Series derived bodyshell can be easily modified to evoke the look of the earlier long bonnet cars that my clients want."
Lightspeed has achieved a very significant weight saving versus standard. While normal Porsche 911s used aluminum for the bonnet and door skins of their RS models, the Lightspeed Classic instead goes for carbon fiber units, made custom by an carbon fiber parts manufacturer who creates airplane parts for a living. The hood, front, and rear fenders all get carbon fiber replacements. At just over 2,100 lbs (depending on spec they can be a little more than that) this car is light on its feet. The weightsaving is even cooler when you notice that the car has been widened and that it's nearly as wide as a 930 Turbo.
Couple the lightweight chassis with an engine that starts life as a 3.8 liter 964 RS unit that has been thoroughly fettled and we are starting to love this restomod. The engine gets titanium bits and upgrades throughout. It gets a 993 911 RS injector holder assembly, comprising of six injectors lifted from the 996 and adapted for the 993's ECU. It also gets a new six-speed manual gearbox taken from a 996 Turbo and mated to a 997 GT3 RS' clutch. Output is a healthy 340 horsepower at a 7,500 rpm redline.
On the inside there are fine details everywhere. The leather trim, lightweight door cards with chrome trims for the door openers, leather piping for all the carpets and the early style perforated leather on the horizontal dashboard insert all add up to make sitting in this car feel very special indeed. Details matter in this build so seeing the there are custom-made Porsche sports seats instead of standard Recaro race seats (that just don't look right in a backdated car) is really cool.
You can get the restomod starting at around €100,000 and spend up to €170,000 for the top of the range spec, not including of course the fact that you need to bring your own 964 with you and drop it off.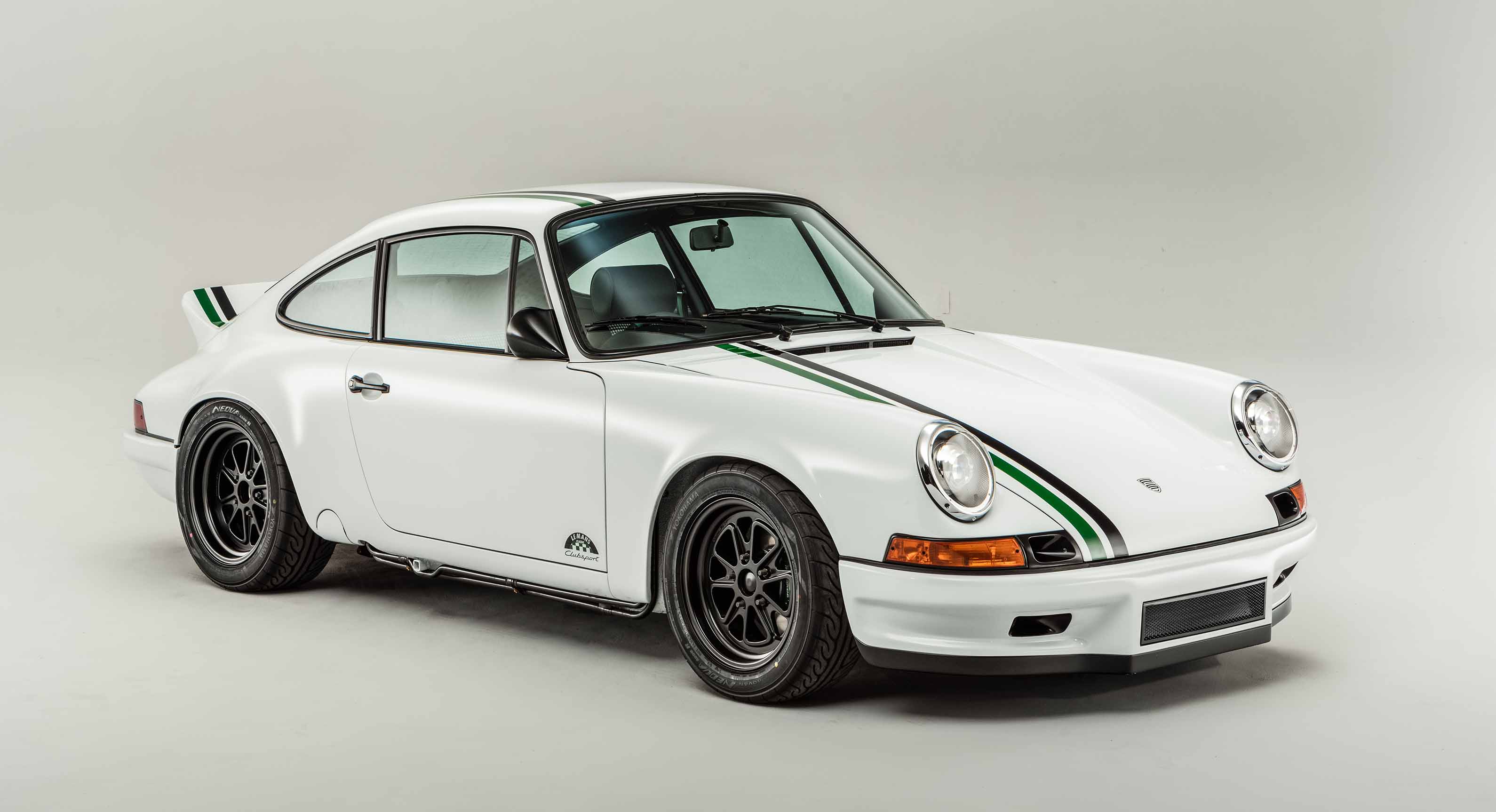 Paul Stephens AutoArt
Company: Paul Stephens
Located: Essex (United Kingdom)
Website: Paul Stephens
Paul Stephens is considered THE Porsche guy in the UK. Restoration and restomodding is his forte and he has been doing longer than anybody else. His PS AutoArt range offers everything from restored cars with mild upgrades to custom Speedsters and very rapid lightweights.
The story goes that when Paul saw that 964 911s were so cheap that restoring them didn't make financial sense, he began hot rodding them. With the help of some folks from Ginetta, he soon started building his own body panels, and by 2005, the first Paul Stephens 911, the PS 300R prototype was ready. It was the ultimate old-school 964-based 911. That was 13 years ago and he has been going strong ever since and helped start the craze we know as 911 restomodding.
His PS Lightweight R was one of our favorite restomods. A 964 with an aluminum hood, mirrors, trunk lid, lightweight bumpers and a thinner rear screen for a weight figure of 2,689 lbs. Powered by either a 250 hp 3.6 liter flat-six or 330 hp 3.8 liter flat-six with a performance exhaust, it uses aluminum wishbones all round. The wheels are Paul Stephens own Fuchs variants, brakes are from an RS while this model also comes with power steering, a performance exhaust and ABS as standard.
Recently, Paul Stephens shared his latest creation, the new special edition Le Mans Classic Clubsport. This $350,000 special-edition gives you a 300 horsepower 3.4 flat-six (courtesy of an advanced injection system, a reprogrammed ECU, GT3 RS-specification camshafts, a lightened and balanced crankshaft and lightweight conrods) connected to a G50 manual gearbox with lightweight flywheel and a limited-slip differential. 0 – 60 mph is over in 4.4 seconds and the Classic has a top speed 170mph. You also get a de-seamed roof panel, an aluminum bonnet, composite bumpers and engine cover, a ducktail and aerodynamically optimized mirrors. All this totals to a weight figure of 2138 lbs as long as you choose the Lightweight spec (instead of Touring).
This is a Porsche restoration and customizer with a lot of experience. PS AutoArt creations are hand-crafted and feature timeless style combined with modern features and performance, built to your individual specification from our proven 'starting-points' or to your own one-off vision.
Every AutoArt car combines classic and modern to give you an unrivalled driving and ownership experience. Starting with a fully restored bodyshell, mechanics are fully rebuilt and enhanced throughout, while the hand-finished interiors offer a visual and tactile delight. Practicality is important too. These are cars to use every day if you choose, with fully galvanised bodies, 12,000 mile service intervals and a 3 year / 60,000 mile warranty.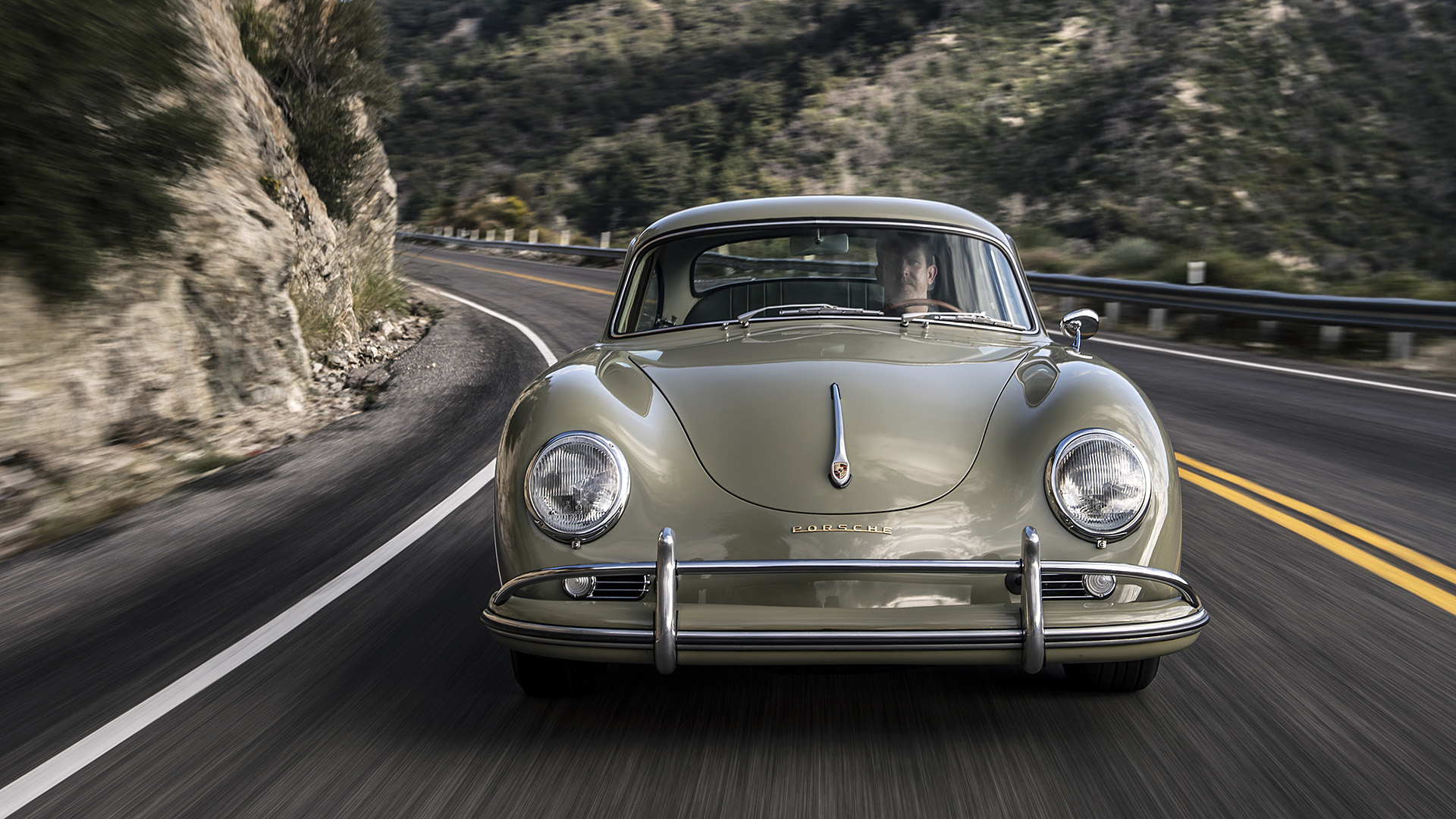 Emory Motorsports
Company: Emory Motorsports
Located: McMinnville, OR, N Hollywood, CA (United States)
Website: Emory Motorsports
This the the Porsche 356 restomodder you want. Emory Motorsports basically invented the Porsche "Outlaw," rearranging 964-series Porsche 911 internals to fit under the Porsche 356 body.
Rod Emory has been building vintage Porsche Outlaws forever he started Emory Motorsports in 1996 with a few simple goals: to build the most iconic, yet personalized Porsche 356s on the planet and to deliver a customer experience unlike any other in the Porsche marketplace.
Over the years they have built over 170 Porsche 356 and 911 'Outlaws' as they have come to be known.
They totally tailor build each car for their clients so they are unique in that they are not in the "stock restoration" business. Each restoration is a top to bottom affair from its metal unibody and exterior to its mechanicals and interior, everything gets touched. While they customize each car their broad product categories fit into the 356 Outlaw, Emory Special and Emory RS range.
The first and original category is the Emory Outlaw. Its body and chassis are all steel, just the way it left the factory in Germany. They perform a concours-quality restoration to the metal while stiffening the chassis in preparation for its modified 911 suspension and proprietary Emory-Rothsport 4-cylinder engine. Its styling cues are rally- or race-inspired, but the body shape remains stock in appearance. Within this category they can "Outlaw" the Coupe, Speedster or Roadster models. Every Outlaw is outfitted with an Emory-Rothsport Outlaw-4 engine as standard equipment.
Depending on the level of Outlaw you have selected, the build timeline typically takes 12-18 months from the time they begin the metalwork.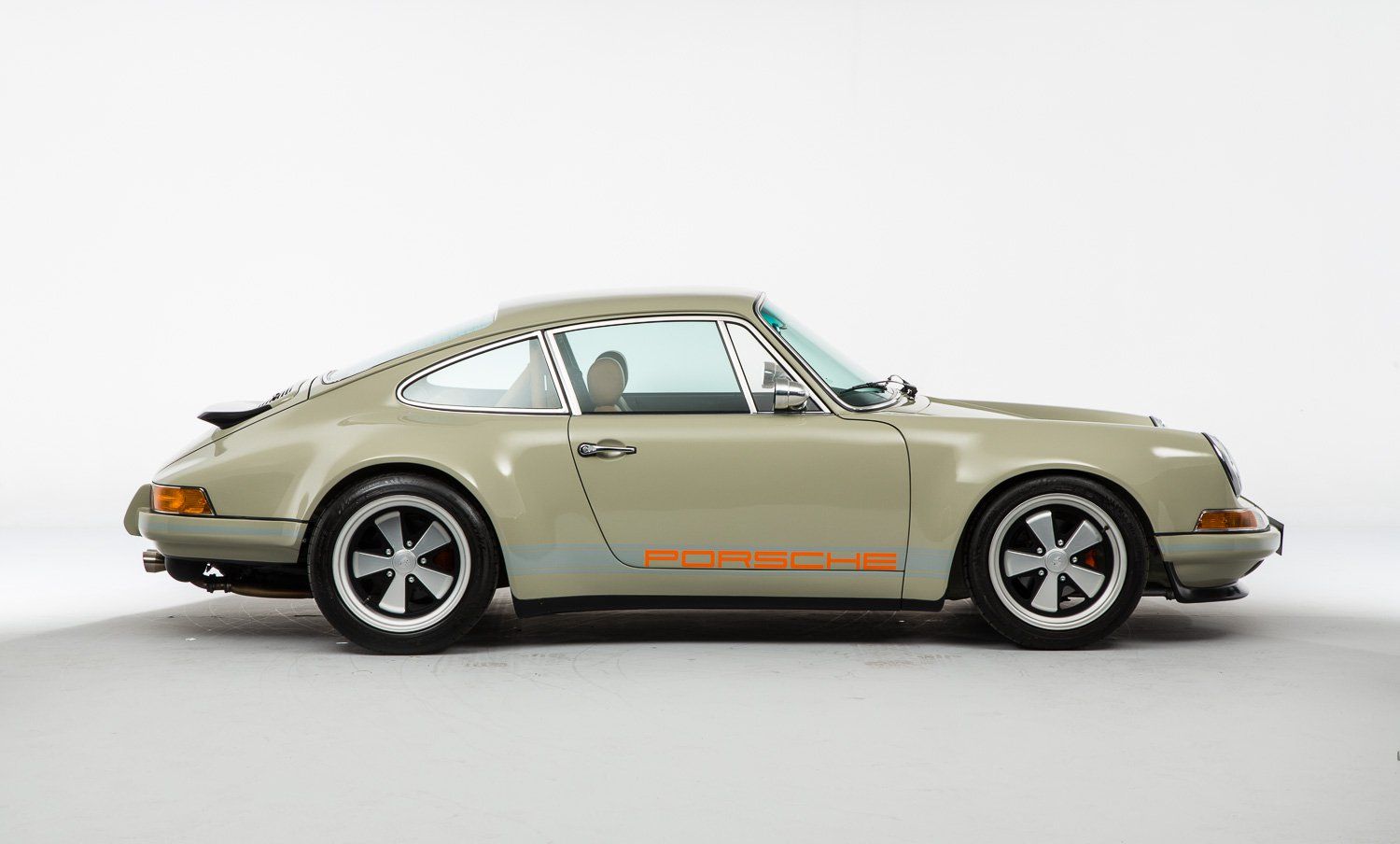 Theon Design
Company: Theon Design
Located: Deddington (United Kingdom)
Website: Theon Design
A new name in town is Theon Design. They are UK based Porsche specialists who recreate, restore, source and sell the air cooled Porsche 911s.
Founder and Porsche fanatic, Adam Hawley has been a Car Designer for the last 15 years and it was always his dream to re-design and restore the cars he loves most and in 2014 that dream became a reality when he created a recreation prototype. The response to the car was phenomenal and resulted in setting up a prestigious workshop in Deddington, Oxfordshire that recreates and restores air cooled Porsche 911's to the highest standards.
On the restoration front they focus primarily on pre-1974 Porsche 911s, and restore them back to exactly how they left the factory many years ago. However, whilst it is imperative to restore every last detail back to its original condition, they do utilise some modern materials to improve comfort like sound deadening and insulation.
On the recreation front they are going down the Singer route. Their pitch is that they offer reimagined Porsche 911s with Singer-ish looks and performance for half the price. If you think about them as coming up with carbon fiber 911s in the UK for less than half of Singer's base price in the U.S then you are pretty close. The donor cars get stripped down to the pure metal and a total transformation goes from there. And once the body was got sorted, steel parts such as the fenders, the bumpers, the hood, the spoiler and the roof gets replaced by pre-preg carbon fiber panels. Engine choices start with a stock, but fully rebuilt 3.6 with 285 horsepower. If screaming naturally-aspirated flat sixes is your thing then there is also a mildly tuned stroked 3.8 with 350 hp, or a full blown four-liter with an RS crank producing 400 hp. Optional ceramic brakes, fully adjustable Öhlins dampers, a modified wiring loom for all the gadgets, double-stitched leather interior, or stereo delete and manual windows.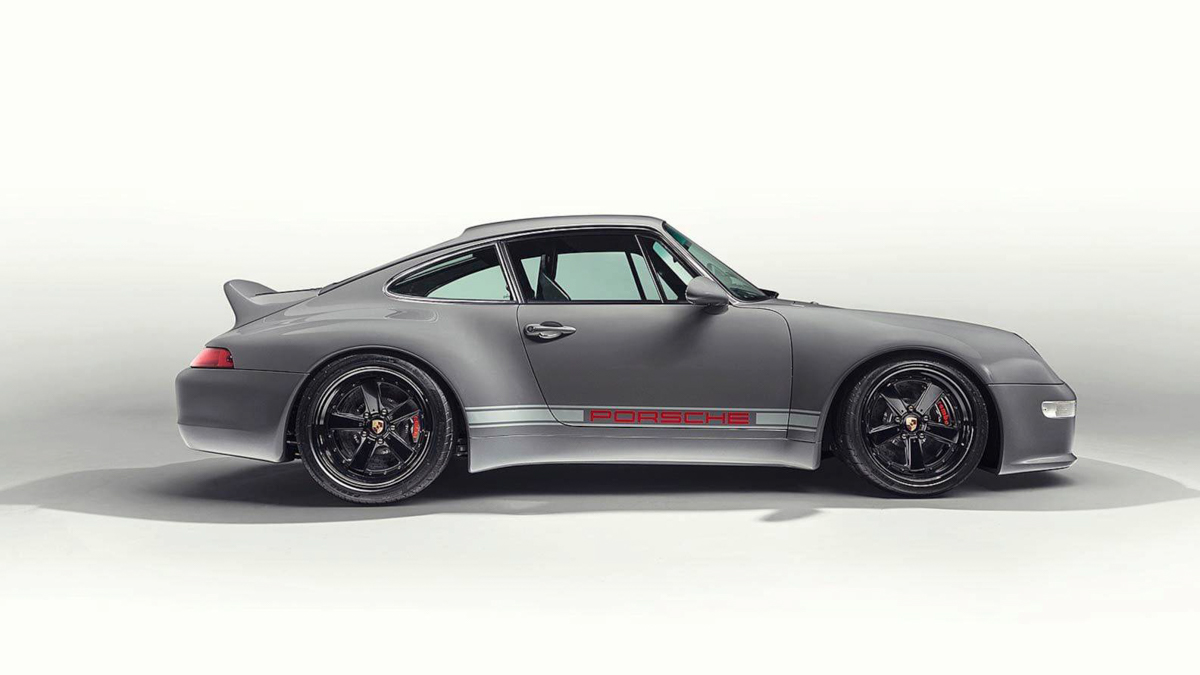 Gunther Werks
Company: Gunther Werks
Located: Southern California (United States)
Website: Gunther Werks
The Gunther Werks 400R is a modern version of Porsche's last air-cooled 911 and is the first car from the new Gunther Works outfit based out of southern California. Limited to only 25 units and with a price point of $525,000 this is a seriously expensive and rare restomod.
Every 400R will be entirely one of a kind. Customers select the vehicle interior materials, accent colors, and finishes. Gunther Werks then create an interior that bridges the gap between modern and classic design.
Customers start with a 1995-1998 Porsche 993-era 911. The body and chassis of each 400R is meticulously disassembled and restored to a like-new condition. After the interior is removed including all carpeting and wiring the entire vehicle is media blasted down to bare metal. The vehicle is then primed using direct to metal primer before being sent to paint. The finished chassis improves on original as the use of modern coatings reduce weight and ensure improves durability, when compared to the original. Nearly all of the steel bodywork is thrown out; only the doors remain, and the rest is all carbon fiber panels, made in house. The car went on a diet and weighs about 2,660 lbs which sounds like a lot when compared to other restomods on this page, but remember this is a 993 with all the safety, ABS and modern systems that the 964s or early G-series 911s are missing.
A fully bespoke headlight system was developed to take advantage of the latest in LED technology. The entire lighting bucket is constructed from a combination of lightweight forged T-6061 aluminum components and carbon fiber to accommodate the larger Bi-LED projectors and active daytime running lights. The assembly is encased in a beautiful hand-polished aerospace grade glass housing, taking inspiration from the original 993 design elements.
Gunther Werks also has a custom 4.0-liter engine. Developed by Rothsport from Oregon it is a tasty high end machine. Mahle pistons to twin spark Motec Engine management, coil over plug ignition, individual throttle bodies, billet crankshaft, rods & barrels, no part of the engine is left untouched. The target is a 7800 rpm redline, 330 lb feet of torque and 400+ horsepower. The entire engine is balanced, blueprinted, color-matched to the exterior paint, broken in and tested on Rothsport's engine dyno before installation. There is also a "Sport" mode with a valved exhaust.
By using the donor 993's existing "motorsport" suspension mounting points, KW Clubsport coilovers, solid bushings and modified drop links, swaybars, and uprights, the 400R turns in nearly as hard as a brand new GT3 RS. Matt Farah may have summed it up best when he said "This is the one percent. I'm not here to say the 400R drives like a brand new RS, but with the revised rear suspension geometry, square track width, finely tuned dampers, and electric power steering (sourced from 993-era Porsche racing cars), it doesn't feel remotely like a standard 993, either….First off, it's fast. Like, really fast. We don't have instrumented tests to go on, but with only 6.17 pounds-per-horsepower to push around, compared to the current GT3 RS's 7.0 lbs/hp, by far the hold back is manual shift times. In gear, on the floorboard, the 400R goes like hell." Got $525k to spend and want a modern restomod, then line up. If you miss out I wouldn't fret because the Gunther Werks guys have more cars up their sleeve.
---
Other Notable Porsche Restoration Shops
While our above list was about the best restored Porsches, the reality is that it is really a list of the great Porsche restorers who have essentially created retail products that you can buy "off the shelf". Most Porsche restorations still happen between an individual client and a Porsche specialist who tinkers away at vintage and classic Porsches in local garages around the world.
These shops don't make Youtube or get plastered on internet or instagram so you would never know who they are. With that in mind we wanted to make sure to include a list of Porsche restoration shops that are worth talking to if you're looking to have your Porsche restored or modified. This is not meant to be an exhaustive list but if you know of a shop we should include, let us know via our contact us page.
Porsche Restoration Shops in the United States
ROCS Motorsport
Company: ROCS Motorsport
Located: Belleville, NJ (United States)
Website: ROCS Motorsport
ROCS is a Porsche hotrod build shop, not a repair shop. This means your project won't take a backseat to a valve adjustment. Twenty three years in the same location focused on designing and crafting special cars. Their experience, knowledge and artistic sense allow them to restore and create unique cars such as the ones that have adorned the pages of publications like Excellence Magazine and sites like Petrolicious and Flatsixes. They can rebuild engines and gearboxes with an eye to getting them back stock or improving performance. They do not provide general repairs or service type work.
Manhattan Motorsports
Company: Manhattan Motorsports
Located: Roslyn NY (United States)
Website: Manhattan Motorsports Porsche Restoration
I stumbled up Manhattan Motorsports one morning when dropping my son off at an activity in Roslyn. Driving past a factory area I saw dozens of classic and modern Porsches and my jaw dropped. A little digging and I find out that Manhattan Motorsports is run by Bobby Singh, a man who has over 25 years of Porsche and exotic car experience. He is trusted in the industry for honest answers and commitment to the quality of each vehicle he works on.
At MMS, they pride themselves on dedication to the individuality of each car and its restoration. Whether a customer is in the market for a project car or already have a vintage Porsche and are interested in Porsche classic restoration, you can work with them to create your dream car.
Will Hoit Auto Restoration
Company: Will Hoit Auto Restoration
Located: Long Beach, CA (United States)
Website: Will Hoit Auto Restoration
Will Hoit is the Porsche 356 expert restoring and they don't come cheap. The average price for a complete ground-up restoration is about $150-200K. There was a time when many 356s were restored as show pieces with little attention to actual function. At Will Hoit they have managed to combine both show winning attention to detail with extreme attention to function and performance. Of course, it's completely possible to restore a car to fully original condition, with no upgrades to safety and driveability, but the crew at Will Hoit have found that most customers appreciate improvements that don't compromise the look of originality and can improve the driving experience. A large selection of engine options that improve power and reliability including displacement increases to 1720cc, 1925cc, and 2002cc in original or
tuned appearance. Various transaxle upgrades, sport tuning of suspension for improved handling and exterior and interior customizations are available.
Metal Kraft Coachwerkes
Company: Metal Kraft Coachwerkes
Located: Cincinnati OH (United States)
Website: Metal Kraft Coachwerkes
MetalKraft CoachWerkes specializes in coach building and custom metal work for Porsche and European automobiles.
Esporesto
Company: Esporesto
Located: North Hollywood, CA (United States)
Website: Esporesto
Esposito Porsche Repair started with John Esposito working on his own, tucked away in a corner of a friends shop, slowly crafting, repairing and restoring beautiful cars – one at a time. As word got out that John had left the world of working for others to focus solely on his long beloved Porsche, the waiting list of patrons eager to have his hands on their cars grew.
With their team of certified mechanics and body technicians, servicing and restoring Porsche cars is the primary focus at ESPO Restoration. As a Certified Porsche repair shop, you can trust their highly trained and skilled technicians to take care of your state-of-the-art Porsche.
Vintage Sportscar Restorations
Company: Vintage Sportscar Restorations Inc
Located: Phoenix, OR (United States)
Website: vsrestorations
Vintage Sportscar Restorations is a small, family owned exclusive Porsche coachworks garage. VSR shares our genuine enthusiasm and commitment to the process of restoring a Porsche. Whether your project is the repair of coachwork or complete restoration, their team of artisans wants to exceed factory specifications. The team has a lot of experience.
Formula Motorsports
Company: Art-Restoration
Located: Long Island City, NY (United States)
Website: Formula Motorsports
Formula Motorsports is a full service Porsche shop in the heart of New York City. In the restoration space they focus on 356 and 911 models. Formula Motorsports restorations have been showcased at Porsche Cars North America (PEC) and Monterey-Pebble Beach Concours d'Elegance. Formula Motorsports also works with a worldwide network of model specialists and historians to ensure the most accurate information is utilized in restoring your vehicle. Formula Motorsports also restores modern Porsche factory built race cars from the '60s, '70s, '80s, and '90s, as well as Porsche vintage race cars with a successful competition pedigree.
Restore Porsche
Company: Restore Porsche
Located: South Florida, FL (United States)
Website: Restore Porsche
The Restore Porsche team of restoration specialists have been working with classic Porsches since 1986. It's a labor of love for them. They focus their services to the restoration of only classic Porsche's which allows them to gain an extensive knowledge-base of these cars, which their team is passionate about. Their experience is shown in the excellent craftsmanship and quality presented in a finished vehicle.
TLG Auto
Company: TLG Auto
Located: Hollywood, CA (United States)
Website: TLG Auto
TLG Auto is an elite, independent Porsche restoration and repair facility that has been serving the Southern California Porsche community for over 35 years. Founded in 1978 by Tony and Lois Gerace, TLG was born out of the need Porsche owners have for a superior level of service for their cars and a long-term, more personal relationship with their car's mechanic. They picked up where the dealerships fell short and have continued to deliver. From regular maintenance and repair to complete ground-up restorations, TLG Auto does it all. Whether it's a brand new 991, a Pre-A 356, or a totally custom Porsche hotrod, TLG has the tools, knowledge, and experience to provide your Porsche with the type of specialized care and personalized attention that it needs to run and drive its best.
Musante Motorsports
Company: Musante Motorsports
Located: South Windsor, CT (United States)
Website: Musante Motorsports
Musante Motorsports deals directly with Porsche and their OEM suppliers and have access to all technical specs and part numbers so if you need something specific they have it. They can also custom engineer parts whether you're replacing worn parts or upgrading complete systems. Obviously they also do restorations for you and have decades of experience tuning and assembly of custom and stock turbo systems for those looking for it. Whether you own a Cayenne that sees 365 days of the year, a summer only driven Boxster, a vintage 356 speedster, a Carrera GT, or a Porsche competition race car, they can help.
CPR Classic
Company: CPR Classic
Located: Fallbrook, CA (United States)
Website: CPR Classic
CPR is a California based Porsche restoration company. They have been in the Porsche 356 and 911 restoration business for over 40 years and have restored some of the best cars in the world. CPR specializes in air-cooled Porsche 356, early Porsche 911 and Porsche 912 models. Whether it is a thorough restoration or minor repair CPR can make sure it will be done to original factory standards by Porsche experts. Factory parts are always used when available and if they cannot source original parts, they use the best quality reproduction and restored parts. CPR likes to stay true to original form. They don't do Turbo clones or slant noses and when they wheel flare upgrades or tribute cars they prefer not to deviate from the original style designed by Porsche.
Road Scholars
Company: Road Scholars
Located: Fallbrook, CA (United States)
Website: Road Scholars
Road Scholars has been an award winning restoration shop since 2008. With over 50 awards so far (and counting) they are passionate about authentic restoration work and undertake only concours-winning restorations. As the study of the automobile and car collecting has just entered a new era of appreciation, it's also clear that automobile restoration has evolved as well. The auto restorer's job now is to conserve each project as a historical and cultural artifacts.
Since 2008, Road Scholars has won more than 50 awards, including Best in Class at Pebble Beach Concours d'Elegance and recognized by the Historical Vehicle Association for excellence in automobile preservation work.
We undertake only concours-winning restorations and focus on only a few projects at a time. This means our restoration shop is highly organized and allows us to focus on every minute detail of the project. Our goal is to restore each car the way it came from the factory and not create fictional history (over restoration). It's this attention to detail about which we are most passionate.
Unique in the automotive Restoration community, at Road Scholars we only undertake concours-winning restorations. Superior staff combined with original and correct parts, from major trim items down to bolts and screws, ensures your project is correct in every detail.
Eurowerks
Company: Eurowerks Incorporated
Located: Campbell, TX (United States)
Website: Eurowerks
The own of Eurowerks is a guy named Roy and he has been in full time restoration of Porsches since 1976 performing all aspects of full restoration. Alberto Segatore was apprenticed as a teenager in Argentina where he learned metal fabrication skills from master technicians and performed full body restorations in steel and aluminum fo over 45 years. Alberto has been involved with Roy for 25 years in the restoration of Porsches. Another team member is Billy Fronterhouse who has 20 years experience, 10 years exclusively on Porsche restoration specializing in paint and assembly of Porsche 356 & 911 models. Sometimes the team is what makes all the difference and clearly for the guys at Eurowerks that's their unique advantage for those looking for a Porsche restoration.
CarparcUSA
Company: CarparcUSA
Located: Costa Mesa CA (United States)
Website: CarparcUSA
CarparcUSA has over 30 years of Porsche expertise focusing on early Porsche 911 restoration and maintenance. Originally headquartered in the Netherlands they have since moved their base to Southern California where they built a small dedicated team of talented and passionate Porsche specialists. They specialize in the consignment, sales and restorations of very early Porsche 911's.
Porsche Restoration Shops in the United Kingdom
Rennsport
Company: Rennsport
Located: Gloucestershire (United Kingdom)
Website: Rennsport
Rennsport talks a lot about recreating the driving experience of the iconic Porsche 911. They want their customers to enjoy the experience of building their own custom spec Porsche. Exclusivity is what makes a Rennsport Porsche so special because they are so focused on building cars to the exact tastes of each person. Every car at Rennsport has a completely rebuilt engine and gearbox and they work to a blueprint specification in standard form, giving a better build than the original from the factory. This is perfect for use in a road car and it is important that the selection of the right engine and gearbox for your car is made with the final use in mind. Depending on the use of the car, this can be done to an original specification for everyday road use through to stiffened dampers, bigger torsion bars and uprated brakes on a track car.
RPM Technik
Company: RPM Technik
Located: Hertfordshire (United Kingdom)
Website: RPM Technik Restorations
RPM Technik has been building bespoke Porsche's and restoring them to factory originality since the inception of the business back in 2001. The Special Projects department is headed by Technical Director Ollie Preston. Ollie has vast experience with both air-cooled and water-cooled Porsche in both road going trims and full-on motorsport examples. His innovative approach to builds utilises the extensive knowledge pool of several veteran in-house Porsche techs. With an open mind to new ideas and technologies, the bespoke projects are constantly evolving. Experienced gained in race support over the weekends has enabled Ollie to amalgamate the best Motorsport has to offer and sanitise it into everyday usability. Each build process is meticulously documented and photographed to keep every customer updated throughout the build, and to create a build file showcasing the detail and effort which has been put into the car.
Roger Bray Restoration
Company: Roger Bray Restoration
Located: Devon (United Kingdom)
Website: Roger Bray Restoration
Roger Bray Restorations is a small business with a big reputation specialising in supplying parts and the restoration of classic Porsche 356, 911, 912, & 914 models. They have been around classic Porsche cars since 1985 and have a large amount of knowledge from dealing and working on these cars daily. They do full or part restoration for everyday drivers to concourse winning cars and competition work.
Tuthill Porsche
Company: Tuthill Porsche
Located: Oxfordshire (United Kingdom)
Website: Tuthill Porsche
Tuthill Porsche specialises in bespoke builds that retain the original appeal while delivering a major step up in performance. Many of their builds are inspired by vintage Porsche race car design: outward simplicity masking serious potential. Tuthill Porsche carries out all of its work in-house, from bare-metal fabrication and restoration to body modifications, paint and trim, engine and transmission repair and a full build from scratch. They can repair, restore and rebuild any classic Porsche 911. Specialising in interesting Porsche 911 builds, historic motorsport preparation for racing or rallying and unique Porsche adventures all over the world, Tuthill Porsche is one of the best-kept secrets in the world of classic Porsche. With over four decades in business it all started with a reputation built on building reliable rally cars cemented in 1977.
Porsche Restoration Shops in Europe
Art-Restoration
Company: Art-Restoration
Located: Holtzheim (France)
Website: Art-Restoration
Art Restoration Garage is run by Patrick Pugin. A Porsche enthusiast and mechanic he tinkered with and restored a number of his own cars. That turned into a decision to take his skills and turn it into a job. After initial training in the automotive trade and 18 years of other work experience he now runs Art-Restoration.
Freisinger Motorsport
Company: Freisinger Motorsport
Located: Karlsruhe (Germany)
Website: Freisinger Motorsport
It all began back in 1967 in a small garage in Karlsruhe Durlach. Day and night work went on, little by little pieces were added. A clever idea began to take shape. Freisinger has now been in business for 40 years and has been able to make a good name for itself amongst dealers all around the world. They focus on restoring all historic Porsches back to their original condition. To get the job done they are backed by the world's largest selection of spare parts and more than 40 years experience.