The Evolution of the Porsche 911
Born in 1963, the Porsche 911 has become a legend. An iconic design that is constantly evolving. With over one million cars sold, the Porsche 911 is the most successful selling sports car in the world. Beyond sales success however, its cultural impact is even broader. Modified by private teams and by the factory itself for racing, rallying, and other forms of automotive competition. It is among the most successful competition cars. Add dozens of technological firsts and 55 years of development and improvements and it is clear this is a special car. In the 1999 international poll to determine the Car of the Century, the 911 came fifth. It is one of two in the top five that had remained continuously in production.
In this post we trace the iconic Porsche 911's lineage through the ages. We are less focused on the illustrious 911 history and more on helping you understand each of the Porsche 911 generations and what makes them unique. Most Porsche buyers start by deciding which generation they want first and then drilling down to the model. Pub conversations usually go something like this: "I want the classic shape and modern chassis so I'm going for a 993 Porsche" or "screw the new turbocharged flat six in the 991.2, I'm going naturally aspirated 991.1". Most non-Porsche experts know little about each generation and what makes them special so we hope this guide to the Porsche 911 is helpful.
Basic Concept Unchanged
No other car is more instantly recognizable so lets start with the design. The Porsche 911s iconic design and silhouette have remained the same since the car was first unveiled in 1963 at Frankfurt show as the Porsche 901. Almost 60 years later and just about anybody can tell you when a 911 passes by, no matter what year it was made. All 911s look like 911s, that is a no brainer.
What else makes a Porsche 911 a Porsche 911. All 911s are two-door, 2+2 high performance rear-engined sports cars. That formula is unaltered so far in almost 60 years of development. The 911 is always made in Germany and has been since the first model rolled off the production floor in 1963. All 911s have a rear-mounted six cylinder boxer engine and all round independent suspension.
The 911 It has undergone continuous development, though the basic concept has remained unchanged. And yet, for all the familiarity in the 911, a lot has changed…
Constant Change & Evolution
We would argue that the key to the Porsche 911s success over six decades is how it evolves, its ability to be ahead of the curve and to drive the car industry forward by making big, bold and often unpopular (at the time) bets is its defining trait across eight generations of the 911 model. Each generation of 911 has a big technical advancement that upsets the "true fans" and then a few years later we all turn around and say "damn, Porsche was right".
The 911 began with change in mind. By the early 1960's, Ferry Porsche recognized that the 356, for as much as it had evolved, was fifteen years old, and was due for a major redesign. Porsche felt it was time to introduce the world to the successor of the 356 and 1963 Ferry presented the successor to the 356 as the Porsche 901. The early development of the 901 was centralized around a proven concept – develop another air-cooled, rear-engine sports car, but this time equip it with a more-powerful six-cylinder "boxer" engine. The car maintained the 356's fastback design, and utilized an air-cooled flat-six that produced 130 bhp.
The next big change came in the G-Series with the most significant move made in this time being the introduction of turbocharging to the 911, arriving in 1975 with 260 horsepower powering the rear wheels. The 964 was another technical leap forward. It introduced all wheel drive and took chassis and suspension to the next level. The 993 added an all-aluminum multilink rear suspension and an all-aluminum subframe, standard six-speed manual, a new all wheel drive system and it was the first 911 with a twin turbo engine. The 996 certainly changed things forever. For decades, 911s used an air-cooled, rear-mounted flat-six engine in naturally aspirated or turbocharged form and then the 996 comes along and switches the flat six to water cooling. More recently the 991.2 model moved away from natural aspiration to turbo flat-six engines for the main variants.
The upcoming 992 Porsche is not yet been released and we already know it is going to evolve the 911 concept and continue to push things uncomfortably (but awesomely) forward. A mild hybrid powertrain with brake regeneration is expected as well as 48-volt electrical system. A plug-in hybrid Porsche 911 is nearly a certainty to join the lineup in 2023 or 2024. According to a rumor, there will possibly be a pair of hybrid versions, including one at the very top of the range with performance on par with the 911 Turbo.
There have been seven generations of Porsche so far and one on the way. One thing for sure is that the next generation will be similar and yet will be defined by how it moves the game forward.
---
Porsche 911 Generations Explained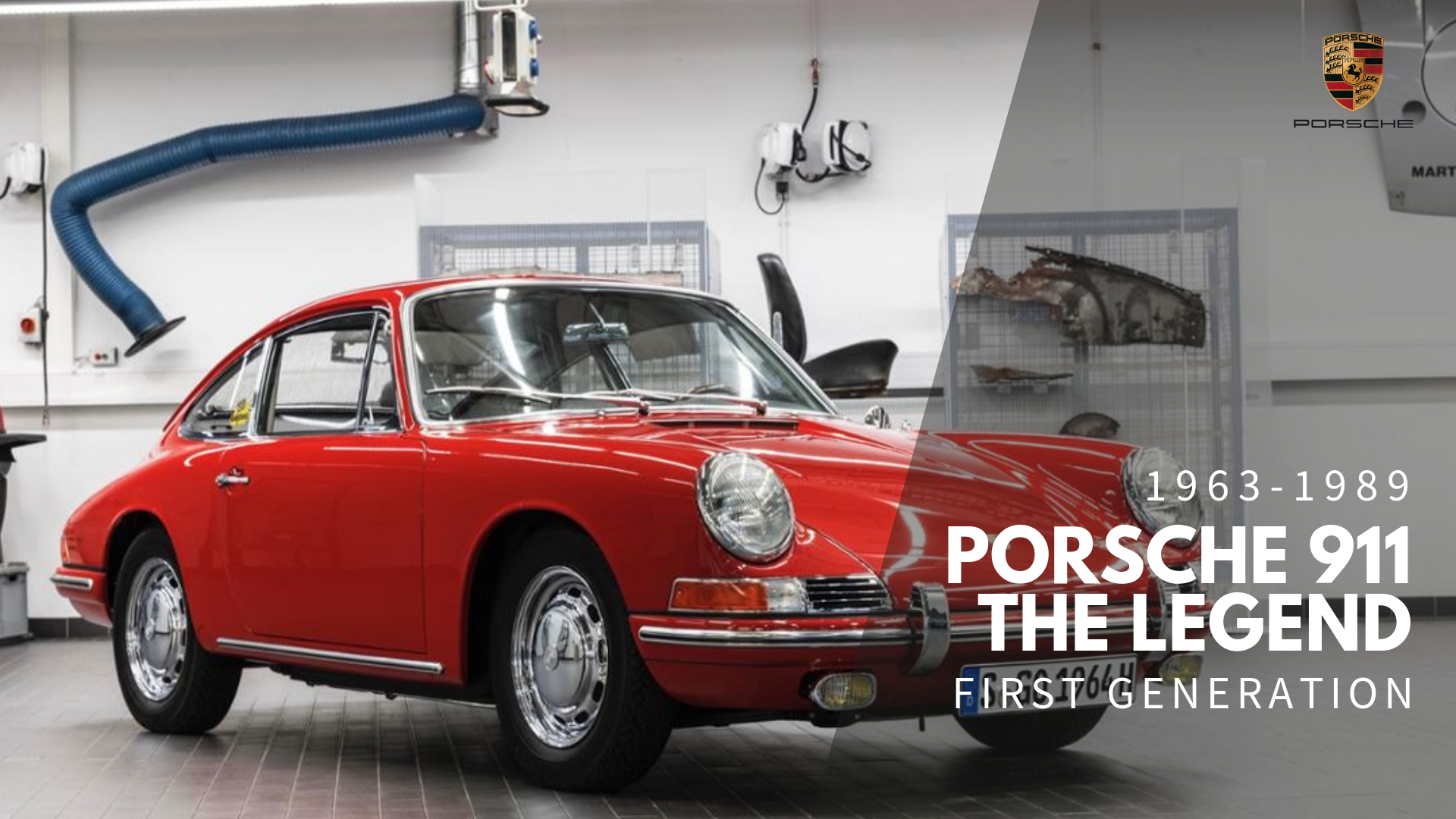 Porsche 911 – First Generation (1963-1989)
Model Year: 1963–1989
Units Produced: 81,100
Body Styles: 2-door coupé, 2-door targa top (1966–89), 2-door convertible (1982–89)
Engine Type: Air-cooled flat-6
Engines: Nat Aspirated (2.0 L, 2.2 L, 2.4 L, 2.7 L, 3.0 L, 3.2 L), Turbo (3.0 L Turbo, 3.3 L Turbo)
Transmissions: 5-speed manual, 4-speed automatic
Wheelbase: 87.0 – 89.3 in
Length: 168.9 in Width: 66.9 – 70.1 in Height: 51.2 – 51.6 in
More Info: 911 Early Years (1963-1973)
This first generation 911 had by far the longest run (series A through F) and included the introduction of the four-cylinder 912 in 1965, the more powerful 911S in 1966, the removable-roof Targa in 1967, the de-tuned 911T (which became the 911L, and later, 911E), the motorsport-homologated Carrera RS in 1973, the feisty 930 Turbo in 1975, and the 911SC in 1978. Though the 911 grew in power, displacement, length, handling prowess, and popularity over its first 26 years, it wasn't until 1989 that big changes began taking shape. We broke up the first generation 911 into the original 901 (before the name change), the 912 Porsche, the Early Years which included models from 1963 till 1973 and then the G-Series from 1973 till 1989.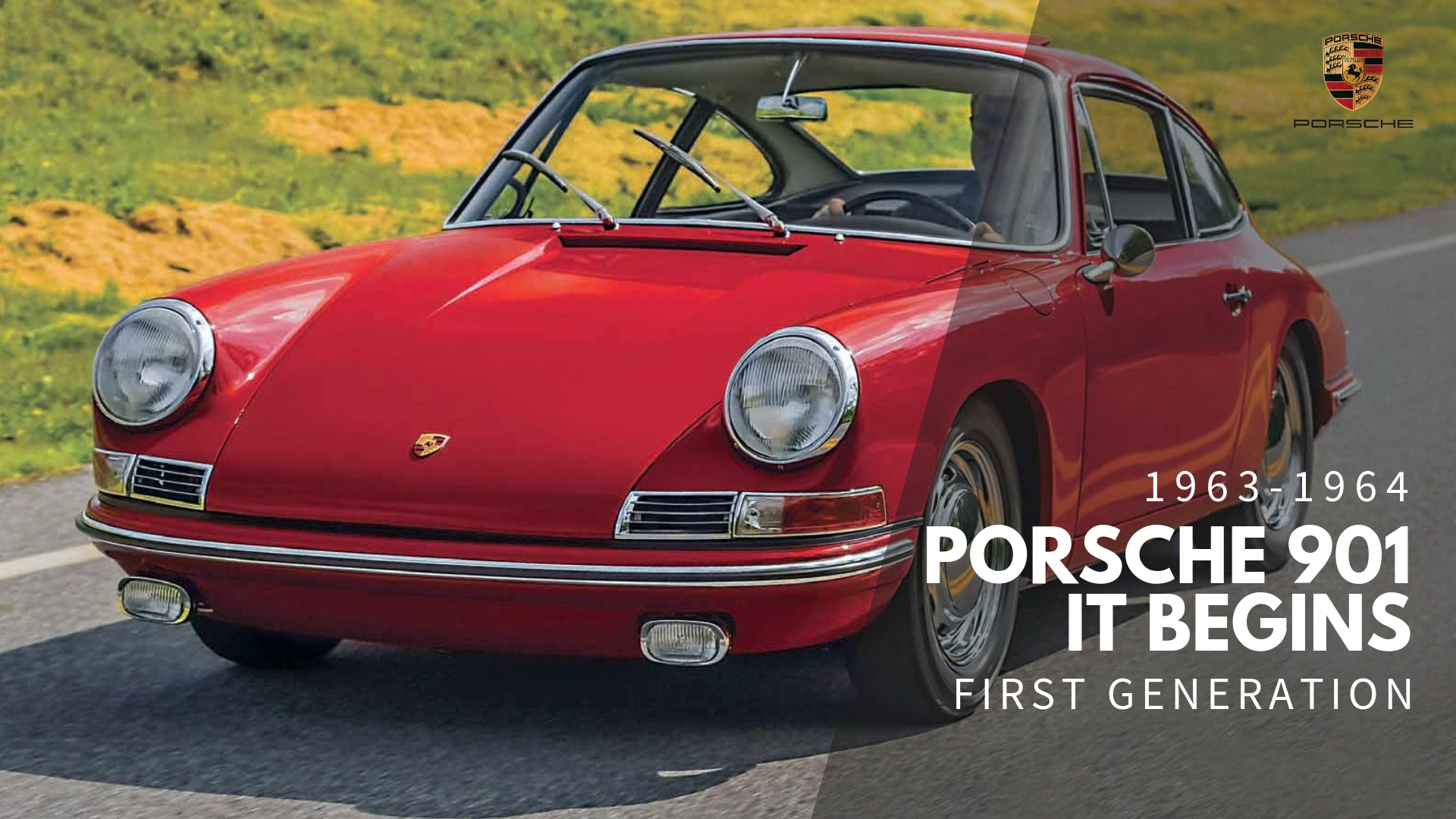 Porsche 901 – The Original (1963-1964)
Model Year: 1963–1964
Learn More: Porsche 901
Units Produced: 82 units
The massive undertaking of replacing the 356 began as early as 1959 with Ferdinand Alexander "Butzi" Porsche largely responsible for the project. By 1961 the first clay models were being made and in July of 1964 the first prototypes were being made. At the 1963 Frankfurt show the public saw Porsches new direction.
Compared to the 356 it had a longer wheelbase, a more compact suspension setup and much more power from the flat-6 engine. It was named the Porsche 901. Peugeot claimed exclusive rights to three-number vehicle names with a "0" in the middle  so in the end, Porsche ceded and settled on the 911 nameplate. Officially, the 901's that had already been constructed were used for testing and for additional exhibitions, and Porsche never sold any of the original 82 units to private customers.
Notable models: 1963 Porsche 901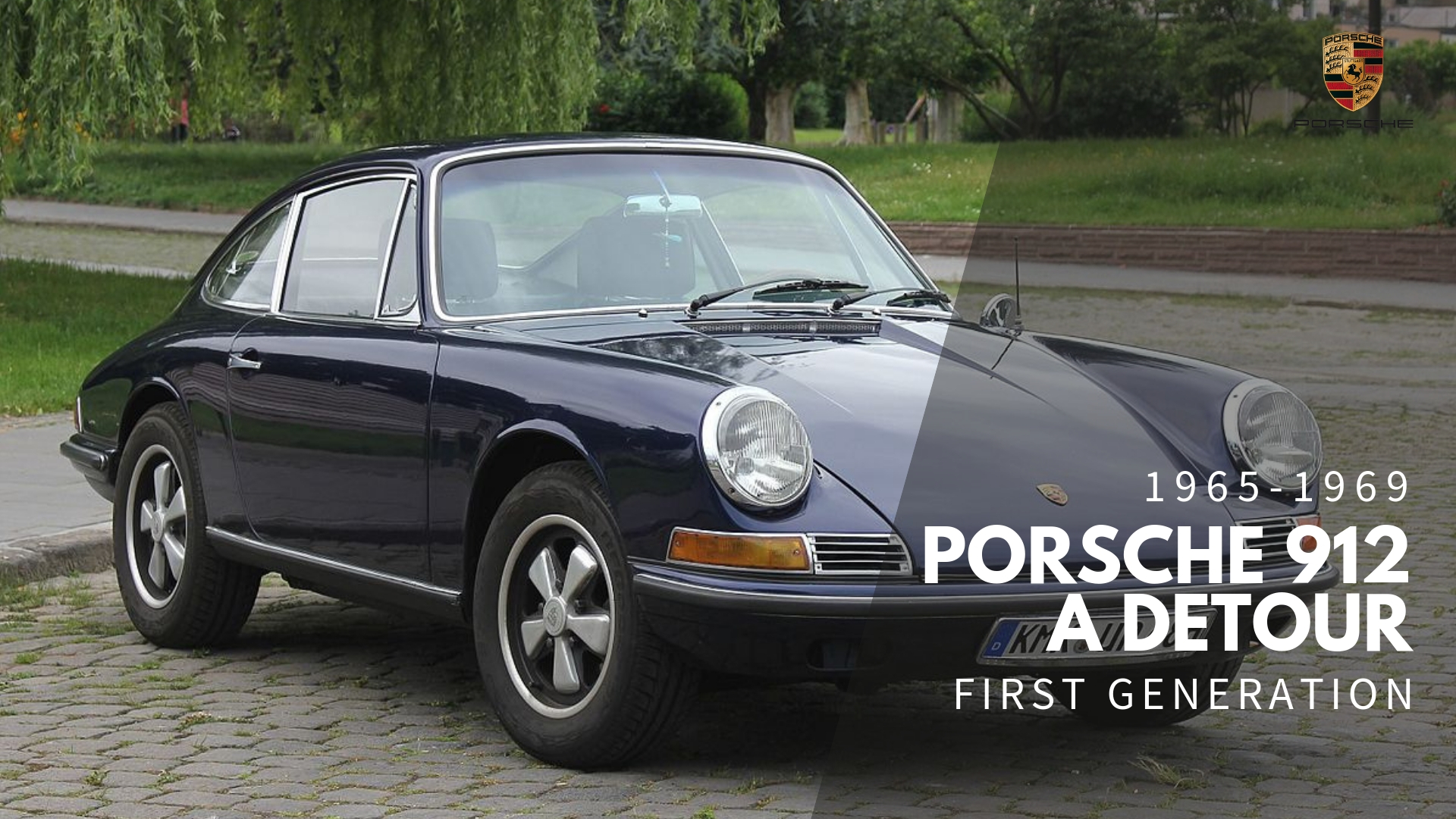 Porsche 912 – Bridging A Gap (1965-1969)
Model Year: 1963–1964
Learn More: Porsche 912
Units Produced: >32,000 units
The Porsche 912 was not intended to replace the Porsche 356, but rather offer consumers who had appreciated the 356 as an option to buy a car at the same price point. Porsche recognized that the 911 would cost considerably more than the outgoing 356 due to increases in technology and performance, including a larger, more powerful engine, so the 912 was introduced to bridge the gap between the outgoing 356 and the 911.
Styling, performance, the quality of construction, the car's reliability and the price made the Porsche 912 a very attractive alternative to the outgoing 356, and was well received by both old and new customers alike.
The Porsche 912 was manufactured by Porsche between 1965 and 1969 as their entry-level model. In that time, Porsche produced nearly 30,000 Porsche 912 coupes and roughly 2500 912 Targa top automobiles.
Although technically a variant of the 911, the 912 was a more nimble-handling compact performance 2+2 sports car. Its highly-efficient flat-4 cylinder engine, low curb weight and low coefficient of drag meant it was capable of achieving up to 36 MPG, a number not commonly associated with any performance car of that era. By 1969, Porsche executives made the decision that continuing production of the Porsche 912 would not be viable, due both to internal and external factors.
Notable 912 models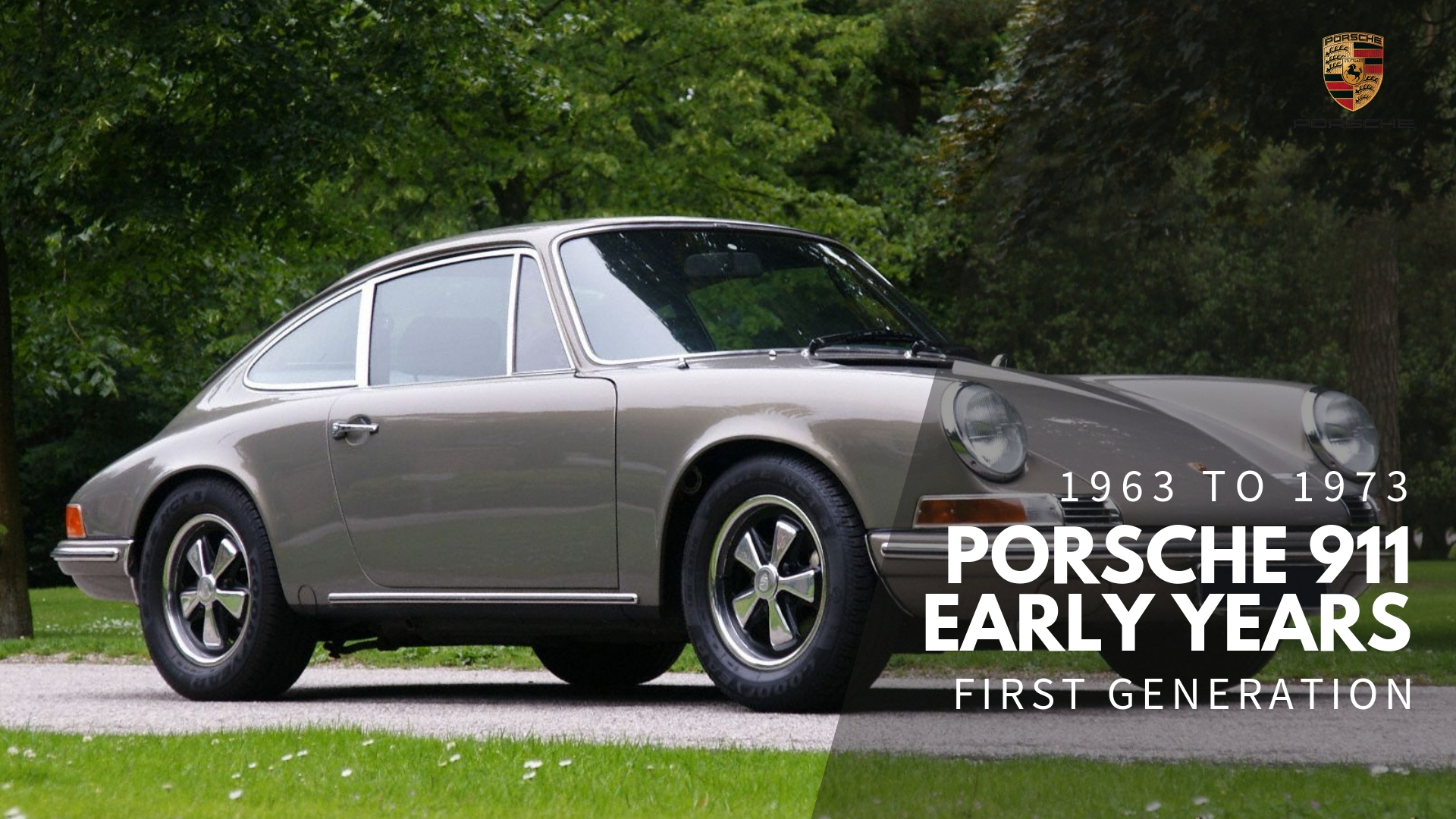 Porsche 911 – The Early Years (1963 to 1973)
Porsche wanted to offer a larger, four-seater version of its 356, specifically its expensive and complicated Carrera 2. The all-new car featuring a new chassis with MacPherson struts, semi-trailing arms and torsion bar springs, and a brand-new air-cooled, OHC flat-six "boxer" engine mounted in the rear of the car and coupled with either a four or five-speed manual gearbox.
Assembled in Leipzig, Germany, the 911 initially made 128 horsepower from its 1,991cc engine and a top speed of 131 mph.
The Ferdinand Alexander "Butzi" Porsche designed car had clear 356 lineage with its fastback design. However, the now-infamous final form was unique to the brand and industry. From a driving perspective the 911 was unique. Distinguishing the 911 from anything else on the road was its short wheelbase, rear weight bias and semi-trailing arm rear suspension and those things meant that from the start the 911 demanded a driver that knew what he/she was doing. With its relatively short wheelbase, rear-engine layout and semi-trailing arm rear suspension, it was an easy car to drive wide and have the tail totally slide out. Porsche tried a number of engineering fixes for this big issues including a set of front "bumper reinforcement" weights and a modest wheelbase stretch. It didn't work.
The first Porsche 911 series came in five engine configurations, ranging from 2.0 to 2.4 liter and producing between 128 and 190 horsepower as time passed by.
Almost immediately the Porsche 911 was modified by numerous other companies and tuning firms for racing competitions, recording important wins in events all around the world. The legend had begun.
Notable Early 911 Models
Early 911 Variants
2.0-litre – O, A, B series (1964–1969)
2.2-litre – C, D series (1969–1971)
2.4-litre – E, F series (1971–1973)
Carrera RS (1973, 1974)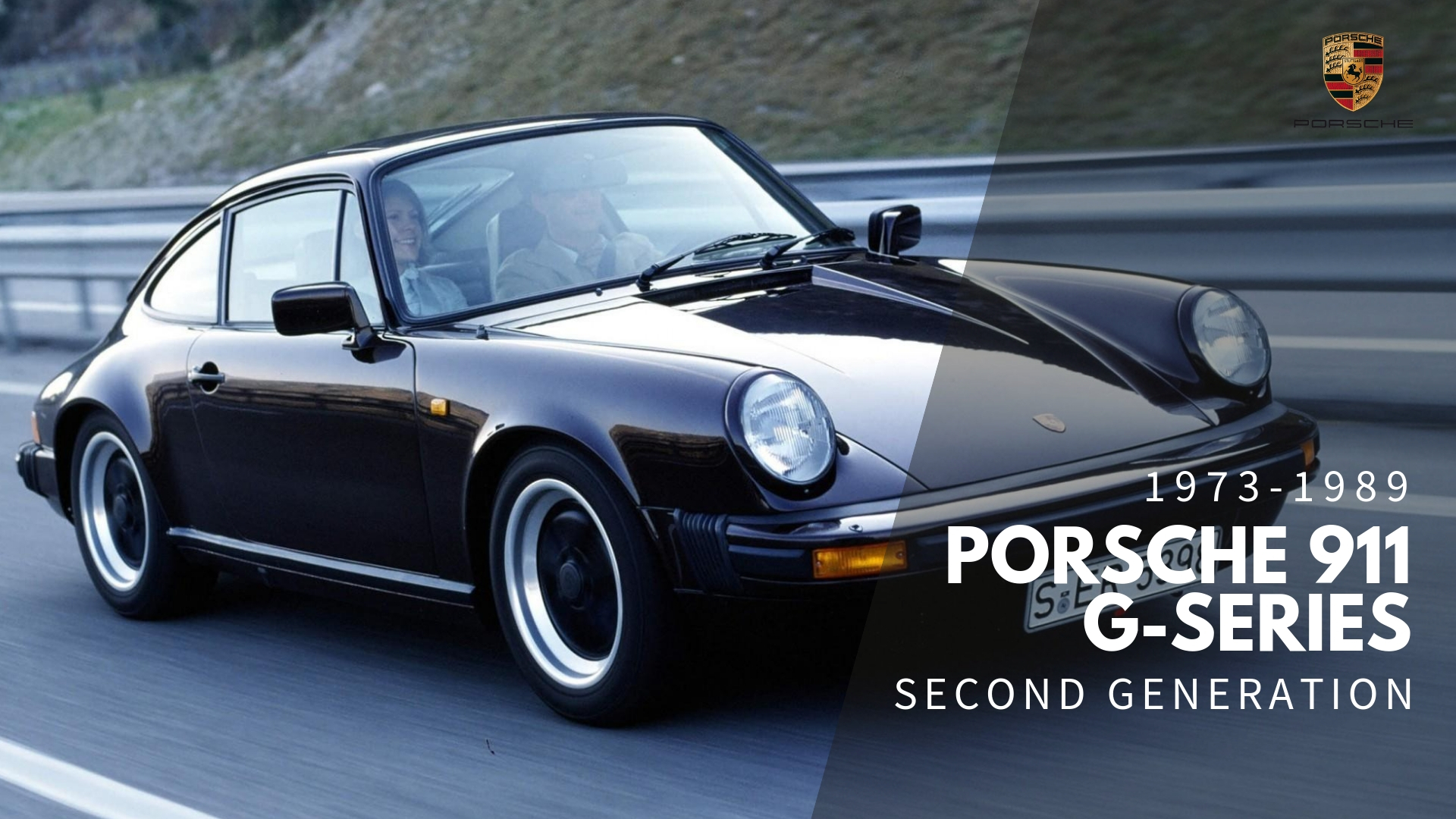 Porsche 911 – G-Series (1973-1989)
A decade into the 911's life and Porsche decided an update was needed and gave the 911 a big makeover. Known as the 'G-model' 911 it sold almost 200,000 vehicles and was the longest running 911 series, being produced from 1973 to 1989. In addition to a Coupé and a Targa version, a Cabriolet was also available.
There were meaningful design changes to the 911, most notably a new raised bumper design with black plastic bellows (designed to meet U.S crash test standards). Between the tail lights of the G models is a red panel and a Porsche logo that is red or black, depending on the model year. The rear number plate is flanked by two large rubber buffers with integrated number plate lighting. Inside, the G Series 911 came with added safety features to appease U.S regulators and consumers, including three-point safety belts fitted as standard and seats with integrated headrests.
The base 911 model had a 2.7 liter flat-six engine with 150 hp that increase to 165 hp for model year 1976. The 911 S delivered an output of 175 hp.
The defining 911 of this era came in 1974 and was the original 911 Turbo. The 930 911 Turbo had a 260 hp engine (and the coolest rear spoiler ever). Its advanced 3 liter turbo engine had technology like charge pressure control on the exhaust side (previously available only in race cars) which prevented unwanted excess pressure during partial load or overrun. When charge pressure was needed again during an acceleration phase, the bypass valve closed and the turbine could work to its full capacity in the exhaust stream. With its unique combination of luxury and stonking performance the 'Turbo' became a synonym for the Porsche brand. The Turbo got a major update in 1977 when power jumped to 300 hp from a bigger 3.3 liter engine. It was easily the most powerful and high performance car in its class and further grew the 911 legend. Innovation wise the new Turbo had a charge-air cooler.
In 1983, the naturally aspirated 911 Carrera superseded the SC; with a 3.2 liter flat six that had 231 hp but more importantly it was also when the you could order the 911 with no roof. Yuppies united everywhere and a new love for Porsche emerged amongst the well healed. In terms of special models, the 911 Carrera Speedster was launched in 1989 and had a unique look that paid homage to the 356 speedster of the 50s.
Notable G-Series 911 Models
G-Series 911 Variants
2.7-litre – G, H, I, J series (1974–1977)
Carrera 2.7 – G, H (1974-1975)
Carrera 3.0 (1976–1977)
Turbo (Type 930) (1974–1989)
SC – L, M, A, B, C, D series (1978–1983)
3.2 Carrera – E, F, G, H, I, J, K series (1984–1989)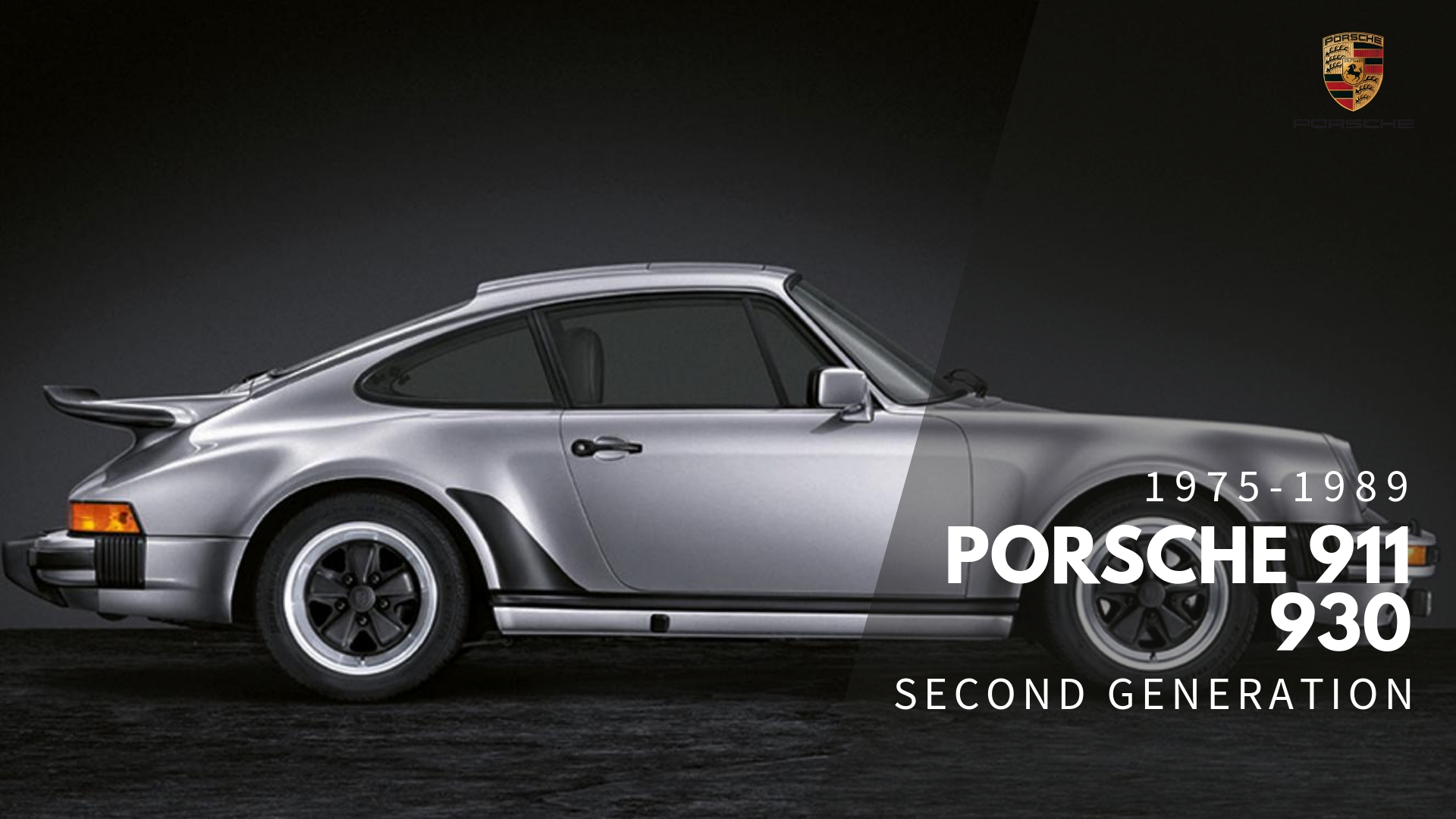 Porsche 930 (1975-1989)
Model Years: 1975-1989
Units Produced: 1975 – 1977 (3.0 L) 2,819 produced; 1978 – 1989 (3.3 L) 18,770 produced
Learn More: 930 Turbo
This is a special mention model series we are lumping under the original 911. It was the top-of-the-range 911 model for its entire production duration and, at the time of its introduction, was the fastest production car available in Germany. More importantly, it set the tone for 911 Turbo models moving forward. Luxurious, effortlessly fast and the top of the 911 range. That trend continues to this day.
It all began in 1972 when Porsche began development on a turbocharged version of the 911. Porsche originally needed to produce the car in order to comply with homologation regulations and had intended on marketing it as a street legal race vehicle like the 1973 Carrera 2.7 RS.
In 1974 Porsche introduced the first production turbocharged 911. Although called simply Porsche 911 Turbo in Europe, it was marketed as Porsche 930 in North America. It was visually unique with wide wheel-arches, bigger wheels and tires and a large rear "whale tail" spoiler. The 911 Turbo was put into production in 1975 and while the original purpose of the 911 Turbo was to gain homologation for the 1976 racing season, it quickly became popular among car enthusiasts. Starting out with a 3.0 L engine with 260 hp, it rose to 3.3 L and 300 hp for 1978. Only in 1989, its last year of production, was the 930 equipped with a five-speed gearbox. The 930 was replaced in 1990 with a 964 version featuring the same 3.3 L engine. There have been turbocharged variants of each subsequent generation of 911.
Notable Porsche 930 Models
930 Variants
Porsche 930 (US Models)
Porsche 911 Turbo (European Models)
Flatnose (Slantnose 930S)
---

Porsche 911 – 964 Generation (1989-1994)
Model Year: 1990-1994
Units Produced: 74,008
Body Styles: 2-door coupé, 2-door targa, 2-door convertible, 2-door speedster
Engine Type: Air-cooled flat-6
Engines: Naturally Aspirated (3.6 L, 3.75 L); Turbo (3.3 L turbo, 3.6 L turbo)
Transmissions: 5-speed manual, 4-speed automatic
Wheelbase: 89.4 in
Length: 168.3 in Width: 65.0 – 69.9 in Height: 51.6 – 52.0 in
More Info:  911 964 (1989-1994)
Don't forget to check out our in depth Porsche 964 hub
In 1989 Porsche came out with the 911 Carrera 4 (964). The new 911 was a contemporary take on the classic two-door sports car and came at a time when many were predicting the end of the 911 (the company was producing the 944 and working on the upcoming 968). The long run of the previous 911 meant the 964 needed a major update and Porsche delivered on that promise with 85% new components and virtually none of the predecessor's architecture used.
Save for the introduction of aerodynamic polyurethane bumpers and an automatically-extending rear spoiler which replaced the "whale tail" found on the 911 throughout the 1980's, externally, the 964 kept the same style as the classic 911. The interior was an almost entirely reimagined Porsche 911 with more modern design that was intended to blend performance with comfort. The new 911 featured many creature comforts that had been lacking in earlier versions of the car including a Tiptronic automatic transmission, power steering, dual front airbags, dual-mass flywheel, ABS, retractable rear spoiler and twin-spark ignition.
The 964 rode on a completely redesigned chassis with rear suspension switching from torsion bar to trailing arms with Porsche's "Weissach" rear axle, which added self-steering elements to reduce the chance of oversteer. It featured a naturally aspirated 3.6 liter boxer engine that produced an impressive 250 horsepower.
It was the introduction of an all-wheel drive Carrera 4 model that really captured the attention of the automotive community as a whole. The fully mechanical all-wheel drive system was revolutionary for its time, sensing wheels slippage and automatically transferring power elsewhere, ensuring that the driver could maintain a greater degree of control whenever the driving environment became less manageable.
After the 964 Carrera 4 was introduced, effectively solving many of the oversteer tendencies of the previous generation, a rear-wheel drive Carrera 2 was added 6 months later. The Carrera 2 was actually the rear-wheel drive version of the car which packed almost the same technical specifications as the base model. The engine was the same 3.6 liter unit which produced 250 horsepower and a maximum speed of 260 km/h while the 0 to 100 km/h acceleration was made in 5.7 seconds.
In addition to the base model Carrera Coupe, Cabriolet and Targa versions, the 1990 Porsche 911 offerings also included a Type 964 Turbo option. When first introduced in March, 1990, the 911 Turbo initially featured a turbocharged 3.3 liter boxer engine that was carried over (with updates) from the previous 911 Turbo model, albeit with reduced turbo lag. In 1992, the Porsche 911 Turbo was upgraded to a more powerful 3.6 liter power plant delivering 320 horsepower. At the end of 964 production in 1994, the Porsche factory had some 90 Turbo chassis left and gave them the Porsche Exclusive treatment to create a very special Turbo 3.6 S model with 380 horsepower.
Several other special edition 964s were made and they are some of the most sought after cars in the classic car market today. In 1992 there was the America Roadster which was essentially a turbo-bodied cabriolet. It had the standard electric spoiler and turbo guards and mechanically was the same as the standard model apart from 17″ cup wheels and the brakes and suspension. Only 250 of this variant were produced. There was also the Porsche 964 Speedster which came in two distinct incarnations. The first was the 1989 model year Speedster which was basically a 930 turbo under the covers. The "true" 964 Speedster was the 1994 Speedster which was based on the 964 Carrera 2 platform. More than three quarters (641) of the 800 built had the "Turbo look" wide-body option. Porsche planned to build 3000 examples of the 1994 Speedsters in 1992, but only 936 examples were built and sold.
In 1992, Porsche produced a super-lightweight, rear-wheel-drive only version of the 964 dubbed Carrera RS for the European market using their "Carrera Cup" race car as a base. It featured a revised version of the standard engine with 260 bhp and lightweight flywheel coupled an upgraded gearbox with closer ratios, asymmetrical Limited Slip Differential and steel syncromesh. A revised (track focused) suspension, no power steering and stiffer springs, shocks and adjustable stabilizer bars made it a real performer. It went a diet too with the interior totally stripped out and all creature comforts removed. Lightweight wheels, body parts and thinner windows also helped the Carrera RS weigh 345 pounds less than a Carrera 2. There was also a heavier Touring variant (with sound deadening, power seats (optional), undercarriage protection and power windows) and an N/GT racing variant with a stripped, blank metal interior and a roll cage. A later ultra-limited production version, the Carrera 3.8 RS featured the Turbo body and a 300 bhp, bored out 3.8 liter motor was sold briefly in Europe. The Carrera RS was not sold in the United States.
Notable Porsche 964 Models
964 Variants
Carrera 2 Coupe & Cabriolet
Carrera 4 Coupe & 4 Cabriolet
Carrera Turbo Coupe
Carrera Turbo S Coupe
Carrera Turbo S LM-GT
Carrera RS, 964 Speedster
America Roadster
---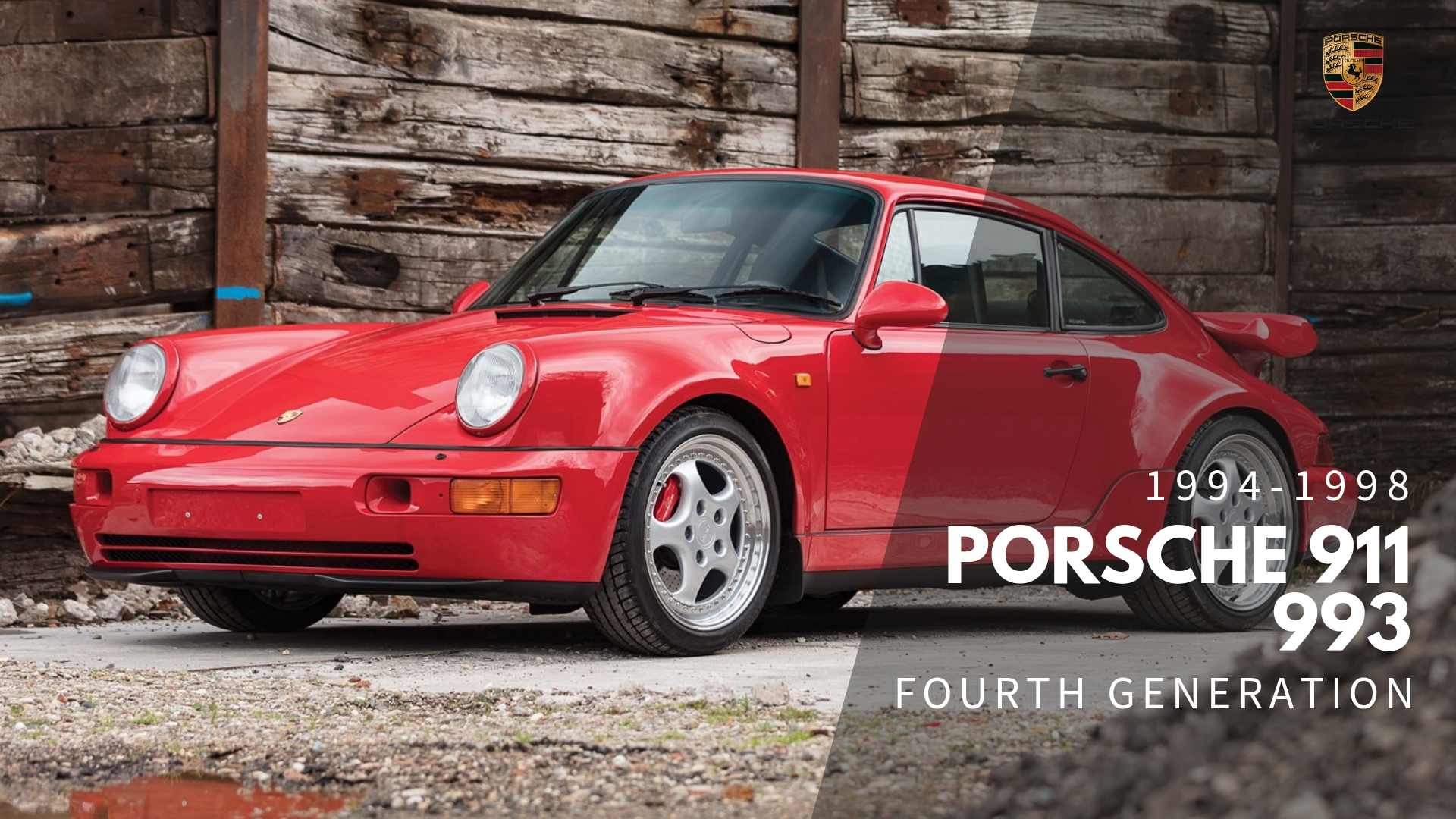 Porsche 911 – 993 Generation (1994-1998)
Model Year: 1994-1998
Units Produced: 67,535
Body Styles: 2-door coupé, 2-door convertible, 2-door targa top, 2-door speedster
Engine Type: Air-cooled flat-6
Engines: Naturally Aspirated (3.6 L – 3.8L); Turbo (3.6 L twin turbo)
Transmissions: 5-speed manual, 6-speed manual, 4-speed automatic
Wheelbase: 89.45 in
Length: 167.7 in Width: 68.3 – 70.7 in Height: 50.4 – 51.8 in
More Info:  911 993 (1994-1998)
Porsche introduced the Porsche 911 (Type 993) in 1994 as the replacement for the 964 model. Considered by many Porsche enthusiasts as the perfect 911, the 993 represents a unique blend of power and simple elegance with great driver engagement and modern performance and technology too. It shared less than 20% of the parts from the 964 and was the first 911 to have a real reputation for exceptional dependability and reliability. The 993 911 was sold between January 1994 and early 1998 (with U.S. based models going on sale from 1995-1998). It was also the last of the air-cooled 911's so it holds a special place in many enthusiasts minds.
From the outside, the car had a more streamlined look and was lower slung than earlier versions of the 911. It is smaller looking than the 996 onward 911s and this gives it a compact and tight design with almost perfect proportions. The front end had redesigned headlights that have now become instantly recognizable as part of the 911 design language. It is easily our personal favorite 911 design. A new all-aluminum multilink rear suspension and an all-aluminum subframe, engine weight reduced by 14 pounds and other weight saving made it lighter than the 964 models while having body-structure rigidity increase by 20 percent.
The air-cooled flat six developed 272 horsepower in base trim, with the Carrera 4S and Carrera 2S both getting slightly more powerful 285 horsepower output. The engine was mated to a standard six-speed manual transmission – making the 993 the first-generation of 911 to get a six-speed transmission. An automatic Tiptronic transmission was also available as an option.
The 993 also received a redesigned suspension system for better ride and handling. This new suspension system was specifically developed to produce improved handling characteristics during inclement weather while retaining the stability offered by the aforementioned all-wheel drive system. The revisions made to the suspension system resulted in an overall weight reduction to the car. The Type 993's optional all-wheel-drive system was revised, eliminating the three-differential setup that had been used in the Type 964 car and replacing it with a revised setup reminiscent of that found on the Porsche 959 supercar.
A Turbo-version of the Type 993 Porsche 911 was also introduced in 1995. It featured a twin-turbo engine, permanent all-wheel drive, and nearly 400 hp. The car also featured hollow-spoke aluminum wheels. These wheels had never been used before on any vehicle, and marked an important innovation when they were introduced on the 1995 Porsche Type 993. A Turbo S followed in 1997 with more power, a larger spoiler, and better cooling. It was rare with only 183 cars ever made.
In terms of special edition 993 911s, there were a few awesome machines. The Speedster model, was a variant of the 993, with a lowered roof, and a redesigned interior. In contrast to the G-model and the 964, Porsche never officially offered the 993 in a Speedster body style. However, two were built by the factory/
The 911 Carrera RS nameplate returned as a light-bodied, limited-run car. It had a naturally aspirated 3.8 liter engine with 296 hp. It has a massive fixed rear wing, small front flaps and 3-piece 18 in lightweight wheels. Rear seats were removed, other creature comforts erased and special racing seats added. Soundproofing was almost non-existent.  It was street legal in European and many other countries around the world, but was not approved for export to the United States.
Porsche actually went berserk in 1997 and introduced a 911 GT2 (57 examples made for the road). The race-homologated monster made 430 hp (450 hp in 1998) and could hit 60 mph in less than 4.0 seconds, and was one heck of a swan song for the 993 generation. This was the pinnacle of the 993 911 and with the discontinuation of the Porsche 993 in 1998 officially marked the end of the air-cooled Porsches.
Notable Porsche 993 Models
993 Variants
Carrera Coupe & Cabriolet
Targa
Carrera Turbo Coupe
Carrera Turbo S
Carrera 4S
Carrera S
Carrera RS
GT2
Speedster
Carrera Turbo Cabriolet
---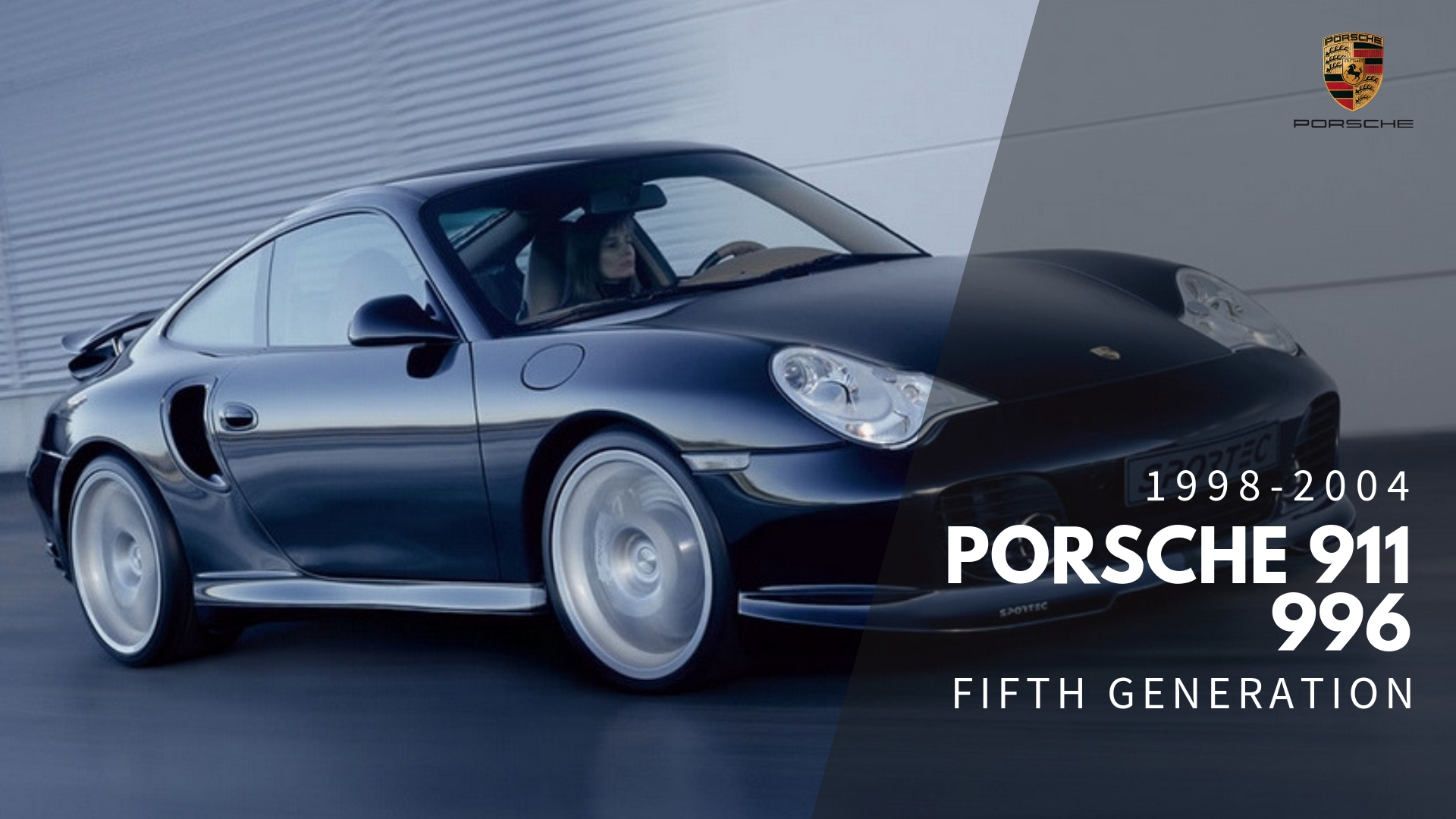 Porsche 911 – 996 Generation (1998-2004)
Model Year: 1997–2004 (2005 for 911 Turbo S, GT2 and GT3 models)
Units Produced: 179,163
Body Styles: 2-door coupé, 2-door convertible, 2-door targa top
Engine Type: Water-cooled flat-6
Engines: Naturally Aspirated (3.4 L); Turbo (3.6 L twin turbo)
Transmissions: 5-speed auto, 6-speed manual
Wheelbase: 92.6 in
Length: 174.5 – 174.6 in Width: 69.5 – 72.0 in Height: 50.2 – 51.4 in
More Info:  911 996 (1998-2001),  911 996.2 (2001-2004)
The Porsche 911 (Type 996) was a new design developed by Pinky Lai. While the car incorporated the classic lines and tear-drop shape of all the 911's earlier iterations, Type 996 was nearly a complete reimagining of the 911 sports car, and carried very little over from its predecessors. The 996 featured all-new bodywork, a reimagined interior and controversial (ugly) headlight shape (which mimicked the entry-level Porsche Boxster). It was also the first water-cooled engine ever used in a 911.  The 996 shared no body panels, no underbody structure and no major mechanical components with previous 911s. The only carry-overs were from the earlier 911 (Type 993) from which the front suspension, rear multi-link suspension, and a six-speed gearbox were repurposed after some revisions to make them current.
First launched in 1997, the 996 911 range received a minor facelift in 2001 when Porsche made a few slight changes to the base models. The 996 range was discontinued in 2004 when the German carmaker rolled out the Type 997 model which re-adopted the round headlights.
Porsche 911 996.1 (1998-2001)
When introduced in 1997, the first 996 models were available as either a rear-wheel-drive coupe or cabriolet (convertible). Later development of the model would re-introduce an all-wheel-drive variant of both versions of the car. The new 911 featured a water cooled, naturally aspirated 3.4 liter flat six engine that produced 296 horsepower thanks to the introduction of its four-valve cylinder heads, variable valve timing, integrated dry-sump oiling and new variable resistance intake system. Moreover, the new boxer engine broke new ground in terms of reduced emissions, engine noise, and fuel consumption.
The 996 Turbo had a water-cooled, twin-turbocharged/intercooled 3.6- liter engine that produced 415 horsepower at 6,000 rpm and 415 lb-ft of torque. The 996 Turbo featured all-wheel drive and came equipped with either a 6-speed manual or a 5-speed Tiptronic automatic transmission. The 996 Turbo also featured revised body styling and a wider stance than its other 911 Carrera counterparts.
Porsche 911 996.2 (2001-2004)
In 2002, the 996 went through a restyling exercise. Known as the 996.2 range the big visual changes included changing the integrated headlamps that had been shared between the 911 and Boxster models with the Turbo-style headlamps. All variants of the car also received a new front fascia. The most important upgrade was the standardization around an upgraded 3.6-liter engine (up from 3.4 liters in the 996.1) which is now able to provide no less than 320 horsepower (up 15 horsepower over 996.1).
In 2002 Porsche introduced both the 996 based Targa (featuring a sliding glass roof) and the Carrera 4S model which shared the same wide-body look of the 996 Turbo. The range was also expanded with sportier versions such as the RS and GT3 as well as the GT2. Designed as a road-legal take on the racing GT3, the model was essentially a stripped down, naturally aspirated treat, with 360 hp at its disposal in 1999 (more power was added later).
Porsche 911 996 Specials
Let's dive into the special editions a little more. Given the 911's earlier successes in the GT-1 class at Le Mans, the Porsche 996 platform was used as the foundation for two lightweight, track-ready variants of the car. The first of these variants was the GT3. The GT3 was based on the standard 996 Carrera, but it was stripped of any extraneous equipment and featured an upgraded adjustable suspension platform as well as upgraded brakes. The bodyshell was the wider all-wheel-drive version of the 996. Two versions of the GT3 were manufactured. The first, which is commonly referred to as the Mk.I GT3, was released in 1999 to all markets except North America. This version of the car featured a naturally aspirated 3.6L flat-six engine that produced 360 horsepower. The Mk. II GT3 variant was based on the second generation of the Porsche 996. It featured updated aerodynamics and a more powerful version of the aforementioned 3.6 liter engine with 380 horsepower and could accelerate from 0-60 mph in just 4.0 seconds. Equally impressive was the 1.03g it produced on the skidpad.
The second iteration of the racing-class 911 was the GT2. Like the GT3, the GT2 was a rear-wheel-drive variant of the current 911 platform. Also like the GT3, the reasoning behind a rear-wheel-drive (versus all-wheel-drive) configuration was two-fold. First and foremost, GT2 Class racing rules mandated the use of a rear-wheel drive platform. Second, and equally important, was the fact that the rear-wheel-drive solution weighed less than the all-wheel-drive option. The GT2 996 received additional aerodynamic modeling to many of its body parts. It also received a re-tuned version of the 996 Turbo's 3.6- liter twin-turbocharged engine which included larger turbochargers and intercoolers, a revised intake and exhaust system, and re-programmed engine control software. It made 489 horsepower and 484 lb-ft of torque, which was enough to propel the car from 0-60 mph in just 3.9 seconds with a top speed of 198 mph. Both the GT2 and GT3 variants of the 996 came equipped solely with a six-speed manual transmission.
The Porsche 911 GT3 became one of the highlights of the 996 era when it was introduced in 1999. It was celebrated by Porsche enthusiasts for "keeping the tradition of the Carrera RS alive. Conversely, the Porsche 911 GT2, the first car to be equipped with ceramic brakes as standard equipment, was marketed specifically as an extreme sports vehicle capable of track-level performance. It was released to the marketplace in fall, 2000.
Notable Porsche 996 Models
996 Variants
Carrera Coupe & Cabriolet
Carrera 4 Coupe & 4 Cabriolet
Carrera 4S Coupe & 4S Cabriolet
GT2 Coupe, GT3 Coupe, Targa
Turbo Coupe & Turbo Cabriolet
Turbo S Coupe & Turbo S Cabriolet
---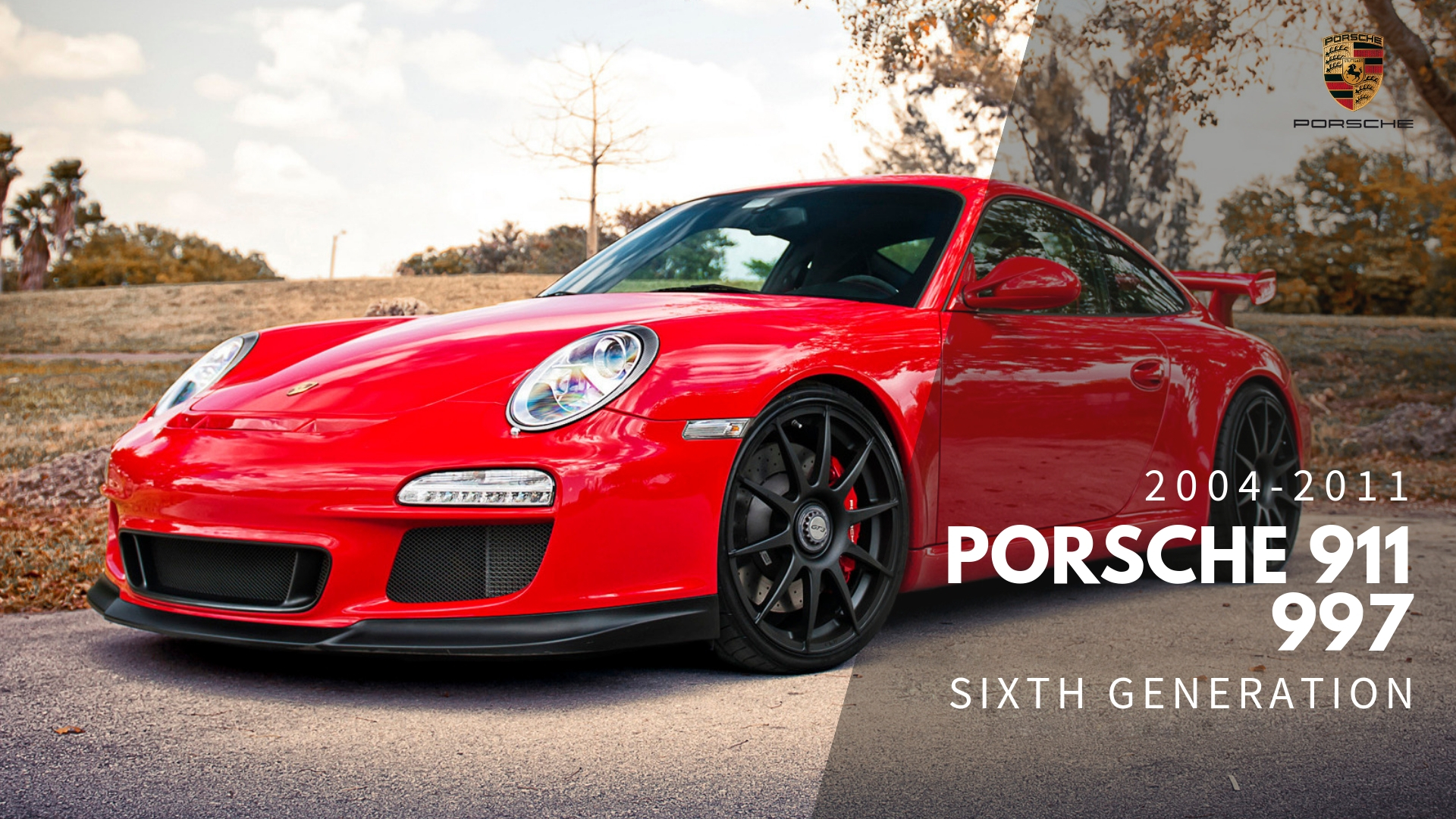 Porsche 911 – 997 Generation (2004-2011)
Model Year: 2005–2012
Units Produced: 215,092
Body Styles: 2-door coupé, 2-door convertible, 2-door targa top, 2-door speedster
Engine Type: Water-cooled flat-6
Engines: Naturally Aspirated (3.6 L, 3.8 L, 4.0 L); Turbo (3.6 L twin turbo, 3.8 L twin turbo)
Transmissions: 5-speed automatic, 6-speed manual, 7-speed PDK
Wheelbase: 92.5 – 92.9 in
Length: 174.2 – 177.0 in Width: 71.2 – 72.9 in Height: 50.0 – 52.2 in
More Info:  911 997 (2004-2008), 911 997.2 (2008-2011)
In July, 2004, Porsche unveiled the Porsche Type 997. It featured the same classic silhouette as all earlier variants of the Porsche 911, and included design cues – most especially a return to the clear, oval headlights with separate blinkers – that were found on older 911 models.
While the Porsche 911 Type 997 featured a refined, race-inspired appearance, the car was hailed for being a true high-performance vehicle. Most notably, the 997 also marked a big growth in the Porsche 911 product line in terms of sheer options and sales volumes (the 997 became the best-selling generation of 911 to date). There was a 997 911 model for every taste, with over 24 models available in every performance, body style and combinations imaginable.
Model improvements came in late 2008 made the 997 even more efficient thanks to direct fuel injection and a double-clutch transmission and was known as the 997.2 series, running till the series ended in 2012.
Porsche 911 997 (2004-2008)
When the 997 came out fans of Porsche were happy to see the return to round headlights and the style they missed in the earlier 996. Rounded headlights, a slick shape and all the modern tech you could point a stick at combined with absurdly strong performance leapfrogged it past the competition of the time. An updated interior was welcomed and was more important than it seems because at the time other carmakers had really beaten Porsche in this area in previous years.
Porsche offered two engine displacements for first time since 1977 to better differentiated the base Carrera and more potent Carrera S models. The base Carrera featured a 3.6 liter boxer engine good for 321 horsepower while the Carrera S got a larger 3.8 liter unit with 350 horsepower. The X51 Powerkit was available for S, 4S, Targa models, which increased engine power.
Not only did the 997 look "right," it also performed on par with the world's best sports cars, especially in terms of acceleration and handling. Bigger brakes, a lowered suspension, and Porsche's new stability control system earned the 997 immense respect among fans. While the main models were quick it was the 911 Turbo that was the true straight line beast. It was first production car to get a turbocharger with variable turbine geometry.
In terms of special editions, Porsche introduced the next-generation Porsche 911 GT3 and GT3 RS. The new 911 GT3 was equipped with a 3.6 liter, naturally aspirated engine that produced 415 horsepower and had an absurd 8,400 RPM. The GT3 RS got the same engine but was set up for the track primarily. The 997 GT2 was also launched and was the most powerful and fastest road-going 911 ever to have been sold to the public.
Porsche 911 997.2 (2008-2011)
The midlife update came in 2008 (2009 model year) for the 997 and was known as the 997.2 model series. The exterior featured slight modifications as compared to the 997.1 models. For 2009, both 3.6-liter and 3.8-liter engines receive direct injection; new PDK dual-clutch seven-speed transmission replaced the Tiptronic S automatic. The Carrera's engine had 345 hp on tap while 385 hp was made available in the Carrera S. Other changes included a revised suspension system, revised front bumper with larger air intakes, headlamps with newly optional dual HID projectors, a new LED taillamp design, and LED turn signals, a new Porsche Sports Exhaust (PSE) and updated PCM system with optional touch-screen hard-drive navigation and Bluetooth.
Along with the Carrera and Carrera S, Porsche also introduced new all-wheel-drive versions in 2008 (Carrera 4 and 4S). The Targa now had a glass roof made of a special glass that repelled UV rays from entering the car. The 911 Turbo got a completely new 3.8 liter twin turbo flat six with 490 hp and 480 lb⋅ft of torque thanks in part to newly revised BorgWarner variable turbine geometry (VTG) turbochargers. The 911 Turbo S that was introduced in 2010 made 523 hp and was capable of 0-60 runs of less than three seconds. Available with only a 7-speed PDK transmission and carbon ceramic brakes along with the Sport Chronograph package as standard it was a straight line monster.
In 2011, Porsche launched a new 911 that was basically the perfectly specced Carrera S. The Carrera GTS was available as both a coupé and cabriolet and got a wider body and track and an upgraded 3.8-litre engine generating with 413 horsepower.
The updated GT3 was a cracker. The car had better airflow to the radiators, a larger rear wing, forged pistons, lightweight valves and hollow camshafts in order to make the engine lightweight. A special 6-speed manual transmission with rev matching technology was the only transmission option. Total downforce was doubled. Power output was now rated at 429 hp at 6,000 rpm and 317 lb⋅ft of torque from the new 3.8-litre flat-6 engine. The GT3 RS was once again the high performance version of the GT3 with a higher engine power output, lower weight and shorter transmission ratios, as well as having upgraded body and suspension components, designed for homologating the race version of the 911 GT3. Porsche added the "RS" treatment to its new GT2, which meant 612 hp, a 205 mph top speed, and a lap time of 7:18 – a record at the time – on the famed Nurburgring circuit.
In terms of other limited run special editions the 997 did not let us down. In 2011 there was a 365 unit run of a new 911 Speedster variant which as always brought back the historic model and sold out fast. It was the 600 unit limited edition 911 GT3 RS 4.0 which was the final evolution of the 997 that we love. It featured a 4.0-litre engine with 493 hp at 8,250 rpm and 339 lbf⋅ft of torque and took a lot of the GT2 RS learning Porsche Motorsport team had into effect. It was near perfect and is a collector car these days.
Notable Porsche 997 Models
997 Variants
Carrera Coupe & Cabriolet
Carrera 4 Coupe & 4 Cabriolet
Carrera 4S Coupe & 4S Cabriolet
Carrera GTS Coupe & GTS Cabriolet
Carrera S Coupe & S Cabriolet
GT2 Coupe
GT2 RS Coupe
GT3 Coupe
GT3 RS Coupe
Targa 4 & Targa 4S
Turbo Coupe & Turbo Cabriolet
Turbo S Coupe & Turbo S Cabriolet
---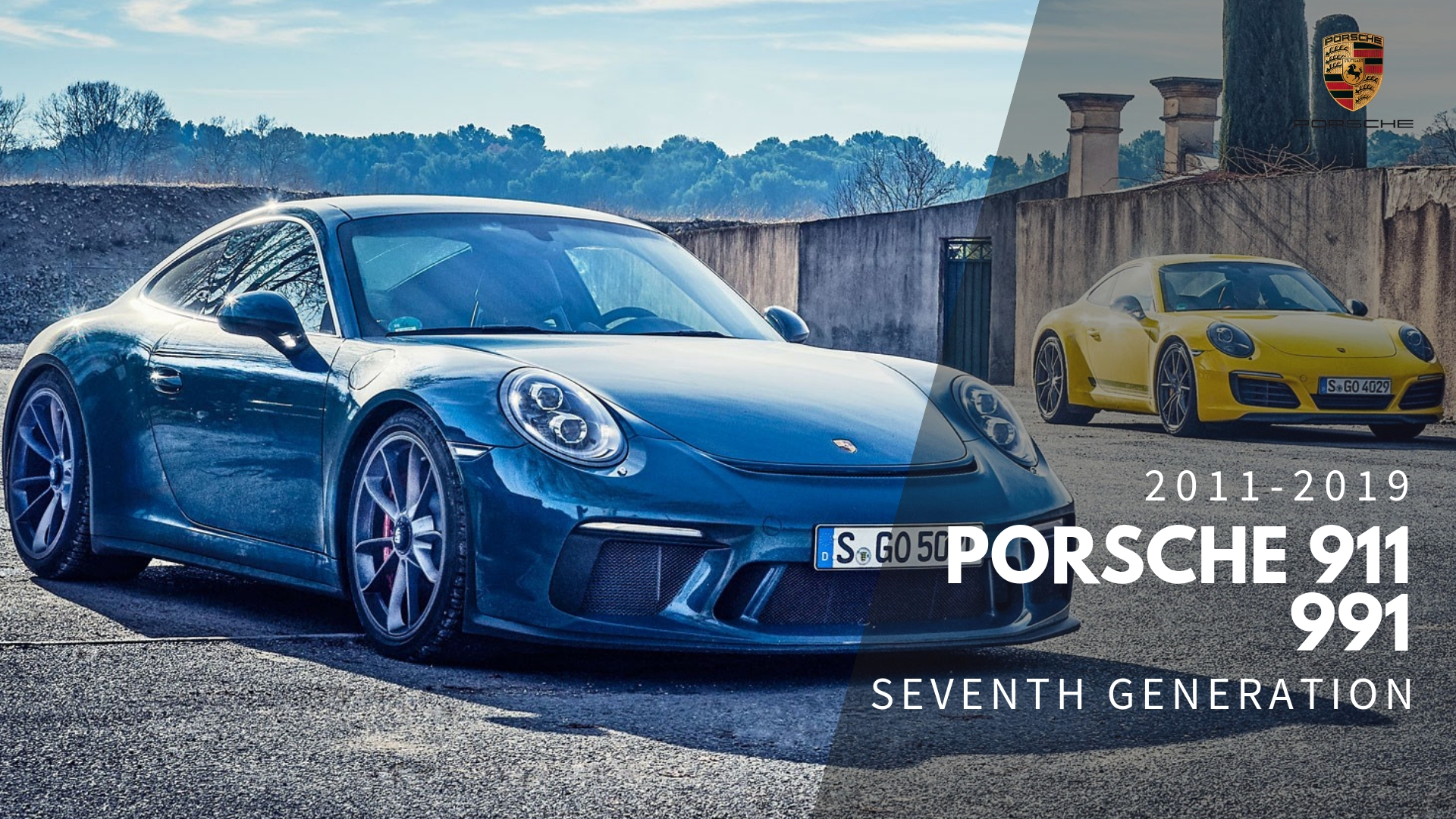 Porsche 911 – 991 Generation (2011-2019)
Model Year: 2012–2019
Units Produced: Still going
Body Styles: 2-door coupé, 2-door convertible, 2-door targa top, 2-door speedster
Engine Type: Water-cooled flat-6
Engines: Naturally Aspirated (3.4 L, 3.8 L, 4.0 L)  ; Turbo (3.0 L twin-turbo, 3.8 L twin-turbo)
Transmissions: 6-speed manual, 7-speed manual, 7-speed PDK
Wheelbase: 96.5 – 96.7 in
Length: 176.8 – 178.9 in Width: 71.2 – 74.0 in Height: 50.0 – 51.3 in
More Info: 911 991 (2011-2015), 911 991.2 (2015-2018)
Longer, sleeker, and with more powertrain and drivetrain options than ever, the 991 generation Carrera is the seventh generation in the Porsche 911s history (the third platform for the 911 since the car's inception). It was larger and more refined than the outgoing 997 as well as being lighter and more powerful. The car continued to feature the same characteristic teardrop shape for which the 911 is immediately recognizable to just about any automotive enthusiast. However, two unique design principles were followed that helped refine the character of the car. First, the arch of the roofline was reduced and re-design to taper gradually to the rear of the car.  Second, the front wings (the assembly that includes the headlight and surrounding structure) were now placed higher than the lid. The interior and technology was a big upgrade over the 997 due largely to the increased competition in the segment and competing marques with luxurious interiors.
Compared to the outgoing 997, the 991 was a slightly larger vehicle, with a wheelbase that was increased by approximately 3.9 inches (100 millimeters), and the overall height was increased by 2.8 inches (70 millimeters).
A new transaxle was developed so that the rear wheels could be moved 3 inches (76 millimeters) backward in relation to the position of the engine, which dramatically improved the car's weight distribution and cornering performance.
The 991 features a smaller, yet more powerful, 3.4-liter engine that has auto stop/start, PDK transmission and much better fuel economy. A completely new chassis with longer wheelbase, greater track width and beefier tyres to improve high-speed stability. Redesigned suspension and new rear axle for enhanced ride and handling while electric power steering took some of the feel away that we were used to. Porsche Torque Vectoring was included too which helped tracking stability. The 991 range is available with either a seven-speed manual transmission (a first for the industry) or a PDK dual-clutch unit.
The (by now) expected midlife update was meaningful in that Porsche switched from naturally aspirated engined to turbocharging for most models. Called the 991.1 series, enthusiasts initially shuddered. Porsche however delivered a cracker, with the 3.0 liter twin turbo flat six engine developed 370 horsepower in base Carrera trim. The 991 model is approaching its end in 2019 as Porsche has been testing the upcoming 992 model update.
Porsche 911 991 (2011-2015)
The completely redesigned seventh-generation sports car icon is stepping into the limelight with its sleek and stretched silhouette, exciting contours and precisely designed features. Yet from every angle it is unmistakably a 911. In engineering terms this 911 was all about Porsche Intelligent Performance: even lower fuel consumption and even more power and using a hybrid construction method (steel/aluminium), which led to a considerable reduction in weight. Therefore despite the 991 being larger than its predecessor 997, it was also lighter by 110 pounds, and more powerful.
Base models were introduced in September 2011 at the Frankfurt Motor Show. The Carrera came equipped with a 3.4- litre boxer engine with direct fuel injection, 345 bhp at 7,400 rpm and 288 lb⋅ft at 5,600 rpm. The Carrera S received a 3.8 liter engine with 395 horsepower at 7,400 rpm and 325 lb⋅ft at 5,600 rpm. The convertible model of the 991 was announced in both Carrera and Carrera S versions, at the LA Motor Show in November 2011. In September 2012 at the Paris Motor Show, all-wheel-drive variants – the Carrera 4 and 4S, were added to the line-up.
Introduced in November, 2014, at the LA Motor Show, the 991 Carrera GTS was developed as the mid-level model between the Carrera S and GT3 edition 911s. Base options included a 424 horsepower PowerKit, a Sport Chrono Package, a Sport Exhaust System, Dynamic Engine Mounts, 10mm lowered suspension, Porsche Torque Vectoring (PTM) system, LED daytime running lights with Porsche Dynamic Lighting System (PDLS), Sport Design Front Spoiler, Sport Design Rear Mirrors, GTS badging, and 20″ Centerlock wheels. When optioned with PDK, 0–60 mph is achieved consistently at 3.8 seconds with the help of Launch Control.
At the Detroit Motor Show in January 2014, Porsche introduced the Targa 4 and Targa 4S models. These new derivatives came equipped with an all-new roof technology that still incorporated the original Ttarga design, now with an all-electric cabriolet roof along with the B-pillar and the glass 'dome' at the rear.
On January 12, 2015, Porsche announced the 911 Targa GTS at the North American International Auto Show in Detroit. Similar in appearance to the existing Targa 4 and 4S models, the GTS added the 424 horsepower (316 kW) engine plus several otherwise optional features.
As expected Porsche released several special edition cars during the 991 cycle. The GT3 came first, introduced at the Geneva Motor Show in 2013. The 991 GT3 got a new 3.8 litre direct fuel injection flat-six engine developing 475 hp at 8,250 rpm and for the first time no manual gearbox, instead it had a PDK dual clutch unit as well as rear-wheel steering. Performance was awesome with the GT3 going from standstill to 60 mph in 3.1 seconds, hitting the quarter mile in 11.2 seconds and lapped Nürburgring in 7 minutes and 25 seconds. The 991.1 GT3 RS was next up in 2015 and as expected was an even more focused track day machine. Louvers above the wheels and the rear fenders now include Turbo-like intakes, rather than an intake below the rear wing and the roof was made from magnesium. The 3.8-litre unit found in the 911 GT3 was replaced with a 4.0-litre unit with 500 hp and 339 lb ft of torque. The transmission is PDK only. It was enough to help the GT3 RS do the Nürburgring in 7 minutes and 20 seconds.
Porsche finished off the 991.1 series by building the greatest 911 ever, the amazing 911 R. Think of it as a manual GT3 RS and you're pretty close. The limited edition (991 units were made) is the perfect Porsche on paper with its 500 hp 4.0-liter naturally aspirated flat-six engine, 6-speed manual transmission, exotic lightweight materials and lots of cool Porsche motorsports tech like rear-axle steering, dynamic engine mounts, PASM, PSM and Porsche Torque Vectoring all standard. Yes please.
Porsche 911 991.2 (2015-2018)
2015 marked a new milestone in Porsche's history with development of a turbocharged flat engine that gave the world's best-selling sports car a significant boost in power as well as considerably lower fuel consumption. Porsche gave the Carrera and Carrera S models these flat six turbo engines which were previously sold as normally aspirated only. There was initial pushback from enthusiasts that seems to have now dissipated.
On the outside there weren't many changes for the 991.2 range. Slightly different bumpers with larger air intakes, new rims and different rear hood vents, with the slits now being placed longitudinally and different rear lights. The interior stays pretty much the same, but it does get a new touchscreen infotainment system also compatible with Apple CarPlay. Mechanically, apart from the extra power and better fuel economy provided by the two little turbos, the 911 Carrera gets wider wheels, new shock absorbers and standard PASM active suspension.
The new 3.0-litre twin turbocharged six-cylinder flat engine developed 370 hp in the 911 Carrera and 420 hp in the 911 Carrera S, up 20 hp over the prior versus the 991.1. Torque was up a lot more and that is where the new turbo engine was a real hit, transforming the 911 from a "rev to the sky to get performance" machine to a "just put your foot down in any gear" affair. You can decide if that is better or worse depending on what you enjoy I guess. Other improvements in the 991.2 range included not just more power, but updated Porsche Active Suspension Management (PASM) chassis and optional rear axle steering improved the best time of the 911 on the Nürburgring-Nordschleife to 7.30 minutes. Ten seconds faster than its predecessor and with an even greater lead over the competition.
All the same models from the 991.1 series were still available (24+ models) with the addition of an entirely new variant called the Carrera T. This is a first-order driver's car, a basic 911 equipped with purposefully selected, road-annihilating hardware. The point of the T (for Touring) is to be a spartan model equipped with only the necessities that a dedicated driver might want. It has the same 370hp as the base 911 mated to the (good) seven-speed manual transaxle. Add shorter gearing and a limited-slip differential and this is a tasty package.  The Carrera T also gets two-mode PASM sport suspension and a custom Sport Chrono package. There are other weight saving measures that add up to 44 pounds in less weight than a standard Carrera. Shorter gears, LSD, thinner glass, no rear seats plus a preselected mix of the base 911's best hardware, now that's our kind of 911.
In terms of special models, they all got some tasty upgrades, but the move to turbocharging for the broader range makes them seem less special on paper (clearly paper lies). For example, with the PDK and the launch control system activated, the 2018 Porsche 911 GT3 gets to 62mph in 3.4 seconds. With the manual gearbox, a similar sprint takes 3.9 seconds. That makes the GT3 barely faster than the 911 GTS which is a better daily driver and a 580-hp 911 Turbo S is an entire second faster to 60 so why would you choose the GT3 over these models. It's easy. It is how it drives and how it makes you feel. The good news is that the GT3 and GT3 RS both are still the best handling I've ever experienced. Fast, loud, firm, surgically precise and no body roll, these cars deliver full sensory overload at slow speeds around town and an almost religious experience at speed on track. There is nothing better. Well, maybe there is because in the 991.2 Porsche decided to bring back the manual gearbox in the GT3. Called the Touring and it is the exec's GT3. There's the deletion of the regular GT3's fixed wing replaced with a classic pop-up rear deck, albeit embellished with a 'GT3 Touring' badge and a unique lip spoiler on the trailing edge. It only comes with a six-speed manual and inside the trim is kept classic – all-leather and cloth, no Alcantara. Other than that, it's as per the GT3, with all the same options (ceramic brakes, nose lift, LED headlights, Chrono Package, audio upgrades), which is great news. A subtle-looking GT3, maybe I need to rethink the earlier daily driver comment.
Let's also talk about the GT2 RS. It is still mental. The 991.2 GT2 RS is powered by a 3.8 L twin-turbocharged flat-6 engine that produces a maximum power of 700 PS (515 kW; 690 hp) at 7,000 rpm and 750 N⋅m (550 lb⋅ft) of torque, making it the most powerful 911 ever built. Unlike the previous GT2 versions, this car is fitted with a 7-speed PDK transmission to handle the excessive torque produced from the engine. Porsche claims that this car will accelerate from 0 to 60 mph in 2.7 seconds, and has a top speed of 340 km/h (210 mph). It is by far the most expensive and extreme 911 available and is really only useful on track.
Finally, it seems the 991.2 will end its run with the limited edition Porsche 911 Speedster. The concept cars' body is based on the 911 Carrera 4 Cabriolet, with front and rear bonnet are made from lightweight carbon fibre composite while the chassis was taken from the 911 GT3. Couple a naturally-aspirated flat-six engine developing more than 500 hp and a manual gearbox in that classic speedster design and I'm sure all 1,948 units of the open-top two-seater will be sold pretty quickly.
Notable Porsche 991 Models
Porsche 991 Variants
Carrera Coupe & Cabriolet
Carrera T
Carrera 4 Coupe & 4 Cabriolet
Carrera 4S Coupe & 4S Cabriolet
Carrera GTS Coupe & GTS Cabriolet
Carrera S Coupe & S Cabriolet
GT2 Coupe
GT2 RS Coupe
GT3 Coupe
GT3 RS Coupe
Targa 4 & Targa 4S & Targa 4 GTS
Turbo Coupe & Turbo Cabriolet
Turbo S Coupe & S Cabriolet
Speedster
---

Porsche 911 – 992 Generation (2019 – Present)
Model Year: 2019 –
Units Produced: Ongoing
Body Styles: 2-door Coupé, 2-door Cabriolet, 2-door Targa
Engine Type: Water-cooled Flat-6
Engines: Twin-turbocharged (3.0L, 3.7L)
Transmissions: 7-speed manual, 8-speed PDK
Wheelbase: 96.5"
Length: 177.9"  – 178.6" ; Width: 72.9" – 74.9" ; Height: 51.1" – 51.3"
The 992 generation of Porsche 911 carries forward the use of twin-turbocharged engines throughout the entire Carrera range, which was a practice first introduced in the outgoing 991.2 generation of cars. Nevertheless, the Turbo models continue to differentiate themselves from the other variants by having the most powerful (3.7L) engines, and come exclusively with all-wheel drive.
This will make the 992 the first complete generation in the German automaker's history to exclusively use forced induction power plants; although, all signs do currently point towards the upcoming 992-gen GT3 and GT3 RS remaining naturally-aspirated, which would be the exception while not breaking tradition with any previous iterations of those models.
In continuing with the always notable evolution of the 911, the 992 provides yet another significant shift from the generation preceding it. The ubiquitous use of twin-turbocharged engines is just one of many material changes at play, with distinguishable developments in the car's design language, drivetrain and chassis, all forming part of the transformation.
Compared to the twin-turbocharged 991.2-gen models, the 992 sees improvements in power and efficiency across the entire model range. This is achieved through the use of a larger intercooler and improved airflow into and out of the engine. Using the 992 Carrera S as a baseline, this equates to a 30 hp gain over the previous generation's model.
The ever-present PDK dual-clutch transmission remains fundamentally unchanged, but is now an 8-speed instead of a 7-speed. Referred to as "PDK 2", it is shared with the new Panamera and also differs via the use of a four-shaft design instead of two-shaft design used in previous iterations. This new design was fashioned to save space, above all else, and doesn't offer any notable improvements in performance or efficiency.  The 7-speed manual transmission is carried over from the 991-gen.
Another distinction of the 992 cars is that all models now share the same wide bodywork architecture, which was previously reserved only for all-wheel-drive models (and GTS models) from the past. This means that all 911 models now have the voluptuous "wide body" frame in the rear; it is no longer a distinguishing feature, regardless of trim or drivetrain. All 992 cars come with a 1.6" wider track in front as well, to accommodate the overall change.
For the first time, the Porsche 911 now features an advanced "wet driving mode" as standard. Sensors are able to determine how wet the contact patch is based on the amount of "spray", and stability-control kicks in with a higher degree of sensitivity when certain parameters are met. This occurs regardless of what driving mode is currently selected, but there is also a dedicated "Wet Mode" which can be selected to provide settings tailored even more specifically to such conditions.
Inside the cabin, the traditional five-dial instrument cluster remains a fixture but is more digitized than ever before. Only the central tachometer stays analog, and is flanked on each side by LCD screens which can be customized to display a wide array of information pertaining to navigation, performance, infotainment, driver aids and more. Night-vision assistance and a 360-degree parking camera, are also optional features to debut for the new 911.
As we are just 2 years into the 992 lifecycle, new models continue to be released periodically. Most of the models soon or yet to be released are both expected and familiar, with such variants as the GTS, GT3, GT3 RS and GT2 RS a formality at this point. It will be interesting to see what kinds of exclusive models we will get during the 992-gen, or if we might even see some brand new trims.
Notable Porsche 992 Models
Note, we will continue to update this section as new models get released:
Carrera
Carrera Cabriolet
Carrera 4
Carrera 4 Cabriolet
Carrera S
Carrera S Cabriolet
Carrera 4S
Carrera 4S Cabriolet
Targa 4
Targa 4S
Targa 4S Heritage Design Edition
Turbo
Turbo Cabriolet
Turbo S
Turbo S Cabriolet
992 Variants
Below is what we expect Porsche will announce over the life of the 992. Some are already released and others are coming. We have marked the models that are already selling.
Carrera Coupe & Cabriolet (released)
Carrera T (expected soon)
Carrera 4 Coupe & 4 Cabriolet (released)
Carrera 4S Coupe & 4S Cabriolet (released)
Carrera GTS Coupe & GTS Cabriolet (expected soon)
Carrera S Coupe & S Cabriolet
GT2 Coupe (expected soon)
GT2 RS Coupe (expected soon)
GT3 (expected soon)
GT3 RS Coupe (expected soon)
Targa 4 & Targa 4S (released)
Targa 4 GTS (expected soon)
Turbo Coupe & Turbo Cabriolet (released)
Turbo S Coupe & S Cabriolet (released)
For a list of the current 911 lineup, please see our current Porsche lineup guide.
---
How To Tell Porsche 911 Generations Apart
We started to write about the evolution of the Porsche 911 and realized sometimes a picture is worth a thousand words. We are putting together a Porsche 911 through the years image that compares all the generations and traces the iconic Porsche 911's lineage through the ages. Stay tuned.