Prices for pre-owned Porsche Carrera GT has risen in the last few years and this was again seen in the recently concluded auction of a 2004 Porsche Carrera GT which was previously owned by comedian Jerry Seinfeld.
Aside from having been previously owned by a famous owner, there are also a lot of other desirable traits of this specific GT. It has a low-mileage, has only had two owners so far, relative rarity, and a clean Carfax report.
The Carrera GT concept car made its debut at the 2000 Paris Motor Show as a spin-off of the 1990s LMP2000 development prototype that was never produced. It would take three years, back in 2003 before the GT was entered in production. ATR Group in Italy gave it a carbon-fiber reinforced plastic monocoque and a subframe.
For the example, the carbon-fiber body panels are given a black (L041) finish with the removable roof panels given a matching finish. Aerodynamic features of the example include a rear diffuser, undertray, and an actuated rear spoiler than can be deployed both electronically and manually.
Forged magnesium wheels are fitted on the example and it measures 19×9.5 inches in the front and 20×12.5 at the rear, secured by center-lock nuts which are color-coded in reference to the thread direction. It is wrapped in 265/35 front and 335/30 rear Michelin Pilot Super Sport tires. They mounted pushrod-activated coilover struts all around with cross-drilled 15-inch ceramic composite brake rotors and yellow six piston monobloc aluminum calipers are placed at each corner. In September 2020n Cantrell Motorsports of Bellevue, Washington did a brake fluid flush on the example.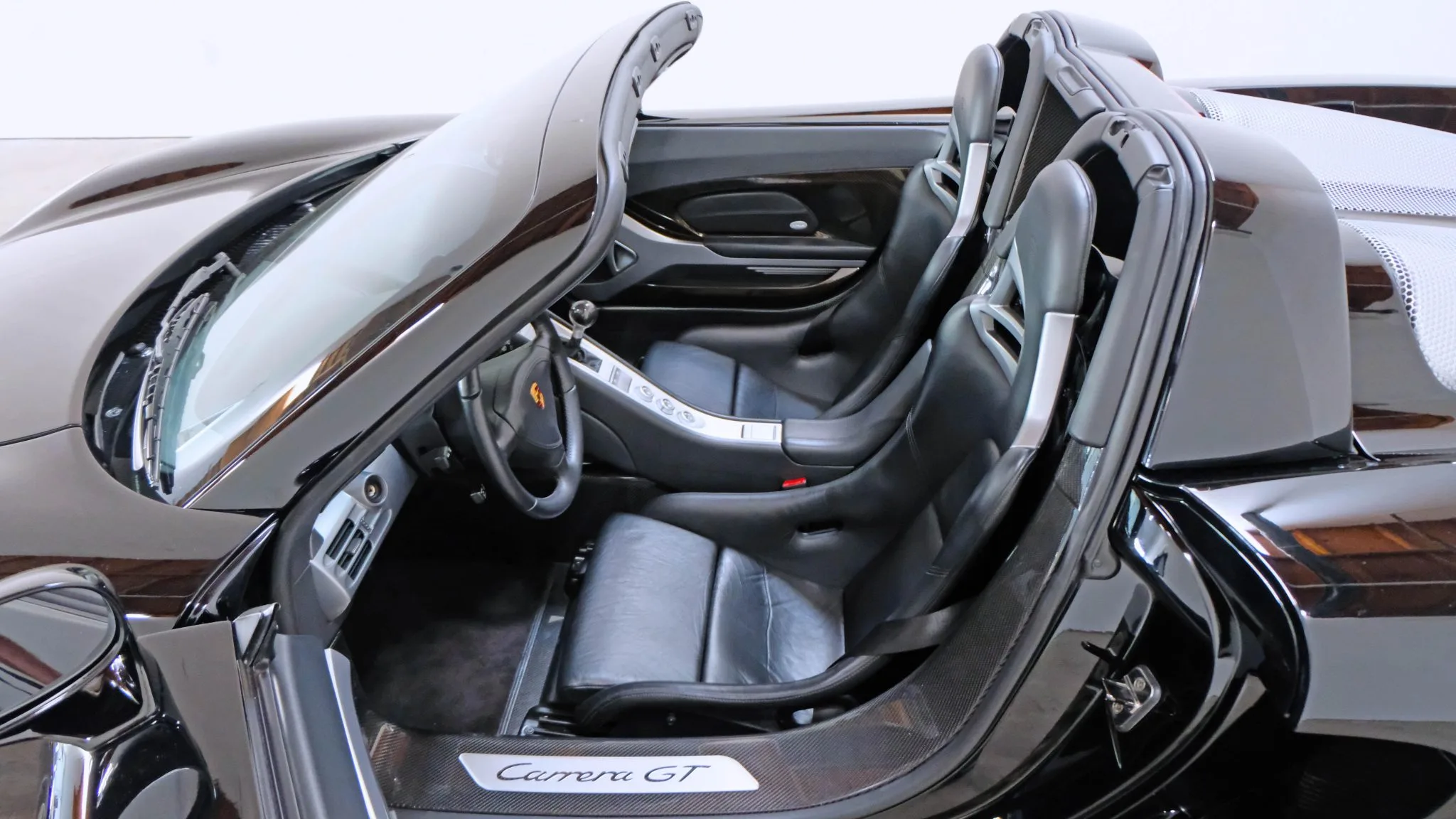 For the interior, installed are racing-style XT seats with carbon-fiber and Kevlar shells trimmed in dark gray leather upholstery that matches the leather upholstery on the door panels as well. Throughout the interior, magnesium, aluminum, and carbon-fiber trim can be seen.
Additional features include one-touch power windows, powered and heated side mirrors, air conditioning, Porsche Online Pro CD Stereo, and a stick shift with a carbon-fiber knob.
The steering wheel is wrapped in leather and frames a central tachometer with an 8,400-rpm redline, a speedometer that shows 235-mph, and auxiliary gauges. The best part is that the digital odometer shows only 3,700 miles with roughly 300 miles added by the current consigner.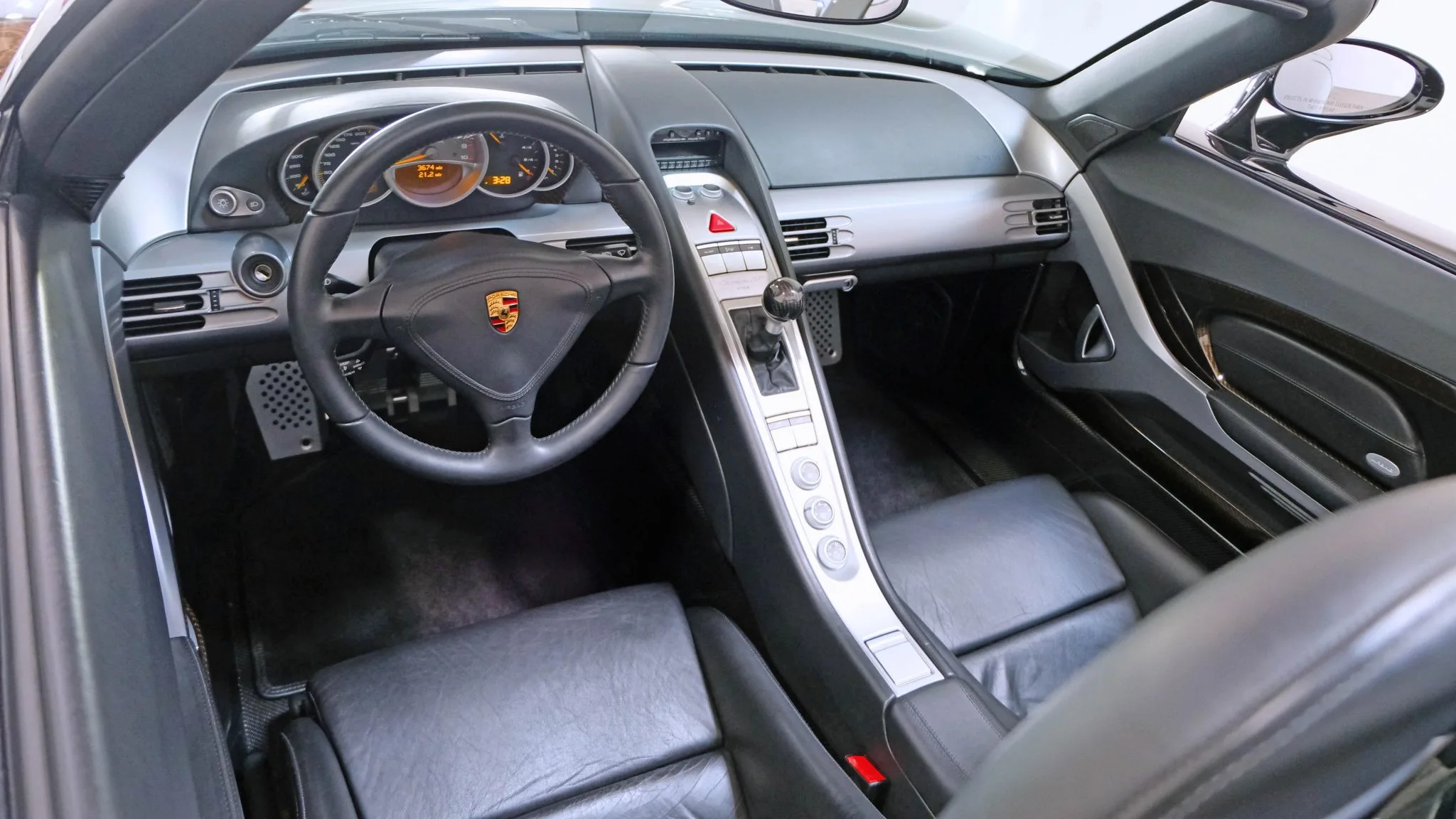 Powering the GT is a mid-mounted 5.7-liter V10 engine matched with a six-speed manual transaxle and limited-slip differential that sends power to the rear wheels. The engine is liquid-cooled and features dual overhead camshafts on each cylinder bank, dry-sump lubrication, titanium connecting rods, and Bosch Motronic ME7 engine management. It was factory rated to produce 605 horsepower at 8,000 rpm and 435 lb-ft of torque at 5,750 rpm. In September 2020, the engine and transaxle were removed to replace the rear main seal and clutch release module. They also performed an oil change at the time.
The lucky bidder got the 2004 Porsche Carrera GT for an impressive $1,865,000, it may not have broken any new auction records, but it is an impressive sale price, nonetheless.
For those interested in some notable Porsches that are currently on offer there is a 1955 Porsche 356 1500S Speedster and a low-mileage 2014 Porsche 911 Carrera Coupe 7-Speed that is currently on offer.