There are two interesting Porsches on offer at Bring a Trailer today: a 1955 Porsche 356 1500S Speedster coming from a long-term ownership and a 1990 Porsche 911 Carrera 4 Targa 5-Speed that has only had one owner since new.
1955 Porsche 356 1500S Speedster
Delivered new to the US through the Hoffman Motor Car Company of New York, this 1955 Porsche 356 1500S was disassembled under previous ownership. In 1996, it was acquired by the current owner. Refurbishment on the example began in 2011 in Massachusetts and was eventually continued in Arizona, although it was reassembled and completed in California.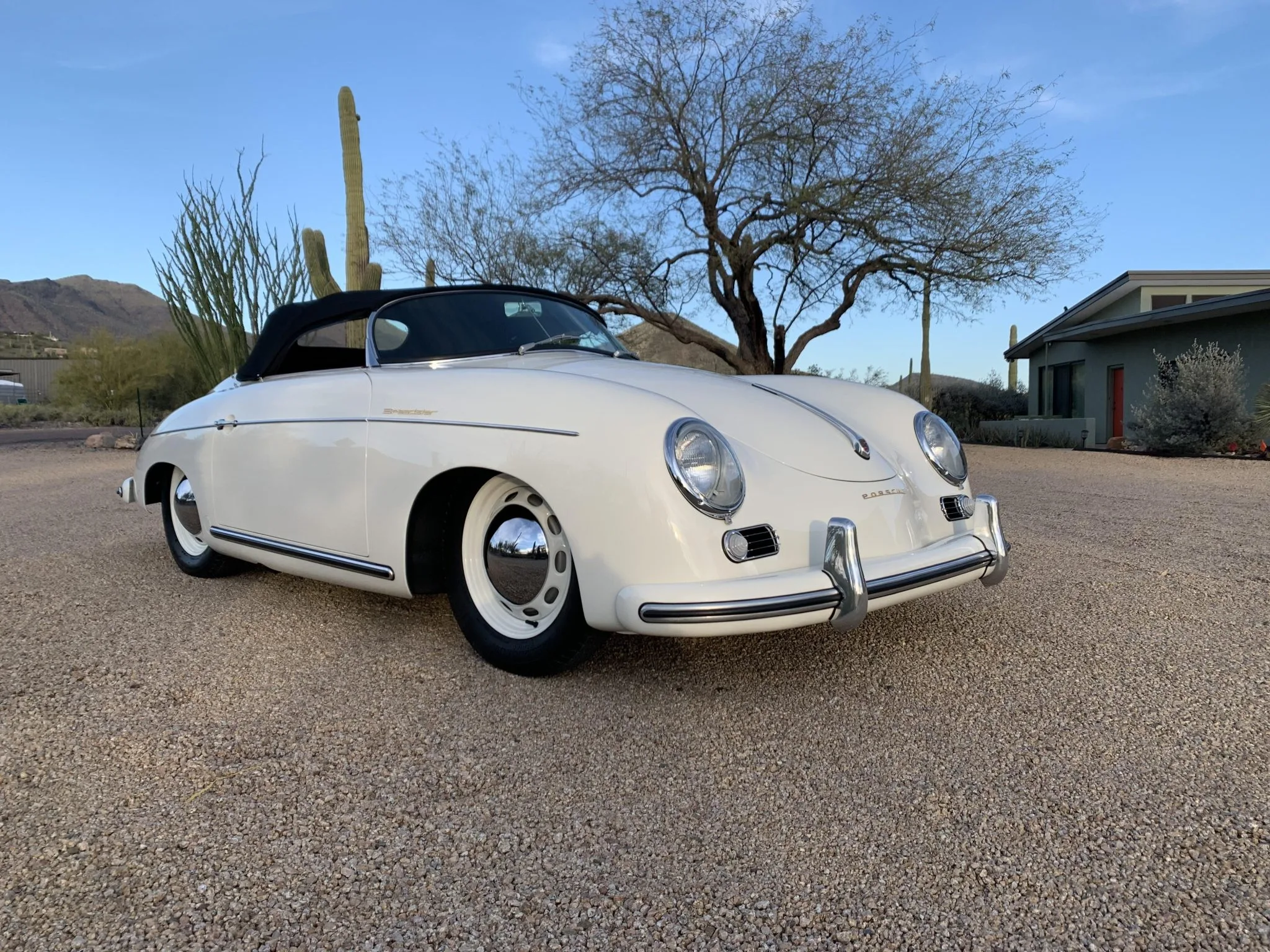 The project worked on rebuilding the replacement 1.5-liter Super flat-four and four-speed manual transaxle. They stripped the Reutter body and did some metalwork on it before they repainted using its original shade of White by Deluxe Customs of Tempe, Arizona. Victor Miles did the refurbishment of the windshield chrome and other brightwork. Bob Heintz in Santa Barbara, California work on the reassembly.
They replaced both doors as well as the black soft top with matching side curtains and a tonneau cover. Exterior features of the 356 include gold badging, body-colored bumpers with polished overriders, sealed-beam headlights under clear covers, blunt-nose hood handle, and quadruple beehive taillights with CuLayer super-bright bulbs.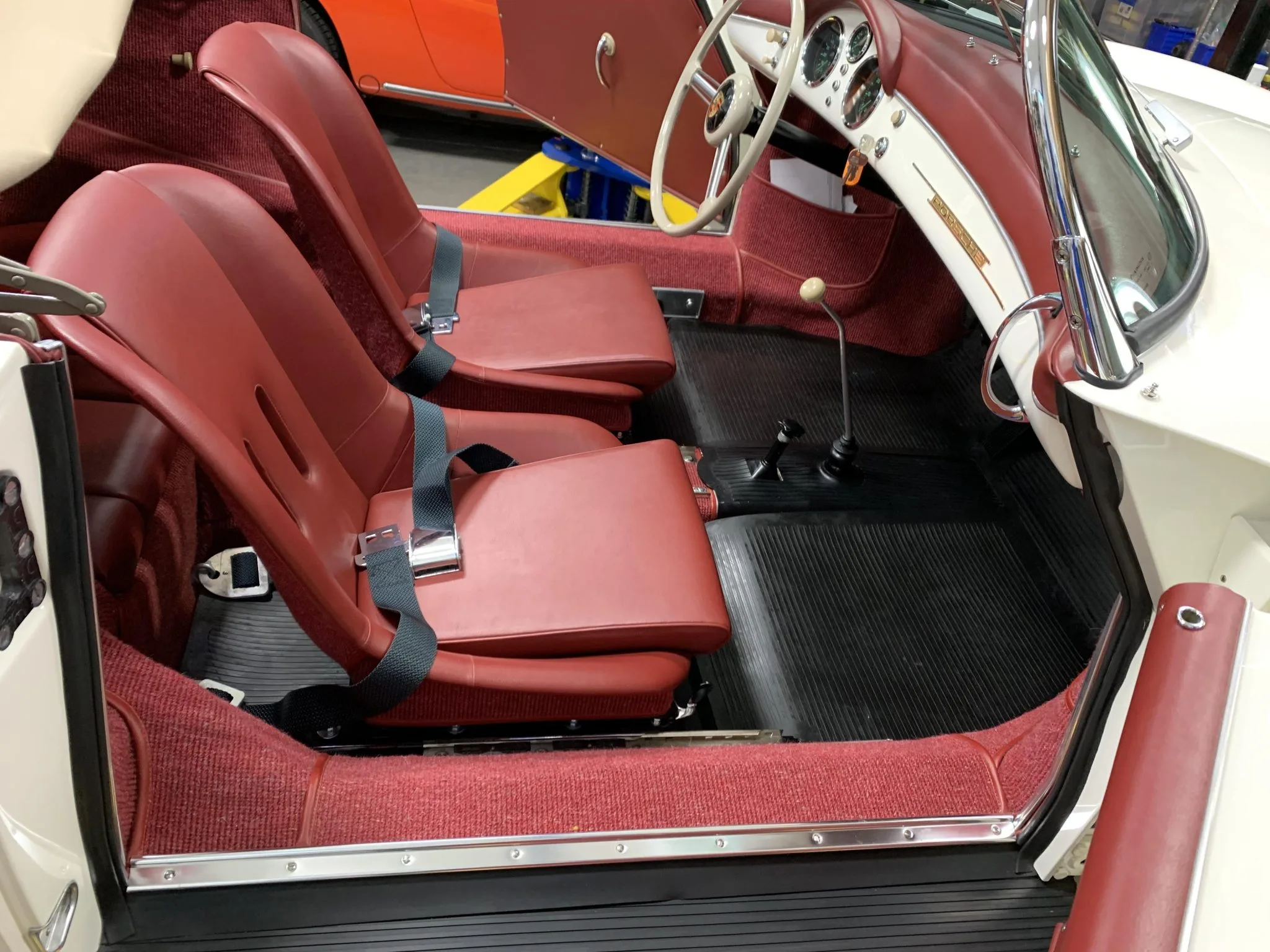 The 16-inch wide-five steel wheels have the same color as the body and have chrome baby moon hubcaps wrapped in 5.00R16 Excelsior Stahl Sport Radial tires. It has four Koni shocks and four-wheel drum brakes that Martin Willis of The Machine Shop in Colorado Springs refurbished. Modification for 1.5 degrees of negative camber was done on the front suspension C-links and the brakes were also adjusted in preparation of the sale.
Autobahn Interiors of San Diego, California reupholstered the fixed-back bucket seats wrapping it in red leatherette. Matching upholstery trims can be seen on the rear cushion, door panels, and dashboard. They also installed replacement red square-weave carpets over the seatbacks, sills, and floors which were protected by black rubber mats.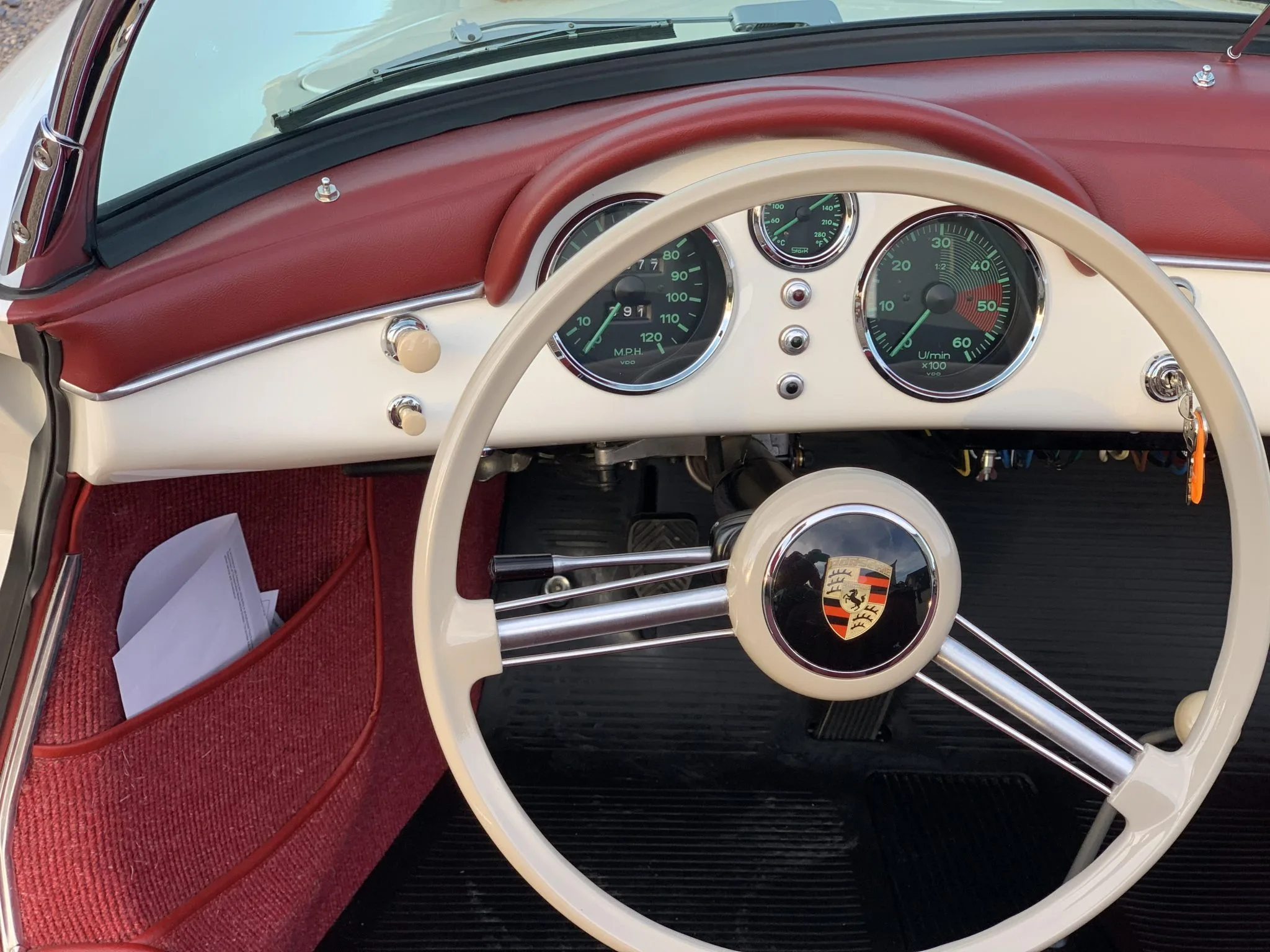 Exterior matching steering wheel frames the dashboard that shows a green-letter VDO 6k-rpm tachometer, a 120-mph speedometer, and a as well as an oil temperature gauge. North Hollywood Speedometer rebuilt the instrumentation. Unfortunately, the five-digit mechanical odometer was also reset at the time. It is unknown what the real chassis mileage is.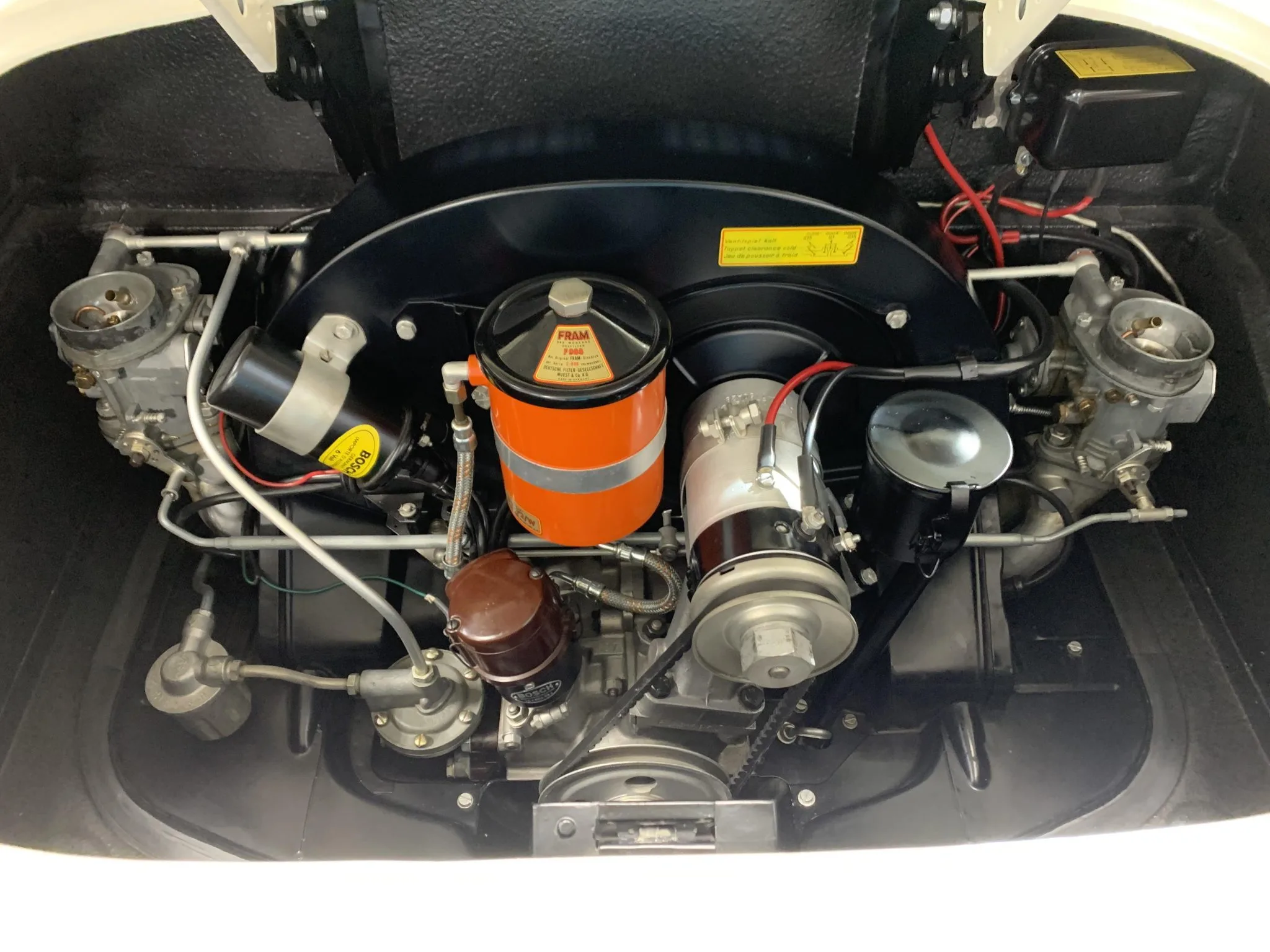 Import Auto and Machine Shop in Santa Barbara, California did the refurbishment on the replacement 1.5-liter Super Type 528/2 flat-four and it features Shasta 83mm pistons and cylinders and a Neutek ZH-q camshaft. In preparation for the sale, the oil was changed and the valves were adjusted.
As of writing, the 1955 Porsche 356 1500S Speedster has a bid of $200,000 with the auction ending on April 10, 2022.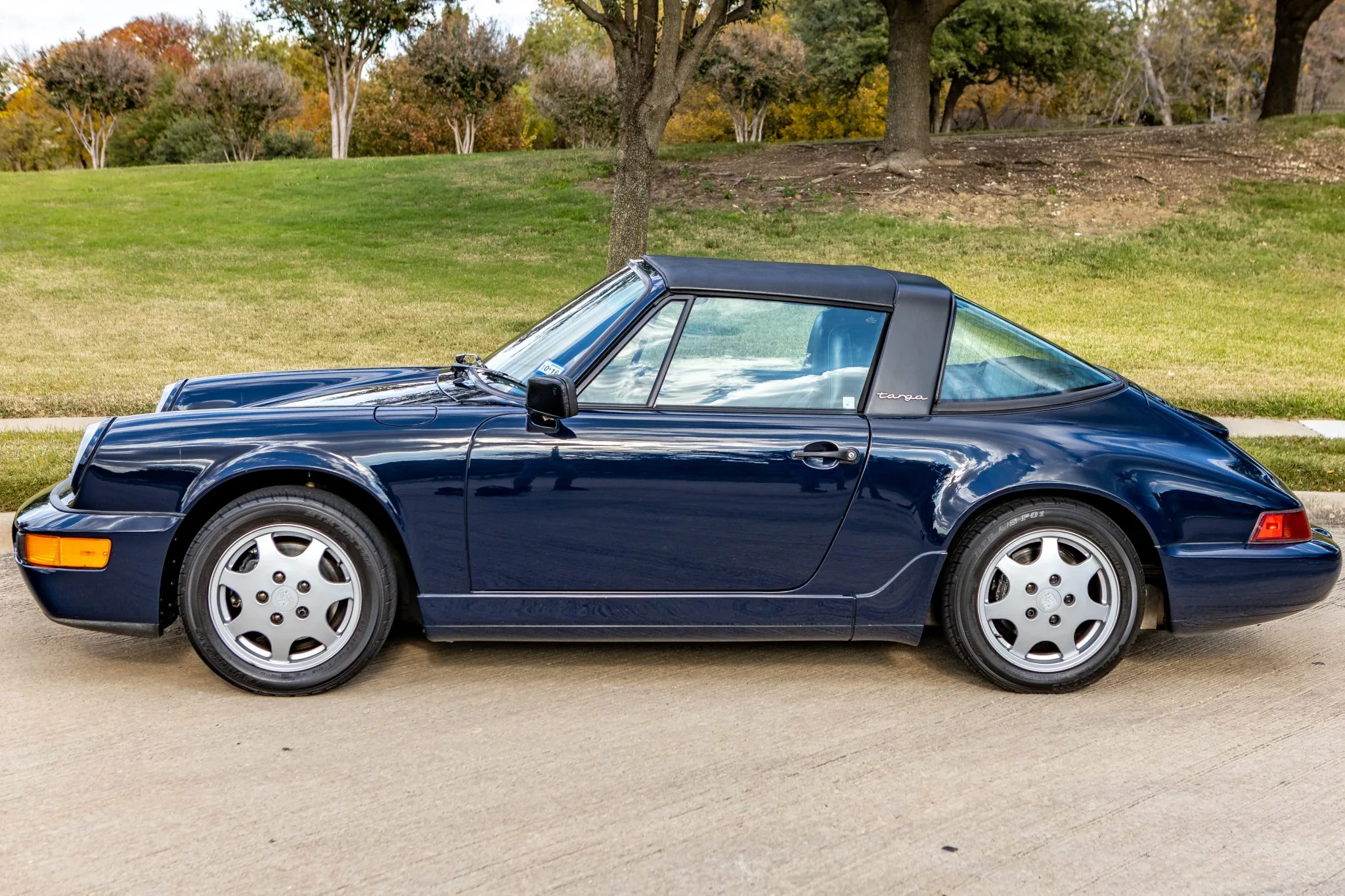 1990 Porsche 911 Carrera 4 Targa 5-Speed
This is an extremely rare chance to own a 1990 Porsche 911 Carrera 4 Targa that has only had one owner from new. The consigner purchased it new from Town North Porsche of Richardson, Texas.
It is reported one of only 158 Targas that were produced for the model year. The example was given a Dunkelblau (K5V9) finish and has a black Targa bar, removable roof panel, a rear spoiler that automatically deploys, and front fog lamps.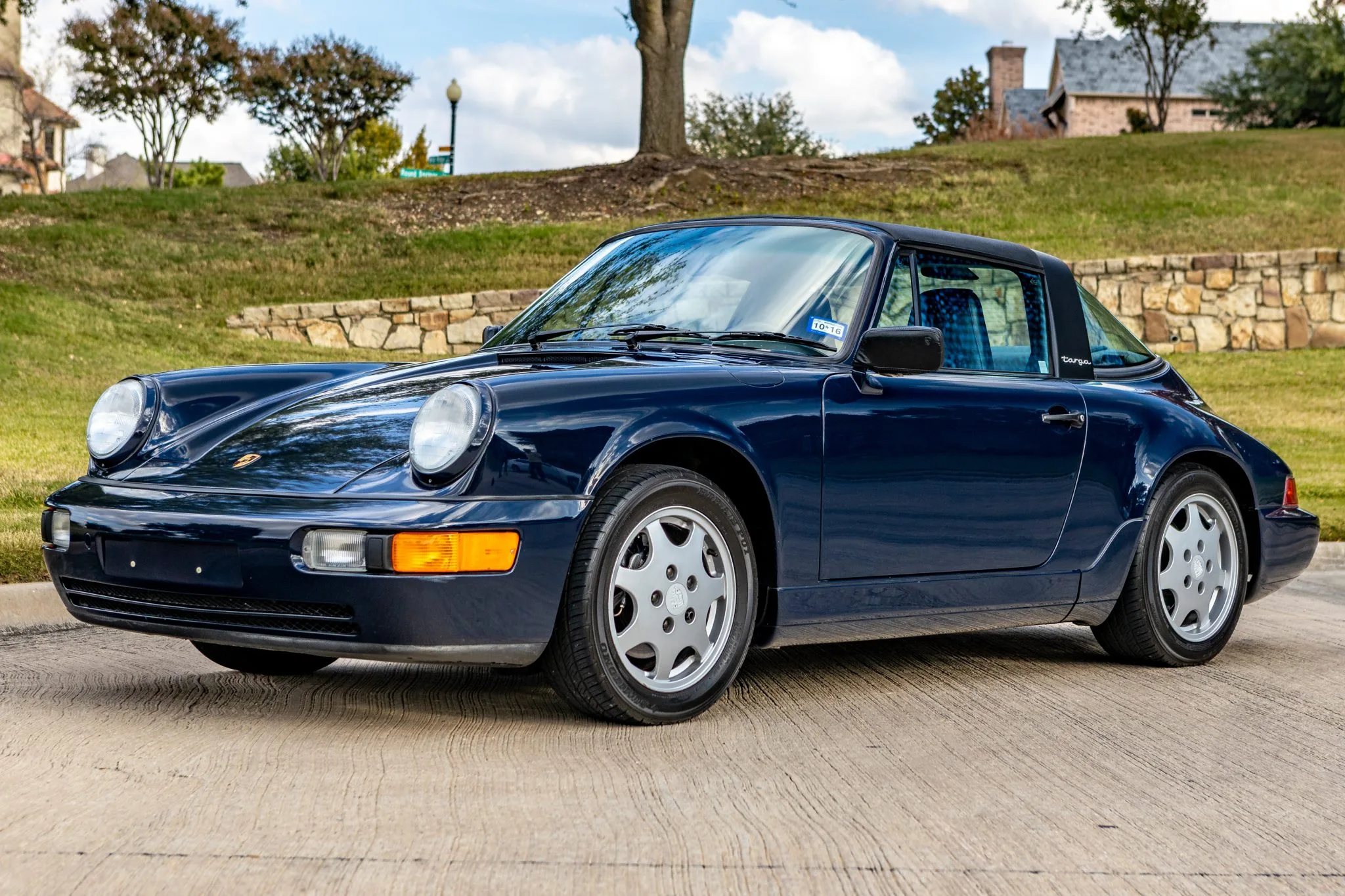 In 2006, bodywork was performed on the example to repair rear-end damage with another vehicle.
The example has silver 16-inch Design 90 alloy wheels that have the Porsche crest center caps and are wrapped in 205/55 front and 2325/50 rear Sumitomo HTR A/S P01 tires. Four-wheel anti-lock disc brakes provides the stopping power for the example with Porsche-branded calipers. There is a noted curb rash on each of the wheels.
For the interior, it has power-adjustable front seats wrapped in Marine Blue (SX) leather that matches with the dashboard, carpeting, and door panels. Comfort features of the example include power windows, air conditioning, and a Porsche Classic Communications Management stereo head unit with navigation display.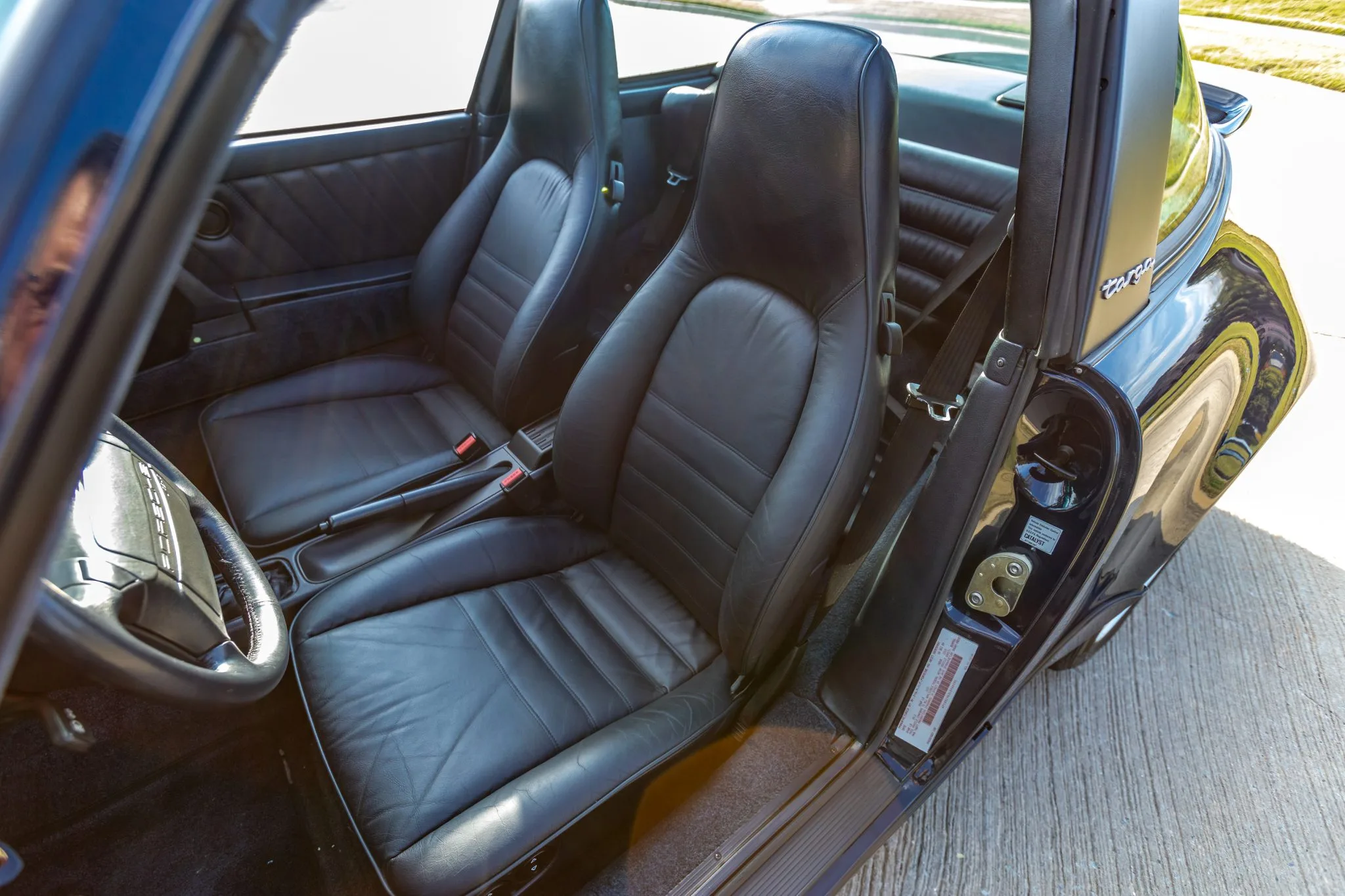 A four-spoke steering wheel is wrapped in leather framing the VDO instrumentation that shows the central tachometer with a 6,800 rpm redline, a 180 mph speedometer, analog clock, as well as auxiliary gauges for oil level, fuel level, oil temperature, and oil pressure.
In 2021, Porsche of Dallas repaired the speedometer, and the six-digit mechanical odometer shows that it has been driven for less than 30k miles.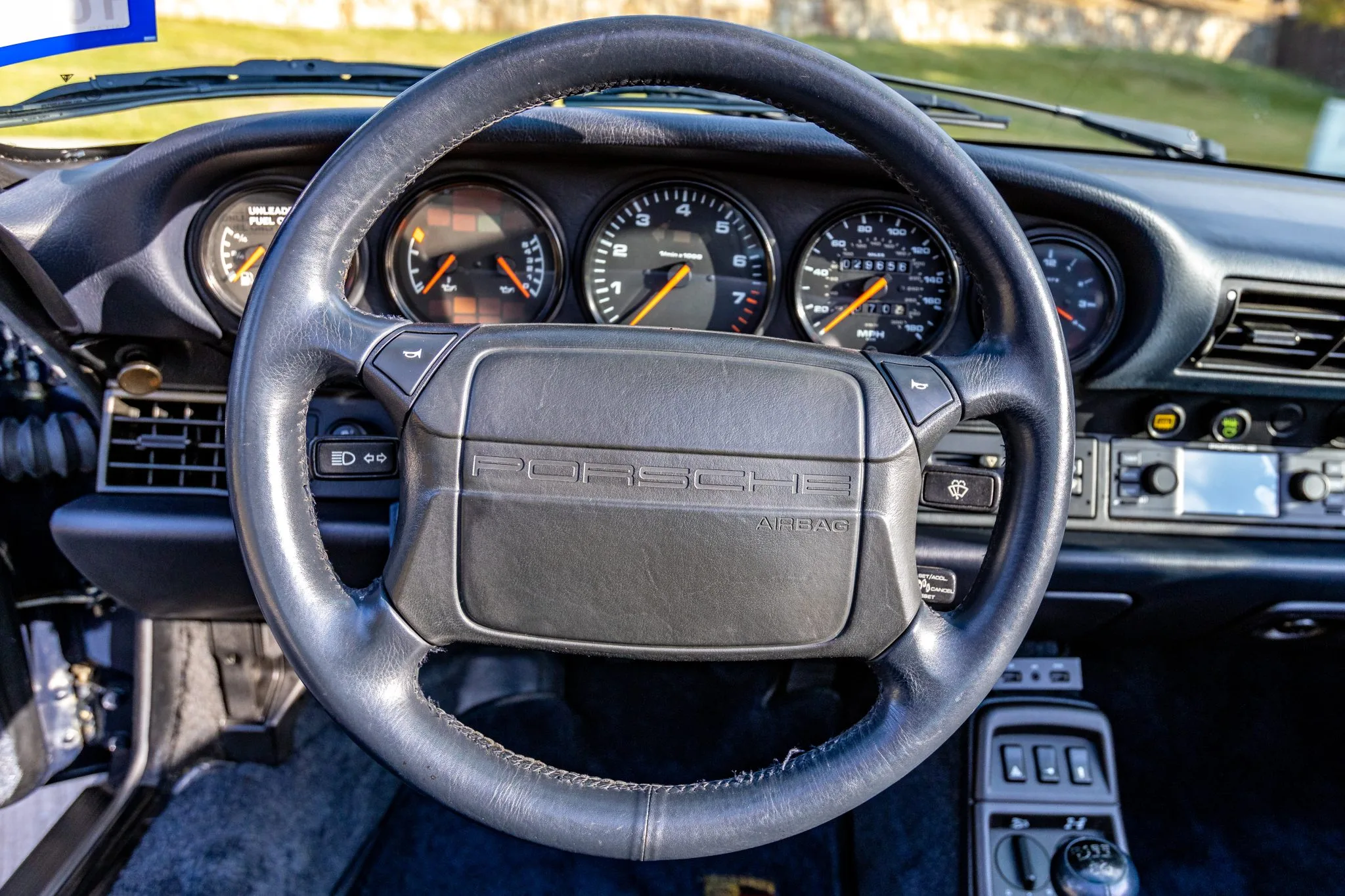 Under the hood is an air-cooled 3.6-liter flat-six with twin-plug ignition and was factory rated at 247 hp and 228 lb-ft of torque. In 2021, Porsche of Dallas performed an overhaul on the example as well as refurbishment of the cylinders and cylinder heads. A five-speed manual transaxle and all-wheel drive system sends power to the rear wheels.
No other damage was seen on the Carfax report.
As of writing, the single owner 1990 Porsche 911 Carrera 4 Targa 5-Speed have a bid of $99,964 with the auction ending on April 5, 2022.