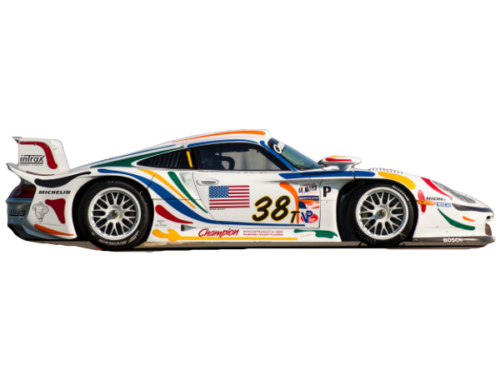 1997 Porsche 911 GT1 Evolution – Ultimate Guide
After a promising season in 1996, Porsche updated their GT1 contender to Evolution specification. This included redesign bodywork, a new front suspension and a six-speed sequential transmission half way through the season.
The sport's governing body, the FIA, had taken an interest in the action-packed series and for 1997 the FIA GT Championship was introduced. This had even more manufacturers interested and quickly Mercedes-Benz announced their intention to enter the championship with a V12 racer. Another problem for Porsche was the FIA's announcement to restrict Turbocharged engines, leaving the Germans to compete with 50 to 60 bhp less.
To counter the new competition and rules, an EVO version of the GT1 car was developed. Now mimicking the new 996 style, the EVO's body was more aerodynamically advanced. Other changes including a considerable track increase required Porsche to build another batch of homologation specials.
The changes didn't prove sufficient for the 996 GT1 to be competitive in the new FIA GT Championship against the Naturally Aspirated competition. Le Mans was a different story and without the FIA's air restrictors Porsche was again at the top of its game. Shortly into the race both Works cars were leading the pack, but in very un-Porsche like fashion neither car managed to make it to the finish. The company's honor was saved by Joest's TWR WSC95. With nothing but purpose built racers taking part, the homologation requirements of the GT1 had become a bit of a joke.
For 1998, the rules were drastically changed and road car requirements were all but scratched. At Le Mans the second generation GT1 cars were labeled for what they really were; prototypes. Porsche jumped at the opportunity and the engineers threw all caution to the wind; they set out to develop the car that the first GT1 should have been. Lower and longer than its two predecessors, the 1998 evolution featured Porsche's very first full carbon fibre monocoque chassis.