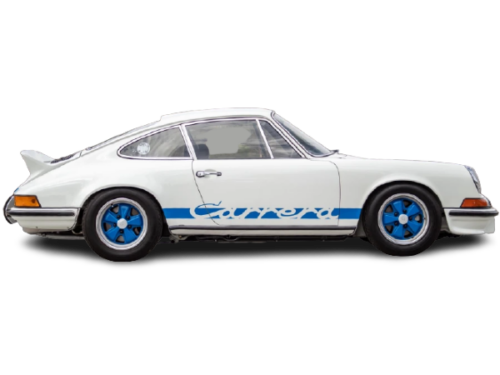 1973 Porsche 911 Carrera RS 2.7 Touring – Ultimate Guide
2.7 RS Touring (M472)
Revealed at the 1972 Paris Auto Show, the Carrera 2.7 RS was a special model used to homologate the 911 in Group 4 racing. Developed from the 911S, the 2.7 was more potent in almost every area. Compared to the standard Carrera, the 2.7 RS featured a larger engine, wider flares to accommodate the Fuchs alloy wheels, stiffened suspension, larger brakes and a ducktail rear spoiler.
With the use of a Nikasil coating on the cylinder walls, the 2.4 unit could be bored out to a capacity of 2687 cc, but the standard valve train was retained. At the time, this became the largest engine available on a Porsche and was good for 210bhp at 6300rpm. And with a taller 4th and 5th gear, the top speed was increased to 152mph.
There were four variants of the Carrera 2.7 RS. The Lightweight (conversion M471) was considered too raw for many, and with the Porsche marketing department scared they could not sell such an extremely sparse car, Porsche also decided to offer the RS Touring (conversion M472). The Touring offered 2.4 S-style comfort in the same lightweight body, with normal door furniture, carpets, dials, switches and back seats. It is a more friendly road car
The Touring model is 75kg heavier than a Lightweight as a result of this added equipment. It is all additional weight contributed by the sport seats, sunroof, and power windows. But it is the RS most buyers opted for due that comfortable interior and optional 7 and 8X15 inch Fuchs wheels.
In terms of driving, the Touring is similar, but just a bit more civilized and refined. The RS Touring ride is slightly softer and thus more comfortable. Creature comforts such as more comfortable seats, power windows, proper door handles, a sunroof, and a passenger-side sun visor all add up to it being more livable daily. The additional undercoating also makes the Touring easier on the ears as well.
Videos
Pictures