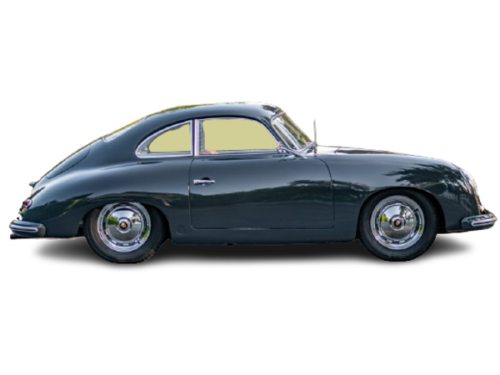 1954 – 1955 Porsche 356/1300 Super "Pre-A" – The Ultimate Guide
Only modest changes were made in October 1953 (for the 1954 model year). The original clap hands wiper arrangement was switched to a parallel action and washer jets were introduced.
A 1.3-litre roller-bearing engine was also released. Displacement of this new Type 589 unit was 1290cc (4cc up on the plain-bearing 1.3). This was achieved by reducing the bore from 80mm to 74.5mm and increasing stoke from 64mm to 74mm (to match the 1.5). The compression ratio was increased to 8.2:1. Peak output was 60 bhp at 5500rpm and 65 ft lbs at 3600 rpm.
The 360 1300 Super boasts a power improvement to 60 BHP with Porsche's "Super" engine in the Porsche 356 model range. Minor visual differences were implemented such as front indicators integrated with the horn grilles and bumpers protrude from the body with over-riders.
More changes were on the way in April 1954. Buyers were given the choice of ivory, beige or grey for the steering wheel, switchgear and window winders. A sunroof option also became available. The heater controls were moved from the dashboard to the floor and a fuel gauge was introduced. Distinctive new horn grilles were added inboard of the front indicators.
In June 1954, the plain-bearing 1300cc engine switched over to the same block as the 4cc larger roller-bearing variant. The new motor was given type number 506/1 (the original was Type 506). Output, compression and carburetors remained unchanged.
For the 1955 model year, the 1300 Super benefited from a new three-piece aluminium-alloy crankcase to replace Volkswagen's original two-piece magnesium component. Oil capacity was increased from 3.5 to 4.5-litres and engine's were given new type numbers. The Type 589 in the roller-bearing engined 1300 Super became the Type 589/2.