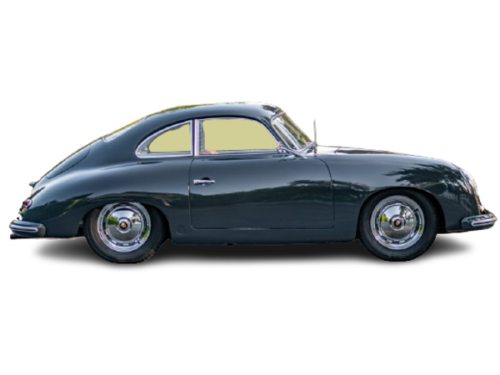 1954 – 1955 Porsche 356/1300 Super "Pre-A" – The Ultimate Guide
The 1954 model got small changes including a new windscreen wiper unit (Porsche never rests).
A new 1.3-litre engine was also released to boost performance, now with roller bearings. Known as the Type 589 (1290cc), the changes were more than skin-deep. Bore was actually smaller, down from 80mm to 74.5mm, while stroke was increased 64mm to 74mm. Compression ratio was up slightly to 8.2:1.
The 360 1300 Super boasts a power improvement to 60 BHP with Porsche's "Super" engine in the Porsche 356 model range. Peak output was 60 bhp at 5,500rpm and 65 ft lbs at 3600 rpm. Minor visual differences were implemented such as front indicators integrated with the horn grilles and bumpers protrude from the body with over-riders.
In April 1954 a sunroof option became available. In June 1954, the plain-bearing 1300cc engine switched over to the same block as the larger roller-bearing variant. The new motor was given type number 506/1 (the original was Type 506). For the 1955 model year, the 1300 Super got three-piece aluminium-alloy crankcase and oil capacity was increased from 3.5 to 4.5-litres and engine's were given new type numbers. The Type 589 in the roller-bearing engined 1300 Super became the Type 589/2.