Porsche Boxster 981 (3rd Gen)
The third generation of Boxster was the 981 generation and frankly it is our favorite here at Stuttcars. Changes includes a body shell that was 17 percent lighter than that of the 987 thanks to an increased usage of aluminum construction, along with strategic use of high-strength steel in key areas. This kept the curb weight to around 3,000 lbs, despite being a larger car than its predecessor. The 981 Boxster was powered by the MA1-series flat-six, which were quite similar to those used in the 987.2. The base engine's displacement was actually reduced by 200cc to 2.7 liters, but this was more than made up for by replacing the base 987.2's port fuel injection system with DFI, which allowed a higher compression ratio of 12.5:1. The 981's chassis and suspension were similar to the 991. Check out all of our 3rd Generation Porsche Boxster Research.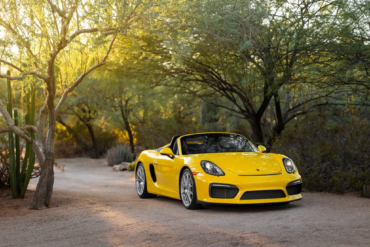 Following in the footsteps of the nineteen fifties and sixties 356 Speedsters, 550 Spyders, different 718 Spyders and the two...
Read More