For its inaugural venture, Sacrilege Motors meticulously refurbished and converted a Porsche 911 America Roadster to electric propulsion. This automobile is an exclusive U.S. edition of the Carrera 2 Cabriolet Turbo-look, with merely 250 in existence. Its custodian christened it Blackbird, paying homage to the stellar SR-71 Blackbird aircraft. The unveiling is set for Monterey Car Week, taking center stage on the Concept Lawn at the Pebble Beach Concours d'Elegance on Sunday, August 20, 2023.
Specifications
The BLACKBIRD Commission
Model: 1992 Porsche 911 America Roadster (one of 250 Produced; 1992-1993) 0-60: Under 4 seconds
Horsepower: 500 hp
Torque: 369 lb-ft (500 Nm)
Weight: 3,200 lbs
Motor: Tesla Model S (Custom)
Battery Pack: 62 kWh
Range: Approx. 200 miles
Differential: Limited slip
Charging: CCS rapid charging
Suspension Front: Two-way inverted custom Penske race shocks
Suspension Rear: Three-way adjustable remote-reservoir custom Penske race shocks Brakes: Brembo performance, slotted rotors, front and rear
Wheels: Fiske three-piece custom forged
Tires Front: Michelin PS2 235/40ZR-18
Tires Rear: Michelin PS2 295/35ZR-1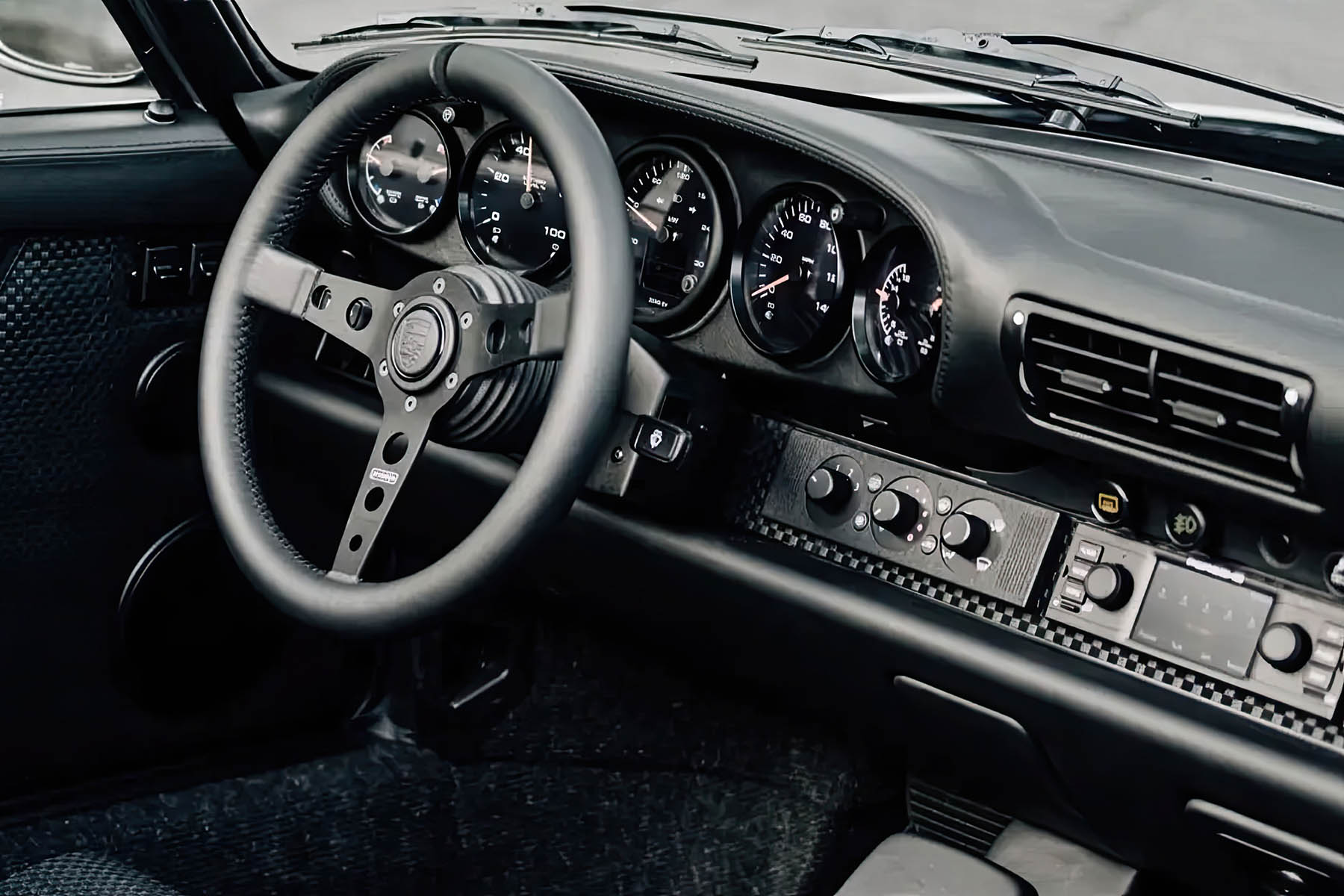 Thoughts revealed
"With our Porsche 911 commissions, we've set very demanding performance and reliability targets," Bobby Singh, president and technical lead of Sacrilege Motors, said. "Fellten hits those targets completely. They build their system like an OEM would—the way it's engineered, designed and blueprinted—allowing us to focus on the driving dynamics and on maintaining the soul of these classic Porsche 911s."
"Staying true to the spirit of the original 911 is paramount for us, Sacrilege Motors CEO Phil Wagenheim said, "and Fellten will help us preserve the classic feel of the Porsches we restore. They are setting the standard for the industry and will be an important technical partner in the future development of Sacrilege Motors conversion projects."
"With our Porsche 911 powertrain system, we were very particular about keeping the weight distribution the same," Chris Hazell, CEO of Fellten, said. "Otherwise, you're changing the handling characteristics, and that's not a Porsche. At Sacrilege Motors, they have a passion and a love of the car, and they know Porsche 911s so well. They do what they do best, restoring and modifying a legend, and we do what we do best, developing the best power system—and when you put the two together, it's magical."
A quest to "re-invent"
Sacrilege Motors sprouted in 2020 from the combined visions of corporate luminary Phil Wagenheim and Porsche maestro Bobby Singh, boasting thirty years of prowess in revitalizing, crafting, and fine-tuning the crème de la crème of Porsche sports cars—spanning from the 959 and Carrera GT to the 918 Spyder and Porsche Cup vehicles. Both Wagenheim and Singh, fervent proprietors and connoisseurs of the air-cooled Porsche 911s, were early captives of the Porsche allure, mesmerized by the tactile sensation and razor-sharp maneuverability of the archetypal 911. Their ultimate ambition is the craftmanship of the most enthralling electrically-converted Porsche 911s. This craft might border on blasphemy to some, yet many herald it as a masterstroke, juxtaposing the classic 911's unmatched driving cadence with heightened sustainability and diminished upkeep. Sacrilege Motors thus offers a Porsche 911 that melds the brisk might of electric propulsion with the time-honored Porsche driving experience.
More information HERE