Since 1951, Porsche has established an unrivaled dominance as overall champions at the 24 Hours of Le Mans (19 wins), 12 Hours of Sebring (18 wins), 24 Hours of Daytona (18 wins), and Targa Florio (11 wins)—to say nothing of the 100-plus class victories which Porsche entries have secured in these events, or their 29 World Sportscar Championship titles. Most surviving Porsche Werks competition cars reside within the company's own museum and a very short list of the world's finest collections. In the world of collectability, winning examples enjoy a sizable premium in both scarcity and value—though regardless of vintage or significance, very few of these cars ever change hands, and most certainly not at public auction.
Specially developed for the 1956 24 Hours of Le Mans, in which it successfully won its class and secured a 5th overall finish, this Porsche 550A Prototype "Le Mans" Werks Coupe, chassis 550A-0104, is the sole surviving example of this type. Its incredible streamlined design, winning pedigree, well-documented history, and incredible restoration to original specifications mark it as a unique offering which resides firmly within the highest echelon of truly significant Porsche factory-competition cars.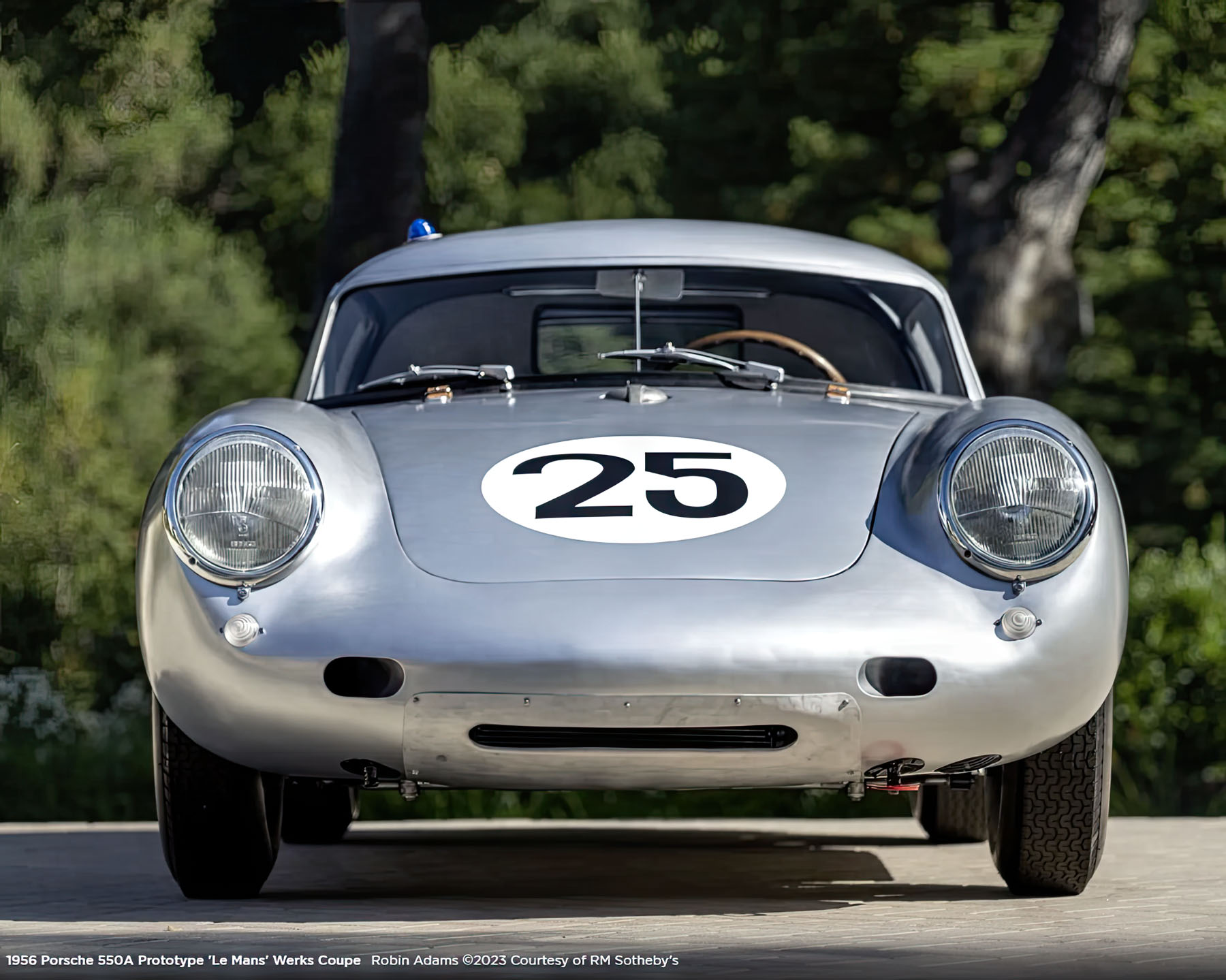 Highlights
An unrepeatable offering, residing firmly within the highest echelon of truly significant Porsche factory-competition cars
Incredible design, cutting-edge technology, winning pedigree, and extensive documentation with known history since new; the sole surviving example of Wilhelm Hild and Erwin Komenda's streamlined 'fastback roof' design for the 550A
1st in class and 5th overall at the 1956 24 Hours of Le Mans as a Porsche Werks factory entry with Richard von Frankenberg and Wolfgang Graf Berghe von Trips
Subsequent, very successful privateer history until 1968 with John Edgar, Jack McAfee, Ken Miles, Jean-Pierre Kunstle, and others
Previously resided within the famous Palmaz Collection of early Porsche prototype competition cars; exhibited at the 2015 Amelia Island Concours d'Elegance
Irreproachable, historically significant, museum-grade piece of Porsche Werks' legendary motorsports heritage; sure to be welcome at many of the world's most exclusive vintage racing events and preeminent concours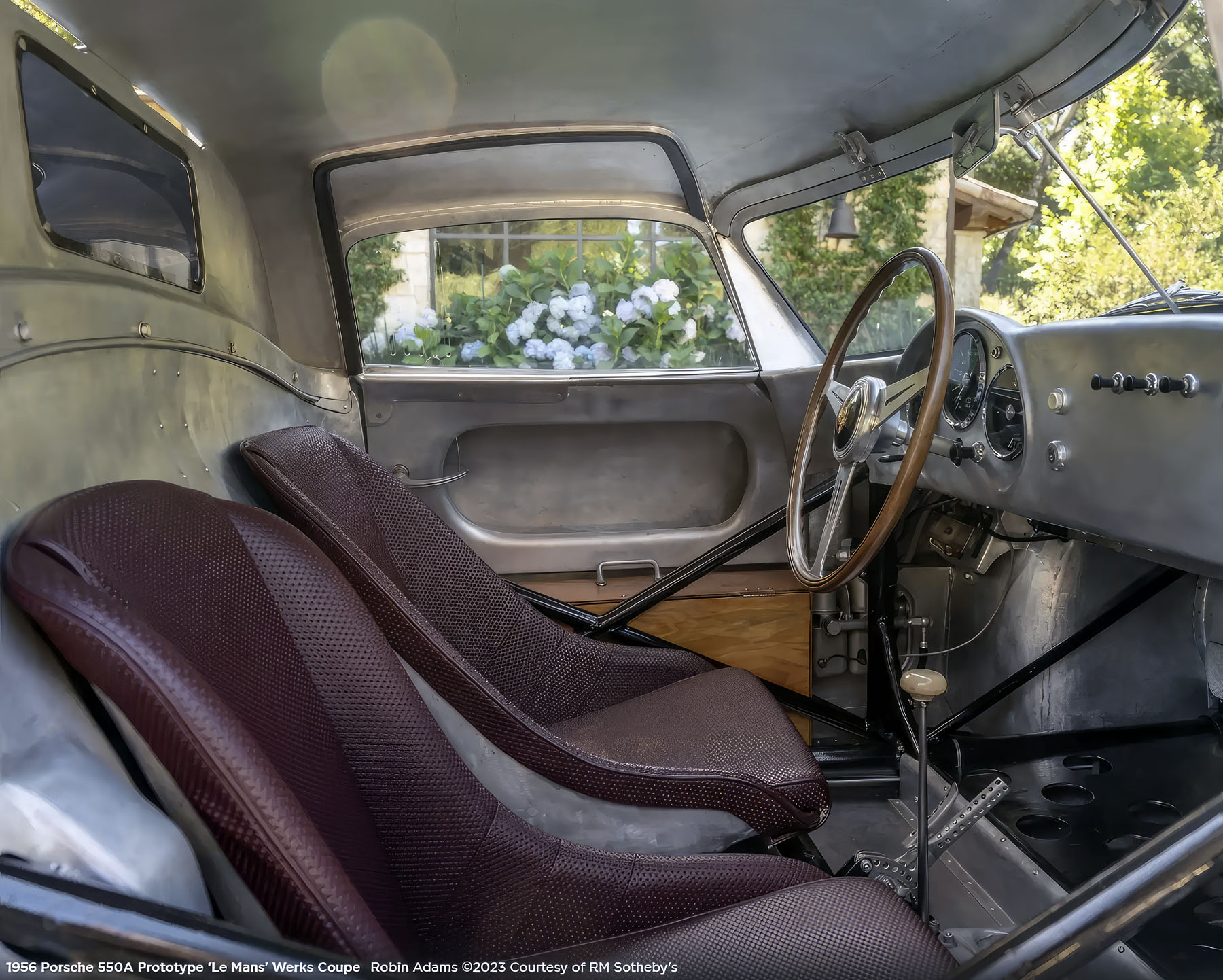 An evolution of the original type 550
Chassis 0104 is the final of four 550A prototypes, and alongside sister car 550A-0103 (long understood by marque historians to have been destroyed), it was deposited into a cordoned-off section of Porsche's racing workshop during the company's nascent preparations for the 1956 Le Mans race to be held that 28 July. Porsche's top brass were determined to develop something special, and inspiration was recycled, though significantly improved, from the pair of 1953 550 RS "Le Mans" Prototypes. Equipped with a patented streamlined fastback roof design by Porsche designers Wilhelm Hild and Erwin Komenda, those beautiful coupes carved their way to a remarkable 1-2 class victory in the 1953 event. Both have survived to the present, spending their days as prized treasures within two of the world's best Porsche collections.
Despite any outward similarities to these 1953 Coupes, 550A-0104's underlying technology is demonstrably more advanced. Utilizing Porsche's first lightweight spaceframe tube chassis, a fully independent suspension, a five-speed transaxle, and myriad additional improvements which made it altogether faster, lighter, stiffer, more responsive, and better-stopping than the 550 RS, which it replaced, the 550A Werks Prototypes thoughtfully combined cutting-edge chassis technology with tried-and-true mechanicals beneath a drastically improved, sculptural body shell. The 550A's spaceframe greatly improved rigidity while reducing weight, thereby allowing the fitment of ultra-lightweight alloy bodywork, and it was upon this critical development that the model's legendary legacy was built. In its debut at the 1956 Targa Florio, the 550A Werks Prototype 0101 of Umberto Magioli claimed overall victory with 15 minutes of lead-time to spare—ahead of an entire fleet of the world's most fearsome collection of large-displacement entries from Ferrari, Maserati, and Mercedes-Benz.
Hild refined the fastback coupe design for 1956 by way of a reshaped profile, ventilated Plexiglas windows, a dual-layered rear bulkhead, and new pair of hinged access panels which allowed routine pit-stop servicing of the Type 547 1.5-liter engine. The 550A's new tube frame construction also obviated the need for an integrated roll bar, and thus these special roofs were mechanically fixed to the body. Racing duties for 0104 were subsequently assigned to factory drivers Richard von Frankenberg and Wolfgang Graf Berghe von Trips.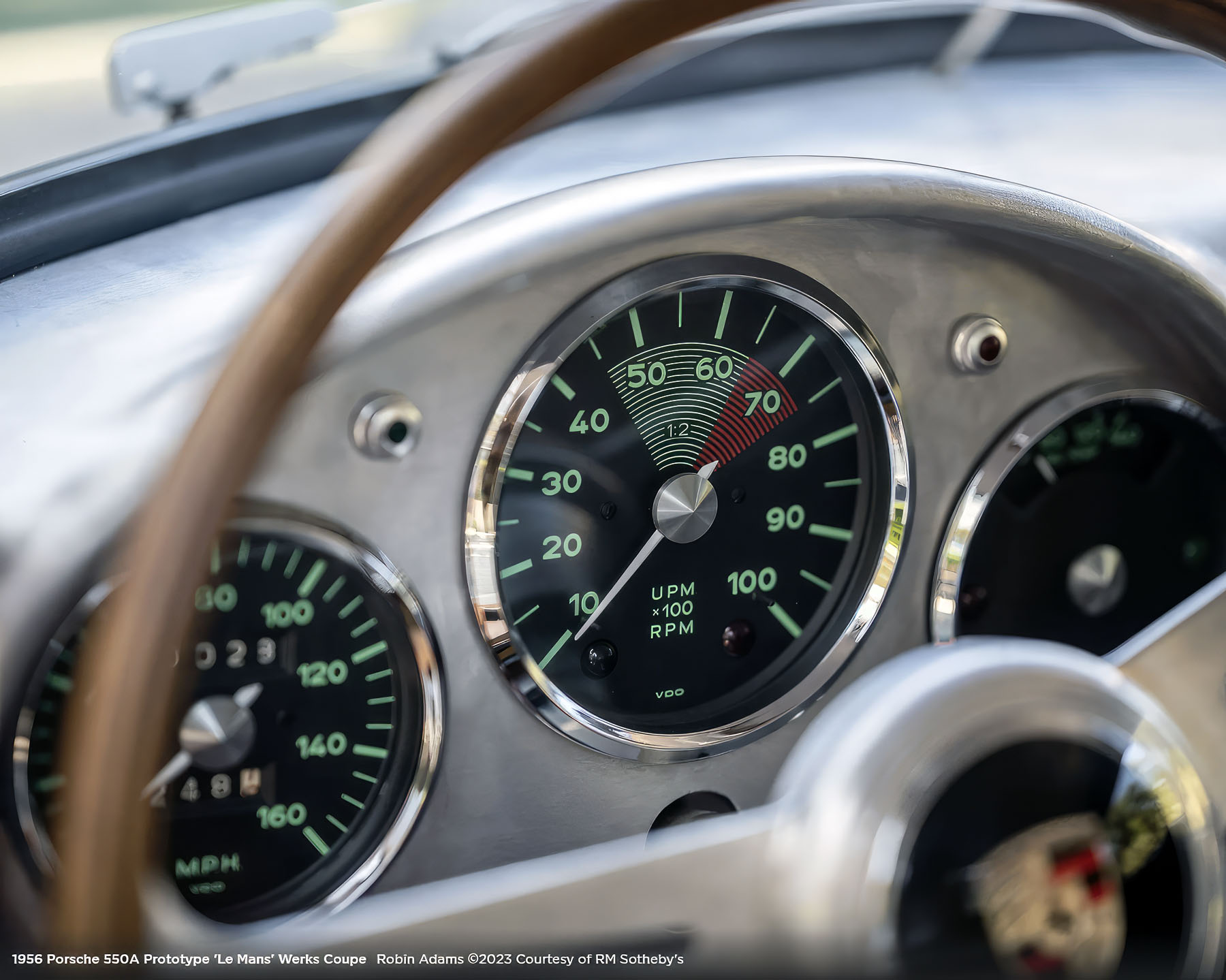 Victory at Le Mans
The 1956 running of the 24 Hours of Le Mans is widely regarded as one of most treacherous in the event's 100-year history. Near-constant rain pounded the partly-repaved circuit, creating horrible conditions made worse by a new regulation requiring full-length windscreens—which many entrants had failed to test in heavy rain adequately. The resulting mess of blinded, water-soaked drivers and barely controllable cars determined that only 14 of the race's 49 entrants earned a classified finish.
Working up from 18th place over the ensuing tempest, by the early morning hours of 29 July, von Trips was running 0104 in 7th overall when its class-leading sister car dropped a valve and was forced to retire. With the pressure of Porsche's management now solely focused upon them, von Frankenberg and von Trips resolutely and spectacularly battled their way past the opposition over the race's final hours to win the 1.5-liter Sportscar class. They finished 5th overall and 2nd in the Index of Performance at an average speed of 98 mph—a truly historic and important result for one of the most accomplished brands in racing. Chassis 0104's tremendous victory offered profound insight into the remarkable quality of Porsche's racing department—that they could reinterpret and innovate upon a proven idea (the 1953 fastback design) to achieve their eighth class win at Le Mans.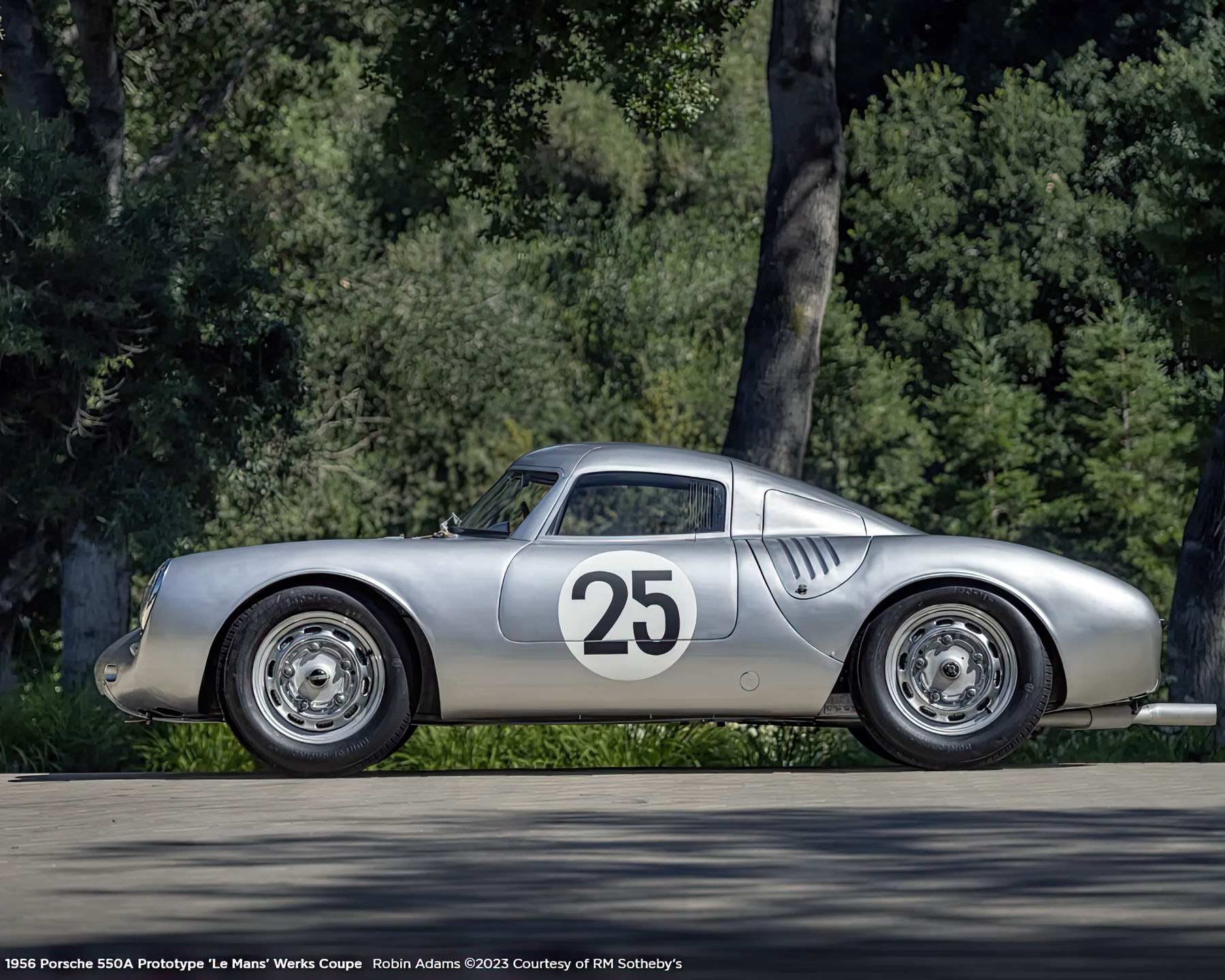 Sold to America
After Le Mans, 550A-0104 was liberated of its distinctive fastback roof. Following a 4th-place finish in the Nürburgring-Rhineland Prize on 5 August 1956, it was then sold by the factory to the preeminent American privateer John "The Kingfish" Edgar. One of the most renowned and well-connected sportscar enthusiasts in the world, Edgar maintained a roster of cars and hired guns that now reads like an intercontinental "who's who" of the all-time greats.
Edgar debuted 0104 with driver Pete Lovely at Palm Springs on 4 November 1956, though its most notable result came at the 1957 12 Hours of Sebring, when Ken Miles and Jean-Pierre Kunstle earned a rousing class runner-up (9th OA) finish amongst a formidable field of top-tier drivers and machines. Kunstle then purchased 0104 from Edgar and continued racing it successfully until summer 1958, when he sold it following a transport accident to George Keck of Seattle, Washington. Keck commissioned an extremely low-slung aluminum body from Nate Borgeault, while replacement mechanicals were reportedly sourced from Porsche dealers Vasek Polak, John von Neumann, and factory mechanic Rolf Wütherich.
By 1960, 0104 resided with Tad Davies, and it remained a competitive entry across the SCCA's Pacific Northwest Region's F-Modified class until late 1962. The car next passed as a non-running project to S.K. Smith of Medford, Oregon, who installed a flat-six engine and five-speed transaxle procured from a Chevrolet Corvair and Porsche 356, respectively. Following an incident during the 1965 racing season, Smith and several friends repaired the car and affixed a fiberglass body in lieu of the ruined Borgeault-Keck shell. After terrorizing regional and national SCCA D-Modified class races through the 1966 season, Smith sold the much-feared historic Porsche onward to Bruce Larson.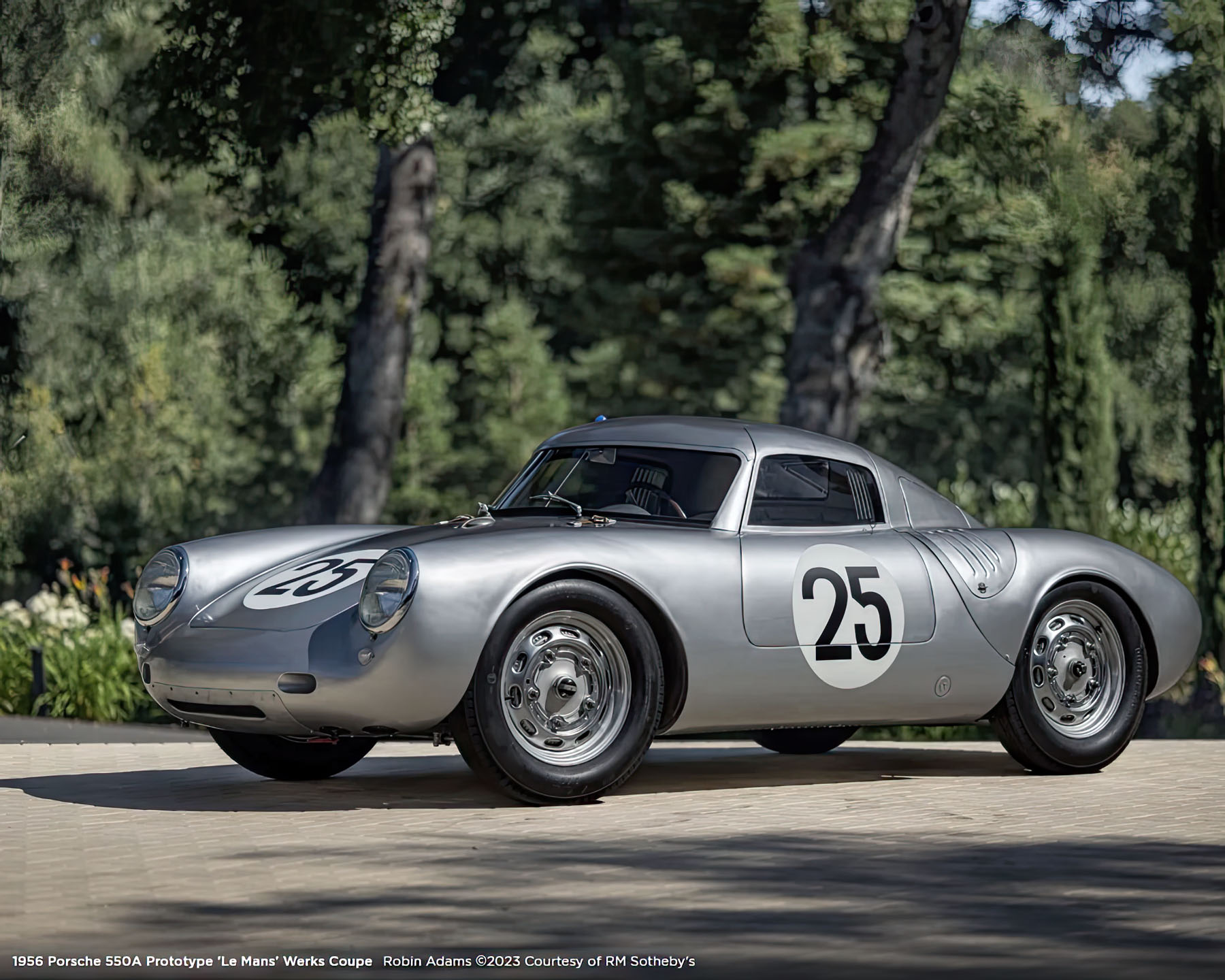 Second life
After passing through several later owners who declined to race it, in 2004 the semi-obscured 550A-0104 was shrewdly tracked down and purchased by Julio Palmaz, one of the world's foremost collectors of early Porsche competition prototypes. His in-house restoration workshop soon took on the enormous task of returning 550A-0104 back to its 1956 Le Mans specifications. Thankfully, they did not have to look far for a reference-grade example upon which to reconstruct much of 0104's original cosmetic appearance, as the 1956 Targa Florio-winning 550A Prototype, chassis 550A-0101, also resided within Palmaz's collection. Since emerging from its exceptional and highly acclaimed restoration, 0104 has been rarely exhibited, with notable showings including the 2015 Amelia Island Concours d'Elegance, 2018 Rennsport Reunion VI, and Le Mans Centenary display during the 2022 Rolex Monterey Motorsports Reunion Races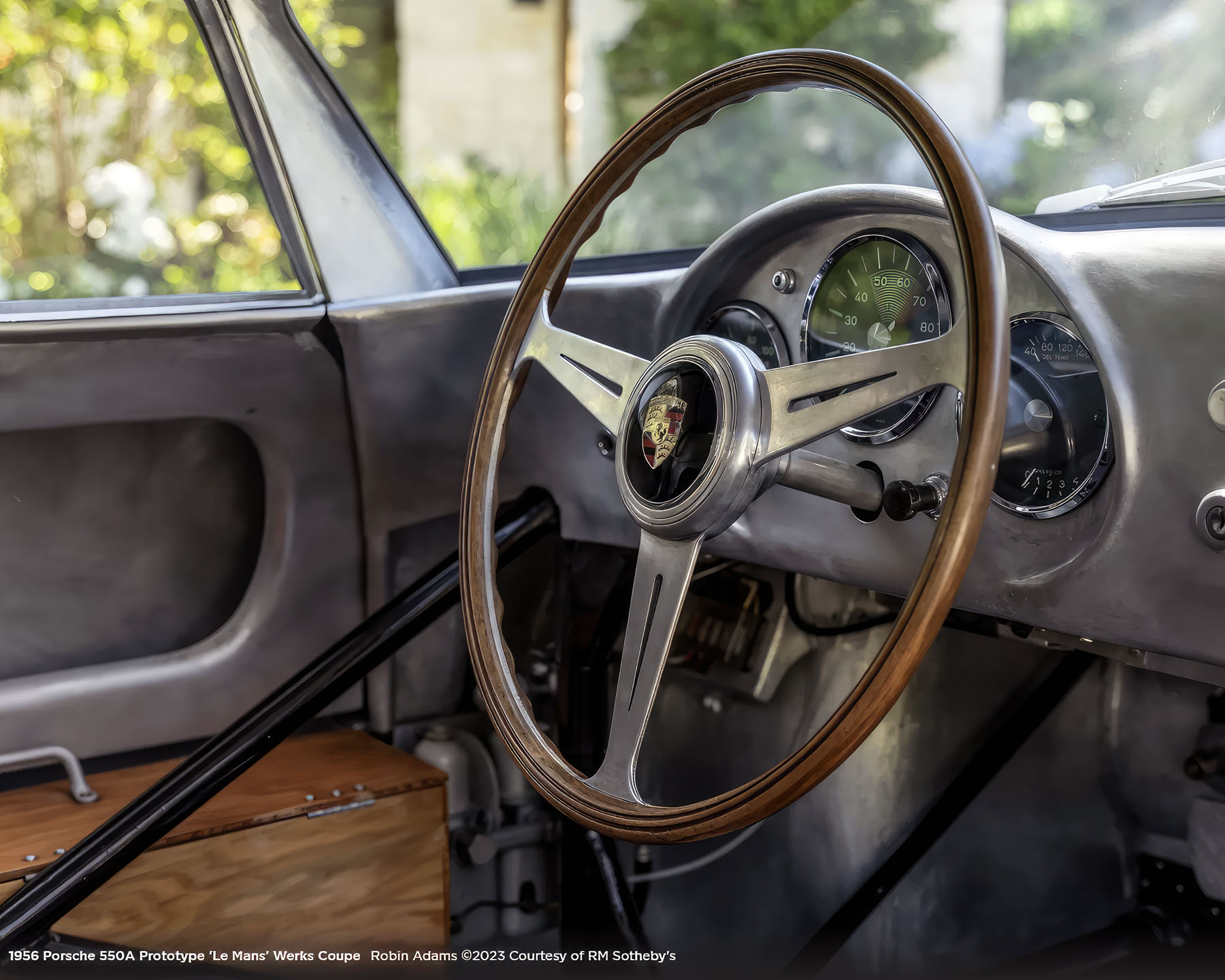 Conclusion
The 1956 550A Prototype "Le Mans" Werks Coupe presents a singular, unrepeatable opportunity to acquire a unique, winning, museum-grade (and yet eminently usable) artifact from Porsche's legendary and unmatched record of top-tier endurance racing victories. Having secured a spectacular class win and 5th overall finish for Porsche's factory racing team upon its debut at the 1956 24 Hours of Le Mans, prior to another decade of laurel-crowned use by noted American privateers, 550A-0104s is surely among "Porsche royalty"—a rarified specimen from the company's highest echelon of truly significant Werks competition cars.
All photos © 2023 Robin Adams courtesy RM Sotheby's
An example of a 550A Sypder