Words by Glen Smale / Images by Glen Smale & Corporate Archives Porsche AG
The motorsport world woke up on Monday this week to learn of the passing of one of the sport's greatest drivers. Vic Elford, or 'Quick Vic' as he was affectionately known, passed away on Sunday 13 March 2022 aged 86 years, after a long fight with cancer.
In the 1960s, Vic started his motorsport career in rallying, not behind the steering wheel, but in the navigator's seat. That didn't last long though, as Vic's desire to drive was too strong, and in 1967 he persuaded Porsche's PR supremo and motorsport boss, Baron Huschke von Hanstein, to loan him a car to compete with in the '67 Tour of Corsica. "Here is a car but that's it, no recce car, no practice car, no expenses, no money, you're on your own," von Hanstein told Elford. 
That was just the start that Vic needed, and true to form, he finished in third position. Suddenly interested, von Hanstein offered to loan Vic a car on a race-by-race basis, but still with no contract. Elford would win the European Rally Championship that year, before notching up victory in the Monte Carlo Rally in late January 1968 driving a Porsche 911 T with co-driver David Stone.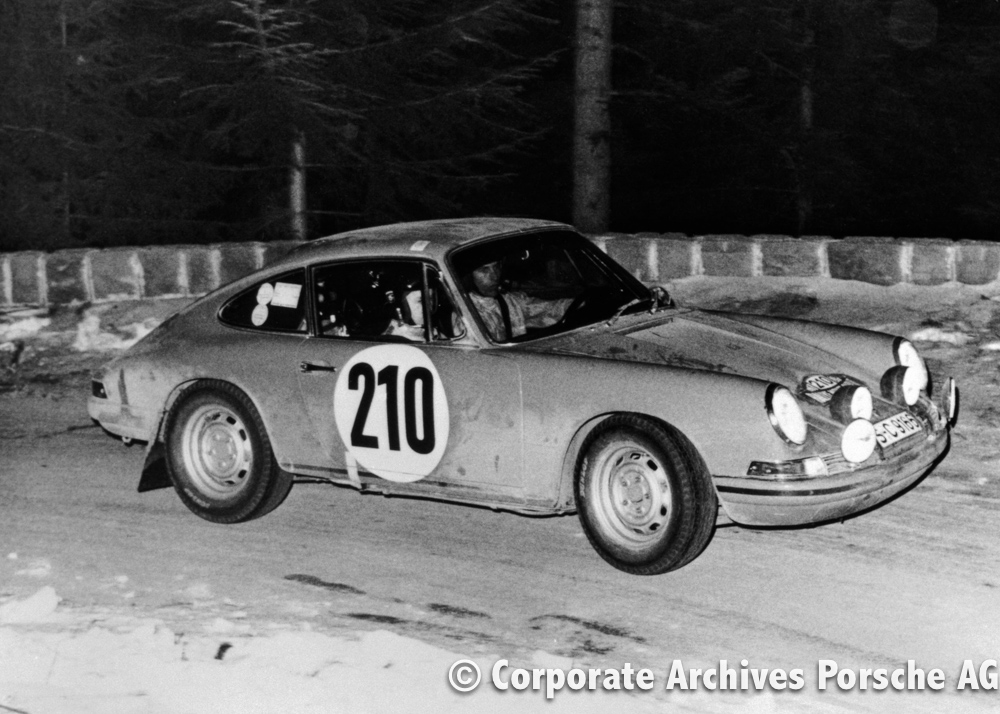 Vic Elford and David Stone in action in the 2-litre 911 T during the Rallye Monte Carlo in January 1968, which they won. The Elford/Stone 911 was fitted with a 180 horsepower 'S' engine for the event
Just ten days later, on the 4 February, Elford crossed the finish line in first place at the Daytona 24 Hours driving the #54 Porsche 970 LH, creating that now famous formation finish of three 907s, claiming a 1-2-3 podium result for Porsche. Later that year, Vic brought off the most unlikely of victories in the Targa Florio, overcoming multiple tyre and wheel problems which he had to remedy himself out on the course. 
He and Umberto Maglioli drove home the winners in a 2.2-litre 8-cylinder Porsche 907 in May 1968. Two weeks later, Elford would also win the Nürburgring 1000 Km with Jo Siffert driving the new Porsche 908.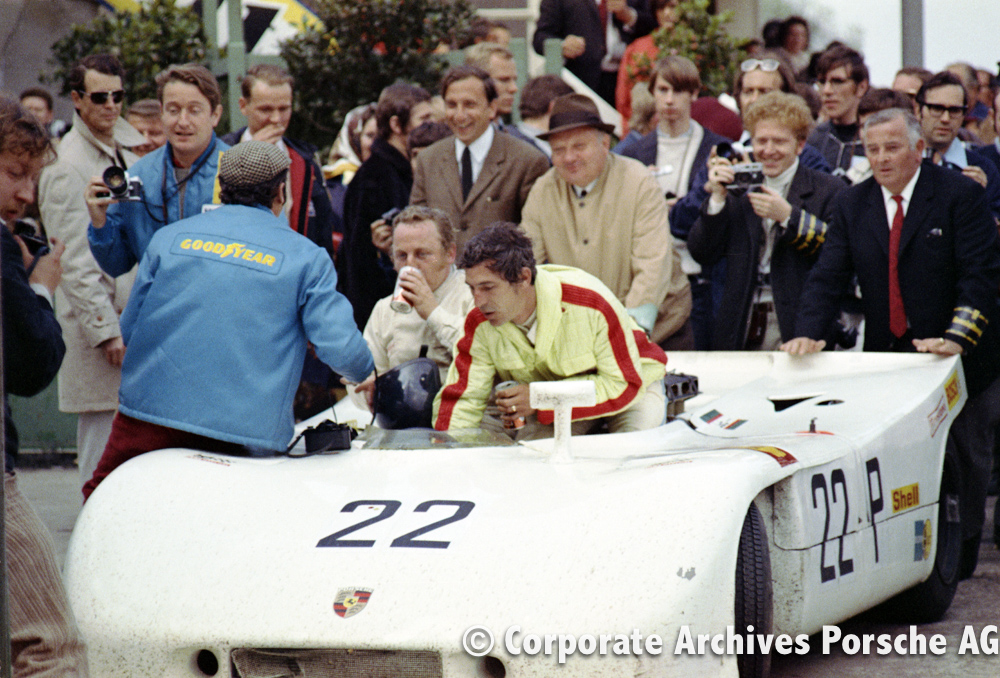 Vic Elford and Kurt Ahrens were victorious in the Porsche 908/03 Spyder at the International ADAC 1000 km race at the Nürburgring on 31 May 1970
But perhaps Vic Elford is best known for his escapades in the formidable Porsche 917. In the year of the car's launch, 1969, Elford and Richard Attwood were leading the 24 Hours of Le Mans by a healthy margin when the bell housing split after 21 hours. The 917 didn't really scare Vic, as he confirmed.
"The car was very unstable because we were in the realms of where we had never been before. Nobody has ever been much over the 200 mph mark before in anything, and suddenly this monster was doing 220 mph, but it wandered all over the road. It wasn't a bad thing really, because we found that when we came down through the Esses, through Tertre Rouge and onto the straight, everybody else was queued up on the right waiting until we had gone by. 
But at one point in the middle of the night, I came around Tertre Rouge and started accelerating down the straight and I was doing 220 mph and up ahead were a couple of 911s on the right side and the guy at the back obviously didn't realise that there was a 917 coming up behind and about half way down the straight he decided he would start to overtake the car in front. 
Well, I was doing 220 mph and they were probably doing about 160, and being evenly matched, it would take the guy forever to get by. There was no question of stopping, so I had to go by with two wheels on the grass and two wheels on what was left of the road. That was really the only problem, and then the bell housing and the clutch went in the morning which was a shame."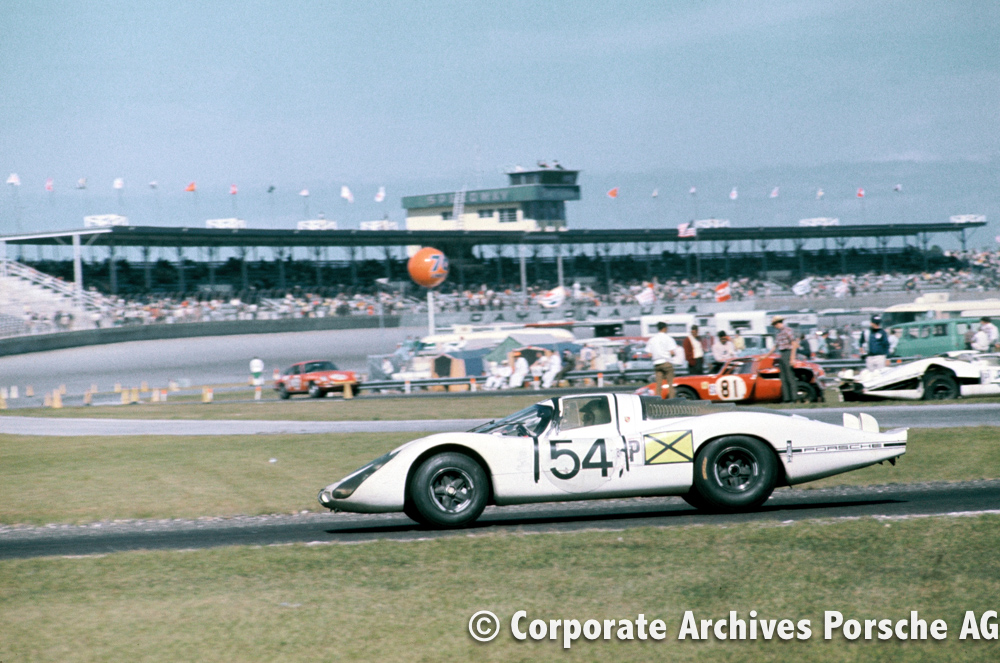 Porsche scored this famous victory at the 24 Hours of Daytona in 1968, when three 907s finished in positions 1-2-3. Driving the #54 Porsche 907 LH was Hans Herrmann, Rolf Stommelen, Vic Elford, Jochen Neerpasch and Jo Siffert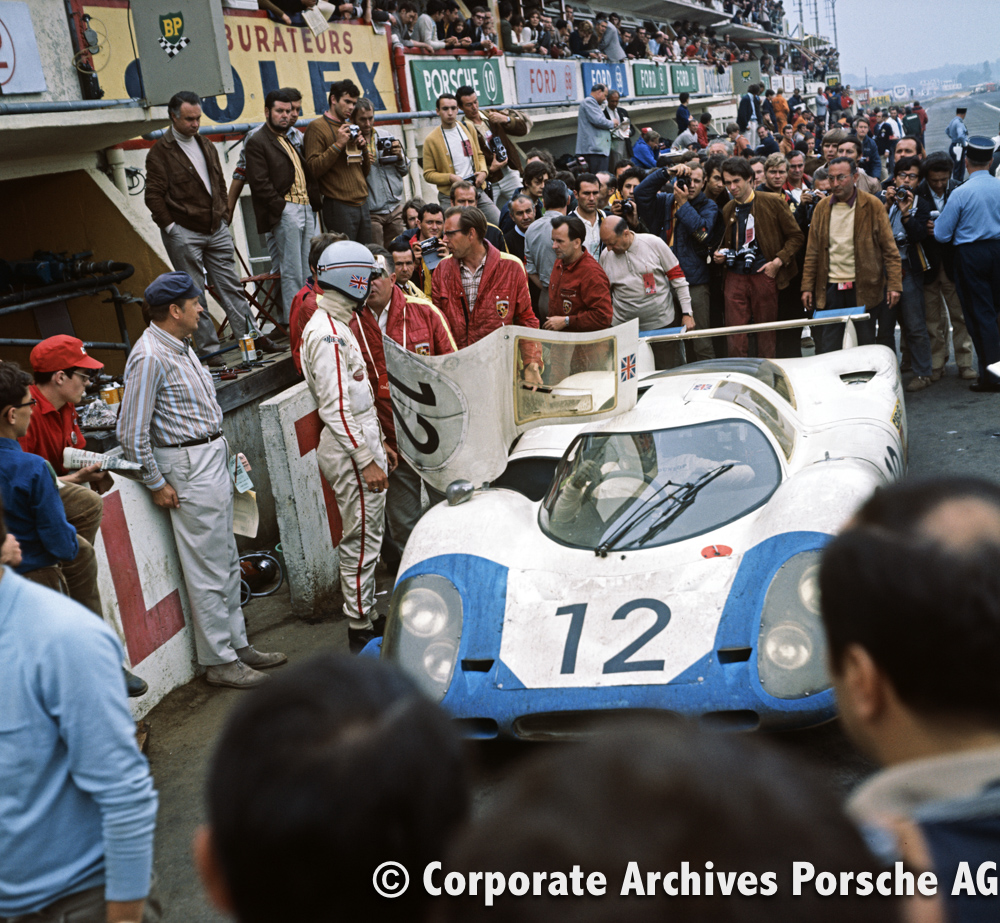 This Porsche 917 retired after 21 hours from the 1969 Le Mans 24 Hours while in the lead. Here Vic Elford (in helmet) talks with Helmuth Bott (partly obscured) while Richard Attwood is seated in the car. Behind the open door is Peter Falk (with glasses) while mechanic Werner Enz is just to the left of Peter Falk's shoulder.
Elford would take the chequered flag at the Nürburgring on four occasions among other victories at Sebring, Brands Hatch, Watkins Glen, Interserie, and many more. It wasn't just in Porsche prototypes that Elford did well, he also scored outright and class wins in a Ferrari, Alfa T33/3, Lola T212, Porsche 911, McLaren M6B, Chevrolet Camaro and Chevron. But he certainly amassed most of his victories behind the wheel of all versions of the Porsche 908.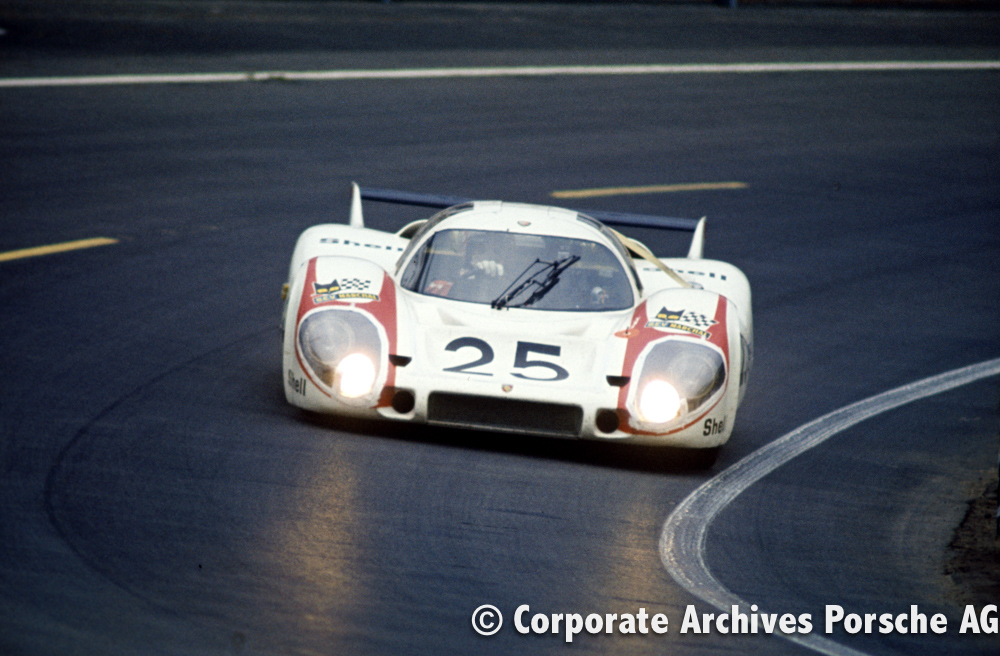 Driving the #25 Porsche 917 LH Coupé, Vic Elford and Kurt Ahrens again retired from the 24 Hours of Le Mans in 1970 with mechanical problems
Today…
But apart from his skill behind the wheel, I will remember Vic for the open, fun and intelligent person that he was. Growing up in far-off South Africa, the only meaningful sports car coverage that we would get there in the '60s would be in the pages of Autosport and Motor Sport magazines, and so as a race crazy youngster, I would have to wait for the various issues of those magazines to come out. 
I would then devour the stories about Le Mans, Daytona and Sebring, not that I really knew where those places were as a young kid. But the drivers are what stood out for me, names such as Vic Elford, Derek Bell, Brian Redman, Richard Attwood, David Hobbs, Mario Andretti, and others, they were all heroes to me. I thought that they must live on another planet!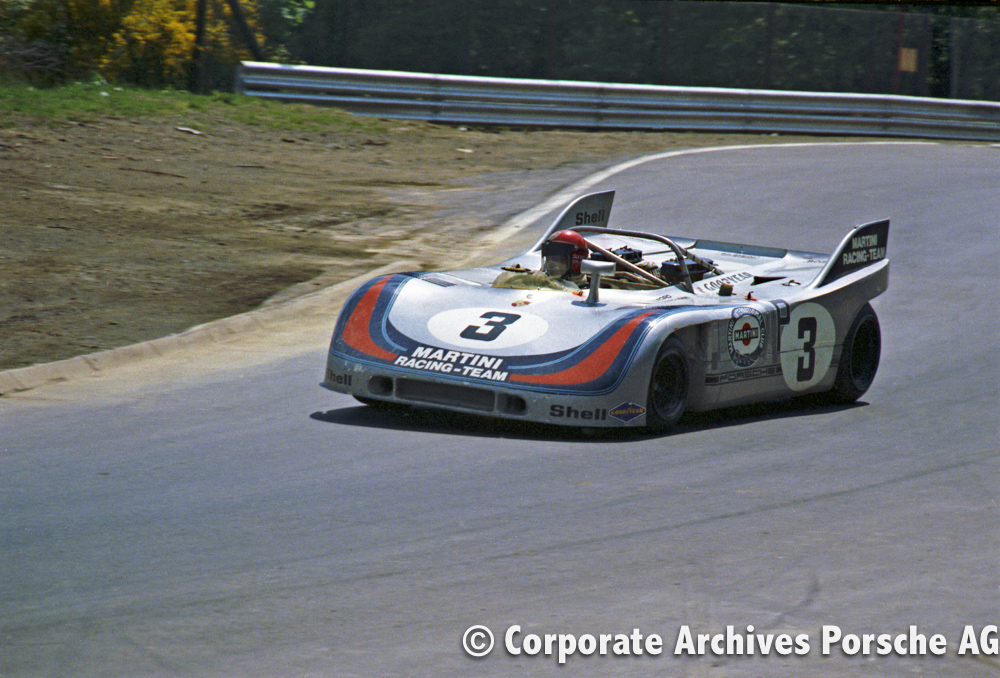 Vic Elford and Gérard Larrousse were victorious in the #3 Martini Porsche 908/03 Spyder at the International ADAC 1000 km race at the Nürburgring on 30 May 1971
Fast forward a couple of decades, and as a full time motor sport journalist, I moved to the UK with my family and blow me down, who do I bump into at Le Mans, Goodwood and Silverstone, but these legends. Over the last two decades, I have had the great privilege of interviewing all of these great names, and so many more, multiple times and they are still my heroes! What got me was how down to earth they all were, how approachable and how enthusiastic they were to share their stories with me. 
I have interviewed Vic many times, face-to-face and over the phone from across the pond, and he was always willing to talk and share his memories with me. I was honoured and privileged to spend this time with him. He was a remarkable man, and nothing seemed impossible to him, he was always willing to give it a go and in retrospect, if it wasn't for Vic Elford, Porsche may not have discovered early on what a good race/rally car they had in the new 911 when it was launched back in the mid '60s.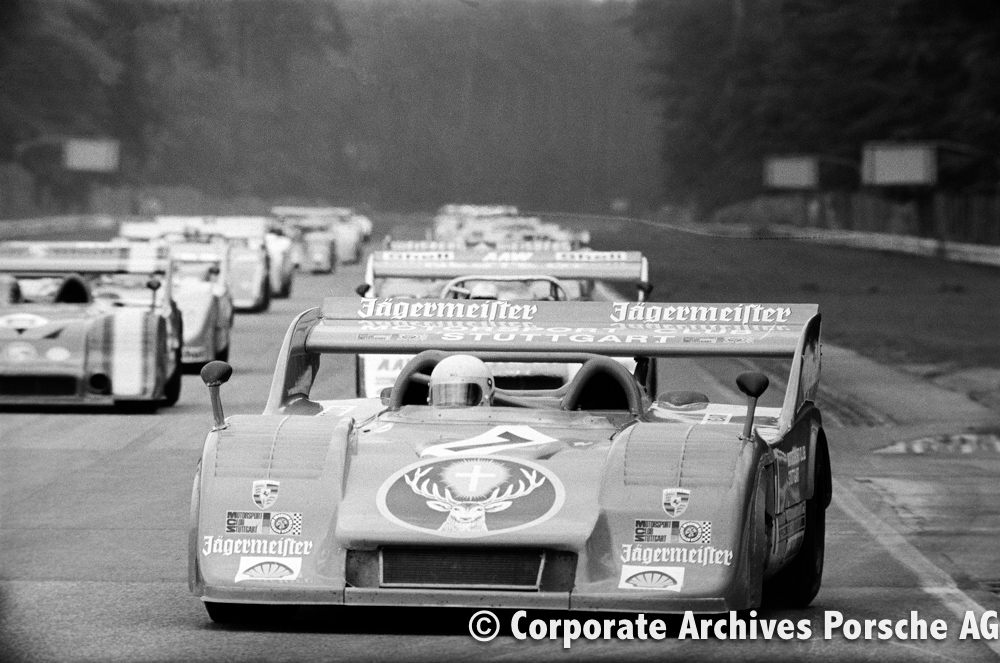 Vic Elford drove the famous  #7 Jägermeister Porsche 917/30 Spyder to victory in the Interserie race at Hockenheim (Südwestpokal) on 15 July 1973
When most others did their utmost to avoid getting behind the wheel of a 917 in the early days, Vic jumped in and together with Richard Attwood, they led the 1969 Le Mans 24 Hours from the fourth hour until the transmission gave up in the 21st hour. The following year, with the car's aerodynamics now sorted, Elford put the #25 Porsche 917 LH on pole at Le Mans, and then he proceeded to set the fastest race lap before the car retired with an overheating engine.
Vic was a typical product of the '60s, a time that was characterised by discovery, innovation and new horizons. He wasn't the type of person who would wait for things to happen, instead he would make them happen, a trait that followed him throughout his exciting and very successful racing career.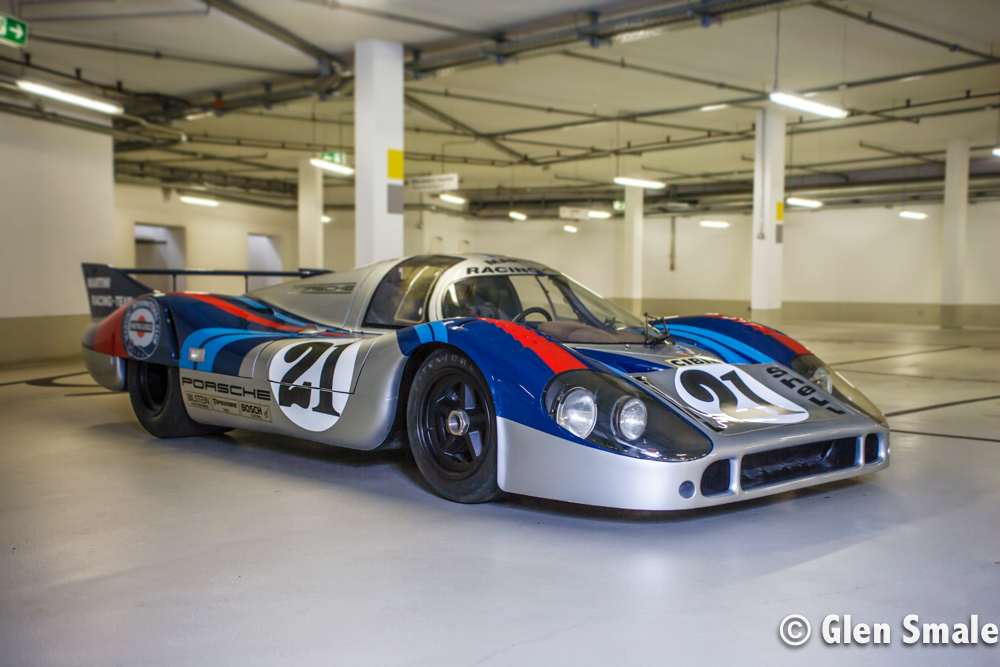 The #21 Martini Porsche 917 LH Coupé (chassis #042) as driven by Vic Elford and Gérard Larrousse in the 1971 Le Mans 24 Hours, photographed at the Porsche Museum, Stuttgart in 2017
Victor Henry Elford lived life to the full, and he was a remarkable person on many levels. Vic's passing will be sorely felt for many years to come by his family and friends and the wider motorsport world. We extend our heartfelt condolences to Vic's wife, Anita, and family at this time.