For two years in the early 1960s, South African André Loubser had the time of his life, working not just for Porsche in Stuttgart, but for Huschke von Hanstein, one of the most colourful figures in the company's history. Von Hanstein's death, in early 1996, prompted Loubser to recall those far-off days and to write this remarkable account of his time at Zuffenhausen, illustrated by photographs, many previously unpublished, from his own collection.
It was thanks to an extraordinary twist of fate that I became the first South African to work for Porsche in Stuttgart. The story began when, as a 12-year-old schoolboy, I came across the Mercedes-Benz stand at the 1952 Van Riebeeck Festival in Cape Town, an event held to commemorate South Africa's 300th anniversary. It heralded the beginning of the marque's entry into the South African market.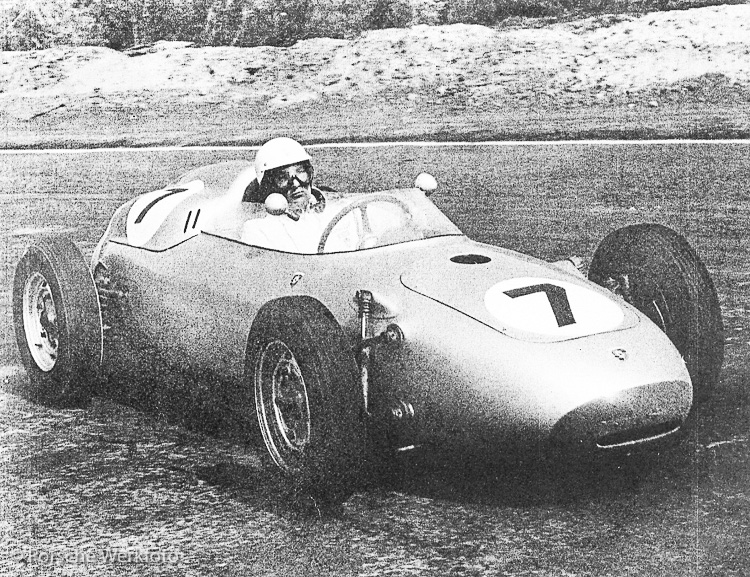 By coincidence, when Stanley Porter acquired the Mercedes-Benz agency for Cape Town and the Cape Province, I was at school with his four sons: Alan (four years my senior), David, Dennis (in my class) and the much younger Alistair. From 1954 until I matriculated in 1957, I worked as a 'grease monkey' at the local dealership, just to be close to my favourite cars. Later, in 1960, after a stint with an oil company (not very exciting), I joined a subsidiary of Stanley Porter, Stanmar Motors in George (275 miles due east of Cape Town), as a Mercedes-Benz and DKW salesman and assistant to Alan Porter, whom his father had appointed as manager. Naturally, I hoped that one day this might lead to my getting a job in Germany.
In December 1960, Des Thorne, local BP representative, walked into the showroom and told me that 'some motor racing people' would be staying at the Hawthorndene Hotel in George during a relatively short period between the Cape Town Grand Prix (Saturday, 17 December) and the South African Grand Prix at East London (Tuesday, 27 December).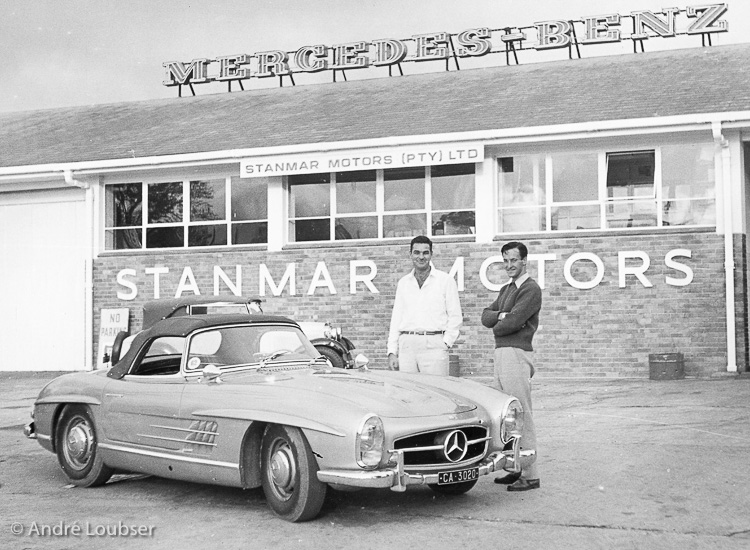 As Des was a flying man with no particular interest in motorsport, he asked if I would look after the visitors on behalf of BP (Stanmar was a BP garage, and Porsche was contracted to BP). Thinking all my Christmases had come at once, I seized the opportunity with both hands. 'The racing people' turned out to be Porsche's racing manager, Baron Huschke von Hanstein, together with Swedish racing driver Jo Bonnier, his wife Marianne, and Count Wolfgang 'Taffy' von Trips.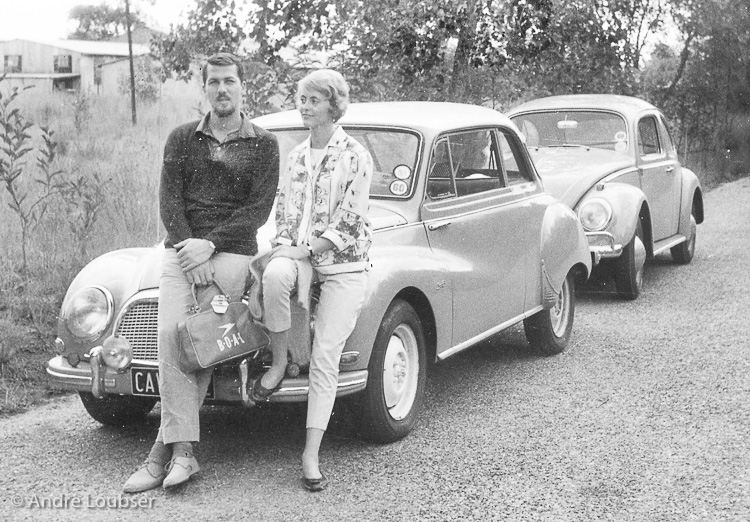 On Monday, 19 December, the Bonniers arrived in a green Sunbeam Alpine, and von Hanstein and von Trips in a blue VW Beetle. When the quartet arrived in George, I met them and announced I would be their guide and comforter during their stay – an offer received with good humour. True to my word, I arranged haircuts, films, trips to the beach, suntan lotion, squash games with Jo Bonnier, and so on. And it was during this time that I tentatively mentioned my long-held Mercedes-Benz dream to von Hanstein.
On the Thursday, von Hanstein wanted to leave for East London to receive the cars and prepare them for the Grand Prix, automatically assuming von Trips would join him…but, no, he was having too much fun in George. Somewhat surprised and irritated, von Hanstein asked the young Count how he thought he would get to East London with the Bonniers in a two-seater sports car. For an answer he used André's expression, 'n boer maak 'n plan (in Afrikaans meaning 'a farmer makes a plan'), so he'd make a plan. In a huff, Porsche's racing manager headed for East London, 375 miles from George, on his own.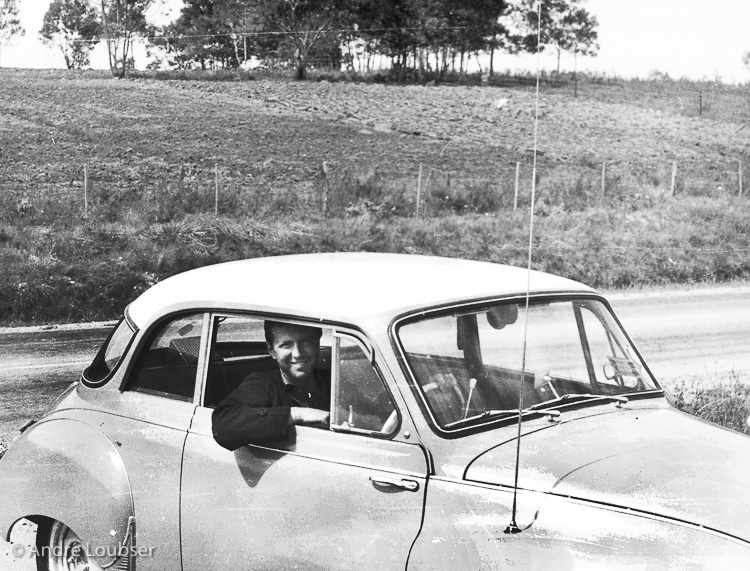 The next day, Taffy needed a haircut and asked me to take him to my hairdresser. Later that day he arrived at Stanmar Motors in the Alpine, walked into my office and started pacing up and down in front of my desk. Here comes another request, I thought. He asked if my DKW belonged to me or to the company. 'Mine,' I said. 'Ah,' he said. 'Would a swop be in order?' He wanted me to lend him the DKW to drive himself and the Bonniers to East London and suggested that my girlfriend and I could drive the Sunbeam. Deal done; they left the next day.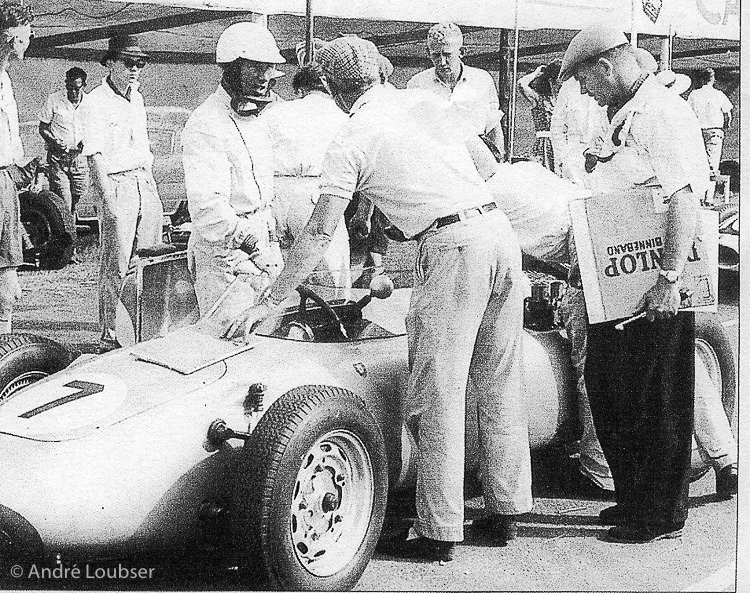 We left on the Monday, the day after Christmas, and arrived in East London and started looking for accommodation. But, thanks to the Grand Prix, East London was choc a block. At about 19h00, with no luck and not fancying spending the night in a sports car, we came across an old age home and much to our relief secured two rooms (two of course!). Remarkably the establishment was named the Stirling Lodge!
The Grand Prix was won by Stirling Moss in a Porsche 718 with team mate Jo Bonnier in second place. Taffy von Trips drove a Scuderia Colonia Lotus 18 but retired due to persistent mechanical problems.

Fast forward to Monday, 11 September 1961. On my way to work, I always stopped opposite the hairdresser to buy The Cape Times from a neighbouring Greek-owned café. As I glanced at that morning's Cape Times poster on a pillar in front of the hairdresser that Taffy had visited the previous year, I read: 'VON TRIPS KILLED IN ITALIAN GRAND PRIX.' I stood riveted to the ground in disbelief and shock, as the happy memories his brief sojourn in George came flooding back.
During the following months, I had a major rethink about my future and wrote to von Hanstein about the possibility of a job at Porsche instead of Mercedes Benz. He wrote back almost immediately and said there was a vague possibility of such an opportunity but couldn't recall my being able to speak German. I immediately arranged for private German lessons, and within 18 months was reasonably fluent, having also kept up my correspondence with von Hanstein during that time.
In mid-1962, I followed Caesar's principle and comprehensively burned my boats. I sold my classic 1934 Mercedes-Benz 170 Cabriolet and most of my belongings, and bought a one-way air ticket to Germany. I had neither residence nor work permits, but an abundance of youthful optimism. And, having taken a Dale Carnegie course, I was convinced The Power of Positive Thinking could conquer the world!
I planned to arrive in time for practice for the German Grand Prix on Sunday, 5 August, and on the Saturday I managed to con my way into the Fahrerlager (paddock) where I spotted the Baron in the distance with his back to me. I walked up to him and said, in my best German, 'I have arrived!' He looked at me in utter astonishment and said, '+%$@#' the '?@$&>!)+ South African has arrived!' Those were his exact words if you can decipher them!
After the Grand Prix, won by Graham Hill in a BRM, I attended the prize giving in the Sport Hotel behind the main grandstand. Having wondered how to get back to my hotel in Adenau, I cadged a lift with Phil Hill and his French girlfriend in a Peugeot 404.
On the Monday, von Hanstein arranged for me to travel to Stuttgart with one of the racing mechanics in an orange Super 90. I was introduced to the personnel department, where I was told that somebody was about to resign from the export sales department but had not yet done so. There was, therefore, no immediate prospect of a job so off I went to stay with a friend in Baden bei Wien, south of Vienna, and then on to Geneva.
In Geneva, I met Jo Bonnier a few times and during one visit (recalling my chief organiser role back in George), he asked if I could arrange membership for him at the United Nations squash club. When I phoned the following day to tell him I had done that, he told me that Huschke von Hanstein was looking for me 'all over Europe' and wanted me in Stuttgart immediately.
That momentarily put me in a quandary, for I had received an excellent job offer from Procter & Gamble in Geneva. However, I arrived in Stuttgart later that night, and the following day once again visited the personnel office, emerging later as a member of the export sales department of Dr.-Ing.h.c.f Porsche K.-G. It was quite literally a dream come true!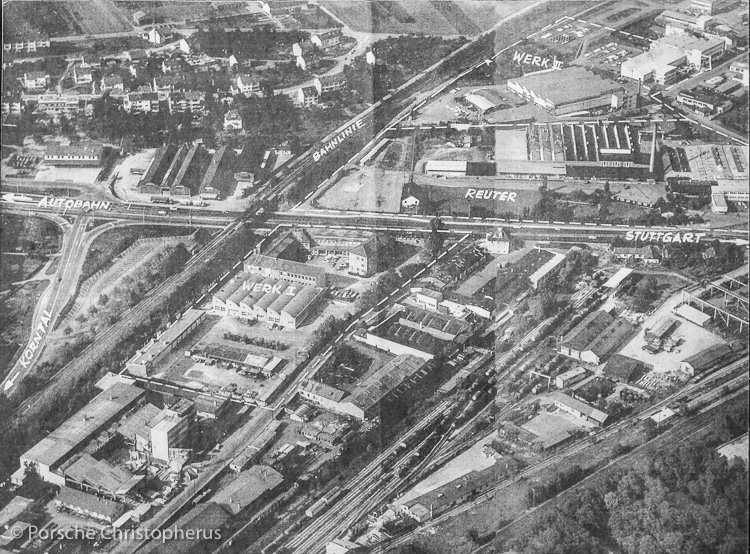 During the following three months, I completed a hands-on technical training course in virtually every department of the factory. I started as an apprenticeship in the service division in Werk Eins (Factory One in English) by washing parts and skinning my knuckles relining brakes. After my technical initiation – a fantastic experience – I moved across to the export sales department in Werk Zwei.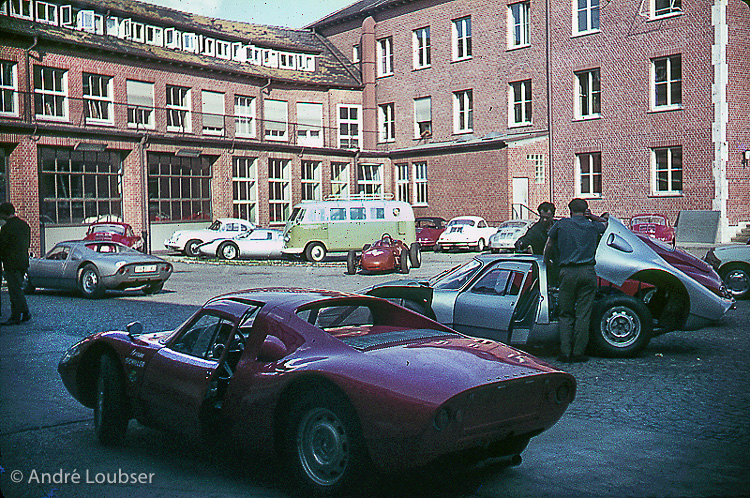 As you might have deduced from this, the Porsche factory consisted of two separate sections. Werk Eins housed the design and development divisions, the drawing offices, the racing department, the customer service division, and Ferry Porsche's office. Werk Zwei consisted of the main assembly hall, the customer engine rebuilding section, the press office, personnel, statistics, inland sales, export sales, spares, and not least of course the famous house magazine, Christophorus.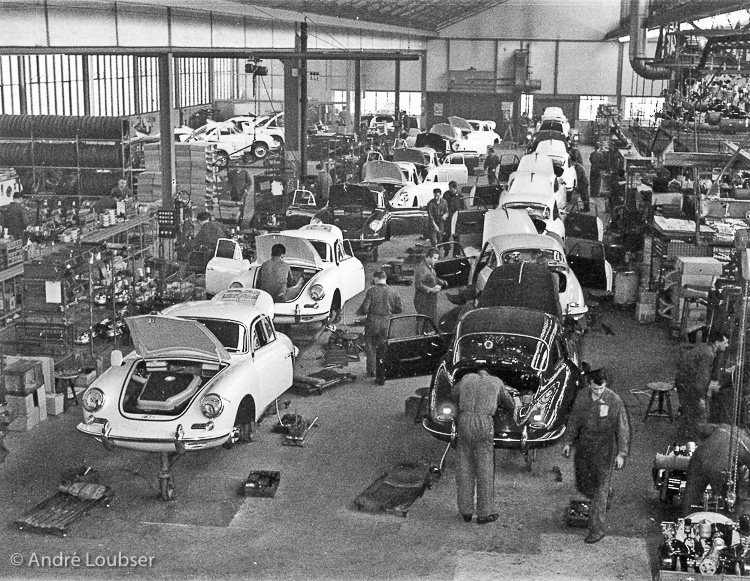 During my first year, I regularly bumped into Huschke in the factory, at various Porsche functions and at race meetings all over Europe. It was only later, however, during the production of the 904, that I started working more closely with him. But his press department quickly became one of my favourite haunts, for it was there that I often assisted with translations from German into English while picking up plenty of gossip about the motor racing world.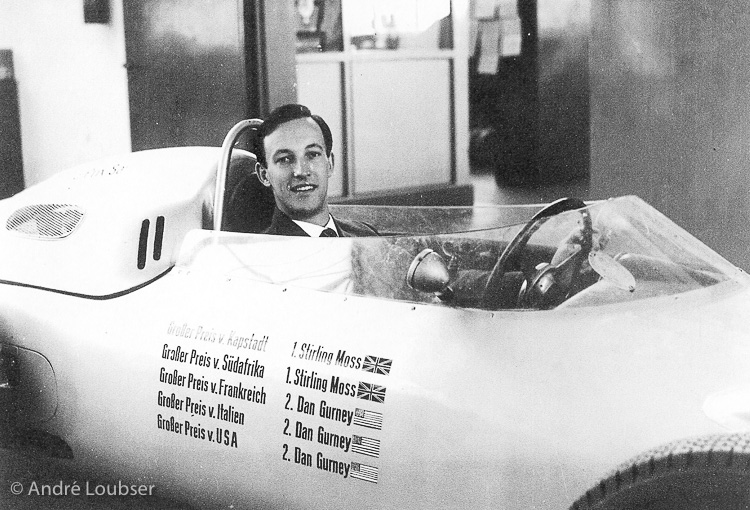 I have referred throughout the story to von Hanstein by his first name, but I ought to point out that, to me, he was always Herr von Hanstein. Unlike in most English-speaking countries, communication at Porsche in these far-off days was rather formal. Even young employees almost invariably addressed one another as Herr, Frau or Fräulein. And even at race meetings we mostly wore suits, or at least collars and ties. Can you imagine that today?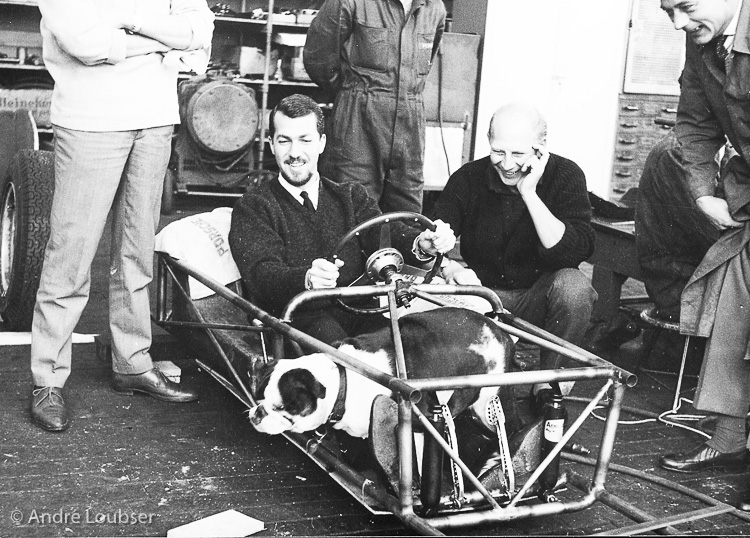 Huschke employed two bubbly, enthusiastic secretaries in his department. Thora Guttmann (later Frau Hornung) and Evi Butz (now Mrs Dan Gurney). Another member of the press department was Edgar (Edi) Barth, works driver and Huschke's right-hand man. Edi hailed from eastern Germany and was one of the nicest people I've ever known. He was a shy, gentle person, with not an enemy in the world. I was truly shattered when in 1965 he died of cancer at the tragically early age 48.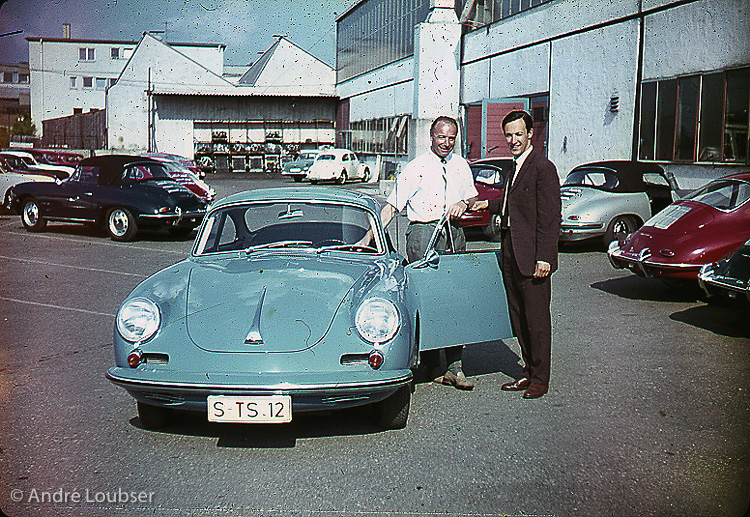 His son, Jürgen, joined the company as an apprentice when I was there, and subsequently followed in his father's footsteps, eventually becoming a Porsche works driver himself.
Another member of the team was official Porsche photographer, Ole Kirk-Jensen from Denmark, one of the most amazing people I've ever met. Like his fellow countryman, Victor Borge, he had the ability to mimic sounds, and had us in fits of laughter by relating, in completely deadpan fashion, some hilarious story accompanied by all the relevant sound effects.
Thora, her fiancé, Wolfgang Hornung, Evi, Randy Edwards (my American colleague with whom I shared an apartment) and I soon formed a close-knit group, and often travelled to European race meetings together in my long-suffering 1953 Beetle. They were exciting and memorable years.
Sadly, Thora, a fit vegetarian, died of cancer in 2000. Wolfgang, her brilliant physicist husband, also died of cancer shortly thereafter. I was devastated; until then we had corresponded regularly for 36 years. She always kept me posted with news of former colleagues and happenings at Porsche. She's the author of the book 50 Jahre Nürburgring, published in 1977.
I well remember the 1962 Christmas party for members of the export sales and press departments, held in the reception area of the export sales office. It started, as you might expect, on a polite, subdued note, but as the evening wore on, and as the beer and wine began to flow, it became ever more riotous.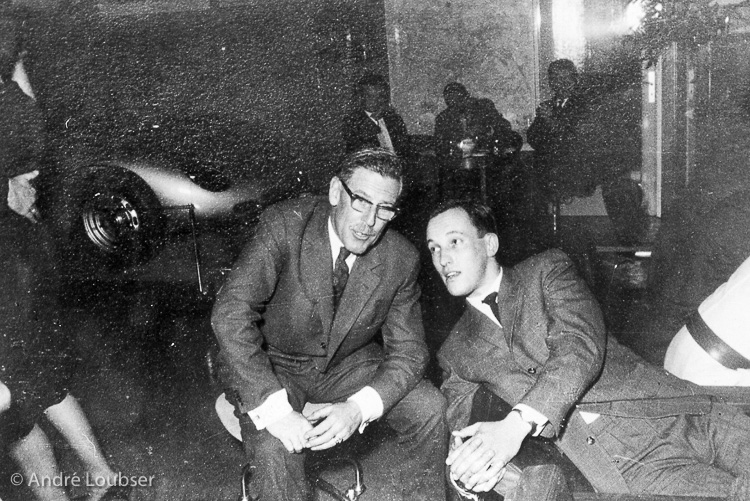 Throughout the evening, Huschke pedalled around furiously on an office chair mounted on casters: the later the hour, the faster he went, skidding up to those he wished to greet. It really was a wonderful party. Life abounds with myths, and one is that Germans lack a sense of humour. Believe me, nothing is further from the truth. There were always plenty of jokes, laughter and leg pulling around the Porsche factory in those days.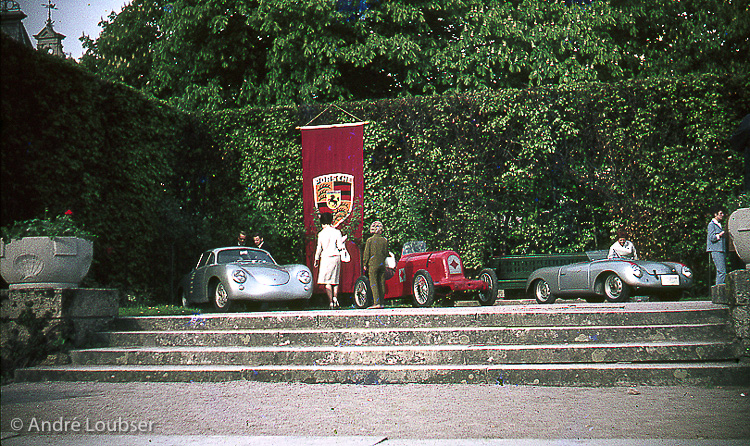 In May 1963, Porsche hosted the seventh International Porsche Meeting at Baden-Baden in the Black Forest, and I was roped in to serve on the organising committee. The setting was truly magnificent, and some 300 Porsches from all over Europe invaded the pretty little town for three days of fun and festivities, including a champagne reception in the park, a music evening, a hill climb and a gala dinner in the Kursaal.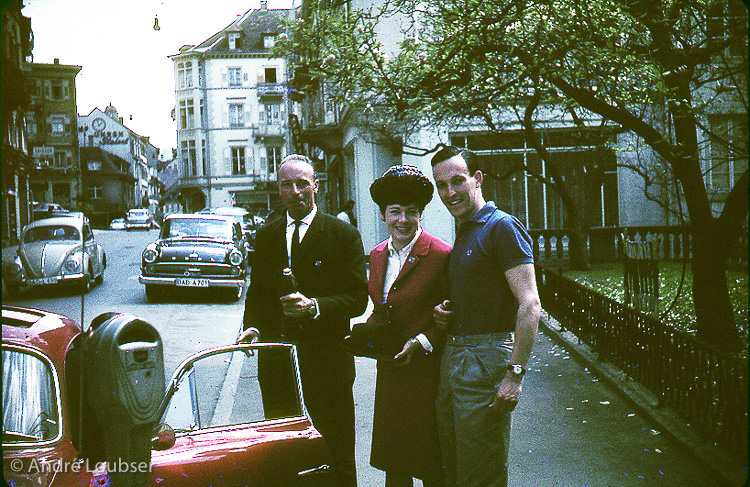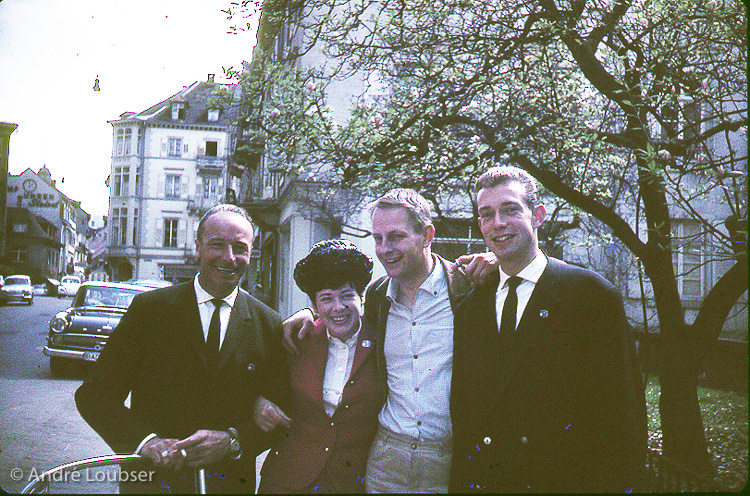 I probably didn't consider it as such at the time, but there was an amusing incident at the beginning of the gala dinner. During a last-minute race against the clock to attach balloons to pillars in the dining hall before the doors on either side were open to admit the guests, I was securing the balloons on one side and Huschke was lending a hand on the other.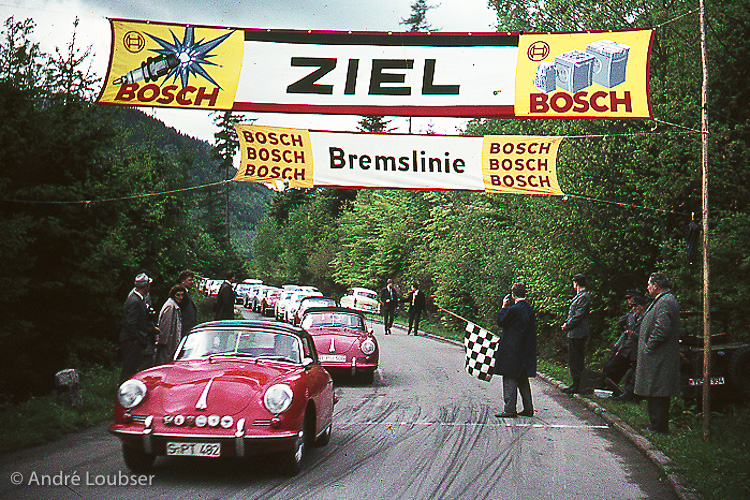 Suddenly the music stopped, and there was complete silence as the doors on either side of the hall were thrown open. Members of the Porsche family led two groups of guests into the hall, among them Prince Metternich, head of the ADAC (the German Automobile Association), various dignitaries, Freiherren (barons), Grafen (earls) and other members of the aristocracy, and not least a clutch of VIPs.
At this point von Hanstein and I hurriedly crossed the floor in a rush to get our seats. As he passed me, Huschke let out a huge fart or, in more polite and technical terms, crepitis ventris. In that moment of absolute silence the sound was earth-shattering, and echoed around the hall like a thunderclap.
I had already discovered that when von Hanstein was annoyed his bright blue eyes turned an even brighter shade of blue. Then you knew you were in trouble. On this occasion, he spun around and, with a theatrical glare and a look of mock disbelief, said loudly, 'I beg your pardon my dear André!' I stood there, speechless. What could I do?
Yes, Huschke had a wicked sense of humour; during the evening, for instance, he went up to an elderly Count and Countess, the latter dripping with jewels, whom he obviously knew well, and gallantly took the lady's hand to kiss. As he bent down he kissed the back of his own hand with a deliberate loud smack. There was a roar of laughter from those who witnessed the scene. Only Huschke could get away with such outrageous behaviour.
On the Sunday, at the hill climb prize giving ceremony in the elegant Kursaal, in the presence of some 700 people, Huschke made four consecutive speeches – in German, fluent English, and then equally fluent French and Italian. I admired his confidence and style. I remember, too, how impressed I was at the time, if not sometimes completely overawed by the intellect, general behaviour and sophistication of the Europeans.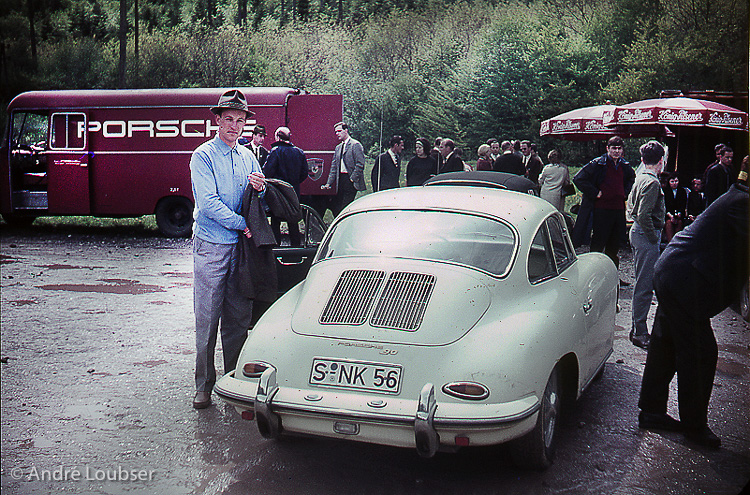 On Saturday, 8 June, our clique set off for the Belgian Grand Prix at Spa. We left Stuttgart at about 04h00 and arrived at the circuit at midday. At about 14h00 I saw a dejected Carel de Beaufort, a private entrant (it was possible in those days), sitting on the pit counter. When I asked what the matter was, he told me that his engine had blown up in practice but that he had a partially assembled engine back at the factory. On impulse, I suggested we should fetch it. That happened and it turned out to be the craziest week-end of my entire life. It'll be great story for another day.
A week later, we were off to Le Mans. In the meantime, Evi had asked for a transfer to the French Porsche distributor in order to learn French and had acquired an apartment in Paris. We camped there en route, and on the Saturday morning, greatly excited, headed towards Le Mans – all five of us crammed into my faithful Beetle. That was quite a special car, for it actually had a Porsche steering wheel, undoubtedly the reason why it went so fast.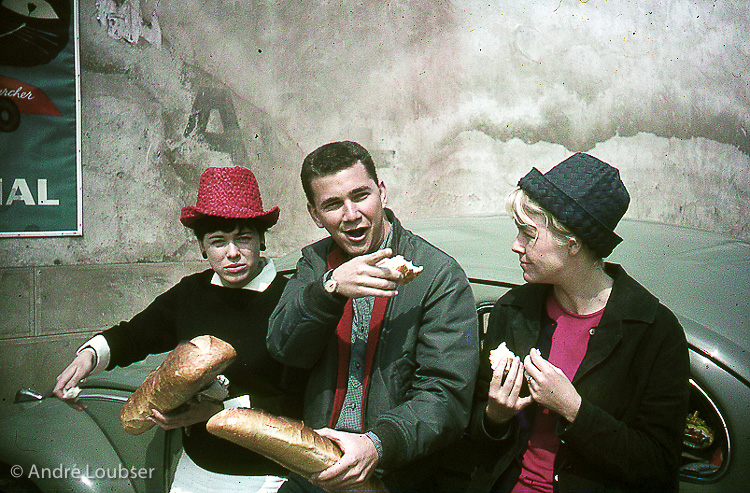 As a result of my job, I had the good fortune to be in the Porsche pits for what is surely one of the most extraordinary motor races in the world. Even today, almost six decades later, I vividly recall the mood changes throughout the 24 hours from elation to mild depression, as night falls and then dawn breaks. The incessant wail of racing engines, searching headlights penetrating the night air, the seemingly never-ending sideshows, the all-pervading smell of fish and chips, early morning Mass at a makeshift altar, with the priest pausing at regular intervals lest his message be drowned by screeching V12 engines.
A sight denied to modern race-goers is the famous Le Mans start. I witnessed this spectacle from the pits with some 60 cars lined up in front of me, and an equal number of tense and nervous drivers, most of them clad in traditional pale blue Dunlop overalls of the period, lined up across the track.
About 10 minutes before the start I noticed Marianne Bonnier struggling to carry a deckchair towards the pit of the prototype eight-cylinder Porsche 718 GTR coupé that Jo Bonnier and Tony Maggs were sharing. I took the chair and opened the door to put it inside for her. Von Hanstein saw me, entering what is widely considered sacred territory, and shouted at me in no uncertain certain terms to f… off. I yelled back that I was only helping Marianne with the deckchair and that if he couldn't control his temper he would probably drop dead from a heart attack.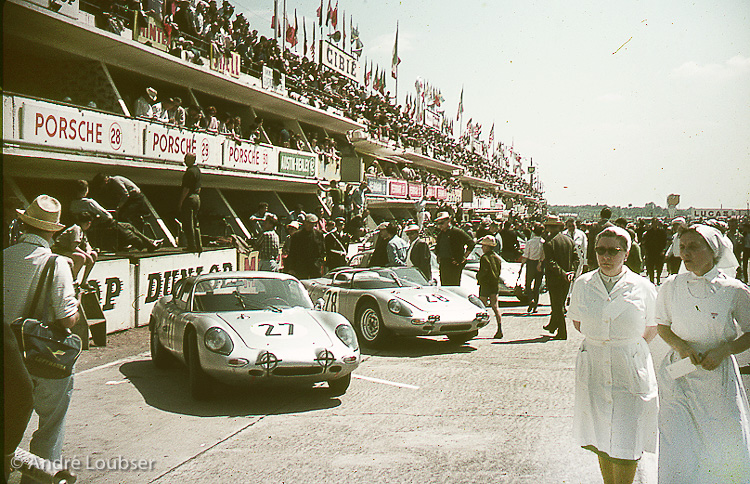 Poor Marianne didn't know where to look, but gave me a sympathetic look. I stormed out of the pit, and was gripped by a sense of gloom at my reaction. No doubt the tension of the moment had got to both of us. Putting aside my feelings, I walked quickly into the adjoining pit to the Barth/Linge eight-cylinder Spyder to photograph the spectacle of the start. For the rest of the day I studiously avoided Huschke.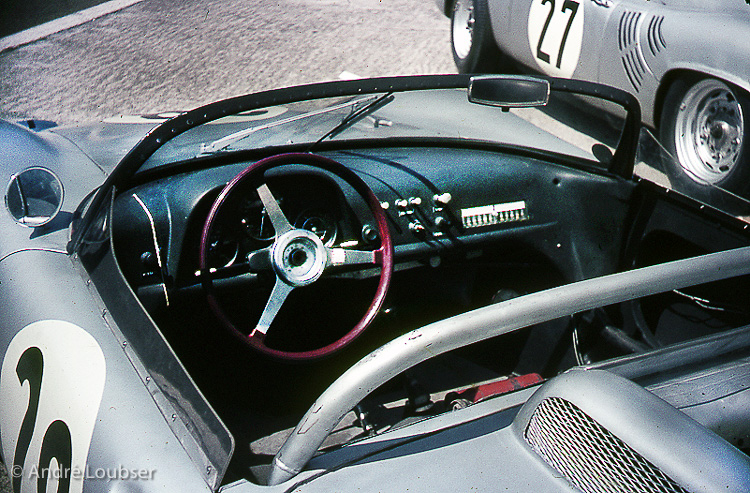 At this point I must digress to relate an interesting story about aerodynamics, a subject that today is taken very much for granted. That year, during practice at Le Mans, both Jo Bonnier and Tony Maggs had great difficulty in keeping their shovel-nosed eight-cylinder coupé on the straight and narrow along the ultrafast Mulsanne straight. The car weaved so badly, said Tony, that he didn't know for certain whether he would pass a slower vehicle on the left or the right. During a brainstorming session in the pits to solve the problem, Richie Ginther, himself an excellent test driver, walked in. He suggested the car needed a small spoiler at the rear. The Porsche chief mechanic was vehemently against the idea, but eventually gave in under the pressure. A crude aluminium spoiler was quickly made and attached with rivets, and violà, the Porsche soon set off with new tail feathers. The change, said Tony, was phenomenal. From being a car that steered like a pig on the way to the abattoir, it could be driven at 280 km/h (175 mph), with two fingers on one of the steering wheel spokes.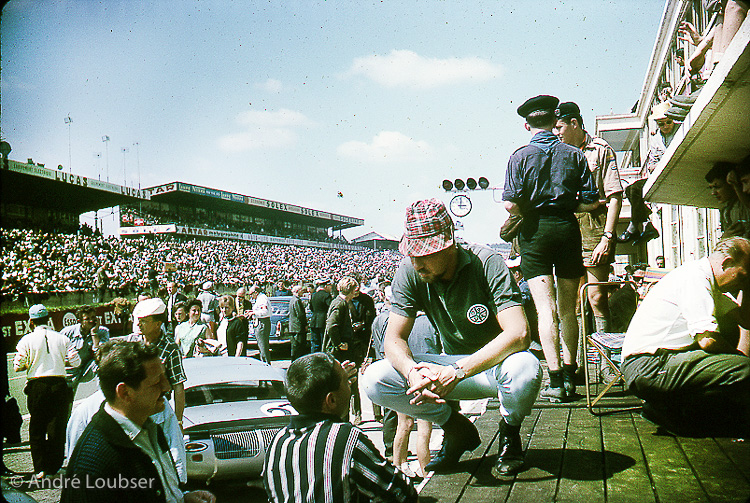 I relate the incident also to underline the camaraderie that existed between drivers and teams in those days. Ginther, sharing the gas turbine Rover with Graham Hill, had absolutely no need to impart his knowledge of aerodynamics to Porsche, which in theory (if not in practice, given the somewhat experimental nature of the Rover entry that year), was the opposition. Huschke, who sanctioned the modification, must have been pleased with the outcome and a new lesson learnt in aerodynamics.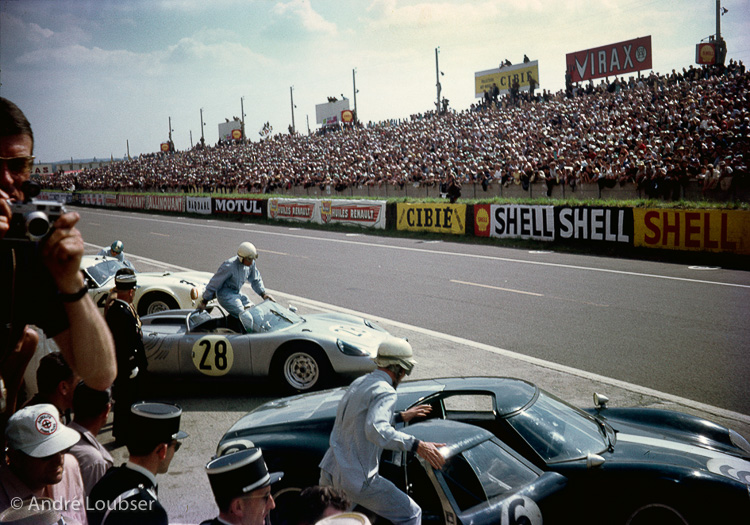 At about 8 o'clock that evening Randy Edwards and I took a walk around the circuit. The speed of the cars along the Mulsanne was a sight to behold. At about midnight we arrived at White House corner in heavy mist, and not long afterwards witnessed fellow South African, Bob Olthoff, spectacularly rolling his Austin-Healey when a bank of mist momentarily obscured his view.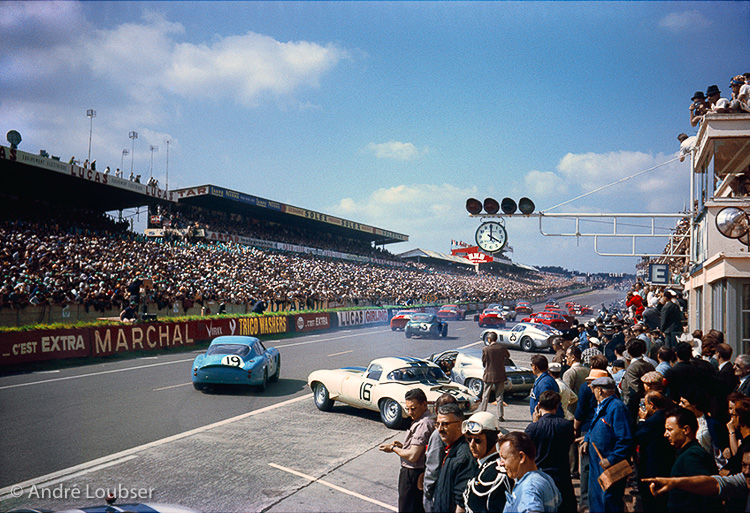 When Randy and I arrived back at the pits, news had just been received that Jo Bonnier had had an accident on the Mulsanne straight and had gone off into the forest. Earlier in the evening, Bruce McLaren's Aston Martin had blown its engine and deposited the contents of its sump on the track at the fastest point. Roy Salvadori in a Jaguar hit the oil, spun, touched the bank and rolled. He was flung out and lay at the side of the track with leg injuries for some time before he was found.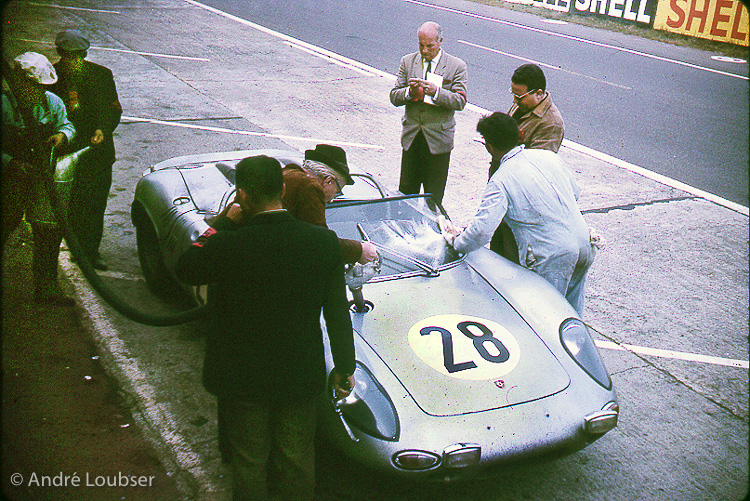 Then two other cars and an Alpine driven by Bino Heins of Brazil collided with the wreck of the Jaguar. Heins' car caught fire, and he was literally incinerated while strapped in his seat. There was nothing left of the car, other than the engine, the running gear and some bits of tubing. It's at moments like this that real depression sets in, and you wonder what on earth motor racing is all about. There was, not surprisingly, a deathly hush and a feeling of utter gloom in the pits.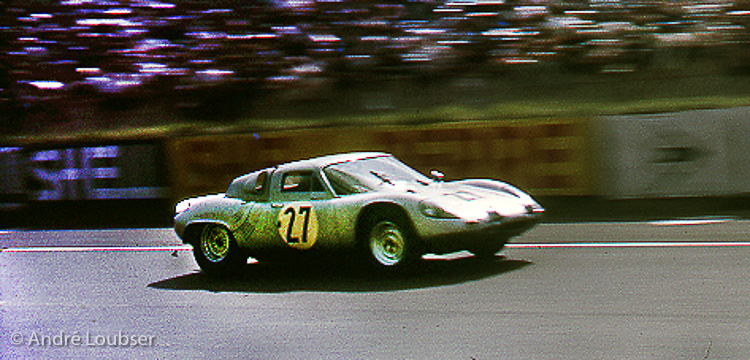 Marianne eventually went off and sat in their Mercedes-Benz 220 S at the back of the pits. When, a little later I took her a cup of coffee she just sat there, huddled against the door, staring into space. It was then that I felt great sympathy for the wives of racing drivers. In fact, during the seven years that I lived in Germany and England, 29 drivers died in accidents, unlike today, when fatalities are mercifully rare. In those years, motor racing really was dangerous, and sex safe!
After an agonising wait of about an hour, I spotted an unruffled Jo Bonnier walking along the pit lane. A mightily relieved Huschke and I ran up to him and Jo explained that he had been right behind Penske's Ferrari when it, too, had comprehensively blown its engine.
In a split second, the Porsche's windscreen was covered in hot oil, and as Jo had no forward vision he tried to keep the car straight by looking sideways out of the window. At that speed, and in the dark, he had absolutely no hope of doing so, of course; the Porsche jumped an earth bank and ploughed into a pine forest, fortunately in an area of young saplings.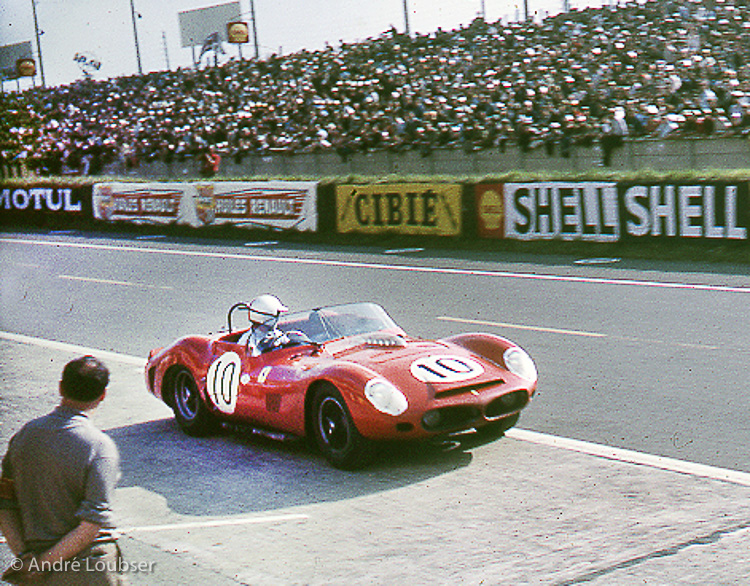 Questioned further about the condition of the car, Jo, in his usual laid-back Swedish manner, replied, 'Oh, it's not too bad.' It was one of the most monumental understatements I've ever heard, for in the light of day the remains of the Porsche looked more like an aircraft accident. That he'd walked away from it without a scratch was a miracle. Tragically, Jo was to die at Le Mans nine years later under eerily similar circumstances, when his Lola was touched by Ferrari in the Indianapolis corner and launched into the forest.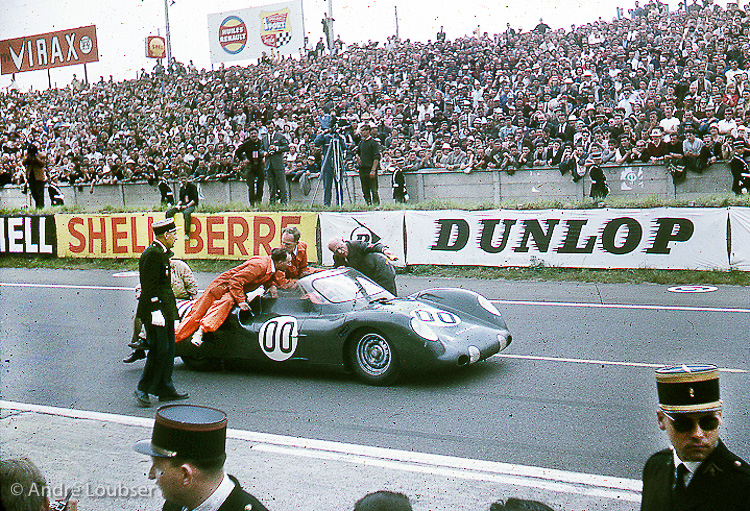 Back at the factory on the following Tuesday I bumped into a beaming Huschke, who asked if I had enjoyed Le Mans. He reached into his pocket and gave me some tickets for the forthcoming races at the Solitude GP circuit, our short but heated argument in France completely forgotten.
Stay tuned for Part II which will follow shortly…
Words by: André Loubser
Images by: André Loubser and Porsche Werkfoto