Is the Porsche 718 Cayman GT4 RS the "purist" sports car from Porsche? With the incorporation of the GT3 engine, innovative aerodynamics, and race-grade suspension, it meets every purist's dream—though sans the manual transmission. However, the moment its starter whirs, the profound roar from its 4.0-liter naturally aspirated flat-six engine underscores its distinction, mainly due to its unique carbon airbox located within the cabin. Ready for take-off?
Porsche's dedicated effort in enhancing driver feedback is more than evident. Although the intake system's reformation was unnecessary, it signifies Porsche's holistic design approach. The GT4 RS's spherical ball joints, expansive front fenders, and abbreviated gearing combine to provide immediate and clear communication with the driver.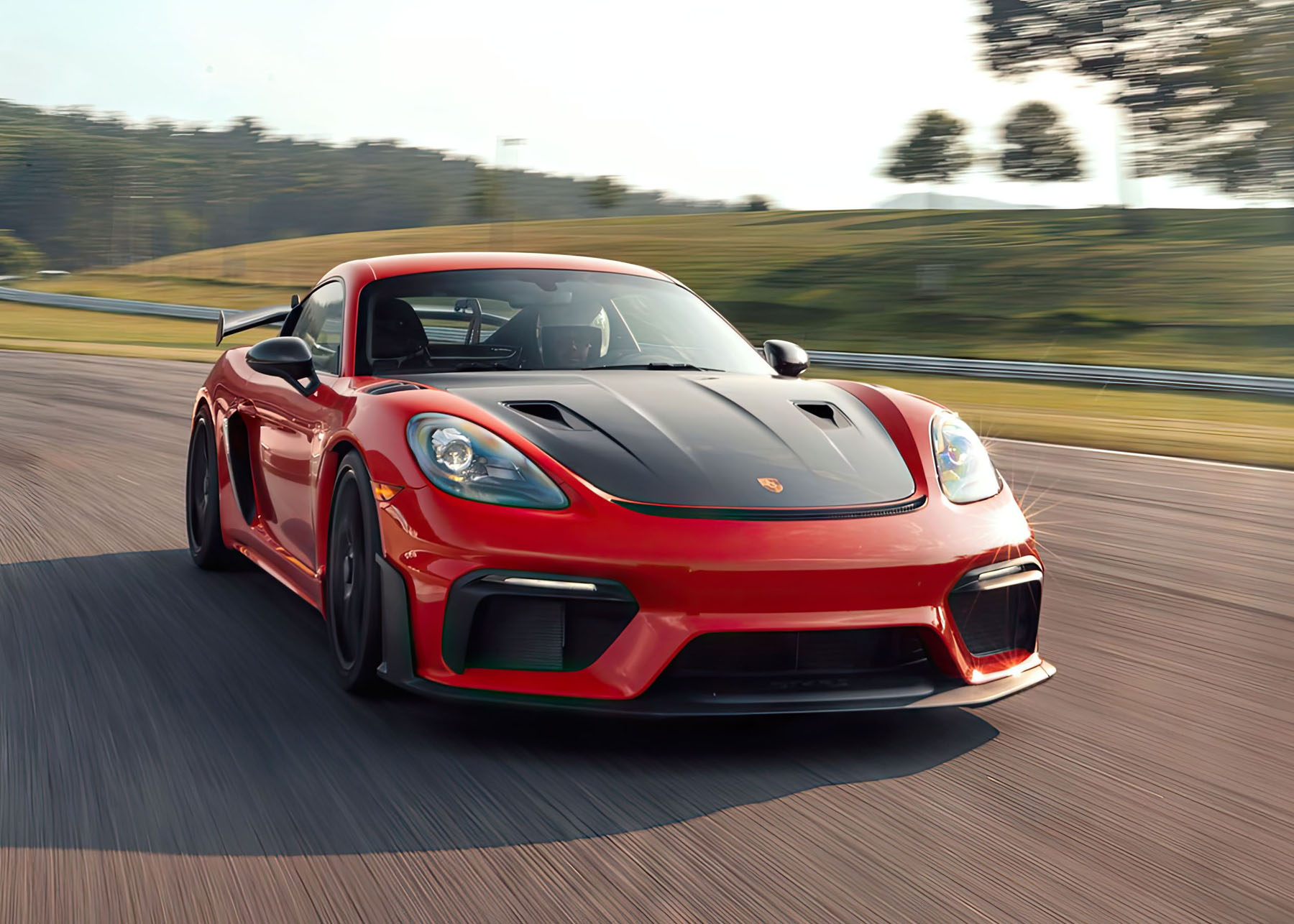 The business end
Its impressive flat-six engine, derived directly from the 911 GT3, boasts attributes like individual throttle bodies and a dry-sump oiling system. The engine delivers 493 hp and 331 lb-ft of torque. Despite its power, the vehicle weighs a mere 3227 pounds, primarily due to innovative lightweight components. This weight reduction facilitates its astonishing acceleration, clocking 0-60 mph in just 2.8 seconds. The Weissach package, an essential addition for track-day warriors, further refines its performance and appearance.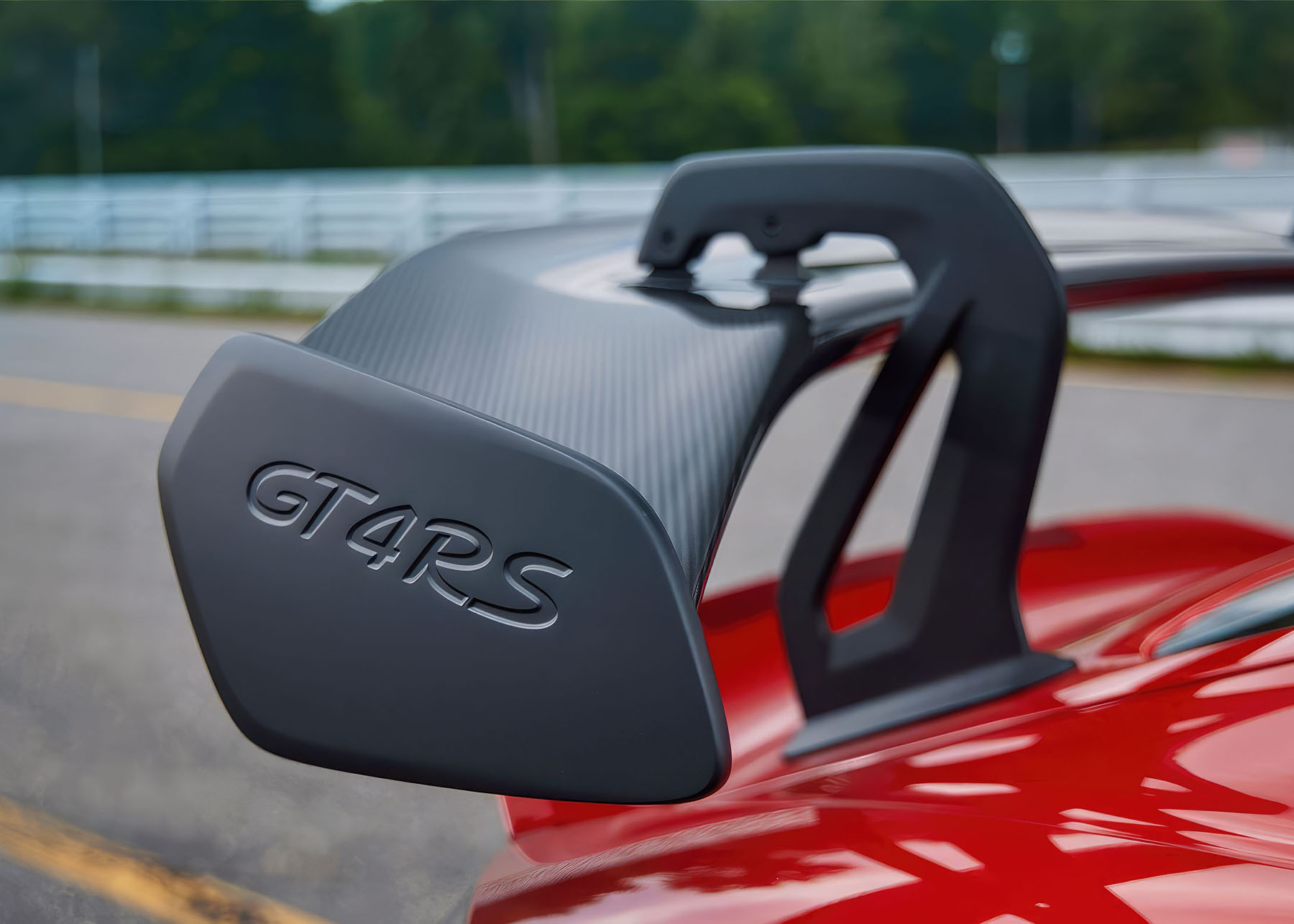 Cockpit
The interior of the GT4 RS radiates precision. While the PDK shifter mimics a manual one, it's imperative to note its automated nature. However, its ergonomic design, from the seating to the steering wheel alignment, ensures impeccable driver comfort and control. There are some contemporary touches, but essentially, the car retains a tactile and analog character.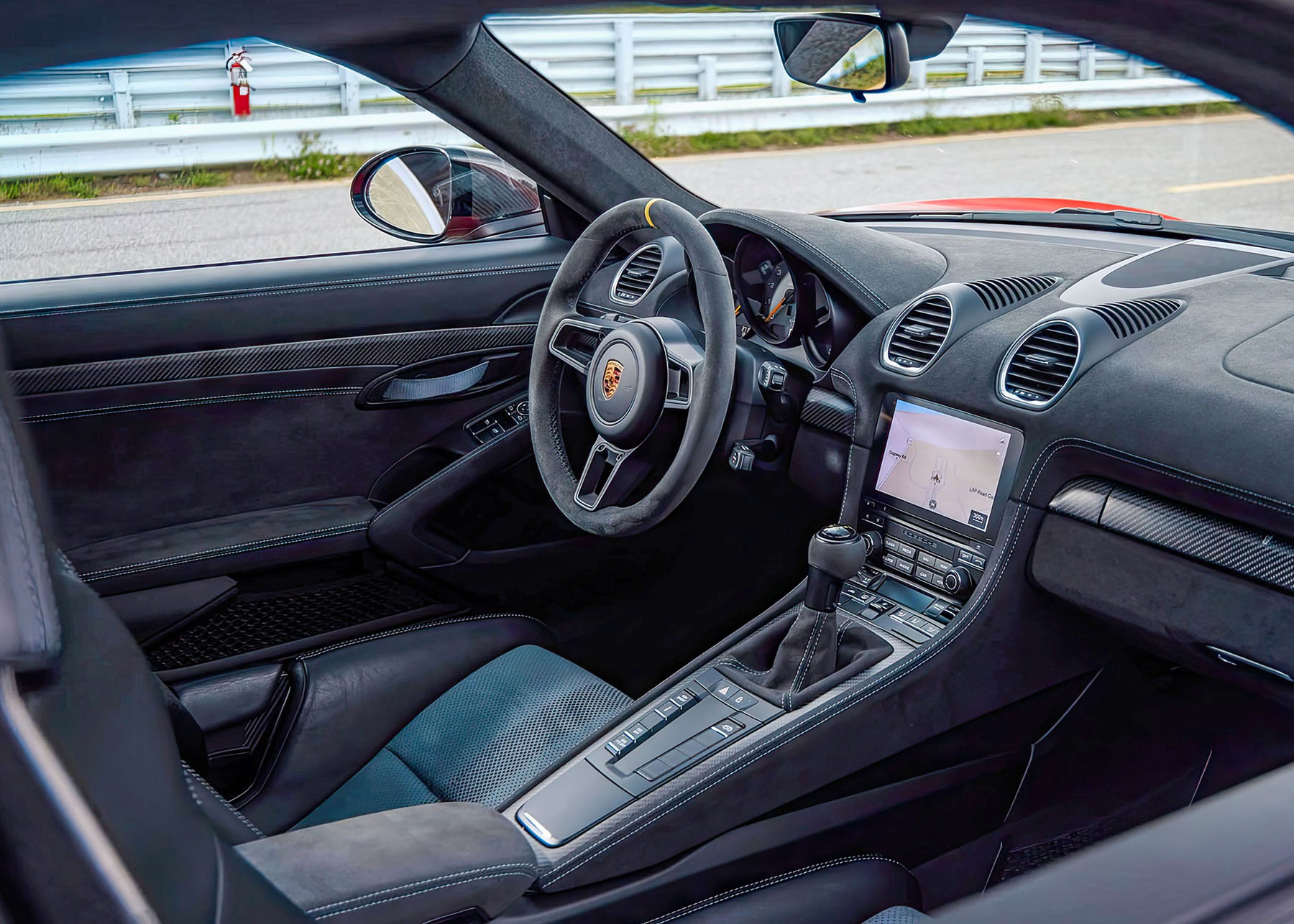 Apex predator
On the track, the GT4 RS is a revelation.  The car's Michelin Cup 2 tires and broadened front track ensure exceptional grip, and its suspension system, devoid of rubber, guarantees direct feedback to the driver. Despite its fierce appearance and features, the GT4 RS remains amiable and intuitive, urging drivers to test their limits. Its increased downforce, elevated by 25% from the standard GT4, coupled with the rapid-reacting adaptive Bilstein dampers, contribute to its ridiculous handling (as in, you won't believe just how good it is). Find a long straight, and the engine delivers a mechanical symphony, with the concluding 8000 to 9000 rpm stretch particularly enlightening. This car allows us mere mortals to experience something beyond what we deserve.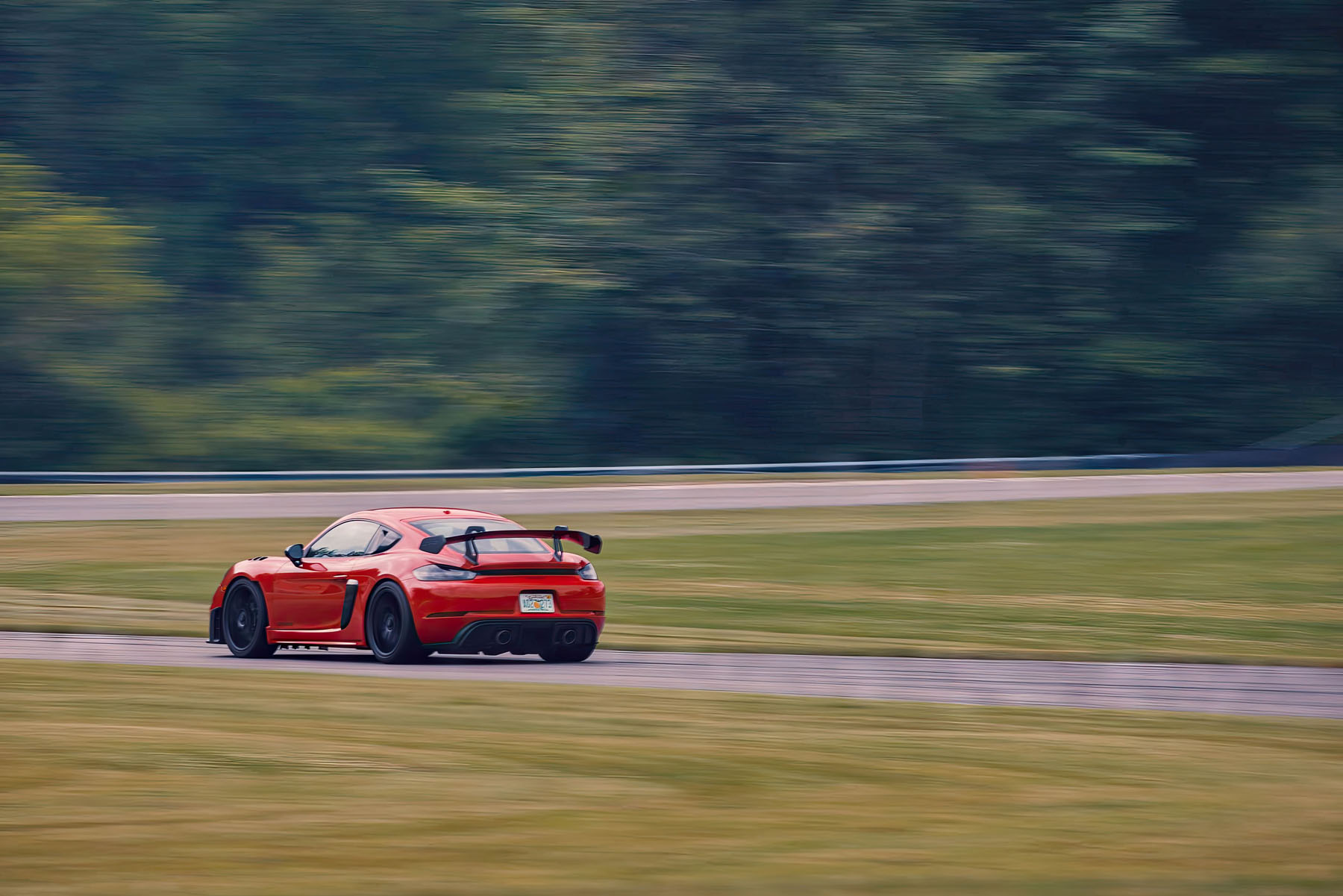 Shifting and brakes
Complementing its impeccable engine is its flawless gearbox. Porsche's PDK dual-clutch system ensures rapid shifts without torque disruption. This transmission intuitively adapts to diverse driving conditions, discerning the optimal gear for any scenario. Not to be overshadowed, the braking system, with its aluminum mono-block fixed calipers and enlarged front discs, provides relentless stopping power, even under repeated intensive laps.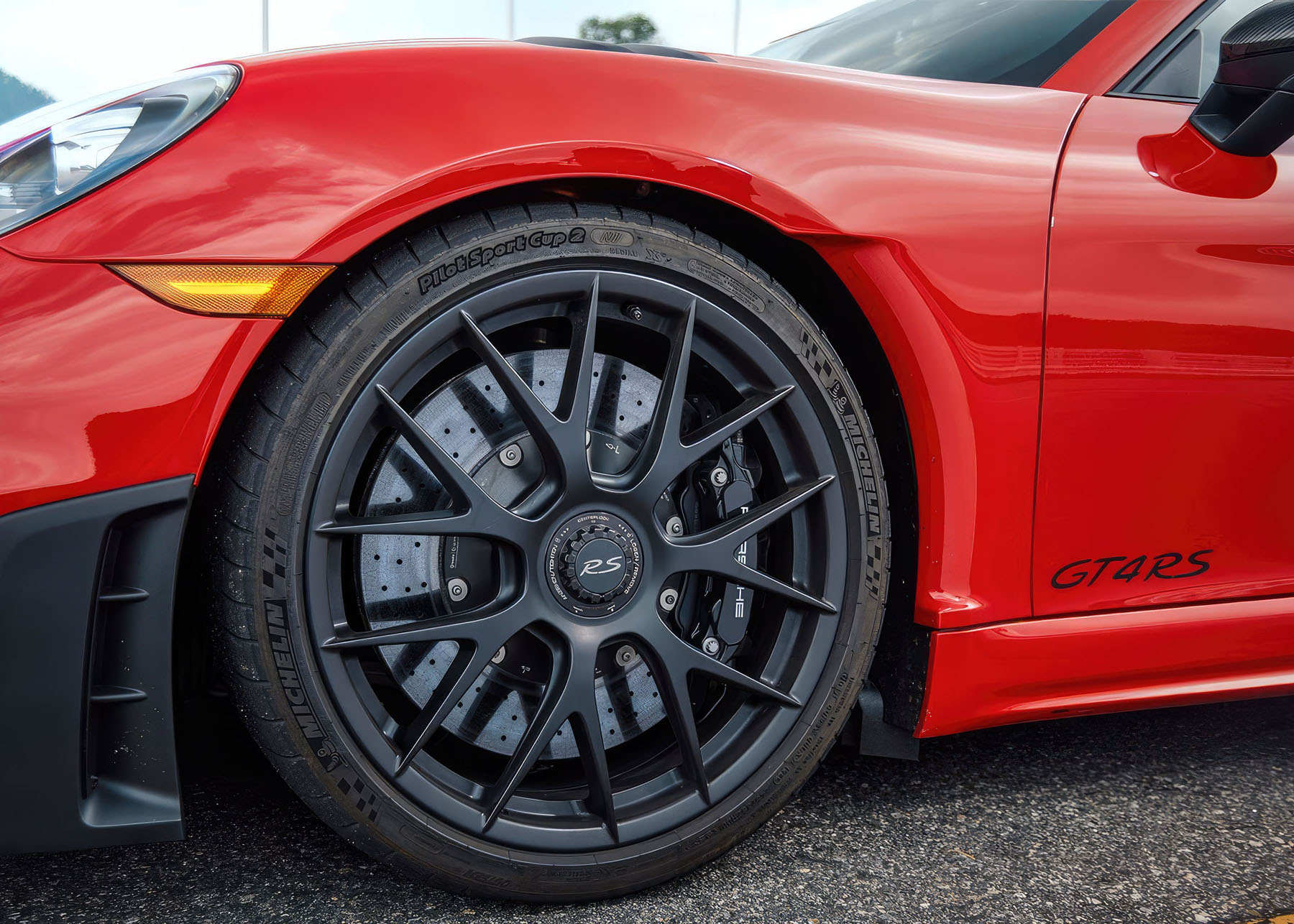 The complete package
The 718 Cayman GT4 RS stands as Porsche's "magnum opus" for combustion-based mid-engine sports cars. It transfers the esteemed features of Porsche's top-tier 911 track specials, encapsulating them in a balanced and delightful chassis. Given that its successor is anticipated to be fully electric, the GT4 RS signifies an era's poignant and grand finale. Its existence is a testament to Porsche's dedication to automotive excellence, reminding us to cherish such marvels before they vanish for good.