Whether you're a novice or advanced HPDE driver, trying to crack the formula for determining the "best track tire" can be challenging. Many factors go into deciding which tire will work best for you—budget, the type of vehicle you're driving, intended usage, and sizing availability, to name a few.
Nevertheless, certain tires stand out amongst a long lineup of competitors to deliver a superior combination of performance, longevity and value.
To provide relative pricing context, I've listed the price of one 265/35/19 tire (unless otherwise stated) on tirerack.com.
Disclaimer: this selection is catered towards modern Porsches (Boxster, Cayman, 911) fitting wheel sizes between 19" and 21", so certain tire options may have been excluded as they do not avail the required sizes. However, some of these recommendations may also offer vintage sizing.
General Performance Picks
These tires are made primarily to be suitable for street use on performance cars. They typically offer the best ride quality (comfort and reduced road noise) relative to the more track-oriented tires. Also, they tend to wear less quickly, thus offering more value from a longevity standpoint.
Most performance models, such as a Cayman GTS or 911 C4S, will come equipped with this category of tire from the factory. It should also be easier to find these tires in the appropriate sizes, being an OEM product.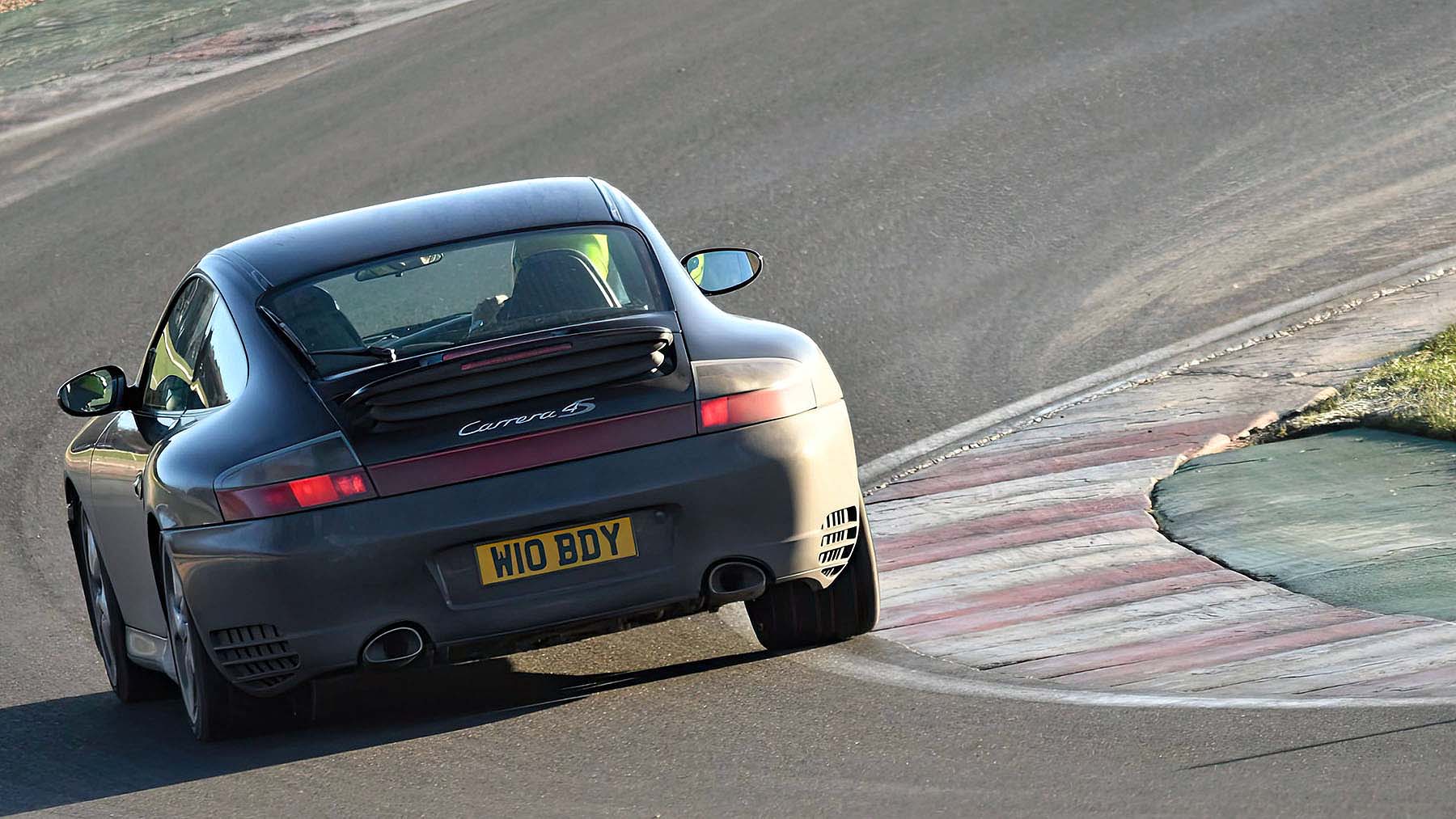 As a street tire, they'll offer superior grip in wet conditions when compared to the "track specialists", while also providing desirable dry handling characteristics.
These tires are ideal for those who are newer to the game and want a reliable and cost-effective solution to get them through their first few track days/HPDEs and beyond. Awesome to learn on, and will continue to be there for you as you level up.
Michelin Pilot Sport 4S
Price: $402.99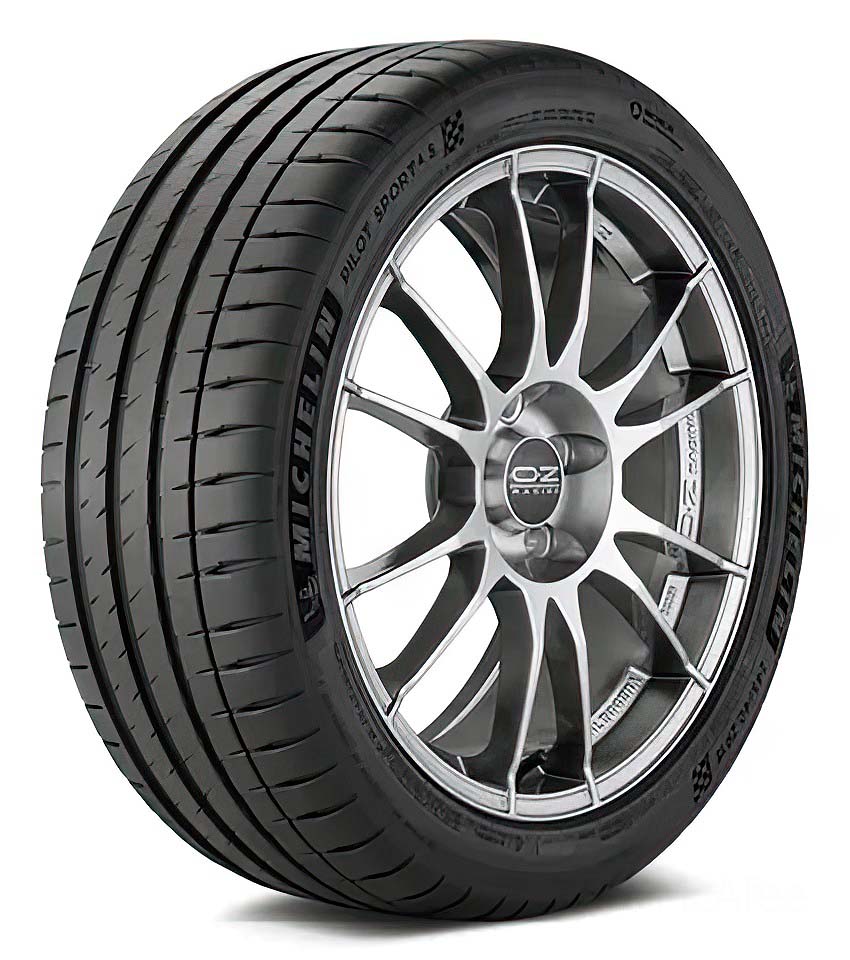 The "PS4S" has long been established as the industry's "go-to" tire when it comes to performance cars. They are strong in every important metric—including treadwear and comfort—making them a popular choice for weekend track warriors who don't want to deal with the fuss of swapping wheels while at the track.
They're particularly raved about for their excellent grip in wet conditions while offering plenty of it on dry tarmac too. As such a popular tire, the PS4S is also available in the broadest range of sizes within this category, so you should easily be able to find a set for your Porsche.
Goodyear Eagle F1 Supercar 3
Price: $433.99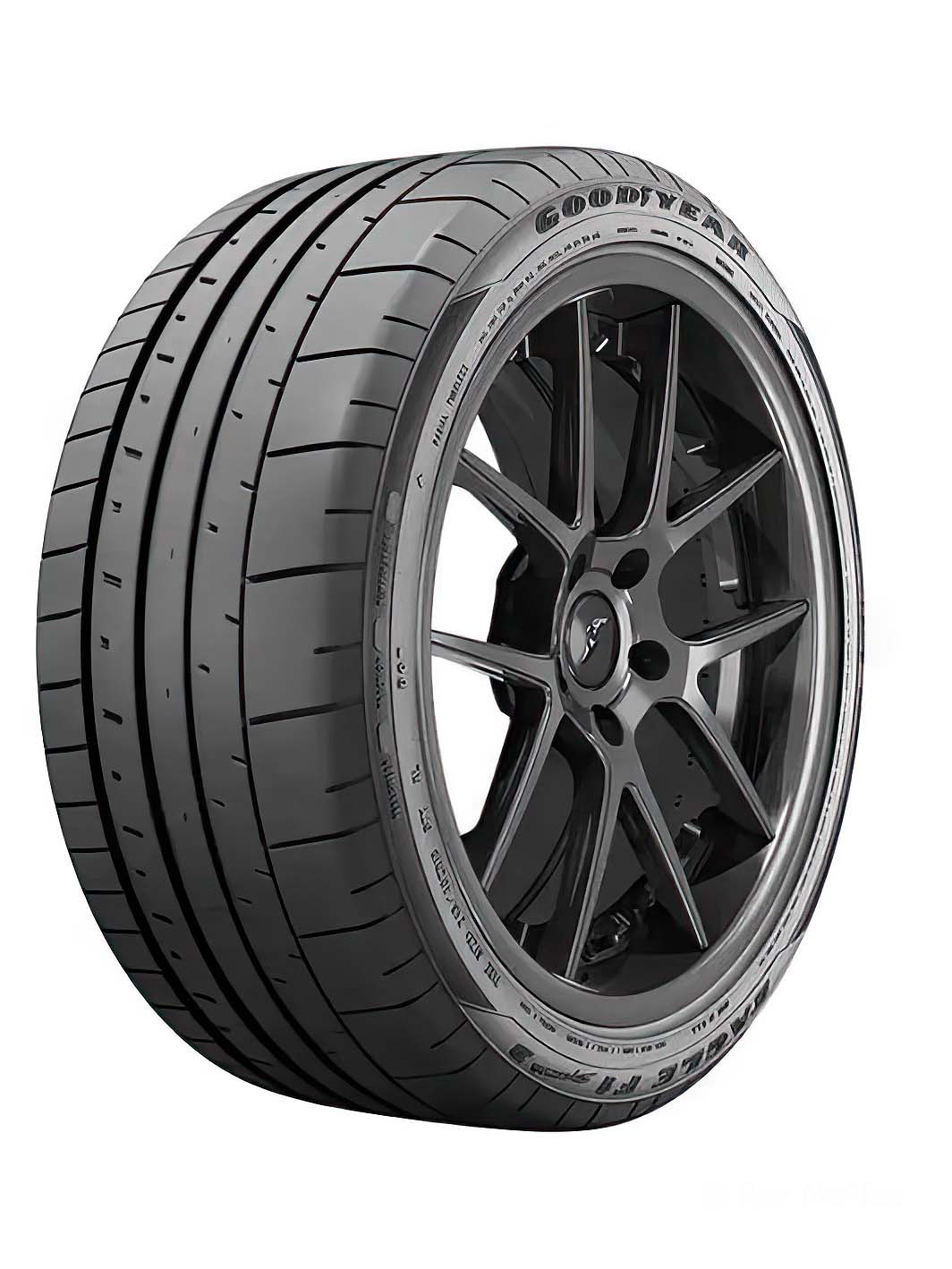 Another strong all-rounder, with similar pricing to the Michelin Pilot Sport 4S. Originally developed as an OEM product for the Chevrolet Camaro ZL1, the Supercar 3s are known for their superb grip in dry conditions.
They're not quite as versatile as the Michelins, with drivers noting they're less stable in the wet. However, they remain a great alternative, especially when on sale. Sizing is also slightly more limited, but they come in GT3/GT4 fitments.
Hankook Ventus R-S4
Price: $393.67 (275/35/19)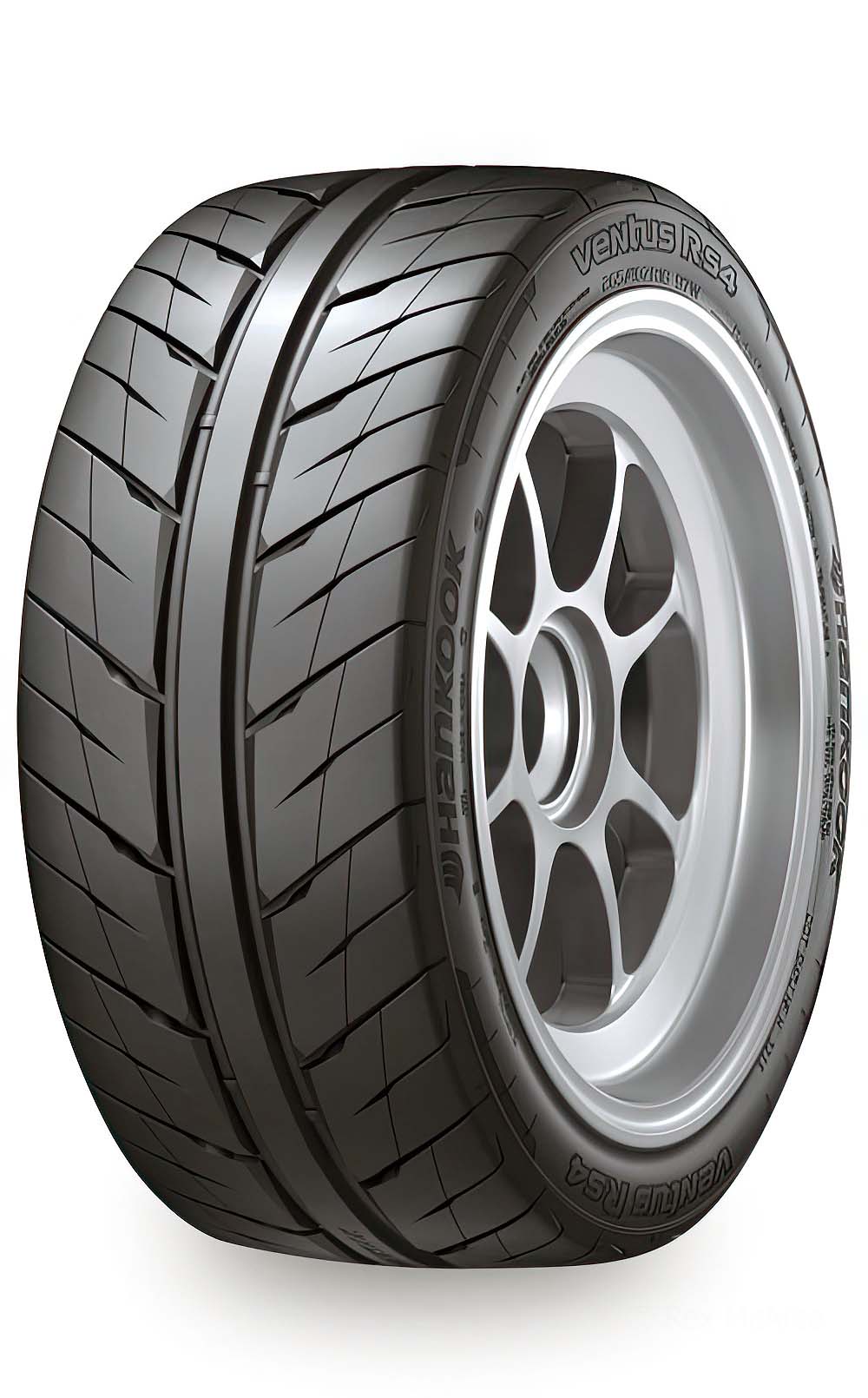 The Ventus R-S4s are another fan favorite for frequent track goers due to their relatively low cost and strong performance. Drivers commonly remark about the tire's predictability and durability, making it an excellent option to drive on for multiple track days and in varying weather conditions.
As they're only made up to a 19" size, it leaves out most newer Porsche sports cars, at least as a direct OEM replacement. That makes them more appropriate for cars like the 996-gen and 997-gen Porsche 911s, or newer models running aftermarket 19" wheels.
Street-Legal Track Specialists
This category is occupied by tires in the 100tw (treadwear) range. As DOT-approved tires, they're still street legal, but you'll probably want to restrict their use on public roads as much as possible.
These tires will wear much faster than any of the all-rounders, and their design has sacrificed comfort and quietness in favor of superior grip. They'll do fine for a short jaunt to the race track and back home, but it's best to avoid prolonged use or taking long trips on them.
You should consider this tire category if you're a discerning driver—one who has become comfortable with consistently driving your car near the limit at a race track. So, if you're looking to chase lap times as a way to quantify your progress as a driver or want to push your car closer to its limit, this is the right place to be.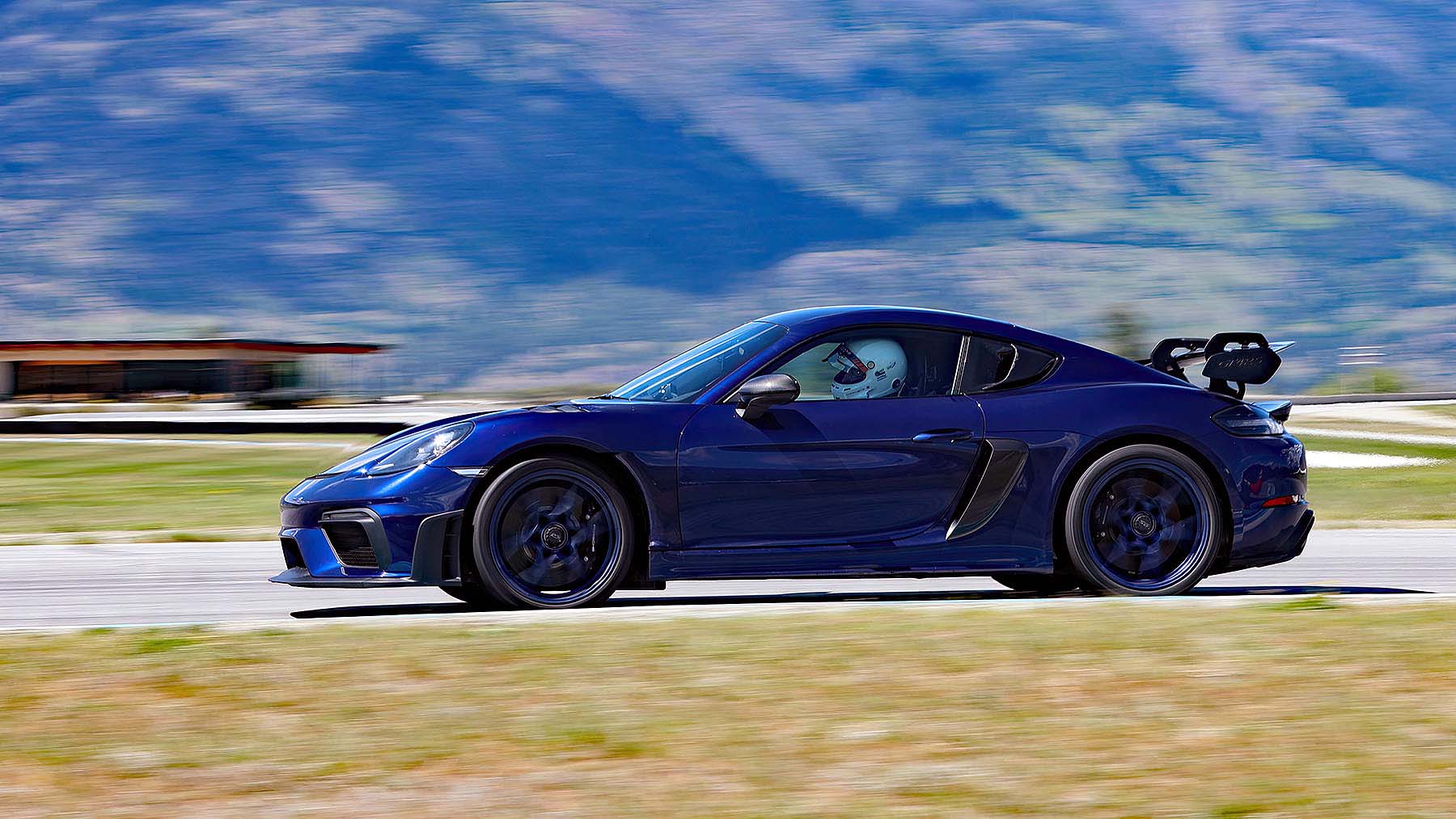 While they are used as OEM products on some range-topping performance cars such as the GT3 RS, there may be better tires for first-timers or novices to drive on. They're generally not as forgiving when pushed past the limit, and certainly nowhere near as safe in the wet or cold weather.
They really can only be recommended for dry conditions, so it'd be good to have one of the aforementioned all-rounders as a backup tire. That'll mean you'll also have to fork out some cash for an extra set of wheels, but doing so certainly adds another level of convenience and could save you money in the long run.
Nankang AR-1
Price: $349.99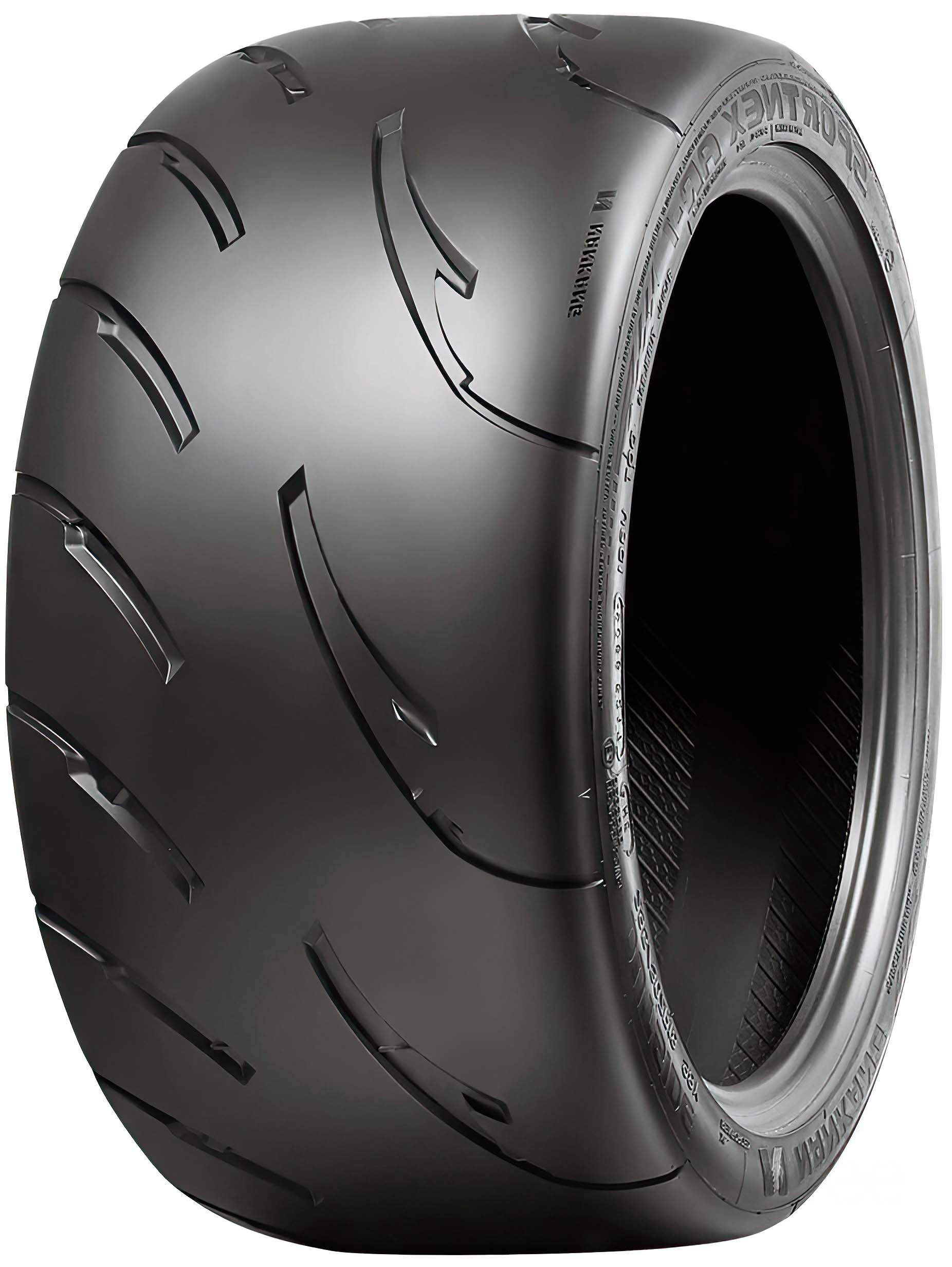 The Nankang AR-1s are essentially the "R-S4"s of this category. They aren't going to be an outright winner in any individual performance metric, but do everything very well. They're also reasonably consistent when pushed hard, making them a user-friendly option for drivers who don't have a pit crew at-the-ready to swap on a fresh set every dozen laps (which is most of us, sadly).
Most importantly, they're notably cheaper than any of the other recommendations in this category (and even the previous one), allowing them to deservedly take home the "bang-for-buck" trophy. But if results are what you're after—and if those results are predicated by lap times—read on…
Goodyear Eagle F1 Supercar 3R
Price: $461.99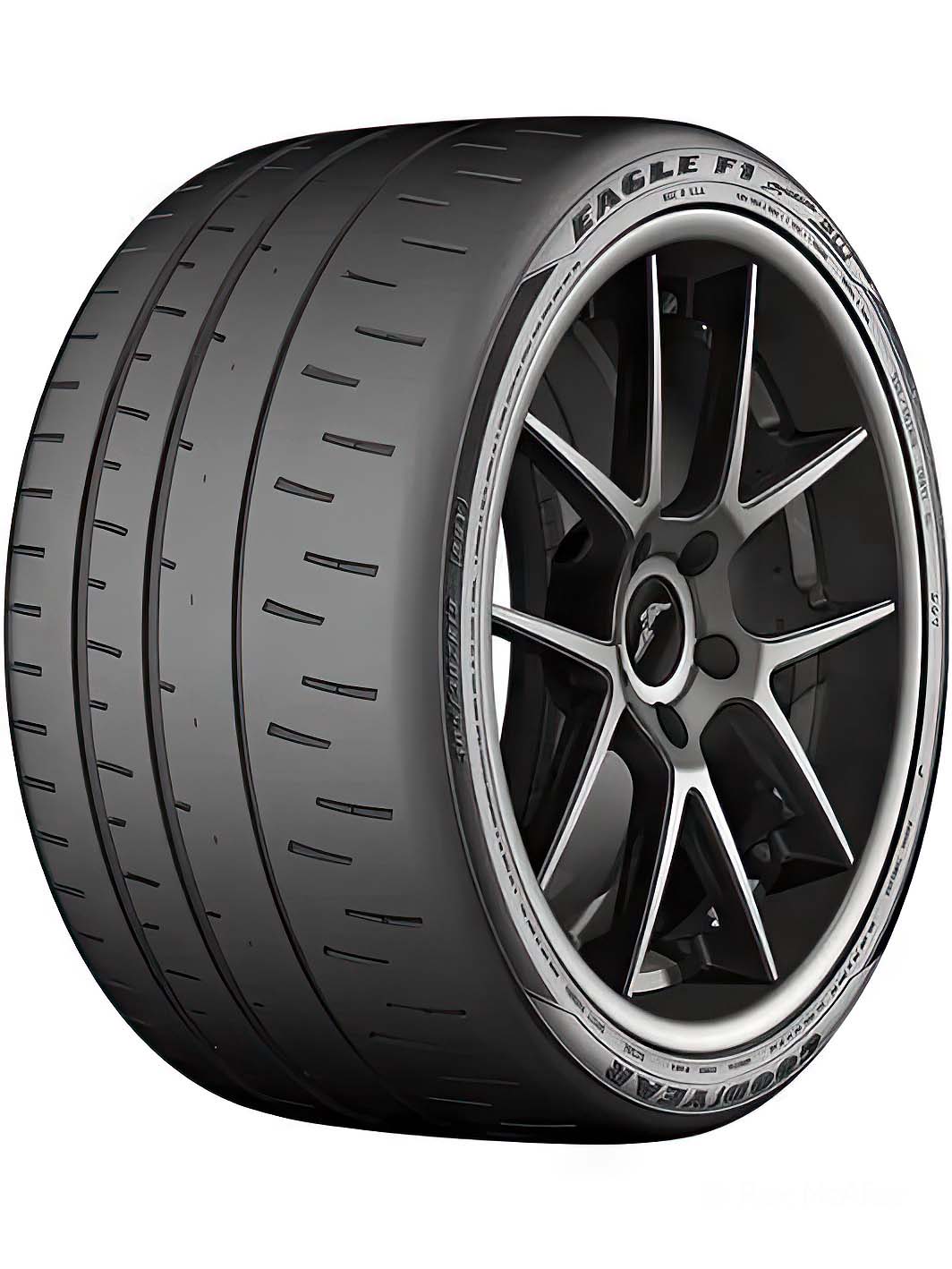 As things stand, the "SC3R"s have set the new benchmark for DOT approved tires. In terms of outright lap times—and even the consistency levels and generous windows in which they can be achieved—no one does it better than the Goodyears right now.
They're comparable in price, if not cheaper, than most competitors in the 100tw category. So, it's really a no brainer, that is, if you're able to get a set. That's proven difficult right now (ask me how I know) as there's no secret whatsoever about how good these tires are.
Even when compared to much more expensive competition grade tires (more on those in the following section), the SC3Rs punch well above their weight and even outperform them in certain respects.
Michelin Pilot Sport Cup 2 Connect
Price: $475.24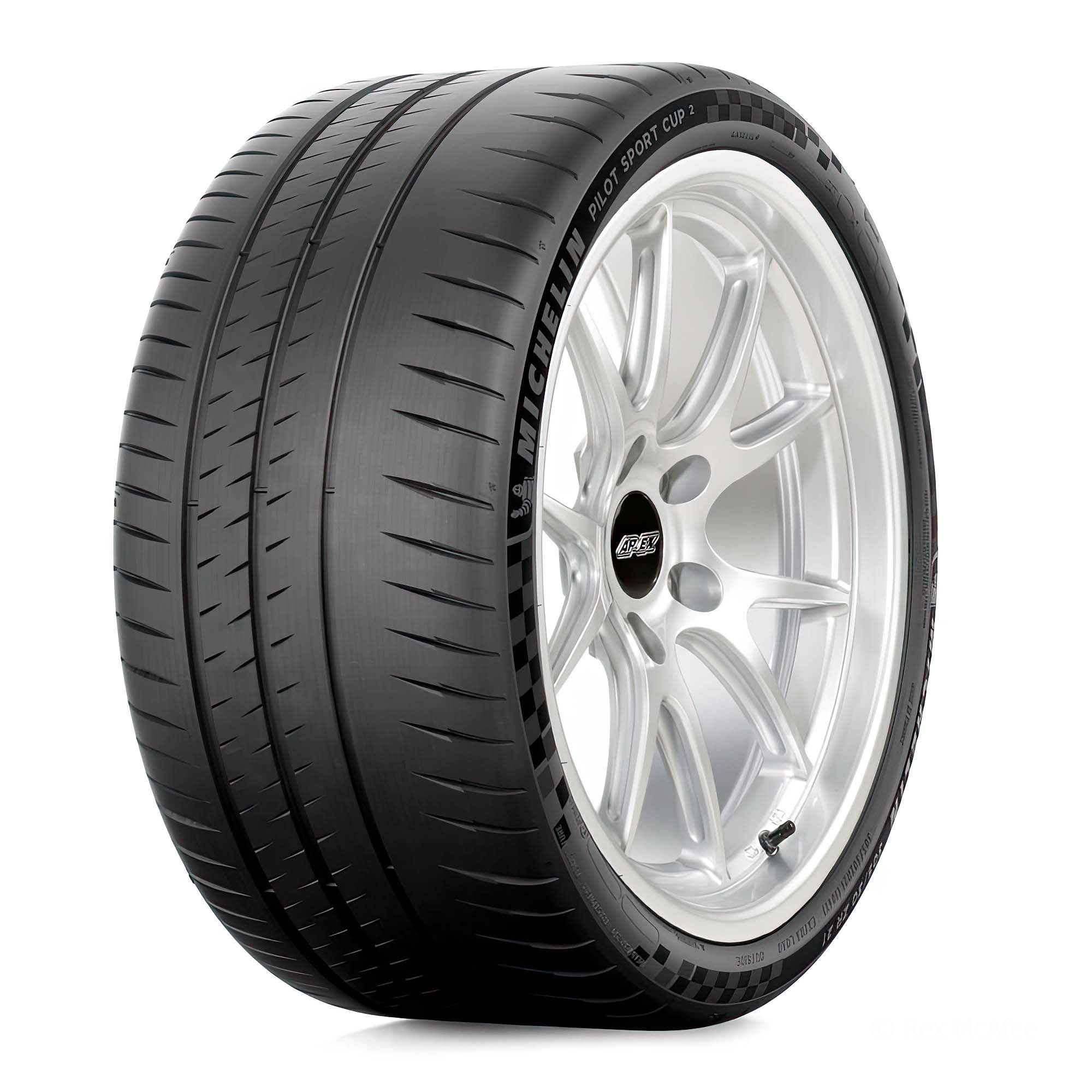 Like its predecessor—the good ol' Sport Cup 2—the brand new Sport Cup 2 "Connect" is becoming a popular OEM choice for high-performance production cars. Early tests have revealed that the Connect offers a massive improvement in wet grip, making it similar to its PS4S sibling in terms of versatility.
Interestingly, the Connect also boasts a higher 240tw rating, meaning that on paper, they should wear better than the previous iteration (180tw). Anecdotal tests have suggested that it'll still behave similarly to the Cup 2 on the track, so don't expect too much of a difference there.
Lastly, the new tire gets the Connect moniker due to its compatibility with Michelin's latest "Track Connect" app, which allows you to monitor important tire-related info on your smartphone while you're at the race track. Pretty cool, eh?
Competition Grade
Looking to set a new personal best, and possibly break some lap records in the process? These are the tires you'll probably need to pull this off with relative ease. However, as you'd expect, there are a number of sacrifices you'll be making in order to experience this tier of performance.
These tires afterall, are produced with competition use in mind, including professional wheel-to-wheel racing series. So, they've a singular purpose: maximum grip. Remove any conventional notions about "durability" or "longevity" out of your mind—this stuff is different gravy.
They don't just wear a lot faster than your typical DOT tire. Despite more grip, the extra sticky compounds and softer side walls transmit feedback differently, which can be disorientating for anyone new to them.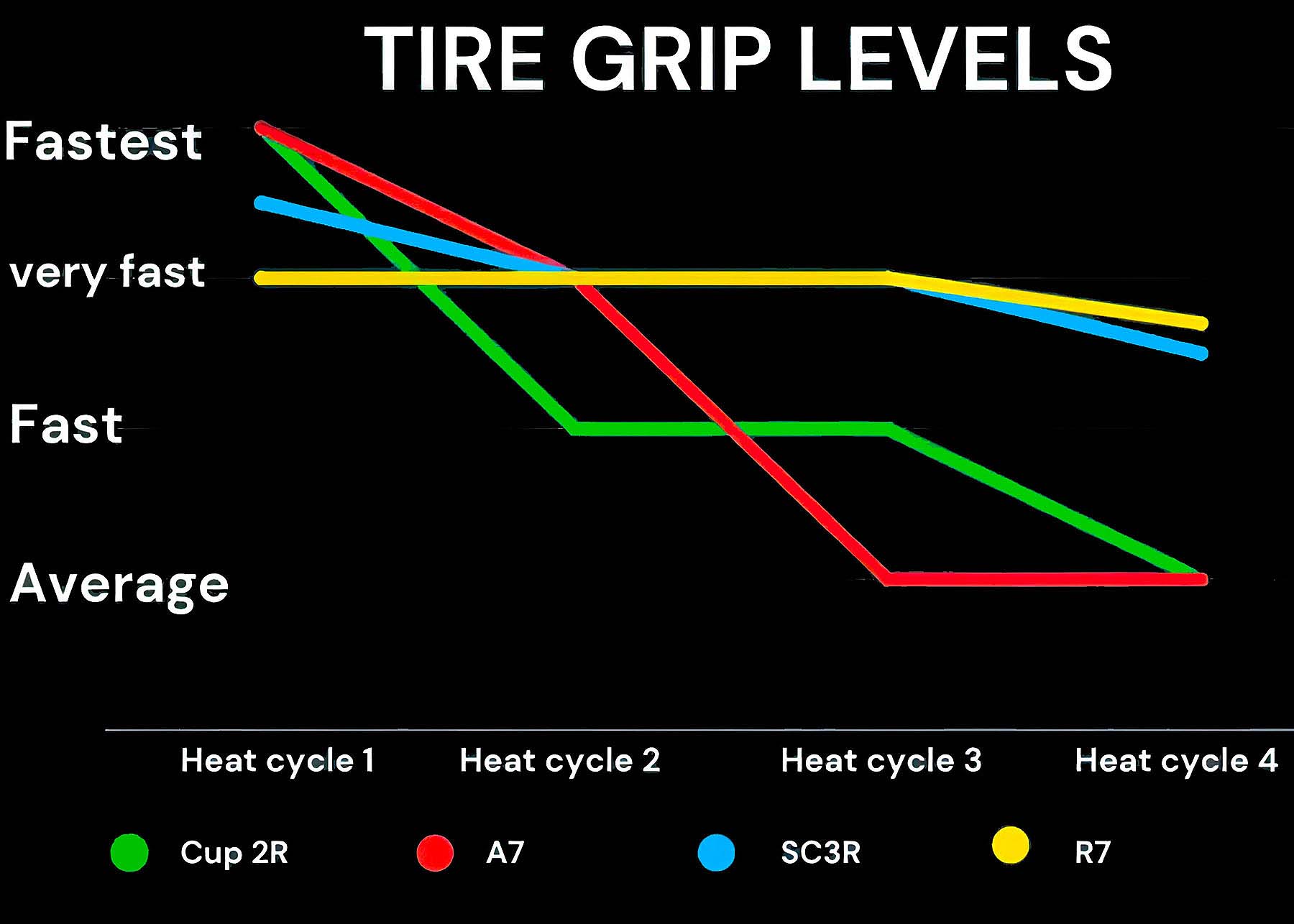 It goes well beyond just driving ability in order to get the most out of these tires, as they're very sensitive to heat and pressures. The window in which they're at their peak performance levels is much narrower, too.
Drivers often need to spend a period of time making adjustments to tire pressures and even the car's suspension setup before they feel good to drive on. This will certainly require making changes to your car's wheel alignment, and you should also be prepared to upgrade certain components like caster pucks, suspension arms, and more.
In other words, you need to have already committed to both your car and your pursuit of speed before exploring this option. These should never be the first tire you drive your production Porsche on at a race track, unless you have plenty of experience doing so in other cars. Consult with an experienced tuning shop or racing team before slapping slicks on!
Michelin Pilot Sport Cup 2 R
Price: $685.22 (265/35/20)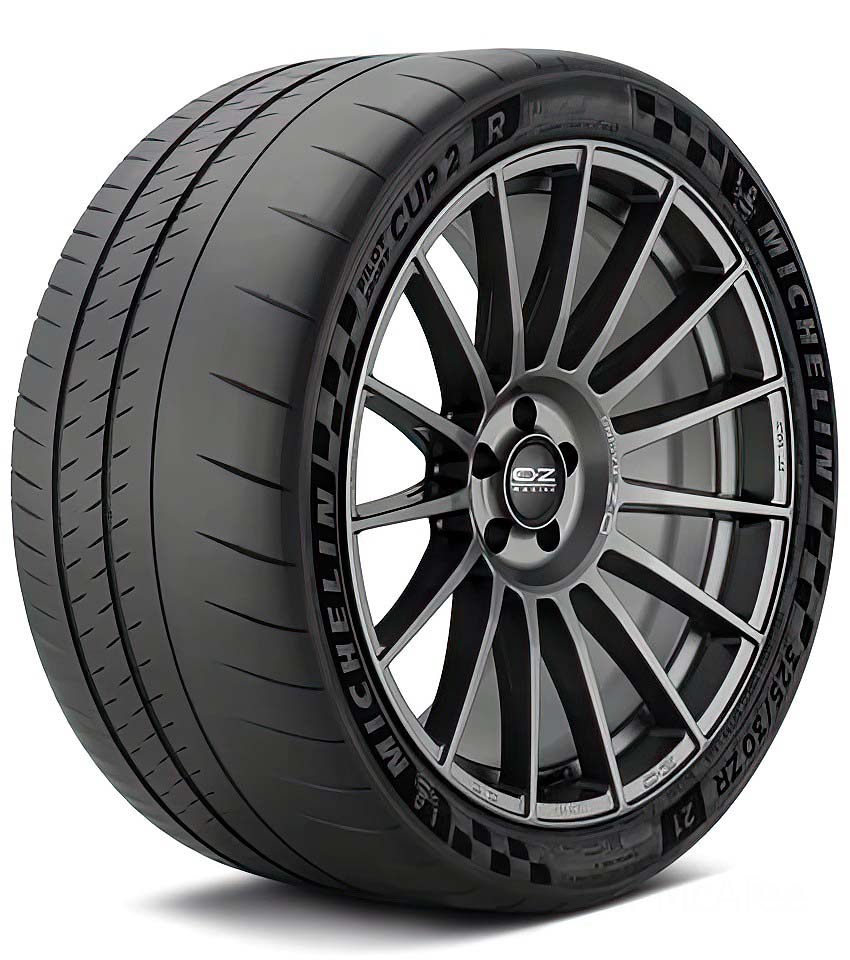 While it's classified as a DOT street-legal tire, the Cup 2 R, characteristically speaking, is anything but. You'll sometimes hear people talk about how some tires might as well be slicks with grooves on them—this is that tire.
Compared to the regular Cup 2s, the Rs have a slick-like compound on the outer layer of the tire. Once you've used up some tread, it's like a regular Cup 2 again. That being said, their peak performance window is very narrow.
If you're giving them a proper go, they might not last more than a couple track days at most, and will set you back more than $3,000 USD per set for a car like a GT3 or GT4. Yikes! But when used with a bit of strategy—and maybe some good fortune on top—they'll probably be the fastest "street legal" tire you've driven on.
Hoosier A7/R7
Price: $528.00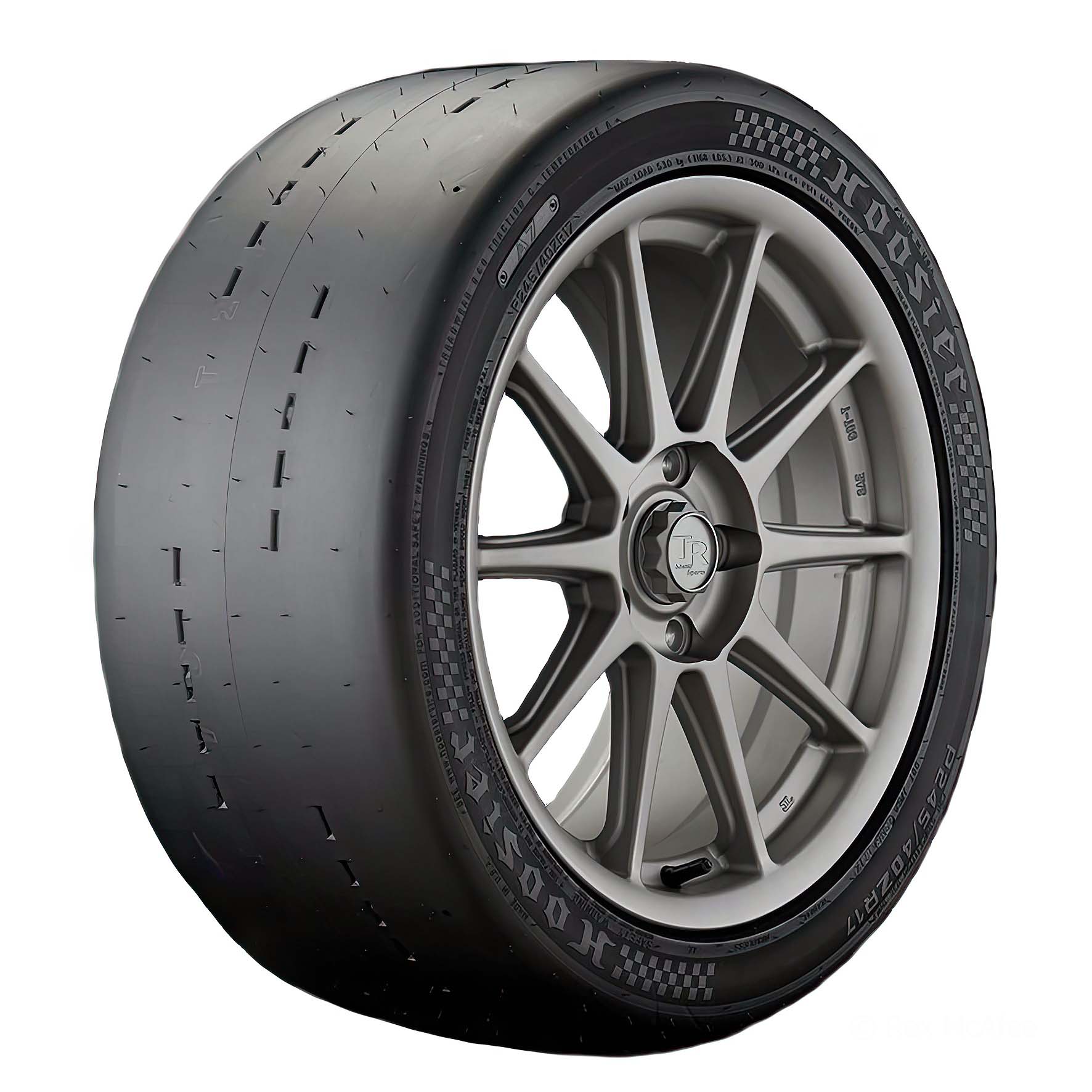 Hoosiers are the established "go-to" tire for drivers wanting to experience grip performance beyond what a street tire can provide, and have also ideally reached a driving skill level that warrants their use. They're available in a very wide variety of sizes.
Drivers will need to be mindful in ensuring that their Hoosiers are meticulously managed in order to get the very best out of them. That means constantly tinkering with tire pressures, suspension settings and even electronic driving aids. Always inspect them after each session.
As the earlier chart suggests, the Hoosier A7 drops off more quickly but has a small window providing ultimate grip levels. This is what you'd want if you're gunning for an outright fastest lap time (i.e. time attack). The R7, while not as quick at its peak, offers more consistent performance over prolonged use, making it the better choice for your typical HPDE or lapping day formats.
Racing Slicks (Scrubs/Take-offs)
Price: ~$800-$1000 for a set of 4 tires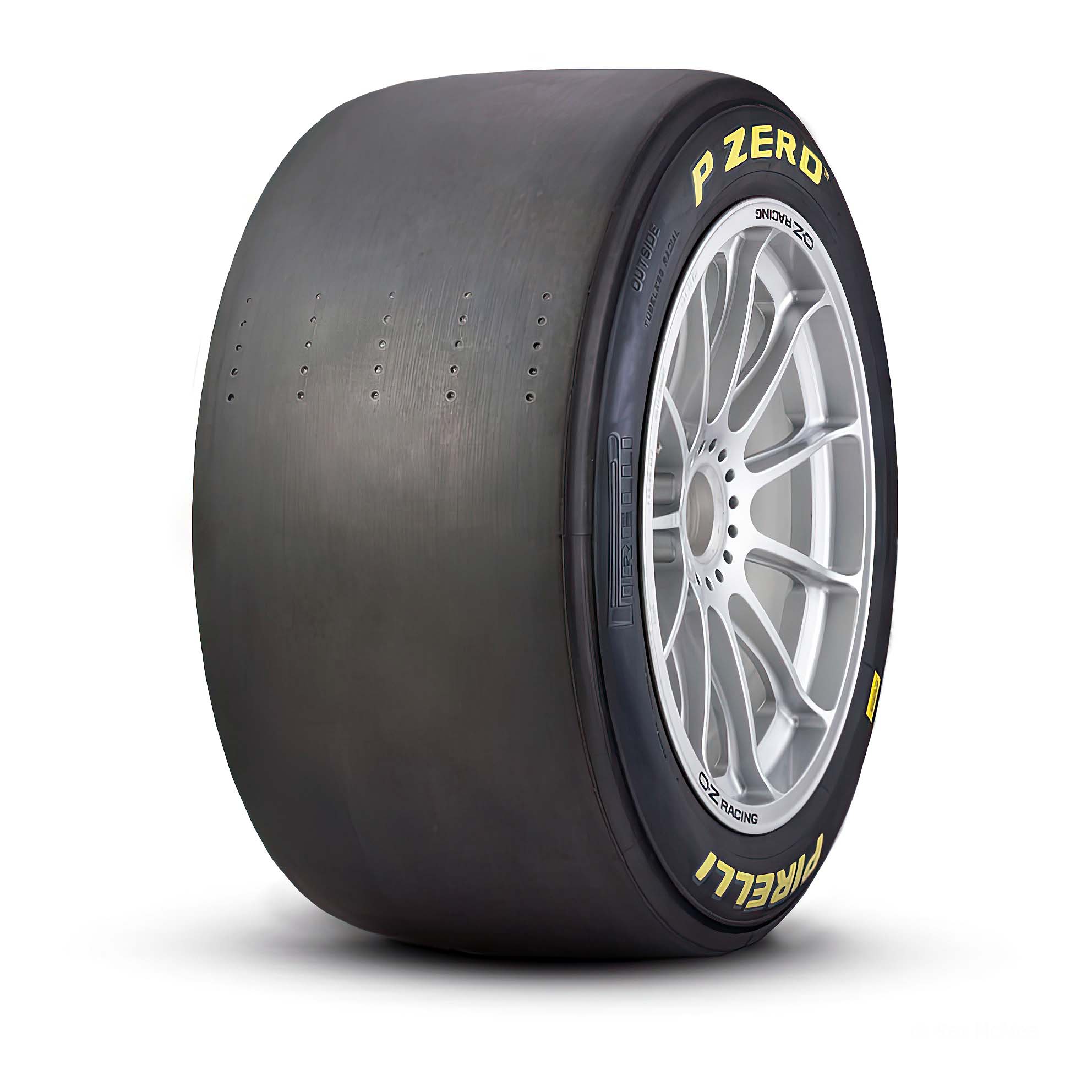 This is where things can get fun, peculiarly interesting and might even send you down some deranged rabbit hole. Scrubs—or take-offs, as they're synonymously referred to as—are essentially gently used racing slicks that you can purchase from special vendors.
Commonly, they were slicks—like a Pirelli DH—that were used for qualifying laps on a car competing in a race series like Ferrari Challenge North America. So, the heat cycling process was already done for you, and they're being sold at a huge discount.
The logistics in getting a set to your door isn't as straightforward as buying regular tires, so you'll have to be prepared to put in some extra leg work to procure a set. Or you'd have to be a little lucky like I was, when I purchased a set of used wheels with the Pirellis already mounted on.
If nothing else, you'll be able to tell your friends your tires came off an actual race car. Oh, and they're incredibly grippy, so applying the required due diligence in preparing your car for their use, is paramount.
Additional Resources
https://grassrootsmotorsports.com/articles/track-tire-buyers-guide/
https://grassrootsmotorsports.com/articles/track-day-tire-test-nankang-goodyear-and-pirelli/
http://speed.academy/100-tread-wear-track-tire-review-nankang-ar1-maxxis-rc1-toyo-r888r/
Does Higher Wear = More Grip? Treadwear Track Test Between Michelin, Goodyear and Toyo!
Michelin Pilot Sport Cup 2R Review
Other Tips
Do the research. The fact that you're reading this article is proof that you're doing just that (and also, thank you for reading)! Be sure to dig even deeper to find information specific to your application, as what works well for someone else might not translate the same for you. Online forums, like Rennlist, are typically helpful.
Invest in an extra set of wheels (or two). If you're already this diligent about tires, chances are, you'll be trying out at least a few different types in the near future. Having more wheels means you can also have a wider variety of tire choices at your disposal at any given time. This can be particularly useful if conditions change during your track day, or a set you're running on gets toast in the middle of an event. Figuring out how to get all those wheels to the track is tricky, so I'll leave that up to you…
Find a motorsport shop that you can trust. Even race car drivers have a dedicated team of engineers and specialists supporting them, as it's hard to do (or know) everything on your own. Not only can a good shop perform the labor needed to get your car up to snuff, but the advice they can provide on setting up your car could prove invaluable. This includes tire selection, alignment specs and recommending modifications.
Make friends with other motorsport enthusiasts—even the ones online. There's an unspoken camaraderie and respect amongst drivers who push themselves, and their cars, to the limit on a race track. Even popular YouTubers are just a message away from helping you discover something new, and from my experience, most of them are willing to share their knowledge freely. All that's required is that you ask nicely.
Best Motoring, everyone!