Modifying cars is nothing new—in fact, there's a multi-hundred-billion-dollar industry backing this hobby. It's the primary reason many of us have fostered a deeper interest in automobiles, as the process of individualization is an inherently satisfying one.
As opposed to some of the more superficial fads and trends propagated by today's social-media-driven car cultures, there are pure and practical reasons behind swapping wheels, lowering ride heights, and bolting on flashy aerodynamics. It's based on sound science—or at least, it's supposed to be.
In fact, that's what most parts with any reasonable level of pedigree and R&D were designed to do—make your car perform better. Without exception, the ultimate proving ground upon which to realize this is at the racetrack.
Why Modify a Production Porsche for Track Use?
There's no real surprise that production cars need to go under the knife to extract their full performance potential, as they come off the assembly line as generalists, not specialists. Even at the highest echelons of road car performance, many models—like the Porsche GT3 and GT3 RS—aren't delivered out of the box optimized for circuit use.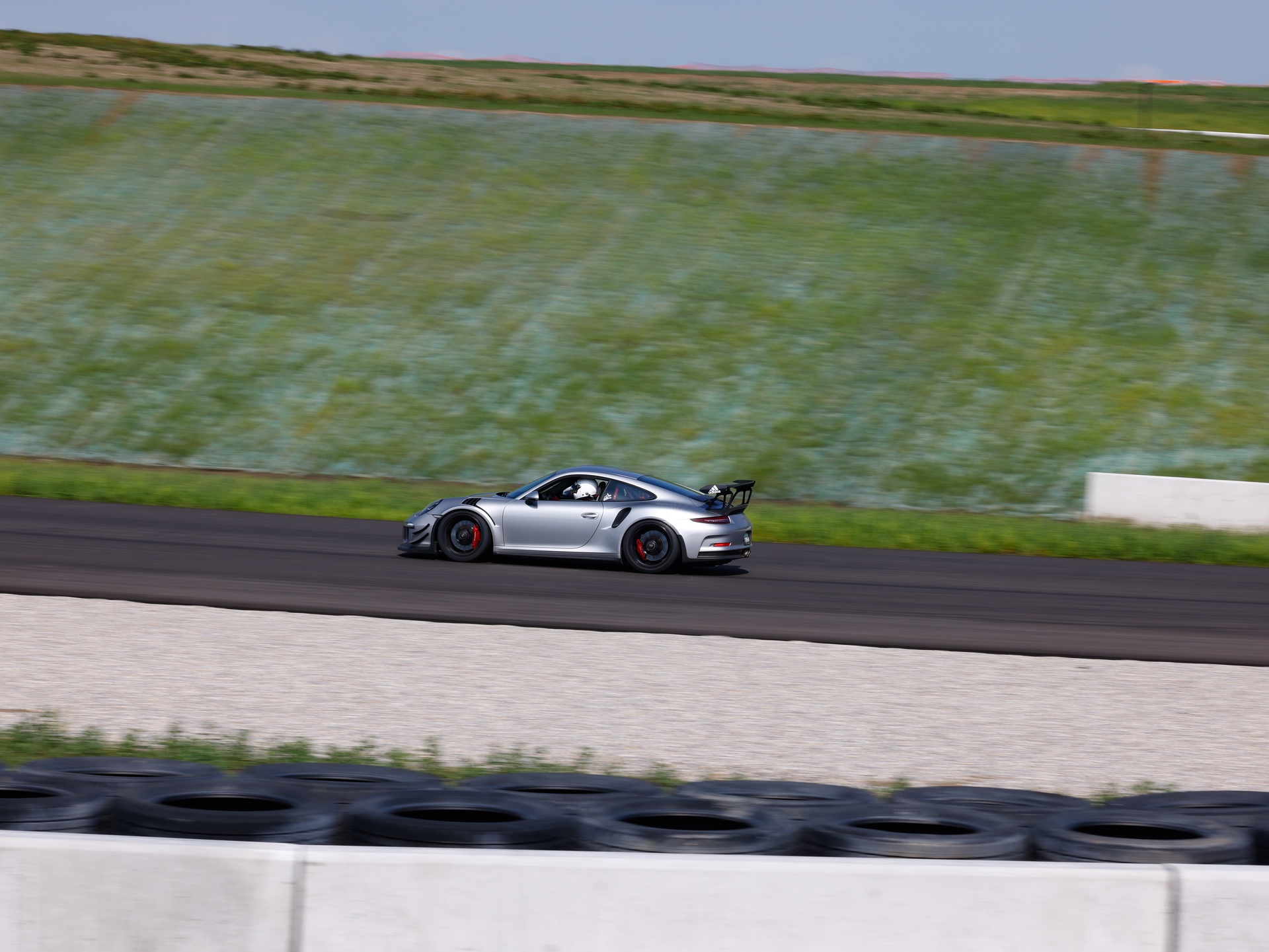 This is not due to a lack of engineering know-how by any means. Rather, this was simply done with the requirement to make the car primarily suitable for street use and to satisfy safety regulators (i.e. keep it legal) while also bringing costs down. That's where companies like Manthey Racing come in—to fill the void for the more discerning driver.
From a marketing standpoint, this also allows the manufacturer to appeal to a larger distribution of customers on the bell curve, as opposed to only catering to the extreme outliers. No matter the car, most owners don't end up taking them to the racetrack anyway.
My Approach to Modifying a Porsche 991.1 GT3 RS for the Track
Thankfully, there are some highly effective solutions to unlock the true potential of the platform, and the aftermarket bazaar from which to procure them is brimming with life and activity. Perhaps it's not quite as simple as grabbing every shiny part you see off the shelf, as this is very much a budget-dependent endeavor.
Using my personal car as an example, here are some of the things that helped transform a 2016 Porsche 911 GT3 RS into a street-legal precision track machine (for non-competitive HPDEs). Compared to the cost of the car itself, the additional investment to get to this stage was relatively minor.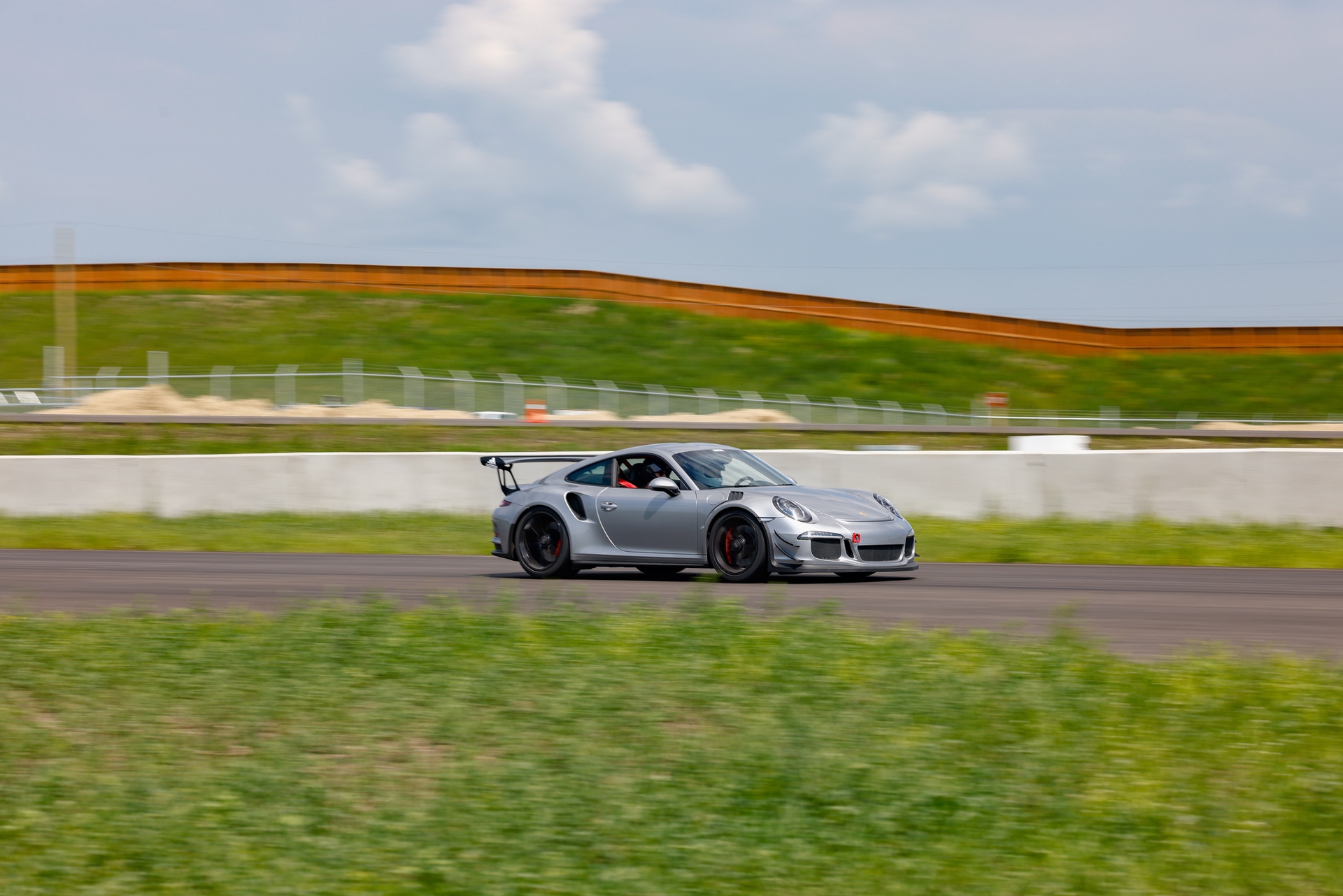 Ultimately, this has become what I'd like to call an OEM+ configuration, or at least one which brings the car on par with a 991.2 RS. All suggested upgrades are applicable for both 991-gen GT3 and GT3 RS models.
Chassis & Suspension Mods for the Porsche 991.1 GT3 RS
The engine and drivetrain are not something I believe need tinkering around with on this car. The potential ramifications (warranty-related, or otherwise) if something goes wrong don't appear to be worth the risk. Porsche clearly agrees; and they would know better than any of us.
After all, the brand new 2023 Porsche 911 GT3 RS (992) has stuck faithfully with the 4.0L naturally aspirated power unit despite a 7-year gap in technological advancement—albeit with an additional 20 hp and extra 200 rpm to boot.
E-motion Engineering Suspension Arms
Precision. Let's begin with this word. It encompasses everything that a GT3 and GT3 RS is (and can and should be) about. It's as good as any road car can get, but as far as limits—particularly at the track—are concerned, things can get a lot more serious.
One such company to entrust the evolution of your GT3/GT3 RS with is E-Motion Engineering, based in Costa Mesa, California. The company's owner, Joey Seeley, has been building an international reputation as a Porsche suspension guru.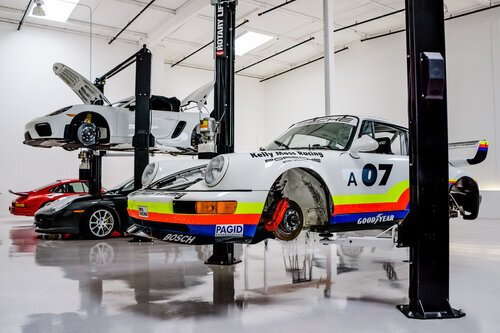 Tell Joey what you're looking to get out of your car, and he'll recommend different stages of upgrade packages depending on how demanding your benchmarks are. They become more comprehensive as you progress from Stage 1 all the way to Stage 5.
All components can be bought individually, or you can upgrade your suspension in phases if budget is a concern; some people also prefer to experience how incremental changes improve the car versus doing it all at once. Do note that certain items (such as drop links) are necessary to spec aggressive wheel alignments past what the OEM allows.
For me, Joey recommended Stage 4 without hesitation after telling him that I wanted my car to feel more confidence inspiring (easier to drive) on the track, and that my concerns for comfort were secondary.
The Stage 4 GT Model Suspension Package includes Stage 1, 2, 3, plus:
Rear Control Arms (Set of 6)
Stage 1, 2, 3 included:
E-Motion Front Spring Package
E-Motion Rear Spring Package
991 GT3/RS Spring Adapters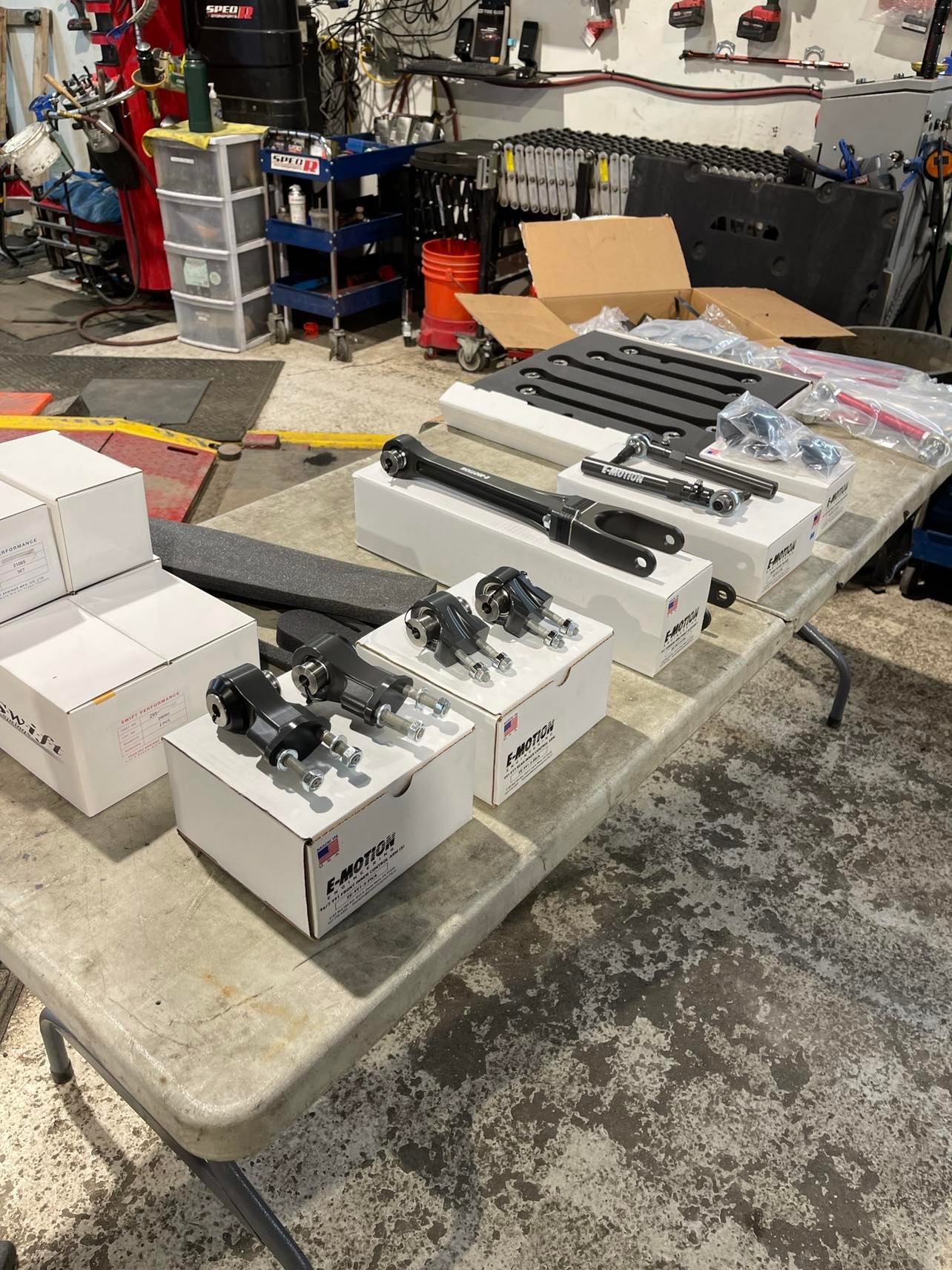 He also iterated that the next stage for me would be to upgrade to Manthey KW 3-Way coils, which would bring my RS to the same stratosphere as the MR car. I'll see how things unfold for next year before deciding on that.
Why It's Better: Spherical Bushings vs. Rubber Bushings
Rubber OEM suspension bushings:
Advantages: Deflection of forces to promote ride comfort, less vibration, inexpensive.
Disadvantages: Less responsive to steering inputs, undesirable camber changes under dynamic load, more floaty/numb feedback to driver.
Metal spherical (E-Motion) bushings:
Advantages: Suspension geometry much more rigid under dynamic load, more predictable tire wear particularly for aggressive wheel alignments, better feedback transfer to driver.
Disadvantages: Harsh feedback for street use, more expensive, lower ride quality in general (top quality parts products like E-Motion's will not cause a significant drop).
Terms that best describe the characteristics that we look to mitigate with a product like the E-Motion packages are "squatting" or "leaning".
This is when the suspension geometry becomes largely unsettled, causing the contact patches across all 4 tires to be suboptimal during braking, cornering, and acceleration.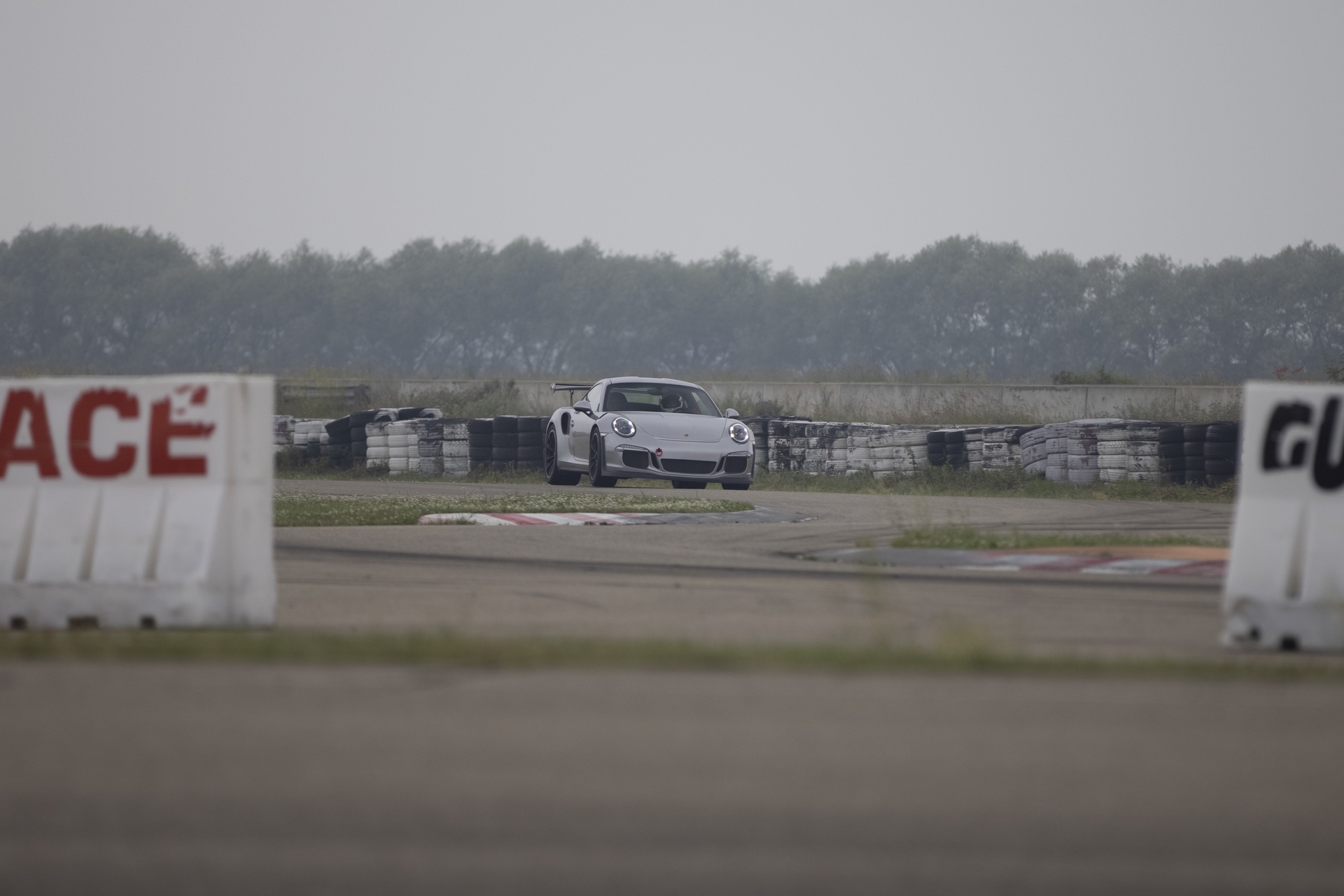 DSC Sport V3 Controller
There's no doubt about the improvements to mechanical grip that the E-Motion package provides, but electronics also play a big part in the overall setup and suspension characteristics of a modern performance street car.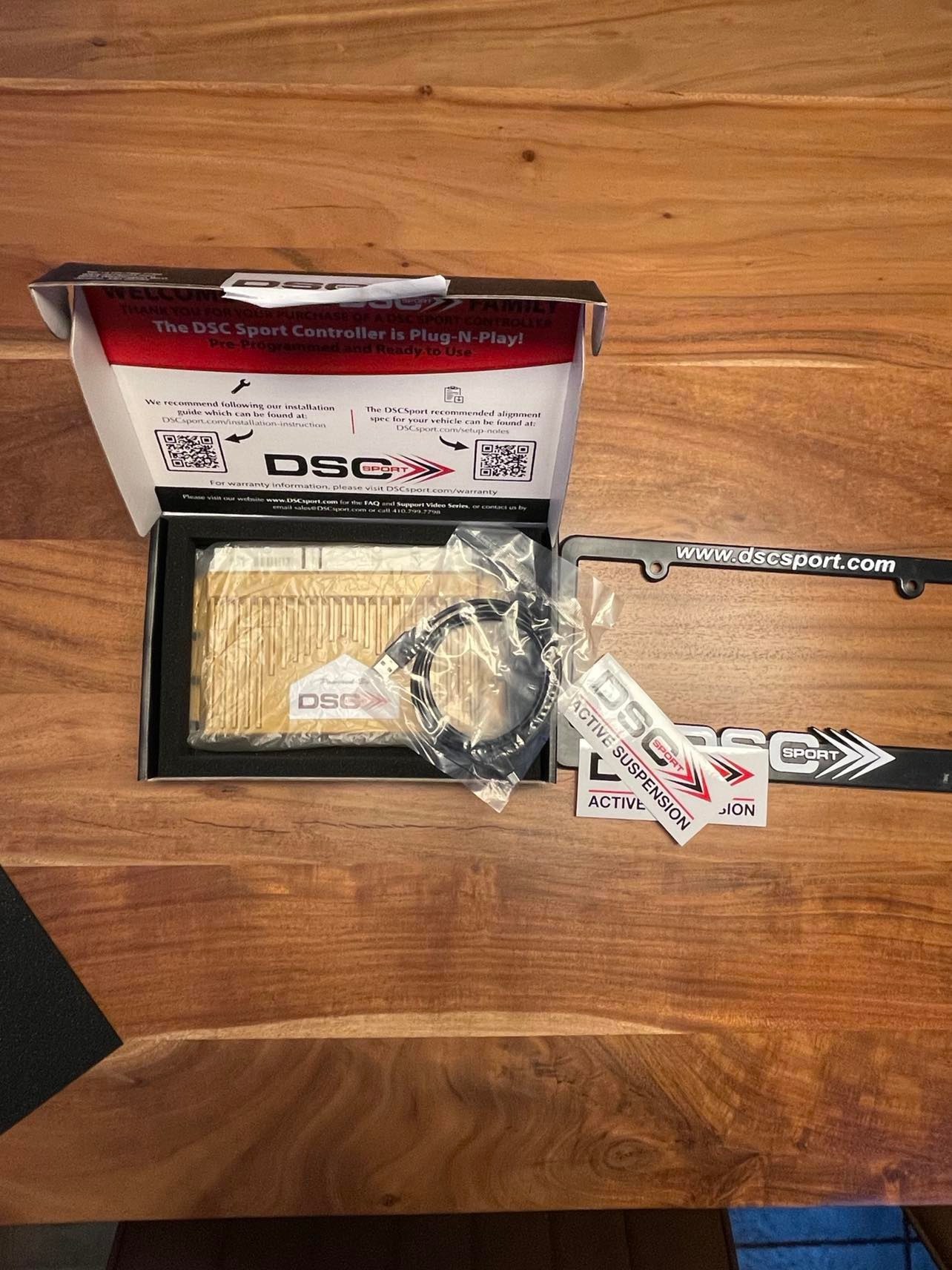 That's where the DSC Sport V3 Controller comes in—it transforms the original PASM system from a largely reactive one, to one that's much more proactive/predictive. This is beneficial for the rigors of high-performance driving but also has advantages on the street.
On paper, and through my experiences so far, it seems like a nice complement to the E-Motion package. I will remark that when I inquired with each company about the compatibility/chemistry between their products, there was not much feedback from either in that regard—not that there's anything wrong with that.
Tom at DSC Sport was extremely helpful and shared a great deal of knowledge with me. Customer service there is top notch!
Wheels & Tire Mods for the Porsche 991.1 GT3 RS
There are quite a few advantages for running smaller diameter wheels and I recommend getting a set—if not for anything else—for the convenience of being able to swap between different sets of tires at the track.
This will allow the flexibility to switch between different compounds (street, wet, slicks, etc.) at an HPDE, or at least, you'll always be able to drive on a fresh set and not have to worry too much about wear during the day.
The smallest wheels you can fit on the 991-gen GT3/GT3 RS are 19" wheels all around. There are a few wheel manufacturers that make sets for this specific application and purpose.
Keep in mind that these may not work for cars equipped with PCCB, in which case upgrading to the AP Racing brake kit would be a solution.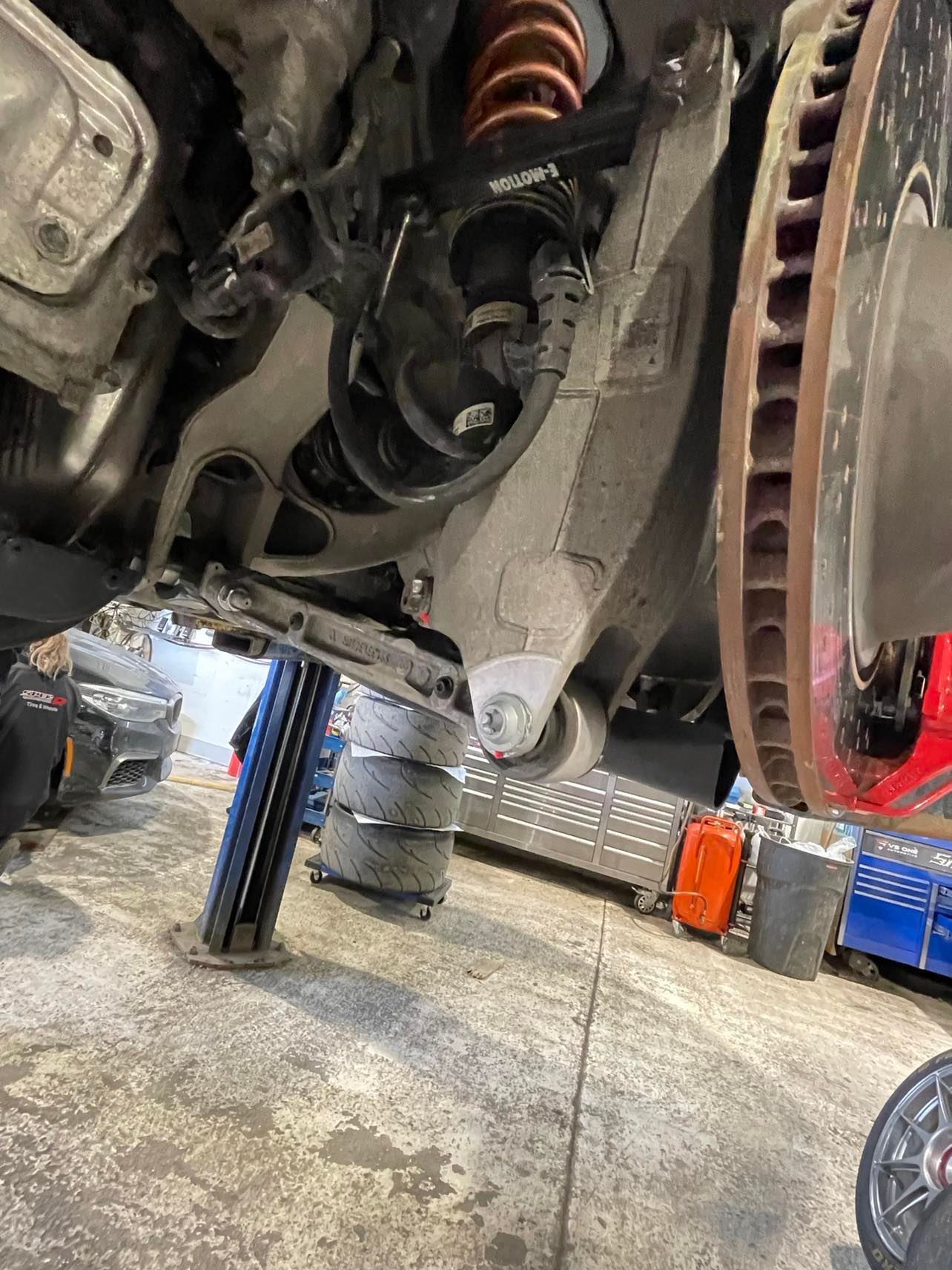 For the RS, you can opt for a 20" set too, and you won't run into brake clearance issues. However, with the 19"s, there are more tire choices and cost savings in the long term. If you want to run slicks, this is basically necessary.
Personally, I think 19"s actually look better on my RS and am toying with the idea of running a permanent 19" setup, with 2 sets of wheels—one with street legal r-comps (like Goodyear Eagle F1 Supercar 3Rs), and the other for slicks.
This would require more tinkering with the alignment and suspension geometry, but Joey at E-motion Engineering is just a phone call away (and yes, he does answer your calls personally, granted you've purchased his product). In fact, Joey was more than happy to advise on setting up my car after all the parts were on.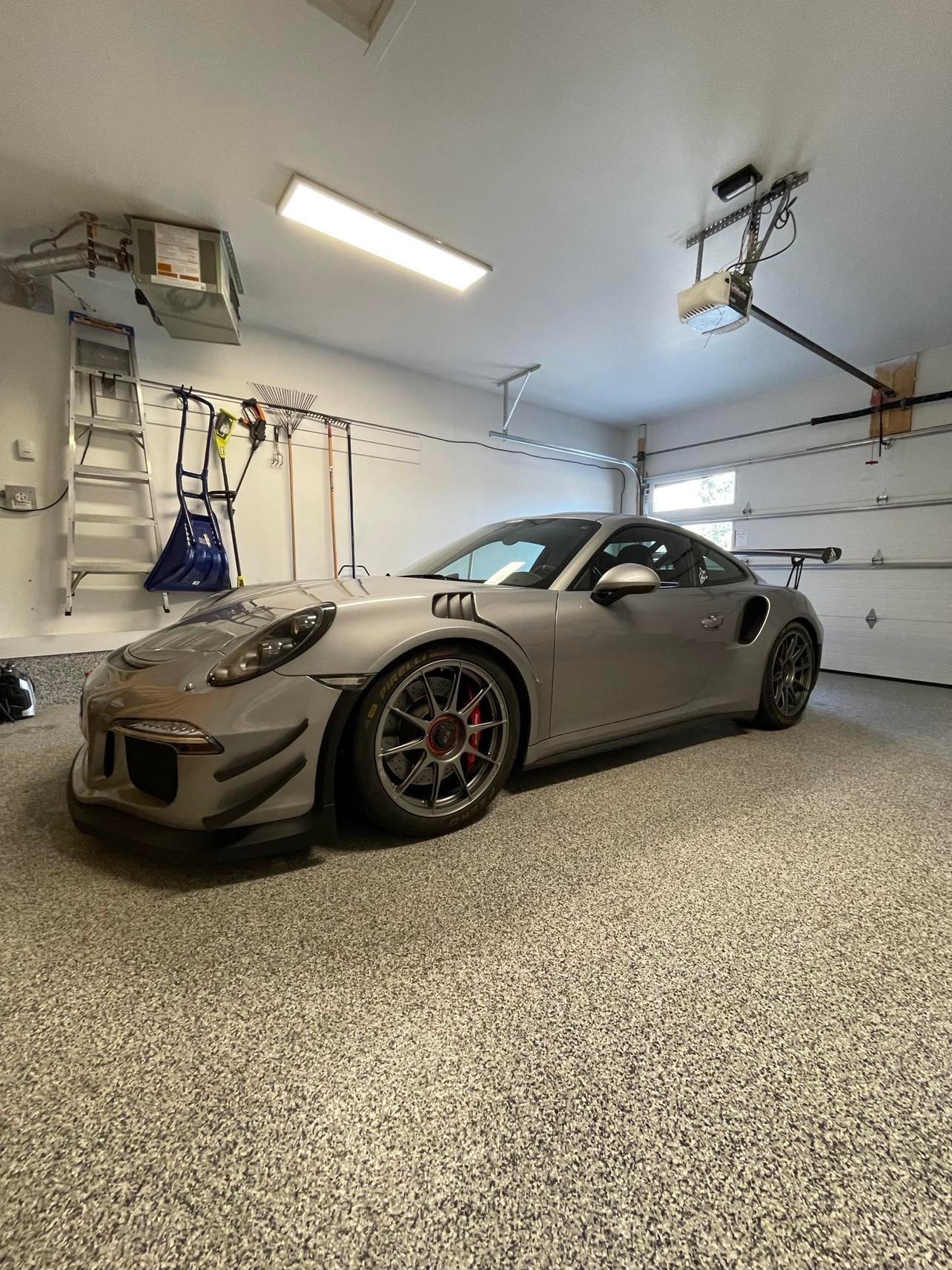 As for the tires I'm running now, I've got Nankang AR-1s in OEM sizes for splitting track and occasional street duties. They don't seem to be an outright winner in any of the comparison tests against Supercar 3Rs or Trofeo Rs, but they're probably the best bang-for-buck in that category (and in the unique 20/21 sizes).
I have a spare set of OZ Racing Superforgiata 19"s with Pirelli DH tires mounted for when I'm going for lap times, usually near the end of an event. Having a product like the E-Motion Stage 4 package is essential in getting more performance out of the slicks. The Manthey KW 3-ways mentioned earlier would add yet another level to that.
Upgraded Braking Components
As for brakes, the aforementioned AP Racing brake kit upgrade seems to be popular amongst the most dedicated enthusiasts, but in my opinion, the car is already fantastic with Endless ME20 track pads (on OEM rotors) and a proper flush and replacement with Endless brake fluid.
Aerodynamic Pieces for the Porsche 991.1 GT3 RS
For both the 991.1 GT3/GT3 RS, there's a bit more to do here versus their respective 991.2 versions, but not a whole lot.
Switching to the 911R rear diffuser (standard on 991.2) replaces the aluminum engine underside cover. The Dundon/Verus wing gurney and dual dive planes allow for an additional downforce toggle (without needing to change the wing angle) and provide more balance at the front, respectively.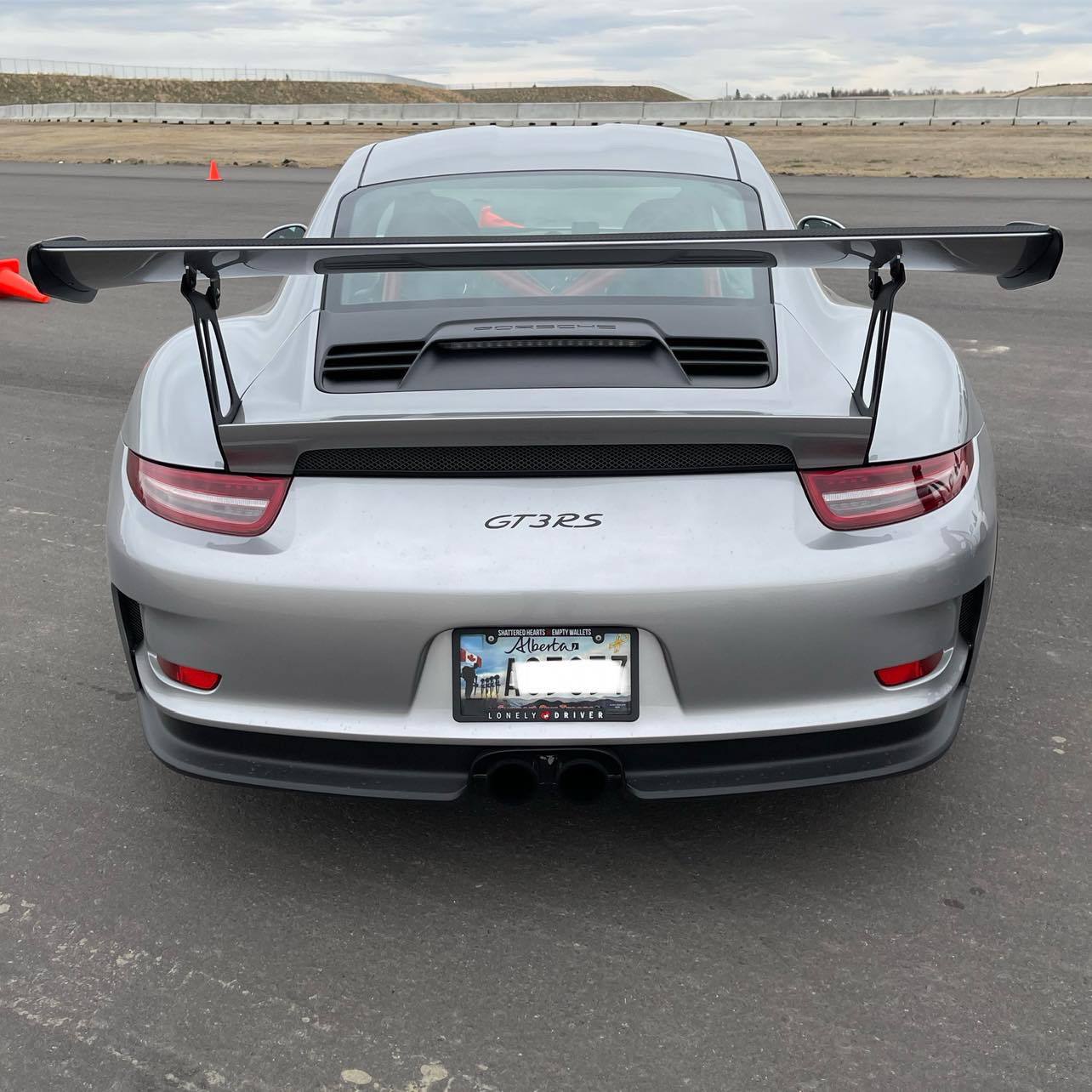 At my local racetrack, Rocky Mountain Motorsports—where I currently hit a top speed of around 198 km/h and an average speed of 126 km/h—the middle rear wing setting seems to work best for me.
Porsche 991.1 GT3 RS Roll Cage & Harness(es)
Aside from the extra safety features even a half roll cage provides, there's a lot to be said about the enhanced look it gives the car. Studio RSR supplied the roll cage for me in my favorite Guards Red color (as an accent).
I doubt it does a whole lot for rigidity in a car such as the GT3 RS, but one of the biggest factors for me was the ability to use a 6-pt Schroth racing harness.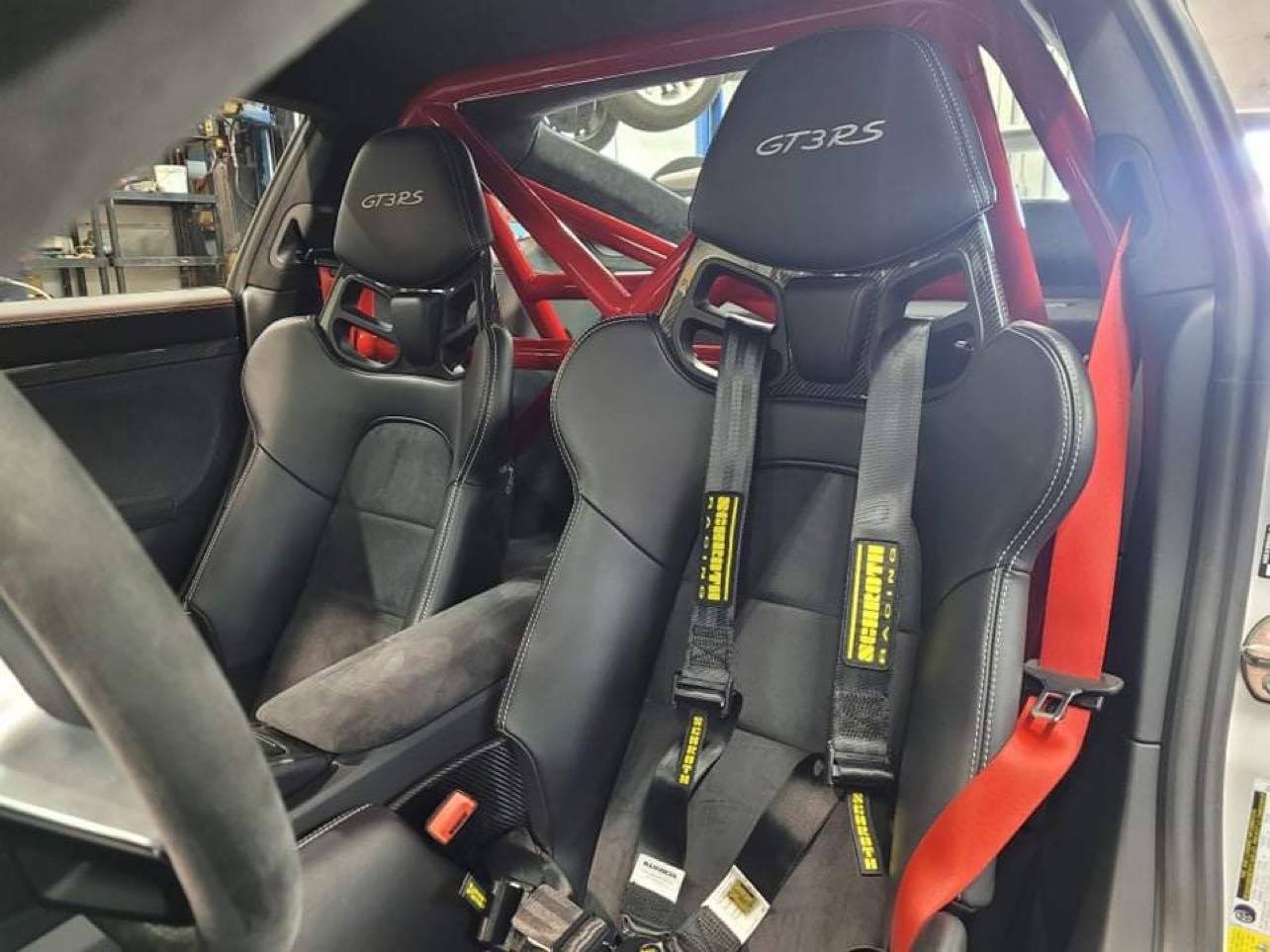 Being properly secured and mounted in your seat when you're pulling serious Gs is paramount in maintaining concentration and being able to perform at your best.
I'll use the regular 3-pt seatbelt when I'm not pushing it hard, but the 6-pt is a must when I've got the slicks on—the carbon buckets can only hug you so tight. I haven't bothered with installing one for the passenger seat.
Lap Timing & Video Equipment
You don't know how fast you're going until you've got something proving how fast you're going. Otherwise, it's nothing more than just a feeling.
I've endorsed the Garmin Catalyst more than once before, and I'll do it again here.
In some ways, it's not the most comprehensive setup available, but it's certainly the best plug-and-play and all-in-one solution for lap timing and video recording.
It provides the opportunity for you to turn high performance driving into a science, and therefore, something you can quantify, test, and ultimately improve upon.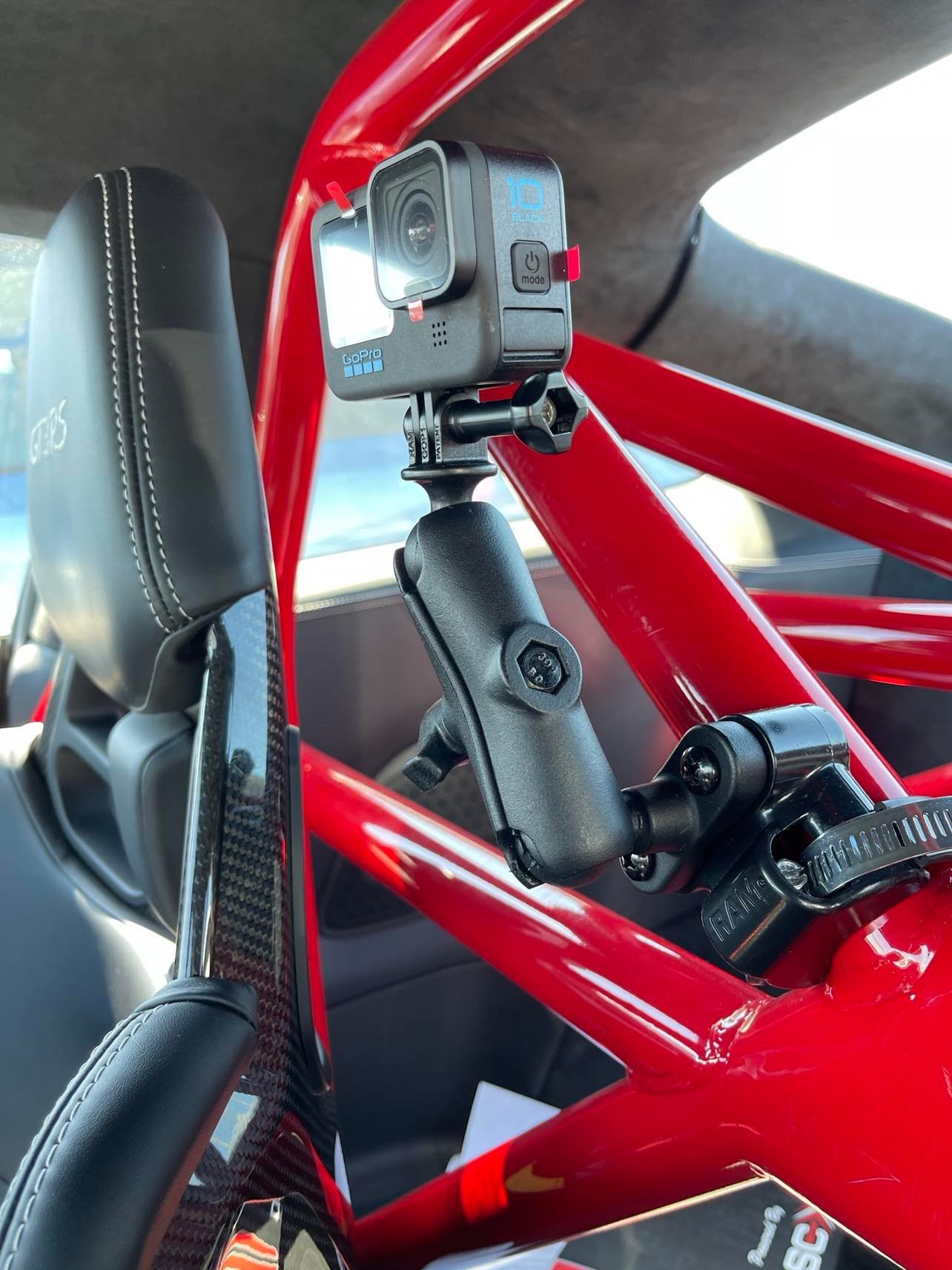 Admittedly, a GoPro-based setup will take higher quality video, and the camera can be mounted in different places—such as the roll cage—to provide the typically-preferable in-car POV. The Garmin Catalyst camera must be windshield-mounted to work and can therefore only provide an over-the-bonnet view.
More Info:
Carrot-on-a-stick Philosophy
With this setup, I've been able to clock some very decent times at my new local racetrack straight off the bat. All I've really had to do is get in the car and drive it. No white-knuckle moments at all.
Evidently, I also haven't been flirting much with the performance limits of the car either—no spin outs, never had to tango with ABS, ESC has kicked in on rare occasions.
While this means I haven't yet extracted the true potential of the car, I acknowledge that I'm not at the level yet to be able to pull this off with great panache. Until that time comes, I'm perfectly fine with this arrangement.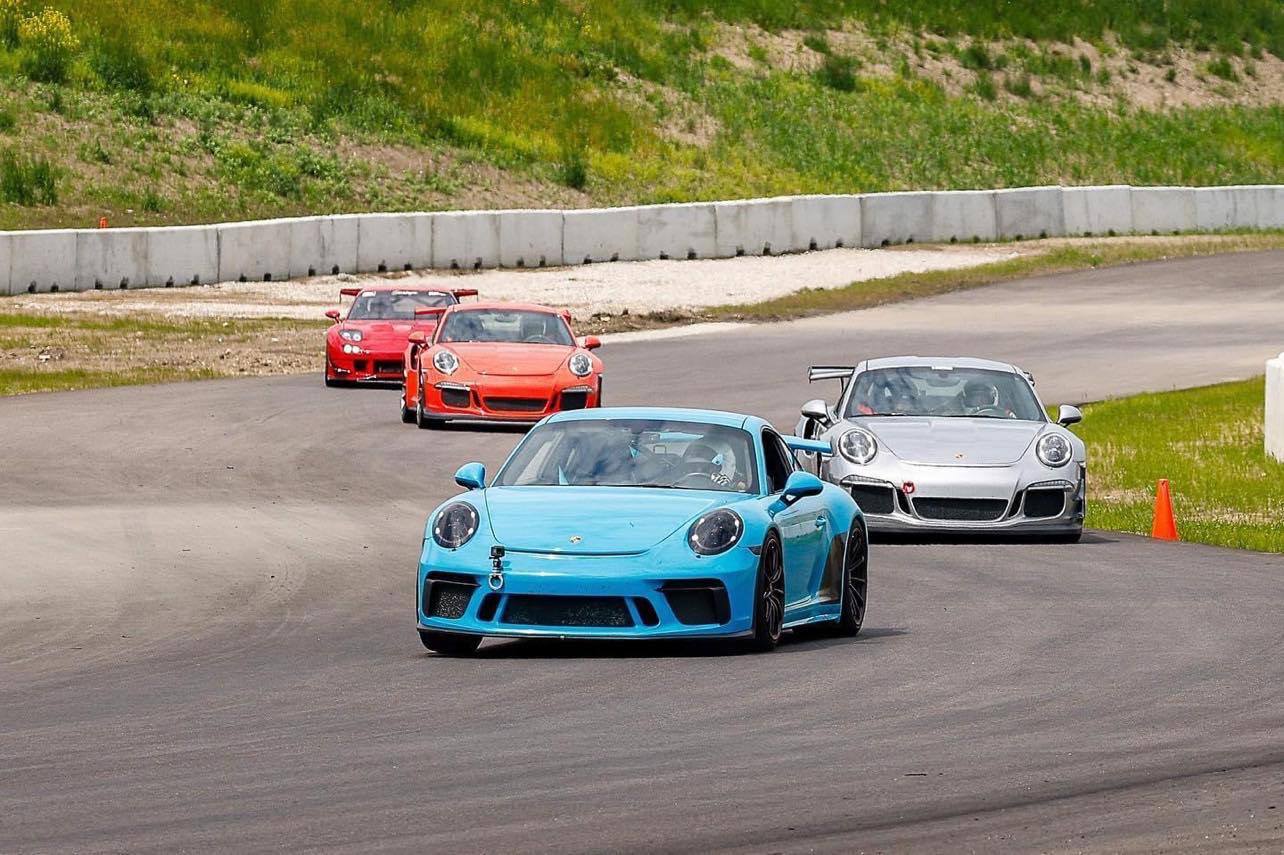 The Chief Instructor at Rocky Mountain Motorsports has said that the best way to go faster around the track was to improve the performance envelope of the car at a similar rate that you're improving your driving skills, if possible.
That way, you're always driving within the limits of what the car is capable of. This clearly is the safe approach—after all, everyone's safety is #1 on the agenda for the Chief Instructor at any motorsports facility… and understandably so.
Modifications Summary for My Porsche 991.1 GT3 RS