Porsche Taycan Sales Brochures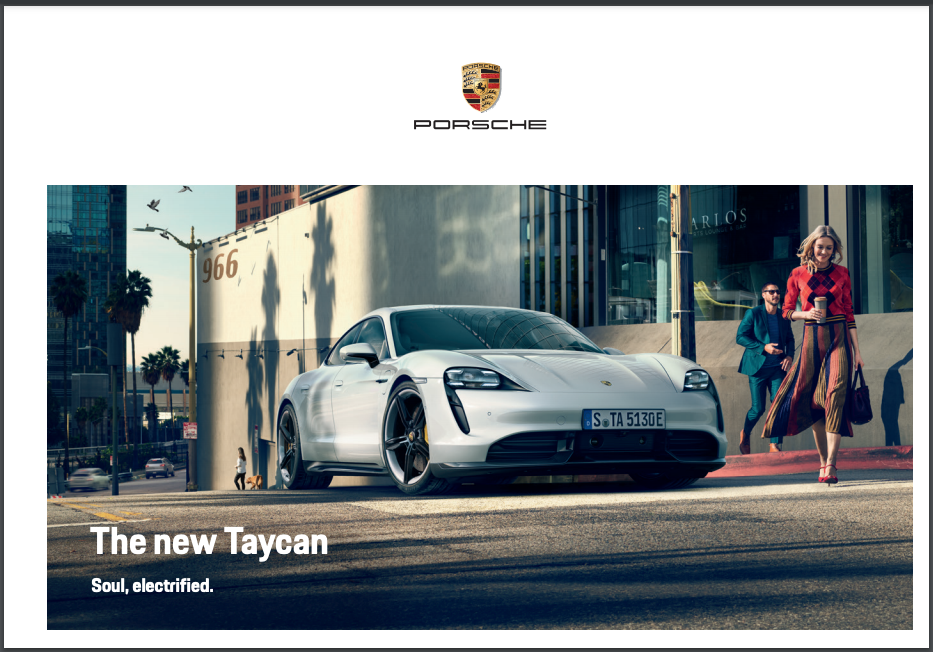 2020 Porsche Taycan Sales Brochure
The Taycan is ready for the future, thanks to its innovative concept. It is characterized by the features that have always been decisive for any Porsche: pure emotion and maximum driving pleasure. As you approach the Taycan in your garage, nothing stands in the way of your personal driving experience. The vehicle is fully charged, already knows your destination — transferred in advance via the Porsche Connect app — has planned the appropriate route and the cabin is conditioned to the correct temperature and ready for you to climb in….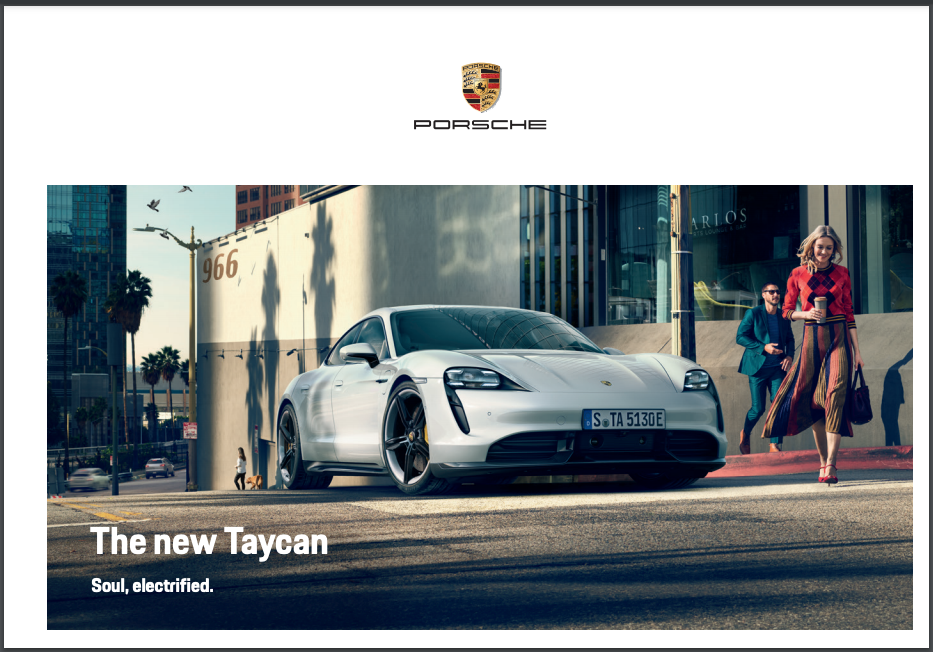 2021 Porsche Taycan Sales Brochure
Then you put your foot on the pedal – and the Porsche soul of the Taycan is revealed: two permanent magnet synchronous motors producing 460kW (616 HP) in the Taycan Turbo S unleash their full power from the start and allow acceleration that can be repeatedly reproduced. The low center of gravity ensures exceptional cornering that instantly sets your pulse racing – just as you would expect of a Porsche. As well as design and performance, the focus is also on comfort and range. If required, the car can plan your route, minimizing the time taken and making long-distance journeys more comfortable. Fast-charging options make stops short – using the 800-volt architecture, you can charge your car in roughly 22.5 minutes under optimum conditions)…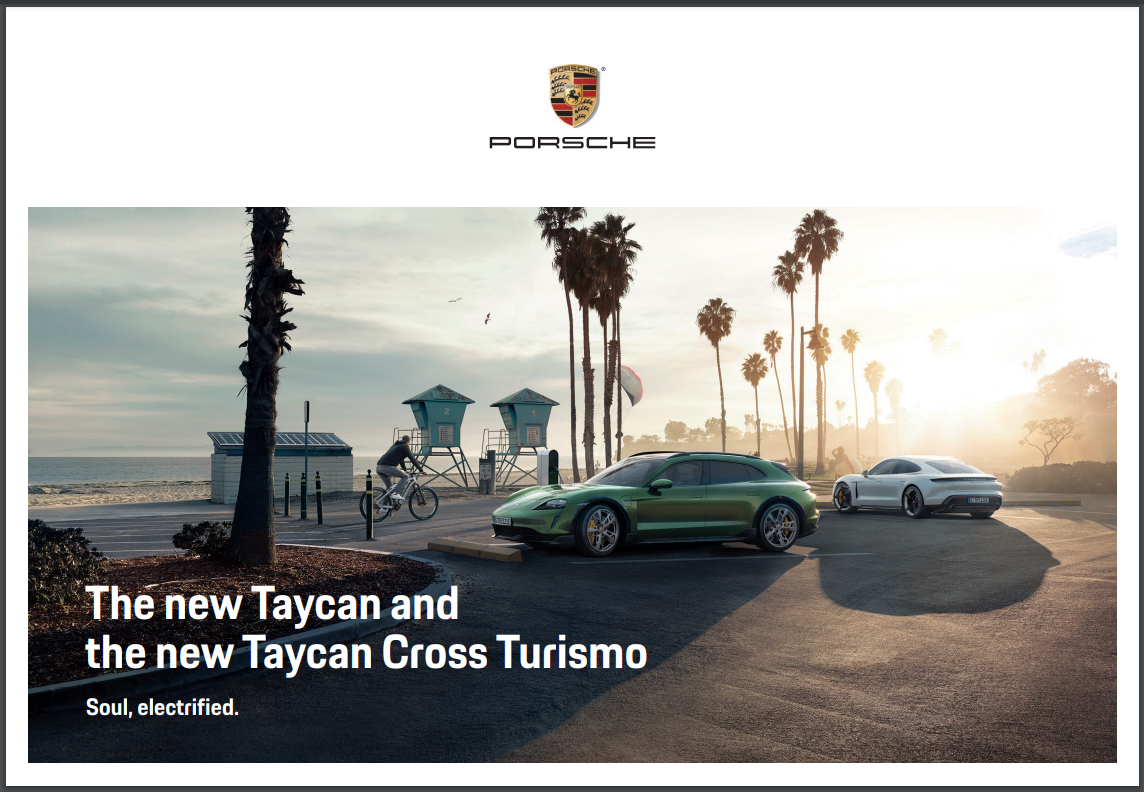 Porsche Taycan & Taycan Turismo Sales Brochure
The soul has many facets, but no fixed shape. It is variable, constantly in motion – and yet distinctive. It reveals itself in a variety of ways. By goosebumps all over your body, triggered by up to 560 kW (750 hp) overboost with Launch Control as in the Taycan Turbo S. Or by a smile that expresses total delight – thanks to a standing start performance of 1.2 g. Allowing it to accelerate faster than the force of gravity for the first few meters – making it even faster than a free-fall parachutist. The Taycan.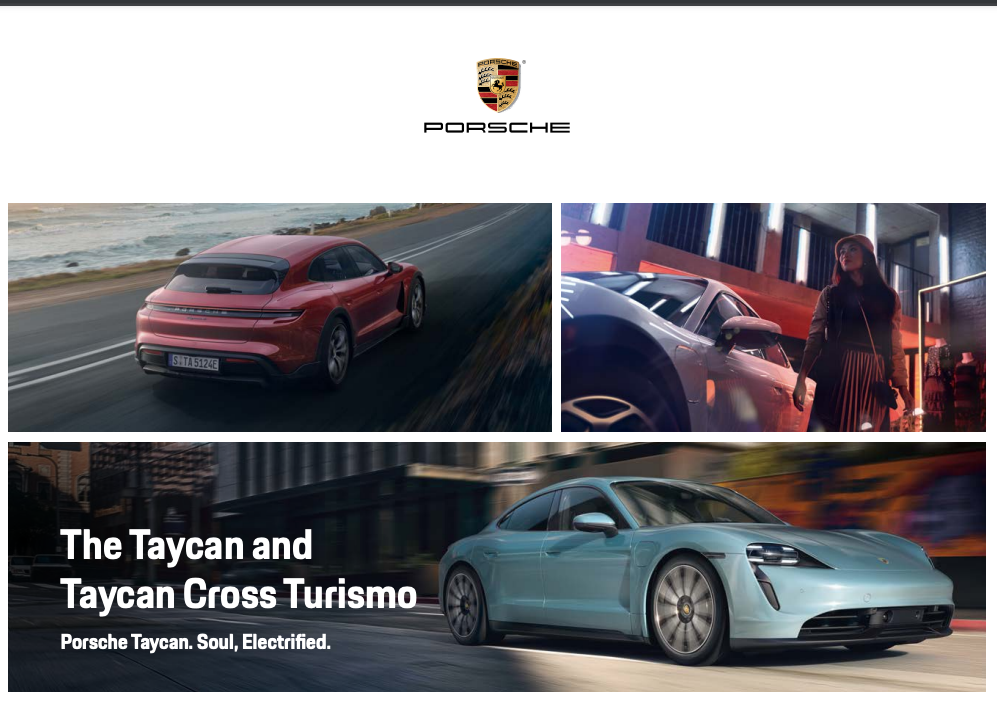 Porsche Taycan & Taycan Turismo Interactive Brochure
You have to fight for a big dream. A bold vision. The next victory. Rarely will it simply fall into your lap. Often though, there are innate forces you must fight against: resistance, conventions, and rigid patterns of thinking. Whatever your dream is, nothing is achieved without passion, grit, and determination. Dr. Ferry Porsche gave his all to create the sports car of his dreams. His dream came true. Not because he hesitated, dwelled, or got lucky, but because he went the extra mile. This attitude is in every Porsche we've created since 1948. It's there in the smallest part and in every race we've won. Because we fight. We fight for one more crucial percentage point. For the one second that means the difference between triumph and defeat. For the "Dr. Ing." in our company name and for the chance to stir passion for the sports car, time and time again.