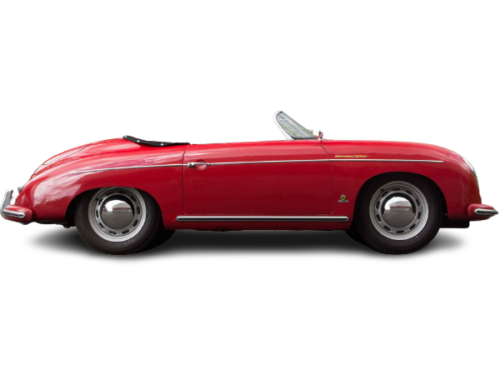 1954 – 1955 Porsche 356/1500 Speedster – Ultimate Guide
In September 1954 Porsche launched a new model which was to become a legend – the Speedster. The new open-topped Porsche intended specially for the American market complied with the motto: "Less is more". The spartan features made the car not only lighter but also cheaper and the Speedster thus became the most likely way to enjoy driving made by Porsche.
As a response by North American importer Max Hoffmann, Porsche built the 356 Speedster as a cheaper and more sporting alternative to the Coupe and Cabriolet. As a result, Porsche removed all the luxuries from the car in an attempt to offer the car cheaper than $3000 USD.
In 1954, Porsche production shifted from the Reutter facilities back to their new building called Werk II. There they had the room to produce Hoffmann's Speedster. After producing a single prototype from a cabriolet body, Porsche finalized the Speedster specification with no radio, an integrated dash, bucket seats, a curved glass windscreen and a simple folding top. From November 1954 the engines acquired a three-part crankcase and driving safety benefited from a front stabilizer and reinforced steering knuckles.
The Porsche stand at the IAA in Frankfurt in September 1955  had the new 356, now with the additional letter A, offering better road positioning than previously thanks to a modified running gear and the engines, increased from 1.5 to 1.6 litres, improved the running style. The Coupé and Cabrio now had a curved windshield without kink and all models including the Speedster acquired a redesigned dashboard. The sensation in Frankfurt however was the new super Porsche named the Carrera with an engine that really packed a punch. For under its bonnet this car had the four-cam shaft drive gear with vertical shaft drive already launched in 1953 in the racing Spyder. It was designed by Dr. Ernst Fuhrmann who later described it with a smile as his "youthful sin".
After its introduction in late 1954, the Porsche 356 A Speedster continued life in the 356 A generation as a stripped-down, low-cost, sports-oriented, convertible Porsche 356. It had a cut-down windshield that could easily be removed, a lightweight removable top, and side curtains instead of roll-up windows featured in the 356 A Cabriolet. It could be had with any of the engine options offered for the 356 A Generation. Popular in the United States for use in racing and sports car events, the Speedster became possibly the most iconic version of the 356.
Videos & Reviews