Porsche Cayenne (Second Generation) Sales Brochures
We found several Porsche sales brochures for the second generation Cayenne, which is known as the Type 958 which ran from 2011 till 2017. Note that there was a first generation Cayenne that ran from 2003 till 2006 and was known as the Type 955 and an update mid-cycle known as the 957. The 958 Cayenne is broken into two groups. The 958.1 model ran from 2010 till 2014 and was followed by the 958.2 which ran from 2014 till 2017). All 958 model sales brochures are listed here on this page.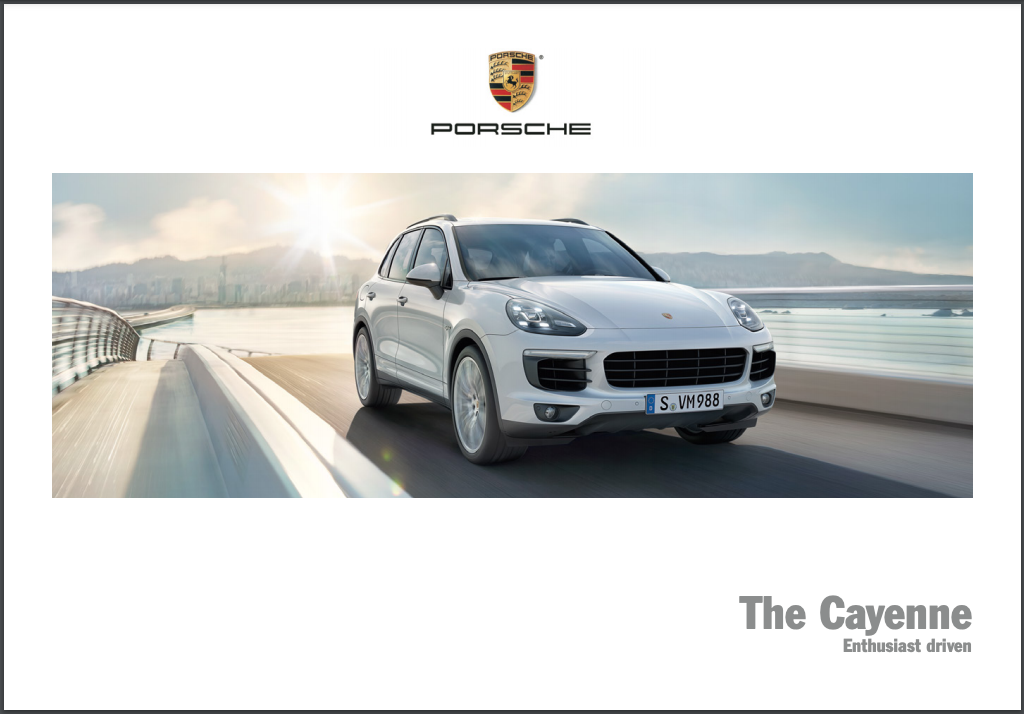 2016 Porsche Cayenne Sales Brochure
The CayennebTurbob6 is the ultimate powerhouse in the Cayenne family. It represents the sum of all ideas that make up the fascinating appeal of the Cayenne. Put simply even higher levels of performance and exclusivity. Porsche. Cayenne. Turbo. That's really all you need to set your pulse racing. Uncompromising athleticism combined
with superior handling, and a passion for the road.
2016 Porsche Cayenne Platinum Sales Brochure
Any car that maintains its leading position as the sports car among SUVs with such undisputed authority deserves something truly special. That's why we've given the Cayenne another makeover. We've refined it. Polished it. And now it's time for the Cayenne Platinum Edition model range to make its debut. With purposefully selected materials. For an even greater sense of style. With eyecatching details, like the Porsche Crest on the headrests. For that certain 'je ne sais quoi'. With 20-inch RS Spyder Design wheels in platinum satin. This edition offers details unavaliable on any other Porsche Cayenne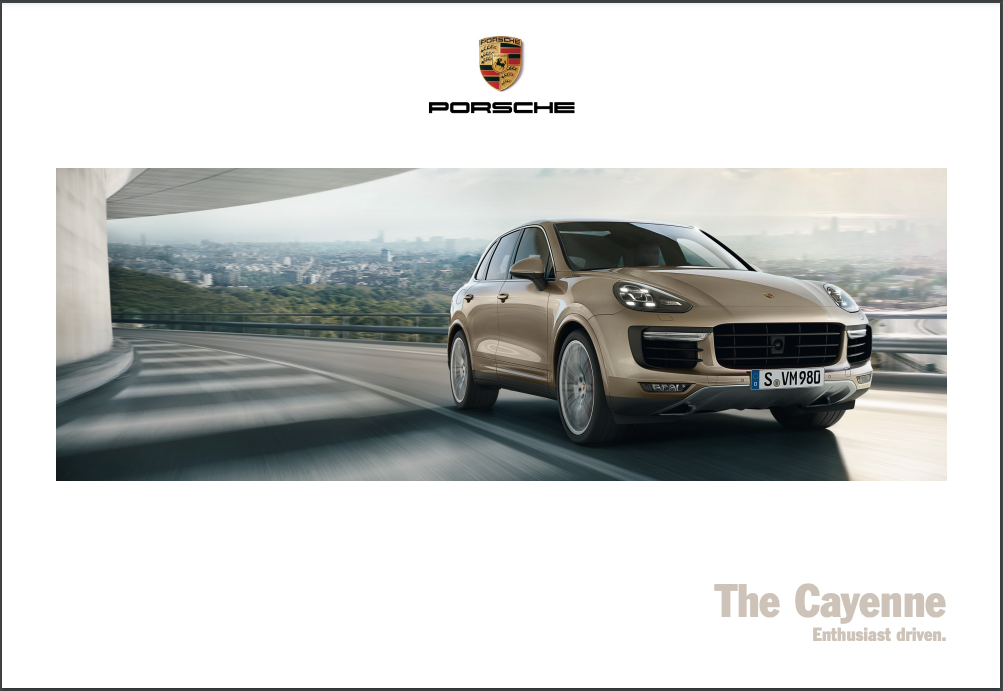 2015 Porsche Cayenne Sales Brochure
Many people dedicate themselves to moving forward, but few leave their mark. Many are full of enthusiasm, but few
inspire it in others. How do you recognise the few? Sometimes at first glance. The prowess of the Cayenne is clearly
reflected in the design: the front and rear sections are now sharper and even more sophisticated. The bonnet, front wings, main headlights and air intakes lend the car even greater presence. It is impressively athletic and muscular…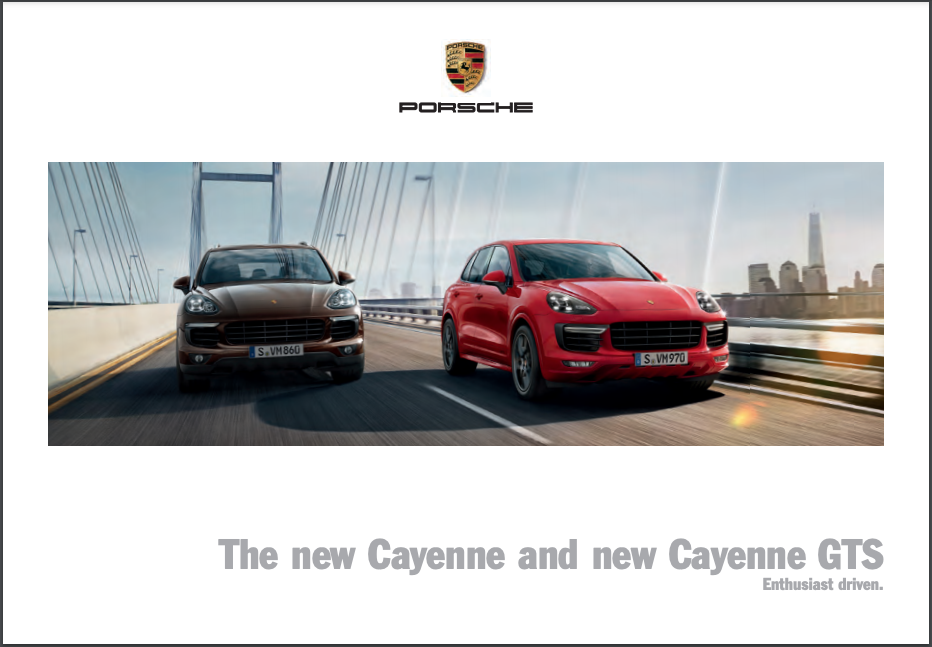 2015 Porsche Cayenne & GTS Sales Brochure
Muscular, athletic, powerful and challenging. The Cayenne GTS makes a clear statement. On every straight and in every bend. Its uprated engine is enough to set any driver's pulse racing. Its steel-spring suspension with Porsche Active Suspension Management (PASM) is 24 mm lower – for an even sportier setup. You simply couldn't feel any closer to the road. Visually, the precise lines of the front, derived from the Cayenne Turbo, larger air intakes and the headlights demonstrate one thing above all else: the Cayenne GTS is not a player. It is a performer. Viewed from the side, the 'GTS' logos on the doors emphasize the car's true sporting spirit. Fitted as standard, the 20-inch RS Spyder Design wheels feature an exclusive…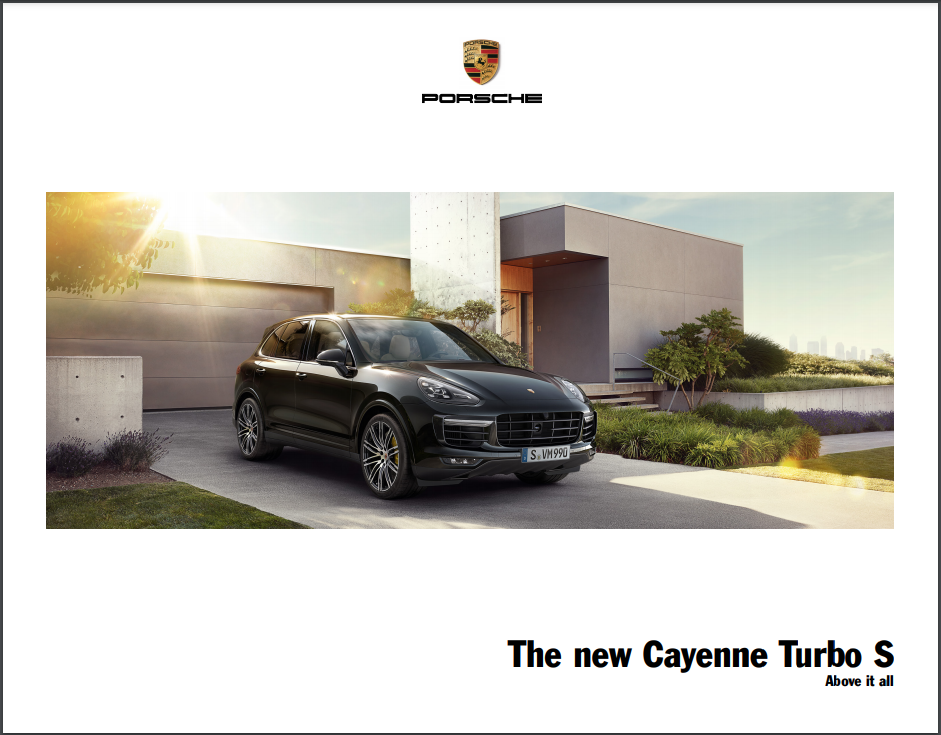 2015 Porsche Cayenne Turbo S Sales Brochure
Not just performance, but phenomenal performance. Not just persuasive, but utterly convincing. Not just striking, but guaranteed to leave a lasting impression. Only by setting the bar extremely high for yourself, can you set a benchmark for others. The new Cayenne Turbo S. Above it all…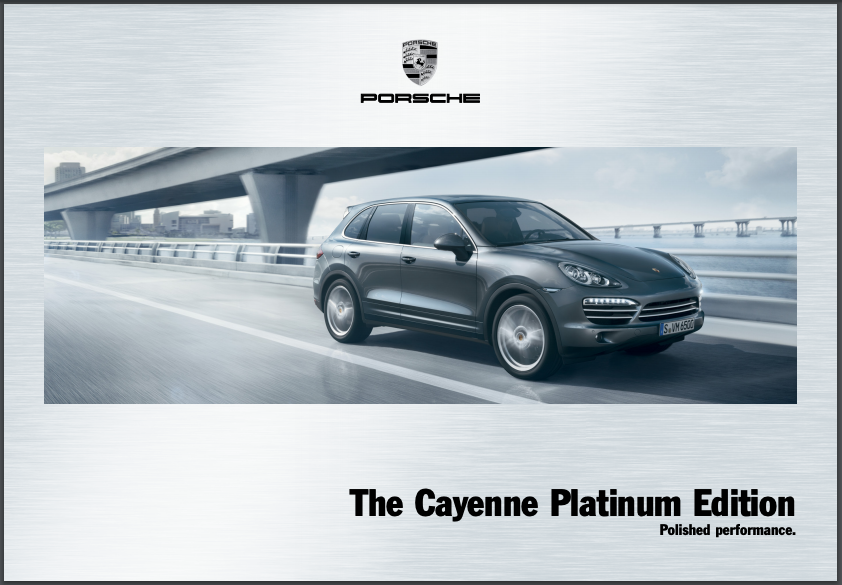 2014 Porsche Cayenne Platinum Sales Brochure
Concept. Can you take something extraordinary and make it even more extraordinary? Can you take something convincing and make it even more convincing? We certainly think you can. We've taken a vehicle that is already very special and managed to hone it further by giving it a more inimitable style and character, and thereby making it even more unique. The result is proof of our desire to pay particular attention to every detail. This is what we understand by refinement. We call it polished performance. The Cayenne Platinum Edition…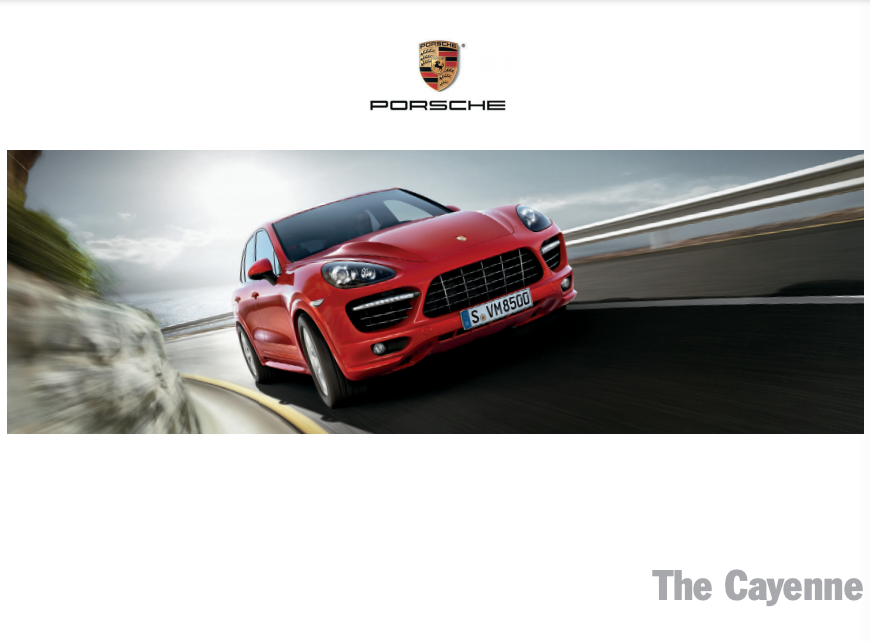 2013 Porsche Cayenne Sales Brochure
The success story continued to gather momentum in 2010—with Intelligent Performance. The sum of the ideas inherent in every Porsche. Innovative drive systems have led to greater efficiency in fuel consumption. This was achieved thanks to the Cayenne models being considerably lighter, with each one weighing up to 400 pounds less
than the respective previous model. They also feature a host of advanced technologies such as the Auto Start Stop function. All this has made our vehicles more dynamic, practical, and comfortable than ever before. For increased comfort and safety, Lane Change Assist (LCA) and Adaptive Cruise Control are available as options. Ensuring a phenomenal sound experience in every seat position is the optional Burmester High-End Surround Sound System…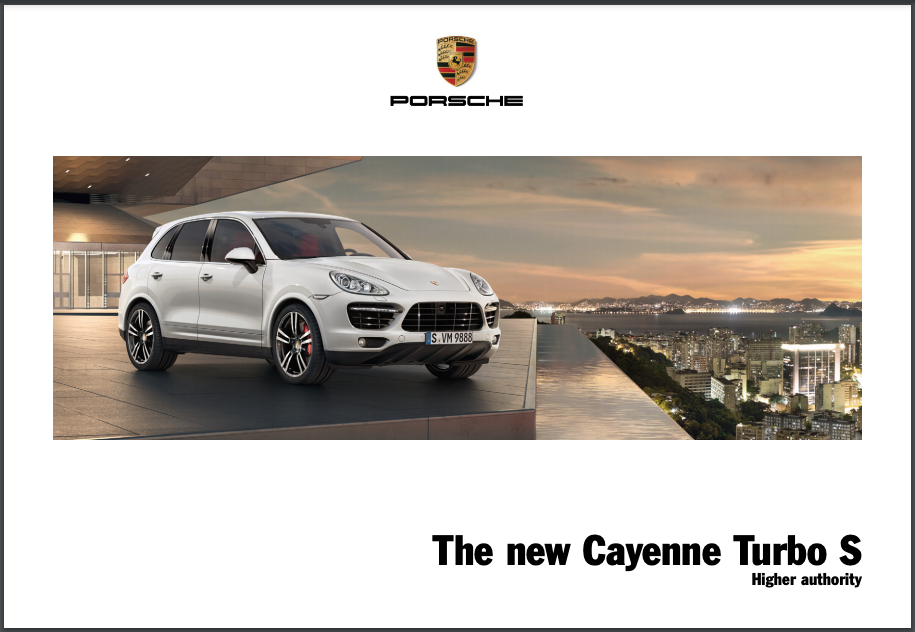 2013 Porsche Cayenne Turbo Sales Brochure
We all make demands, on others and ourselves. We also make demands in terms of performance, design and exclusivity. Sometimes they are especially sophisticated. Like yours. It was clear to us, therefore, that we needed to raise the bar even higher. To increase performance and enhance the emotional experience. The goal: to surpass previous levels of driving performance – and to build the most impressive SUV ever to bear the Porsche Crest. A higher authority. The new Cayenne Turbo S…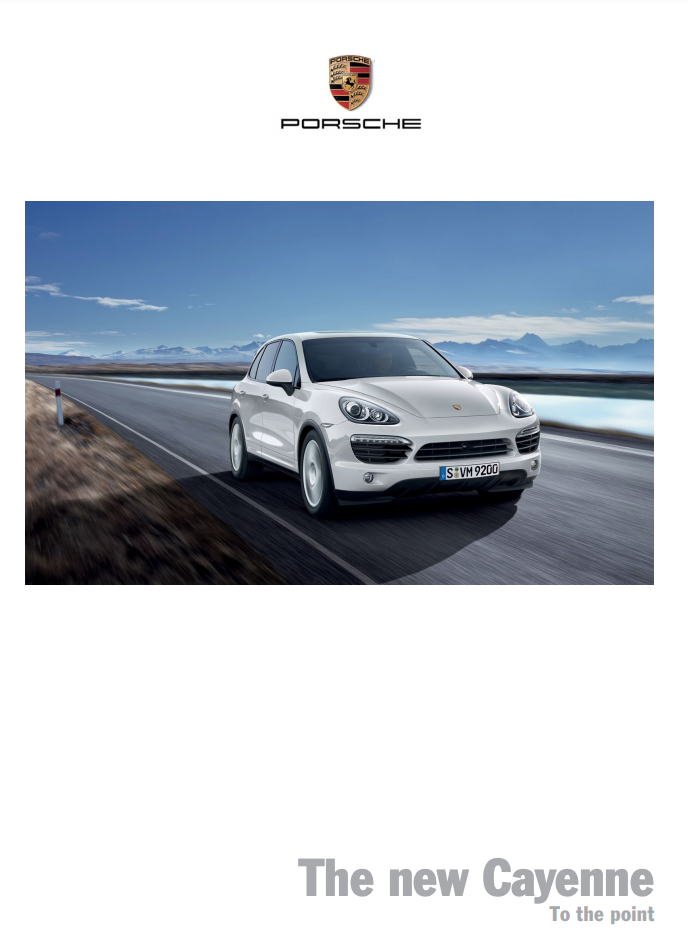 2011 Porsche Cayenne v2 Sales Brochure
Like every Porsche, the Cayenne poses a simple question about performance: Can the soul of a Porsche exist within the body of a rugged, versatile SUV? The first Cayenne quickly proved that such an idea was no idle fantasy. In fact, its character traits became so firmly established, so focused in their purpose, that they have now evolved into an entirely new generation of Cayenne models, each one more dynamic, more comfortable and more fuel-efficient than ever before. The new Cayenne. To the point. More Porsche than ever…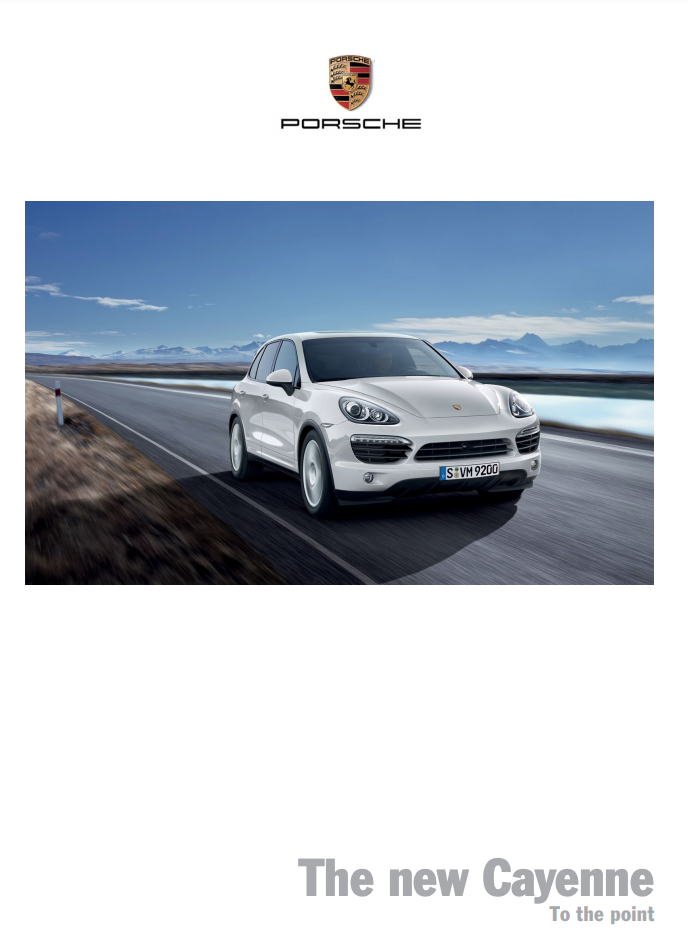 2011 Porsche Cayenne v1 Sales Brochure
Take a look at the Cayenne model range, and you will see the Porsche principle of engineering evolution executed in steel, aluminum and leather. Each example of the new Cayenne advances its own variation of a thesis first established by the original Cayenne: that the utility of an SUV can coexist with the performance of a Porsche sports car…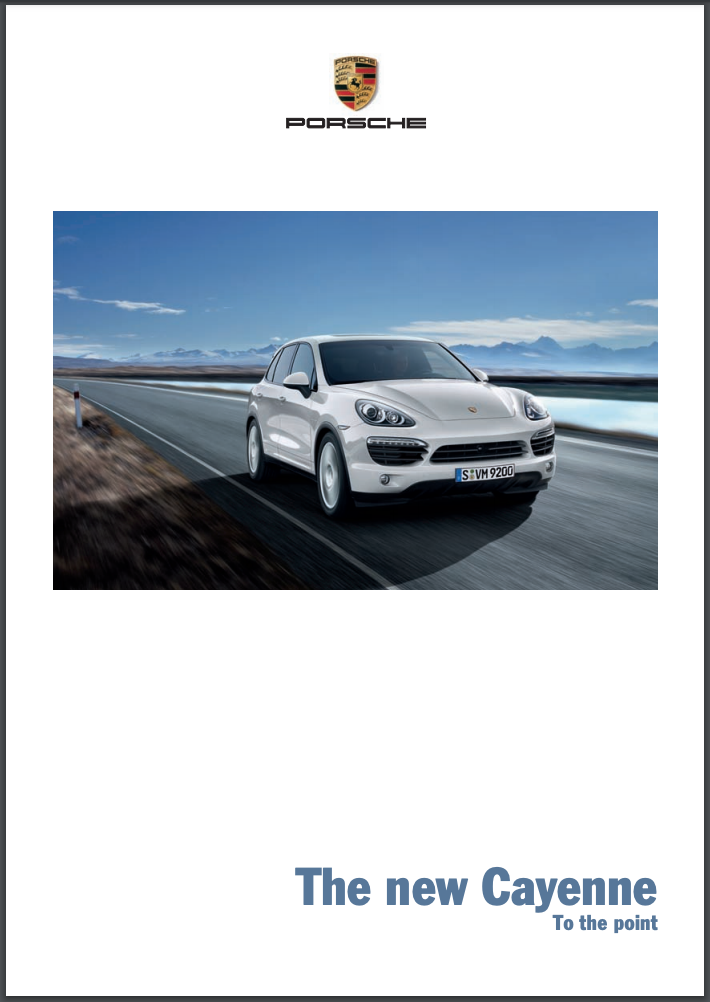 2010 Porsche Cayenne 958.1 Sales Brochure
Includes Cayenne Diesel Turbo 3.0 V6, Cayenne 3.6 V6, Cayenne S Hybrid Supercharged 3.0 V6, Cayenne S 4.8 V8
Cayenne Turbo 4.8 V8. The most innovative – and therefore in keeping with the rest of the Porsche family – is the new Cayenne S Hybrid. Its parallel full hybrid system (p. 28) harnesses the power of an electric machine (motor/generator) and an internal combustion engine. This provides several clear benefits for the driver: outstanding sportscar performance combined with excellent fuel economy. Once again, typically Porsche…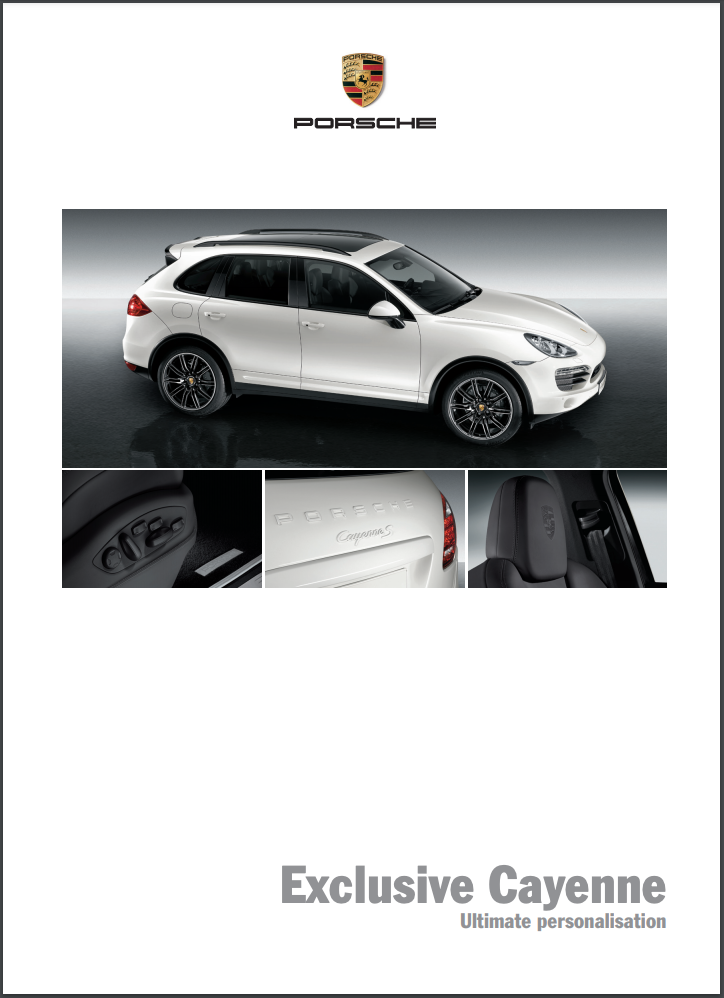 2010 Porsche Cayenne 958.1 Exclusive Sales Brochure
A Porsche is more than just a car. It is also an expression of the personal freedom, taste and lifestyle of its driver. Porsche Exclusive offers you a wide range of individual extras so you can customise your car to your own unique requirements. Visual and technical enhancements for the interior and exterior. And always just as you want them. The most important extra, though, is time. For it is only by taking the utmost care during the consultancy, planning and processing phases that it is possible to create something really special. Something which is exactly tailor-made to your requirements – down to the finest detail. Something unique. With its own unique character. A Porsche which is as special as its driver. The following pages will show you two examples of Exclusive personalisations – be inspired! The captions under each picture describe the Exclusive options illustrated…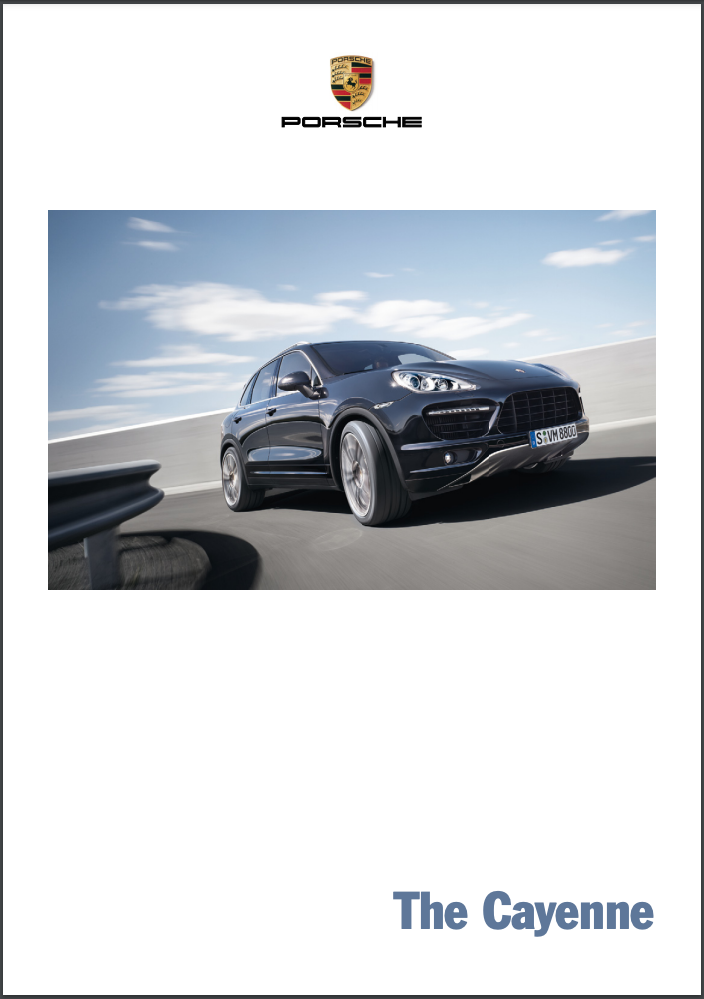 2011 Porsche Cayenne 958.1 Sales Brochure
When we launched the first Cayenne in 2002, it was met with great scepticism. Can it still be considered a Porsche at all? Our reply: never before in the history of the company, has a model gone from 0 to 100,000 sold units so quickly. The second-generation Cayenne too has firmly established itself in the SUV market, demonstrating that exceptional sportscar performance is not just restricted to the road, while the first Cayenne Diesel proved once more that we are not afraid to follow unconventional paths. The success story continued to gather momentum in 2010 – with Porsche Intelligent Performance. The sum of the ideas inherent in every Porsche. Ideas that have led us to develop new drive systems, enhancing the emotional appeal of our vehicles…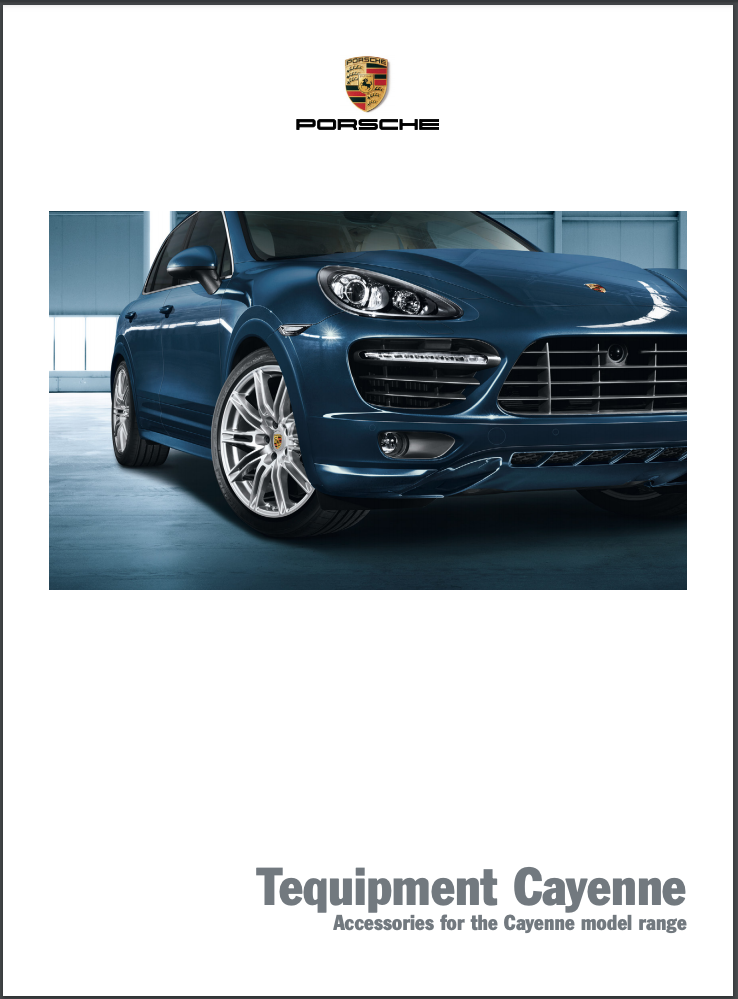 2011 Porsche Cayenne 958.1 Tequipment Sales Brochure
Versatility combined with impressive performance and extraordinary handling. These are the characteristics of every Cayenne model. With each new generation, the Cayenne models become lighter, safer, more economical, more dynamic, and more comfortable. In other words, they are more efficient – another impressive example of how we put Porsche Intelligent Performance into practice. There is only one thing missing: a personal touch. Something
that will turn any Porsche into something unmistakable – yourPorsche. We gave this personal touch a name: Tequipment…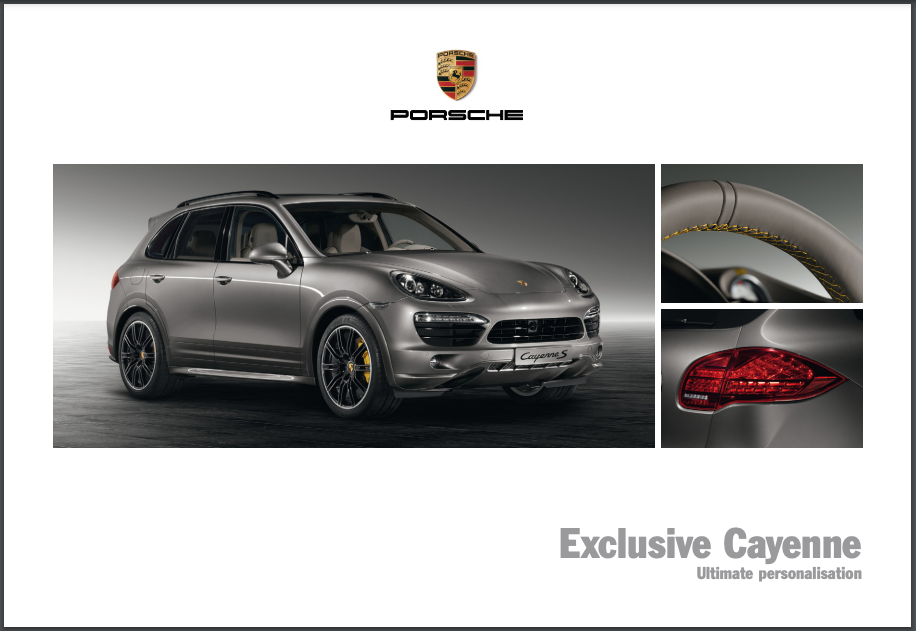 2012 Porsche Cayenne 958.1 Exclusive Sales Brochure
Porsche Exclusive is the ultimate in personalisation, offering a wide range of styling options, meticulous precision and genuine exclusivity. At your request, we can make your vehicle even sportier, even more comfortable and even more individual. We aim to create something truly special and, to be successful, perhaps the most important factor is that we take our time. It is only by taking the utmost care during the consultancy and planning phases and in the selection and crafting of materials that it is possible to design a car that has never been seen before. A car that is tailor-made the way you envisaged, with a harmonious overall concept down to the finest detail and its own unique character that reflects your particular lifestyle…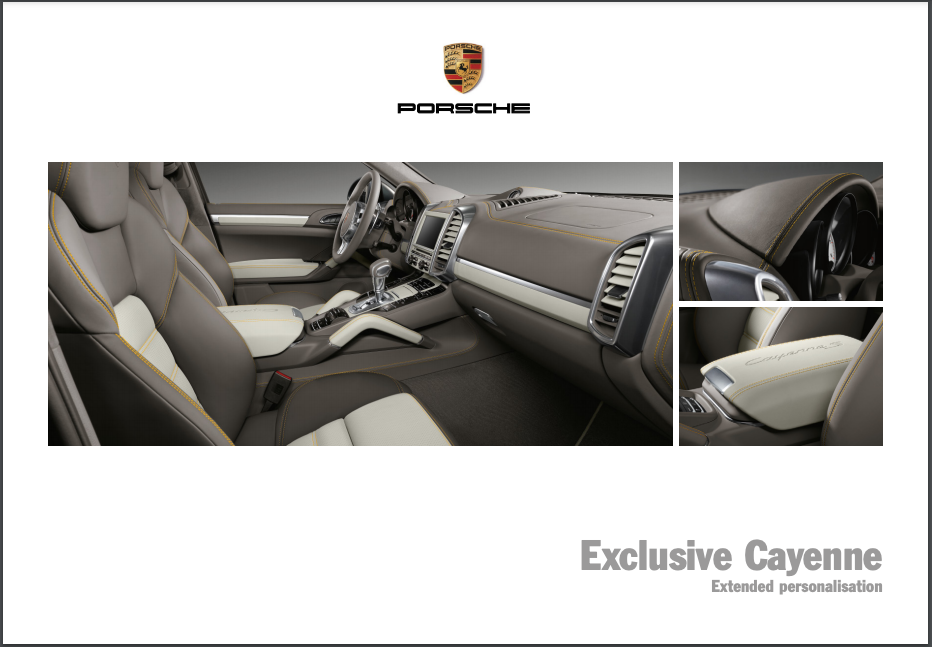 2011 Porsche Cayenne 958.1 Exclusive Interior Sales Brochure
The Cayenne: elegant, powerful and versatile. A car that reflects your personality on the outside, so why not on the inside too? The two interior trim packages with contrasting leather to customise the armrests and seat centres help not only to create stylish accents, but also clearly emphasise what makes your Cayenne special – the details. You have a choice of all standard and natural leather colours, and eight specially selected individual colours (p. 10). The packages are available individually and in combination, and of course you can add contrasting leather trim to other parts of your Cayenne, such as the sun visors for example (p. 12). All of which makes your Cayenne something special – just like you…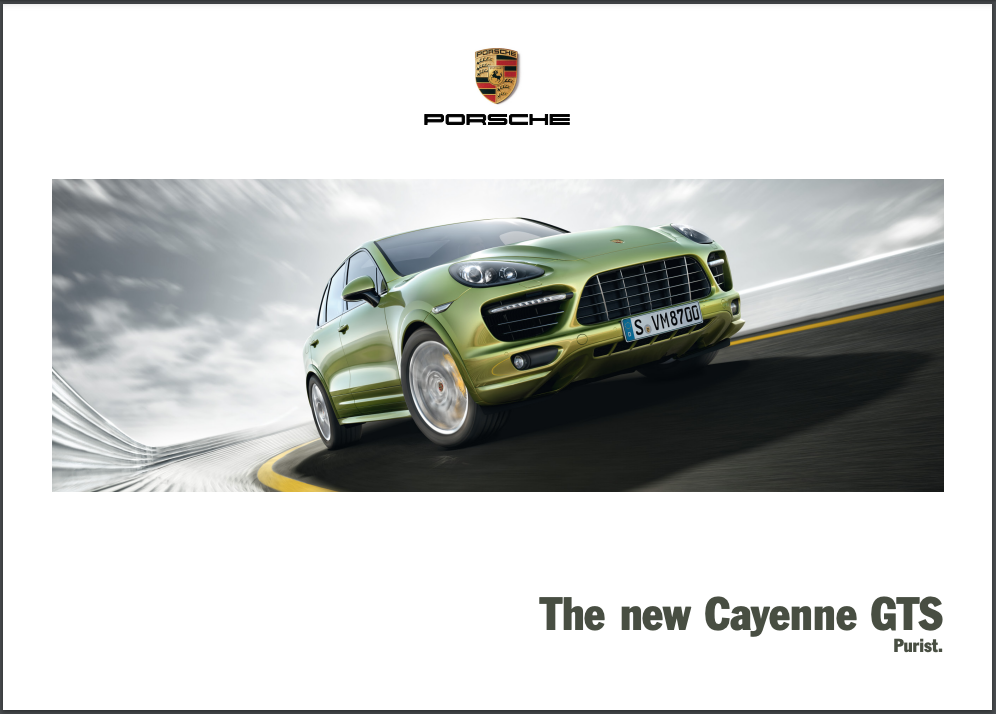 2012 Porsche Cayenne 958.1 GTS Sales Brochure
Where is Porsche at home? In the hearts of drivers. And, of course, on the road. This is where life happens for purists. Those who are looking for sheer, unadulterated driving pleasure. People who not only want to experience sporting spirit, but also wish to demonstrate it themselves. Drivers who long to feel – and see – something truly special. Closer contact with the road is something we've always aspired to. Our philosophy of intelligent performance takes us even nearer to this goal. Purist. The new Cayenne GTS…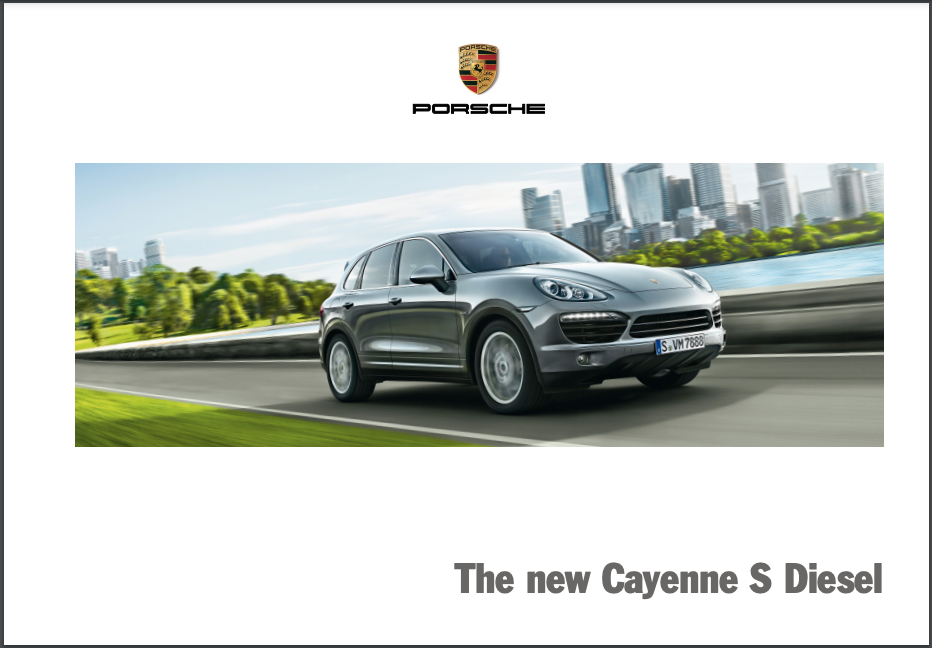 2012 Porsche Cayenne 958.1 Diesel S V8 Sales Brochure
The new Cayenne S Diesel. Life is all about setting yourself new goals every day. Always giving it your all and never wasting a second. Fulfilling your potential and living out your passions. How is this done? By using resources intelligently and following your own path with great determination. It's a clear position – and one we share. That's why we decided to drive forward the concept of a diesel with Intelligent Performance, making it even more powerful and efficient. We think you'll agree the results are very convincing: The new Cayenne S Diesel…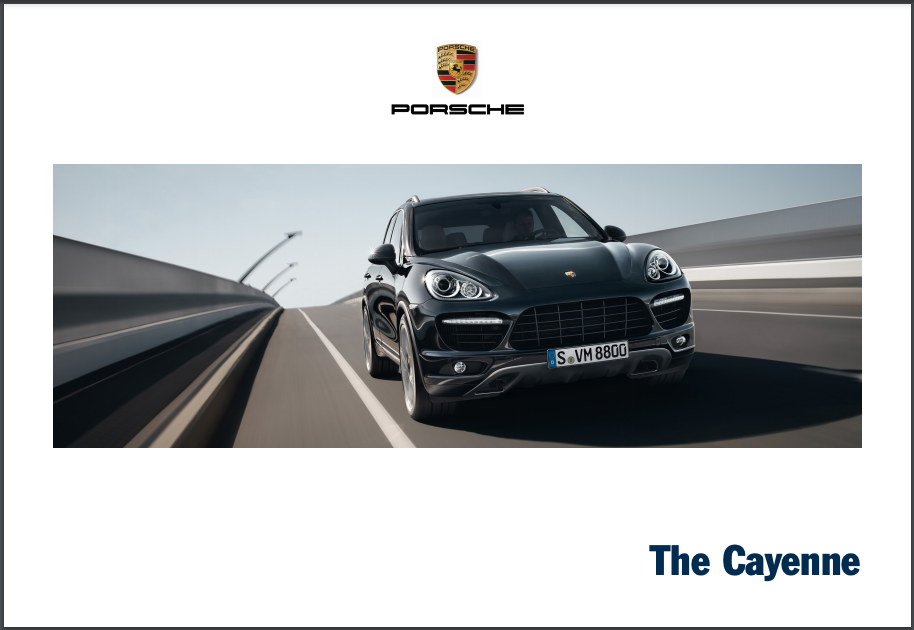 2013 Porsche Cayenne 958.1 Sales Brochure
We've been building sports cars for more than 60 years. During that time, we've brought race-proven technologies to the road – and great emotion to ordinary everyday driving. Yet the Cayenne is anything but ordinary – especially in the SUV segment. We've also continued to drive forward the Cayenne concept. The result: a car that brings us closer to the fascinating appeal of the sports car than ever before. With higher performance, typical Porsche design genes and an interior that delivers true sports car appeal. The Cayenne. To the point…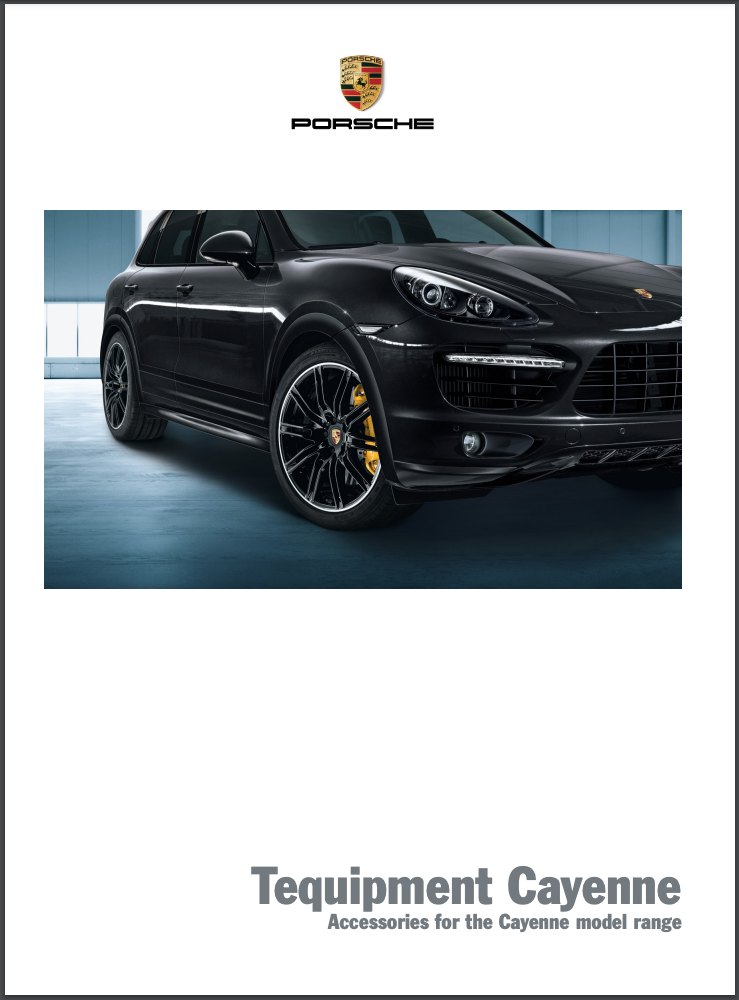 2013 Porsche Cayenne 958 Tequipment Sales Brochure
All the model-specific products in the Tequipment range have been developed, tested and formulated with the complete vehicle in mind, and by the same Porsche engineers and designers who made your car. Each component has to be visually appealing and technically compatible. All this takes place primarily at the Porsche Development Centre in Weissach, Germany – from design through to approval. Every product undergoes exhaustive testing throughout its development to ensure optimum performance and lasting durability. This is because they have to meet the highest standards of Porsche quality and functionality…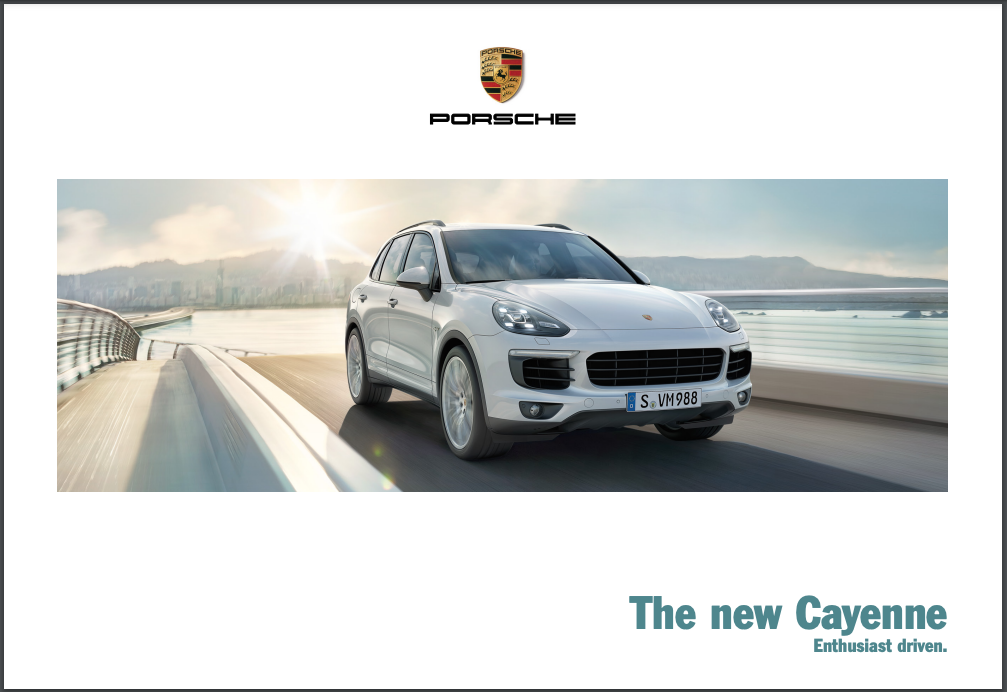 2014 Porsche Cayenne 958.2 Sales Brochure
Porsche. Cayenne. Turbo. Really there's nothing further to add. However, it would be a sin not to mention the new exterior design: broad-shouldered and purposeful. The new front section and new air intakes, in particular the central one which has been enlarged, are striking features that clearly reflect the car's strength and character. Equally distinctive is the design of the new LED main headlights with Porsche Dynamic Light System (PDLS), fitted as standard, and the fog lights which also feature LED technology. Hidden from view, but all the more clearly felt: the standard turbocharging system with charge-air cooling – for enhanced engine performance and efficiency. A wealth of impressive details that can be summed up in just three words: Porsche. Cayenne. Turbo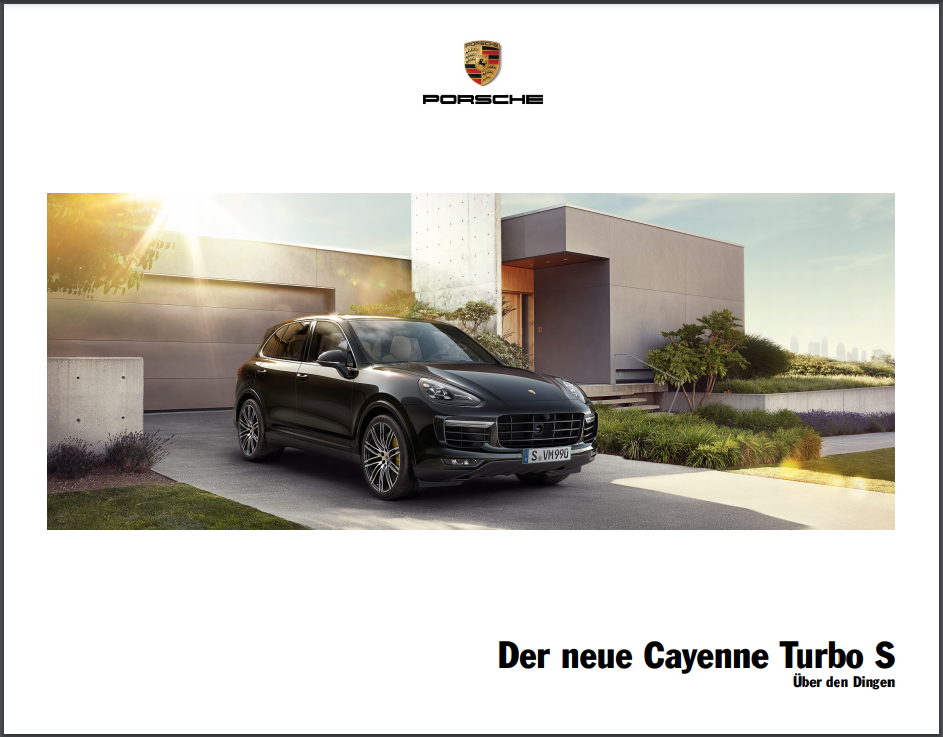 2015 Porsche Cayenne 958.2 Turbo S – Über den Dingen Sales Brochure
Die Summe sämtlicher Ideen, die die Faszination Cayenne ausmachen. Vereint in einem Modell – dem neuen Cayenne Turbo S. Folglich gehen wir bei einer ureigenen Domäne des Cayenne Turbo S aufs Ganze: der Exklusivität. Elegant, erhaben. Ausgesuchte Materialien, wohin man sieht und greift, von Leder über edle Hölzer bis hin zu Carbon. Ausstattung, auf die Spitze getrieben…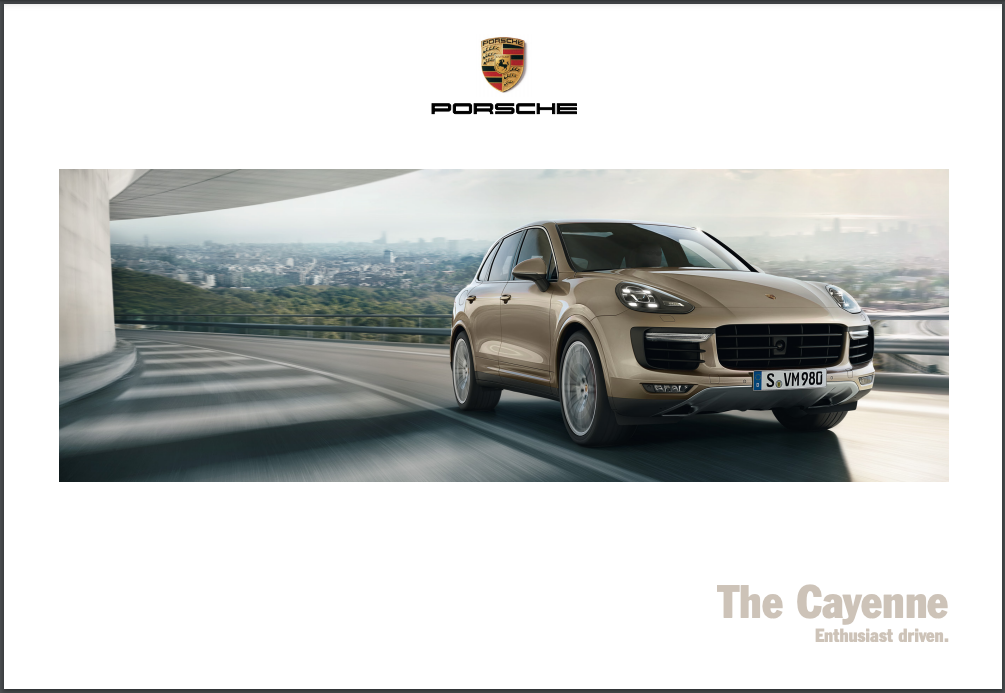 2015 Porsche Cayenne 958.2 Sales Brochure
The Cayenne models exude one thing above all else: enthusiasm. For life, for the road. Firstly, there's the Cayenne. A genuine all-rounder for any road and any terrain. Versatile, spacious and dynamic. Designed for everyday challenges – especially those that are far from ordinary. The basis for this: the 3.6-litre V6 petrol engine. An impressive output o f 220 kW (300 hp) at 6,300 rpm. With direct fuel injection (DFI), continuously variable valve timing on the inlet and exhaust sides as well as 8-speed Tiptronic S fitted as standard. It's no wonder that we refer to it as the 'decathlete' among sports cars…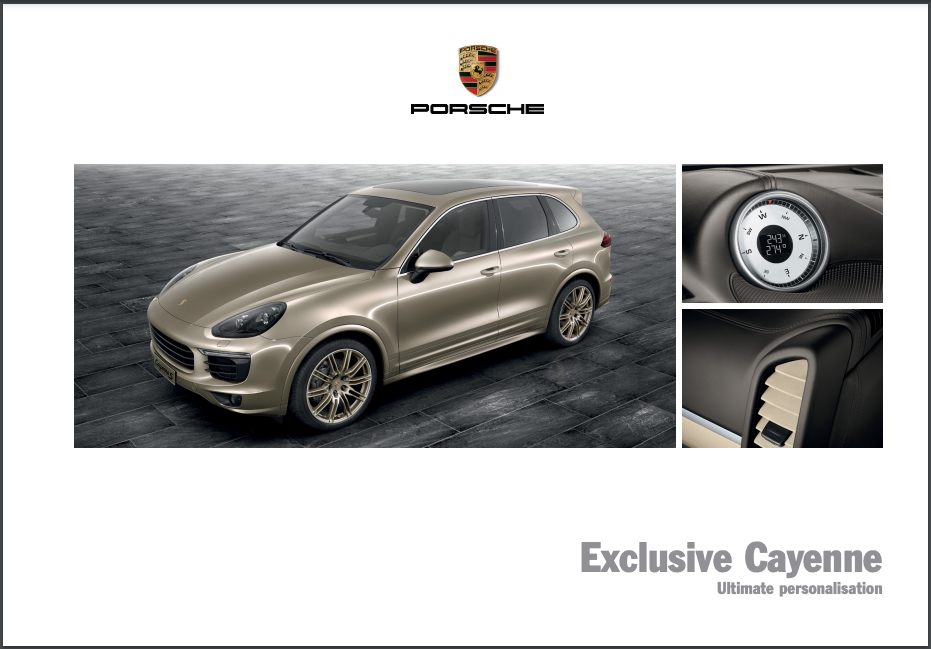 2015 Porsche Cayenne 958.2 Exclusive Sales Brochure
Porsche Exclusive is the ultimate in personalisation, offering a wide range of styling options, meticulous precision and genuine exclusivity. At your request, we can make your vehicle even sportier, even more comfortable and even more individual. We aim to create something truly special and, to be successful, perhaps the most important factor is that we take our time. It is only by taking the utmost care during the consultancy and planning phases and in the selection and crafting of materials that it is possible to design a car that has never been seen before. A car that is tailor­made the way you envisaged, with a harmonious overall concept down to the finest detail and its own unique character that reflects your particular lifestyle…