Porsche 718 Boxster (981 Generation) Sales Brochures
We found quite a few Porsche sales brochures for the third generation 718 Boxster, which is known as the Type 982. With the new 982-generation, the marketing designation of the Boxster and Cayman was changed to Porsche 718, so the Boxster became the 718 Boxster. The timeline of the 718 release started in 2016, with first model availability scheduled for June. You will notice that for the 718, many of the sales brochures focus on both the Boxster and the Cayman together for the first time.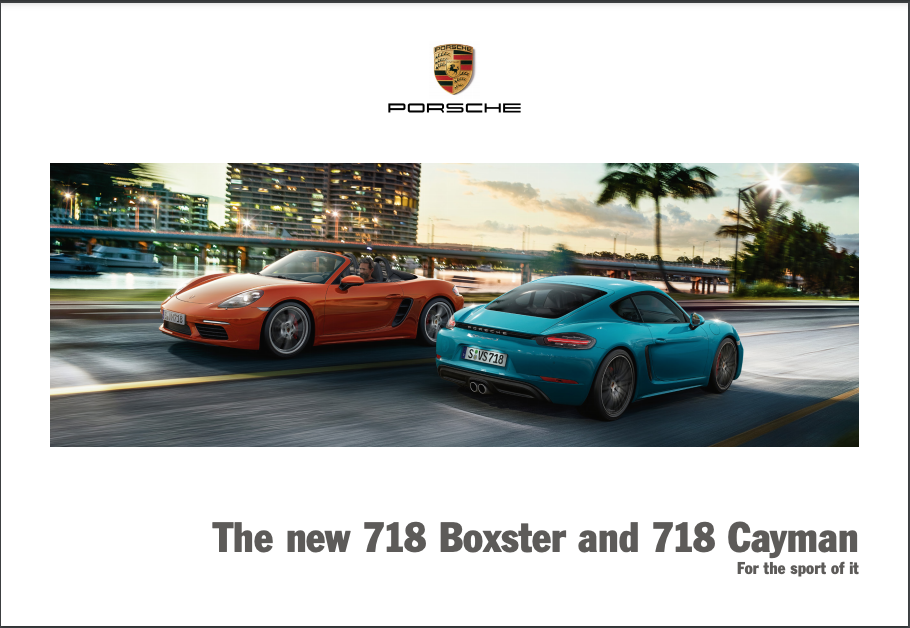 2016 Porsche 718 Boxster Sales Brochure
718 Boxster Turbo 2.0, Boxster S Turbo 2.5. To us, it's never been about extra horsepower alone, but about more ideas per hp. It's about engines that are more efficient, not bigger. It's about a design that follows principles, not trends. It's about sports cars that can be driven day in, day out. It's only when all these things come together that we can talk of Intelligent Performance – the core of the Porsche brand, and of its future. This is what we are fighting for. Just as we did on day one. We are fighting for a dream that will forever be in our heart…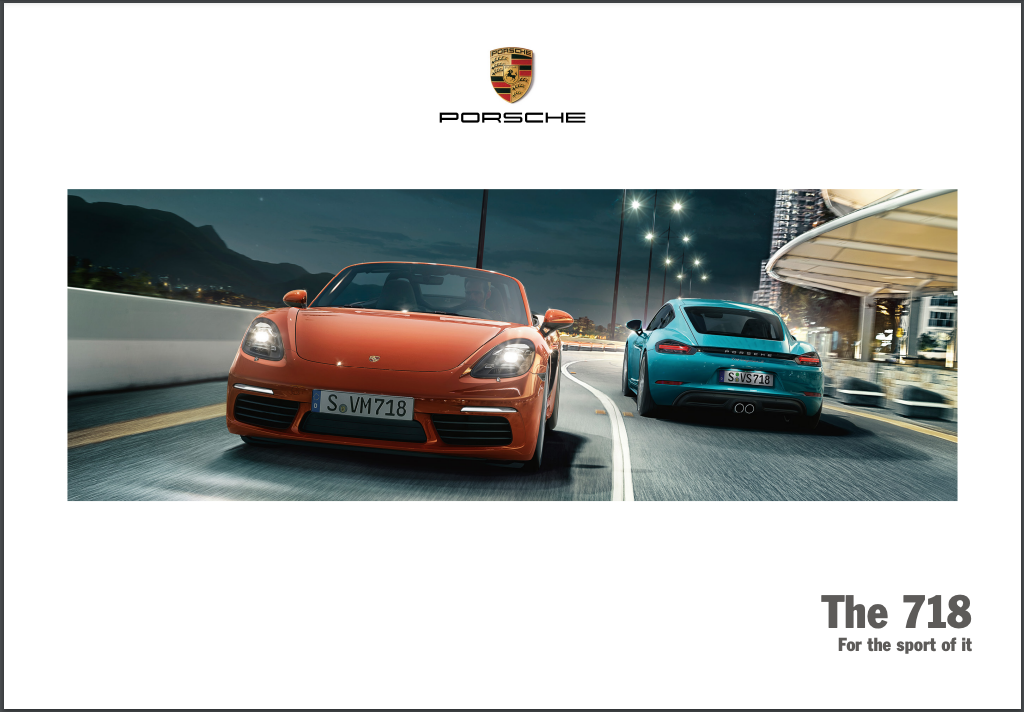 2017 Porsche 718 Boxster Sales Brochure
718 Boxster Turbo 2.0, Boxster S Turbo 2.5. The Boxster and the Cayman are the sequel that continues the 718 era. At their heart, a turbocharged flat-four engine beats with the same fighting spirit that delivered countless podium finishes. In them lives the will to break with standards. And to inspire conviction. So it is entirely appropriate that they, too, should bear these three digits in their name and carry the 718 legend forward. The 718 models were made for the sport of it. They are mid-engined roadsters that unite the sporting spirit of the legendary Porsche 718 with the sports car of tomorrow…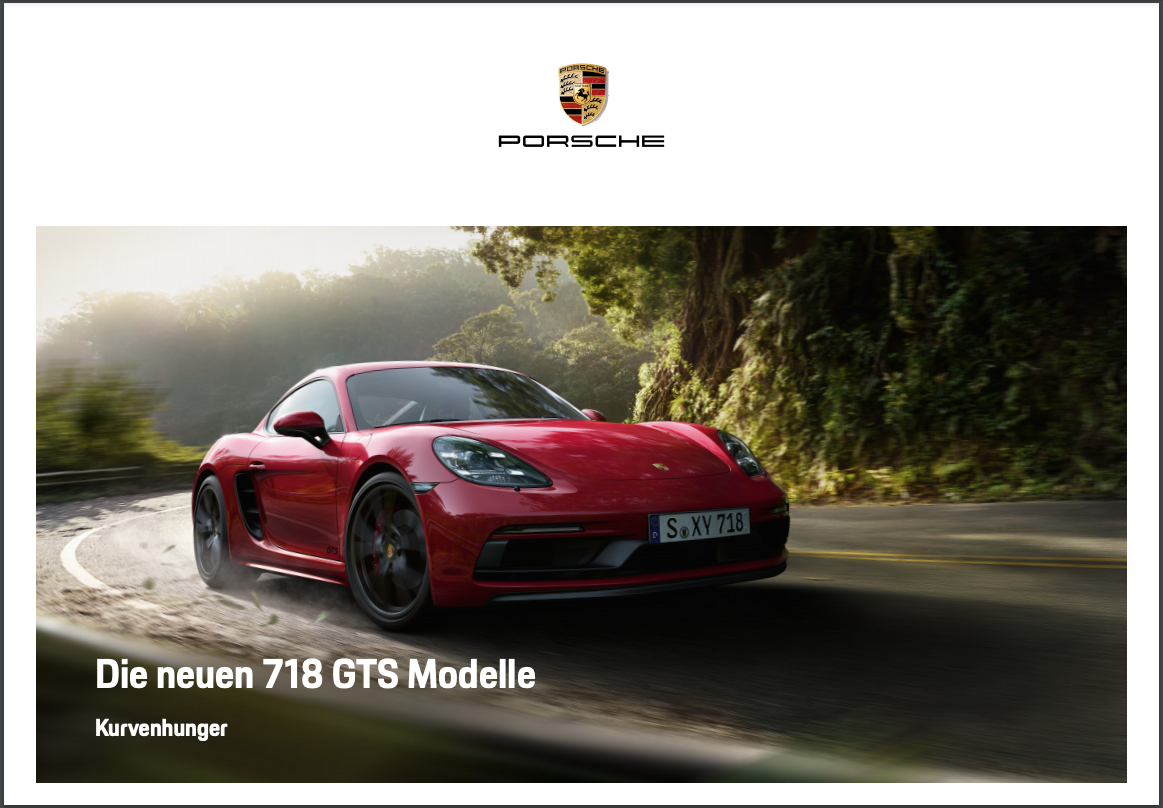 2017 Porsche 718 GTS Turbo 2.5 Sales Brochure (in German)
718 Boxster GTS Turbo 2.5. Die neuen 718 GTS Modelle machen nicht satt. Sie machen Lust auf mehr. Auf mehr Herzklopfen beim Start. Auf mehr Kurven pro Kilometer. Mit einem leistungsgesteigerten Mittelmotor und einem Fahrwerk, das keine Spitzkehre scheut. Die Leistung geht nach oben, das Design orientiert sich nach vorn: mit geschärften Formen, geschliffenen Linien und hochwertigen Materialien. Die neuen 718 GTS Modelle verkörpern eine eindeutige Haltung: Zähne zeigen, Biss beweisen. Und immer schön hungrig bleiben…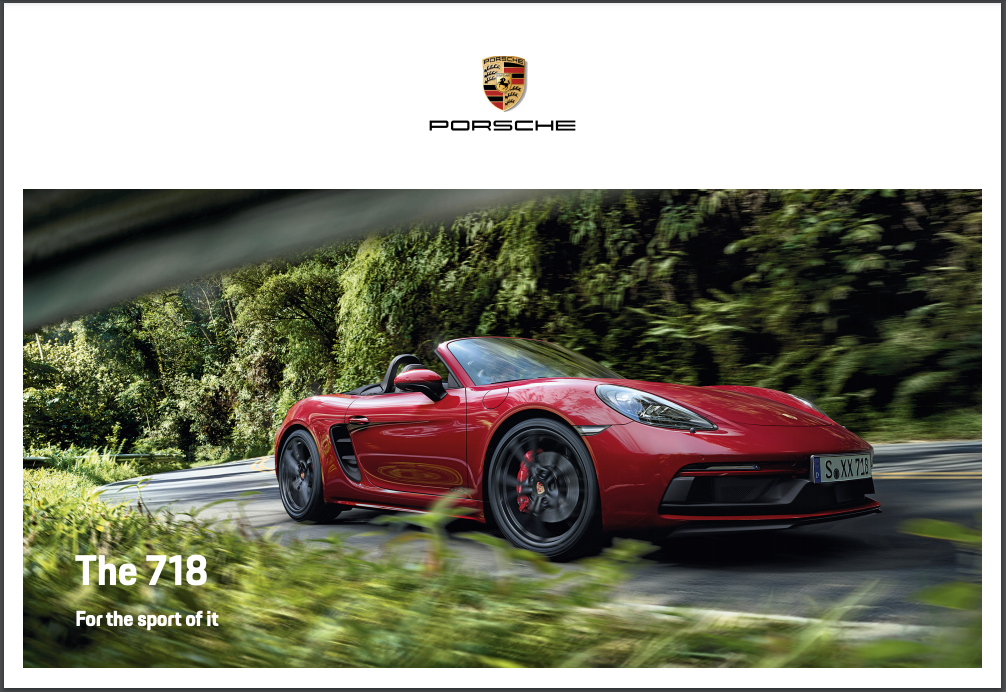 2018 Porsche 718 Boxster Sales Brochure
GTS Turbo 2.5. 718 Boxster Turbo 2.0, S/GTS Turbo 2.5. What is it that makes the 718 models so special? Their performance, their handling, their design and the generous amount of space afforded by two luggage compartments. Above all: a mid-mounted engine concept that makes all this possible in the first place. The engine is positioned no further than 30cm behind the driver. Effect number one: a resounding thump on the back. Effect number two: extraordinarily dynamic cornering capabilities, thanks to the car's low and central centre of gravity. The horizontally opposed arrangement of the engine's cylinders also helps to reduce oscillations, which has a positive impact on smooth running. Another advantage for driving dynamics: the concentrated power of the engine is transmitted directly to the rear axle…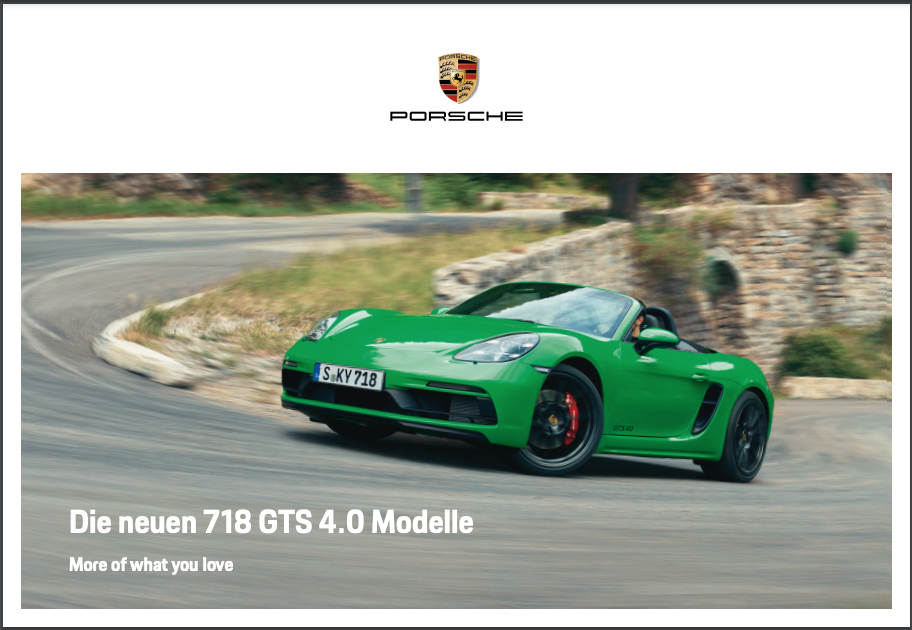 2020 Porsche 718 GTS 4.0 Sales Brochure (in German)
718 Boxster GTS 4.0. 2 Fahrzeuge. 2 Fahrer. Ein Ziel: Col de Turini, der legendäre Pass. Viele Kurven, etliche unvergessliche Fahrmomente. Genau der richtige Ort für die Faszination Sportwagen. Das Kribbeln beginnt. Die Vorfreude steigt. Der Pulsschlag auch…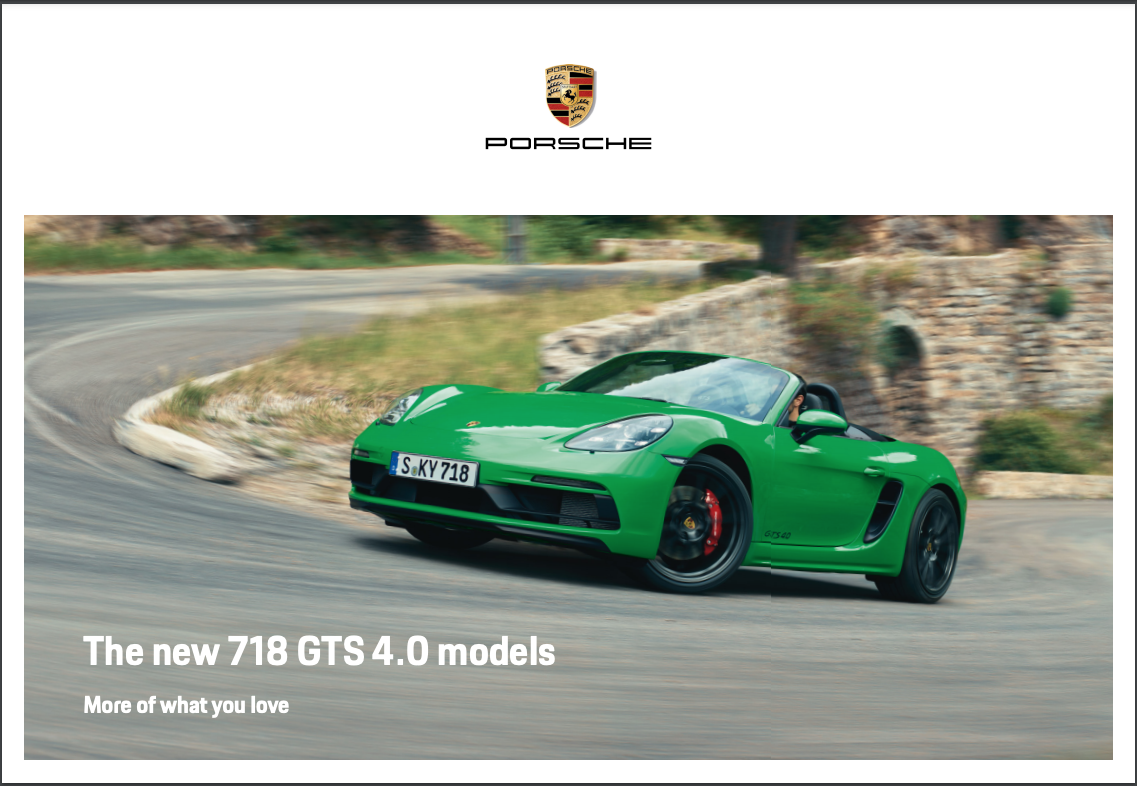 2020 Porsche 718 Boxster GTS 4.0 Sales Brochure
718 Boxster GTS 4.0. The curve-devouring mid-engined coupé with an unrestrained thirst for action: sporty, manoeuvrable, agile. For the road, for the race track, for living. The new 718 Boxster GTS 4.0 and the new 718 Cayman GTS 4.0 represent Sportscar Fascination in its purest form. Especially with the sound: the 4.0-litre, six-cylinder horizontally opposed and naturally aspirated engine is purebred, raw and classic. And not least: thrilling. What else? Mid-engined layout. Typical of the 718. This means excellent handling and agility to make you celebrate every single bend. Just an athletic, well-trained six-pack in Porsche style that brings us back to the core of the dynamic driving experience. Which we just can't get enough of, so let's get some more. More of what we love. The new 718 GTS 4.0 models. More of what you love….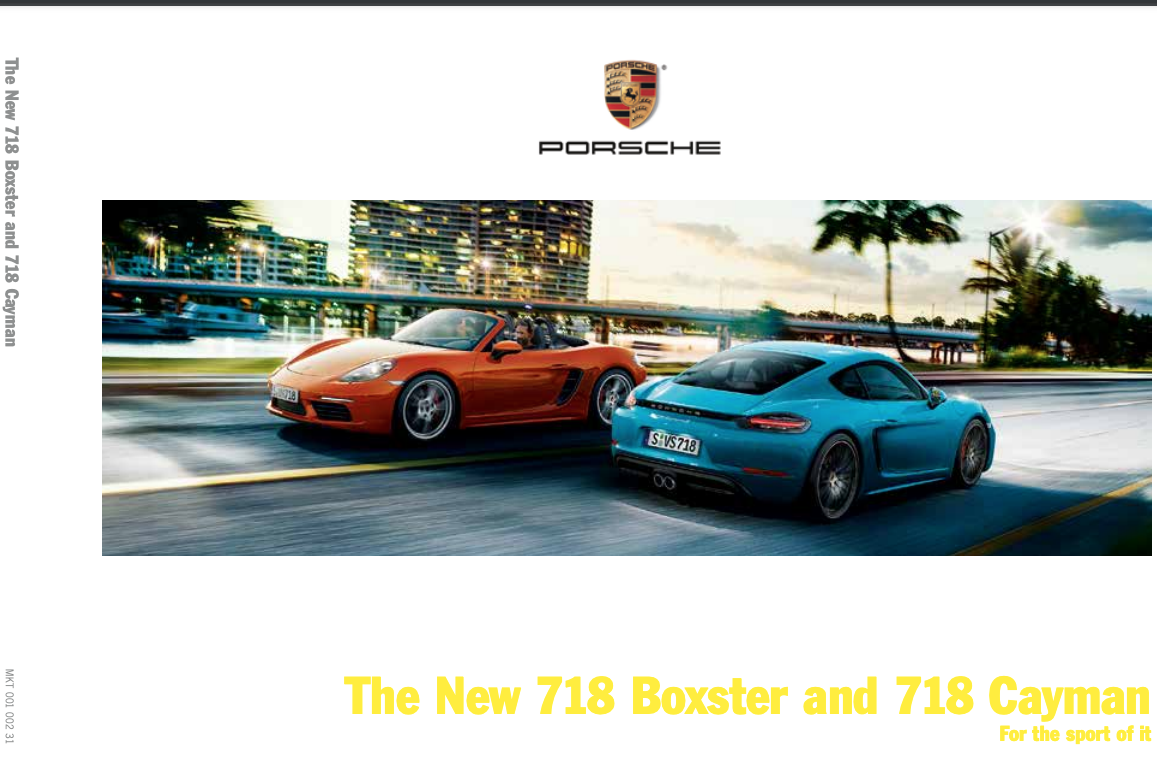 2019 Porsche 718 Sales Brochure
Compared with the previous models, the result is a new, decidedly more striking design, an even sportier chassis setup, and a host of new performance, comfort, and assistance systems. And, of course, up to 350 units of turbocharged horsepower. Only one question remains unanswered: what are you still waiting for? The new 718 Boxster and the new 718 Cayman. For the sport of it…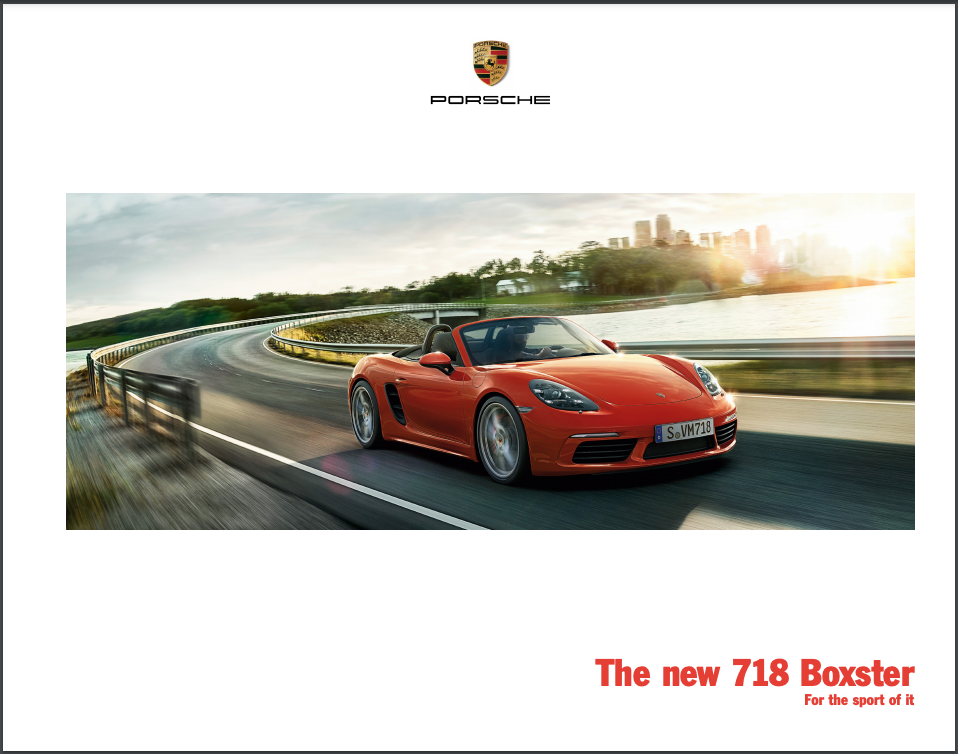 2017 Porsche 718 (New Boxster) Sales Brochure
Every legend has a beginning. Strictly speaking, the legend of the 718 began back in 1953 with a simple but audacious plan: to take the offensive. Not least on the racetrack. A rousing statement of intent followed by action: with a four-cylinder horizontally opposed engine, with a consistent lightweight construction and with a cornering
performance never witnessed before. The 550 Spyder. A sports car that defied the motorsport standards of its time – because our engineers simply cannot be content with the status quo…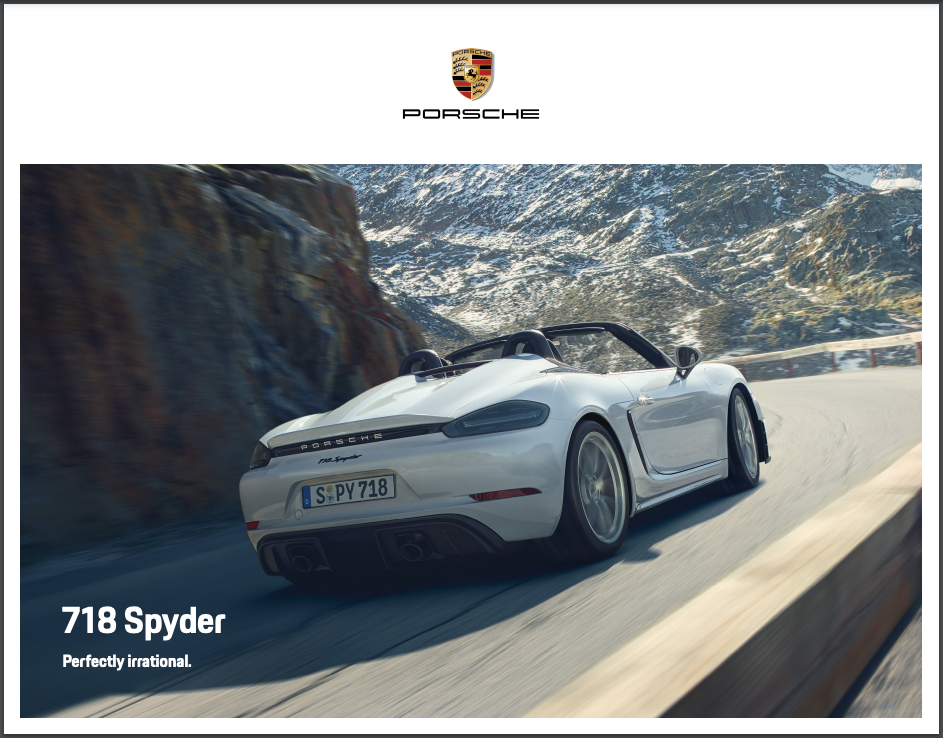 2017 Porsche 718 Spyder Sales Brochure
Serpentines. Hairpin bends. Gradients. Mountain races have always been a special challenge. At the start of the 1960s, by creating the 718 RS 60 Spyder, Porsche continued to  expand the successful concept of the legendary 550 Spyder and its successor models – lightweight, lower centre of gravity, mid-mounted engine, great manoeuvrability – and sparked waves of excitement in countless mountain and long-distance races. The design language of the 718 RS 60 Spyder was influenced by its function. Be fast, be agile, win races. And exactly this design language can be seen now in the new 718 Spyder. Its unmistakable silhouette with the flyline typical of a midmounted engine, for example. Or the front spoiler: elegantly rounded, flattened, closer to the road. The front apron is reduced to the basics. Its clearly defined shape with the typical Porsche sweep tells the headwind what it has to do: create optimum tyre contact pressure. Especially in the corners. The highly distinctive front spoiler lip with an additional spoiler in front of the wheel arches reduces the aerodynamic lift on the front axle. The central air intake in the front apron also optimises the aerodynamics and channels the air stream up through the air outlet in front of the front lid…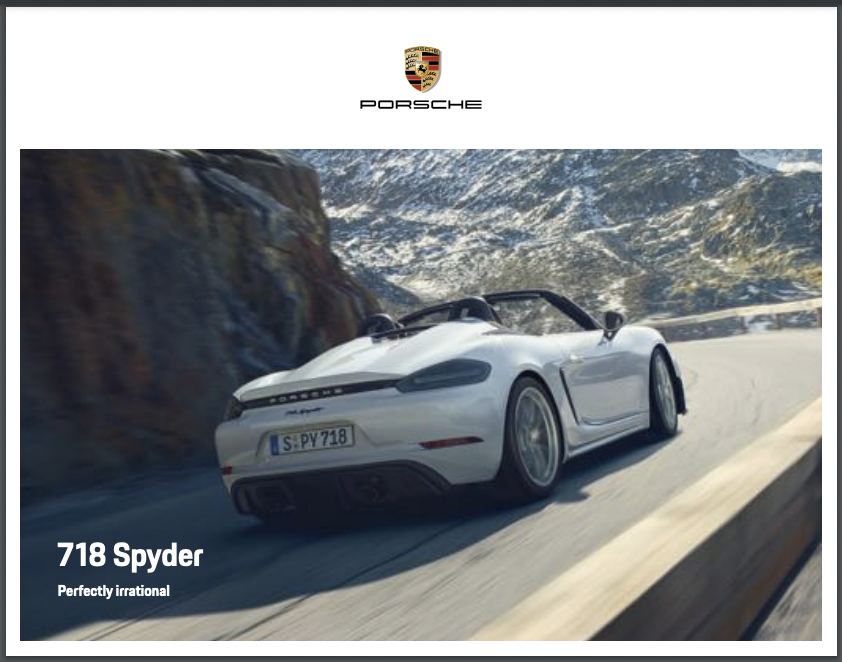 2021 Porsche 718 Spyder Sales Brochure
The rear end of the new 718 shows how perfect irrationality can be. The rear is influenced by the characteristic streamliners that visually carry forward the shape of the black supplemental safety bars. They lend the new 718 Spyder its unmistakable look and, at the same time, are reminiscent of the silhouette of one or other of its
predecessors. The distinctive rear spoiler between the tinted taillights emphasizes the performance-oriented design. At speeds in excess of 75 mph it automatically extends – and reduces lift for more driving stability. The dynamic slope of the rear end is made up of the diffuser and the new, concise sport exhaust system. Its two black sport tailpipes are separated further and create the unfiltered sound that, every now and then, silences reason. The new rear diffuser creates a very fast flow on the rear underbody and has a decisive impact on reducing overall lift by 50%. Super sports car technology that m