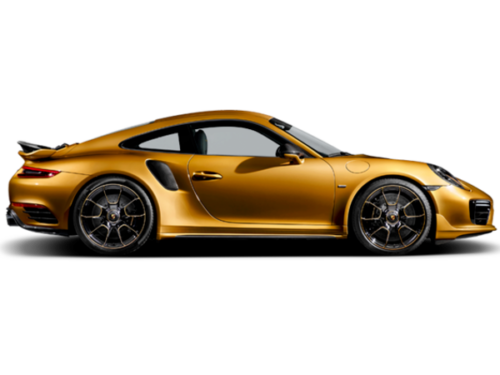 (2018 – 2019) Porsche 911 Turbo S Exclusive Series (991.2) – Ultimate Guide
Porsche has always done a fantastic job at keeping their finger on the pulse of customer expectations. In particular, Porsche acknowledged that the Turbo/Turbo S's big-spending customer demographic had limited options in explicitly differentiating their pride and joy from other builds. Turbo/Turbo S customers tend to have little-to-no budgetary concerns when it comes to their purchase; aside from custom colorways. In many cases, customers ended up building essentially the same car – a Turbo S specced with every option available. So much for paying extra to be different, right?
The best way to address this in true Porsche fashion was to release a Turbo S so Exclusive that its mere name and existence (or lack thereof) would be a differential in itself.
With a limited production of just 500 units worldwide, the 2018 Porsche 911 Turbo S Exclusive Series lives up to its new moniker. With an MSRP of $257,500 USD, an 'entry-level' Exclusive Series doesn't cost much more than a fully-loaded Turbo S. However, if Economics 101 has taught me anything, it is that its scarcity alone will mean that this car will fetch well above that price, particularly in the indirect sales market.
The Exclusive Series is quite a bit more than just a fancy aero kit (a very fancy one at that), trim-specific wheels and Exclusive badging strewn about on a Turbo S. In fact, the car has received noteworthy upgrades in every area that a quintessential Turbo S owner would care about – including a power boost.
The Exclusive Series employs the same 3.8L twin-turbocharged flat-six as the Turbo S, but with the addition of a power kit, which increases peak horsepower from 580 to 607. With peak torque remaining the same at 553 lb-ft, the Exclusive Series rockets out the blocks, clocking 0-60 mph in about 2.8 seconds; not any faster than the Turbo S.
However, the 27 horsepower bump serves a tangible purpose over the latter portion of the sprint. Attaining a top speed of 205 mph, the Exclusive Series is capable of achieving 0-124 mph in a jaw-dropping 9.6 seconds, shaving 0.3 seconds off the Turbo S's time in this range.
The monstrous engine is mated to a 7-speed dual-clutch PDK transmission, with the power delivered to all four wheels via its ultra-competent all-wheel drive system. Further providing aid to driver discrepancies are torque vectoring and stability management, which come standard. Equipped with the standard Porsche carbon-ceramic brakes and Pirelli P-Zero tires, the Exclusive Series still stops and grips more similarly to the Turbo S than its GT counterparts, as one would expect. This is no fault in the car, as the Exclusive Series is as capable of being a raging beast on the racetrack as it is a refined gentleman on the streets.
The exterior design of the Exclusive Series definitely stands out. Most noticeable at first glance is the Golden Yellow Metallic paint job and accentuating carbon-weave racing stripes, which are available only on these 500 cars. The Exclusive Series can be offered in 'other select exterior colors' by request.
Living up to its name, the Exclusive Series has been adorned with a unique array of carbon fiber parts from front to back which includes the front hood, roof, rear wing and aero kit. Newly styled 20-inch Exclusive Design wheels, a new rear fascia, black-painted calipers, along with plaques and logos on various body panels, serve as reminders to everyone that this car is 1 of 500.
The interior of the Exclusive Series is the beneficiary of the same treatment received by the rest of the car. Two golden yellow stripes run the length of the primarily black leather, contrast stitched, and carbon fiber accented cabin.
On the subject of the aforementioned carbon fiber interior pieces; each weave incorporates thin copper threading, which provides a unique and mesmerizing sheen unlike anything offered in any other 911. Leather and/or color-matched stitching is not spared for any parts, including uncustomary items such as air vent slats and the steering wheel column which are normally made from plastic.
Specifications and Performance Summary
Pricing and Model Info
| | |
| --- | --- |
| Make | Porsche |
| Model | 911 Turbo |
| Generation | 2018 – Present |
| Sub-Model | Exclusive Series |
| Car type | Coupe |
| Category | Series Production Car |
| Built At | Stuttgart, Germany |
| Introduced | 2018 |
| Base Price (US) | $257,500 |
Chassis and Powertrain
| | |
| --- | --- |
| Curb Weight | 3,528 lbs |
| Layout | Rear-engine |
| Driven wheels | All-wheel drive |
| Suspension | MacPherson strut suspension with anti-roll bar (front), LSA multi-link suspension with anti-roll bar (rear) |
| Brakes | 410mm brake rotors with 6-piston calipers (front), 390mm brake rotors with 4-piston calipers (rear) |
| Engine | Flat 6 Boxer |
| Aspiration | Twin-turbocharged |
| Valves | 2 Intake / 2 Exhaust |
| Lubrication | Integrated dry-sump |
| Cooling | Water-cooled |
| Displacement | 3.8 Litres |
| Transmission | 7-speed PDK |
Engine Output
| | |
| --- | --- |
| Power | 607 bhp @ 6750 rpm |
| Power / litre | 159.7 hp / litre |
| Power-to-weight ratio | 5.8 lb / hp |
| Torque | 553 lb-ft @ 2,250-4,000 rpm |
| Compression ratio | 9.8: 1 |
Performance
| | |
| --- | --- |
| 0-60 mph | 2.8 seconds |
| ¼ mile | 10.7 seconds |
| Max speed | 205mph (330km/h) |
Photo Gallery
In Depth
The 500 hundred numbered 911 Turbo S Exclusive Series cars cross the 600 hp mark with their 446 kW engines. The 20 kW/5% power increase does not make much difference performance wise, but it is good to know you have more than 600 hp. Similar in acceleration and top speed to the 'regular' Turbo S, the car reaches 200 km/h (124 mph) in 9.6 seconds (0.3 seconds faster than the regular Turbo S). The car comes standard with the Turbo Aerokit and has the batmobile-style roof panel. While on the 991 GT3 RS the roof panel was made of magnesium, on this special edition car it is made of carbon-fibre reinforced plastic (CFRP) for the first time. In additon to the roof panel, the front lid, side skirts, mirror case, side air intakes and other parts are of CFRP. Completely new are the wheels and the rear end lower area design including the exhaust pipes. The prototype was painted in Golden Yellow Metallic.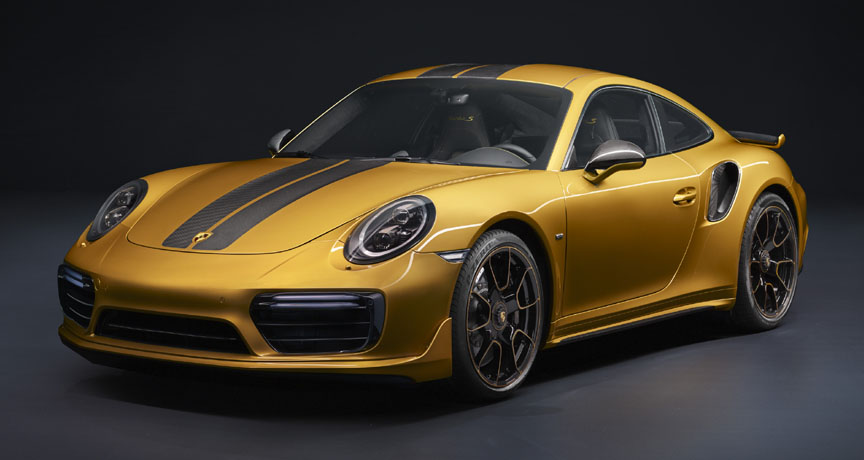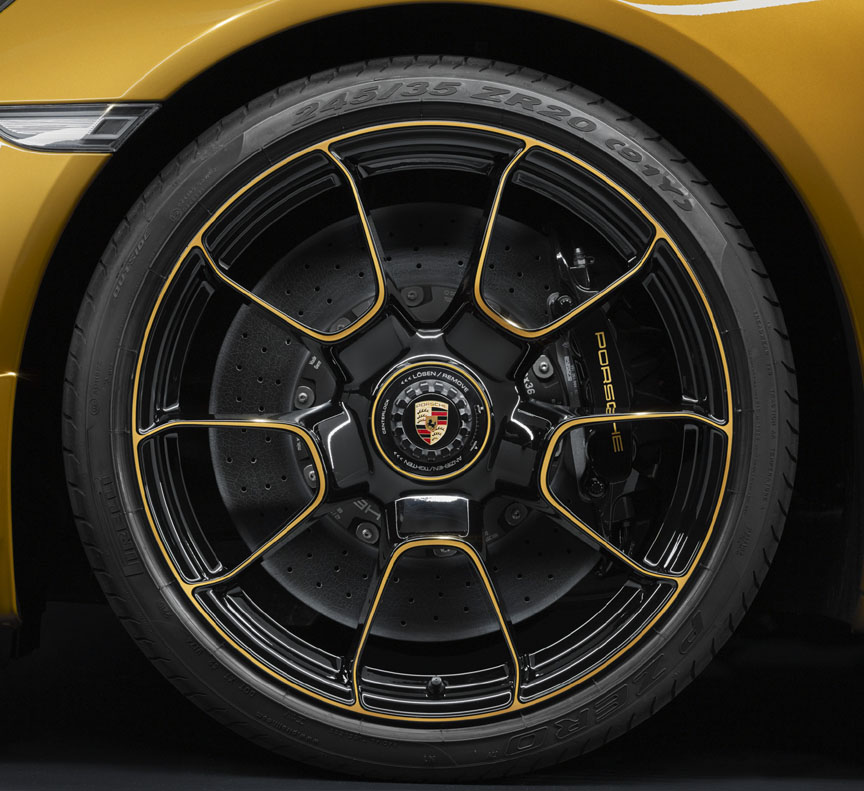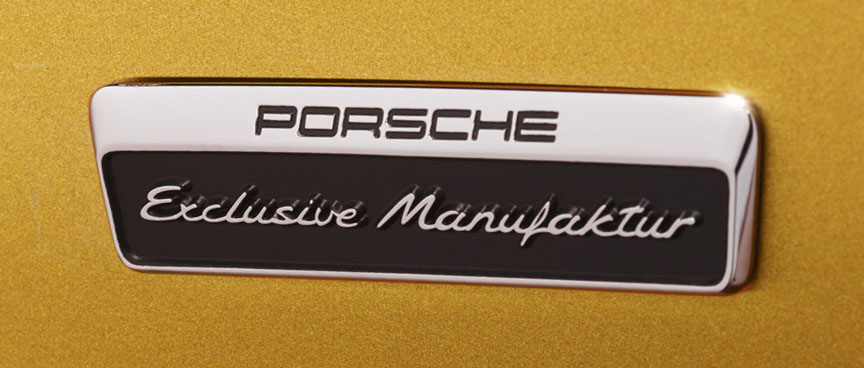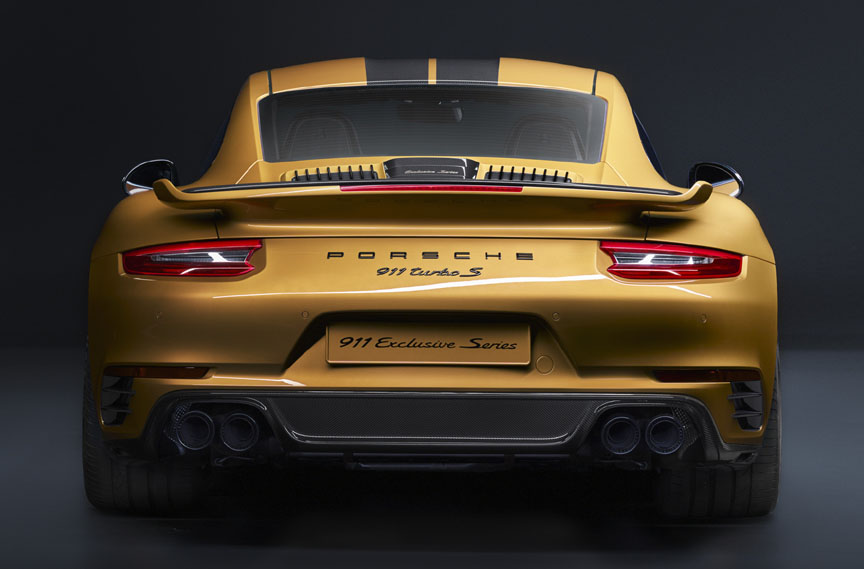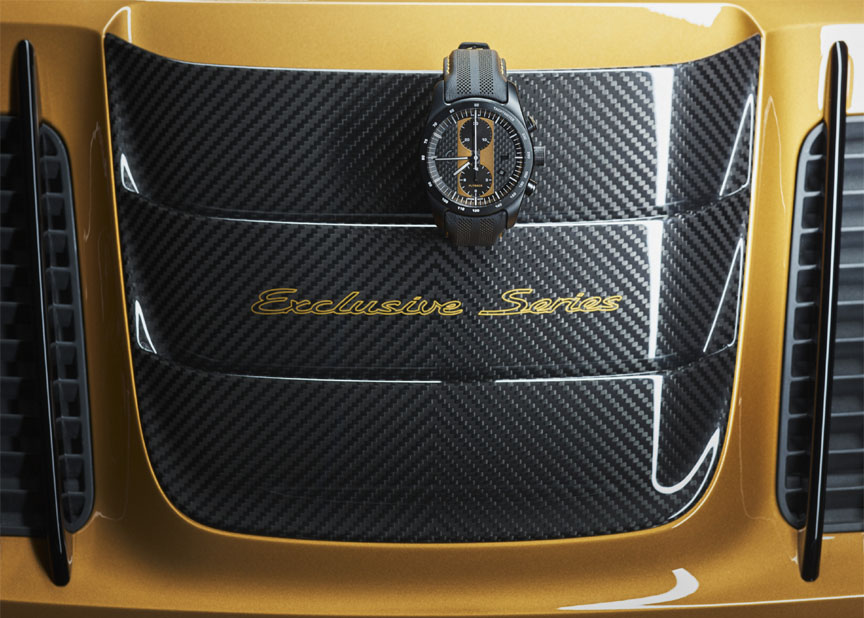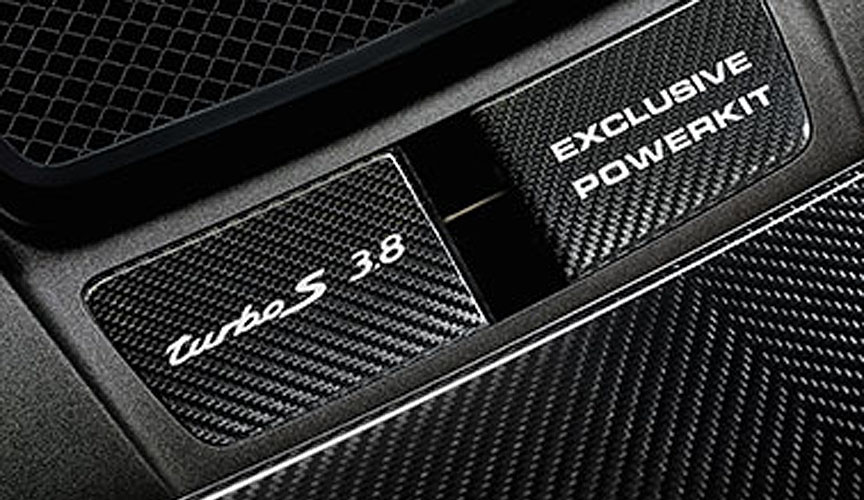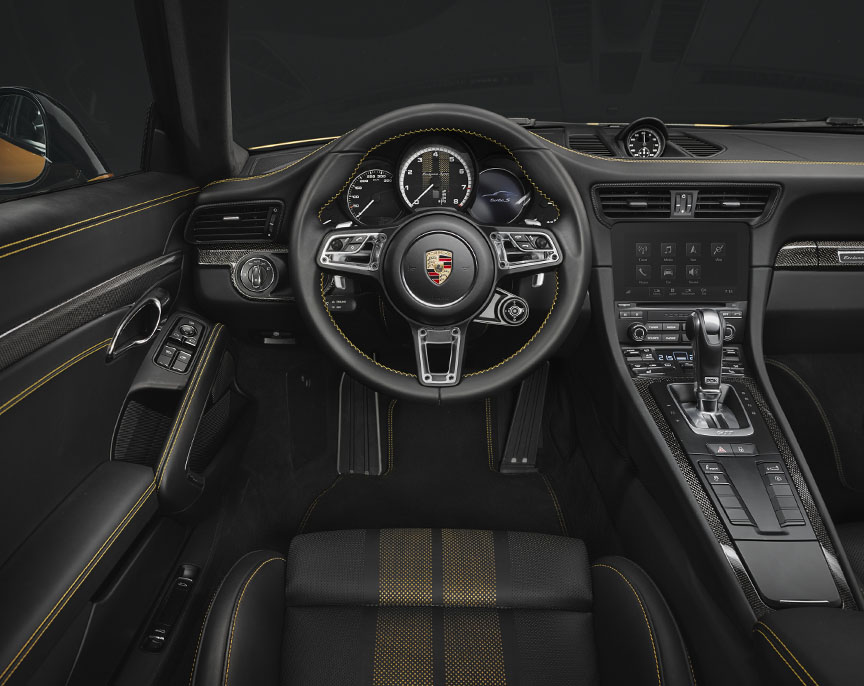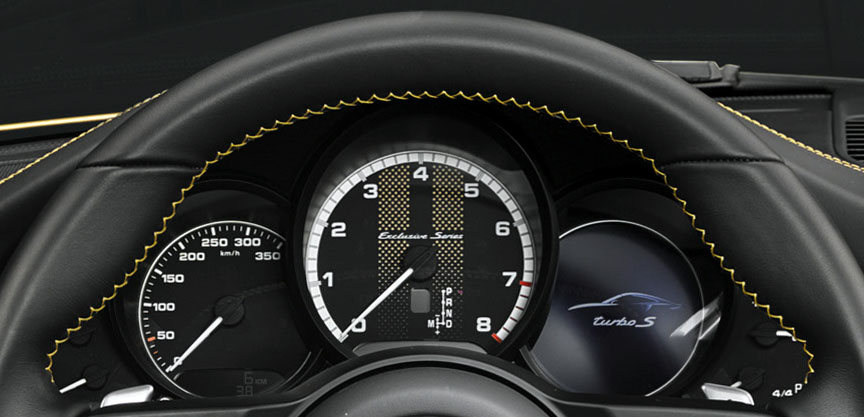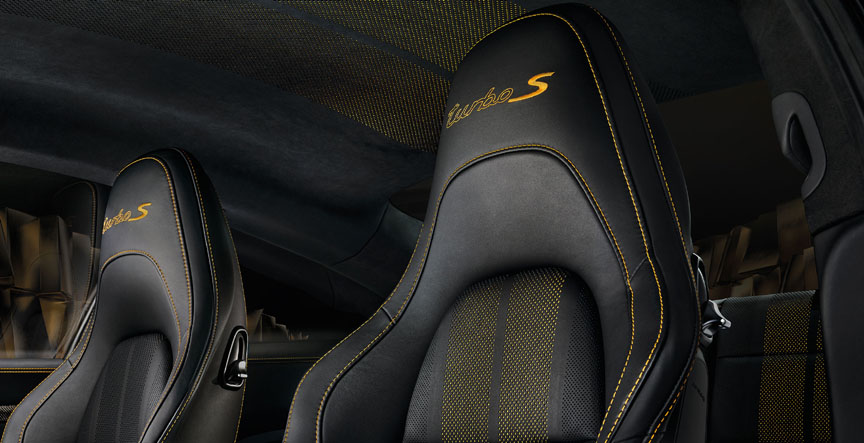 Carbon fibre wheels
Porsche offered carbon fibre wheels for the 911 Turbo S Exclusive Series. While a carbon fibre wheel itself is not a news, the rim part of the Porsche wheel is braided! The wheel centre is made from 200 cut-out pieces of carbon-fibre fabric and braided into the rim base.