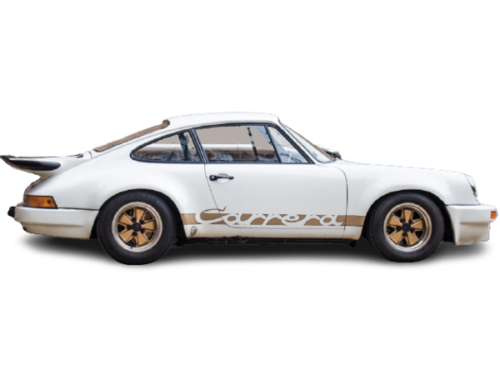 1974 Porsche 911 Carrera RS 3.0 – Ultimate Guide
In 1974 the roadworthy motorsport 911 series continued its run when Porsche took the opportunity to develop an evolution of the RS 2.7, having now met stricter requirements of building 1000 road cars per year in line with Group 3 rules. Group 3 allowed a previously homologated car, such as the RS 2.7, to be homologated with just 100 examples built.
Thanks to the 1973 911 Carrera RS 2.7 being homologated for the 2.8-litre RSR, for 1974, Porsche homologated a 3.0-litre RSR factory race car, which of course required only that much smaller production run to go alongside it. While 1,580 Carrera RS 2.7s were built for 1973, only 56 Carrera RS 3.0s were built for 1974.
The Carrera RS 3.0 was powered by what was essentially a detuned 3.0-liter RSR engine with an aluminum (rather than magnesium) crankcase and street exhaust fitted in place of the open racing unit. With displacement increased to 3.0-litres and internally designated as 911/77, the former type 911/72 engine was upgraded with new cylinder heads with larger inlet ports, larger inlet and exhaust surfaces for the valve heads, and the crankcase utilized a more durable die-case aluminum alloy. Cylinder heads were single-plug rather than the racing twin-plug type, and the compression ratio was given a significant bump over the outgoing 2.7's 8.5:1 ratio, though it still runs on the equivalent of 93 octane U.S. pump gas.
The brakes were huge four-piston aluminum units with drilled discs, lifted straight off the all-conquering 917, and the suspension was revised with RSR rear pick-up points allowing for more camber adjustment, even stiffer Bilsteins, and thicker diameter rear torsion bars. Power was channeled through a five-speed gearbox and limited-slip differential, and the fenders were widened even further to accommodate 8.0-inch wheels up front and 9.0-inchers in the rear.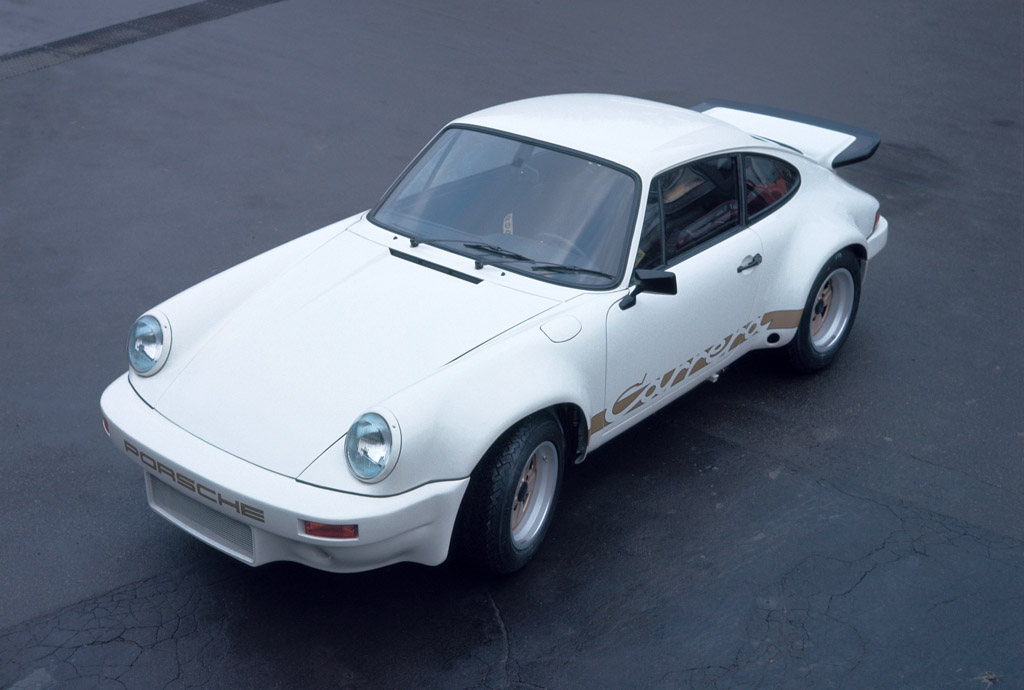 The RS 3.0's G-shell chassis was updated with rear torsion bars and the anti-sway bars were reinforced, the Fuchs wheels were widened by an inch at front and rear, and the ventilated disc brakes were derived from Porsche's legendary 917. Bodywork featured the taller, larger bumpers introduced in all 1974 911s, while the front air dam was reworked, along with the new rear "tray"-style spoiler. Each RS 3.0 sold came with two rear spoilers: the road version fitted to the car at the time of sale, and a second, larger racing wing that wasn't road-legal in Germany, as it overhung the rear bumper.
With its systematic lightweight construction the RS 3.0 only weighed in at just 900 kg. This low weight was achieved by using thin-gauge sheet parts and an emaciated equipment level. Everything was taken out. Porsche used lightweight windows, removed all sound deadening material, delivered a very minimalist interior, and used fibreglass for the hood and engine cover. There were also no creature comforts. This was more racer than road car.
Motor Sport magazine, February 1973 – Nothing that is desirable comes easily or cheaply and the Carrera RS is no exception, but without question it is one of the great cars of the 1970s; the personification of GT motoring and race breeding.
The large cross-drilled and ventilated brakes from the Porsche 917 were used on the new car, with a balance bar to adjust front-rear brake bias, and the engine was bored out to 95 mm, keeping the same 70.4mm stroke. Bosch Kugelfischer mechanical fuel injection system was used (the same as on the Carrera RS 2.7), and 230 hp was now being sent to the rear wheels via the 5-speed transmission.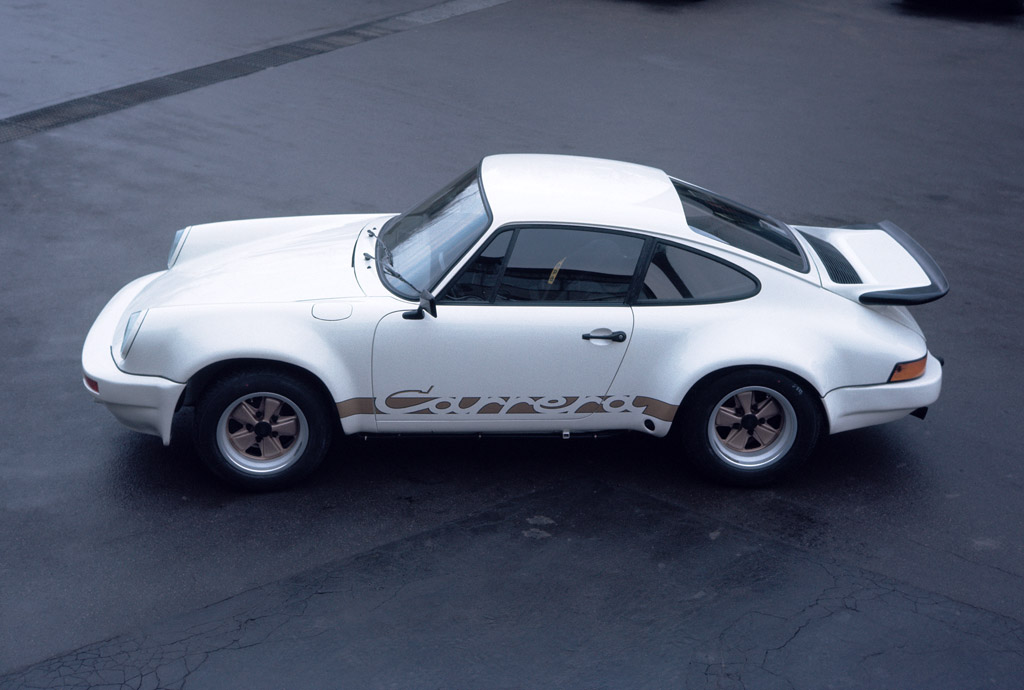 Compared to the iconic 2.7 RS, the 3.0-litre Rennsport was lighter, bigger and more powerful. Despite the prices that 2.7 RSs get compared to the RS 3.0, there is no doubt that the 3.0 RS is a better car to drive without question. If you're looking to buy an RS 3.0, the problem will be scarcity. The 1974 Porsche 911 Carrera RS 3.0 is an exceedingly rare car, just 55 were made and today they are considered amongst the finest naturally aspirated 911s money can buy. Quite a bit rarer than the 1,580 2.7 RS cars built.
The fibreglass front bumper on the 911 Carrera RS 3.0 served three primary purposes – it reduced airflow under the car, it diverted air to the large 917 disc brakes, and it contained an oil cooler to keep the flat-6 from overheating – even when being pushed hard. A rear spoiler was added to the engine cover, the "tea tray" design we all love.
In race tune, the engine could produce as much as 330 bhp, but in standard street guise produced roughly 230 bhp. For the street cars, this resulted in a sprint from 0-60 mph in just 5.2 second and a top speed of 152 mph.
Videos & Reviews
Picture Gallery