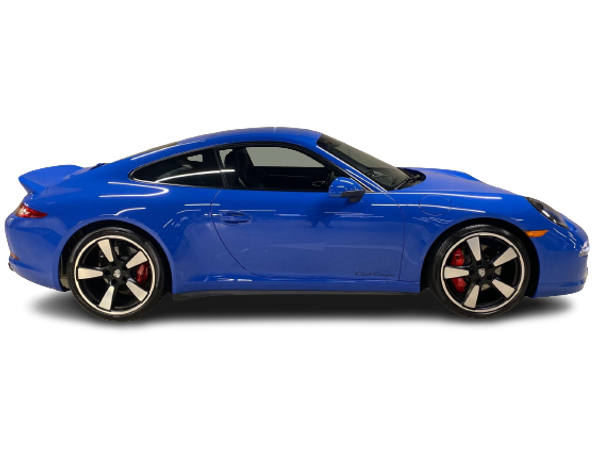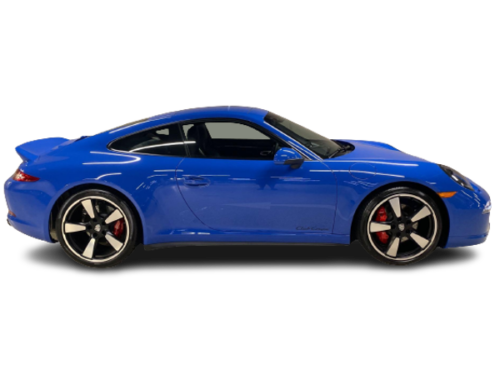 2016 Porsche 911 Carrera GTS Club Coupe (991) – Ultimate Guide
To celebrate 60 years of Porsche Club of America, PCNA (Porsche Cars North America) ordered 60 units of 911 Carrera GTS Coupés in Club Blue from Porsche Exclusive. All 60 cars were equipped with SportDesign aerokit (including ducktail).
The 991 Carrera GTS was the ideal choice for a Porsche enthusiast car – rear wheel drive, wide body and most powerful Porsche available with manual gearbox. Some cars were equipped with PDK. These Club cars were not numbered because it wasn't a special series by Porsche AG, but a series of similarly equipped cars ordered by PCNA.
The cars got a few unique touches by Porsche Exclusive, like the special "Club Blau" paint, the "Club Coupe" stickers on the doors, the door entry guards with "GTS Club Coupe" lettering, number "60" embossed on the armrest cover and the "GTS Club Coupe 60 Years Porsche Club of America" lettering written on the dashboard trim strip. The first 991 GTS Club Coupé was finished by Porsche Exclusive in November 2014.
It was introduced in USA in the end of January 2015 to be sold in June 2015. One of the cars was destined for a lottery among PCA members. Similar to the 2015 Porsche 911 Carrera GTS Club Coupé was the 2012 Porsche 911 Carrera S WLS Club Coupé. Just that the GTS Club Coupé came with the wider rear end. Those lucky enough to get their hands on one of the 59 Porsche 911 GTS Club Coupe models to be sold in the U.S. paid $137,055, including a destination charge of $995.
Being a Porsche, there are still options on these special models. The Extended Club Coupe Package goes so far as to include the key painted in Club Blau and adds leather-edged floormats. A custom car cover is also available.
This is more special than most people think because it is among the last of the naturally aspirated 911s and is the ultimate salute to PCA membership. And it is fun to drive, with a healthy 430-horsepower 3.8-liter flat-six engine that loves to rev. Other performance features included the Sport Chrono Package, Sport Exhaust, Dynamic Engine Mounts, and Porsche Torque Vectoring (PTV). The striking Club Blau Paint with Limited-Edition Trim and the rarity of only 60 cars ever produced means these cars really hold their value.
Pictures
Press Release
GTS Club Coupe revealed in the new PCNA headquarters at One Porsche Drive
Atlanta, Georgia. Celebrating six decades of the largest Porsche club organization in the world, Porsche Cars North America is commemorating this milestone with a 60 unit limited-production run of the Club Coupe based on the 911 Carrera GTS. Known as the GTS Club Coupe, the 430 hp sports car is painted in a color unique to this model appropriately named "Club Blau," which was created exclusively for this anniversary edition by the Porsche Club of America.
"The Porsche Club of America is home to passionate ambassadors who have been fostering the appreciation and recognition of Porsche for 60 years," said Andre Oosthuizen, Vice President of Marketing for Porsche Cars North America, as the car was unveiled today at Porsche's new headquarters at One Porsche Drive in Atlanta. "We are proud and honored to celebrate this anniversary with a very special edition of Porsche's most storied sports car – the 911."
The GTS Club Coupe features the 44 mm wider body of the 911 Carrera 4 models with a rear wheel drive platform. SportDesign side mirrors, black framed Bi-XenonTM headlights with Porsche's Dynamic Light System, and taillights tinted in black are standard, while the doors are marked with black "Club Coupe" model designations, clearly distinguishing this unique 911. Painted in the newly created "Club Blau" color, the limited-edition model is also characterized by the SportDesign package, which is fitted as standard. A more pronounced front fascia as well as a "ducktail" rear spoiler gives the special car a striking, yet classic, appearance. 20-inch Sport Classic wheels painted in semi-gloss black with polished wheel centers and rim flanges are also standard on the GTS Club Coupe.
The interior is highlighted by the GTS Interior Package. The stitching, seat belts, and rev counter are held in contrasting Carmine Red, while the dashboard trim strips, door trim and center console are finished in carbon fiber. The striking steering wheel has a Red 12 o'clock marker and two-tone stitching in Carmine Red and Blue. The center compartment lid is embossed with a "60" and the dashboard trim is personalized with "GTS Club Coupe 60 Years Porsche Club of America" lettering above the glove compartment. Stainless steel door sills which read "GTS Club Coupe" serve as a further distinction.
An Extended Club Coupe Package is available as a unique option. It consists of a vehicle key painted in "Club Blau," a leather key pouch and leather-edged floor mats, both with two-tone stitching in Carmine Red and Blue. An individual personalized indoor car cover is also available as an option.
Powering the GTS Club Coupe is an enhanced version of the Carrera S engine, which is also found in the 911 Carrera GTS model variants. 430 hp propel the GTS Club Coupe from standstill to 60 mph in just 3.8 seconds when equipped with the optional PDK (Porsche Doppelkupplung) dual-clutch seven-speed transmission. The top track speed is 190 mph (189 mph on PDK-equipped models). A third center radiator ensures consistent performance in all conditions. A standard Sport Exhaust system with black chrome tips accentuates the Boxer engine note in particularly exhilarating fashion.
Porsche Active Suspension Management (PASM), incorporating adaptive dampers and a 10 mm lower ride, and Porsche Torque Vectoring (PTV), as well as the Sport Chrono Package with dynamic engine mounts, contributes to the car's optimal handling characteristics.
The GTS Club Coupe will be launched in the United States in June 2015. Porsche Club of America members will have the opportunity to purchase one of 59 vehicles and PCA members will also be eligible to win the initial display vehicle. Official details will be announced February 1st, 2015 on www.pca.org. The MSRP is $136,060, not including a destination charge of $995.