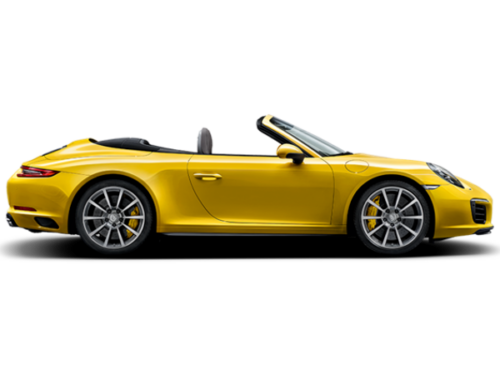 (2016 – 2019) Porsche 911 Carrera 4S Cabriolet (991.2) – Ultimate Guide
For 2017, the 911 Carrera 4S Cabriolet now comes with turbocharging as standard. The new downsized flat-six gets forced induction, more power and greater efficiency, just like in the basic refreshed 911 Carrera, this time mated to a four-wheel-drive system nicked wholesale from the Turbo.
The face-lifted Carrera 4S Cabriolet gets a 3.0L flat-six that is twin-turbocharged. Being an all-wheel-drive C4S, that means 414 bhp at 6500 rpm, and a broad torque band of 368 ft lbs from 1700 – 5000 rpm. Porsche claims a 0-60 time of 3.8 seconds if launch control is used in a PDK car. Typical Porsche, this is probably very conservative. So here is a high-end topless Porsche 911 that is comfortable, well put together and feels luxurious and yet it can rip a 0 – 60 mph time in mid 3 seconds. Wow.
The all-wheel drive system operate as rear-drive in most normal driving situations. When Porsche Traction Management (PTM) detects or anticipates slippage, it engages a clutch, directing some of the available torque to the front axle. Porsche says that more torque than ever before can be directed forward in the 991.2.
If you are looking for a 991.2 Carrera 4S Cabriolet, we recommending looking for one with the Sport Package. It was a $6300 option and came with SportDesign mirrors, the Sport Chrono package, a two-mode sport exhaust, and the GT Sport steering wheel. Most importantly, it also comes with rear-axle steering and that totally transforms the agility of the Carrera 4S Cabriolet. Worth the money. Just as AWD can mask a driver's shortcomings, all-wheel steering can transform a chassis, improving stability in high-speed corners and quickening yaw response (how quickly the car turns) in slower corners. It works well. The harder you push the 911, the better it gets. It's such a finely balanced car already, and the addition of four-wheel drive not only delivers unflappable traction but also allows you to really deploy all of the performance whatever the conditions.
As expected, the 991.2 Carrera 4S Cabriolet is all about traction. Unsticking this car is virtually impossible. If you want something for bad weather and cold climates, but you still want the performance numbers to show off, this is the 911 for you. Its explosive performance, great soundtrack and exceptional usability are what really stand out against the rest of the lineup. It isn't perfect though, and lack of drama is probably a negative for the true sports car fan.
Top Gear …dropping the roof exacerbates the loss of aura from its flat-six engine; it exaggerates the turbo whistle that dominates the soundtrack if you aren't hunting every last rev.There's plenty of noise from this engine, but it won't give you goosebumps. The old 911 Carrera's sprint finish to the redline certainly did.
Porsche's new infotainment interface is standard here, including navigation, and the system features Apple CarPlay integration. It is many factors better, both in terms of appearance and execution, than the interface it replaces.
Autocar: It's difficult to decide what impresses the most: the overall lift in performance and sheer driveability brought on by the new turbocharged engine, or the way the enhanced multi-plate clutch four-wheel drive now more seamlessly combines with the electronic torque-vectoring differential to deploy the boosted reserves in such a way that not only makes it incredibly secure in all conditions but highly entertaining at the same time.
Video Reviews
Pictures