(2004) Porsche 911 Carrera 40th Anniversary Edition (996) – Ultimate Guide
The Porsche 911 is the quintessential high-performance sports car and has been for as long as we can remember. A lot of driving enthusiasts grew up wanting one so when it was time to celebrate its 40th anniversary, Porsche gave us a special 911 to enjoy. It was in late 2003 that Porsche introduced a highly optioned special-edition model limited to 1963 numbered copies, each bearing the anniversary slogan "40 Jahre" representing "40 Fast Years".
The "40 Jahre 911" is a normally-aspirated, rear-wheel drive, narrow-body Carrera with myriad of aesthetic and performance enhancements, including the vaunted X51 engine package, GT Silver exterior paint, natural grey full-leather interior, limited-slip differential, shot-blasted and polished 18" Carrera II lightweight wheels, turbo front bumper with painted air-inlets, aluminum-trim rings on the instrument cluster, and M030 suspension (in North America – ROW030, which was lower, outside North America).
From a performance standpoint, one of the common misconceptions about the 40 Jahre 911 cars is that PSE (Porsche Sport Exhaust) was a factory available option. In reality, PSE was a dealer-installed option. In fact, the only available options from the factory were natural grey floormats, comfort seats with power package, rear window wiper, Bose high-end sound system, remote 6-disc CD changer, and Porsche Communications Management (navigation system – "PCM"), although buyers outside of North America could also choose two additional options: GT3 seats and telephone handset.
The Engine
The 40 Jahre 911 came standard with the 996 X51 engine (type designation M96/03S), which has historical importance and pure engineering at its heart. For two years this was the second most powerful naturally aspirated engine in the range of 911 before market introduction of the 997 Carrera S. Of significance, this engine package provided lubrication upgrades (high-G sump baffles, additional pump and oil lines) although, for the 40 Jahre 911, it did not provide a third (center) radiator (a common misconception).
Here is a short summary of what is added/modified in the M96/03S engine:
Intake air manifold with modified cross section
Adapted intake manifold pipes
Exhaust manifold with larger cross section and optimized flow characteristics
Cylinder heads with optimized inlet ports
Camshafts with greater valve stroke on inlet side and modified inlet/exhaust valve timing
Inlet valve springs adapted to increased valve stroke
Modified bulkhead box in oil pan
Additional radiator
Modified map for the DME control unit
The Interior
The interior has cool details like the aluminum finish instrument dial ring, the console plate bearing the car's limited edition number, and the "911" logo on the door sills. The soft, dark grey natural leather of the full leather interior is rich and luxurious. The Alcantara roofliner was very cool back in 2004 and the 40 Jahre 911 came standard with silver-painted, hard-backed heated sport seats, although many buyers chose the optional comfort seats with memory function. As an alternative outside of North America, buyers could choose the bucket seats of the GT3 model.
The rings on the instrument cluster, the center console, the backs of the front seats (only sport seats), and other interior items were finished in GT Silver to match the exterior paint. Many of the cars were delivered with the Porsche Communication Management ("PCM") system and the BOSE sound system. In addition, a telephone module was available outside of North America with a hands-free phone function which at that time was seen as very progressive.
Order Guide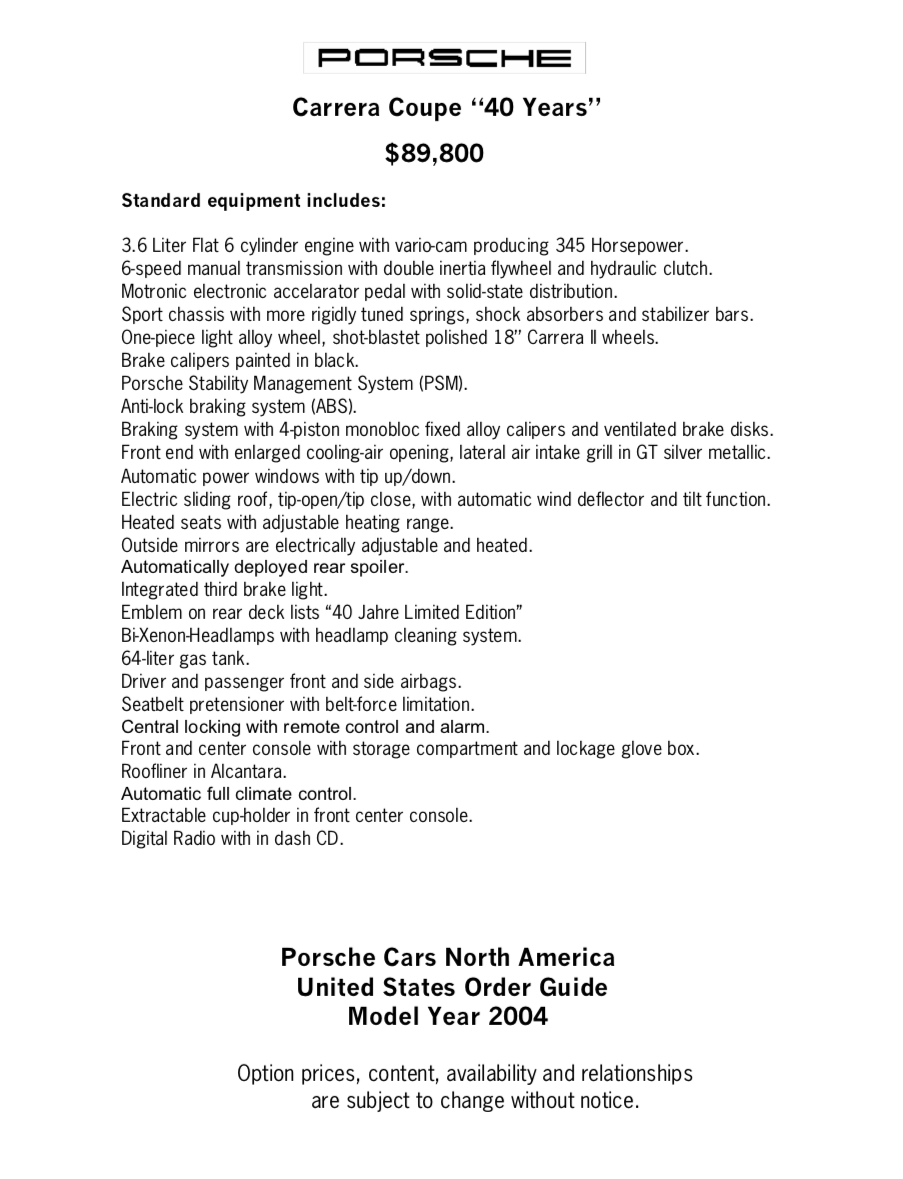 Download the Carrera Coupe "40 Years" Order Guide
Pictures
Press Release
Porsche 911 Celebrates its 40th Anniversary with Commemorative Model
ATLANTA, GEORGIA, August 6, 2003 — Porsche announced it will produce a special 40th Anniversary 911 model in recognition of the debut of the first Porsche 911 at the 1963 Frankfurt Motor Show (IAA). To be unveiled next month at the 2003 IAA, the commemorative model is based on the current rear-wheel drive Porsche 911 Carrera but offers more horsepower, enhanced handling features, and unique interior and exterior styling.
The 40th Anniversary 911's 3.6-liter flat-six engine produces 345 horsepower (DIN), 25 horsepower more than the base model 911. As a result, the model is one second faster than the regular 911 from 0 to 120 mph (200 km/h) with a time of 16.5 seconds. The car's top track speed, 180 mph (290 km/h), makes it the second fastest non-turbocharged model in the current 911 line. Aggressive sport suspension settings help to enhance the 40th Anniversary 911's handling. Combined with the standard electronic Porsche Stability Management (PSM) system, an additional mechanical rear-axle differential lock provides even better traction and optimum acceleration potential.
The 40th Anniversary 911's distinguishing styling features include GT silver metallic exterior paint color (exclusive to this model and the Carrera GT), front cooling air openings adopted from the 911 Turbo, body color air intake grills, left and right sill trims, an aluminum "911" logo on the engine cover, shot-blasted, polished 18-inch Carrera wheels, and high-gloss polished exhaust tailpipes. A sliding sunroof, bi-xenon headlights with dynamic beam angle control and a headlight cleaning system complete the standard exterior features.
The interior is trimmed in naturally soft dark gray leather. Other interior details include sport seats with two-stage heating; center console, seat backs and dashboard groove trim strips and handbrake lever side covers finished in GT silver metallic; aluminum-finish instrument dial rings; and a numbered "911 40th Anniversary" plaque on the center console.
Porsche will produce only 1,963 40th Anniversary 911 models. It will be available to the North American market in November 2003 with a base U.S. price of $89,800 ($131,450 Canadian).