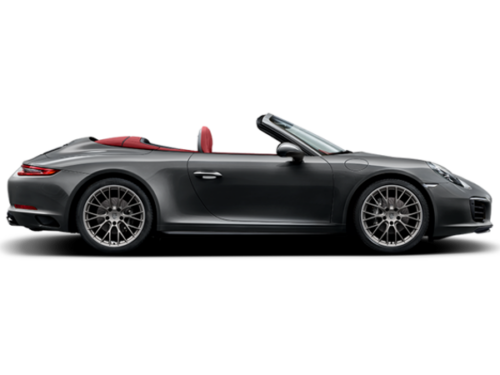 (2016 – 2019) Porsche 911 Carrera 4 Cabriolet (991.2) – Ultimate Guide
The Carrera 4 Cabriolet gets that wonderful extra-wide body and an AWD system hooked up to its new turbocharged 3.0-liter flat-six engine. Additionally, the Carrera 4 Cabriolet gets a spate of new goodies, including a unique taillight section, and an updated infotainment system that brings the sports car's connectivity to a whole new level.
The new 911 Carrera 4 Cabriolet gets the same updates as their RWD brethren. Up front, there's a redesigned bumper with more defined air ducts. These ducts can open and close to send air into the front-mounted radiators. The car's headlights are also new, boasting four-point daytime running lights. On the sides, Porsche installed larger mirror housings and eliminated the recess covers on the door handles. Move to the rear of the 911 Carrera 4 and you'll see the rear lights joined together by a thin light strip that runs just above the unmistakable Porsche insignia. While functional, the light strip also emphasizes the increased width of the rear section, which is 1.73 inches wider than RWD 911 models.
According to Porsche, one in three 911 buyers opt for a four-wheel-drive transmission, so the Carrera 4 Cabriolet is a car that the company definitely need to get right, or at least not mess up and put existing customers off an upgrade. Equipped with the next-generation 3-litre biturbo flat-six engine, this time you get more power and mpg, coupled with what promises to be a more effective four-wheel drive system.
The bare figures are impressive: the standard Carrera 4 Cabriolet produces 370bhp, manages 0-62mph in 4.5 seconds and reaches 179 mph, but is still rated on the official economy test at a respectable 32.4 mpg. That's with the seven-speed manual gearbox. If you opt for the cleverer-than-you Porsche dual-clutch PDK automatic, those figures switch around a little and you'll hit 60 mph in 4.1 seconds, top out at 179 mph but squeeze 36.6 mpg from the same engine and power output. Not bad for an open top 911 and even more impressive when you consider that you lose very little in terms of performance when comparing the 991.2 4 Cabriolet to the coupe.
Inside the new 911 Carrera 4 Cabriolet, there are only a few changes that really stand out compared to the 2015 model. One is the redesigned steering wheel, which looks a little thicker now and should provide a firmer grip for the driver. The chrome spokes are also different and are slightly more aesthetically pleasing than the previous version. Inside, there's a new steering wheel copied from the 918 Spyder hyper-hybrid, including a knob that allows you to scroll through Normal, Sport, Sport Plus and Individual modes without having to prod multiple buttons on the centre console — though you only get it if you option that Sport Chrono Package (told you this was complicated) — and some new multimedia gear. Nothing revolutionary.
Other changes to the interior include a new 7-inch multi-touch display, upgraded PCM connectivity and infotainment systems, and a new navigation system. Both systems come standard on the Carrera 4S. Porsche designed the navigation system to process handwritten inputs while also operating similarly to a smartphone. Beyond these changes, the interior of the 911 Carrera 4 remains largely the same.
The electro-hydraulically-controlled "Porsche Traction Management" all-wheel drive allows for even more millimetrically precise metering of torque and traction between the front and rear axles, and the system is nicked entirely from the range-topping Turbo, so it's probably able to cope. In hard turns, the Carrera 4's chassis is so flat and composed. It refuses to let go of the tarmac, its rear-biased drivetrain feeding torque to the front should the onboard brain detect any rear wheel slip.
Porsche Active Stability Management (PASM) is standard, too, and even in aggressive modes the electronically controlled dampers deliver tons of handling power without making your backside suffer. Variable, electromechanical steering is at or near the top of the class, delivering all the cornering info and road feel a driver could ask for. The C4 Cabriolet is nothing less than an absolute blast to hustle hard, and it never, ever tires or plays tricks. This is the very definition of dependable, secure speed.