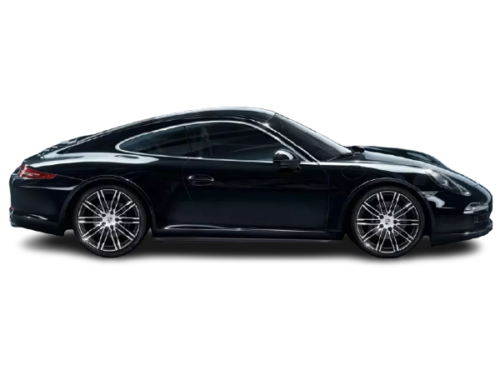 2016 Porsche 911 Black Edition (991) – Ultimate Guide
It's that time in the Porsche product cycle again for the company to bring out specially equipped and, dare we say, bargain-priced versions of its 911 and Boxster, called Black Editions.
Just like the 911 Carrera Black Edition and the Boxster Black Edition models that Porsche trotted out for 2012, the 2016 Carrera and Boxster Black Editions add some extra niceties for a value-adjusted price. And as the names suggest, both cars come in any color scheme you want so long as it's, yes, black on black. Or black on black on black in the case of the ragtops.
Available in coupe and convertible forms, with rear- or all-wheel drive, each powered by the base 350-hp 3.4-liter flat-6 engine, the 911 Carrera Black Edition adds dynamic LED headlamps, 20-inch Turbo wheels, and navigation. Front passengers sit on heated sport seats, and should they tire of the sound of the engine, they can activate a Bose surround-sound system. Park assist, a telephone module, auto-dimming mirrors, rain-sensing wipers, cruise control, and a Sport Design steering wheel also come standard.
The 2016 Boxster Black Edition is powered by the base Boxster's 265-hp 2.7-liter flat-6. Its list of extra goodies include bi-xenon headlamps, 20-inch Carrera Classic wheels, heated seats, dual-zone climate control, and an upgraded sound system.
The Black Edition models will be sold in the U.S. market, with pricing as follows: Boxster, $60,095; 911 Carrera, $89,795; Carrera 4, $95,795; 911 Cabriolet, $99,495; Carrera 4 Cabriolet, $105,595. Those figures represent a premium ranging from $1670 (Carrera 4 Cab) to $7000 (Boxster) over a standard model. Remember, when it comes to sweet black sports cars from Stuttgart, bargain pricing is a relative term.
Pictures
Press Release
In elegant black: Porsche Boxster and 911 Carrera Black Edition
Atlanta, Georgia. Porsche has created a special model of the 911 Carrera and Boxster: the Black Edition. The combination of black exterior and interior emphasizes the timeless, classy elegance of each sports car. As the name indicates, Black paint is standard, while Jet Black Metallic is available as an option. Standard equipment on the 911 Carrera and Boxster Black Edition models has been enhanced in regards to the wheels, headlights, and sound system while additional equipment has been included such as the Sport Design steering wheel, door sill guards with Black Edition logo, heated seats, auto dimming rear-view mirrors, and the headrests are embossed with the Porsche Crest.
The 911 Carrera Black Edition is based on the standard model with a 3.4 liter flat-six engine developing 350 hp. It is offered in coupé and convertible versions with rear-wheel or all-wheel drive. Standard features on the Black Edition include 20-inch 911 Turbo wheels, LED headlights with the Porsche Dynamic Light System Plus (PDLS+), as well as Park Assist at the front and rear with a reversing camera. The black interior promotes a sophisticated look. The driver and passenger sit on heated sports seats, and the standard Bose® Surround Sound System provides excellent sound quality.
The Boxster Black Edition is equally attractive. The mid-engine roadster is powered by the 2.7 liter flat-six engine with 265 hp. Its color concept remains consistent with the soft top and supplemental safety bar which are both finished in black. The wind deflector reduces undesirable turbulence when the soft top is down. 20-inch Carrera Classic wheels and the Bi-Xenon™ headlights with Porsche Dynamic Light System (PDLS) set distinctive highlights, while standard two-zone air conditioning and heated seats provide a higher level of comfort for both driver and passenger. The Porsche Communication Management system with navigation, the upgraded Sound Package Plus audio system and Park Assist for front and rear are also included as standard features on the Boxster Black Edition.
All five Black Edition models are now on sale in the United States and are set to arrive at dealers the end of July. Prices excluding the destination charge of $995 are:
| | |
| --- | --- |
| Boxster Black Edition: | $59,100 |
| 911 Carrera Black Edition: | $88,800 |
| 911 Carrera 4 Black Edition: | $94,800 |
| 911 Carrera Cabriolet Black Edition: | $98,500 |
| 911 Carrera 4 Cabriolet Black Edition: | $104,600 |