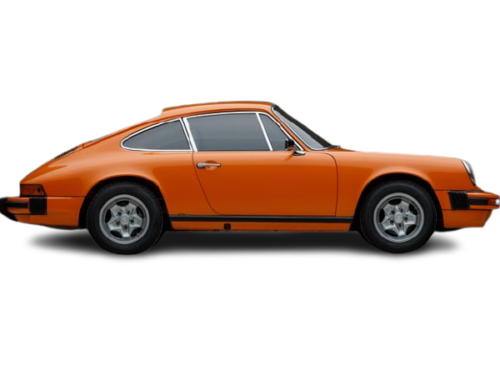 (1974 – 1977) Porsche 911 (Base Model) – Ultimate Guide
In 1974, Porsche responded to rapidly changing safety and emission standards in the US by redesigning the body below the belt line, along with major modifications to the engine. The base model Porsche 911, along with the 2.7 Liter 911S and Carrera 2.7, was introduced for the 1974 model year with many significant changes to meet these legislative requirements around the world for both impact safety and emissions.
For the 1974 model year, the base 911 was available in Coupe and Targa bodystyles and the introduction of US mandated impact bumpers. The ROW engine was the Type 911/92 with K-Jetronic fuel injection, rated at 150 hp. For the 1975 model year, the base model was discontinued in North America. For the rest of the world (ROW), the base model was produced in Coupe and Targa variants, featuring engine Type 911/41 rated at 150 hp. Several updates were made over the years, notably power increased to 165 hp from an upgrade to the Type 911/81 (Type 911/86 with Sportomatic) engine for 1976 and 1977 model years (for ROW).
The 1974 body featured large aluminum impact bumpers, integrated into the body with redesigned fenders and front hood. Rubber bellows filled the gaps and were made to collapse in the standard 5 miles-per-hour collision. Shock absorbers and rubber bumper pads completed the change. The front hood was shortened and a reflector with the Porsche name filled the gap in the rear. Porsche's design was praised at the time as one of the best transitions to the new standard.
Emission laws, first introduced in 1968, were becoming increasingly stringent, and the '74 model year was the first of several changes. The engine displacement was increased to 2.7 liters from 2.4, alternate camshafts were fitted, and the fuel injection systems were all CIS (Continuous Injection System), replacing the mechanical injection of the previous years (the CIS system was introduced on the 1973.5 911T). Two engine variations were offered, the base 911, at 150 horsepower, and the more powerful 911S at 175 hp. More low-end torque was available, but engine redlines decreased, and high-end power was absent.
The Bosch K-Jetronic CIS varied fuel pressure to the injectors dependent on the mass airflow. While this system was exceedingly reliable, it did not allow the use of as "hot" cams as MFI or carburetors allowed. Therefore, the 911s horsepower didn't change much, but the engine did have increased drivability.
Once again, the 911S was the mid-point in the lineup.
Videos & Reviews
Pictures