1966 Porsche 911 2.0 Bertone Roadster – Ultimate Guide
When Porsche started production of the 911 in August 1964, it was significantly more expensive than the 356 and initially only came as a Coupe. An early prototype had been dispatched to Karmann for conversion to a Convertible but, within a few weeks of its return to Porsche (in September 1964) the idea had been abandoned owing to problems with the roof and the loss of structural rigidity. Porsche instead turned their attention to a Targa. A prototype 911 Targa was subsequently presented at the Frankfurt Motor Show in September 1965.
The 911 Targa went into production from December 1966. However, when the 356 was eventually discontinued (in September 1965) Porsche did not produce an open bodied road car for 14 months. Over in California, Porsche's West Coast distributor, John von Neumann, wanted a drop top 911 to offer his customers so took matters into his own hands. A few days after the prototype 911 Targa had been unveiled, von Neumann headed to Italy where he commissioned a prototype 911 Roadster from Carrozzeria Bertone.
Back in the early 1950s, von Neumann had been a key player in convincing Porsche's US importer, Max Hoffman, to lobby for a simplified open-bodied 356 that would appeal to American weekend racers. The resultant 356 Speedster had been an enormous success and subsequently became one of the most iconic models in Porsche's history. Von Neumann's desired 911 Roadster was conceived as a more luxurious machine than the light weight 356 Speedster; in this case racing was never on the agenda. Porsche reluctantly agreed to von Neumann's request for a single bare chassis but expressed concern about the configuration; structural rigidity would inevitably be compromised and, from a design perspective, there was no acceptable position for a folded roof when lowered.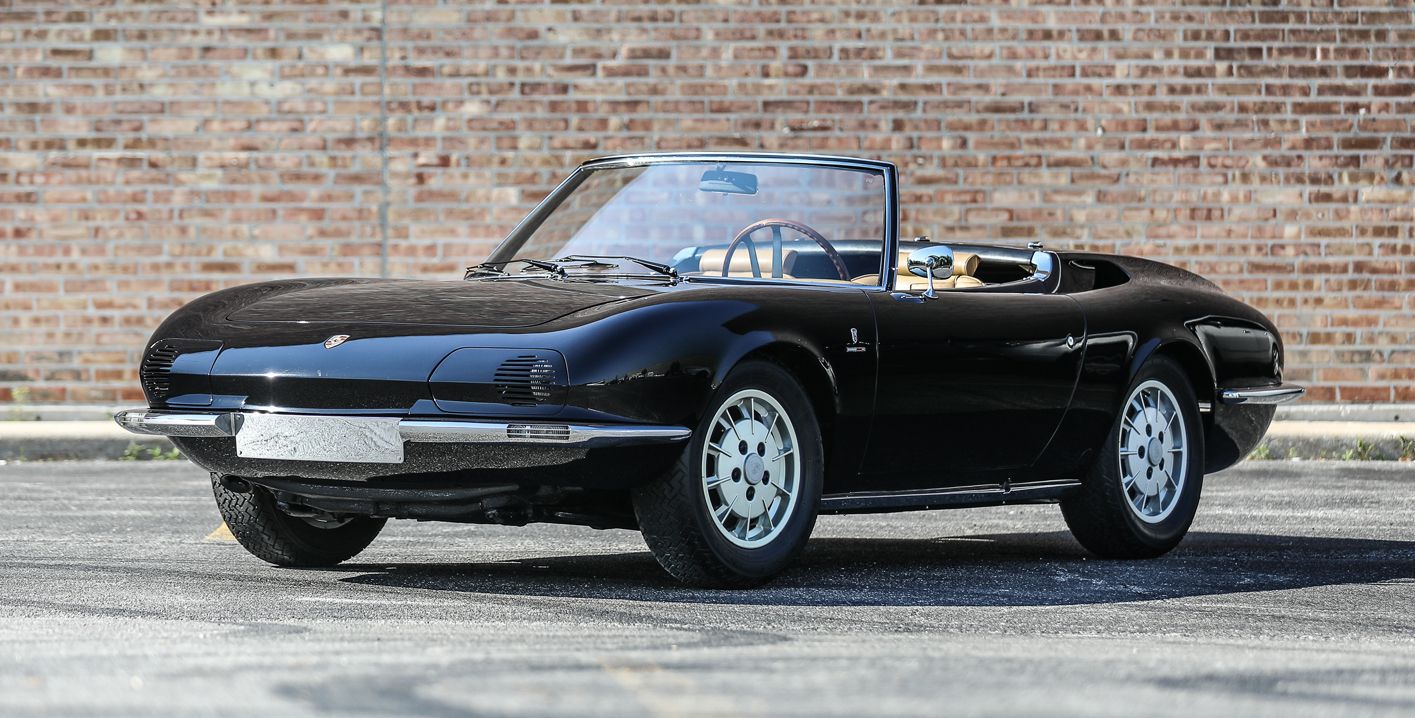 Nevertheless, Porsche approved the release of a naked chassis but told von Neumann they would have the final say on a production variant getting the go-ahead. The German firm were no strangers to Italian coachbuilders having commissioned a run of Abarth-bodied 356 Carreras a few years earlier. On that occasion, while the Abarth 356 GTLs proved devastatingly fast, their build quality left much to be desired.
Von Neumann visited Bertone immediately after the Frankfurt Motor Show in September 1965 and ordered a prototype 911 Roadster with a view to a potential production run of 100 cars. The plan was his 911 Roadster would retail for around $7000 compared to $6400 for the regular 911 Coupe and $6150 for the forthcoming Targa. Each chassis would be delivered to Bertone for a body to be fitted, after which it would return to Porsche for installation of an engine. The prototype chassis was delivered to Bertone in October 1965. Von Neumann wanted the finished car ready for the Geneva Motor Show in March 1966.
Bertone received chassis 13421 from Porsche. It was numbered out of sequence with regular production 911s that used six digit VINs. Chassis 13421 came with an engine, running gear and electrics but no outer body panels. Bertone were then given full freedom to work their magic. Both von Neumann and Nuccio Bertone agreed the 911 Roadster should not bear any resemblance to the existing 911. With that in mind, Bertone cut away the rest of the inner body so that only the floorpan and engine bay remained. Fabrication began after a full scale wooden mock up was developed from a series of scale models.
At the front, twin headlights per side were mounted in a full width aperture and concealed behind retractable slatted covers. A similar effect was later adopted for the Alfa Romeo Montreal and Lamborghini Jarama. To enable a lower overall profile, Bertone reduced the height of the dashboard. Shoulder-mounted air intakes were located behind the doors. These air scoops merged with a raised rear deck that sloped gently down towards a Kamm tail fascia. As per the front, the tail lights were concealed, this time behind wraparound slatted quarter bumpers.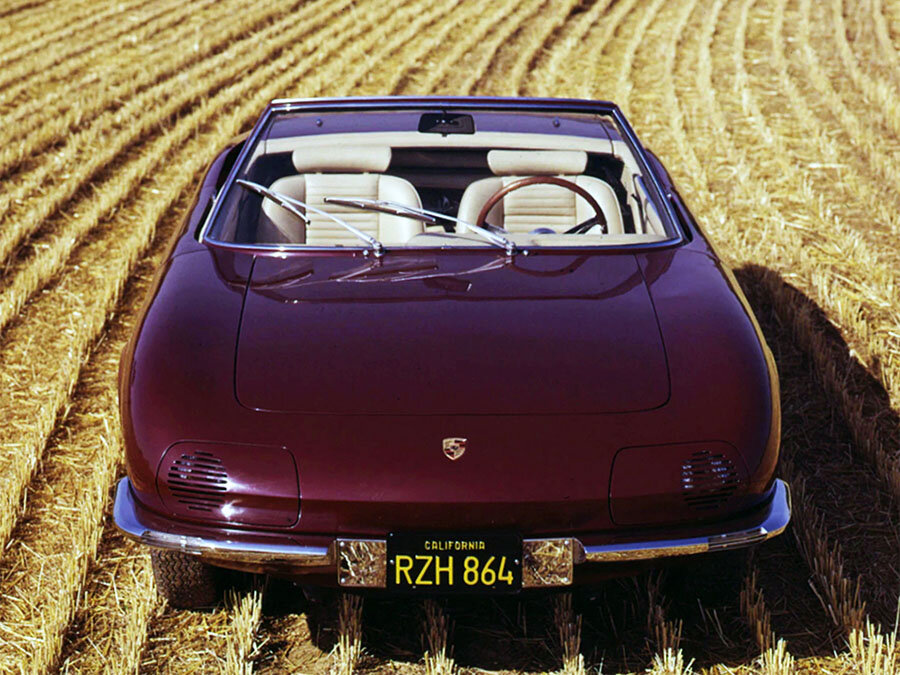 The slatted theme continued to the rear apron where a full width chrome grille shrouded the single exhaust. Compared to the standard 911 Coupe, the Bertone Roadster was 432mm shorter, 10mm wider and 203mm lower. As a result of time constraints, the car was not built with a roof of any kind. Bertone opted for metallic burgundy paintwork. Unlike the regular 911, the Bertone Roadster was a strict two seater.
Aside from a handsome set of Campagnolo magnesium alloy wheels, the Bertone Rodaster was left mechanically standard. Suspension was fully independent. The front comprised a compact MacPherson strut arrangement with single lower wishbones, 19mm torsion bars and telescopic shock absorbers. An anti-roll bar was also fitted. At the back were an independent semi-trailing arms, transverse torsion bars and telescopic shocks. ATE disc brakes were fitted all round and ran off a single hydraulic circuit that powered both axles.
In the engine bay was Porsche's air-cooled all-alloy Flat 6. Designated Type 901/01, it featured dry-sump lubrication, a single overhead camshaft per bank, hemispherical cylinder heads and a forged seven main bearing crankshaft. Displacement was 1991cc thanks to a bore and stroke of 80mm and 66mm respectively. The engine incorporated a vertically-mounted cooling fan, a 9.1:1 compression ratio and two triple-choke 40PI Solex carburettors. Peak output was 130bhp at 6100rpm and 174lb-ft at 4200rpm. Transmission was via a Type 901 five-speed gearbox and single-plate clutch.
Bertone quoted a weight of 1050kg and somewhat optimistic top speed of 136mph. The 911 Roadster was completed just hours before it was dispatched to Geneva. Unfortunately, owing to the car's lukewarm response and the need for a reinforced chassis, Porsche killed the idea. It also transpired there was no way the 911 Roadster could be built for less than $8000; the prototype had cost $20,000 even before the naked 911 chassis was taken into account. John von Neumann had the car delivered to his Geneva residence before later exporting it to his home in California. The one-off 911 Roadster was subsequently fitted with a 160bhp 911 S engine.