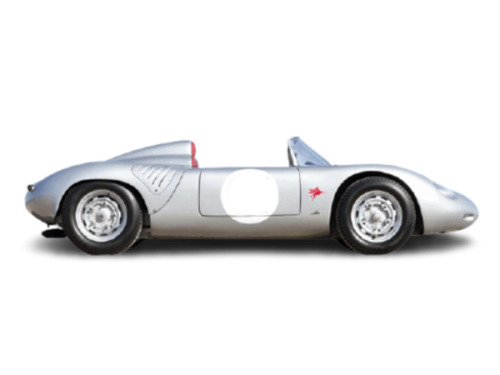 Porsche 718 RS61 Spyder (1961)
The 1961 Porsche RS was one of the last Spyders made by Porsche that used the potent 4-cam engine. It was a successor to the 1960 RS60 which was a highly developed version of the original 550 RS Spyder. These diminutive racecars excelled on the tighter courses like the Targa Florio which was first won by Porsche in 1956. That victory marked the first time a sports car with a midship engine had won a major motor sports event. Afterward Porsche continued with the successful design and updated the 550A RS into the lower 718 RSK.
The RS 61 (and the RS 60 before it) were still known as the Type 718, with a tubular space frame that was similar to the 1959 RSK, but they utilized a wheelbase that was four inches longer. However, these cars were noticeably different from previous Porsche Spyders due to tightening FIA regulations, with the most visible of these requirements being the installation of a larger windscreen, an increase in cockpit size, and space for the FIA-required suitcase. The update in 1960 to the 718 RS60 was 100% because of these new FIA-imposed rules that required a larger interior space, taller windshield and larger doors. The 1961 version was built from this lineage.
After a successful year in 1960, Porsche continued to offer the RS 60 and changed its name to the RS 61. With overall victories at the 1960 12 Hours of Sebring and at that year's Targa Florio, Porsche saw little reason to change what worked. They continued production of the Type 718 cars into 1961, with completely identical specification to the RS 60. The RS 61 raced alongside the W-RS which had a more extended nose. In 1963, the factory released detailed documents on how to upgrade the Type 547/4 and Type 547/5 and gain an increase of about 10 bhp. Only 14 RS61s were produced.
Like the RS 60, RS 61s were offered to privateers in almost identical format to the cars campaigned by Porsche themselves. In 1961 a 718 RS61 won the two-litre class with 185 bhp, and a 160hp "Le Mans Coupé" will conquer the 1.6-litre class. The wheelbase of the RS61 has grown by 100 millimetres compared to its predecessor, with the rear axle now featuring double wishbones.