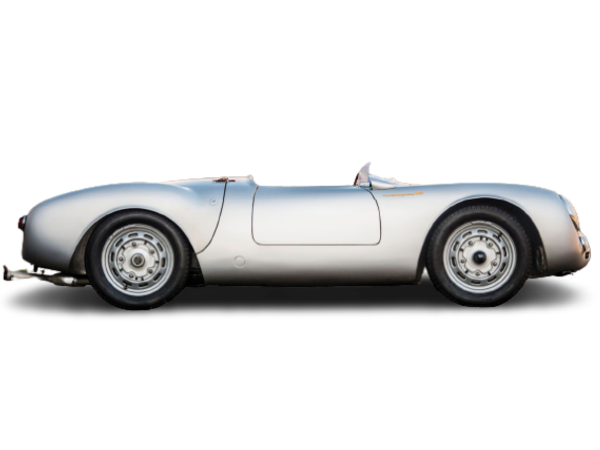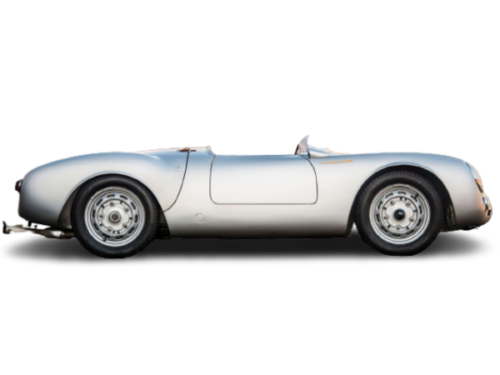 Porsche 550 RS Spyder (1954-1956)
As their first dedicated sports racing car, the 550 RS Spyder was raced to Porsche's first major victory at the grueling 1956 Targa Florio. This early success marked the arrival of Porsche's dedicated race car program, one which went on to win more races than any other manufacturer and largely fueled Porsche's ongoing commercial success.
At the 1953 Paris Motor show, everyone got a first glimpse of the production worthy 550. It's simplistic lines, scant interior, tiny windscreen and purposeful engineering left little doubt towards the intended nature of the car. It was a refined, lightweight and agile race car meant to outclass the heavier, less forwarding thinking competition. And it worked.
The 550 was built around a simple tubular ladder chassis covered by a taught aluminum body refined Erwin Komenda from the early prototypes. Sitting near the center of this was a complex engine which Ernst Fuhrmann designed to make the most of the 1.5 liters provided.
Schubladenmotor
Designated the Type 547, Fuhrmann's engine sat at the forefront of Porsche performance for over ten years. Since its inception, the unit has pained every mechanic being somewhat over engineered and overly complex.
The Type 547 uses the same 4-cylinder boxer layout from the 356, but in an entirely different way. To achieve maximum efficiency, the valvetrain uses a complex system of bevel gears and camshafts to offer a true DOHC setup per cylinder bank. This so-called 4-cam setup was exceptionally difficult to setup but allows for domed pistons and a better combustion chamber shape.
Further adding complexity to the unit is a dual-plug ignition system that uses twin distributors of the intake cam. Both circuits could be controlled by levers from the cockpit.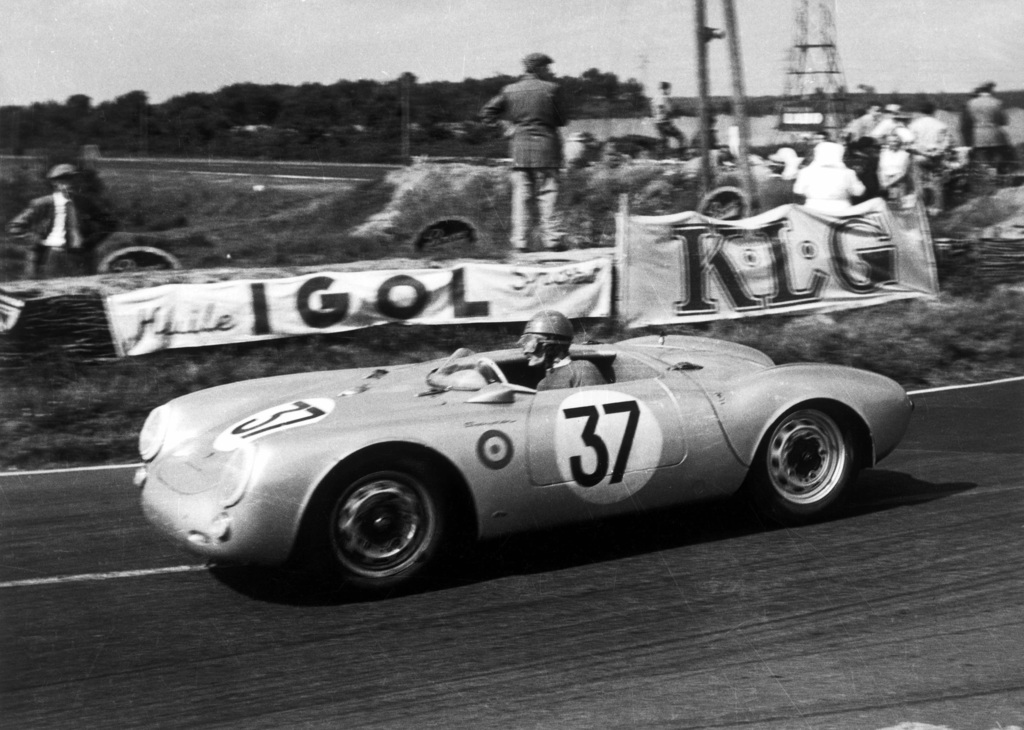 The engine also introduced a dry-sump lubrication system which was fed by a tank behind one of the rear wheels. This made the aluminum block relatively small and light. The engine gets it name from the distinctive double-sided cooling fan surrounded by an elegant shroud.
Racing
With it's exceptional power to weight ratio, the 550 easily won its 1500cc class at the top level of motor sport including a signature class win at 1954 Carrera Panamericana. Afterwards, all cars featuring the Fuhrmann flat-4 were named Carrera in honor of this victory. Years later, the 550 would score its most remarkable feat by taking its first overall win at the 1956 Targa Florio, which was also the first major victory for a mid-engine sports car.
Racing accomplishments aside, the 550 was probably best known as the car of choice for cultural icon James Dean. He tragically died in his, at a young age, which piqued general interest for both him and the car. Supposedly, his car was cursed and many people involved with the remaining wreck had misfortune until it vanished into obscurity.
With Dean's mystery, the multiple class victories and the recent relaunch of Porsche's mid-engine roadster (the 1998 Boxster), the 550-era was easily the most defining era for Porsche history. In 1956 the car was updated to the 550A specification with a space frame chassis and better engine, before being replaced entirely by the 718.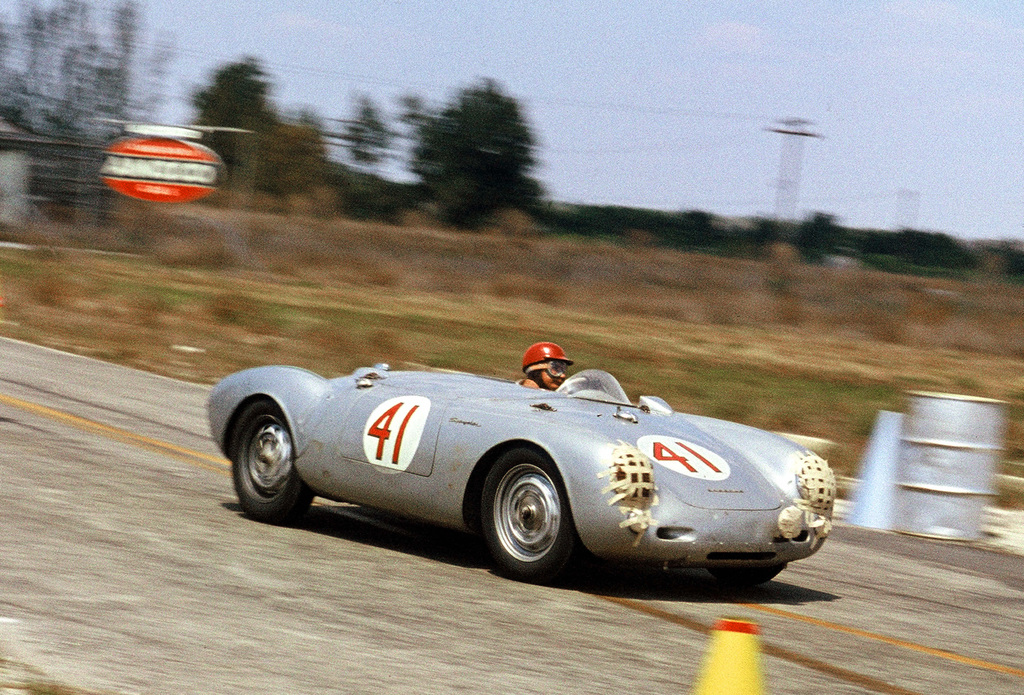 Production 550 RS Spyder
One year before Porsche started production of the legendary RS Spyder, they experimented several unique 550 Prototypes. Two of these were fitted with removable hardtops (Chassis #550-01 and #550-02) that transformed the diminutive roadster into a sleek coupe. These were quite successful on faster circuits, but the roadster was later preferred as a more saleable car. Only 13 spyder-bodied prototypes were made (Chassis #550-03 and #550-15) until regular production began in 1954 of the Porsche RS Spyder. 
Chassis #550-0016 was the first production Porsche 550 Spyder and went into production in September 1954. In many ways this car was still a prototype in nature because it was the first production car built by Wendler on its own frame, so they had to develop tooling and production techniques. With an additional three bodies in production by December, 550-0016 was not completed until 20th January 1955.
It was the third car to be delivered with 550-0018 delivered five days before. The spyder was mated with the latest 1498cc type 547 quad cam engine design which started with the new numbering sequence of 90001. 550-0016 was finished with blue darts along its rounded rear fenders and a blue vinyl interior. It was sold to Josef Jeser and was raced in April 1955 at the Solitude Rally (and won).
Most of the early cars went to the US, delivered to Max Hoffman's New York dealership. Most of them were raced by owners with a lot of success across the world.
After a total of 90 builds of the type 550, Porsche had already designed an evolutionary model, the type 550A of which 40 were built. Of the 90 production 550 cars, 43 of them were built as non-race, "customer cars." It is documented that two more 550s were built as special orders after production finished using frames 550-091 and 550-093 (but we could not find any information on it). In addition, the frame of 550-098 was used to build the one-off magnesium body – Porsche type 645, also known as the 'Micky Maus' which only raced at two events and eventually crashed.