Fabspeed Motorsport has been setting the industry standard for quality and performance since 1994 and we continue to revolutionize the Exotic Car Industry. Their exhaust systems sound amazing and usually unlock quite a bit of power. Now they have set their sites on the all-new Porsche 911 GT3. They're claiming
More power and more sound than anything else on the market. All while guaranteeing no Check Engine Light and no tune needed.
This is a complete headers to tips exhaust solution for the 992 GT3.  Designed to be the most powerful emissions compliant exhaust system possible. Fabspeed used all 25+ years of Porsche exhaust design experience and their finest manufacturing techniques to engineer this incredible modular system. It starts with the headers. Long tube headers were essential for making BIG power on the GT3 platform. After dozens of dyno runs and many revisions to runner length, diameter, and collector design they moved on to the catalytic converters and rear section.
With perfectly optimized headers and cats, there was no room to fit the factory muffler section, so that went out the window. In its place Fabspeed implemented extra large 200 cell HJS cats and their signature cast X-pipe. These cats flow so much better than stock, that they only gained 1-2 peak WHP when they tested the system with no cats.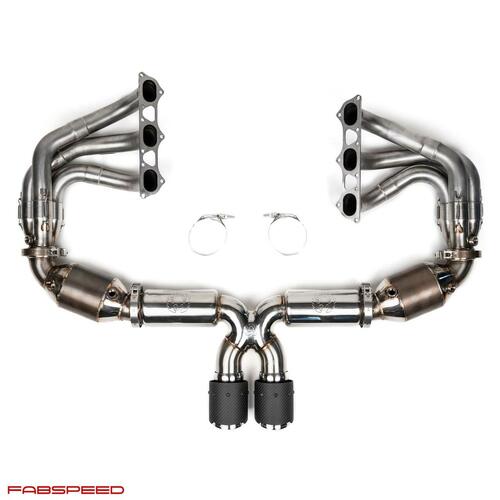 Some other details
Fits all Porsche 992 GT3 Vehicles (2022+)
Adds 31 WHP and 39 ft/lbs of TQ at 4250 RPM (35 HP at the crank)
Saves a massive 18lbs / 8.2 KGs versus the stock factory Porsche OEM system
Learn more at Fabspeeds website.