The Porsche 911 Carrera 3.0, which was produced for only 2 years in 1976 and 1977, is a very special version of the inimitable 911. Due to its low production numbers, with only 3,687 units produced, it is also one of the rarest of the non-special edition 911s out there. But what makes it so special?
If you're subscribed to Stuttcars, that means you already probably know the answer. For those that do not, the Carrera 3.0 married the lightweight and nimble body of the 2.7L 911 series with the die-cast aluminum crankcase that was developed for the Porsche 930 or 911 Turbo (as it is more commonly known).
To the layman, this means that the Carrera 3.0 had an engine 300ccs larger than the outgoing 2.7, designed to handle forced induction—meaning that in naturally aspirated models, it was a tank of an engine. It is one of those engines that could be hit with a sledgehammer and still run perfectly for the next 30,000 miles.
As it so happens, we here at Stuttcars were contacted by an owner of one of these rare beasts, and he gladly accepted the opportunity to be featured as the next owner in our "Porsche People & Profiles" series.
Even better, Mr Ken Ellaway provided us with a full written history of his journey as owner of the car and a very special discovery in the engine bay—so for the most part in this feature, we'll let him do the talking!
Note: any of our notes or comments on the story will be marked with "Stutt:" before the sentence or paragraph.
Ken Ellaway Explains His 1977 Porsche 911 Carrera 3.0 Coupe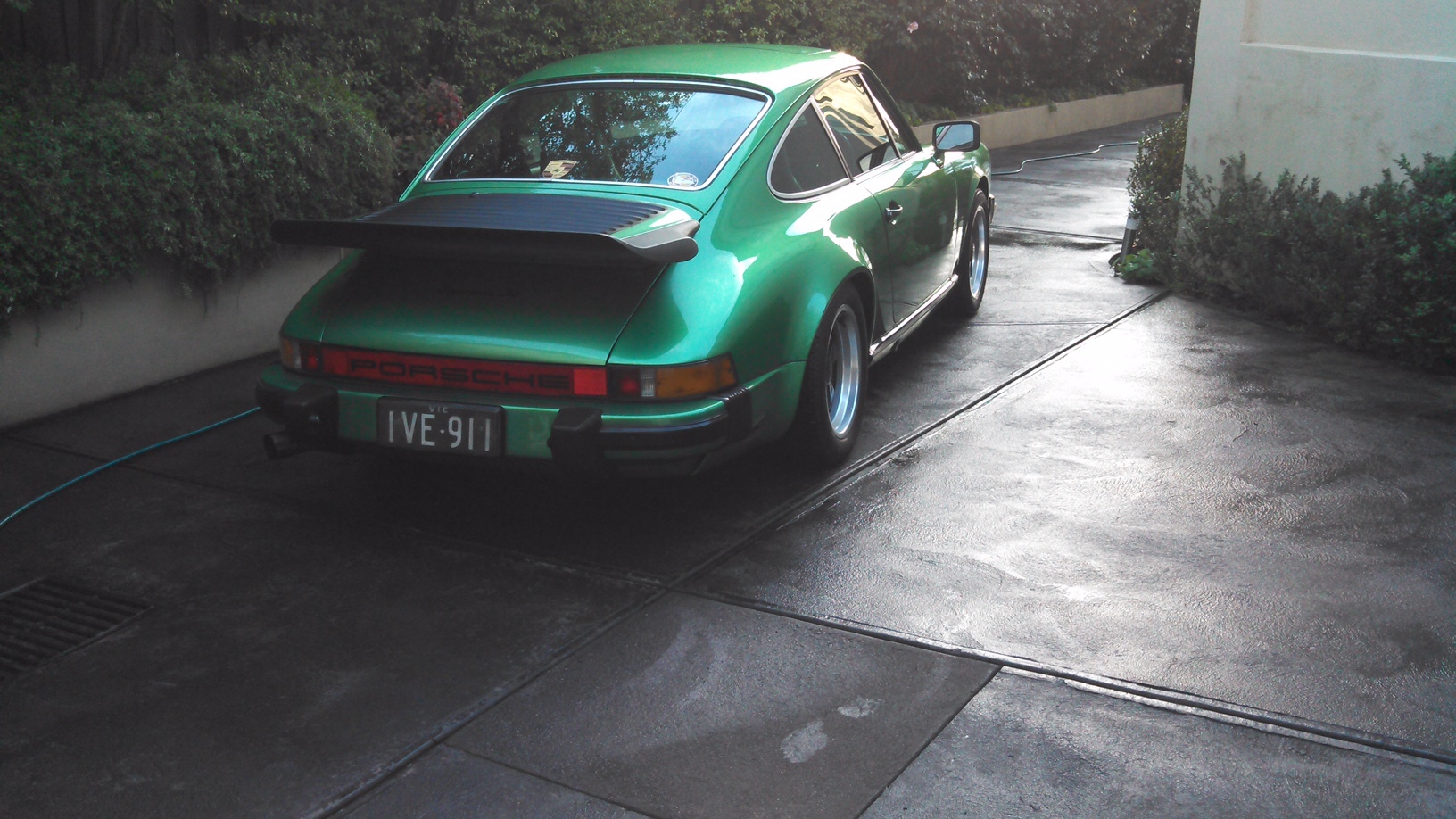 I purchased the car from the original owner on 6/11/1986 with 80,050 kms on the clock. As it was a Sportomatic, I decided to change it to a 5 speed manual—and whilst doing so, also fitted a set of SSI Heat Exchangers and a S/Steel Monty muffler. Otherwise the vehicle is standard. The car was serviced regularly by the same Independent Porsche trained mechanic until 2019, so no chance of any outside interference whatsoever!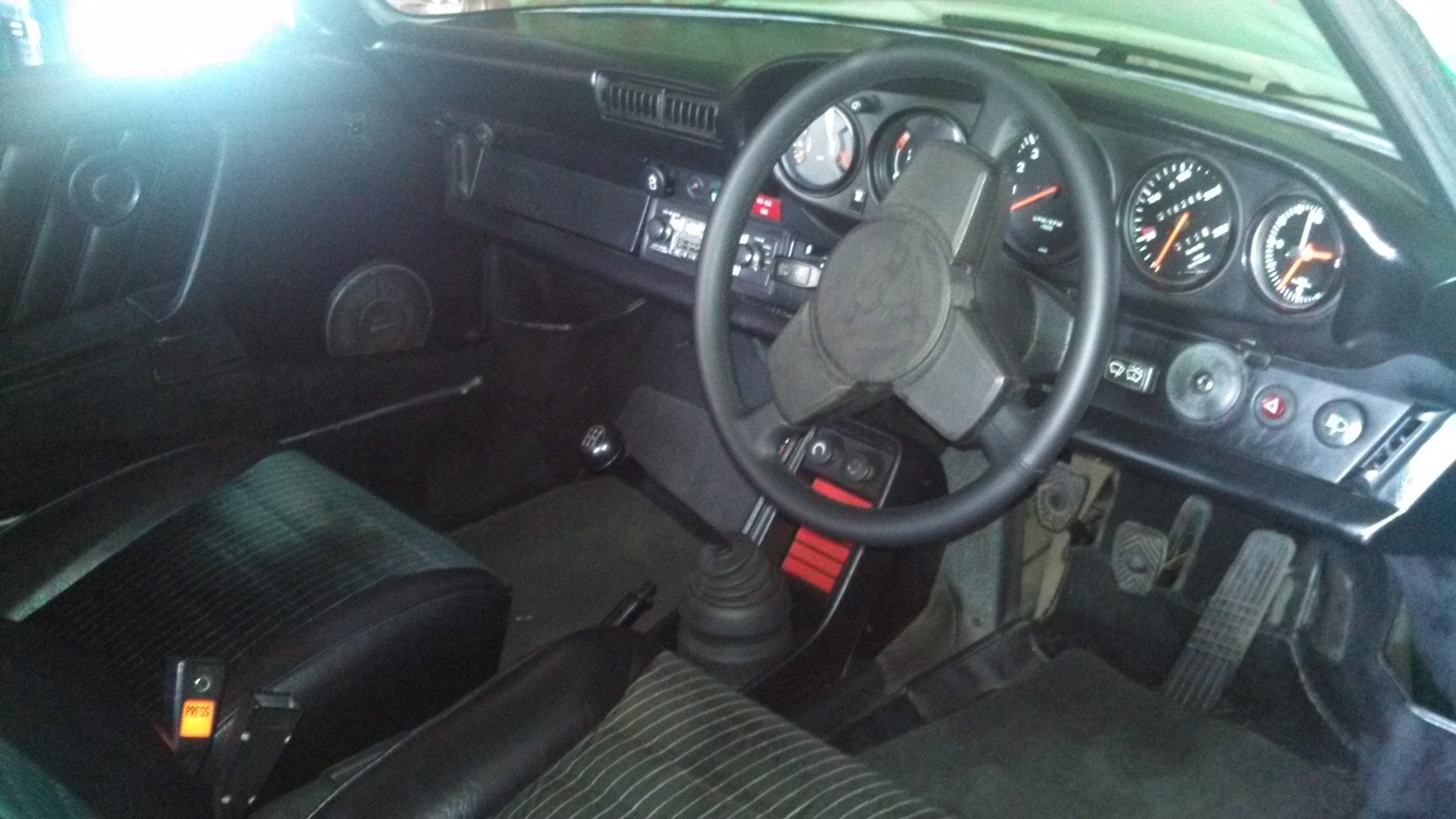 Stutt: It is important to reinforce that the same mechanic, at the same shop, that was used since Ken bought the car was the only one that worked on it. This will make sense in a short while!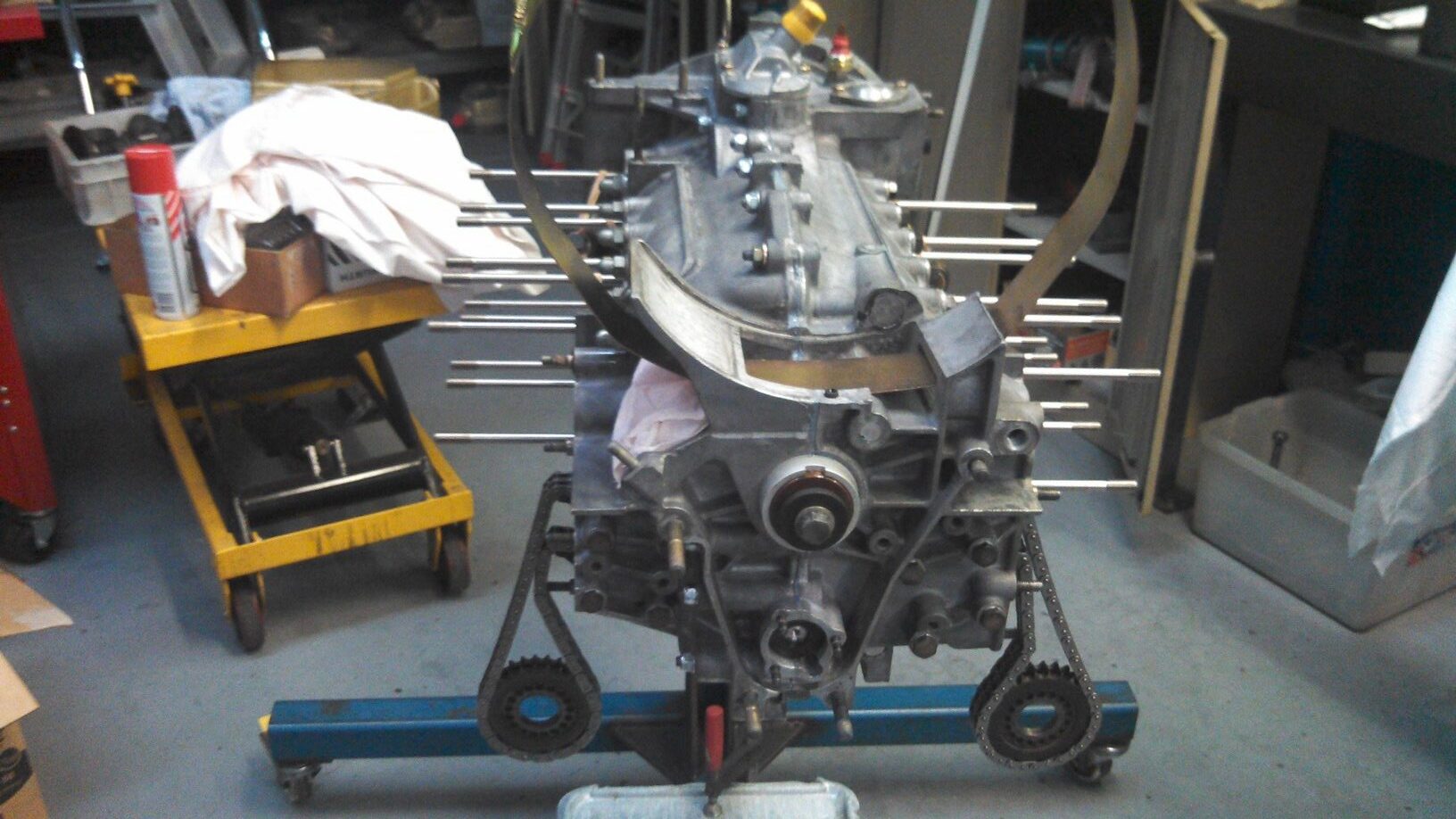 Rebuilding the Engine
Towards the end of 2014 (216,615kms), with the smell of burnt oil permeating the cabin, I opted for a total engine rebuild using standard Porsche Parts—Marhle Pistons Barrels, etc. The only non Porsche parts I used were Raceware Aero Quality Head Studs, made in the USA.
With all the parts gathered, it was time to go ahead and pull the engine. Whilst disassembling the engine, the mechanic came across the etched (and, we think, "non-factory endorsed") marking on the engine case.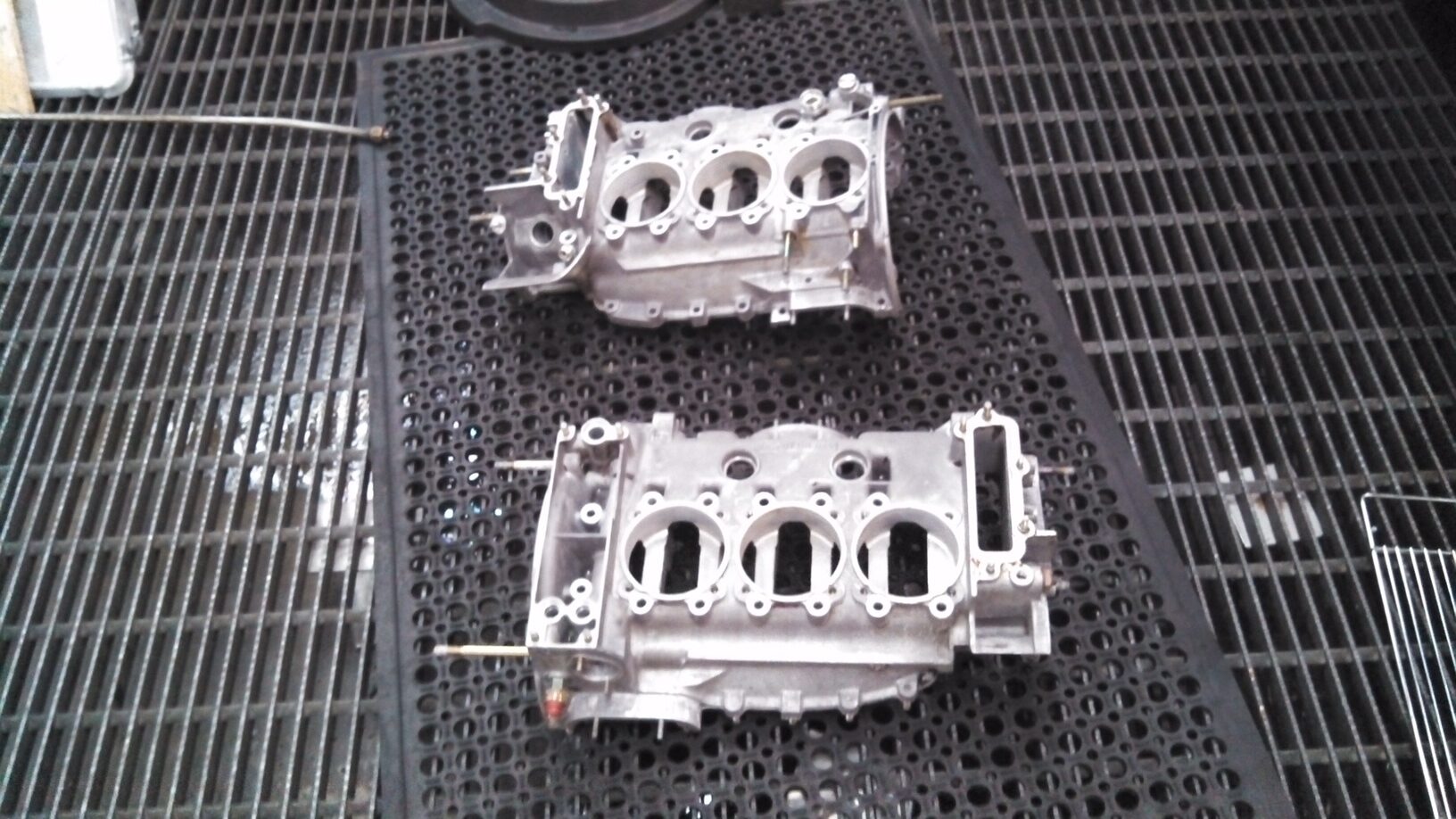 Stutt: As you can see in the picture below, this "non-factory endorsed" marking, despite being a bit spaced out, forms a word. Those who speak German are already having a chuckle, but for those who don't, read on below the picture!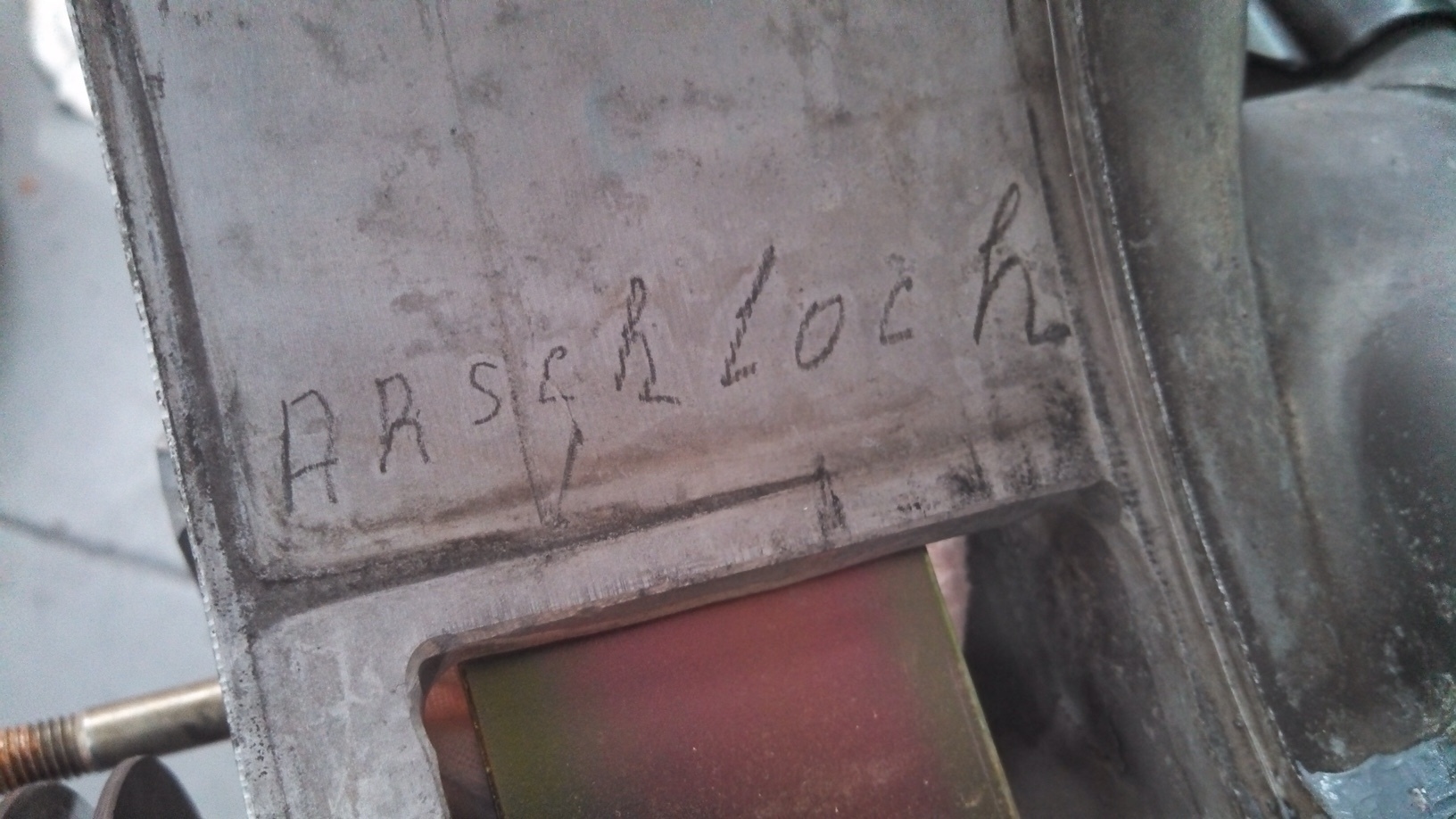 He called me and said in 40+ years, he had never seen the likes of it before—and, as he didn't speak German, he did not know what it meant. My wife is German, so I took a photo and sent it to her.
She called back laughing and said "ARSCHLOCH" translates to "ARSEHOLE" in English.
Stutt: This is why it was important to reinforce that no one since Ken bought the car (other than his preferred mechanic) had worked on it. While we doubt any mechanic worth their journeyman's ticket would ever write such a thing in an engine casing, there is, actually, a bit of a funny story behind the marking. Apparently, this wasn't the only engine that was baptized with a curse word.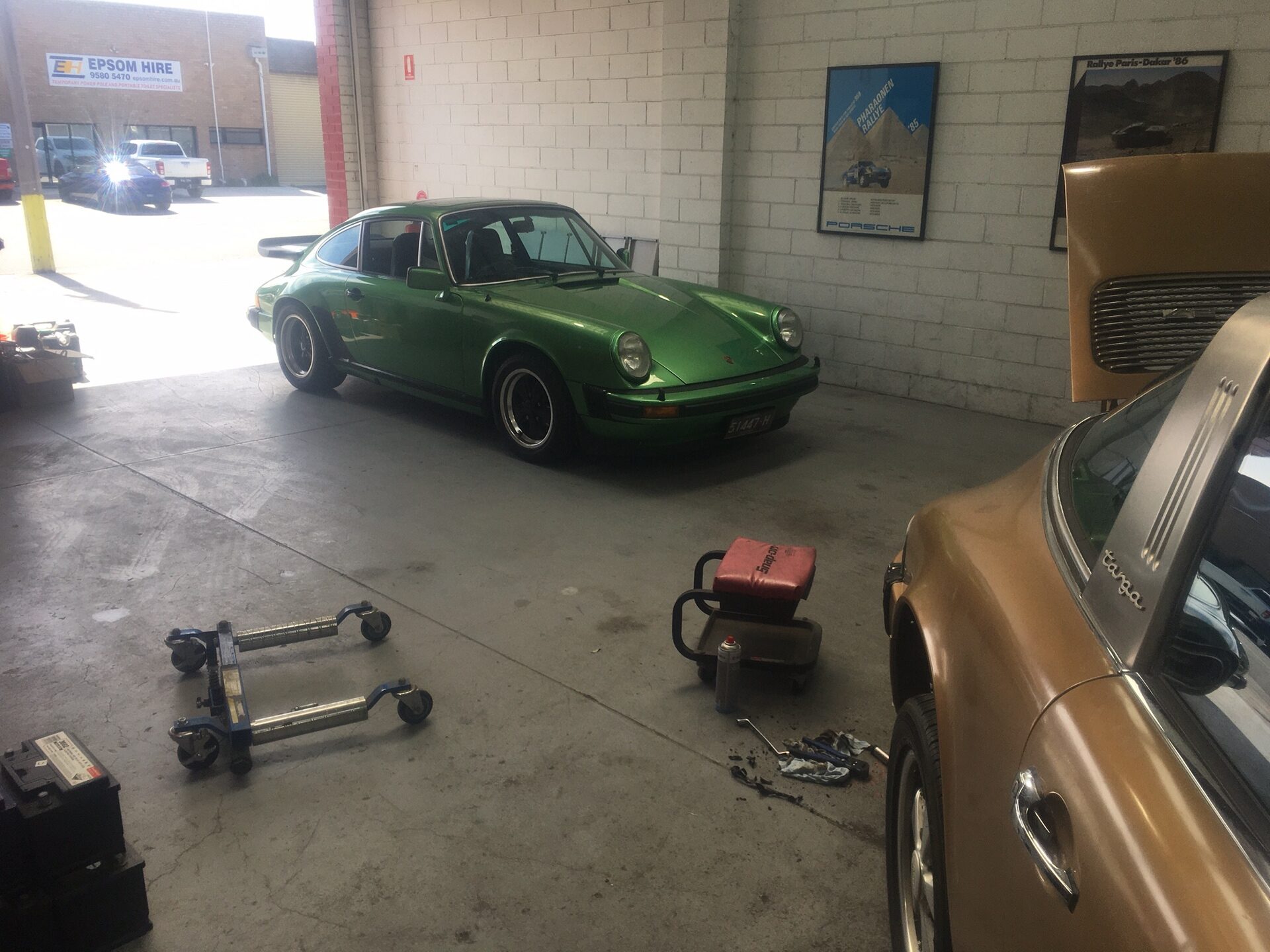 The Origin of the Mystery Markings
In 2017, we visited the Porsche Museum and then did a factory tour—at the end of which, the guides, Max and Simon, asked if anyone had a story about their car. I related the ARSCHLOCH story to them, and they said that it was a long-held belief that the night shift workers were giving the engines their own "special" endorsement, but they had not yet seen any proof.
I sent them a photo as soon as we arrived back home, and apparently their whole section had a huge laugh about it!
I still have the car and it's in exceptional condition.
Stutt: Never let it be said that the Germans don't have a sense of humor! It's a bit more crass sometimes, and at other times it is literally unable to be translated to English and keep its meaning. But nonetheless, there is actually a plethora of German jokes, punchlines, and yes, curse words written in engine casings out there. It's not surprising either, with over 130 million people around the world speaking German (or a Germanic-based language such as Swiss) as their native tongue!
Future Plans for Ken Ellaway's 1977 Carrera 3.0 Coupe
After all that, Ken has reinforced that this little green Porsche sports car is not going anywhere without him in the driver's seat—and honestly, we can't blame him. We all get attached to our cars in one way or another. It could be the Porsche 944 that you bought for $1,500 as a college runabout that is still with you a decade after you graduated. It could be that you gave your car a name, often something sentimental or a pet name.
Many others will make a car their own by adding little touches of themselves to it. Getting new floor mats, having the leather or cloth on the seats redone in your favorite color, or stripping the paint down to bare metal and building it up again to make it as if it just came from the factory are all ways that people have personalized Porsches to their liking.
For some (with very deep pockets), that personalization can go to stratospheric levels by visiting Singer and having their own restomodded, perfect 911 built.
For others, like Ken, his attachment to the car is that it has a very particular, somewhat crass, and funny story behind it: that some night shift production line worker nearly 50 years ago scribbled inside a crankcase before assembling it. But aren't those the best kinds of cars to keep? The ones with the stories that give them that little bit of character and make them spread the grins wider across our faces as we shift gears and get your right foot down? We think so.