The Electric Porsche's Cabin Is Gorgeous
The Porsche Taycan is the company's first all-electric car, and it will be an impressive machine by all accounts. The company will reveal the car in full on September 4 of this year. That's not far away, and the company has been teasing the car recently to great fanfare. The most recent teaser sent out were some shots of the car's interior. 
Technology Everywhere
You might expect the cabin of the car to be pretty tech-savvy, but there's even more than we thought. The cabin is completely full of screens and advanced technology. There are four different screens on the dash and center console, including a digital instrument cluster. The passenger gets their own touchscreen.
The digital instrument cluster is a massive 16.8-inch curved display that uses real glass with a vapor-deposited, polarizing filter. This makes the cluster anti-reflective. By doing this Porsche could get rid of the unsightly cowl over the cluster that so many cars have. To either side of the instrument cluster are some touch buttons for basic controls like the lights and driving settings.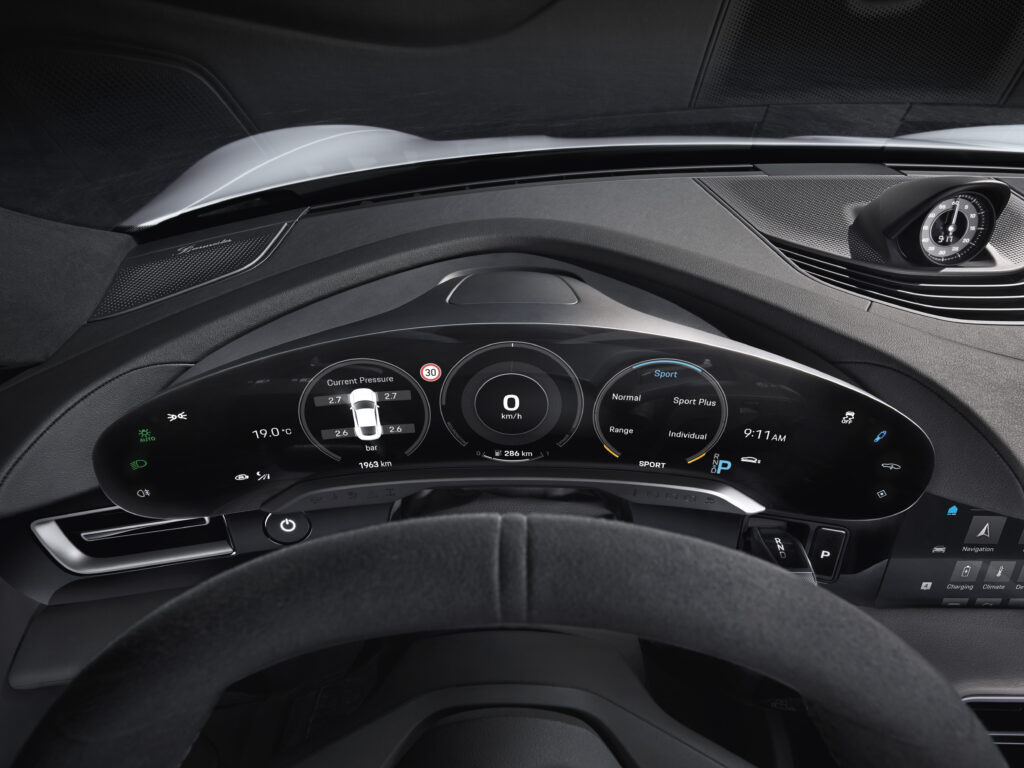 The main, central infotainment screen measures 10.9 inches. It provides access to Porsche's user interface and gives you access to apps, navigation, phone connections, media, comfort settings, and Porsche Connect. Below this screen is another with haptic feedback. It's an 8.4-inch screen used for the climate controls and offers a handwriting area. This means you can write in an address you want the navigation system to use.
The screen in front of the passenger is for just the passenger. It won't even turn on if the driver is the only one in the car. TechCrunch reported that Porsche is playing with the idea of having it stream video, but right now it's just for making adjustments to settings that impact the passenger.
Minimalistic Interior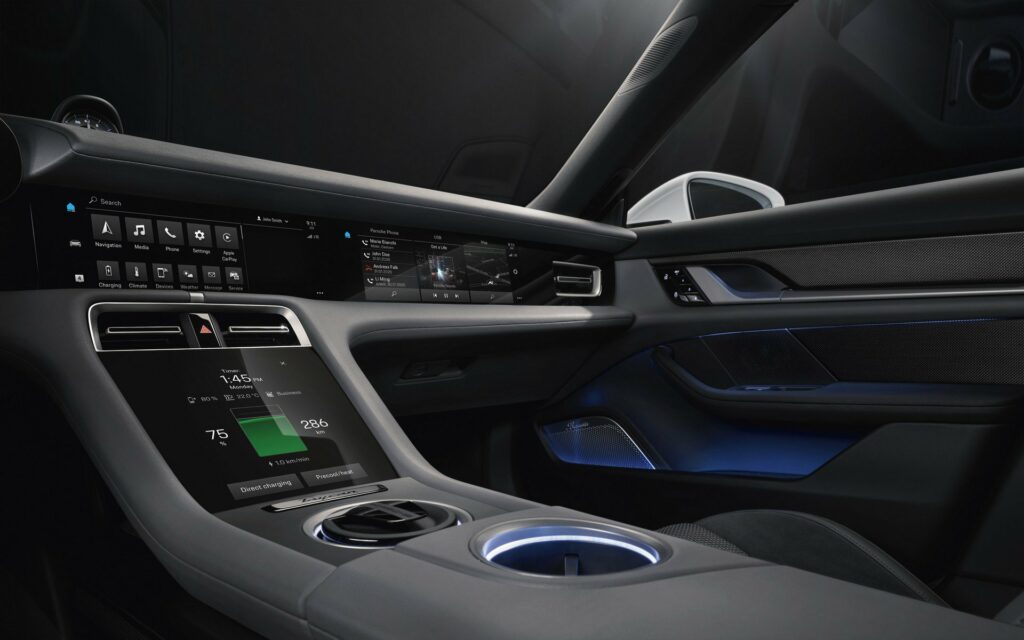 The overall design of the cabin is minimalist. Porsche stayed true to its roots for the most part. The lines of the interior are simple and actually look considerably similar to the 911. This is no surprise. Why mess with a good thing? The 911's interior is handsome and recognizable, and it makes sense for the Taycan to follow suit.
When it comes to interior materials and colors, you can expect some of the best. Porsche will have wood trim, matte carbon, aluminum, fabric, and leather in it. You can get a leather-free version if you'd like. The car also comes with your choice of three color schemes: black-lime beige, blackberry, Atacama beige, and Meranti brown.
The Taycan's interior lives up to the hype of the overall car for us. With the interior looking so good, we can't wait for the rest of the car to be revealed in September.